Barbados, one of the most explored Caribbean destinations, is celebrated for its tropical beaches, delicious rum, and friendly locals. The luxury hotels in Barbados featured on our list allow you to explore these aspects in style, with a plethora of amenities at your disposal, lavish accommodation options, and flavorful on-site restaurants.
Whether you're opting for the tranquil east coast or the lively west coast, we hope our guide provides you with some useful information for your next stay in Barbados.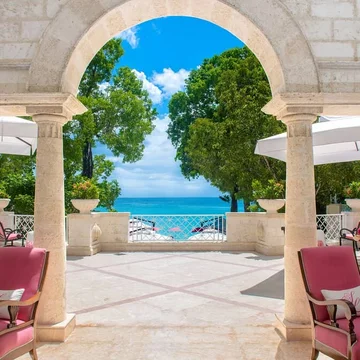 Sandy Lane
Sandy Lane, with its three on-site golf courses, an award-winning spa, and palatial accommodation, is one of the most popular luxury hotels in Barbados. The hotel is set on an ancient mahogany grove, on an extensive white-sand beach south of Holetown.
Check Availability
Among the most breathtaking facilities at Sandy Lane is the multiple-story outdoor swimming pool, surrounded by lush greenery and colorful flowers. Workout-wise, guests have access to a well-equipped gym and multiple tennis courts, in addition to three golf courses where you can see stunning views of the area. The 47,000 square foot spa is a marvel in itself. You can book a myriad of luxury services, including manicures, pedicures, wraps, massages, and full-body treatments. Whatever option you go for, a relaxing and de-stressing experience is guaranteed.
The outstanding cuisine offered at Sandy Lane, combined with the gorgeous outdoor setting, makes it a perfect option if you're someone who enjoys fine dining while on holiday. The romantic and beachfront L'Acajou restaurant serves European cuisine with a flair, paired with a spectacular range of New and Old World wines. For a more relaxing option, opt for Bajan Blue – a beachfront restaurant that offers a combination of Asian, Caribbean, and European meals. There are multiple on-site bars to choose from, out of which The Monkey Bar stands out – it's the perfect place for pre-dinner drinks and artistic cocktails. Afternoon tea is served daily from 3 p.m. to 5
p.m. Sandy Lane offers luxury rooms and suites, all of which include private balconies, en-suite marble bathrooms, flat-screen TVs, and minibars. The style of the rooms is opulent and elegant, with ligneous furnishings, large king-size beds with curtains, and wall-to-wall windows. The color scheme varies depending on which room/suite you opt for.
The rates at Sandy Lane start from $1,280 a night.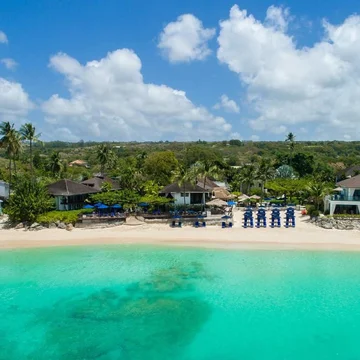 The Sandpiper
The Sandpiper is all about stunningly appointed rooms, exquisite cuisine, and exciting water-based adventures. It's located on the outskirts of Holetown, a short drive away from Bridgetown. Limegrove, one of the most popular shopping malls in Barbados, is a five-minute walk away from the hotel, where you can shop luxury brands like Michael Kors and Ralph Lauren.
Check Availability
The family-friendly nature of the hotel reflects in the facilities offered. Two swimming pools are at your disposal, one of which is lap-friendly. Other facilities that allow you to get in your daily workout include a large on-site gym, two tennis courts, and a watersports center. Access to the neighboring Coral Reef Barbados spa is included with the price. Set amid exotic nature and small waterfalls, it's the perfect place to unwind and relax after a day of shopping and sightseeing. Some of the spa menu highlights include the Caribbean Calm massage and the Oxygen Awakening facial.
Nestled among the gardens and the tranquil koi ponds, The Sandpiper's on-site restaurant offers a memorable and enjoyable dining experience, the highlight of which is the sumptuous cuisine with a Caribbean flair that utilizes various European and Asian techniques. Every Wednesday, a generous West Indian/ International buffet is served, with various delicious specialties. The breakfast options are equally spectacular, which include freshly baked bread, French toast, pancakes, and tasty smoothies. If you're in the mood for light lunches and sunset cocktails, visit Harold's – a modern bar where you can enjoy views of the Caribbean Sea. Its signature cocktail, Harold's Smile, is a must-try.
Guests can choose from rooms, one-bedroom, and multiple-bedroom suites. The style and color palette varies depending on the accommodation, but all are equally homely and sport a boho-chic vibe. Amenities like a private balcony, a work desk, and a kitchenette are included.
The rates at The Sandpiper start from $350 a night.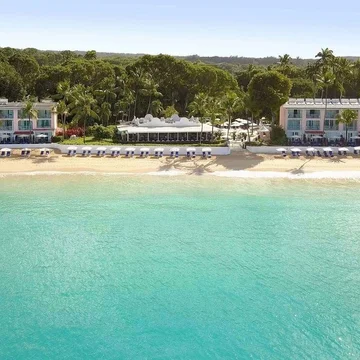 Fairmont Royal Pavilion
The newly renovated Fairmont Royal Pavilion boasts one of the best locations in Saint James – Alleynes Bay. Its beachside location allows for magnificent views from the common rooms, restaurants, and your own room/suite, so you can witness breathtaking sunsets over the Caribbean Sea.
Check Availability
Unsurprisingly for a Fairmont hotel, the facilities are appealing and practical. There's an outdoor swimming pool with an adjacent hot tub, as well as a fitness center and two tennis courts. While there's not an on-site spa, guests can book massages and treatments from the comfort of their own rooms. The wide range of water-based activities is quite enticing and includes kayaking, sailing, and paddleboarding.
The main dining venue at Fairmont Royal Pavilion is the Palm Terrace Restaurant, which offers