If you crave opulence and your next destination is Europe, head over to Switzerland. This peaceful, prosperous country filled with scenic pleasures, charming cities, and impressive mountain peaks, has some of the best luxury hotels in Europe. Switzerland is a haven that satisfies the tastes of well-heeled travelers with the best spa treatments, chocolate treats, and the most renowned brands in the world. "Made in Swiss" is the ultimate guarantee for the quality and this also goes for the Swiss hotel brands.
In this article, we've gathered a list of 15 luxury hotels in Switzerland to help satiate your longing for extravagance.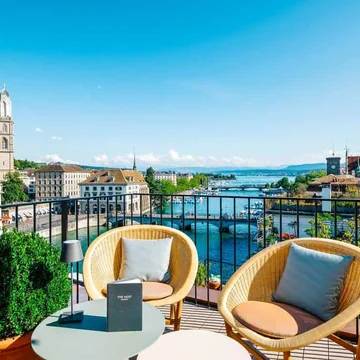 Hotel Storchen Zurich
Situated on the cobblestone Weinplatz Square right at the center of Zurich's Old Town, Hotel Storchen is an upscale boutique hotel. This is the only hotel in Zurich set on the Limmat River where guests have the option to arrive with a 15-minute boat ride from the main station. The property building dates from 1939, however, Hotel Storchen is considered to be the oldest hotel in Storchen with historians tracing its origins back to the mid-14th century.
Check Availability
A short walk across the river will take you to Grossmunster, where you can enjoy some interrupted 360-degree views over Zurich's old town. Paradeplatz and Bahnhofstraße, the most expensive shopping streets in the world, are a stone's throw away from the hotel.
The 66 rooms and suites boast a modern ambiance with a blue-and-white color palette, carpeted floors, and wooden furniture. All rooms are spacious, filled with natural light, and some of them offer lovely views over the river. Amenities include a flat TV screen, espresso machine, electric kettle, a minibar, and free Wi-fi. Bathrooms are spotless, well-maintained, and equipped with walk-in showers, separate tubs, and upscale toiletries.
Buffer breakfast is served on the terrace overlooking the Limmat River. A five-course dinner is served in the romantic Rotisserie where the elegant tables are centered around an open fire.
Double rooms start at $450 per night.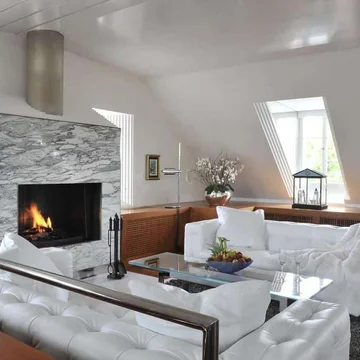 Widder Hotel
Sophisticated and elegant, Widder Hotel boasts a prime location in the prestigious Augustiner neighborhood in the heart of Zurich's old town. The world-renowned Bahnhoffstrasse, one of the most exclusive shopping streets in the world, is a short walk away from the hotel, while the Old Town is a 5-minute walk away.
Check Availability
This boutique hotel is set in a recently renovated property dating from the 12th century where you have 49 rooms and suites to choose from. Tilla Theus, a renowned Swiss architect, has managed to blend the hotel's medieval heritage with contemporary design. With 5-star amenities, cutting-edge-technology, and casual luxury, the rooms at the Widder Hotel guarantee relaxation and comfort. Rooms are styled with original murals, wood paneling, and original artworks from Andy Warhol and Max Bill.
The Historic Junior Suite features a 17th century fresco and is the most luxurious suite at the hotel. The bathrooms are equally stunning with marble floors, deep soaking tubs, walking showers, and luxurious toiletries. Amenities include a flat TV screen, Bang & Olufsen stereo systems, minibars, and free high-speed Wi-fi.
At the renowned Widder restaurant, upscale clientele can be spotted throughout the whole day. Here star chef Stefan Heilemann and his talented team prepare a three-course menu. The menu features delicate specialties including atlantic red mullet, langoustine, and caviar. The showpiece is the award-winning Widder bar featuring over 1,000 spirits and 280 Scottish single malts.
The rates at the Widder for a single room start at $650.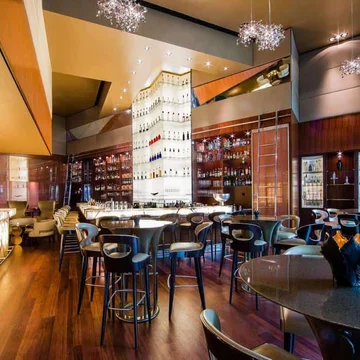 Park Hyatt Zurich
Situated in Zurich's main financial district and close to Lake Zurich, Park Hyatt offers unparalleled luxury in the heart of Zurich. The exclusive shopping street Bahnhofstrasse is just around the block, while Zurich's charming Old Town dotted with bars and restaurants is 10 minutes away. Park Hyatt is considered to be one of the most luxurious hotels in Zurich and is regularly visited by high-end travelers and well-heeled businessmen.
Check Availability
Park Hyatt boasts some of the most spacious rooms in Zurich that resemble a luxurious apartment. All units feature floor-to-ceiling windows, which infuse the rooms with natural light and create an airy atmosphere. Sophisticated yet elegant, rooms are tastefully decorated with Italian furniture, wooden furnishings, and unique artworks. Modern amenities include a Nespresso machine, Bang & Olufsen TVs with satellite channels, a library with a selection of books, on-demand movies, and free high-speed Wi-Fi. The elegant bathrooms with Carrara marble finishes are equipped with deep soaking tubs, glass showers, and Laura Tonatto toiletries. You can rest assured, you'll get a good night's rest in the comfortable beds fashioned with Italian linen and hydro-allergenic pillows.
The staff at Park Hyatt is very friendly, welcoming, and ready to assist with anything you might need. 24/7 room service is available for guests wishing to dine in their rooms. Gastronomy at Park Hyatt is taken very seriously; there's a good selection