If you're looking for a serene escape, a luxury lakefront hotel is a perfect choice. Lakefront hotels combine breathtaking views of sparkling waters with possible lake activities and sports to get the heart racing. Add in luxury hotel amenities and facilities, and it doesn't get much better than this.
There are many excellent lakes dotting the different continents of the world. In this list of the best luxury lake resorts and hotels, you'll find the very best hotels, placed right in front of the most stunning lakes in the world.
Lake Tahoe, Lake Placid, Lake Geneva, and more, are all included in this list because of their beauty, available activities, and the excellence of the accommodation found at their shores.
Whether you're looking for a summer escape or a winter wonderland, here are the very best lakefront hotels in the world.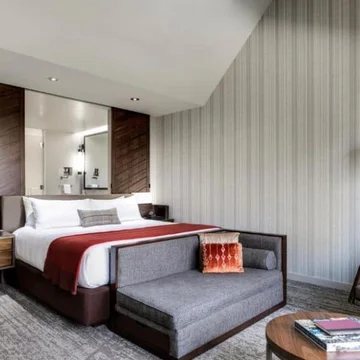 Lake Tahoe, United States

5
Edgewood Tahoe Resort
If you're looking for breathtaking views and serene sleep, this lakefront resort is the perfect place for you. When you're not lazing in the plush beds or taking in the views with a cup of coffee in hand, you'll want to head out and explore, as there's much to see and do.
Check Availability
With plenty of hiking and skiing opportunities in the area, you can get a little adventurous with your loved ones. Once you're ready for relaxation, head to the private beach, the spa and wellness center, jacuzzi, or the restaurant and bar. Or all of the above, in succession. Whatever you choose to do, you're sure to have an amazing time at Lake Tahoe.
There is a wide range of rooms available, so you can have your pick. Each is subtly and elegantly decorated, offering a calm oasis to guests.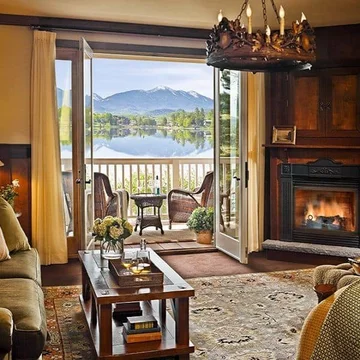 Lake Placid, United States

4
Mirror Lake Inn
If you're wanting an active lake vacation, Mirror Lake Inn is sure to deliver. With tennis courts, an indoor and outdoor pool, a fitness center, and a full spa and sauna, there is plenty to keep you busy on the grounds.
Check Availability
When you feel like getting out, this lakefront lodging offers a private beach, boating, and fishing. Of course, swimming and relaxing are also great activities to engage in here.
Winter is also an excellent time to visit this lakefront hotel. Whiteface Mountain, the site of 1980 Olympic ski events, is just 10 miles (16km) from the hotel. Here you can test out your ski skills and have some fun out on the slopes. The hotel also offers a chance to book personal training with Olympic gold medalist Andrea Henkel Burke, if you want to really improve your skills.
Your guest room, no matter which you choose, will be warm and welcoming. The luxurious rooms have wood finishes, a flat-screen TV, and a refrigerator to keep your wine chilly. Some have the added luxury of a fireplace and balcony with views over the stunning lake. It is the perfect place to return to after a day of fun.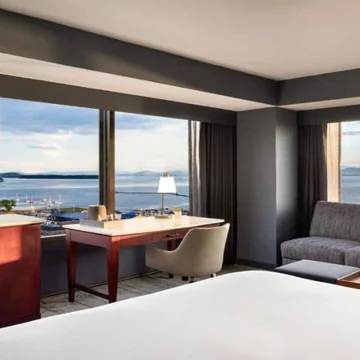 Lake Champlain, United States

3
Hilton Burlington Lake Champlain
A few steps from Lake Champlain, this Hilton hotel is ideally situated for a stunning vacation. It is also the perfect spot to explore Burlington, as it's walking distance from shops, restaurants, and the historic Church Street Marketplace. Of course, this location in Vermont is also ideal for winter sports.
Check Availability
One of the best aspects of this hotel is that it is pet-friendly, so your furry friend can join in on the adventure. If you're looking for on-site entertainment, pop into the outdoor pool, or keep up your fitness in the gym. There is also an on-site restaurant if you want to continue to revel in the lake and mountain views that the hotel boasts.
The rooms are tastefully furnished, clean, and very comfortable. We recommend booking a guest room with lake views, as the scenery is really special.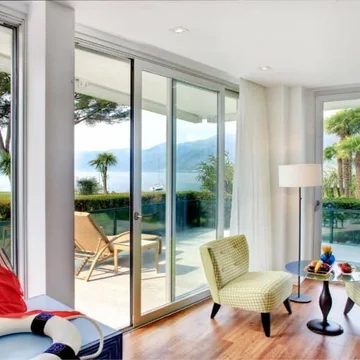 Hotel Eden Roc
If you're looking for a luxury all-inclusive stay, Eden Roc is perfection. Driven by the principles of "move, play, nourish, rest, and give", this hotel offers a holistic experience to all its guests. And surrounded by the Swiss mountainscape and the sparkling lake, you will go home rested and rejuvenated.
Check Availability
This hotel has four excellent restaurants, offering up breakfast, lunch, and dinner. If you feel like fine dining, the Michelin-star La Brezza offers the gourmet experience of your dreams. The three other restaurants each approach cuisine with a different outlook, and each boasts wonderful views of Lake Maggiora. After dinner, head to The Eden bar for a refreshing cocktail.
With the hotel's focus on holistic health, you'll find a range of world-class treatments at the spa. Treat yourself to the Finnish sauna and steam room, before jumping into one of the two swimming pools. Each of which has a view of the lake.
The rooms are decorated to reflect an ambience of light-hearted serenity, and they deliver just that. And if you aren't yet convinced to stay in this luxury Swiss hotel, this space is also completely carbon-neutral and is, therefore, an ideal stay for the eco-conscious amongst us.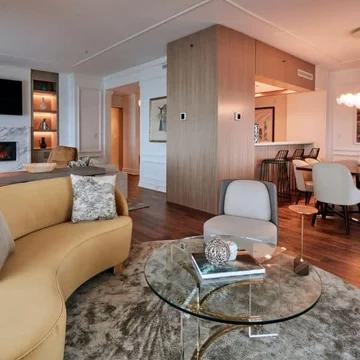 Lake Michigan, United States

5
Four Seasons, Chicago
Interested in a lakeside vacation that also allows you to explore one of the most iconic cities in the world? Then this Four Seasons hotel on Lake Michigan is the one for you. Located on the Magnificent Mile right next to the lake in the city of Chicago, here you can find city views as well as unparalleled lake views.
Check Availability
Keeping up with the Four Seasons standard of excellence, you will find all the luxury amenities and facilities you would expect. There is also a 50-foot indoor swimming pool, spa, and state-of-the-art fitness center. And if you're traveling with children, you'll be happy to discover the wonderful Kid's Clubroom, which will keep your little ones entertained while you relax.
The Magnificent Mile is a vibrant, energetic area. Here you'll find excellent shopping, restaurants, and art and culture. If you prefer to dine at the hotel, award-winning chef, Jonathan Sawyer, has a menu to delight all tastebuds. The Social Lounge is also a fantastic place to dine, with live performances complementing meals on Friday evenings and Sunday lunches.
There are a number of room and suite options, but all are spacious and tastefully appointed. You can also find pet-friendly rooms, so you don't have to part with any of your loved ones.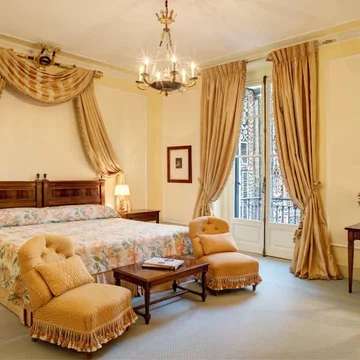 Villa D'Este
Occupying an enviable position on the shores of Lake Como is one of the best lakeside resorts in Europe. Surrounded by 10 pristine acres of private park, the location could not be better. The windows and balconies look over the lush park and the lake, so your room will definitely have a view to excite you.
Check Availability
This magnificent hotel exudes an ambiance of the Italian Renaissance. Built in 1873, these walls have housed aristocracy from around the world. You can stay in rooms which have been slept in by princesses, tsars, sultans, and marquises. If that doesn't make you feel like royalty, nothing will.
There are numerous incredible restaurants and bars on the property. Each offers a sensory experience to wow you. You may even find yourself being serenaded at dinner by an orchestra or musician, depending on the season. In summers, the sundeck is the perfect place to settle for a light meal and a cocktail, with green shores and blue waters in view.
This award-winning hotel also boasts a beauty center, sauna and Turkish bath, fitness center, and golf club. When not taking advantage of the luxury amenities, retire to your magnificently furnished room. Each of which is uniquely fitted with antique furniture, plush velvets, and silks, as well as marble bathrooms. This is one of the best hotels in Italy.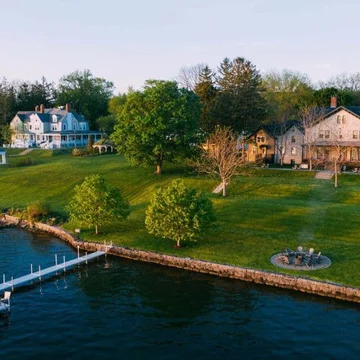 Finger Lakes, United States

4
Village of Aurora
This unique option is an ideal escape from the bustle and busyness of New York City. Five unique, intimate inns make up this property, which is focused on relaxation and luxurious simplicity.
Check Availability
The village boasts a world-class spa, as well as plenty of complimentary resort activities and amenities. Paddleboards, canoes, and kayaks are available when you want to get out onto the lake. When you've had your fill of sun and swims, consider a picnic on the lush lawns, or paint the scenery before you with the provided art supplies and Plein Air easels. There are also lakeside firepits to warm up by when you get a little chilly.
Founded in 1789, this storybook village has a long and happy history of service. Unlike most hotels, the Aurora Inns offer their guests plenty of complimentary amenities and services, in order to make your stay really special. New York is also one of the top cities to be near to.
Choose your perfect room or suite from amongst the many options available, and get ready to have a gorgeous experience at Finger Lakes. This family-friendly hotel is also an ideal place to bring the little ones, with coloring pages and an abundance of games available.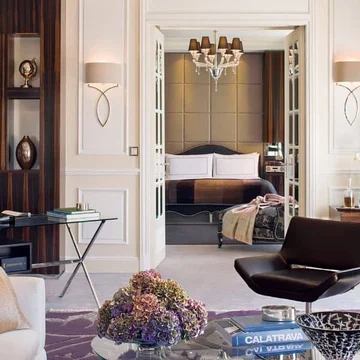 Lake Geneva, Switzerland

5
Four Seasons Hotel Des Bergues, Geneva
If your idea of luxury involves opulence and splendor, the Four Seasons in Geneva is the perfect host for you. With the help of interior architect Pierre-Yves Rochon, this 1834 hotel marries elegance with history.
Check Availability
If you're traveling with little ones, they'll be delighted at the milk and cookies being offered on arrival. And rest assured that they will be well taken care of here, with babysitting on offer to give you and your partner some time to yourselves.
With the kids in good hands, you'll be free to indulge in a treatment at the wellness center. You can also explore the indoor infinity pool, fitness center, and of course, the wonderful surroundings. The well-appointed rooms are also a great space to spend time in.
When you manage to tear yourself from your sumptuous king bed, head to one of the on-site restaurants. Choose between Michelin-star fine dining, Japanese fusion, or innovative light meals. If you find that you're just too comfortable in your room, order room service for an intimate, private meal.
This is one of the most expensive hotels in Switzerland, for good reason.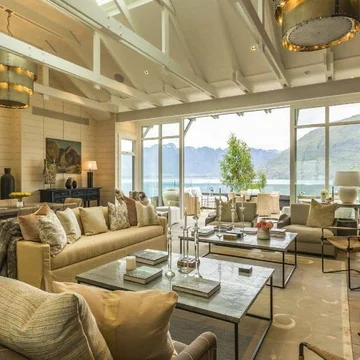 Lake Wakatipu, New Zealand

5
Matakauri Lodge, Queenstown
Rounding off our list of the best lakeside resorts and hotels is this stunning, rustic lodge in New Zealand. This is a country known for its natural beauty, and there's no better space to experience it than from Matakauri Lodge.
Check Availability
Rounding off our list of the best lakeside resorts and hotels is this stunning, rustic lodge in New Zealand. This is a country known for its natural beauty, and there's no better space to experience it than from Matakauri Lodge.
The lake is, of course, mesmerizing. But what makes this scene particularly special are the mountains that surround the hotel and lake. You'll feel like you've been transported to another time when the beauty of the world was natural and majestic.
This is an all-inclusive hotel that has packages for couples, girls' getaways, and families. You can also book one of their impressive experiences, including wine tours, heli-adventures, photography tours, and the 'Family Milford Experience', which is not to be missed.
Whichever of the accommodation options you choose, you'll have a balcony from which to sip your morning coffees while you take in the breathtaking scenery. Each room also has a complimentary mini-bar with local beers, as well as an LCD-TV, air-conditioning, and bathtub.
The lodge has a heated indoor infinity pool, spa, and of course, an excellent restaurant. Here, all meals are included in your stay, and there are open fires to make the space cozy on chilly days.
A Footnote on The Most Luxurious Lakefront Resorts and Hotels
With sparkling lake views, exciting activities, and luxurious amenities, these lakefront hotels offer guests their dream vacation. With free WiFi offered in almost all rooms, you can stay connected to your loved ones, while unplugging from the world as much as you may want.
These gorgeous hotels boast not only the lakes they're located by, but also swimming pools, wellness centers, and world-class restaurants. You can also find options that offer a range of activities, from kayaking in the summer to skiing in the winter, and much more.
The only thing to do is choose where you want to visit and book your room. In no time, you'll be warming up with vino from the wine cellar, or tanning next to the lake. Summer or winter, you cannot go wrong with one of the hotels on this list.