Italy attracts more than 60 million tourists per year, so it's safe to say that it's one of the most popular tourist destinations in Europe. Keeping that in mind, it comes as no surprise to us that the list for luxury hotels in Italy is a long one.
We have selected the crème de la crème of luxury hotels in Italy where you can enjoy delicious Italian cuisine, extraordinary views of popular tourist attractions, outstanding and hospitable service, and countless other amenities and luxuries.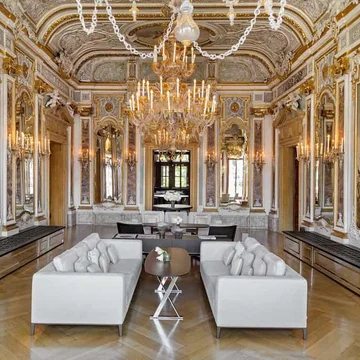 Aman Venice
Located in the heart of Italy, right on The Grand Canal, Aman Venice is among the best, oldest, and most visited luxury hotels in Italy. The hotel became particularly famous once Amal and George Clooney celebrated their wedding here in 2014.
Check Availability
The hotel encapsulates Venice's romantic and worldly atmosphere splendidly – stunning oil floor-to-ceiling paintings can be seen in almost every room of the hotel, illuminated by flashy low-hanging chandeliers, while the large windows offer incredible views of the canal. Unsurprisingly, the seemingly endless list of amenities includes room service, personalized suites, a ballroom, and a spacious fitness center, all of which make Aman Venice feel like a home away from home.
The rooms are as opulent and gorgeous as one might expect. Overlooking The Grand Canal and the surrounding buildings, the rooms allow guests to wake up to the most beautiful views in Venice. The hotel's aesthetic continues once you enter your own room – dreamy paintings are featured in both the bedroom and living area. The en-suite bathrooms are on another level – commodious, elegant, and drenched in luxury, they come with double sinks, large hot tubs and shower areas, and even an extravagant chandelier.
Aman Venice's impeccable location makes it convenient for guests to sightsee and easily tick off all the places on their itinerary. Rialto Bridge is only a couple minutes away from the hotel, while St. Mark's Square is merely a stroll away.
There are various food and drink options in the hotel to delight in. Arva, the hotel's culinary masterpiece that utilizes local and fresh ingredients, offers a menu that has been enhanced by Michelin-starred chef Norbert Niederkolfer. Aman's The Bar offers invigorating spirits, snacks, and light meals. Being an homage to Lord Byron, it's the place to go for drinks served in a romantic atmosphere, all the while offering calming views of the secret garden. If you feel like experiencing the Mediterranean outdoors, visit The Canal Garden for fresh air and tasty brunches.
The rates per room start at $1,340 a night.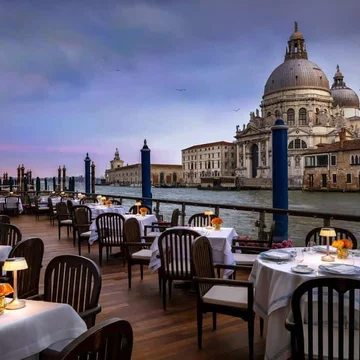 The Gritti Palace
A grandiose hotel containing impressive artwork, antiques, and amazing amenities, The Gritti Palace sits right on The Grand Canal, across the well-known Santa Maria Della Salute church. The building that constitutes the hotel we know today has been around since the 15th century, and it became a hotel in 1895. The hotel's location couldn't get any more perfect – a five-minute walk will take you to St. Mark's square, one of the most popular sightseeing attractions in Venice. Other attractions that can be found nearby include Gallerie dell'Accademia and the Guggenheim Gallery. If you don't feel like walking, simply take a water taxi from the hotel's private pier.
Check Availability
The Gritti Palace has a very distinctive style, marked by unique and priceless pieces of artwork that are scattered around the hotel's premises. The rooms are unique in terms of the views you get and what color palette is present, yet all feature special antiques and share the same Venetian vibe with classical, golden touches. The marble bathrooms feature fantastic Acqua di Parma toiletries and are quite spacious.
One of the most memorable aspects of staying at The Gritti Palace is its hospitable and extremely helpful staff that goes out of their way to ensure that your holiday is as remarkable, memorable, and comfortable as it can be. Some of the amenities you can find at The Gritti Palace include a concierge, a world-class spa, and a fitness center that's available 24/7. On top of all that, guests can book a cooking class at The Gritti Epicurean School where they can learn all about the Venetian culinary tradition, amazing recipes, and savory meals prepared by Chef Daniele Turco.
Apart from The Gritti Epicurean School, the hotel has other restaurants, such as The Club del Doge and Bar Longhi, offering varied menus and memorable meals made with local and fresh ingredients. Guests can enjoy spectacular views from both the terrace and the inside dining area.
A standard room will cost you from $1,000 a night.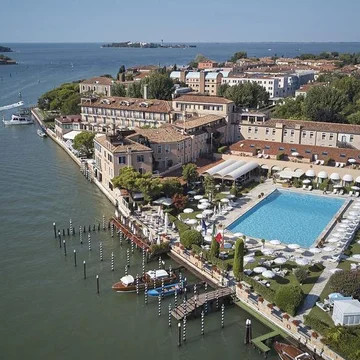 Belmond Hotel Cipriani
A list of luxury hotels in Italy wouldn't be complete without the five-star Belmond Hotel Cipriani. Tucked away in a remote location on Giudecca Island yet remaining close to must-see Venice attractions, Belmond Hotel Cipriani's location is perfect for those who appreciate privacy while on holiday, all the while having an opportunity to explore the area. The views from the hotel remain spectacular – the majority of the rooms overlook the charming lagoon and St. Mark's Square. In case you want to visit any attractions up close, simply contact the hotel staff who offer private boat service.
Check Availability
The timeless elegance and lavish interior of Belmond Hotel Cipriani is bound to appeal to anyone. Classic Venetian touches complement the style impeccably, while impressive artwork is put on display in most common rooms for guests to marvel at. All 96 rooms are visually stunning and amazingly practical, with private balconies overlooking the alluring scenery, large beds with silky lining, and airy living areas.
There are plenty of things to do while staying at Belmond Hotel Cipriani. Multiple boutiques are located on the property; there is a wellness center and a fitness center with an Olympic-sized pool. For all adventurous spirits out there, the hotel offers a long list of unique experiences you can only find in Venice; slow bike rides by the picturesque Lagoon, a Scala del Bovolo sunrise experience that will leave you with unforgettable memories from the trip, or sail aboard Edipo Re – the boat that bore witness to the infamous love story of Maria Callas and Pier Paolo Pasolini.
The Michelin-starred Oro restaurant, offering traditional Venetian meals in a sophisticated atmosphere, sets Belmond Hotel Cipriani apart from other hotels in the area. Guests of Oro restaurant can book one-of-a-kind Michelin-starred dining with a customized menu created just for them. The Cip's Club restaurant is another dining option within the hotel where you can enjoy Italian cuisine with breathtaking panoramic views.
On average, the rates for a standard room start at $950 per night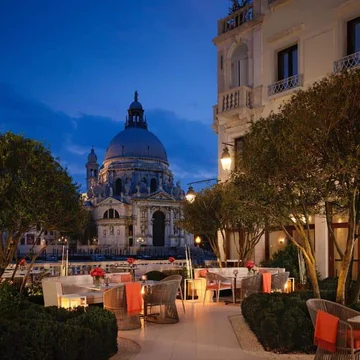 The St. Regis
The St. Regis Venice overlooks some of the most breathtaking sights in Venice – The Grand Canal, Santa Maria Della Salute, and San Giorgio Maggiore. Its location is right in the heart of the city, a couple of minutes away from the famous St. Mark's Square, Teatro La Fenice, and Piazza San Marco. And if that wasn't enough, there are a myriad of cafes, boutiques, and restaurants to explore in the area. Just like the Belmond Hotel Cipriani, there is a private jetty available for guests to rent.
Check Availability
Combining classical Venice décor with the modern glamour the St. Regis hotels are known for, the style of this hotel is nothing short of extraordinary. The artistic spirit of Venice is kept alive in the interior of the hotel, featuring both local artists and popular artworks of timeless Italian masters. Aesthetes especially appreciate these creative touches that give homage to celebrated Italian artists and contribute to the homey feeling in the hotel.
The rooms and suites have different views of The Grand Canal, the Italianate Garden, or the surrounding rooftops. A romantic color scheme is featured in every accommodation, with playful warm accents and lots of flowers that contribute to the romantic atmosphere. The suites on the top floor come with private balconies and panoramic views of Venice, so it's certainly an option to consider. Marble en-suite bathrooms are also provided, with spacious shower areas and complementary Laboratoire Remède toiletries.
The St. Regis Venice has a distinctive set of facilities available for its guests. From a lavish ballroom to a cozy library, there are plenty of facilities to enjoy while staying there. Guests also have access to a fitness center and a spa during their stay.
Dining-wise, Gio's Restaurant and Garden is a must-visit. Serving traditional Italian dishes with a twist, this remarkable restaurant has a garden area where you can enjoy your meals with a view of the San Giorgio church located right across the restaurant. The Arts Bar is a go-to option for creative drinks and aged spirits, served in a spectacularly avant-garde atmosphere. Perhaps the most memorable part of your dining experience at St. Regis Venice will be their evening ritual; dating back to Napoleon Bonaparte, the staff performs a ritualistic opening of sabrage on the weekends at dusk.
When it comes to pricing, the rates begin at $800 a night.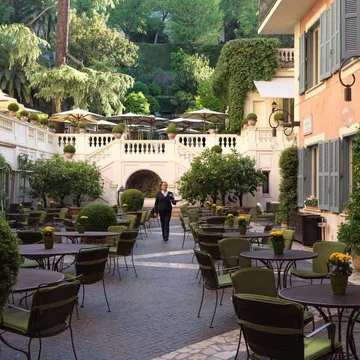 Hotel de Russie
Frequently visited by celebrities like Leonardo di Caprio, Julia Roberts, Brad Pitt, and Matt Damon, Hotel de Russie is located on Via Del Babuino. This stunning building has been around since 2000, but its classical décor and world-class service will make you think otherwise. Its superior location offers the best of both worlds – luxury stores in the likes of Gucci and Louis Vuitton can be found nearby, yet bucket-list attractions like Piazza di Spagna, Piazza del Popolo, and the Spanish Steps remain in close proximity. For a serene touch of nature, visit the Borghese Gardens located within minutes of the hotel.
Check Availability
A sophisticated mix of charming ancient Rome décor with contemporary amenities, the style of Hotel de Russie won't leave you indifferent. The suites at the hotel are distinct in terms of furnishing, but share a lovely color palette with green touches. The pleasant earthy tones continue in the bathrooms which come with large hot tubs and illuminated mirrors.
Hotel de Russie guests have access to many services and facilities. There is a spa, a fitness center, a hair salon, and a sauna on the property. Appealing packages are carefully put together by the friendly and welcoming staff at Hotel de Russie, including their ever so popular Discover Raphael package that allows you to explore his oeuvre while staying at their Roman oasis suite, or their Exquisite Europe package that features an extensive programme full of exploring and sightseeing.
No Rome hotel is complete without Italian dining, and luckily, Hotel de Russie offers a few splendid options. Le Jardin de Russie restaurant serves traditional Italian meals in gorgeous surroundings – think pizza, pasta, and seafood, with a grand and inviting breakfast buffet. The Stravinskij Bar is a landmark of its own, serving mouth-watering classic cocktails and lunches.
Pricing-wise, you can book an accommodation at Hotel de Russie anywhere from $700 per night.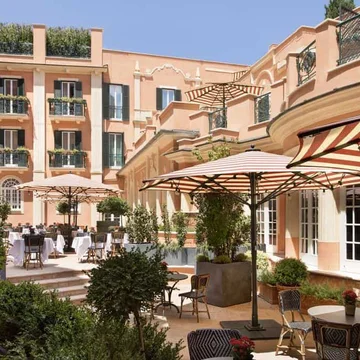 Hotel de la Ville
Committed to excellence and elegance, Hotel de la Ville is a frequent pick among travelers who want to experience a comfortable stay in style. Part of Rocco Forte Hotels, located right on top of the Spanish Steps, Hotel de la Ville's convenient location allows guests to enjoy spectacular Rome scenery and skyline, all the while being minutes away from Rome's best sightseeing spots. Luxury shopping is within reach thanks to Via dei Condotti – a large shopping district featuring brands in the likes of Prada, Gucci, and Louis Vuitton.
Check Availability
Despite being created in a style that dates back a couple of centuries, the hotel mixes contemporary commodities with historic design to bring you a one-of-a-kind stay that is bound to leave an impression. The rooms follow the same 17th-century timeless style, with floor-to-ceiling windows, plush sofas and armchairs, large vanity tables, and Renaissance-style artwork. Refined fabrics are felt on every surface, making your stay that much more glamorous. Every amenity you will ever need is at your disposal; a gigantic spa with Irene Forte skincare products, a sauna room, and three award-winning restaurants are only some of the amenities that you can find at Hotel de la Ville.
There are many restaurants and bars to dine at while staying at Hotel de la Ville: Mosaico, Da Sistina, Julep Herbal and Vermouth Bar, and Cielo Bar. Mosaico's chef Fulvio Pierangelini's menu offers the best of Italian cuisine, with a few distinctive Middle Eastern touches, resulting in a truly marvelous dining experience. Their comprehensive wine list complements the meals at Mosaico perfectly.
Cielo Bar is a rooftop bar with panoramic views of the Eternal City, offering their signature dim sum dumplings along with theatrical and themed cocktails. Da Sistina is another culinary attraction at Hotel de la Ville. Make sure you sample their signature Italian dishes – Carbonara ravioli pecorino cheese and the Crisp calamari and seasonal vegetables.
Offering various experiences across Rome such as the Italian Summer programme and Private Art Experiences, Hotel de la Ville is the place to visit for a glamorous stay.
The rooms' rates begin at $700 a night, approximately speaking.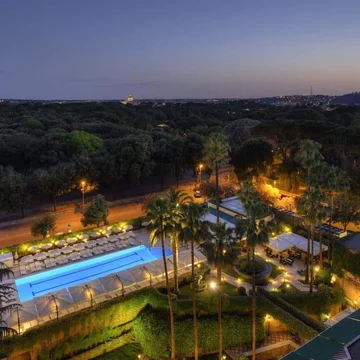 Parco dei Principi Grand Hotel and Spa
Don't let the modern exterior of the legendary Parco dei Principi Grand Hotel and Spa fool you – the contemporary architecture designed by Gio Ponti is masterfully mixed with classical grandeur on the inside that will make you feel like royalty. With innumerable amenities available for guests and all modern commodities one could think of, Parco dei Principi Grand Hotel and Spa guarantees a pleasant stay that will remain in your memories forever.
Check Availability
The hotel's unique design is made even more distinguishing thanks to all the sculptures and appraised paintings that are found in the common rooms and suites. You don't have to possess a trained eye for art to appreciate this aesthetic beauty – it's guaranteed to make your holiday much more memorable.
This creative stylistic blend is only scratching the surface of all the outstanding aspects of Parco dei Principi Grand Hotel and Spa. Its location is secluded yet offers plenty of things to do in the area like visit the Villa Borghese Park or Galleria Borghese Museum.
Guests of this stylistic marvel are slightly distanced from Rome's tourist attractions, but they can be accessed by a cab or public transport without a problem. Luxury shopping can be accessed within minutes; we'd highly recommend popping in high-end classics like Jaeger LeCoultre, Roberto Coin, and Sartoria Rossi.
Gastronomy is another strong suit for Parco dei Principi Grand Hotel and Spa. Guests have access to world-class restaurants that bring out the best in Italian cuisine. The Pauline Borghese Gourmet restaurant gives you Mediterranean cuisine that can be enjoyed among precious sculptures and artwork, providing a feast for all your senses. During the summer, it overlooks the surrounding gardens and pools, oozing a romantic and private ambience. The La Pomme piano bar is an excellent choice for a quick cocktail or a light meal.
Another feature Parco dei Principi Grand Hotel and Spa is known for is its world-class Prince Spa. This wellness center is brimming with activities adults and kids can enjoy, such as a trip to the Finnish sauna, the Turkish bath, a lap in its indoor pool, or a sweat session at its fitness center.
Prices for dates booked during low season start at $240 per night.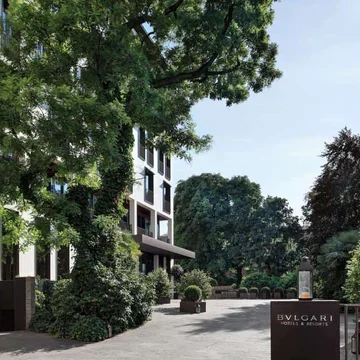 Bulgari Hotel
It comes as no surprise to us that Bulgari Hotel has made it on the list of luxury hotels in Italy, seeing as Milan is one of the most important fashion capitals in the world. Bulgari Hotel is just as affluent and lavish as the namesake fashion and cosmetics brand.
Check Availability
Located on a private street in downtown Milan, the hotel's building dates back to the 18th century. Since it's situated between Via della Spiga and Via Montenapoleone – also known as the world's most expensive street, its glorious location is perfect for all shopaholics out there, much like the hotel itself. The hotel has its own private 4,000-square-meter garden where guests can enjoy serene, mindful moments and respite from the hustle and bustle of the busy city.
Bulgari Hotel's style is minimalistic, tasteful, and elegant, just like one would expect from a high-end fashion brand. The earthy tones and ligneous touches present in the suites mesh well with the surrounding garden. Since the hotel is known for its spectacular service, you can expect to be greeted with a long list of services and available facilities.
The Bulgari Spa is a real treat; with its 40-foot gold mosaic swimming pool and personalized treatments, it's a great opportunity to relax and unwind after a day of shopping. Bulgari Hotel offers plenty of experiences that will make your holiday unforgettable, such as the once-in-a-lifetime Last Supper experience where guests can enjoy a private viewing of the painted masterpiece followed by a private dinner.
The Bulgari hotel charges anywhere from $880 per night.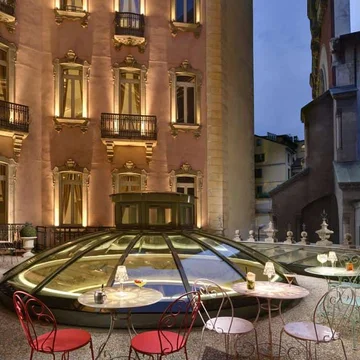 Château Monfort – Relais & Châteaux
Château Monfort – Relais & Châteaux is where fairytales come to life. This dreamy and palatial five-star boutique hotel draws inspiration from our favorite childhood tales and stories, aiming to serve as a teleportation device to much simpler times. Each room is akin to that of a lavish antique castle – think extravagant chandeliers, grand staircases, and long, silky curtains.
Check Availability
The 77 rooms available for guests are all themed after a famous fairytale, which, combined with their modern facilities, makes for a truly unique yet chic stay. All rooms come with a flat-screen TV, free Wi-Fi, and remarkable antiques that fit the theme of the room.
The hotel's location is right at the heart of Milan, next to some of the most popular shopping districts like Via Montenapoleone, museums, and popular attractions. Staying true to its character, the hotel's restaurants follow the same fairytale theme. The attention to detail is remarkable – both adults and kids get to use charming utensils like those in Alice in Wonderland, and breakfast includes delicious cakes, fresh fruit, various kinds of cheeses, juices, and smoothies.
Italian chef Domenico Mozzillo at Restaurant Rubacuori serves incredible Mediterranean cuisine, and there are plenty of vegetarian and vegan options to choose from. During the nocturnal hours, visit the Mezzanotte Lounge Bar for beautiful cocktails and invigorating spirits.
Rates per room start at $270 per night.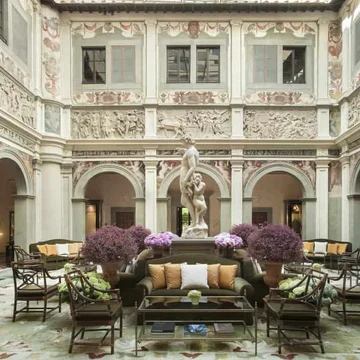 Four Seasons Hotel Firenze
One of the most lavish hotels across Italy, Four Seasons Hotel Firenze offers everything you would expect from this well-established hotel brand: impeccable service, palatial interior, amazing facilities, and on-site Michelin-starred restaurants. The hotel is composed of two buildings: the 15th century Palazzo della Gherardesca and La Villa, separated by a beautiful botanic garden that guests are free to explore.
Check Availability
While its location is somewhat secluded, there are still plenty of sights to visit in the area, especially for art lovers and literature enthusiasts. Located in close proximity is the famous English Cemetery – the final resting place for Elizabeth Barrett Browning and Walter Savage Landor, among other celebrated poets and writers. Historical and artsy sites in the area to explore include the Florence Cathedral and Accademia.
The Four Seasons Hotel Firenze is truly a work of art. Renaissance paintings grace the walls of the common rooms and suites, grand fountains and statues can be seen in every corner of the hotel, and graceful golden touches only add to the overall opulence. The rooms and suites are airy, elegant, and as luxurious as you can imagine, with crystal chandeliers, white marble bathrooms, and ceiling artwork akin to that in The Sistine Chapel. Everywhere you look, you will be met with an air of grandeur.
A large pool area is available for all guests to use, just like the hotel spa that uses premium cosmetic brands like Arangara and Santa Maria Novella. Treatments include a 24-carat gold face mask, very much in the spirit of Four Seasons. The Michelin-starred restaurant Il Palagio is a treat for your taste buds, utilizing the best local and fresh produce to create delicious traditional Italian meals.
You can book a standard room at Four Seasons Hotel Firenze from $780 a night.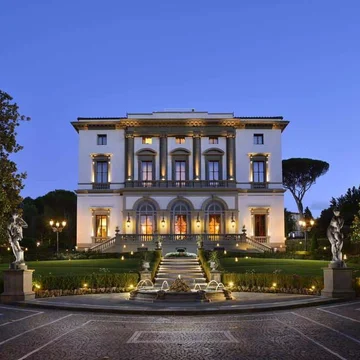 Villa Cora
Villa Cora is rightfully on the list of the best luxury hotels in Italy, and you're about to find out why. Surrounded by a lush rose garden where guests can walk around, its location is perfect for those who prefer to stay in a remote location, yet have access to the center of the city simultaneously. This 19th-century building is located a brisk walk away from the Uffizi Gallery, Piazzale Michelangelo, and Ponte Vecchio.
Check Availability
Each floor of Villa Cora is decorated in a different style, which keeps the guests guessing. With that said, splendid antiques, flashy chandeliers, large golden mirrors, plush fabrics, rose-inspired furniture, and tasteful pops of gold can be found in each suite, reflecting the taste of one of its owners Empress Eugenie, Napoleon III's widow.
A spacious outdoor heated pool is available to use throughout your stay. The on-site spa offers various healing treatments using Sarah Chapman skincare products for the ultimate relaxing break from your daily wanders across romantic Florence.
Remarkable Italian cuisine is served at Le Bistrot Restaurant, courtesy of executive chef Alessandro Liberatore. Visitors get the chance to enjoy its sophisticated atmosphere and dine among original frescoes by Antonio Caremmi.
Overall, Villa Cora is an ideal location for anyone who likes having various suite styles to choose from, artistic creations to marvel at, and rose gardens to explore.
Prices start at $600 a night, approximately.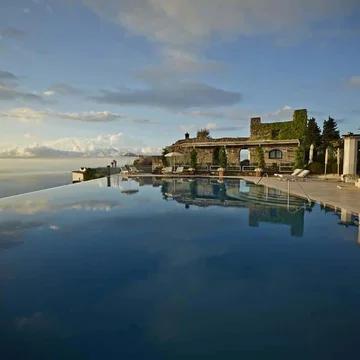 Belmond Hotel Caruso
Nestled on a cliff 1,000 feet above sea level, Belmond Hotel Caruso is a grandiose 11th-century palace that now welcomes visitors from all over the world. The altitude gives Belmond Hotel Caruso an advantage in terms of views; overlooking the Bay of Salerno, this hotel provides the best and most breathtaking panoramic views in all Ravello. Surrounded by mountains, private gardens, and an infinity pool that overlooks the flourishing mountain tops, Belmond Hotel Caruso, despite its remote location, is full of sights to explore.
Check Availability
Belmond Hotel Caruso's palatial style will come as no surprise, considering the building that constitutes the hotel used to be an affluent palace. Some touches scattered throughout the hotel reflect its previous built, such as the grand hallways, crystal chandeliers, and high-hanging artwork. Invaluable antiques and paintings can be spotted in almost every room of the hotel, giving it a pleasant artistic feel.
The rooms and suites are similar in character; all 50 of them come with stunning views of the sea, large en-suite marble bathrooms, and hand-picked antique furniture. The color palette is bright and mostly reliant on neutrals with elegant pops of color.
Guests can enjoy the spectacular surroundings from Belvedere Restaurant which focuses on Mediterranean cuisine. Chef Mimmo di Raffaele ensures that the meals are high-quality and always composed of local and fresh produce. The Arcade Bar, containing 18th-century frescoes, is a real treat for an invigorating cocktail or a chilled glass of champagne.
As far as pricing is concerned, the rooms begin at $660 a night.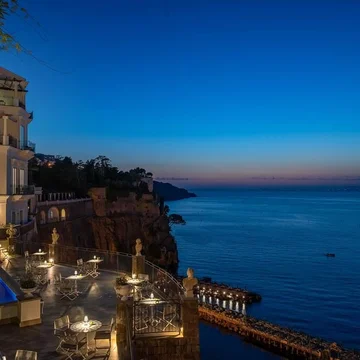 Hotel Bellevue Syrene
Located on a steep cliff overlooking Vesuvius and the Bay of Naples, this gorgeous hotel was a former 18th-century villa. Sorento center is merely a short walk away from the hotel, leaving guests with lots of options for places to visit.
Check Availability
There are many activities you can enjoy within the hotel itself; guests have access to a private deck where you can enjoy the Mediterranean Sea, dip in a private guest-only pool, and sunbathe to your heart's content. Alternatively, you can visit the generously sized spa featuring a hammam and a sauna, or order a refreshing drink in Club Lounge.
Merging Italian stylistic touches with a modern twist, the architecture and design of this building is universally captivating. The build of the hotel is reminiscent of Santorini's famous architecture – sky blue details grace the furnishings, while all-white walls are present throughout the hotel. Carefully placed timber touches provide an earthy tone. The private balconies will enable you to take in the astonishing scenery from the comfort of your own suite, while the large plush beds will provide much-needed rest.
Hotel Bellevue Syrene's La Terrazza brings the crème de la crème of local cuisine. From Spaghetti of Pastificio dei Campi to mascarpone desserts, the menu is nothing short of extraordinary. The breakfast buffet serves seasonal fruit, replenishing juices, and freshly made pastries, among other breakfast options.
Prices start at $580 for a standard room for a single night.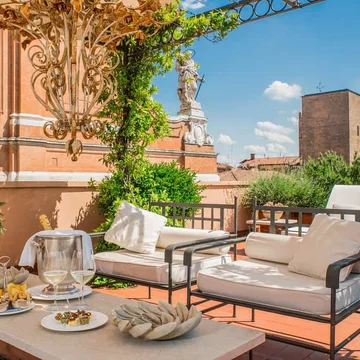 Grand Hotel Majestic già Baglioni
Bologna is home to one of the most esteemed and visited luxury hotels in Italy. Grand Hotel Majestic già Baglioni, the oldest hotel in this historic city, is located right in the heart of Bologna, near the Two Towers, Palazzo Fava, and the famous Piazza Maggiore square, allowing guests to easily visit all main attractions on foot.
Check Availability
The hotel is built on an ancient Roman road, still visible to this day from some areas in the hotel. The perfect mix of rich history and contemporary grandeur, Grand Hotel Majestic già Baglioni's world-class service and accommodating facilities make for a perfect stay. Affluent gold details, low-hanging chandeliers, grand staircases, freshly delivered flowers, beautiful artwork and frescoes – Grand Hotel Majestic già Baglioni has it all.
There are 106 rooms to choose from, all faithful to traditional Italian style and embellished with palatial details and antiques. The color scheme differs from room to room, so you can easily find one tailored to your liking. Some rooms come with their own private balconies from where you can enjoy the renowned Bologna rooftops.
There is a fitness center, a sauna, and a steam room available for guests. Unique to Grand Hotel Majestic già Baglioni, there is a splendid 18th and 19th-century breakfast room available for booking.
The I Carracci Restaurant is the place to go for traditional Italian cuisine combined with gorgeous one-of-a-kind artwork like the frescoes of the Carracci brothers. The Enoteca Morandi wine cellar has a timeless and Victorian character, providing guests with more than 300 aged and quality wines to choose from. Café Marinetti has a modern, avant-garde feel. Make sure you try their signature Roberta cocktail, a tribute to one of their own – Pietro Cuccoli.
Guests can book a standard room starting from $350 a night.
Find Luxury Hotels in Italy