Few things beat a luxury hotel stay in a private area with breathtaking views. But, a luxury hotel with yachts might just take the first spot.
The yacht collections from these opulent hotels and luxury island resorts are just as luxurious as the buildings themselves. Yacht rides and cruises are often included in the all-inclusive hotel experience, but it is definitely worth the splurge even if they aren't.
Keep reading to find the best luxury all-inclusive private yachts for your next ocean getaway.
Private Charters for Luxury Travelers
These five-star luxury hotels have it all, whether traveling with the whole family or hoping for a romantic luxury experience on a sunset cruise. While they may only accommodate up to six guests a suite, their luxury yachts can usually transport much more.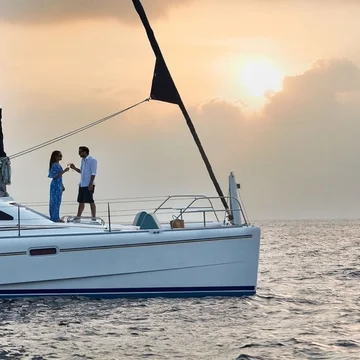 One & Only Reethi Rah
The One & Only Reethi Rah in the Maldives is on the largest island on the North Malé Atoll. It is also one of the most expensive hotels in the Maldives. Choose between the beach villa, water villa, or one of the grand residences while you're here. Either one you choose, this little slice of paradise is surrounded by tropical white sand beaches and azure blue waters all around.
Check Availability
The open-plan rooms are modern and incorporate the beachy atmosphere in the design. Your room doors open up to the crisp beach and jungle in your front yard. Bathrooms are equally as breezy and overlook your private beach area. The hotel has everything you need for a relaxing stay, including multiple restaurants, tennis courts, infinity pools, and a spa. Take to the waters with this hotel's selection of sea vessels. While yachts may be your preference, it doesn't have to be your only choice. One & Only offers guests a selection of sailing boats, including a catamaran, speedboat, yacht charter fleet, and a luxury yacht.
You can choose the route you want to take around the island and stop for a swim, snorkeling session, dolphin watching, or a chance to soak up the Maldives sun. The itinerary includes a half-day or full-day cruise personalized by the yacht captain themselves. You can customize it to your liking and even add a lesson in the Maldivian art of hand-line fishing.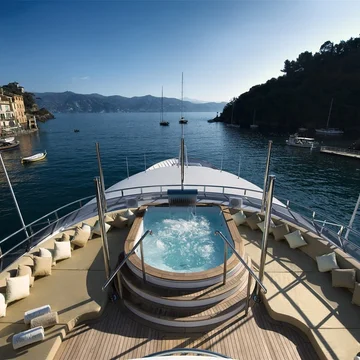 My The Wellesley
The Wellesley gives its guests a blast from the past with its art-deco inspired interior. Despite the homage, this five-star hotel in London's Knightbridge is very modern and surely is a beautiful sight for sore eyes. The Wellesley overlooks Hyde Park and matches its grandeur with equally as elegant walls and historical past.
Check Availability
From this grandiose hotel, the boat hotel in London, My The Wellesley, originated. The yacht has six en-suite cabins available for two guests each. The Owner's Suite has panoramic views of the sea on the trip, while the Master Suite has recenty been completely refurbished. This suite covers the whole lower deck and features a walk-in closet. Both suites are excellent choices for a luxurious stay on the sea, but the finest treasures are found outside your suites. On deck, there is a club lounge and two on-site fine dining restaurants. Grab your meal al fresco under the stars or retreat to the club lounge for a cigar in the bespoke humidor.
Outside on the deck is where you'll find 40 square meters of sunbathing space that includes the splash pool and crash pad. This offers 360 views of the ocean and mountains with loungers all around the gathering spot.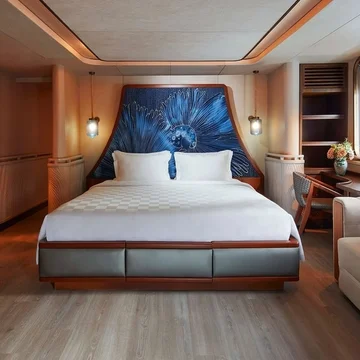 AYANA Komodo Resort
This beach resort on Waecicu Beach in Indonesia is what living on your own private island must feel like. Secluded from the outside world, this resort provides everything you need for an island getaway.
Check Availability
Rooms have floor-to-ceiling windows overlooking the turquoise ocean ahead. Each room comes with a seating area, private bathroom, and room service. To cool off, why not take a dip in the private beach or outdoor swimming pool. After, you can grab a bite to eat at one of the six international restaurants and bars.
Take a luxury overnight charter and explore The UNESCO-protected Komodo National Park over two to three nights. With nine spacious rooms aboard and 16 hardworking crew members waiting on you hand and foot. You'll live in absolute luxury while sailing across the Pacific and the Indian Oceans. Each cabin provides world-class comfort with large beds, seating areas, and a private balcony.
The luxury cruise is all-inclusive and provides all meals as well as on- and off-shore activities. Guests staying on the yacht have a chance to go island hopping and visit the surrounding unspoiled islands. They can also go snorkeling, kayaking, and paddleboarding. All daily meals are freshly prepared by the capable hands of the cruise's personal chef and assistants.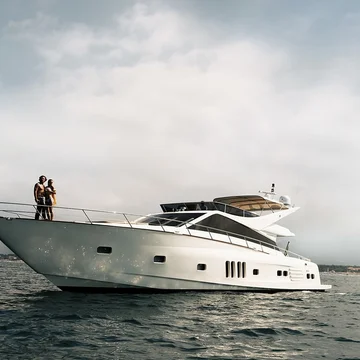 Principe Forte Dei Marmi
Principe Forte dei Marmi is in a coastal town along the Mediterranean sea in Italy, surrounded by other smaller villages. It is an opulent beach hotel that oozes modern luxe just a few steps away from Forte dei Marmi Beach's private shore.
Check Availability
Each room has a simple yet stylish design with eye-catching decor pieces strategically placed throughout. Suites are airy and have an open plan design with a seating area and marble bathrooms. They are also kitted with modern amenities like wifi, air conditioning, and coffee machines.
One amenity you cannot skip while staying there is getting aboard their 24-meter Mazarine yacht. It may seem small, but this private charter has three cabins with accompanying private bathrooms. It also has a lounge and dining area and can hold up to twelve guests for the hotel's exhilarating day tours.
You do not want to miss it as you have the opportunity to sunbathe on the upper deck while you are transported away on the Mediterranean. Besides the amazing ocean views, you are also transported to amazing destinations. These places include the colorful and ever-popular seaside villages of Portofino and Cinque Terre, among others.
This is the perfect escape if you're looking for a deep dive into Italian culture and art.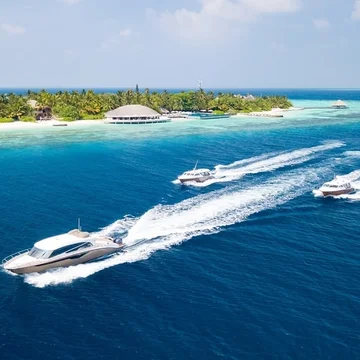 Huvafen Fushi
Another resort in the North Malé Atoll and one of the best luxury hotels in the Maldives, Huvafen Fushi, is an idyllic island getaway. It epitomizes the Maldivian experience with white sands, turquoise beaches, and thatched bungalows. So, it would only make sense that this resort island with beach and overwater bungalows would have a luxury yacht too.
Check Availability
The hotel incorporates nature into its designs often. The bungalows are snugly tucked away between the lush jungle leaves of this island while the ocean surrounds them. While there is a private beach nearby, you don't have to go far as bungalows come with a large sun deck and private pools.
Huvafen Fushi is all about comfort and aims to give its guests just that. There are also four restaurants offering a wide variety of local and international cuisines. Additional facilities include the 'Spa-quarium' where guests can get relaxing treatments in the underwater treatment rooms. Here, youcan watch the ocean currents and coral reefs through the aquarium windows while sipping champagne.
If you're hoping for a more above-water experience, a yacht ride is just what you need. The resort's Silver Surf luxury yacht sees you sailing along with dolphins as they jump in and out of the water as a cheerful hello. If you want something more intimate, the chartered private yacht is available for private hire and can seat up to 12 guests.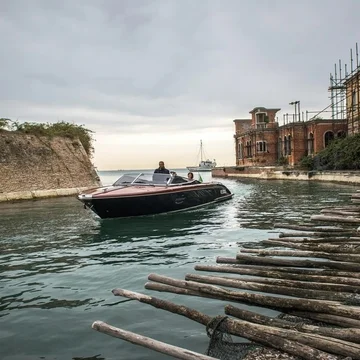 Rooms push you deep into Venetian history and are reminiscent of a romantic Venetian style. Suites are decorated with gold, marble, and richly patterned fabrics. Striking Murano glass chandeliers hang from the ceiling, and century furniture line the floors.
The hotel also has a fine dining restaurant that serves an á la carte Italian menu. Its decor is set up in typical Gritti Place fashion– impressively elegant and over the top. If you're looking for something lighter, two other popular al fresco restaurants are also on-site. They are open for lunch and dinner, respectively. If you're hoping for a nightcap, the hotel's Bar Longhi might be of assistance.
Why not take a leisurely yacht ride to soak up some more Venetian history and sun. This private yacht is great for exploring the surrounding lagoons and nearby towns. The surrounding towns, Treviso and Asolo are popular spots for local poets, musicians, and creatives.
Luxurious Suites for Up to Eight Guests or More
If you're a big family, booking bespoke voyages for up to six guests might not be enough. These private boats cater for up to eight guests and more.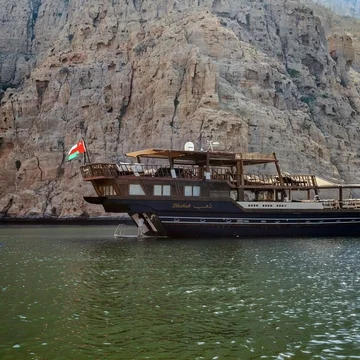 Six Senses Zighy Bay
The Six Senses is an adventure seeker's dream hotel. There are plenty of activities, full-day trips, and marine life interactions available here. If this sounds appealing to you, you might enjoy this mountainous resort or the shore.
Check Availability
The rooms are modern with a rustic feel. Expect rock walls and floors and exposed wood beams towering over you. There are also little divisions between rooms as they flow into each other, like the outdoor bathroom that moves onto the terrace area. This allows you uninterrupted views of Oman's mountains as you soak your troubles away in the tub.
Suites and villas are decked out in Arabian extravagance with copper bathtubs, gigantic infinity pools, and wine cellars. The Private Reserve, the most expensive villa at the resort, has elevator access with a private chef in the full-service kitchen as well as an indoor cinema.
A few cruises are available at the resort, including a sunset cruise, dhow cruise, and a yacht charter. If you're a hands-on person, take the yacht charter package as you can learn how to sail the Lagoon 450 yourself.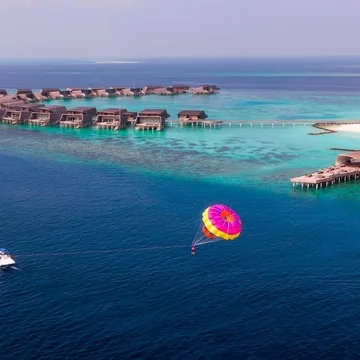 The St. Regis Maldives Vommuli Resort
The Marriot's St. Regis hotel is a five-star resort on a private secluded island. It has the ocean and sand on one end and the lush jungle on the other. To take advantage of the beautiful waters, the resort has set up various water sports activities for their guests upon request. These include windsurfing, snorkeling, and diving in the Indian Ocean.
Check Availability
Resort rooms are expansive and can house up to ten guests in a villa. These villas allow lots of natural light to stream in through the big windows and doors. They also have a private terrace, pools, and walk-in closets. The marble bathrooms feature rainforest showers and bath tubs in addition to the complimentary toiletries and bathrobes.
The resort's luxury yacht, The Norma, is available for private hire to their guests. There are a few packages available, whether it's a family excursion, a date, or just afternoon tea.
Take the 'Family Traditions' package if you have little ones with you. On this boat trip, you'll see dolphins swimming along before stopping at a private island. The marine life is very active here and offers a great opportunity for snorkeling. A light lunch and babysitting service is also included.
If you're hoping for a romantic trip, take the sunset cruise packages. These include champagne and tasty canapes served under the moonlight and stars. These cruises run from between 6-8 pm. The last package is the afternoon tea set which accommodates two to six guests. On this cruise, you'll receive loose tea, gourmet canapes, and soft jazz music for a calming atmosphere.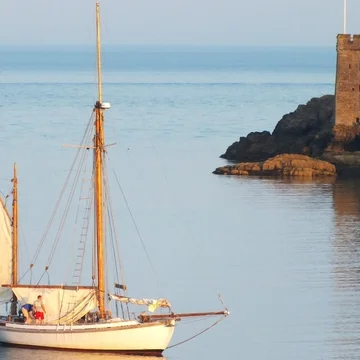 Cary Arms & Spa
The Cary Arms Hotel & Spa in the United Kingdom offers a sweet escape to the seaside resort town of Torquay. The town offers family fun on its sandy beaches set against the colorful house and 10th-century monastery on the mountain.
Check Availability
Cary Arms & Spa is in the heart of the town and offers world-class service to its guests. Rooms are clean and no-fuss, with a select few having sea views and a balcony. The hotel's suites have a mini kitchen and fireplace your dog will love snuggling up in front of.
If you're a bigger family, you'll appreciate the big open spaces of the cottages more. Here, you have an entire bungalow to yourself, equipped with a kitchen, dining table, and fireplace. For leisure, there is bike riding and fishing available. There's also a sauna, steam rooms, and spa facilities on-site.
The Devon Coast is ready to be explored through Cary Arms' luxury sailing yacht. Choose between a two-hour to a full-day sailing excursion with refreshments. Overnight sailing is possible with this luxe yacht with inclusive breakfast and lunch. Dinner comes at an additional fee.
Pangkour Laut Resort
The Pangkour Laut Resort is set in The Straits of Malacca in Malaysia. This strait acts as the shortest shipping route between the Indian Ocean and the East. Thus, the waters flow between Malaysia, Indonesia, and Singapore. This flow creates a warm water temperature on the beach, allowing an excellent swim no matter what time of the year you visit.
Check Availability
Even if the waters were chilly, you wouldn't need to worry as the luxe hotel has two outdoor swimming pools overlooking the garden and sea. The two-person villas are ideal for honeymooners and have oversea balconies. They are quaint suites set against the mountain or in the waters.
The estate rooms are best suited if you have a bigger family of up to six people and more. These rooms have their own private infinity pools on the jungle hilltops. Rooms come with personal chefs and a butler to ensure a restful stay. These also have resting pavilions and indoor and outdoor jacuzzis.
Honeymooners will love the luxury yacht package available to them. The hotel has two luxury charter yachts used to explore Malacca and the surrounding islands. While on the cruise, you'll see Malaysia show off her green jungles and blue waters against the unspoiled landscapes of The Straits.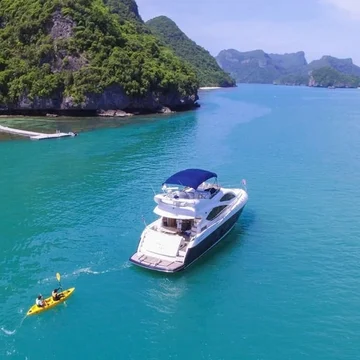 Four Seasons Resort Koh Samui
The Four Seasons resort is a well-known Luxury Koh Samui hotel with many outdoor activities. But, many people might not know that it also has tours to Angthong Marine National Park on its own private yachts. This breathtaking resort is a great family vacation or honeymoon destination.
Check Availability
The resort is about a 30-minute drive from Koh Samui Airport on a secluded private beach. Here you are engulfed by the white sand beaches and swaying palm trees. Unwind in the beach infinity pool or the hotel wellness center with a massage or yoga class. There is also a fitness center on-site that offers fitness classes and a personal trainer.
Your private villa has a thatched roof and a free layout. Rooms are simple with neutral colors and wood furnishings to let the jungle and beachfront take center stage. The en-suite bathrooms have a spa bath, bidet, and complimentary toiletries and robes. Floor-to-ceiling doors and windows allow the hot Thai sun to stream in and brighten the room.
If you're craving a little more sun and sea, these luxury yacht cruises are for you. There are two private boats available for eight to 12 guests. However, only the eight guest boat, The Minor Affair, allows overnight stays.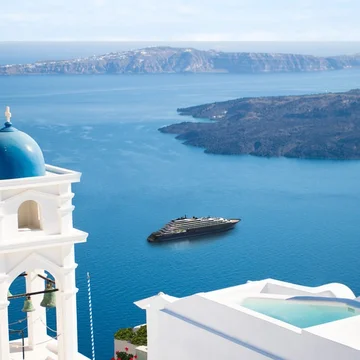 The Ritz Carlton Yacht Collection
The Ritz-Carlton has hotels all over the world and is constantly expanding. For 2022, there are already two luxury hotel openings pending in New York and Paradise Valley, Arizona. So, it is good to know that many of these hotels also have private Ritz yacht cruises globally.
Check Availability
The Ritz Carlton cruise ships are designed to combine the classic service and luxury experience you get time and time again at any Ritz hotel. These yacht rooms are modern, spacious, and private. Your personal concierge will tend to your needs if you have any requests to ensure you have the very best coastal experience aboard.
The Ritz-Carlton cruises include many outdoor adventures as it sails from destination to destination. Routes range from the Mediterranean, Caribbean, and Transatlantic regions.
Depending on your cruise and duration, you could be able to sightsee colorful cultures or visit historical landmarks. If you're planning on stopping near New York, you'll also get a chance to catch its vibrant nightlife scene.
Amenities of the yacht experience include fine dining restaurants, wellness centers, spas, and infinity pools. There is also live music and entertainment every night from local artists with the bar just around the corner.
Make sure to read the fine print on the pre-sailing information before booking your Ritz cruise.
Are You Ready for Your Luxury Yacht Hotels Stay?
While it is fun to stay in luxury hotels all over the world, sometimes you just need a change of scenery. Booking a stay at a luxury hotel with yachts is a great way to see your holiday destination, or if you're in a secluded area, it's a great mode of transport.
Luxury boat rides are also a great way to unwind in the sun while the hotel staff looks after your every need. The private charters on this list have staff around you 24/7, catering to your every need. All you have to worry about is planning what you're going to do at your landing destination and avoiding tan lines.