Located in south-eastern Asia, the gorgeous country of Thailand is known for its fabulous beaches, incredible Thai cuisine, and historic temples. On this list, you will find a wide range of luxury hotels in Thailand to choose from, from beachfront five-star resorts, to serene hotels tucked in remote villages, surrounded by dense forests.
What all these gorgeous accommodation options have in common is that they allow their guests to experience Thai culture to the fullest, whether through local artwork, on-site restaurants serving Thai cuisine, or activities and packages that show the best of Thailand.
One thing is certain – there's a lot to see and explore when visiting Thailand. We sincerely hope that this list of luxury hotels will help you narrow down your preferences and help you decide on where you'll be staying next.
With that said, let's get started with our first pick.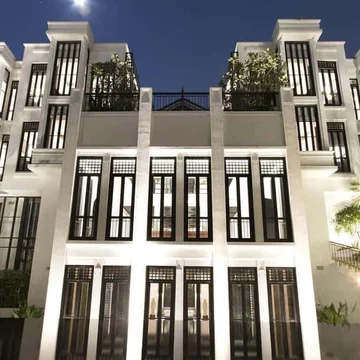 The Siam Hotel
The Siam Hotel is one of the most unique hotels in Thailand's capital. Renowned architect Bill Bensley is the man behind The Siam's stylish and glamorous design infused with local influences, adding a homely touch to the hotel.
Check Availability
It's located near the most visited sites in Bangkok, including the Champagne Bar – a famous, busy bar with gorgeous panoramic views of the Bangkok skyline. The Siam Hotel is about a 10-minute ride away from the Vimanmek Teak Palace and the Grand Palace, two well-known historic landmarks.
The 75-foot pool, surrounded by lush greenery and a wonderful view of the river, is a guest favorite. Within the hotel, there's a premium spa, called Opium Spa, where you can book various replenishing treatments and massages.
The Siam Hotel is recognized for all the experiences it offers its guests, ensuring there's not a single dull moment during your holiday. Among the available activities there's a sunset cruise that allows you to explore the Chao Phraya River on a rice barge, a private Thai Cooking Class, and an incredible opportunity to get a Sak Yant tattoo.
The Siam Hotel offers a varied selection of accommodation options. Regardless if you choose a luxurious suite, a lavish pool villa, or the Connie's Cottage, a fantastic stay is guaranteed. All of them come with large beds, precious antiques, unique and local artwork, and a TV. Some other amenities include spacious bathrooms, air conditioning, and a portier service.
The hotel's Chon Thai Restaurant serves delicious and harmonious Thai cuisine prepared with the freshest local ingredients. For a well-rounded stay, make sure you don't miss out on this wholesome dining experience while staying at The Siam.
The rates at The Siam Hotel start at $550 a night.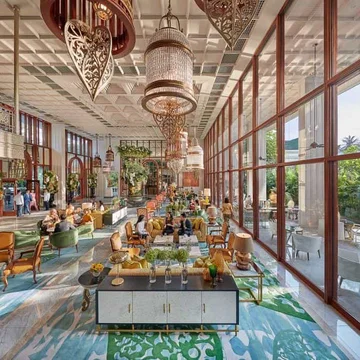 Mandarin Oriental Bangkok
Mandarin Oriental Hotels have become synonymous with luxury, grandeur, and affluence, and Mandarin Oriental Bangkok is no exception. Located near Chao Phraya River, the hotel offers boat rides to the most famous Bangkok attractions, including the ICONSIAM Shopping Mall where you can shop luxury brands like Gucci, Saint Laurent, and Louis Vuitton. The hotel is in close proximity to Chinatown and the Temple of Dawn, which can be reached in a 10 minutes' drive.
Check Availability
The impeccably decorated rooms and suites usually have a neutral and beige color palette, with fun bright-colored details that perfectly match the teak wooden furniture. There are floor-to-ceiling windows for a stunning view of Bangkok and the Chao Phraya River, along with amazing amenities like a coffee and tea making station, a flat-screen TV, and large bathrooms. The accommodations are extremely detail-oriented, so expect to find Thai silk fabrics and Asian-inspired artwork in every corner.
One of the many perks of staying at a Mandarin Oriental Hotel is their award-winning spa, where you can book many full-body treatments, massages, and facials that blend contemporary and ancient techniques for the ultimate relaxing package.
Guests can visit the two-Michelin star French Restaurant Le Normandie, where you can sample contemporary French cuisine while enjoying a scenic view. The relaxing Author's Lounge serves afternoon tea in a serene setting, allowing you to view photographs of famous authors who visited the restaurants while sipping your tea. Lord Jim's focuses on international dishes and seafood along with a supreme wine list.
The standard rooms cost from $660 per night.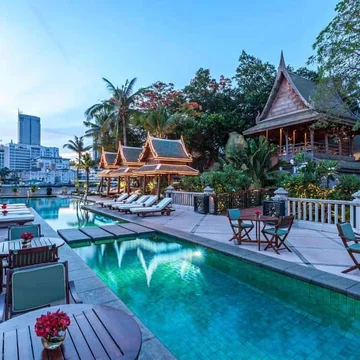 The Peninsula Bangkok
Another one of our top picks for luxury hotels in Thailand, The Peninsula Bangkok has a fantastic location right on the bank of Chao Phraya River. Conveniently, a free boat ride is granted for all guests, allowing you to travel to the most popular sightseeing locations in Bangkok, including the picture-perfect Royal Palace.
Check Availability
Keep in mind that this is not a popular nightlife area in Bangkok, so if you're looking for a livelier atmosphere, perhaps opt for some of the other options on this list.
A plethora of fine dining options are available for guests of The Peninsula Bangkok. The renowned Mei Jiang Chinese Restaurant is known for its authentic Cantonese food, while Thiptara Restaurant, a small oasis with spectac