Located in south-eastern Asia, the gorgeous country of Thailand is known for its fabulous beaches, incredible Thai cuisine, and historic temples. On this list, you will find a wide range of luxury hotels in Thailand to choose from, from beachfront five-star resorts, to serene hotels tucked in remote villages, surrounded by dense forests.
What all these gorgeous accommodation options have in common is that they allow their guests to experience Thai culture to the fullest, whether through local artwork, on-site restaurants serving Thai cuisine, or activities and packages that show the best of Thailand.
One thing is certain – there's a lot to see and explore when visiting Thailand. We sincerely hope that this list of luxury hotels will help you narrow down your preferences and help you decide on where you'll be staying next.
With that said, let's get started with our first pick.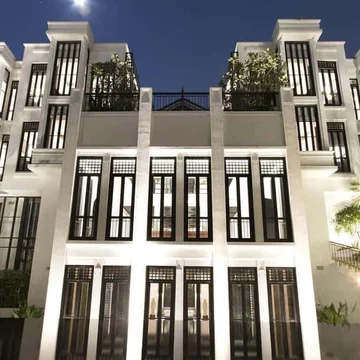 The Siam Hotel
The Siam Hotel is one of the most unique hotels in Thailand's capital. Renowned architect Bill Bensley is the man behind The Siam's stylish and glamorous design infused with local influences, adding a homely touch to the hotel.
Check Availability
It's located near the most visited sites in Bangkok, including the Champagne Bar – a famous, busy bar with gorgeous panoramic views of the Bangkok skyline. The Siam Hotel is about a 10-minute ride away from the Vimanmek Teak Palace and the Grand Palace, two well-known historic landmarks.
The 75-foot pool, surrounded by lush greenery and a wonderful view of the river, is a guest favorite. Within the hotel, there's a premium spa, called Opium Spa, where you can book various replenishing treatments and massages.
The Siam Hotel is recognized for all the experiences it offers its guests, ensuring there's not a single dull moment during your holiday. Among the available activities there's a sunset cruise that allows you to explore the Chao Phraya River on a rice barge, a private Thai Cooking Class, and an incredible opportunity to get a Sak Yant tattoo.
The Siam Hotel offers a varied selection of accommodation options. Regardless if you choose a luxurious suite, a lavish pool villa, or the Connie's Cottage, a fantastic stay is guaranteed. All of them come with large beds, precious antiques, unique and local artwork, and a TV. Some other amenities include spacious bathrooms, air conditioning, and a portier service.
The hotel's Chon Thai Restaurant serves delicious and harmonious Thai cuisine prepared with the freshest local ingredients. For a well-rounded stay, make sure you don't miss out on this wholesome dining experience while staying at The Siam.
The rates at The Siam Hotel start at $550 a night.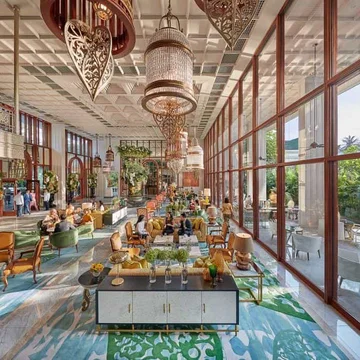 Mandarin Oriental Bangkok
Mandarin Oriental Hotels have become synonymous with luxury, grandeur, and affluence, and Mandarin Oriental Bangkok is no exception. Located near Chao Phraya River, the hotel offers boat rides to the most famous Bangkok attractions, including the ICONSIAM Shopping Mall where you can shop luxury brands like Gucci, Saint Laurent, and Louis Vuitton. The hotel is in close proximity to Chinatown and the Temple of Dawn, which can be reached in a 10 minutes' drive.
Check Availability
The impeccably decorated rooms and suites usually have a neutral and beige color palette, with fun bright-colored details that perfectly match the teak wooden furniture. There are floor-to-ceiling windows for a stunning view of Bangkok and the Chao Phraya River, along with amazing amenities like a coffee and tea making station, a flat-screen TV, and large bathrooms. The accommodations are extremely detail-oriented, so expect to find Thai silk fabrics and Asian-inspired artwork in every corner.
One of the many perks of staying at a Mandarin Oriental Hotel is their award-winning spa, where you can book many full-body treatments, massages, and facials that blend contemporary and ancient techniques for the ultimate relaxing package.
Guests can visit the two-Michelin star French Restaurant Le Normandie, where you can sample contemporary French cuisine while enjoying a scenic view. The relaxing Author's Lounge serves afternoon tea in a serene setting, allowing you to view photographs of famous authors who visited the restaurants while sipping your tea. Lord Jim's focuses on international dishes and seafood along with a supreme wine list.
The standard rooms cost from $660 per night.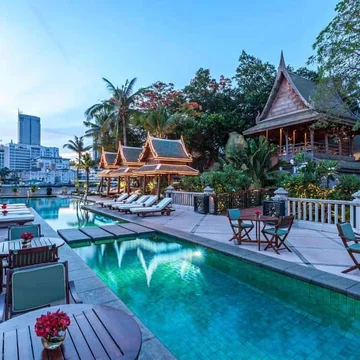 The Peninsula Bangkok
Another one of our top picks for luxury hotels in Thailand, The Peninsula Bangkok has a fantastic location right on the bank of Chao Phraya River. Conveniently, a free boat ride is granted for all guests, allowing you to travel to the most popular sightseeing locations in Bangkok, including the picture-perfect Royal Palace.
Check Availability
Keep in mind that this is not a popular nightlife area in Bangkok, so if you're looking for a livelier atmosphere, perhaps opt for some of the other options on this list.
A plethora of fine dining options are available for guests of The Peninsula Bangkok. The renowned Mei Jiang Chinese Restaurant is known for its authentic Cantonese food, while Thiptara Restaurant, a small oasis with spectacular skyline views and tropical gardens, serves delicious Thai food. The River Café and Terrace, located right on the riverbank, offers views unlike any other along with an array of international cuisine.
Apart from restaurants and bars, there are other facilities available for guests such as a posh spa, a fitness center that offers free classes, an outdoor pool, and a tennis court. The service at The Peninsula Bangkok is without a flaw – the staff are more than happy to cater to each and every one of your needs.
The suites at The Peninsula Bangkok are lavish and sophisticated, yet concurrently artsy and charming. Featuring large floor-to-ceiling windows, you're guaranteed to have breathtaking views from every room and suite. The ligneous furnishings in the bedroom and living room area complement the warm color scheme incredibly well. Local artwork is meticulously placed on almost every wall, keeping the culture and spirit of Thailand alive.
You can get a standard room for around $380 per night.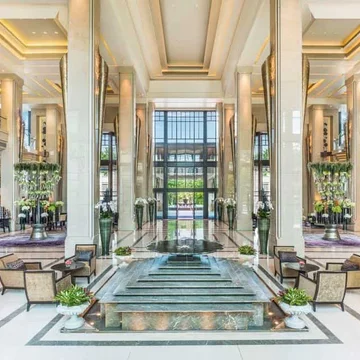 Siam Kempinski Hotel Bangkok
The exceptionally palatial Siam Kempinski Hotel Bangkok is every shopaholic's dream. Featuring direct access to the Siam Paragon Mall, where you can get access to brands like Cartier, Chanel, Dolce & Gabbana, and Versace, it's ideal for anyone who puts luxury shopping high on their priority list while on a holiday. The Siam BTS Skytrain Station is nearby, while some popular tourist attractions like the Royal Palace might take you a bit longer to reach since they are a 40-minute ride away.
Check Availability
Traces of Thai culture are tastefully merged with classical luxury details, resulting in a refined style. What really stands out at Siam Kempinski Hotel Bangkok is the enormous glitzy lobby with its large windows, high columns, and many plush yet comfy seating areas for waiting guests, as well as their dedication to art – more than 4000 art pieces are scattered around the hotel.
There are 400 rooms to choose from, most of which come with their own private terraces, coffee and tea making facilities, a flat-screen TV, and a minibar featuring complimentary drinks. Some rooms even have direct access to the pools, making it easy for guests to dip in the sun-kissed water.
Four pools in total are located on the property, in addition to a spacious spa and fitness center. There are three restaurants to pick from, including the Michelin-starred Sra Bua by Kiin Kiin that serves Thai dishes with a twist. Visit the Hanuman Bar for some tasty cocktails and timeless spirits, accompanied by live music during the weekends.
The rooms begin at $250 per night.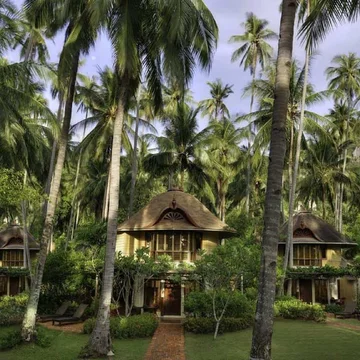 Rayavadee
Rayavadee is nestled on the Andaman Coast of Krabi, adjacent to Krabi Marine's National Park. Its splendid location will allow you to access the nearby beaches at any point during your stay, as well as the lush surrounding garden. If you care for a little adventure, you can easily access two gorgeous islands that are located nearby: the Bamboo Island and the Phi Phi Island, both of which are a 30-minute boat ride away.
Check Availability
A premium spa is included, offering relaxing massages and body treatments, as well as a personal butler. Guests have access to a tennis court where you can get your daily exercise in, although swimming is always an option both at the hotel's swimming pool and the sea. The Rayavadee Boutique is home to Krabi's only five-star shopping experience, selling stunning jewellery, clothes, and antiques.
Various dining options are available at Rayavadee, ranging from Asian to Western cuisine. Raya Dining offers five-star service in conjunction with an innovative menu with a relaxed and welcoming atmosphere, while Krua Phranang, its seaside restaurant serving traditional Thai dishes, will welcome you in a romantic ambience.
Settled in the depths of Rayavadee's own private jungle are its 94 gorgeous villas. The earthy vibe matches the natural surroundings perfectly, much like the ligneous furniture and natural tones. Don't be surprised if you see a beautiful exotic bird or a monkey from your own private balcony.
Many Thai-inspired details and artwork are featured in the villas, and guests get complimentary environmentally-friendly toiletries. Some of the villas come with their own private pool sitting next to the tropical gardens.
The rates at Rayvadee start at $480 per night.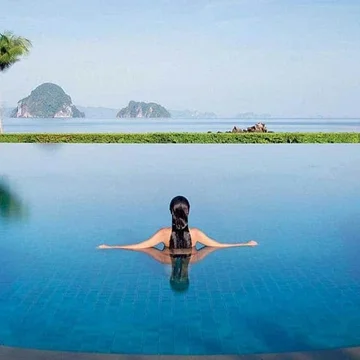 Phulay Bay, A Ritz-Carlton Reserve
Tucked away in tropical gardens on the shores of Andaman Sea, the Phulay Bay Resort offers world-class service and an intimate setting for the ultimate holiday getaway. Despite its remote location, there are many things to do in and around the resort, like visiting the town of Ao Nang, which is only a 15-minute ride away from the hotel, with local restaurants and charming little shops.
Check Availability
There are 54 stylish and sophisticated villas and suites in total, dispersed around the resort. Each is uniquely designed in a different yet fun color scheme, containing different local artwork, and equipped with a private hot tub, Thai wooden furniture, and classy king-sized beds.
A widely recognized feature of Phulay Bay is its infinity pool placed against the gorgeous Phang Nga Bay, resulting in gorgeous views. Spacious and stunning, it's the perfect alternative if you don't feel like making your way to the beach.
Other services include a 24/7 butler service, an on-site spa, and a well-equipped fitness center. You also have the option of booking many activities throughout your stay, like yoga classes, kayaking, and tai chi, all serving as a boredom repellant.
Since all the above-mentioned activities are bound to tire you out, it's imperative that you refuel afterwards, and that's where Phulay Bay's exclusive restaurants come in. There are six bars and restaurants to choose from, serving both Asian and Western cuisine. Lae Lay is an excellent option for seafood dishes, while Sri Tang's strong suit is local Thai cuisine. For innovative cocktails with sunset views, visit the famous Chomtawan Bar.
The rooms start at $370.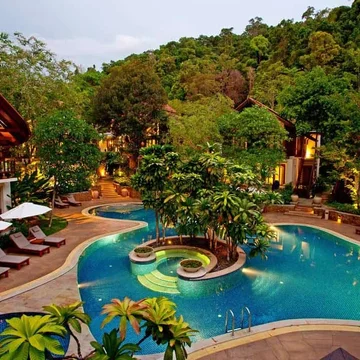 Located next to one of the most beautiful beaches in the country, right on the Krabi coast, overlooking the Hang Nakk Mountain and the Andaman Sea, The Tubkaak Krabi Boutique Resort promises breathtaking views and a memorable stay. The resort is a tropical paradise for anyone who enjoys sandy beaches and a balmy climate, but it will satisfy explorers just as much, thanks to its close proximity to Krabi Town and Ao Nang, where guests can get a change of scenery and visit the local restaurants.
The Arundina, a spectacular on-site restaurant, serves both authentic Thai food and European staples, giving you lots of culinary variety. For the ultimate romantic dining experience, you have the option of booking a private dinner on one of its beaches.
The Tubkaak Krabi Boutique Resort's style is truly remarkable – the right mix of coziness and elegance. The rooms are warm and inviting, all featuring a flat-screen TV, wooden fixtures, and private balconies with views of the bay and surrounding greenery.
L'escape Spa is the place to go for a rejuvenating massage or a therapeutic treatment, while bookworms are more than welcome to visit the library and enjoy the reader's collection of books available for browsing during their stay. In case you're seeking more variety in your workout routine, free workout classes, including yoga and Thai boxing, are available for booking.
Prices usually average around $180 a night, though it depends on whether you're booking during low or high season.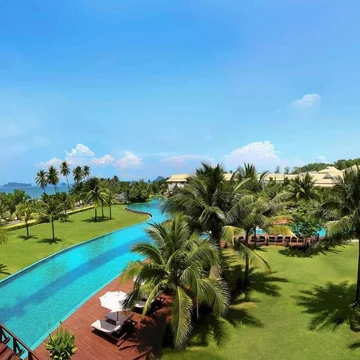 Sofitel Krabi Phokeethra Golf and Spa Resort
Sofitel Krabi Phokeethra Golf and Spa Resort is recognized as one of the best luxury hotels in Thailand. Located just a few steps away from the famous golden beach and surrounded by a beautiful rainforest, it's the perfect location for an intimate and secluded holiday.
Check Availability
The town of Ao Nang is only a short drive away from the hotel, ideal for when you feel like you need a change of scenery. On top of that, guests can rent a boat that will lead them to one of the neighboring islands, giving you a lot of variety in terms of how you spend your days while staying here.
The rooms and suites at Sofitel Krabi Phokeethra Golf and Spa Resort are simply gorgeous. Offering views of the Andaman Sea, the suites are spacious and have a unique charm due to the Victorian-style décor. Despite being a chain hotel, there is nothing sterile or impersonal about this particular Sofitel – touches of Thai culture like colorful paintings and fabrics can be found in every room, giving off a homely and welcoming vibe. Complimentary L'Occitane and Hermes products are featured with every booking.
One of the things Sofitel Krabi Phokeethra Golf and Spa Resort is known for is its enormous swimming pool, which is regarded as one of the biggest swimming pools in the country. There is also a spa, a fitness center, a golf course, and a tennis court available to use.
With three main restaurants on the property, guests can rest assured knowing that their culinary needs are always met. White Lotus serves Thai and Indian cuisine with regional vegetarian specialities, while Maya is known for the generous international breakfast buffet. Venezia is another popular restaurant, serving authentic Italian cuisine in an elegant setting.
You can book a standard room for as low as $85 per night.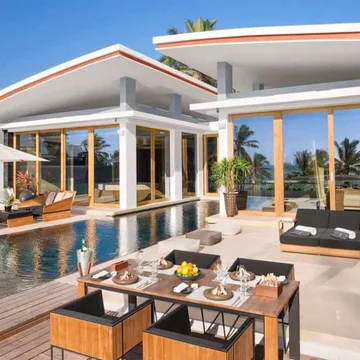 Iniala Beach House Resort
Known as the hotel where the Kardashians stayed during their holiday, Iniala Beach House Resort is a secluded five-star resort, located right on Natai Beach. While there aren't many places to visit around the hotel, there are plenty of things to occupy your time during your stay, and many beaches to explore, so you will never feel trapped or bored. Having such an alluring and secluded location, it's no secret why the hotel is a magnet for celebrity guests year-round.
Check Availability
Iniala Beach House's style is nothing short of spectacular. The unique and funky designs make the hotel stand out from the rest, and guarantee a memorable stay. Choose between stunning multiple-room villas or the penthouse – whatever option you go for, you won't be disappointed. Both the penthouse and the villas come with a private pool, one or more bedrooms, gorgeous beach views, and a separate dining area.
Each villa comes with its own staff – a chef, a manager, a spa therapist, a driver, and a housekeeper, constantly ensuring that every one of your needs is met. And if you ever feel like you need more, you have the option of hiring a personal butler.
The breakfast at Iniala Beach House Resort is especially lavish, with delicious international and local options, puffy pastries, and sumptuous cakes. The resort's own Esenzi restaurant, serving Asian cuisine with a focus on seafood, is the place to go for fine dining in a sophisticated atmosphere.
The rates start at $850 per night.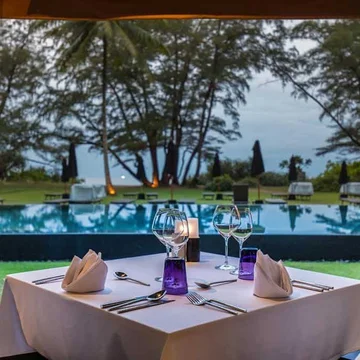 Sala Phuket
If privacy is a big priority for you when traveling abroad, consider visiting Sala Phuket – a five-star luxury resort featuring massive swimming pools, an incredible range of facilities, and eye-catching architecture.
Check Availability
The location of Sala Phuket is impeccable – situated on Mai Khao Beach, one of the most beautiful beaches in the area, it's also close to Phuket Old Town where you can visit historic landmarks, local restaurants, lively bars, and shops. Additionally, the picturesque Phang Nga Bay can be reached in a thirty-minute drive.
Sala Phuket is renowned for its facilities. Featuring a premium spa that has beachfront massage terraces and an infinity pool overlooking the lovely beaches, the hotel's staff puts your relaxation at the top of their priority list. For fitness junkies, there is a well-equipped fitness center available to use, as well as complimentary bicycles that allow you to explore the nearby attractions seamlessly. The open and elegant rooms and suites come with their own private pools, outdoor bathrooms, and flat-screen TVs.
A heavy emphasis is put on exploring and sightseeing; Sala Phuket offers a variety of sea, city, mountain, and jungle activities that will result in unforgettable memories. Plenty of tours are available for booking, like snorkeling and elephant trekking.
The award-winning Sala Restaurant serves both International and Thai cuisine, along with a delicious breakfast menu. To top that off, the service is excellent and the ambience is romantic and serene, so all your senses will be satisfied.
Prices for low-season dates begin at $120 a night.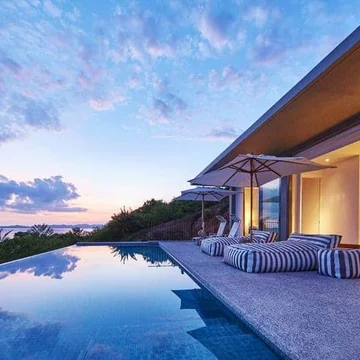 COMO Point Yamu
Private beaches, stylish accommodation, ultra-long pools, and a world-class spa – COMO Point Yamu has it all. Situated on the east of Phuket, the hotel has quite a remote location, so you will need a taxi or a car hire to reach the nearest town. Luckily, COMO Point Yamu has a long list of amenities and activities, so there won't be a single dull moment around.
Check Availability
The style of this five-star hotel is minimalistic, elegant, and chic. All 79 rooms and suites have a white color palette which brings out the turquoise blue of the water that can be seen thanks to the floor-to-ceiling windows provided in every accommodation. The suites come with their own private pools and lounge area. The bathrooms come with large tubs with a view of the surrounding beaches and mountains – the perfect backdrop for a relaxing bath.
COMO Point Yamu offers many opportunities to take a break from the hot weather, whether you choose to take a dip in the hotel's 330-feet pool or visit The Como Beach Club – the private beach owned by the hotel. Make sure you pay the Como Shambhala Spa a visit during your stay, where you can book a myriad of relaxing treatments and massages.
The hotel's activities list extends to the complimentary classes you can book during your stay, including yoga, Thai boxing, and tai chi. If you aren't in the mood for any strenuous physical activities, try the water activities at Como Beach Club: diving, cooking classes, an ATV tour, a snorkeling trip, or a private cruise – the list is endless.
La Sirena is an Italian restaurant that serves delicious breakfast every morning, with many Thai specialties and Western staples. Enjoy traditional wood-fired Italian dishes during the rest of your day, including antipasto platters and pizzas. Open for dinner, only the bright and airy Nahmyaa serves traditional Thai cuisine, including appetizing Thai desserts like sticky rice with mango.
The rates per night begin at $300.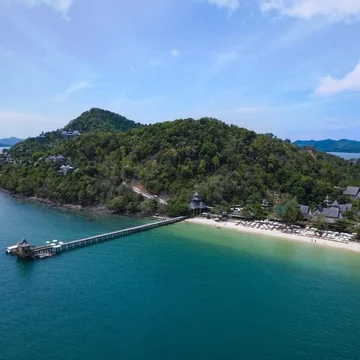 Ko Yao Yai, Phuket, Thailand
Santhiya Koh Yao Yai Resort and Spa
Santhiya Koh Yao Yai Resort and Spa takes eco luxury to the next level. Located on a gorgeous remote island, the resort is a tropical paradise on its own, with authentic Thai designs and a variety of restaurants serving Thai cuisine.
Check Availability
By the Sea Restaurant and Bar sits right on the sandy beach and offers spectacular sunset views and signature cocktails with a relaxed atmosphere. Chantara restaurant is a weekend-only restaurant that serves both Thai and International cuisine, while Saaitara Restaurant has an appealing Mediterranean menu that can be enjoyed along with the panoramic views of Phang Nga Bay.
Santhiya Koh Yao Yai Resort and Spa offers 39 teakwood pool villas and 109 deluxe rooms located on a cliff, so you can expect the views of Phang Nga Bay to be nothing short of extraordinary, especially come sunset. The rooms are spacious and inviting, while the villas are slightly more luxurious, with ligneous furnishings, flowy bed curtains, earthy décor, and warm tones that complement the natural surroundings impeccably.
The Ayurvana Spa has a comprehensive list of treatments, including facials, baths, massages, and body scrubs that will relax every cell of your body. There is also a pool and a sauna available for guests, giving you a lot of variety activity-wise.
On top of all that, Santhiya Koh Yao Yai Resort and Spa offers many tours of the surrounding islands, perfect for adventurous folk who want to see more of Thailand.
The price for a standard room during low season is $100.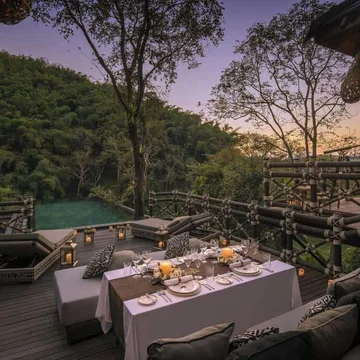 Four Seasons Tented Camp Golden Triangle
The Four Seasons Tented Camp Golden Triangle provides guests with a unique opportunity to enjoy glamping in style. Ideal for anyone who wants to be in touch with nature while on holiday, guests get to stay in luxury air-conditioned tents that come with comfortable king-sized beds, a large bathtub, and a private balcony with your own hot tub. From the tents, you can enjoy stunning views of the surrounding mountains and nature.
Check Availability
Even though there isn't a fitness center on the property, you can partake in outdoor activities such as hikes, workout classes, and runs. If you ever feel like your muscles are getting sore, just pop in the hotel's premium spa, where you can book a wonderfully relaxing body treatment or facial.
Restaurant Nong Yao serves Thai, Laotian, and Burmese cuisine, along with a delicious breakfast and a few Western classics on the menu for comfort. Private dining experiences like picnics can also be arranged for guests. The Burma Bar is ideal for a refreshing pre-dinner cocktail.
Four Seasons Tented Camp Golden Triangle is dedicated to hosting special experiences for its guests. Book a thrilling "My Elephant and I" adventure where you get to learn and interact with elephants, a "Colors of Chiang Rai" tour that will take you to the best sights in Chaing Rai, including the nearby temples and attractions. If you're partial to riverscapes, the exciting "Golden Triangle Excursion" will take you on a cruise along the Mekong River accompanied by a guide who will escort you to the heart of the Golden Triangle.
A tent will cost you around $1,100 a night.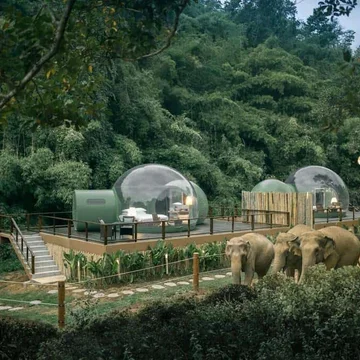 Anantara Golden Triangle Elephant Camp and Resort
Right in the heart of the Golden Triangle, Anantara Golden Triangle Elephant Camp and Resort boasts incredible views of the surrounding mountains and bamboo forest, making it a perfect option for an intimate escape in nature, infused with the right amount of adventure and thrill.
Check Availability
Thanks to the plethora of elephant-centric experiences offered by the resort, like the elephant camp experience, guests get a unique opportunity to learn about the history and upkeep of these gorgeous animals, all the while being right next to them in person. Other leisurely activities include yoga classes, a tour of the countryside, boat rides, and cycling.
And if that wasn't enough, there's also a pool, a fitness center, and a tennis court available for guests to use at any point during their stay. The world-class spa includes many healing treatments that will take care of any muscle soreness after the strenuous physical activities.
For authentic Thai dishes served in a relaxed setting, visit Sala Mae Nam, the on-site restaurant that also serves an international breakfast buffet. Their signature Italian Chiang Rai restaurant has a more formal setting, serving scrumptious Italian dishes with an exceptional wine list. Drinks and lighter meals can be ordered at the Elephant Bar.
The rates begin at approximately $450 a night.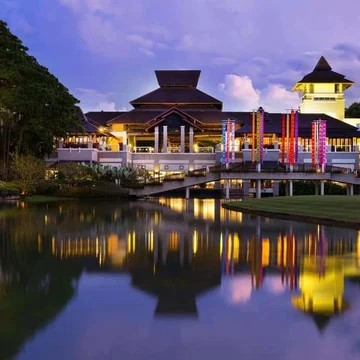 Le Méridien Chiang Rai
Le Méridien Chiang Rai is one of the best luxury hotels in Thailand. This five-star wonder is ideal for anyone whose priority is sightseeing while on vacation since there are many historic Buddhist temples and nearby villages to explore. The hotel is surrounded by beautiful lush mountains, overlooking the Mae Kok River, so astounding views are guaranteed both from the common rooms and the suites. Shopping addicts will also appreciate this hotel's location, seeing as it's close to Chiang Mai's night market where you can get anything from souvenirs to clothing and food.
Check Availability
Le Méridien Chiang Rai offers an extraordinary culinary adventure, courtesy of the on-site restaurants and bars. Favola serves delicious Italian dishes with a long wine list in a romantic ambience, resulting in an epicurean culinary experience. Latest Recipe is a modern and chic restaurant that invites you to sample their all-day international menu, while Latitude 19 serves a combination of signature and classic cocktails, light meals, and delicious coffee.
Its world-class service is one of the things that keeps loyal guests coming back. There is a premium spa and sauna where you can replenish your energy stores, as well as a commodious gym where you can book yoga classes. Alternatively, opt for a refreshing dip in their infinity pool.
The rooms are spacious and comfortable, designed in a white color palette with floor-to-ceiling windows, flat-screen TVs, and desk areas. The en-suite bathrooms are rather airy and come with a separate bath and shower.
We hope you found our guide on the best luxury hotels in Thailand helpful for your next adventure abroad.
Find Luxury Hotels in Thailand