You may be familiar with luxury as high-end products in expansively gorgeous parts of the world, dotted with the best brands. But, this list of luxury hotels only accessible by helicopter will take that up a notch.
If you're looking for prime exclusivity, beautiful decor, the freedom that semi-untouched nature brings, then you'll be on the right track by searching for a helicopter hotel around the world.
While you may be excited about your first-class cabin, a private helicopter taking you to a helipad near your room is a tad bit more exhilarating. What could be more lavish – from the hot tubs at sunset to dinner by candlelight under the northern lights?
Keep reading to learn more about where to go for privacy and relaxation like no other.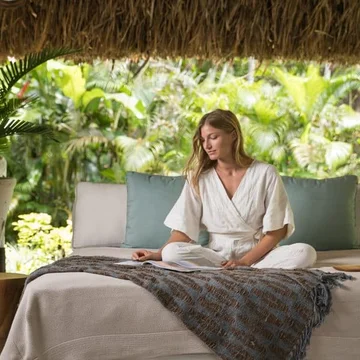 Kokomo Private Island
Beautiful, clear, turquoise waters surround the Kokomo Private Island. As with most luxury hotels in Fiji, the interiors are as decadently decorated as it is naturally magnificent outside.
Check Availability
This award-winning 5-star hotel offers a sustainable living area that is soft on you and the environment. Accessible only by helicopter, hotel rooms are worth the wait and effort. You can expect luscious white linens, blue, and brown hues with a range of modern conveniences.
Start your morning off with a strong cup of coffee on the terrace overlooking the ocean, head to the outdoor shower for a super refreshing cleanse, and start your day right. When you're ready to get into the thick of activities and exploration, there are plenty of options to suit your mood.
Kick it in downward dog on a deck floating on the ocean, exfoliate at the Yaukuve Spa Sanctuary, get a massage on the shore or awaken your more adventurous side. There is the usual fun stuff like surfing, paddleboarding, diving, and sailing. Or, you can try something unique like an ocean trampoline, learn what coral restoration is, or discover the local culture and farms.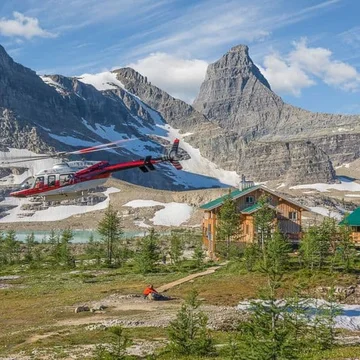 Talus Lodge
If you're looking for a private ski resort designed to keep guests warm through the winter, Talus Lodge has you covered. The Talus Lodge is tucked away in the foothills of the High Alpine Canadian Rocky mountains.
Check Availability
This destination is one of the hotels in Canada that is perfect for resetting your soul. It is also one of the hotels accessible by plane on this list that's specifically oriented around activities like hiking or skiing. If you're looking particularly for a helipad entrance, be sure to book during the wintertime.
The backcountry lodge offers little signal and cell service, so you can sit back on the front porch with a warm cup of cocoa and catch up on that novel you've been eyeing. After a full day of physical activity, you can warm up and relax in the sauna.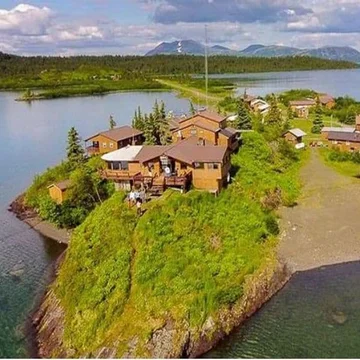 Wood-Tikchik State, Alaska
Tikchik Narrows Lodge
If you've been dreaming of an exclusive fishing holiday – look no further. At the Tikchik Narrows Lodge, you can enjoy sport fishing to your heart's content. You can find this lodge in the bounteous waters of Bristol Bay.
Check Availability
The cabins and lodges are rustic and have an old-school feel to them while providing you all the luxury you hope for from a fly-in lodge like this one. Enjoy the moose, abundant fish, and beautiful birds as you unwind the chaos of life while winding up your fishing reel.
Since you may be inclined to enjoy your catch of the day, the on-site restaurant is privy to the best ways of preparing the freshest and most delectable ingredients. Enjoy their Alaskan panache on hearty homemade dishes that are sure to keep guests staying there for longer than anticipated.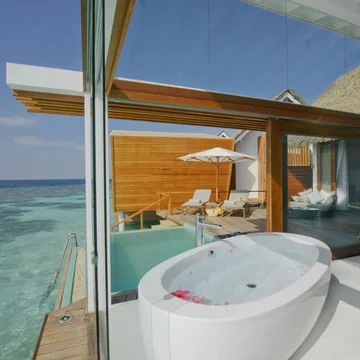 North Ari Atoll, Maldives

5
Kandolhu Maldives
What luxury hotels list is complete without featuring at least one luxury hotel in the Maldives? Located on the North Ari Atoll Beach, this lovely 5-star resort takes exclusivity to the extreme and delicately immerses you in nature.
Check Availability
You can walk into your pool, beach, or ocean villa and surround yourself with some of the world's best views. Since you'll be located around 43 miles (70km) from the airport, sea helicopters and speed boats will take you on a 35 minute trip from Velana (Male) Airport to the resort.
The architecture is designed to open you up to the surroundings, with floor-to-ceiling windows, spacious decks, and bathtubs overlooking the sunset. Spend your day lounging out in the sun catching a tan, enjoy some cocktails at the Vilu Bar, and a fresh seafood dinner at the Sea Grill.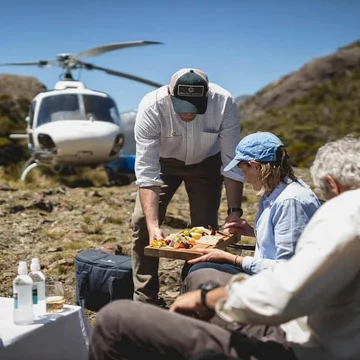 Lake Wanaka, New Zealand

5
Minaret Station
This all-inclusive luxury hotel in New Zealand combines the best outdoor rustic decor with a modern touch. With a handful of cabins to choose from, you can expect limited availability as this location offers excellent services, amenities, and quality experiences.
Check Availability
Once you've landed on one of the nearby helipads, you waltz into the check-in area and head over to your designated site. You'll see a flat-screen TV, a private bathroom, complimentary toiletries, and a cozy interior.
You can choose to stay in the two-bedroom chalet or private lodge. The chalet houses a jacuzzi on the deck outside of your bedroom. Spend the day adventuring through the mountains and de-stress out on the terrace with some whisky on ice or a cold glass of champagne.
Indulge in some of their unbelievable activities and experiences, try a guided scenic flight or a little bit of adventure through skiing, guided hunting, or mountain biking.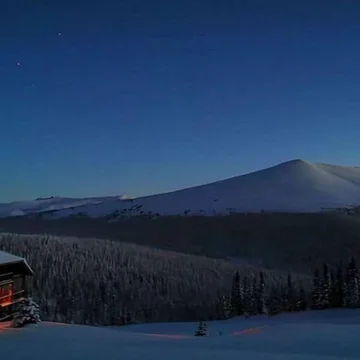 Purcell Mountain Lodge
Described as an "Island in the sky", the Purcell Mountain Lodge is found in a luxurious location that offers you a beautiful view of a property hidden under blankets of snow. A helicopter will take you through a 15-minute flight before landing at your destination to traverse amongst the mountains.
Check Availability
Perfectly placed along the slopes, you'll find warm and beautiful lodging that caters to everyone looking for a great ski vacation. Walk in to see the homely wooden interiors while the fire crackles in the background, and sit down for a lovely gourmet dinner.
While this lovely lodge may seem like a brilliant place only for the winter, it is just as wonderful throughout the summer season. There are tons of hiking trails to improve your stamina and a range of animals and birds in the surroundings for the true nature observer.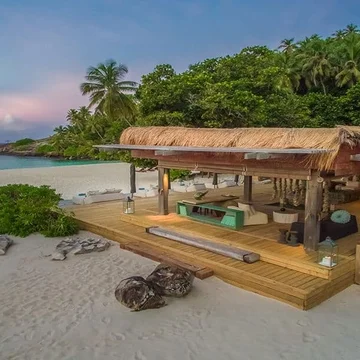 North Island
As far as fly-in resorts go, North Island caters to every lavish whim and desire. It is the most expensive hotel on this list and arguably in all of Seychelles. The resort is located on a luxury private island surrounded by the Indian Ocean.
Check Availability
The luxury hotels in Seychelles are usually encased in beauty, but you can expect to be fully immersed in nature and unplugged from the bustling city in North Island. Find peace of mind with their bespoke experiences; spend your day snorkeling, kayaking, or fishing in the most transparent waters this side of Africa.
If you're traveling with your kids, rest assured that they'll have a long list of things to do on North Island. With a range of fun activities like island excursions or coasting across the sand in a beach buggy, this resort is proud to be family-friendly.
While you're here, you'll have to try all you can from the on-site restaurant — Laid Back. The resort chefs created the menu in tandem with Michelin-starred chef Akira Back. So, you can expect a whole range of talent and tasty ideas to feed your soul (and your tummy).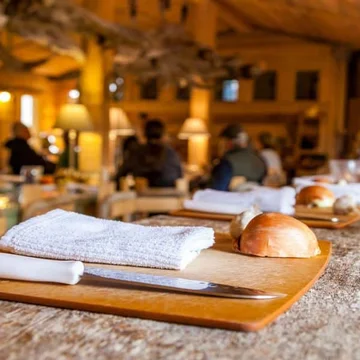 Winterlake Lodge
thin the Wild, Alaskan Lodges have created a beauty of a lodge hidden in the foothills of the wilderness. Their lodges are held in high esteem for their exclusivity and top-of-the-range housing.
Check Availability
The Winterlake Lodge is the only one that is accessible by helicopter, which means that availability is relatively rare, and you'll have to book well in advance.
The lodge accommodates families, couples, and lone adventurers. You can expect ping pong, guitar sing-alongs around a fire, and catching up with some much-needed rest and relaxation. The living room, with bright rays of sunshine streaming in through the windows, may become your favorite place.
If there's anything else you'd like to do, chopper planes are available to transport you to go sportfishing, mountaineering, and hiking, among a few other world-class experiences. If glacier trekking is a bit too adventurous for you, this is also a pristine spot for some bird-watching.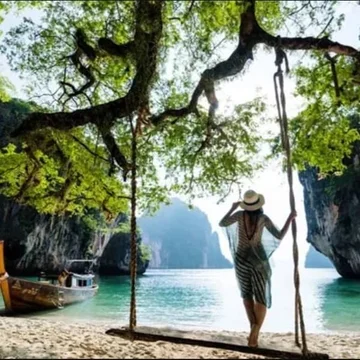 Six Senses
Luxury hotels in Thailand have slowly been on an incline in prestige and luxury. The Six Senses resort overlooks Phang Nga Bay and offers a charming, spacious deck where you can enjoy your morning cup of coffee with a good book.
Check Availability
The private pool villas are a taste of delicious luxury. As you wake up to curtains that open up to the ocean and allow the fresh scent of the sea to waft through and awaken your senses. Spend your day being pampered at the Spa Village, try every treatment under the sun, and feel the palpable tenseness in your shoulders dissipate.
The resort also offers personalized itineraries that revolve around whatever you desire from this experience. Whether you're looking to reconnect with yourself, nature, or the world around you, they've got a little bit of everything.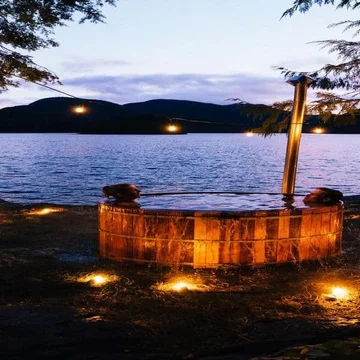 Nimmo Bay
Nimmo Bay connects you to orcas, bear cubs, and all things nature from the comfort of the Great Bear Rainforest. The rainforest is home to a range of biodiversity apt for any nature enthusiast.
Check Availability
You can choose to venture along those rich pathways on land or venture into the ocean territory. Wildlife from the Broughton Archipelago surrounds Nimmo Bay, and you get to witness it all.
Their cabins are a reflection of the wondrous sights outside; you'll find your home away from home in these cozy cottages decked out to prepare you for tranquility and stillness. The hardwood floors are contrasted by the soft white cushions, linens, and decor.
Enjoy your favorite glass of wine while overlooking the lake right at your doorstep.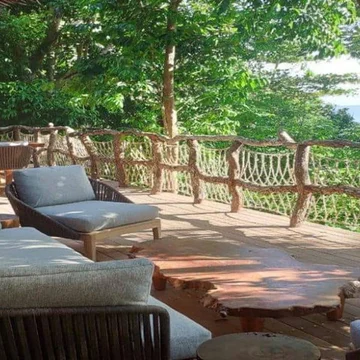 Bawah Reserve
If you can imagine yourself wearing pure white cotton dresses and shorts, walking around barefoot with a coconut cocktail in your hands, the Bawah Reserve is for you.
Check Availability
This luxury hotel in Indonesia is a conglomerate of six different islands, 13 beaches, and three lagoons, each waiting for you to be welcomed. In the remote Anambas Archipelago, you can create your serenity from scratch or simply delve deeper into the coral reefs nearby.
The Resort has planes and hotels on reserve for your convenience. From the middle of the ocean to the shore, you can head out for strolls across the white sand beaches. Or, board a yacht for sunset dinners, and so much more.
The tented bungalow opens up to a lush green garden, while the overwater cabin allows you direct access to the lagoon. If you're looking for something more exclusive, the Private infinity pool villa will enable you to snorkel straight from your bedroom. Here, you can find everything you need so that you don't have to lift a finger.
Ready to Reach Your Hotel by Helicopter?
If you're looking for the ultimate locations in exclusivity and even higher standards of luxury, these few hotels only accessible by helicopter are available for your next vacation.
Be sure to book well in advance as some of these places reach capacity relatively quickly. Whether you're hoping for a fishing dream at Tikchik Lodge or looking for 5-star luxury at Kokomo Private Island, everything you need from an exclusive, luxurious hotel is somewhere on this list.
With the wide range of exciting activities and everything within walking (or hiking) distance, these destinations will have you swooning way before your arrival.