So you want to travel the entire world in luxury but don't know where to begin? Doing so would be a dream come true for every travel junkie. But how much does it cost to fly first class around the world?
This guide will provide you with all the necessary information and insights to help you reach your travelling goals. While many factors can impact the total cost, we'll discuss some in-depth below. You'll learn about some of the best flight packages, where to book your tickets, and other helpful tips to get your journey underway.
Whether you're looking to visit the middle east, the pacific oceans or South America–there are many ways to book RTW flights. If you still have doubts about whether you can afford to trek the globe in one go– we encourage you to stick around to find out.
If you choose either a Luxury Private Jet Charters or the Best Business Class Airlines, you'll be able to go on your own trip with style, comfort and luxury.
What is a Round the World Plane Ticket?
The most convenient way to fly first-class worldwide would be to invest in an RTW ticket. Travel marketers generally sell RTW tickets as packages or itineraries and work with airlines or airline alliances to do so. These are sold at a relatively low price, and the bonus is you don't have to do all the hard work. A typical first-class RTW fare will cost you between $5,000-$15,000+.
Many airlines offer RTW tickets through third parties, which is the most convenient way to purchase them. However you can book multi-city stops directly from airlines. So if you want to wander the globe, a simple online purchase of an RTW ticket will take you on breathtaking world flights.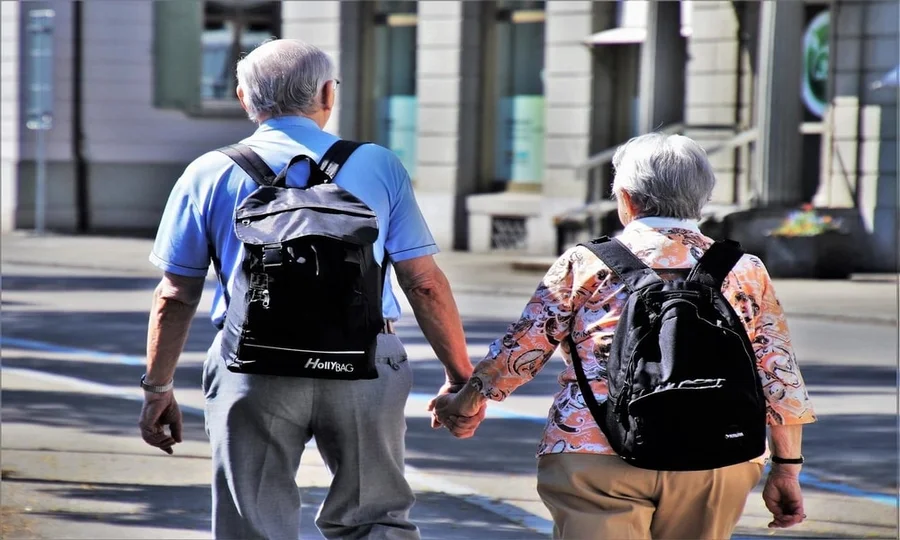 Best Time to Book RTW Tickets
If you're going to book your RTW ticket directly from airlines, we suggest booking about six months in advance. Doing so will give you enough leeway to do research and plan. You will also have enough breathing room to learn everything about a country or place before visiting.
The best time to book your flights during the week is Tuesdays, Wednesdays and Saturdays. These are considered "off-peak" days, and booking on these days will often save you hundreds of dollars. Try to book your flight specifically on Tuesdays around midnight–this is when tickets are at their cheapest. You can thank us later.
How To Book a RTW Ticket Through Third-Party Planners
An around the world ticket allows you to have an entire itinerary at a minimum spend, unlike booking flights yourself. This section will give you an idea of how much you'll spend.
Answering this question was never going to be straightforward. But with some research here and a few queries, you can eventually make an estimation and take things from there.
Book Flight Packages Provided with Airline Alliances
Airline Alliances are precisely what their name suggests: a partnership among and between airlines. The benefit of the partner airlines is that it decreases in ticket price. Below, we will look at the three main partner airlines: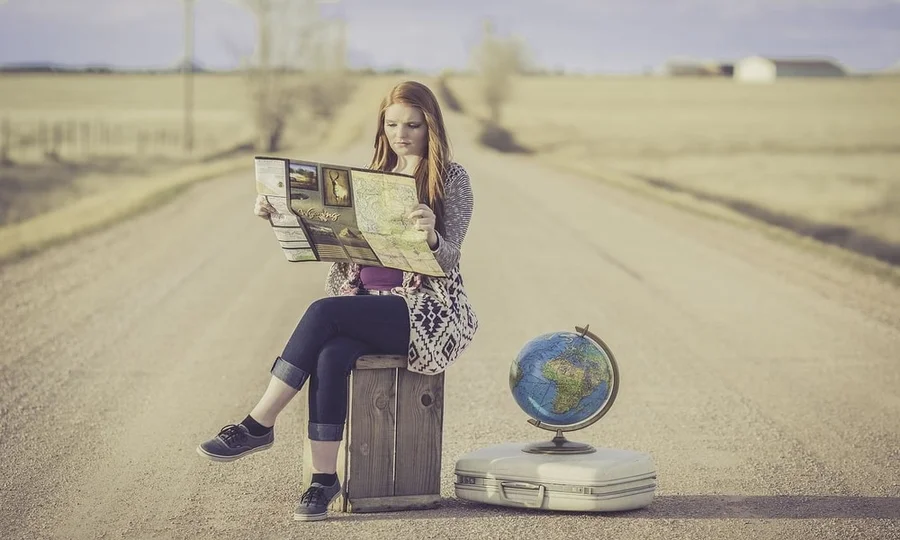 Star Alliance Round the World
You can book a Star Alliance rtw ticket in four easy steps. You start by selecting your destinations, and then the system will find you a flight based on every location you've chosen. All you need to do is:
Choose your destination and departure dates.
Enter your personal details
Then add your credit card details to confirm your trip.
The online booking service works with esteemed airline alliances to get you to explore over 1,300 locations from more than 190 countries. Your journey will start and end in the same place and follow one global direction, either west or east. You can book between 2 and 15 stops that can last from 3 days to a whole year.
Package Options: By using the Star Alliance online interactive tool, you can create an itinerary that includes the destinations you want to visit.
Price: The RTW tickets cost for Star Alliance depend on the amount of stopovers you make and the total mileage. To give you an idea; a RTW trip from the U.S to Sao Paulo, Tokyo, then Cairo would cost you US$14,147.
Website: https://roundtheworld.staralliance.com
Oneworld Explorer
The Oneworld Alliance offers travellers a multi-city trip that can take you to hundreds of destinations. Member airlines include Qatar, Fiji and British Airways. Itineraries are tailored to suit every traveller's needs.
From exploring new cities and places to taking cultural trips filled with languages, religion and history. Or go hiking in the mountains, then sunbathe on the coastlines.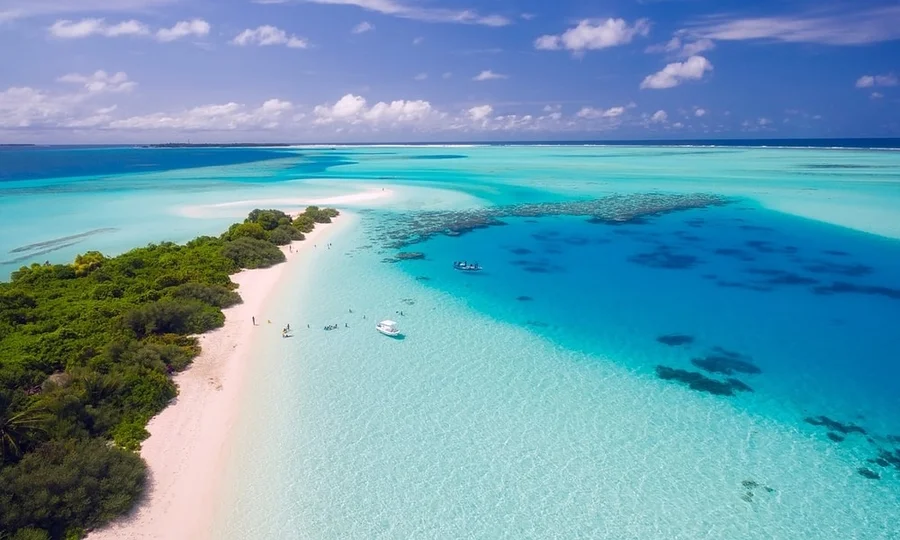 Package Options: OneWorld offers three types of RTW tickets:
Oneworld Explorer: a continent-based ticket
Global Explorer: a distance-based ticket
Circle Pacific: an inter-continental trip that allows you to explore continents in the Pacific Ocean.
Price: The price will vary according to the itinerary you choose.
Website: https://rtw.oneworld.com/rtw/theme
Round the World Tickets By Skyteam
At Skyteam, you would simply have to fill in a form with your details and desired itinerary. They will help you set up a route and make suggestions for alternatives as needed. Skyteam boasts over a thousand destinations in 170 countries and works with 18 excellent airline members.
You won't have any travel direction restrictions, and you'll be able to travel both east and west. You can also make changes to your itinerary as you travel. For example, you might want to stay longer in a specific city.
Package Options: Skyteam offers four packages based on the number of miles you'll travel, the cabin class, and your journey's origin.
Price: After filling your itinerary online, the Skyteam will get back to you with a quote within three business days.
Website: https://www.skyteam.com/en/round-the-world-planner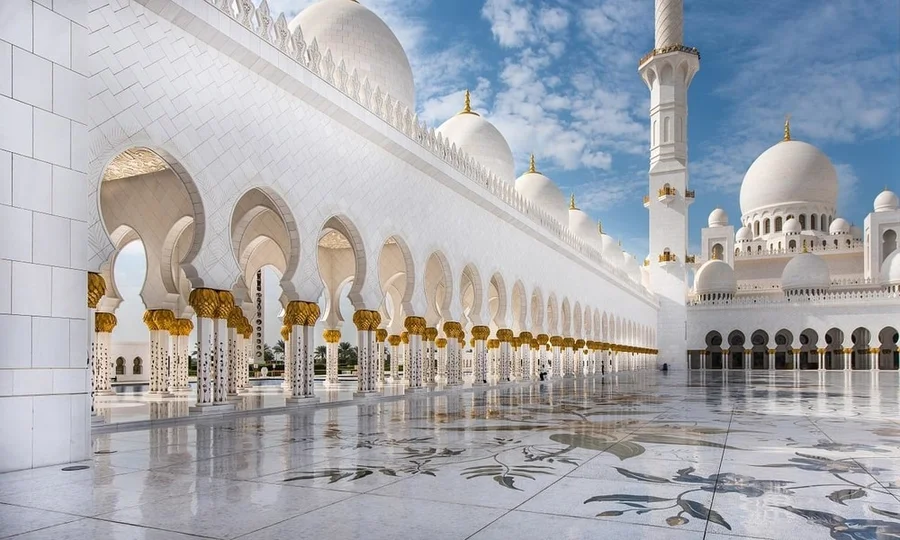 Book Flight Packages Provided By Travel Agents
You have the option to pop by your nearest travel agent or find one online. Below are some of the best online travel agencies to work with. They offer fantastic packages, top-quality service and other tips or insights – like avoiding extra cost – to help you on your journey.
You can fill in an online form and then wait for a quote. Or do it the old-fashioned way and consult with an agent via a phone call. Booking with a travel agent is convenient for finding the best price for a round the world ticket.
Liberty Travel
With Liberty Travel, you can expect quality service and reliability. The award-winning air experts can take you on a world trip in the luxury of a first-class cabin.
Liberty Travel can help you find your desired first-class seat on one of many top quality airlines such as Qantas, Emirates and Etihad Airways. Their travel experts can also help you find an RTW ticket at the best price.
You can start planning your journey to top travel destinations by quickly filling in an online form. If you prefer you can get in touch with a consultant. Some destinations include Mexico, South Africa, Cambodia, Japan, Egypt, Greece and more.
Website: https://www.libertytravel.com/flights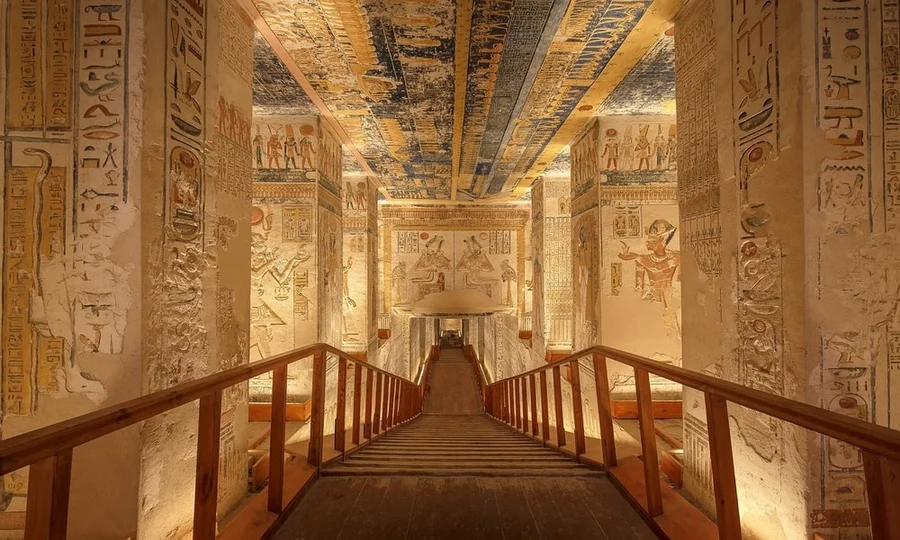 Airtreks Trip Planner
Airtreks is a company that specializes in round the world adventures. Rest assured that you can travel with ease and with sufficient guidance from experts with more than 30 years of experience. Airtreks uses industry algorithms to connect you with affordable flights for a multi-stop tour.
Once you are ready to draw up your itinerary, you can work with a travel planner to get your journey started. They also offer tips and advice to make the planning process more manageable. Get in contact with the team via the official website and let the adventures begin.
Package Options: Airtreks offers more than 30 uniquely themed packages to choose from. For example, a multi-stop trip that includes locations in South America, Europe and Africa would cost you between $2,799 to $3,729.
A Hike around the World package that allows you to hike in places like Las Vegas, Taupo, Beijing and Oslo would cost from $2,995 to $3,989. Most RTW tickets are made from an itinerary that you choose. But the above packages include different airlines and locations for every type of traveler.
Website: https://www.airtreks.com/airfare/specials/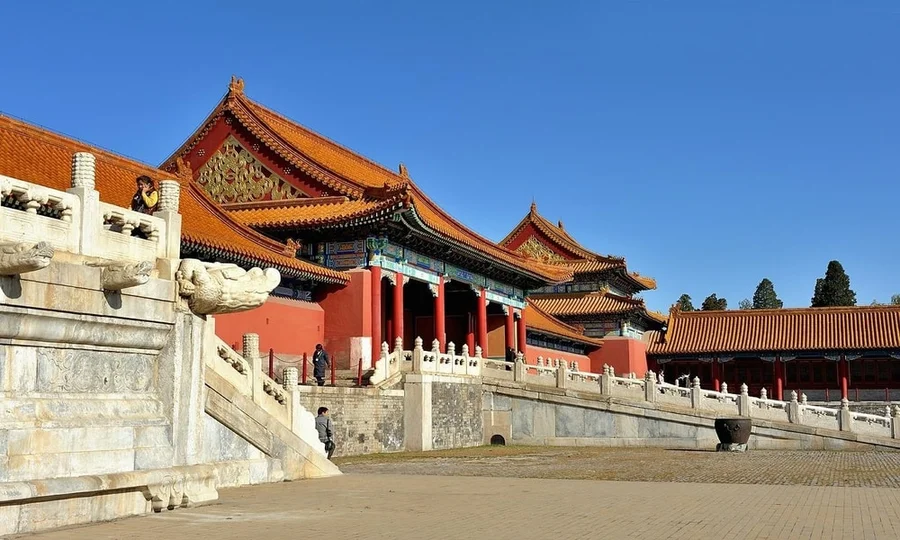 Round About Travel
Roundabout Travel is an Australian based agency that allows you to book tours from anywhere in Australia. So if you find yourself in the great outback right now, you can conveniently plan your itinerary from the comfort of your home.
The company will work with trusted partner airlines to book your RTW tickets with convenience. Make your choice from airlines such as Etihad, Emirates, Finnair, Air France, Star Alliance and Oneworld.
You can customize your RTW trip through a classic or map planner. If you prefer to stick with one airline, you can look at some of the airfare deals.
Note: Roundabout travel has no available airfare deals for first-class cabins currently. However you can fly business class as an excellent alternative if you're not too fussy.
Package Options: These will vary depending on the type of airfare class you go with.
Price: One of the best packages, a Swiss Business Class Global Fare, will cost you from $6654 including taxes.This RTW ticket will take you to three continents with stopover options in cities like Singapore, Hong Kong, Johannesburg, Barcelona etc.
Website: https://www.roundabouttravel.com.au/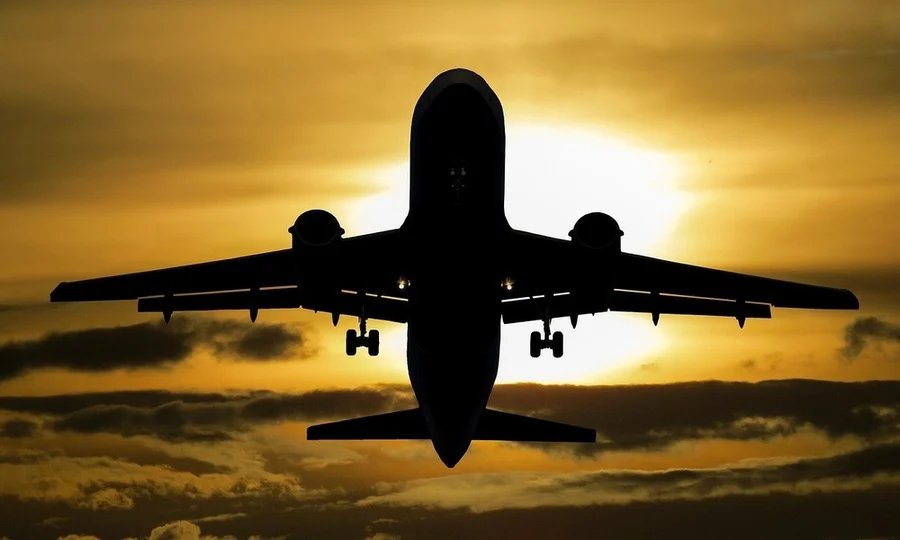 How Much Do First-Class Tickets Cost For a Multi-Stop Trip?
The average first-class ticket price will depend on your airline, flight destination and when you purchase your ticket. The costs of a round the world ticket will generally be between $20,000 to $30,000 per person, for a year long expidition.
It also depends on how many stops you make and which round the world ticket you order.
How to Fly First Class Around the World Using Airlines
If you're not keen on travelling through an agency or airline alliance, you always have the option to book your flights directly from airlines. So to make things easier for you, we've compiled a list of first-class airlines to make your bookings with.
Although you'll have the freedom to create an itinerary on your terms, this method will take time and effort. To help you with your choice, we will include reasons you should choose these airlines for your first class journey worldwide.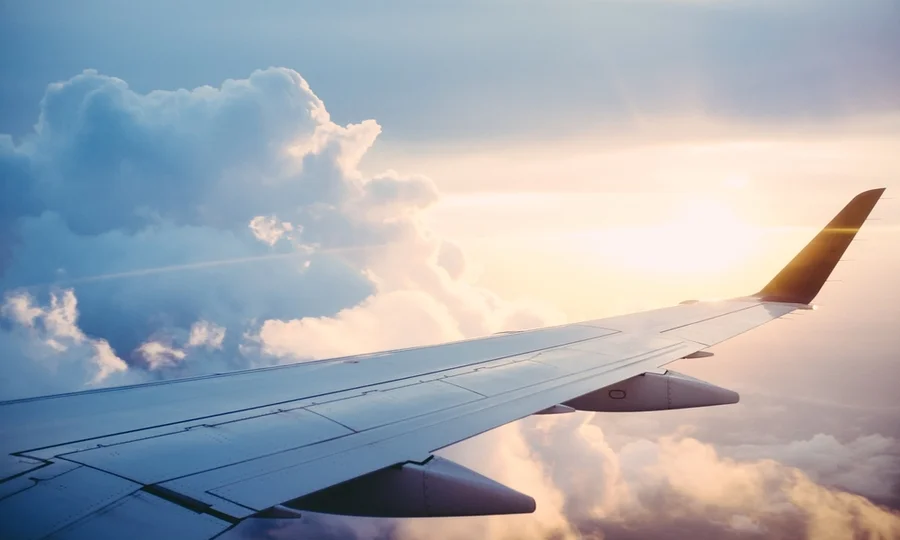 British Airways
British Airways offers guests luxurious and comfortable flights topped with spacious seating, fine dining and elegant departure lounges. As a first-class traveller, you can get a personal suite to stretch out and fall asleep calmly. You'll be able to visit almost every corner of the world with British Airways, from the most notable destinations to hidden gems.
You'll get treated to delicious dishes prepared with fine British ingredients. The pork pies and pub favourites will transform you into the British Isles. We recommend that you stay updated with the special offers and deals on the official site to score on some flights.
British Airways offers multi-city and round the world tickets. You can plan your trip by inserting a maximum of six flights, departure dates, class type and other information. Then once you're happy with the price, you can make your payment and start preparing for a lifetime trip.
Price: The price will be determined by the number of destinations you choose. For reference, a trip from New York (JFK airport) to Athens, then Paris to Bangkok (with layovers in between) will cost you $16,593.30 in first or alternative for a one-way trip.
Website: https://www.britishairways.com/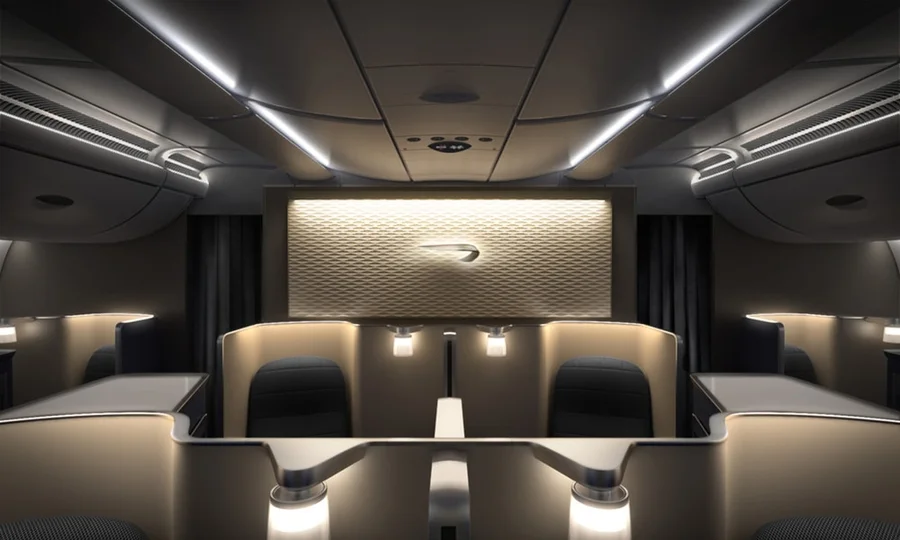 Emirates First Class
The luxurious experience offered by the Emirates A380 cabin is almost unmatched by many of its contenders. The very private A380 suite allows you to relax under ambient lighting and withdraw into a private cinema. And if you're ready to snooze off, rest assured that you can adjust your seat until it's entirely flat and slide your door shut for ample privacy.
Once you wake up, you'll be refreshed by the rejuvenating onboard shower spa, complete with Bvlgari kits. Other amenities include a skincare collection by Byredo and quality headphones by Bowers & Wilkins. You'll have access to an onboard lounge with a bartender and premium beverages, fine dining eateries and a chauffeur-drive service.
If you are impressed with that, wait until you see the Boeing 777 first class, which is even more luxurious – yes, you heard right! It's like having your hotel room in the sky with soft leather seating, mood lighting, temperature controls and other fantastic features for a heavenly flight experience.
Once you're ready to book online, you can choose the advanced search booking method. This will allow you to add multiple cities, up to 10. You can use this method to draw up an itinerary with Emirates, add your dates and desired class, and then wait for a quote.
Price: You can expect to pay around £7,000 ($9,175) and more for a one-way first-class ticket.
Website: https://www.emirates.com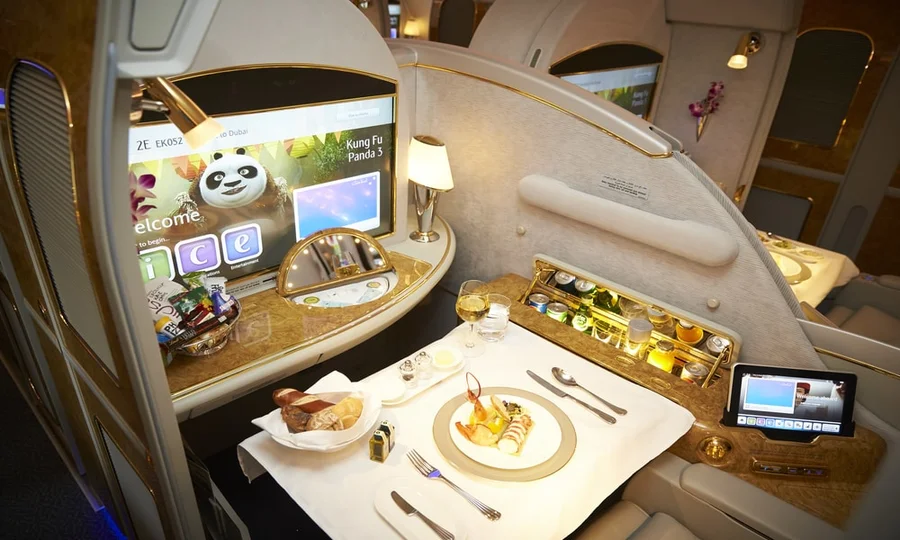 The Qatar Qsuite
Qatar's Qsuite might not be labeled as first-class but rather "the world's best business class". The innovative business class suite checks all the boxes and offers a first-class experience, from spacious seating that can lie fully flat to ambient mood lighting and doors for complete privacy.
While you unwind in your comfortable seat, you'll have over 4000 pieces of entertainment at your disposal. Watch the latest box office hits, keep busy with some video games or fall asleep to peaceful music. The seating also has a brand new quad feature which allows you to rotate your seat and transform your space into a social area.
Price: According to Orbitz, the average one-way ticket with Qatar Qsuite costs $1,017, and for a round-trip, it costs $1,229.Keep in mind that this amount is subject to change.Qatar does have a partnership with Oneworld, though, which is a more convenient and affordable way to see the world.
Website: https://www.qatarairways.com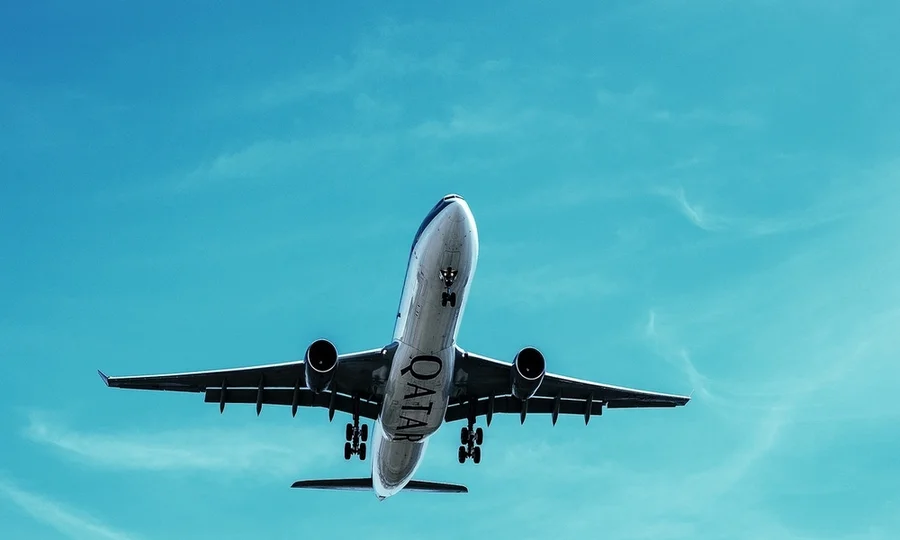 Etihad First Apartment
Experience a luxurious flight around the world with Etihad, which begins with a chauffeured drive to the stylish first lounge. Relax and dine at the lounge as you wait to board your flight. The B787 cabin contains chairs that recline to a fully flat bed that the crew will set up for you.
The Etihad first-class cabin boasts a delectable selection of boutique wines that pairs perfectly with their a la carte menu. After enjoying your meal, you can kick back with a noise-cancelling headset and get lost in the world of entertaining tv-shows and movies. Experience all this and more in the comfort of your private room.
Some of the onboard amenities available to guests include the Acqua Di Parma kit, which contains eye masks, socks, body lotion, toothpaste and other toiletries. You can book up to six flights for a multi-city first-class global tour. Doing so will have an impact on how much money you'll spend on your trip.
Price: The average cost for an Etihad first apartment will likely range from $4,000 and above one-way. If you think that's pricey- Etihad's infamous A380, or 'The Residents,' will cost you between $31,000 and $68,000. In case you were wondering about the "world's most expensive plane suite," this is most definitely it.
Website: https://www.etihad.com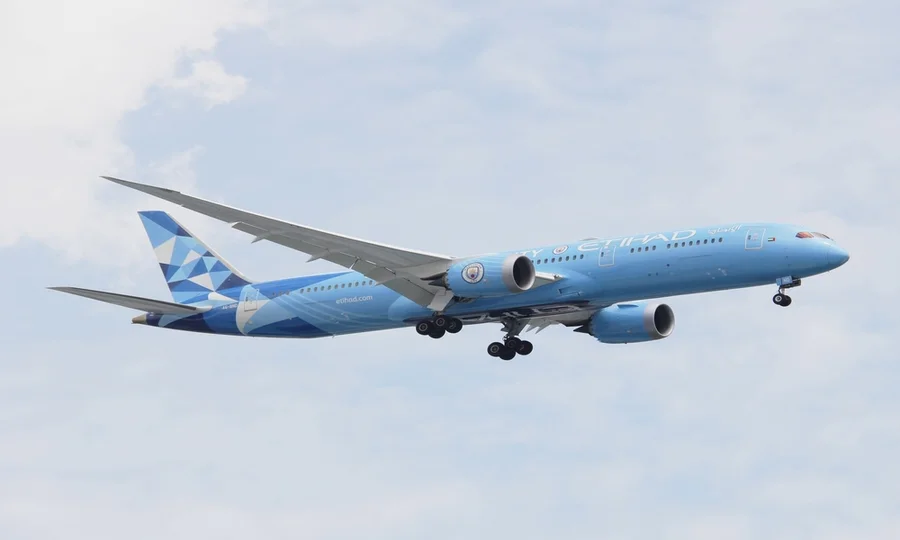 Swiss First
What better way to travel from city to city than the Swiss First line? You will travel comfortably on the Swiss First that turns into a private suite with seats that doubles as bed. As you relax in your suite, you can turn on the industry's most significant 32″ screen for endless hours of entertainment.
Already hungry? Well, you can decide when you want to eat. The crew will serve up delicious gourmet meals with a taste from Switzerland and fine wines. You can avoid long waiting periods as Swiss First has a separate check-in desk. And when you do have to wait a while, you'll have access to a private day room and an exquisite menu.
Other benefits include having extra space for your luggage, a toiletry bag with all the essentials you need and an opportunity to earn miles.
Swiss Airways is a Star Alliance Member, so if you choose one of their packages, you could wind up in a Swiss First cabin.
Price: Prices from May to April start at around $5,900 for a round-trip on first-class. Prices start at just over $7,100 for a one-way trip during the same period.
Website: https://www.swiss.com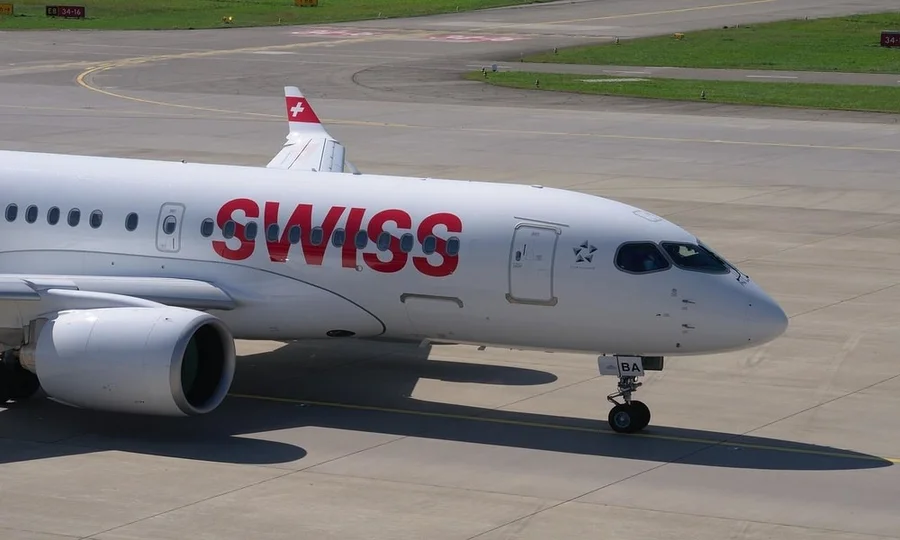 Delta Premium Select
Delta Airlines has been voted America's best airline in recent years. And it earned this title for a reason with excellent services, comfortable seats and superb flight entertainment. The Delta premium select provides guests with wider seats and an additional recline to put your feet up, stretch out and relax.
The exclusive amenities available to you range from a toiletry kit to socks and a comfy pillow. You can enjoy seasonal meals paired with premium spirits, select wines and craft beers. The perks of a first-class journey begin before you take the flight. As a special premium select passenger, you get to board first, bring two extra baggage at no cost, and have personalized service onboard.
Pro Tip: Try to join the Delta Skymiles program to start earning miles and eventually score on some of your bookings.
Price: A domestic first flight can cost you anywhere from $500 to $1,700, but these numbers fluctuate a lot. When it comes to long-haul international flights, you'd most likely board the Delta One, akin to first-class. The cost for a Delta One flight will vary quite a bit depending on where and when you're going.
Website: https://www.delta.com/mea/en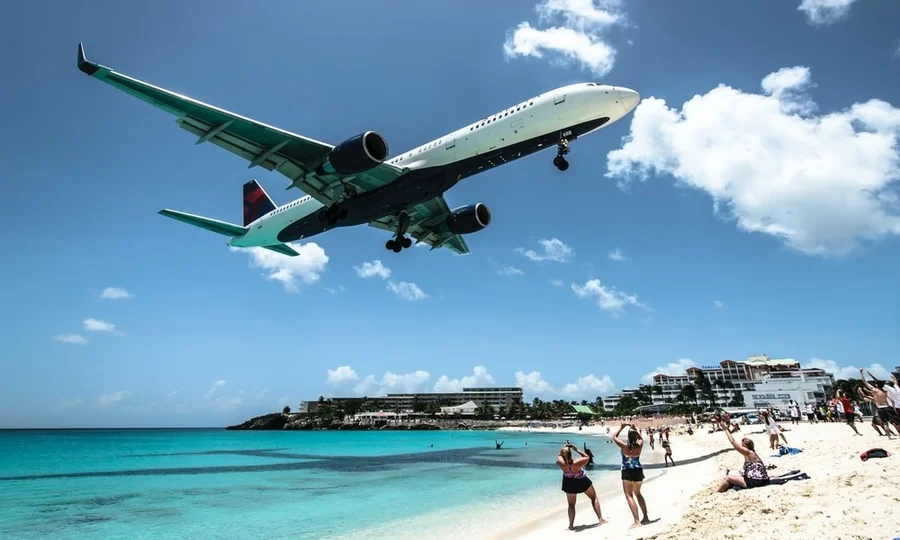 Qantas First
The Qantas First is a relaxing experience laced with luxury before even setting foot on the plane. As you arrive at the airport, you can unwind in one of the stylish lounges and relish in a rejuvenating spa treat before take-off.
Once you enter your suite, you'll plop down on a spacious armchair that can be adjusted to a fully-flat bed, topped with a memory foam mattress, quality bedding and pillows. Pull down the window shades and enjoy the inflight entertainment. And if that doesn't sound relaxing enough, an in-seat massage could do the trick.
And when you're feeling a bit low on energy, the delicious international Qantas meals could revive you. The à la carte menu offers signature dishes and plant-based options cooked with the finest ingredients. You'll have an array of beverages to enjoy along with your meals or snacks, including wines, espresso coffee and teas.
The luxurious amenities for guests include soft-cotton sleepwear, an amenity kit that contains LaGaia skin products, bamboo socks, eyeshades, earplugs and dental necessities.
Price: A Qantas first journey could cost you anything from $4,500 up to $7,000 or more for a return ticket.
Website: https://www.qantas.com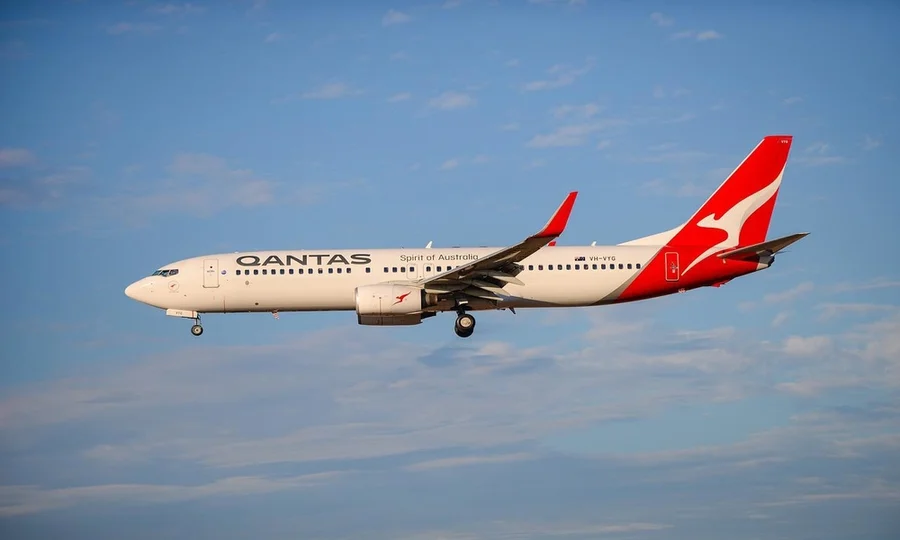 Singapore Air
Fly in style around the world on a 5-star airline, Singapore Air. You can expect privacy and ample space on an extra-wide leather seat while taking your international flight. You can stretch your legs and set the mood lighting for a comfortable rest while you travel.
Before you board, make sure to view the full menu to reserve your main course up to 24 hours ahead of your flight. The fine dining experience is complete with a full table service, noteworthy chefs and wines to match.
If you'd like even more legroom and privacy, you can book a suite for one or two available on the Airbus A380 aircraft. The suite comes with comfortable bedding, a private screening and fine dining. Singapore Airlines offers a variety of ways to earn rewards with points and miles.
Price: You'll pay from $10,000 to $30,000 for a first-class flight. While a first class suite can cost you up to US$18,400 for a round trip.
Website: https://www.singaporeair.com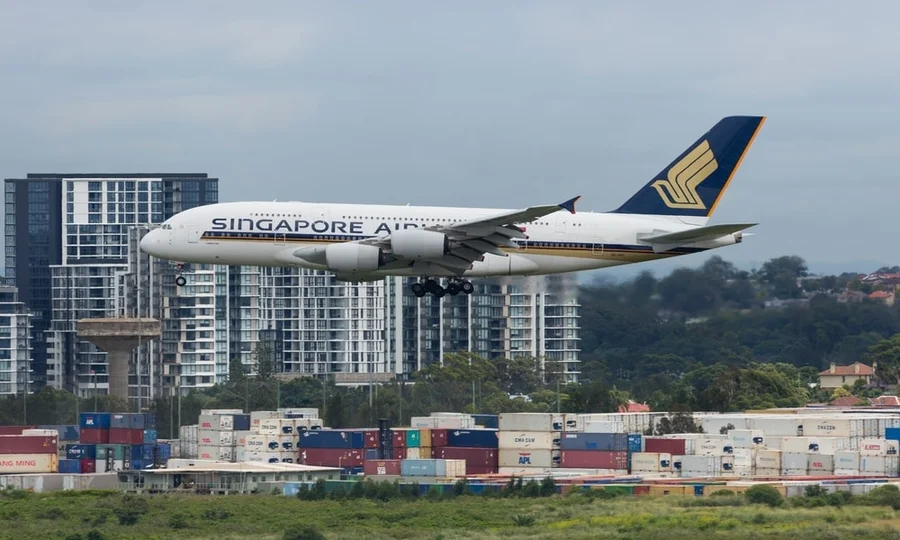 Japan Airlines First Class
The JAL may not be as luxurious as the Singapore Airlines or Etihad first class. But you can still find yourself in a comfy seat, with excellent service and delicious eateries. The Japanese Airline suite provides a spacious and semi-private room with a specially designed chair that folds into a bed.
Unwind into your comfy armchair and enjoy the calm with noise-cancelling headsets to get some shut-eye. And if you're unable to sleep, you can choose from an array of inflight entertainment to keep you busy. Depending on your journey, you'll get a serving of delicious meals curated by notable chefs.
Some onboard amenities for guests include relaxing wear during the flight and an Italian luxury brand kit by ETRO. This kit contains all the essentials such as mouth wash, perfume, body cream, earplugs, brush and more to make your flight as relaxing as possible.
Pro Tip: Visit the website for various discount fares that you might qualify for.
Price: A first-class one-way ticket from New York to Japan will cost around $13,000. You can quickly request a quote from the Japan Airlines site to see more prices.
Website: https://www.jal.co.jp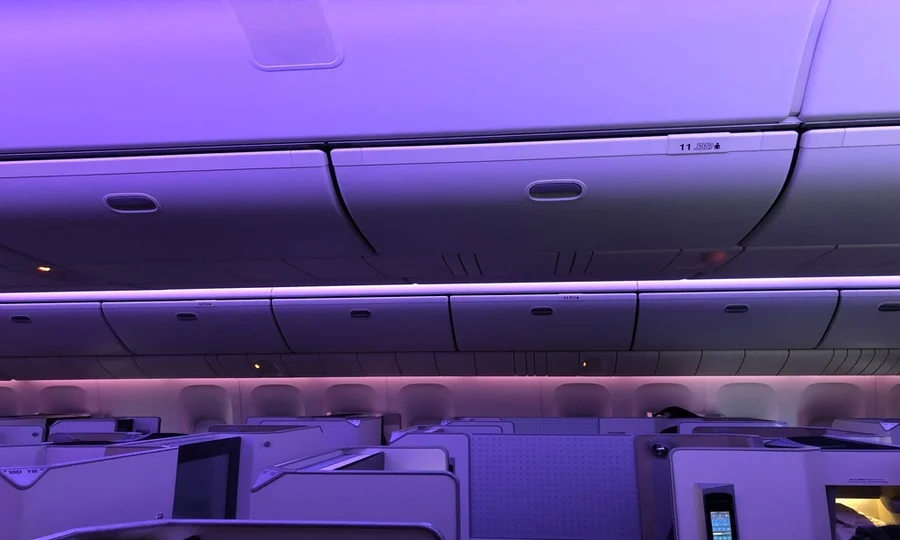 Tips on How To Get Cheap First Class Tickets
If you're working with a budget and not sure if you can cover all your expenses– rest assured that there are ways to cut down on flight costs.
Our tips for finding a first flight on a budget will come in handy If you're looking to cut down on your flight expenses. After all, having more resources to spend on luxury hotels and fine dining experiences wouldn't be too bad- you're welcome.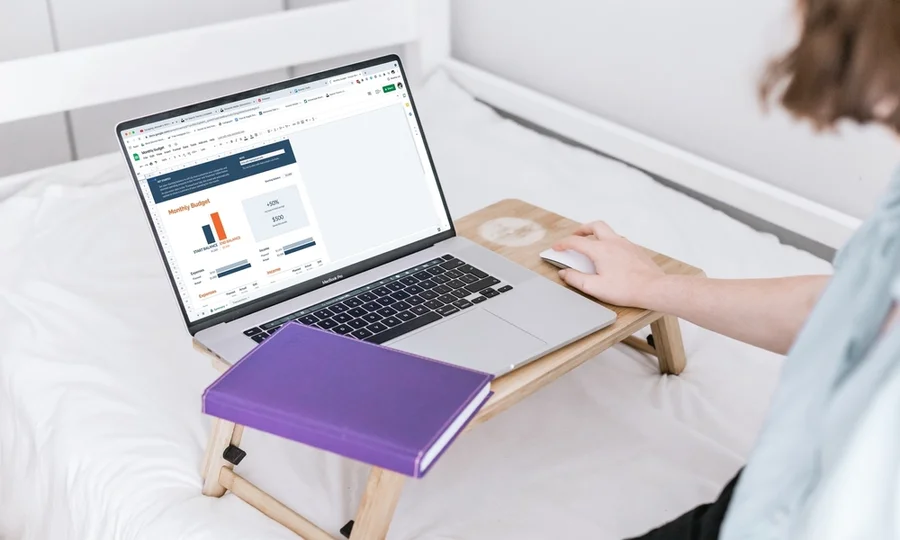 Book Early
Book your tickets as early as possible as the ticket price for first-class increases for last-minute bookings. As mentioned before, try to book your ticket on a Tuesday night.
Saturdays are the cheapest weekend day to book tickets, and adding a Saturday night to your booking could also decrease the fare. When it comes to first-class, it's always best to stay ahead as ticket costs increase while the sales go up.
Avoid Peak Business Days
Try to avoid peak business days when booking your flights. Business and first-class cabins are often at their busiest these days. People travelling for work and business purposes would commonly fly on Monday mornings and Friday evenings. So space is limited in the top class cabins, which bumps up the price.
Book During School Holidays
The best time to find first-class specials is during the school holidays. As work generally slows down when it's a holiday, business and first-class seats tend to fill up slower, making it ideal to purchase a ticket.
Use Search Engines
Use airfare search engines and online ticket sellers to compare prices and find the cheapest deals online. Popular airfare search engines include Orbitz, Skyscanner, Agoda, Travelocity, Expedia and Kayak.
Work Smart
Working smart with an airline's points and reward system can be beneficial in the long run. Depending on what airline you use, you can easily save between $5 and $100 or even earn free flights. Check out an airline's website and see what type of miles and rewards they have to offer. Doing so can even score you free flights.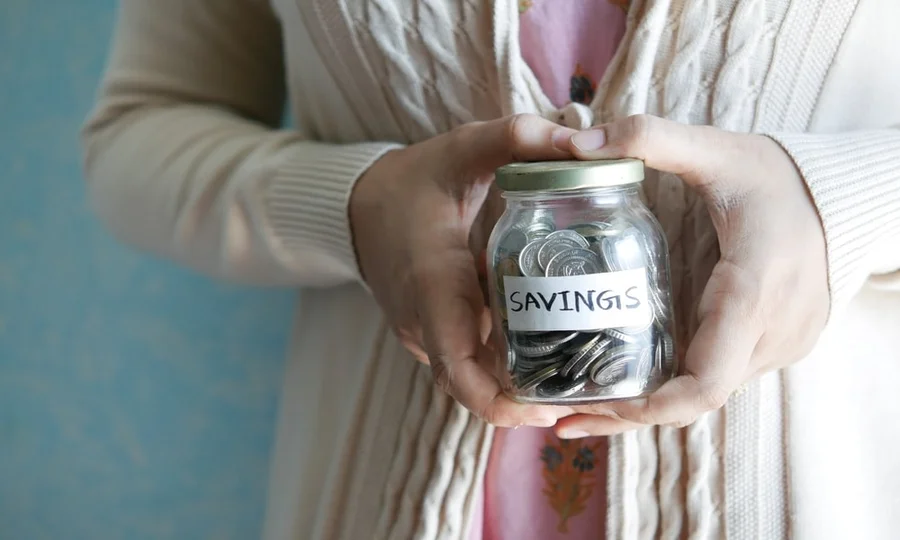 Bid on Upgrades
Another way to score cheaper flights is by bidding on unsold first-class tickets. Sometimes you can get lucky by bidding for an upgrade, but don't be too overzealous on your offer, as the whole point is to spend less money.
Receive Notification on Specials
Join flight alert programs to receive notifications from a third-party when low airline ticket prices are available. You'll also receive information on specials and the latest bidding opportunities. Some third-party sites good for flight alerts are FareCompare, Google Flights, Hopper and Skyscanner.
Use Credit Cards
Make use of elite or airline credit cards such as American Express or Chase Sapphire for travel rewards and perks. Airlines do not charge extra fees when you use a credit card. Have a look at our Best Luxury Credit Cards guide to start earning airline rewards.
Tips for a RTW Itinerary
You'll be visiting unknown territory filled with places and people you've never seen before. Every country comes with quirks and rules, which you'll mostly only learn once there.
However, with some of these tips below, you might be able to take on the world with more confidence. And maybe one day you'll be a travel guru of note.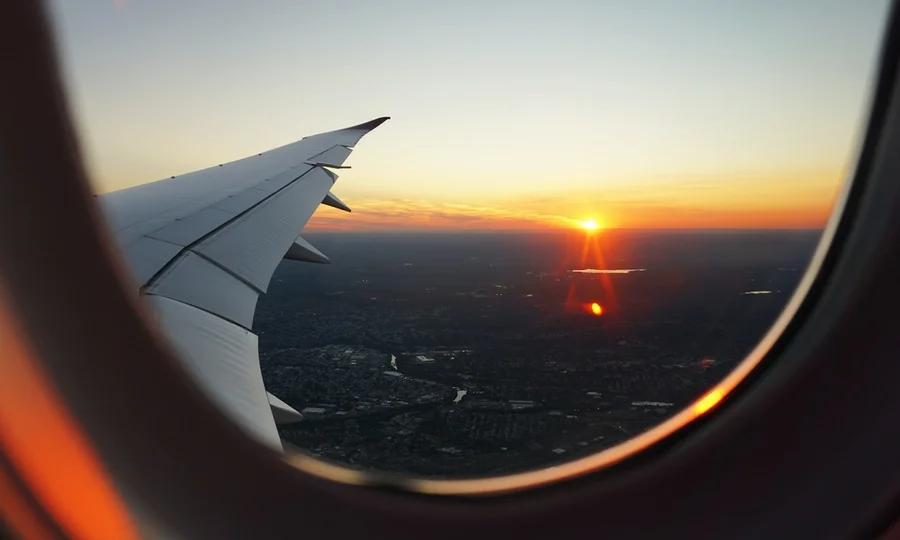 Choose the Right Destinations for you RTW Itinerary
You must have heard many itinerants say that it's all about the journey and not the destination. While this is true, some places can leave you with everlasting life-changing experiences.
So, for this reason, it makes sense to choose your destinations wisely so that you don't feel like you've wasted your money on a trip around the globe. The types of places you choose will also be determined by your budget, tour length and how and when you book your trip.
For example, choosing places with closer proximity makes more sense if you're constricted by time and money. Whereas if you haven't got any of these restrictions, you'll be able to venture to the world's furthest corners.
Plan Your RTW Itinerary Thoroughly To Save on Costs
If you want a smooth around-the-world tour, it's best to plan everything thoroughly. It's much better to book your flights in advance, in case of delays or if you have a strict time frame to follow. This is where travel agencies, alliances, third party booking sites and blogs can come in handy. We recommend kiwi.com as a third party to book your flights from.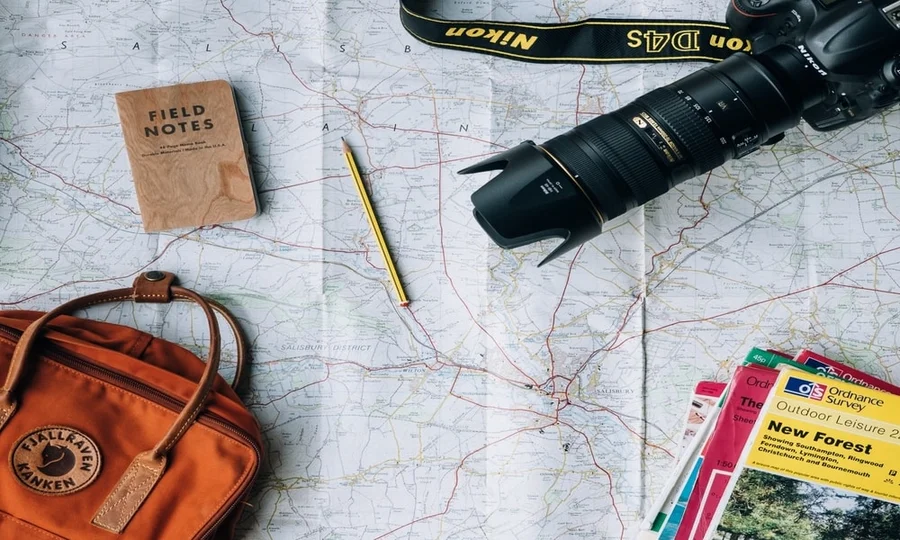 Book Accomodation in Advance
Try to book your accommodation in advance too. Booking your hotel in advance will guarantee availability and possibly save you some money. You might find our Global Five Star 2022 guide helpful if you're looking to book some of the best five-star hotels in the world.
Rent with Rental Cars
If you plan to get around by yourself in whichever city or region you find yourself in, you can use Rental Cars. Renting a car would be the safest and most convenient transport option in many countries. What's more the rental company provided cars for every budget-type, so you can save a lot by choosing the right vehicle type.
Use Travel Insurance
Since you'll be in the sky over a long period and hopping from country to country–it's best that you have your health covered. Travel insurance companies cover the gaps that regular insurance won't, for example, covering lost baggage, cancelled flights or medical emergencies.
So to help cover these expenses, you can browse through the World Nomad Travel Insurance site to see what they offer.
Research Your Destinations
Always have your trusty travel guide ready. You can get fantastic travel guides based on the destination you are travelling to. The Travel Book by Lonely Planet takes you on a journey through every country. Many people visit a country which they do not enjoy and end up wasting money.
Researching beforehand will give you a better idea of where exactly you'd like to go so that each trip is worth the investment. A true gem for anyone looking to do a global expedition.
Business Class vs First Class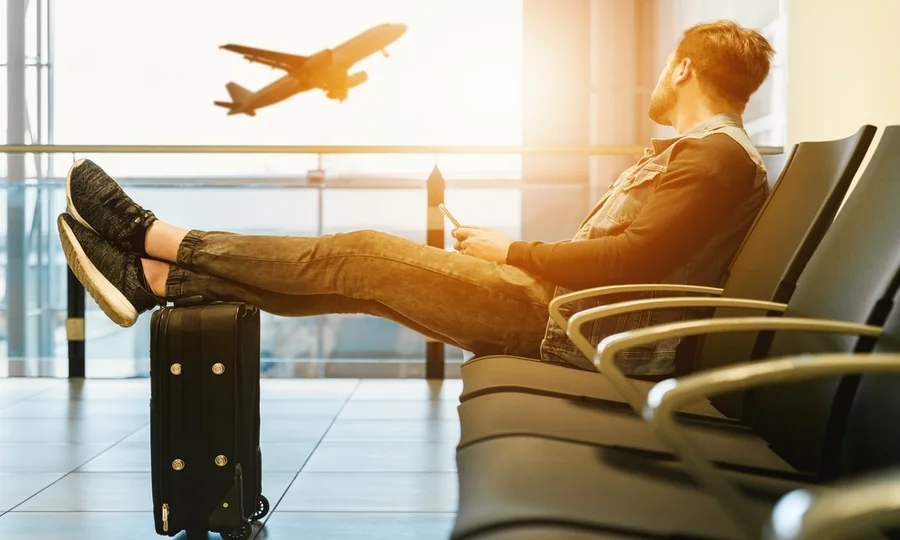 You'll be spending a lot of time on the plane if you're travelling to all corners of the world. If you travel first-class, you'll have the luxury of travelling in comfort, stretching your legs, and relaxing in your private cabin.
Generally speaking, first flight tickets cost twice as much as business class. So why should you choose it when many business classes can be just as good?
Both classes offer quality seating, amenities and services, separating them from the economy class. Many travel experts claim business is the new first, and nowadays, some airlines often only go up to business class. When it comes down to it, the more money you spend, the more amenities.
So which class should you choose for the world trip? This one comes down to personal preference, who you book with, your destination and how much money you're willing to spend. Here are some key features of the two classes to consider that might help you decide.
Layout and Design
Business class cabins are all about privacy, comfort, space and practicality. Most airlines have upgraded their business seating layout in a 1-2-1 formation with direct aisle access.
And first-class has all of these but takes it to the next level with luxurious features such as showers, double beds and hotel-like rooms on the plane for even more privacy. Have a look at our luxury first class post to better understand what we're describing.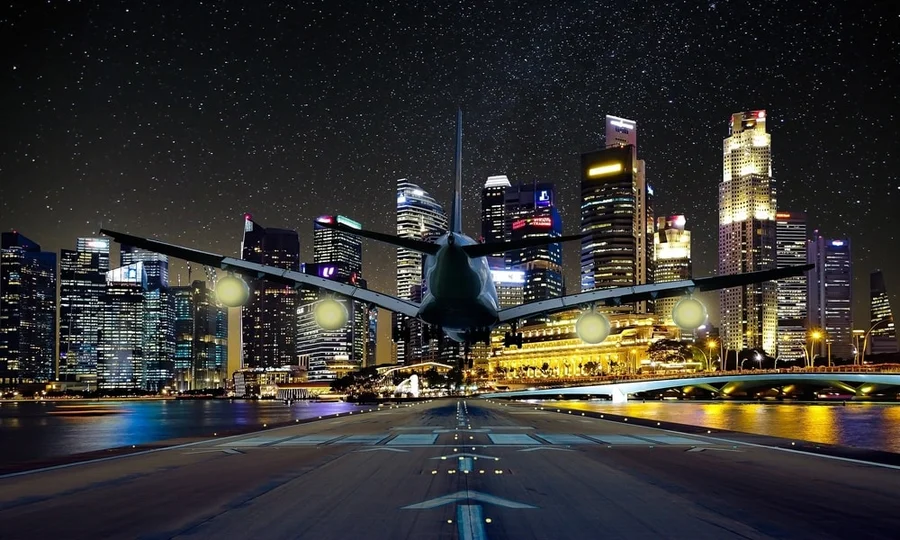 Waiting and Boarding
Both classes can get you priority access at airport security and checkpoint lines. Many first-class lounges allow you to board straight from the lounge to the aircraft and will enable you to get on the plane first.
Food and Drink
Business class usually has meals and beverages on the restaurant quality spectrum. At the same time, first offers menus designed by award-winning chefs for unmatched fine-dining experiences.
Seats
Business class offers more legroom, whereas first chairs can turn into beds and even private suites. Seatguru is an excellent tool for more insight into the seating layout, design and other features that can help you choose your perfect seat.
Lounge Areas
Business class lounges provide privacy and a quiet space to work accompanied by Wi-Fi, comfy chairs and snacks. In comparison, first-class lounges are lavish and include private restaurants, spas, fitness rooms and cigar lounges.
Final Thoughts
It's hard to determine the exact amount you'll spend on a tour around the world due to the many variants and options discussed above. However, it does get easier once you know where you'd like to go and for how long.
By having your dates and destinations ready, you can quickly get quotes from a third party or directly from an airline. A RTW ticket purchase would be the best option compared to organizing every flight yourself if you want to save on either money or time.
So are you ready to start planning the trip of your lifetime? Before you set flight on a first-class coach, you might want to invest in top designer bags and a hotel chauffeur service for a complete luxurious affair.