Luxury hotels with waterslides provide a great way to escape the heat and have a blast at the same time. These accommodations are ideal for vacations with the kids, family reunions, or getaways for adults who know how to have fun.
All around the world, you can find all-inclusive luxurious hotels with water parks, swimming pools, and fantastic water features. Whether you're looking for a relaxing lazy river or a safe place to send the kids while you have some alone time, there's a water feature hotel for every kind of trip.
So pack your swimsuits and prepare for a memorable vacation with tons of wet hair and belly laughs. Here are some of the most luxurious, 5-star hotels and resorts that offer you a splash of fun right outside your room.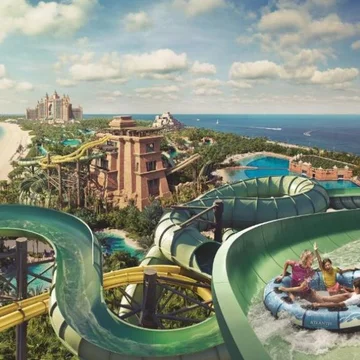 Atlantis The Palm
Not only is The Palm in Dubai one of the top luxury underwater hotels in the world, but it also has one of the most amazing aqua parks. In fact, it's the largest waterpark in the Middle East (rumored to be the ​​world's largest waterpark hotel) and houses over 100 water slides. There's a combination of body slides, group slides, and Aquaventure Rivers.
Check Availability
The aqua park also has a surf simulator, a kids' splash pool with more shallow water play areas, and a 'cliff jump' dive pool. Outside of the waterpark, there's a private sandy beach and an aquarium to entertain and amaze visitors. But the resort is truly an oasis, boasting an out-of-this-world experience for all. This includes the fitness centers, resort spa, salon, and 'underwater yoga.'
One of the most notable features at Atlantis The Palm is the underwater theme, which flows through the aquarium and even into some of the rooms. This design means guests can sit comfortably (and dry) in their rooms and watch the undersea world through large windows. And, of course, there is a collection of dining options — from casual to elegant and everything in between.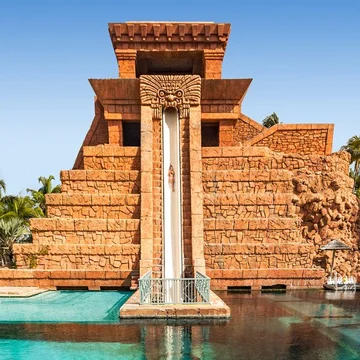 The Royal at Atlantis Paradise Island Resort
If you're looking for a luxury hotel with a water slide that is sure to impress, you'll want to check out The Royal Atlantis Paradise Island Resort in the Bahamas. This resort is located on one of the most beautiful beaches in the world and features a massive water park with over 20 slides and attractions.
Check Availability
The Paradise Resort has seven hotels to choose from, but The Royal will entice anyone looking for easy access to the water park and the stunning beach. This hotel is themed to celebrate the Lost City of Atlantis and boasts an impressive open-air marine habitat.
The rooms are colorful and bright and are designed to make guests feel like royalty. Each room has a French balcony that overlooks either the resort gardens, the busy harbor, or the sparkling ocean.
Being centrally located, The Royal offers convenient access to the resort's water park, Aquaventure. Guests can also take advantage of the Kids Club, a massive gym with classes, and the many water sports. There is also a casino, nightclubs, and plenty of restaurants to keep you entertained during your stay.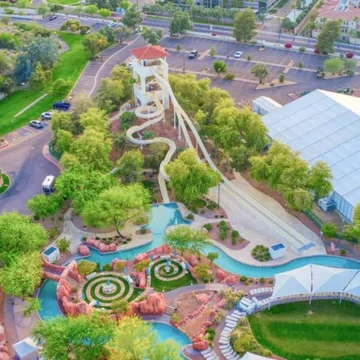 Arizona Grand Resort and Spa
According to the Travel Channel, this is one of the Top 10 Water Parks in America – which should excite the splash-seeker. The Oasis Water Park spans seven full acres of fun for the whole family. There's a kiddie pool, a wave pool, and even a hot tub that fits 25 people. But the true feature here is the eight-story Slide Canyon Tower – made up of three thrilling water slides.
Check Availability
Arizona Grand is an all-inclusive resort, so access to the onsite water park is included in your resort fees. Guests have access to rented cabanas near the pools where you can set up camp and enjoy a refreshing day outdoors.
In addition to the water-based amusement, this luxury resort also has a full-service spa, an athletic club, and a golf course. There is a selection of rooms to choose from, ranging from accessible rooms and 2 to 3-bedroom guest suites to studio or one-bedroom private villas. This is a fabulous home-away-from-home that caters to every kind of traveler.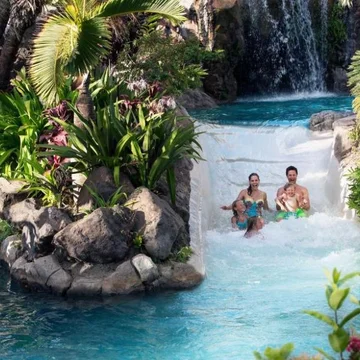 Grand Wailea Maui Resort and Spa
The Grand Wailea Maui Resort and Spa is a popular choice for travelers seeking a luxury experience in Hawaii. The Wailea Canyon water park is a jungle-island-themed adventure space with pools, slides, and water features.
Check Availability
There is a Tarzan pool with rope swings, a water elevator, caves and waterfalls, and a swim-up bar for the adults. The several pools are connected by a lazy river that has sections of fun whitewater rapids too. The Hibiscus Pool is an adult pool with jacuzzis and stunning mosaic designs on the floor.
In addition to the water park, the Grand Wailea Maui also has a full-service resort spa, nine restaurants, and a championship golf course. As well as additional experiences like beach yoga. There is something for everyone at this resort, making it a great choice for families or couples.
The rooms at the Grand Wailea are spacious and elegantly appointed with island-inspired furnishings. Each room has a private terrace (or lanai) and luxury amenities. And, if you're traveling with family or friends, you can opt for a villa that comes complete with its own kitchen and living area.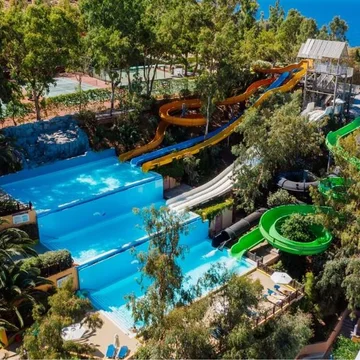 Fodele Beach & Water Park Hotel
The Fodele Beach & Water Park Hotel is close to some of the best beaches in Greece and is a lovely hotel for a family vacation. The hotel is accentuated by its stunning private beach, but it's renowned for its very own waterpark that combines large and fast slides with a children's pool and slide. The water park also features a snack bar, showers, and changing rooms.
Check Availability
Fodele also offers an on-site spa, tennis courts, a fitness room, and direct access to water sports facilities and scuba diving adventures. There is a Kids Club for the little ones, and plenty of surrounding Crete for guests to enjoy and explore. And the rooms show off Crete's glorious coastline and the breathtaking sunsets.
Guests at this 5-star hotel have the choice between two evening-only restaurants and two all-day restaurants where you can find authentic Greek, French, and Italian meals. There are also three bars for nighttime drinks and a beach club for cocktails on your sun loungers.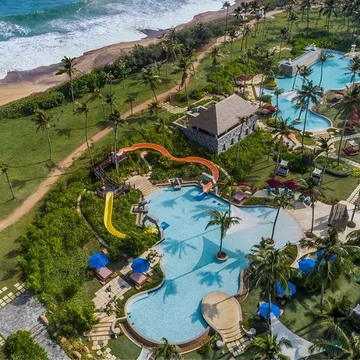 Shangri-La Hambantota Golf Resort and Spa
If you've been looking for a place of peace and restoration, this 5-star hotel in Sri Lanka promises dedication to your comfort and wellbeing. Although the waterpark at Shangri-La Hambantota is marketed to parents wanting to keep the kids busy, it's more than big enough to accommodate adults too.
Check Availability
With a lazy river, 11 water slides, and a kids' pool with its own pirate ship, the little ones will be entertained for hours. The resort also has an 18-hole golf course, a tennis court, and a spa with 7 treatment rooms. And if you want to explore beyond the resort, there are plenty of activities in the local area such as whale and dolphin watching, birdwatching, and visiting ancient temples.
From whichever of the 270+ rooms you book into, you'll have a tranquil space that is both elegantly stylish and comfortable. The resort offers views over the golf course, the jungle-like garden, or the magnificent Indian Ocean.
Indulge in delicious Sri Lankan or Southeast Asian cuisine at one of the two restaurants, and end your nights at either of the bars. When you're not sliding into the refreshing pools, the resort spa is there to pamper you, and watersports are available on the bigger bodies of water.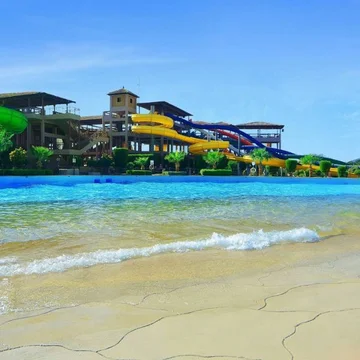 Jungle Aqua Park Hotel – By Pickalbatros
Boasting a total of 35 water slides, and 21 pools, Jungle Aqua Park Hotel is the ideal place to stay in Egypt. With a diverse range of slides, ranging from simple yet thrilling to daring and a little crazy, this aqua park is one of the best. Other great amenities at the Jungle Aqua Park Hotel include a fitness center, various dining options, and opportunities to explore the beautiful surrounding landscape of Egypt.
Check Availability
The hotel's bungalow rooms are all positioned strategically around the property's exciting water park and there is direct access to either the garden or the pools. Hotel guests can wake up in a plush bed, enjoy an in-room breakfast on the private balcony, and then head down for a full day of fun in the Egyptian sun. When parents need some relaxing time, there is a Kids Club and babysitting services offered by the hotel.
You can eat your way around the world with the resort restaurants on offer, including Italian, Mediterranean, and German. The selection of nighttime bars is just as diverse. And if you can't pull yourself away from the water, the Aqua Park Restaurant and Bar are both conveniently located and ready to serve.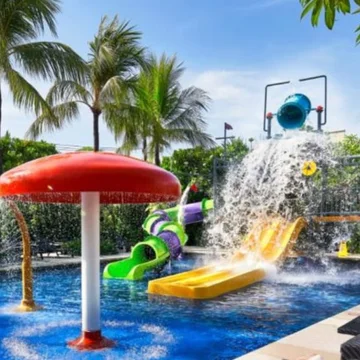 Hard Rock Hotel Bali
Although this luxury hotel in Bali is themed around rock stars and music lovers, it's also home to the largest free-form swimming pool in Bali, Indonesia, and has plenty of outdoor water delight. There is a slide at the main pool for adults and older kids, but Kids Waterpark has more color and fun slides plunging into a kid's pool.
Check Availability
When the water slides have managed to work up an appetite, the resort has a number of dining options, including Jamie Oliver Kitchen and the Splash Bistro where you can see the pools. There's also a diner, deli, lobby bar, and a swim up bar near the pool.
All of the 400+ rooms and suites incorporate at least something music-inspired while offering an indulgent space for guests. The hotel also has a recording studio, an onsite spa, and a fitness center. There's plenty to keep the kids entertained when they're not in the water, including Playstation 4s in the kid's rooms and a Kids Club.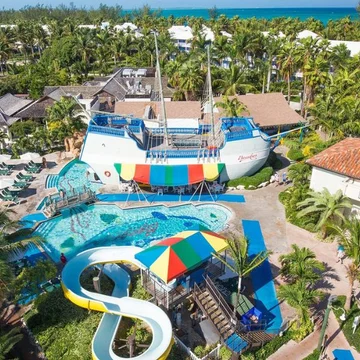 Beaches Turks & Caicos
The Pirates Island Waterpark at Beaches Turks & Caicos is an idyllic spot for a family vacation. With its pirate-ship-themed area, lazy river, and several slides, the waterpark is one of the best in the Caribbean. There's also a surf simulator, a kids' swim up bar, and a number of food trucks to keep everyone fueled for the fun.
Check Availability
Families can also enjoy plenty of other activities on site, including tennis, basketball, beach volleyball, golf, and windsurfing. And if that's not enough, there are also horseback riding and scuba lessons available.
At Beaches Turks & Caicos, guests can choose from a variety of rooms and suites to find the perfect accommodations for their vacation. Choose from luxury hotel rooms, one- or two-bedroom concierge suites, or butler-serviced villas. All of the rooms and suites offer stunning views of either the ocean or the lush gardens.
The resort also has a number of dining options, including an international buffet, an Italian restaurant, and a steakhouse. And when it's time to relax, guests can enjoy the spa or one of the nine bars on site.
Book Luxury Hotels with Waterslides
While a luxury summer vacation can be just fine on a beautiful beach, there is a whole other level of excitement when you have a water park on your hotel room doorstep. These 5-star hotels with slides, lazy rivers, and splash pools make a great vacation even better. You can take the whole family and make memories full of laughter that will last a lifetime.
There are aqua park hotels all over the world, so you can pick your ideal destination and book into a hotel that fits your needs. Whether you need family friendly sections, an adults only pool, or a range of slides to keep everyone entertained, these 5-star hotels have it all.
These hotels with water slides and onsite water parks are always in high demand, so make sure you don't miss out.