The Bahamas, one of the world's most visited tourist destinations, has become synonymous with tropical getaways that include secluded, sandy beaches, exclusive private islands, and amazing dishes. All the luxury hotels in the Bahamas included on this list allow you to experience that and more, resulting in the holiday of your dreams.
The country comprises 700 islands, so it can be a bit difficult to choose which part of the Bahamas to visit next. Our list of luxury hotels in the Bahamas is varied and inclusive, giving you a myriad of destinations and options.
And with that said, let's start with our first pick.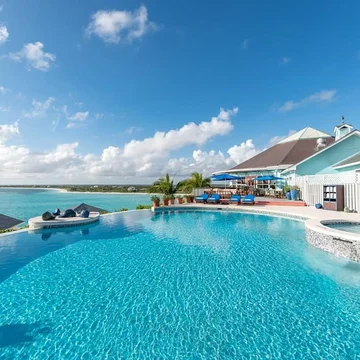 The Abaco Club on Winding Bay
Scenic coves, mile-long beaches, and panoramic views – The Abaco Club on Winding Bay has arguably the best location on Great Abaco. If you want those picture-perfect, catalog-like views we associate with the Bahamas, then this is the place to choose for your next holiday.
Check Availability
You'll be given quite a few options adventure-wise. Whether you opt for lounging your days away on the private cove, playing golf in the best golfing course in the Bahamas, exploring the island, partaking in water sports, or taking a boat ride, you can rest assured knowing you'll be seeing the most picturesque nooks of the island. If you want to stay near the resort, there are still plenty of activities to enjoy. Pay a visit to The Abaco Club Spa and choose from soothing treatments like the Royal Hibiscus Signature, using signature Eminence products for your ultimate satisfaction. The club's state-of-the-art fitness center is another option for on-site fun, particularly for those who enjoy cardio and weight training.
Choose from gorgeously appointed estate homes, cottages, and cabanas. The beachfront estate homes are a few steps away from the private beach, so you'll be waking up to the gentle sound of the waves crashing the sandy shores. Each house comes with a private deck area where you can sunbathe and enjoy delicious in-room dining. The décor is succinct with the tropical paradise that surrounds the houses – think colorful patterns, ligneous beds, and an elegant white color scheme.
Taste the flavor of Abaco in The Abaco Club on Winding Bay's Flippers Beach Bar and The Cliff House. Flippers Beach Bar is the breakfast spot, but it also serves lunch and dinner. Enjoy a tasty fruit salad made with fresh fruit from the Bahamas or a replenishing cup of coffee in its relaxing and beachy atmosphere. The Cliff House, one of the most popular dining spots in Great Abaco, overlooks Winding Bay and serves flavorful local cuisine made with fresh ingredients. Alternatively, you can always hire a private chef who will cook for you in the comfort of your own beach house.
The rates at The Abaco Club on Winding Bay start from $500 per night.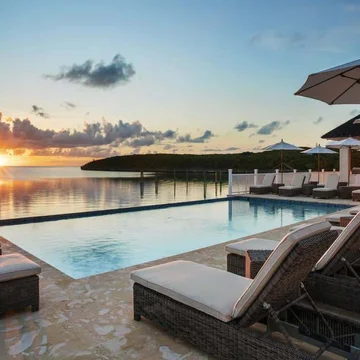 French Leave Resort
Part of the hotel chain tycoon Autograph Collection, French Leave Resort is a tranquil yet impeccably crafted resort situated on the scenic island of Eleuthera. The island is home to quite a few local boutiques and restaurants that make a great addition to any itinerary, as well as many well-known tourist attractions, like the pink sand beaches, that showcase the natural beauty of this island. Do keep in mind that some of these spots might take you about half an hour to reach either via a water taxi or a cab ride.
Check Availability
Expect to find a whole host of luxury amenities upon your arrival. A 24-hour fitness center, an infinity pool with a stunning backdrop of the island, and a hot tub are only a few of the amenities offered. The resort also hosts thrilling water sports that you can take part in, which allow you to explore the island in a new light. Dining-wise, 1648 is a beachfront restaurant offering an all-day menu with local and international options. Some highlights include the house-made breakfast granola, the Death by Chocolate dessert, and the Bahama Mama cocktail.
The villas at French Leave Resort allow you to enjoy the ultimate tropical holiday in style. Most of the villas are oceanfront and come with splendid views of the beaches and turquoise waters. The villas feature spacious outdoor decks where you can get your daily dose of vitamin D, sizable bathrooms with double sinks, luxury amenities, and a shower, and flat-screen TVs. If you're planning a special trip, the Royal Island House is the ideal choice; featuring a private outdoor pool, a myriad of luxury appliances, four golf carts, and a gorgeous living area.
Prices at French Leave Resort start from $500 per night.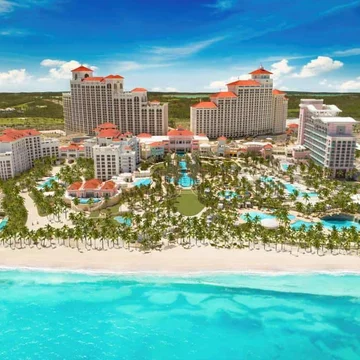 Grand Hyatt Baha Mar
The allure of Las Vegas meets the beachy serenity of the Bahamas in the famous and fabulous Grand Hyatt Baha Mar. Located on the outskirts of Nassau, the hotel is associated with the equally recognized SLS Baha Mar and Rosewood Baha Mar, luxury hotels that, in conjunction with Grand Hyatt Baha Mar, make up a whole resort. Grand Hyatt Baha Mar, with its private golf course, six outdoor pools, and private pier, will give you the perfect balance of privacy and fun.
Check Availability
The hotel is home to the largest casino in the Caribbean. Other amenities include a grand total of nine tennis courts, a well-equipped fitness center, a soul-soothing spa (the Seashell Massage is a must!), and a wellness center. Guests get to delight in various adrenaline-inducing activities, like snorkeling, paddle-boarding, and kayaking.
When it comes to dining, Grand Hyatt Baha Mar offers a varied selection. Sweet tooths often opt for Café Madeleine – dessert heaven reminiscent of a French bistro, with a menu composed of macaroons, gelato, French pastries, and Mojo Coffee. Shuang Ba is an on-site Chinese restaurant with a remarkable ambience and interiors brimming with Chinese motifs and art, all designed to give you an authentic experience. Regatta offers both a breakfast buffet and a dining menu. Some staples include refreshing house-made popsicles and tacos. Or you can unwind in style at the Jazz Bar – an exquisite spot for nighttime entertainment that regularly hosts local artists.
The rooms at Grand Hyatt Baha Mar have a navy and white color scheme that's ideal for a beach holiday. Some of the amenities include a generous minibar, en-suite bathrooms with complementary products and walk-in showers, and a private balcony. Unsurprisingly so, the sizable and ultra-comfortable Grand Hyatt beds promise a good night's sleep. Most of the rooms come with oceanfront views, while the rest feature equally impressive fountain views.
The rates at Grand Hyatt Baha Mar for a standard room start from $430 a night.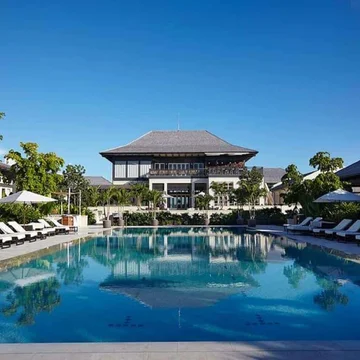 The Island House
Surrounded by lush greenery, The Island House is the perfect option for a secluded stay away from any noisy tourist crowds. While not located on a beach, the hotel allows its guests to have access to an exclusive private beach.
Check Availability
Facilities-wise, The Island House is ahead of the luxe game. The hotel boasts its own private cinema with a 24 ft screen and a perfectly balanced repertoire featuring indie films and cult classics. The Bamford Spa center is equally impressive – the trained staff offers unique treatments and prides itself on having a holistic approach to wellness. Apart from having access to a 24-hour fitness center, The Island House's guests have the option of booking a varied selection of classes, including boot-camps and yoga classes. A large lap pool is also available to use.
After a tiring class, restore your energy levels at Shima – the hotel's on-site restaurant where delicious Southeast Asian cuisine is served in conjunction with an extensive wine list. The Island House is renowned for its vast selection of premium wines which are luckily also available for purchase. If you're in the mood for Italian food, Mahogany House has you covered. Its ambiance is inviting and relaxing, and you can never go wrong with a pizza and beer combination.
The earthy design of the rooms complements the surroundings impeccably, giving you an authentic island living experience, but never compromising on the lavishness. A lovely selection of local art adorns the walls in every room, only adding to the authentic experience. Some of the modern amenities include an en-suite bathroom with Bamford amenities and outdoor showers, a flat-screen TV, and a living area.
Price-wise, the rooms start at $440 per night.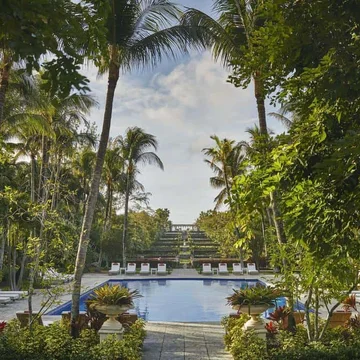 The Ocean Club
Nassau is famous for being a magnet for celebrities who want to visit the Bahamas, but what's even more impressive is that The Ocean Club is known for being featured in the blockbuster Casino Royale. This iconic hotel is located on Paradise Island and is surrounded by expansive white-sand beaches and Versailles-inspired gardens.
Check Availability
As you might expect from a Four Seasons Hotel, there's a versatile choice of facilities. The hotel boasts a private golf course, a Balinese-style spa, three pools, six tennis courts, and a small but well-equipped fitness center. Oh, and did we mention that the yoga classes are complimentary? Clearly, fitness is taken very seriously at The Ocean Club.
The elegant and chic Dune restaurant is a favorite in the area. French-Asian cuisine is served in a spectacular setting. Regardless of whether you opt for Crispy Salmon Sushi or a Tartare, the dishes are distinct and delicious, courtesy of Michelin-starred Chef Jean-Georges Vongerichten. The adjacent Dune Bar serves iconic Bahamian cocktails and a splendid selection of signature cocktails, all with incredible ocean views.
Both the suites and the rooms at The Ocean Club are stunningly appointed and designed in a boho-chic style. From hardwood floors to mahogany furnishings, the attention to detail is spotless. The colorful pops of color match the décor perfectly. Each room and suite comes with an en-suite marble bathroom with a separate shower and a large oval tub. Since the accommodation options are located only steps away from the beach, expect the floor-to-ceiling windows to reveal gorgeous ocean and garden views.
The rates at The Ocean Club start from $800 a night.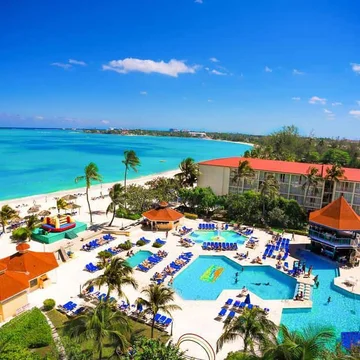 Breezes Resort and Spa All Inclusive
Life's a breeze when you're staying at Breezes Resort and Spa All Inclusive. This all-inclusive resort is situated on one of the island's most gorgeous beaches – Cable Beach, giving you the ultimate Bahamas experience. Apart from swimming in the salty water, guests can enjoy a riveting game of beach volleyball.
Check Availability
If you're an adrenaline junkie who wants a break from lounging around in the sun, then choose from the plethora of activities available at Breezes Resort and Spa All Inclusive. There are three freshwater pools, including a poolside Jacuzzi, three tennis courts, a rock climbing wall, and a jogging trail. The Blue Mahoe Spa takes pampering to the next level – the treatments, facials, and massages are guaranteed to de-stress and revitalize.
Buffet breakfast is served at Banana Boat and it includes a generous selection of international and local choices. The hotel's Beach Grill is a more casual option, ideal for a quick snack outdoors. The bars at Breezes Resort and Spa All Inclusive really come alive during nighttime, when there's live entertainment. And what better way to savor the live music experience than with a delicious cocktail or a glass of aged wine?
There are a total of 391 guest rooms and 5 suites to choose from. Both options are equally elegant, with mahogany furnishings, breathtaking views, large beds with luxury linen, and en-suite marble bathrooms. The color palette is mostly white, with playful touches of floral accents.
The rates at Breezes Resort and Spa All Inclusive start from $250 per night.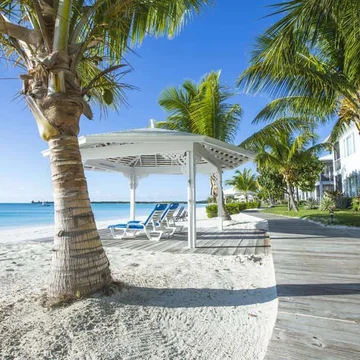 Cape Santa Maria Beach Resort
Long Island is home to some of the greatest beaches in the Bahamas. Cape Santa Maria Beach Resort is an ideal choice if you want easy access to long and sandy beaches, as well as an action-packed stay. Book a snorkeling adventure, explore the divine beauty of the oceans via scuba diving, or enjoy a historic tour of the island and its beaches. Though it might take you a while to get here, it's well worth the trouble. Booking one of the hotel's private jets is always an option.
Check Availability
If you want to explore the island in a swift manner, you can rent a bike or a kayak from the hotel, free of charge. There is no on-site spa, but the hotel contains a small fitness center. Prepare to be awestruck by The Beach House Restaurant's incredible menu (a combination of comfort pub food and Bahamian cuisine) and the panoramic views from the inside. Whether you come here for a refreshing cocktail during sunset or you want a three-course meal, the restaurant won't disappoint. The menu options are plentiful, and the sandwiches seem to be a favorite among guests.
Cape Santa Maria Beach Resort allows you to choose between beachfront villas and bungalows, all of which are equipped with a kitchen, a comfortable sitting area, ceiling fans, and a TV. Bright colors are combined with a timeless white base and plenty of wooden details. The two-bedroom villas come with a jetted tub, a private balcony, and complimentary toiletries.
When it comes to the rates at Cape Santa Maria Beach Resort, prices start at around $270 per night.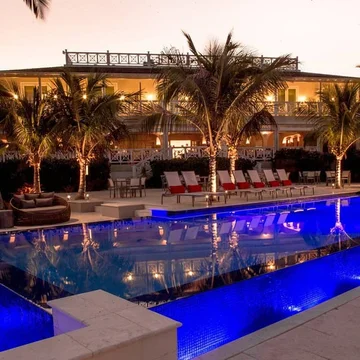 Coral Sands Hotel
The newly decorated Coral Sands Hotel is a small luxury boutique hotel sitting on the pink sandy shores of Harbour Island. Utterly romantic and charming, the hotel is great for couples and families alike.
Check Availability
The staff at Coral Sands Hotel is just as welcoming and helpful as you might expect from a luxury hotel, always happy to assist you with any problem that might arise. During your stay, you will have plenty of opportunities to move your body – take a lap or two in one of the pools, visit the on-site fitness center, or play a game of tennis on the private tennis court – the choices seem to be endless. If you don't mind a short stroll, a large golf course is located in the area.
For bites and booze, visit Latitude 25, one of the best restaurants in the Bahamas. The breakfast options seem to be never-ending: enjoy a fresh fruit plate, buttermilk pancakes, eggs benedict or a homemade oatmeal bowl, with an ice tea or Bahamas roaster's coffee. The cocktail menu is equally impressive; some of the signature cocktails include Coral Sands Rum Punch, Moscow Mule, Pineapple Express, and Coconut Breeze. Alternatively, visit The Beach Bar for a relaxing drink, a refreshing cocktail after a long day in the sun, or a light entree.
To say that the accommodation options are varied would be an understatement. Guests at Coral Sands Hotel can opt for a standard room, a suite, a bungalow, a cottage, or a private home. What they all have in common is an array of modern facilities that include a mini-fridge, a sizable bathroom, and a flat-screen TV. The décor is elegant yet relaxed, much like the resort itself.
The rates at Coral Sands Hotel start from approximately $450 per night.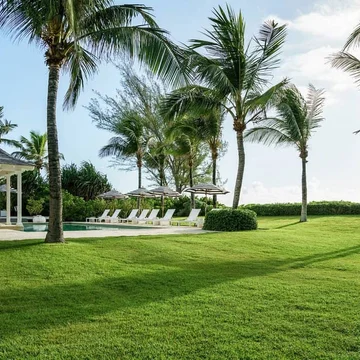 The Dunmore
Pink sand beaches, spacious cottages, attentive and detail-oriented staff – The Dunmore has all the requirements for a serene and relaxing holiday in the Bahamas. Harbour Island is certainly not Bahamas' party epicenter, yet it's home to charming local shops, fine dining restaurants, and stunning beaches, all of which are located a short walk away from the hotel.
Check Availability
The Dunmore offers plenty of opportunities for exercise. Whether you go for a swim in the ocean, play a match with your significant other at one of their tennis courts, or enjoy a traditional workout in the on-site gym, the choice is yours. The Clubhouse is an on-site restaurant that serves a splendid blend of local island flavors and Mediterranean cuisine. The setting is elegant yet relaxed. In the morning, enjoy an extensive menu that features crispy coconut French toast, avocado toast, and an organic granola parfait. Other highlights include the Burrata Salad, Curry Grouper, and the Stone Crab Crawls.
All eighteen cottages ooze Bahamian glamor and have a stylish choice of décor. Shades of blue and white are combined with light ligneous details that accent the colors. The amenities are endless – Nespresso machines, flat-screen TVs, private patios, and Molton Brown toiletries are all included. The bathrooms are huge, with separate bath and shower areas, well-illuminated mirrors, and double sinks.
The rates at The Dunmore start from around $670 a night.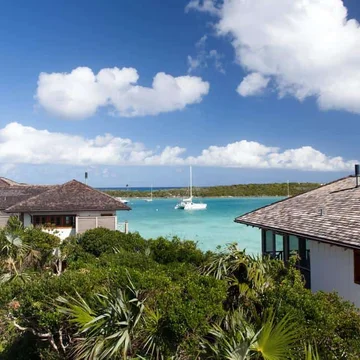 Kahari Resort
Kahari Resort is a boutique resort nestled amid the lush surroundings and sandy beaches of Stocking Island. Placing a huge emphasis on eco-friendly design and execution, the resort is ideal for those who are looking to lower their carbon footprint in style.
Check Availability
The resort's location allows you to explore the nearby attractions and partake in various activities, while the attentive staff has ensured that you have the option of exploring the neighboring islands as well. Spend your days swimming in the resort's salt-water pool, explore the hiking trail that leads to stunning sights on the island, snorkel and marvel at the coral reefs, or enjoy a paddleboarding session – the options are endless. On top of that, guests have access to a small fitness center.
The Beacon Restaurant is Kahari Resort's culinary wonder where you can enjoy rich and innovative cuisine. Overlooking the Turtle Lagoon, the restaurant gives you access to some of the most breathtaking views on the island.
At Kahari Resort, twelve waterfront bungalows are available for booking. The furnishings include custom woodwork, cozy king-sized beds, lounge chairs, and floor-to-ceiling windows that allow plenty of natural lighting and unveil ocean and beach vistas. A kitchenette, as well as en-suite bathrooms, are included with each bungalow.
The rates at Kahari Resort start from $250. Please keep in mind that there is a two-night minimum stay.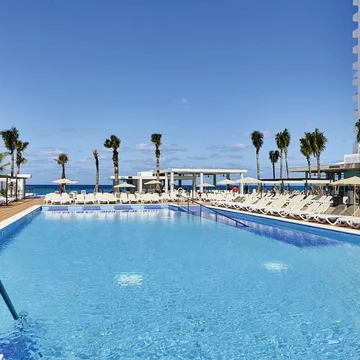 Hotel Riu Palace Paradise Island
Hotel Riu Palace Paradise Island is an all-inclusive adults-only beach resort located right on Cabbage Beach – one of the most crowded beaches on the island. Downtown Nassau is half an hour's walk away if you ever need a change of scenery.
Check Availability
On top of having access to a reserved beach area, there are also two swimming pools available, one of which contains a swim-up bar. Facilities-wise, the hotel boasts a fitness center, a beach volleyball court, and an on-site spa. If you ever need a fresh haircut or a blowout for one of the parties organized at the bars, the hotel's own beauty salon is here to the rescue.
The dining options are varied, plentiful, and include Japanese, Fusion, and Indian cuisine. A continental breakfast buffet is served every morning that contains a mix of local and international favorites. The hotel even has its own ice-cream parlor – Cappuccino, where you can sample a treat or two.
Hotel Riu Palace Paradise Island offers more than 350 rooms to choose from, all of which are equipped with some modern amenities like a minibar, a coffee making machine, and a flat-screen TV. The king-sized beds are enormous and come with wooden frames and premium linen. Color-wise, most of the rooms have a black-and-white color scheme with crimson accents that give each room a sensual feel.
When it comes to pricing, the rooms at Riu Palace start at around $220 per night.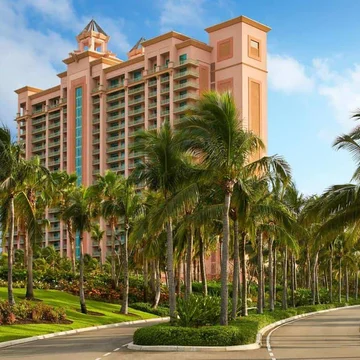 The Cove at Atlantis
The Cove at Atlantis is an exclusive five-star resort, known for its gorgeous beaches and surrounding greenery. Designed by architect Jeffrey Beers, the hotel's distinctive construction stands out amid the tall trees and neighboring buildings. From luxury shopping to fun water activities, there are plenty of things to do on the island, which stays true to its name.
Check Availability
One of the most notable features of The Cove at Atlantis is its dolphin sanctuary. Keeping the animal's welfare in mind at all times, the hotel gives you a unique opportunity to swim among the dolphins or, for those who want to admire them from a distance, kayak, and paddleboard around them. At The Cove at Atlantis, there are a myriad of pools and swimming areas, all of which differ in terms of size and design. Alternatively, choose from one of three private beaches – Cove Beach, Paradise Lagoon, and Atlantis Beach. The award-winning Mandara Spa welcomes you for traditional European treatments using natural ingredients. The hotel also boasts a golf course that stretches more than 7,000 yards.
The Cove at Atlantis' guests can enjoy a variety of cuisines at the on-site restaurants. Visit Nobu for splendid Japanese dishes, the riveting Chop Stix for Chinese cuisine, the Bahamian Club for traditional local cuisine, or Casa D'Angelo for flavorful Italian dishes.
Accommodation-wise, The Cove at Atlantis allows you to select from various different kinds of suites. Although equally elegant and spacious, the suites differ in terms of color scheme and style. Each suite is equipped with a flat-screen TV, a marble bathroom with a walk-in shower and bathtub, and comfortable beds with luxury linen.
Prices at The Cove at Atlantis start from $400 a night.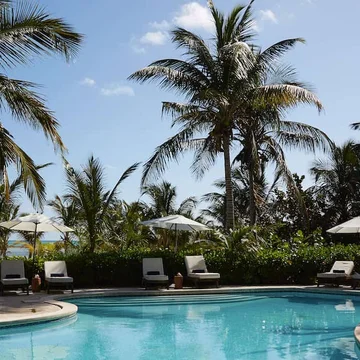 Kamalame Cay
Kamalame Cay is the perfect resort for a private island getaway where you can enjoy a romantic stay with all the privacy in the world. This award-winning resort's location is such that it can only be reached via ferry or helicopter. Engulfed in tropical beauty, it enables guests to try out various kinds of water activities and experiences, like diving, snorkeling, and sea kayaking.
Check Availability
The Overwater Spa, the only overwater spa in the Bahamas, is where guests turn to for holistic treatments and facials, using organic luxury products. Other amenities include a tennis court, a well-equipped fitness center, and a lap-sized swimming pool. The on-site cuisine is an irresistible mix of Bahamian and Asian cuisine. The Great House is ideal for both a casual breakfast and a romantic dinner for two. Some must-try breakfast items include the Granola with Greek Yogurt, the Pastry Board, and the Three Cheese Omelette. The Monkey Bar's wine and champagne menu is designed to impress, just like its lavish and exquisite setting, proving to be a great place for a little midafternoon pick me up or a fun night out.
Kamalame Cay's beachfront villas are chic, airy, and appointed with incredible amenities and gorgeous views. No two villas are the same, so the color scheme and layout varies depending on which one you choose. Some features you can expect to find include a private pool and deck area, an outdoor shower, a fully-stocked kitchen, a Nespresso machine, and carefully picked hardwood furniture that complements the surroundings.
The rates at Kamalame Cay start at around $500 per night during low season.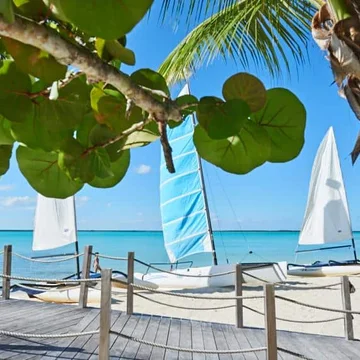 Tiamo
Tiamo is an eco-conscious luxury resort located in the heart of The Bahamas, on Andros Island. The exclusivity of the resort is emphasized by the limited accommodation options (only 11), and the fact that it's only reachable by boat or seaplane. A getaway in every sense of the word.
Check Availability
The staff at Tiamo is dedicated to making your stay as comfortable as it can be and are always happy to recommend an attraction or a restaurant. There is a whole host of facilities available at the hotel, from a library brimming with classics to an infinity pool overlooking South Bright. The Great Room's all-day menu contains a mix of cuisines. The breakfast options are plentiful, also combining international and local favorites.
Much like the resort itself, the villas are designed to allow for privacy and intimacy. Each one is built in a traditional Bahamian style and has direct beach access, with spacious private decks, high ceilings, and walls pitted with local artwork. Though minimalistic, the villas have an elegant vibe, emphasized by the white color scheme and a scant few blue accents. No TVs are included, but we guarantee you won't miss screens with such a view.
The rates at Tiamo start at $1,000 per night.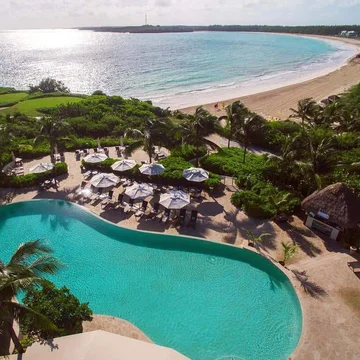 Grand Isle Resort
One of the most distinguished luxury hotels in the Bahamas, Grand Isle Resort is located on Emerald Bay, on the island of Great Exuma. The hotel has been awarded the AAA Four Diamond Award, among other recognitions, so expect a royal treatment and a spectacular service.
Check Availability
Great Exuma is known for its pristine beaches and crystal clear waters. Other than the surrounding beaches, guests have access to the hotel's infinity pool that overlooks Emerald Bay. One of the highlights of staying at Grand Isle Resort is their 23° North Beach Club, a commodious club that is any party animal's dream. Book a replenishing treatment at SeaStar Spa and enjoy the relaxing benefits with a glass of champagne. Other than giving you many opportunities to relax, Grand Isle Resort enables you to participate in a large selection of water sports, like snorkeling, kayaking, and paddleboarding.
Sandy Toes is a beachfront casual dining restaurant where you can indulge in western comfort food or have a midafternoon cocktail on the beach. If you want a chance to taste the local cuisine, Palapa Restaurant offers authentic Caribbean food using locally sourced ingredients. The breakfast menu is alluring: enjoy a portion of Yvonne Scramble, Buttermilk Pancakes, or Croissant Melt, along with a glass of freshly squeezed juice or coffee.
The hotel offers one-bedroom, two-bedroom, and three-bedroom villas, all of which are equipped with an en-suite bathroom with a whirlpool spa bath, a fully appointed gourmet kitchen, and a spacious living room area. Take your morning coffee to your private balcony for an unparalleled view of the island.
The rates at Grand Isle Resort start at $300 per night.
Find Luxury Hotels in Bahamas