Few countries inspire quite like Spain; a vibrant, lively country bursting with culture and history. Reputed for its beautiful capital Madrid, the decadent city vibe in Barcelona, and mesmerizing beaches, Spain is one of the top touristic locations in Europe.
In this article, we've reviewed the 15 most luxurious hotels in Spain that will take your travel experience on a whole different level of comfort.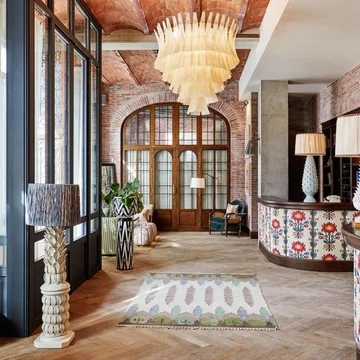 Soho House Barcelona
Situated on Placa del Duc de Medinaceli and overlooking Marina Port Vell, Soho House Barcelona is an excellent starting point for those who want to explore Barcelona on foot. Placa de Catalunya, and Passeig de Gracia and La Rambla are ten minutes away, while the open-air market The Boqueria is within walking distance.
Check Availability
The hotel features contemporary decor and an orange-colored palette which creates a vibrant atmosphere. The bright spaces are furnished with a mix of traditional furniture and quirky antiques with pops of red, blue, and lilac tones.
The rooms are small, however, they have a cozy and comfortable atmosphere, whereas the delicate lighting, colorful carpets, and unique artworks create a homely atmosphere. Guests will appreciate nice touches such as vintage radios, globe-shaped lamps, proper brollies, and black leather chairs.
The myriad of facilities available at Soho House Barcelona will further add to your travel experience. The lavish spa is equipped with a steam room, indoor pool, and four spacious treatment rooms, in addition to a fitness center also available to guests. Don't forget to visit the hotel's cinema, where you can watch some classic movies in a comfortable armchair with a blanket over your knees.
What sets Soho House Barcelona apart is the heated rooftop pool surrounded with elegant sun loungers. This is the ultimate spot to indulge in a cocktail and watch the sunset over Gran Via.
The prices for a standard room in Soho House Barcelona vary between $300 and $800 per night.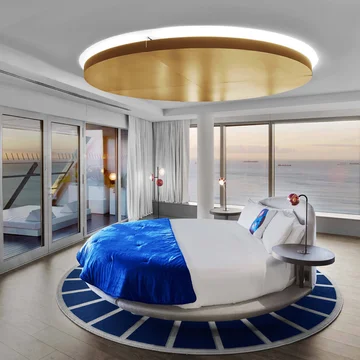 W Barcelona
W Barcelona's grandiose property of glass and steel is a prominent landmark that can be frequently spotted on Barcelona's postcards. This avant-garde icon of stunning architecture was created by the world-famous architect Ricardo Bofill, while the interior was designed by Charles Farruggio.
Check Availability
W Barcelona is set on the vibrant Barceloneta beach which is always crowded with friendly locals and international travelers. The hotel's interior is sleek and modern with neon lightning, black lacquer panels, and silver mosaic walls. Lined with floor-to-ceiling windows that spread across 26 floors, W Barcelona offers some epic views over Barcelona's skyline and the Mediterranean Sea.
The rooms are spacious, elegant, and filled with natural light. The signature W king-size bed, fashioned with 350-thread-count Egyptian cotton sheets, guarantees a good night's rest. Amenities include a flat TV, coffee machine, air conditioning, and a well-stocked minibar. The bathrooms are commodious and have rainfall showerheads along with Bliss Spa toiletries.
After a long day of sightseeing, you can relax and contemplate your moments in Barcelona at two outdoor pools facing the sea. Here you can enjoy excellent pool service while you relax on the cushioned lounge chairs. Plush cabanas are also available.
Relaxation and rejuvenation are guaranteed at the 7,500 square-foot Bliss spa where you can choose from a long list of healing treatments, massages, and facials.
Expect to pay $200 for a guest room, while the prices for the suites start at $470 per night.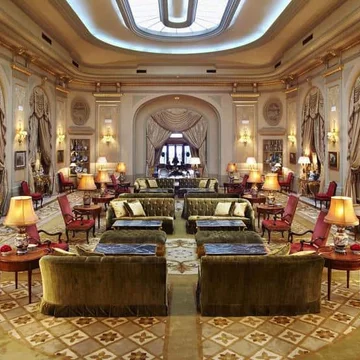 El Palace
El Palace, housed in a 20th-century property, offers great dining, comfortable accommodation, and a myriad of facilities. The hotel is located in Eixample, which is in close proximity to all major landmarks including the historic Barrio Gótico, Paseo de Gracia, and Las Ramblas. Step outside the hotel's doors and you'll find yourself in an upscale neighborhood dense with stylish restaurants and luxury boutiques.
Check Availability
The velvet-gloved treatment at the hotel includes room service, in-room dining, car service to the airport, and babysitting services. A limousine with a chauffeur is also available to guests upon request. The hotel is completely accessible for people with reduced mobility.
Elegant and absolutely luxurious, guests will obsess over the hotel's interior filled with Versailles-style ornate furniture, Greek statues, gilt cocks, and hand-painted wallpapers. The rooms are spacious and elegant with plush beds, upholstered walls, and wooden furniture. Bathrooms feature deep-soaking tubs and separate showers.
El Palace captivates guests not only with its classic decor but also with its Mayan-themed spa which is the only Temazcal sauna in Spain. Here guests can relax and rejuvenate with traditional Maya treatments combined with the French cosmetic brand Anne Simmons.
With a 14-meters long roof pool, open-air cinema, and a rooftop garden with epic views over Sagrada Familia, El Palace has all the facilities you'll need to spend some unforgettable moments in Barcelona. Additionally, the hotel is the home of the Winter Garden restaurant where chef Daniel Padro brings the flavors of traditional Catalan cuisine to life.
The Classic room costs $320 per night while the Junior Suite starts at $370.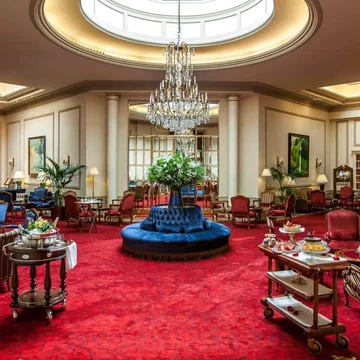 Hotel Wellington Madrid
Thinking about booking a room at Hotel Wellington Madrid? Expect classic luxury at every turn. What's more, the hotel is filled with a number of unusual amenities such as an organic vegetable garden on the roof and space where the renowned winemaker Ramirez de Ganuza cultivates grapes.
Check Availability
The Spanish royal families, Ernest Hemmingway, Matt Damon, and Graham Greene are part of Hotel Wellington's renowned guest list. In Wellington's bright rooms you'll encounter an eclectic mix of classic decor with some contemporary amenities like a flat screen TV and a coffee machine. Expect a beige color scheme, creme carpets, mauve, and taupe fabrics. The bathrooms are commodious with deep soaking tubs, glass showers, bathrobes, slippers, and Molten Brown products.
The hotel features four restaurants and a bar. The Michelin-starred restaurant Kabuki is known for serving the best sushi in town in a minimalistic setting. Don't forget to try the popular specialty "sashimi de toro", prepared by the talented chef Ricardo Sanz. Innovative and seasonal Basque haute cuisine is available at Goizeko and a menu of grilled recipes is served at the elegant terrace by the pool. "All day drinks" are offered at the vibrant Bar Ingles decorated with leather club chairs and wooden furniture.
The standard rooms with twin beds cost $230 per night while suites start at $360.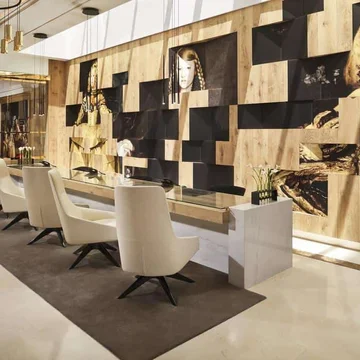 Palacio de los Duques
Palacio de Los Duques brings a whole new level of extravagance to the Madrid hotel scene with its seasonal rooftop pool, lavish garden, and a Thai room spa. The hotel's distinctive architecture stands as a landmark of its own.
Check Availability
Just as impressive on the outside, the hotel's luxurious style extends in the interior with crystal chandeliers and purple and gold velvet sofas and antiques. The interior is inspired by the art of Diego Velasquez and guests can spot numerous reproductions of his most famous works throughout the hotel's corridors. The staff is friendly, welcoming, and highly professional. Don't hesitate to ask them for a restaurant recommendation or direction – they'll be happy to help with anything.
Rooms are colored in champagne, charcoal, and blue tones. They all feature similar designs and you can expect king-size beds, wooden furniture, different Velazquez portraits, and marble bathrooms with glass showers.
For some sensational views, head over to the rooftop pool where you can take a dip in a vast hot tub or laze your day away on comfortable sun loungers. At the hotel's spa, you'll discover a little piece of Asia in the heart of Madrid. Here, you can pamper yourself with a range of top-level treatments in a luxurious setting filled with Chinese antiques, Tibetian art, and Burmese lacquer. The superbly equipped gym is available 24/7.
Catalan cuisine with Madrillenian influences is served by the renowned Torres brothers at Dos Cielos, while a la carte breakfast is available to guests at the elegant Córdoba lounge bar that stretches throughout the hotel's garden.
With classic rooms starting at $420, Palacio de los Duques is a premier spot to stay in Madrid.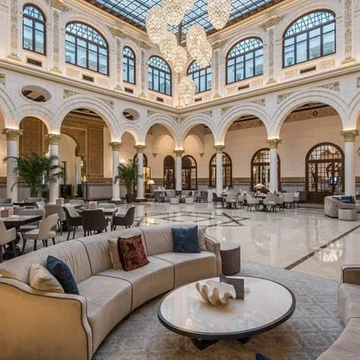 Gran Hotel Miramar
Gran Hotel Miramar's grandiose property is situated in one of the hottest tourist destinations in Spain – La Malagueta Beach. The hotel is in close proximity to the historic Alcazaba and one of the most expensive streets in Europe – Calle Larios.
Check Availability
Designed by Fernando Guerrero Strachan, the property's art deco style makes it stand out from other hotels in the area. The interior features Andalusian decor with Neo-Arab style influences. All rooms are designed by the acclimated interior designer Aneta Mitjanovic who has managed to collide together modern luxury accommodation with classic elegance.
The rooms are decorated in a blue color palette with a few touches of cream which, combined together, create a Mediterranean atmosphere. The interior differs from room to room and you have the opportunity to pick a guest room with Arabic, Nasrid, Mediterranean, or Andalusian themes.
At the two outdoor pools lined with palm-trees, guests will discover serenity and tranquility. This is the place to relax on comfortable sun loungers and indulge in the dazzling views over the Mediterranean ocean. Pamper yourself with some authentic Moorish treatments at the spacious Botanic Spa, get yourself energized at the 24/7 fitness center, or rent a bike at the hotel and explore the area – there's plenty going on at Gran Hotel Miramar.
At Gran Hotel Miramar, Deluxe rooms start at $250 while the Crown Suite costs $460 per night.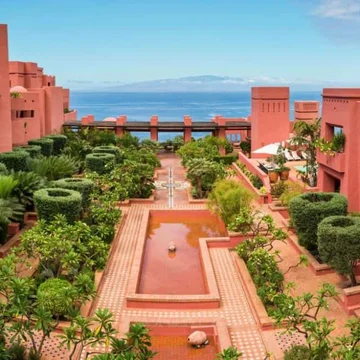 The Ritz-Carlton Abama
Nobody expects anything less than excellent accommodation in a dream-like setting from this well-known hotel brand. Set in Tenerife's southwest coast, The Ritz-Carlton can be spotted from miles away. This is a secluded part of the islands and guests who want to explore the area can rent a car and visit the Mount Teide volcano, Playa San Juan, and the historical towns of La Orotava, La Laguna, and Garcia.
Check Availability
The hotel's interior pays homage to the Moorish architecture. Step outside your room and you'll find yourself on a colossal property filled with hidden enclaves, mysterious pathways, and lavish gardens.
One striking feature of Ritz-Carlton Abama are the seven swimming pools facing the Atlantic Ocean where you can sip some delicious cocktails and laze the day away on comfortable sun loungers. With a staff team of 800 members, guests get the service that's expected from one of the most luxurious hotels in Spain.
The hotel's award-winning spa is where you can relax in a tranquil setting. After a healing treatment, head over to the secluded sandy cove accessible only by a glass funicular. Here guests like to enjoy the sun in complete isolation. Need some time alone? Ritz Carlton's Abama has the largest Ritz kids club in Europe where your little ones can enjoy themselves for hours and so you can get your well-deserved time off.
With guest rooms starting at $240, The Ritz-Carlton Abama offers affordable prices.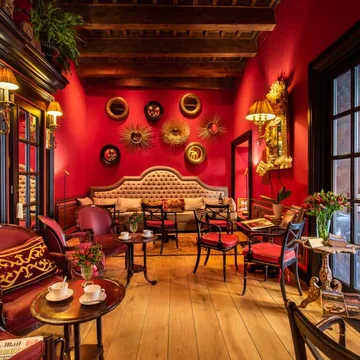 Casa del Poeta
One imagines this is how it must feel to spend your weekend in a hacienda-style property in Spain – decadent, lively, and luxurious. From the terrace that offers epic views of Santa Cruz to the delicate cuisine and sumptuous rooms, no details are overlooked at this awe-inspiring property.
Check Availability
The hotel pays homage to the poet Ximenez de Enciso who was born at the property. Casa del Poeta regularly welcomes Spanish politicians and European royal families which doesn't come as a surprise, considering the hotel's amazing interior. All floors and rooms center around a fountain and all corners are filled with terracotta plants bursting with colorful flowers. Casa del Poeta is the home of some exceptional artworks, both Roman and contemporary works by Andalusian artists.
Standard rooms are designed with opulence and leisure in mind, and each one has its own unique decor. Expect a warm color scheme, king-size beds fashioned with Egyptian cotton bedding, dressing areas, air conditioning, reading lights, and sofas. For an elevated experience, book the Dreamer Duplex Room set on two levels that separate the sleeping area from the bathroom.
Every night at the patio you can hear some guitar performances by talented local artists. Fresh fruit, coffee, tea, toasts, and pastries are served every morning on the patio.
At Casa del Poeta, standard rooms start at $180 per night.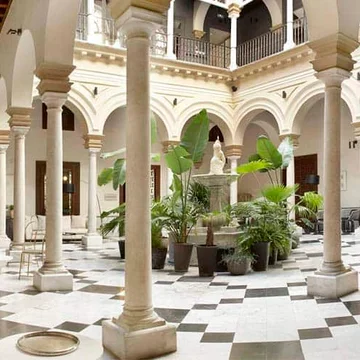 Palacio de Villipanes
This 18th-century property, set in the alluring Seville is a classic affair. Decorated with Moorish arches, velvet sofas, ornate tilework, and with parquet floors stretching all throughout the property, Palacio de Villipanes immediately makes guests feel at home.
Check Availability
Palacio de Villipanes is situated in Seville's historic center – Casco Antiguo. The Museum of Flamenco and Casa Pilatos are within walking distance, while a short walk will take you to some of Seville's most prominent landmarks including Basilica de la Macarena, Metropol Parasol, and Archivo de Indias.
Suites are equally astonishing as the property's facade with lofty ceilings, floor-to-ceiling windows, and rare pieces of furniture. Amenities include a Loewe television, walk-in wardrobes, coffee machines, and a minibar. Bathrooms are spacious and feature black marble floor, glass showers, and Molton Brown products.
Take a dip in the plunge pool located on the terrace while you enjoy the views over the Giralda. For some relaxation time visit the hotel's spa equipped with a steam room, sauna, and treatment rooms. A well-equipped fitness center is also available to guests.
Dinner is served at the hotel's old wine bodega featuring high ceilings and tiled walls, where talented chefs prepare traditional Mexican dishes. Guests can also order their dinner to be served by the patio, in the bar, or in the charming hotel basement.
The deluxe rooms start at $170 per night while the suites cost $460 per night.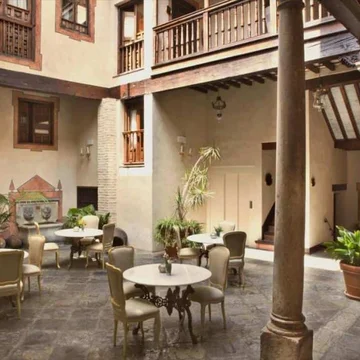 Hotel Casa 1800 Granada
This small boutique hotel, situated in the heart of Granada near River Darro, is within a walking distance from Alhambra and an array of charming tapas, bars, and handmade shops. The Granada Cathedral is a stone's throw away and a five-minute stroll will take you to the Arabic Baths.
Check Availability
Set in a typical Andalucian property dating from the 19th century, Hotel Casa 1800 has a vibrant and warm atmosphere. The rooms at the hotel offer an appealing mix of Baroque decor and the latest in modern accommodation, with old-world grandeur and high-end amenities, along with beautiful historic details.
There are 25 rooms to choose from, all featuring a unique interior. Preserved period details such as crystal chandeliers, rococo mirrors, bed heads, and floral wallpapers further add to the hotel's historic feel. The king-size beds are fashioned with soft linens and guarantee a good night's rest. Suite 1800 features a terrace equipped with a table and chairs, overlooking the stunning views of Alhambra and Granada.
Small breakfast buffet of meats, fresh fruit, and bread is served in the library and the hotel's delightful courtyard. Hotel Casa 1800 doesn't have a restaurant which is its only downfall.
With standard rooms starting at $70, Hotel Casa 1800 offers some of the most affordable prices in Granada.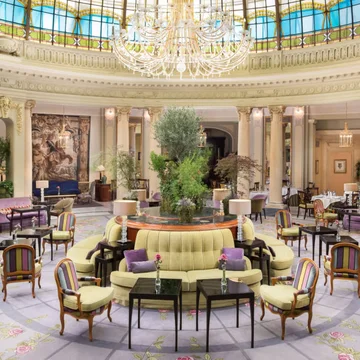 The Westin Palace
Created by Alfonso XII in 1912, the opulent Westin Palace is perfectly situated in the Art Walk area. The famous Prado is at the hotel's doorstep, while Reina Sofia and Thyssen-Bornemisza are within a walking distance.
Check Availability
When the hotel first opened in 1912, it immediately became the hottest spot in Madrid where both artists and Spain's high-society gathered. It's well known that Ernest Hemingway and Pablo Picasso liked to stay at Westin whenever they visited Madrid.
You won't want to leave your room once you arrive at the Westin Palace. All 470 rooms and 51 suites are generously-sized and ooze elegance and sophistication. They feature a Belle Epoque style with a cream palette, dark wood furnishings, and chandeliers. The king-size beds feature foam pillows, duvets, and 250-thread Egyptian cotton sheets. Bathrooms are spacious with a deep soaking tub, glass shower, and White Tea Aloe products.
What sets The Westin Palace apart from other hotels is the outstanding restaurant La Rotonda, which boasts a stained-glass dome. Here you can mingle with friendly locals who always fill the restaurant for the Sunday brunch. Menu highlights include lobster salad, grilled salmon with a broccoli stem, and oyster mushroom roasted with green vegetable extracts.
A vibrant atmosphere awaits guests at the 1912 Museo Bar where once Salvador Dali and Ernest Hemingway were sipping cocktails together. This popular social hub has a great selection of coffees, cocktails, gins, and whiskeys.
Expect to pay $300 for a guest room with a courtyard view and $530 for a junior suite.
Hotel Alfonso XIII
Designed by José Espiau y Muñoz and commissioned by the king of Spain to host dignitaries for the Ibero-American exposition of 1929, Hotel Alfonso XIII still oozes elegance and old-world glamour. This iconic hotel is ideally located in the historic neighborhood of Santa Cruz and is within close proximity to prominent landmarks including Reales Alcazares and Seville Cathedral.
Check Availability
A mix of modern luxury accommodation and a touch of classic Andalusian decor is what sets the interior design of this hotel apart. Decorated with cream shades and Moorish details, the standard suites have an expansive king bedroom with a separate living area, spacious lounge and a dining room, and a spacious marble bathroom with an oversized soaking tub. All guest rooms and suites at the hotel are equipped with air-conditioning, flat TV screens, free Wi-fi, docking stations, Nespresso machine, and a minibar.
The Reales Alcazares Suite has some epic views over the Reales Alcázares gardens, La Giralda, and the Seville Cathedral. This opulent suite features a king-size bed with 200-thread-count linen, a spacious living room, and a marble bathroom.
At Hotel Alfonso XIII, standard rooms start at $230 while the Premier Suite costs $530 per night.
Find Luxury Hotels in Spain