Egypt might have a lot in store in terms of history and cultural heritage, but the transcontinental country doesn't disappoint with its hotel scene either, housing many renowned hotel chain establishments as well as some lesser-known gems that are definitely worth your attention. In an absolutely astounding blend of old & new, antique & contemporary, Egypt takes full advantage of its breathtaking natural scenery and sights with the best luxury hotels and a rather hospitable populace.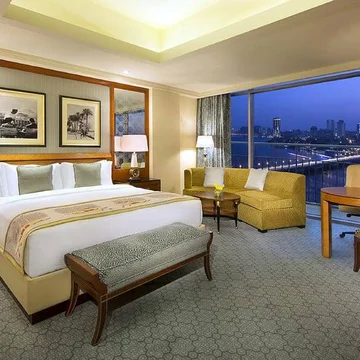 The Nile Ritz-Carlton
Household names such as the Ritz-Carlton hotel chain need little to no introduction, but what makes The Nile establishment stand out in a hotel-packed region is precisely this – its status and a prime spot on the Nile river. Tahrir Square and the Egyptian Museum are a stroll away and other renowned sights such as the Pyramids and the Cairo Opera House are easily accessible as well.
Check Availability
The hotel's vast array of facilities and amenities make it even more popular; when staying at The Nile Ritz-Carlton, you'll be tended by an extremely courteous staff and you'll have the unique possibility to pay a visit to some of the nine in-house restaurants. Furthermore, guests have access to the amazingly lavish spa as well as a rooftop lounge bar providing scenic views of both the city skyline and the river.
There are two room types with views of the river and the square and five suite types varying in size and general location in the hotel. All of the suites have great views of the surrounding city. Most of the accommodation options include safes, refrigerators, private balconies, stocked minibars, flat-screen TVs, etc.
Double room prices start at about $160 if you take advantage of the special offers that the hotel often has.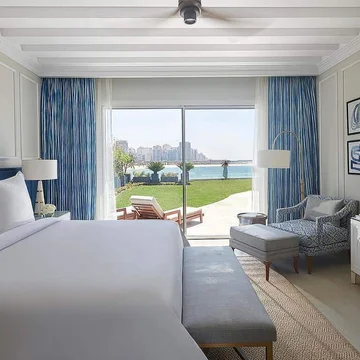 San Stefano, Alexandria, Egypt
Four Seasons Alexandria
Plainly put, Four Seasons at San Stefano, Alexandria, is the ultimate Mediterranean waterfront hotel. Conveniently located in the Grand Plaza complex at the heart of Alexandria, the hotel allows easy access to high-end shopping and fine dining. The San Stefano neighborhood is certainly a very affluent one, and as such, you would have an absolutely elevated experience while staying in an upscale area.
Check Availability
Other than guaranteed excellent service, Four Seasons offers plenty in the way of amenities as well. The heated indoor pool and the infinity pool on the 4th floor are perfect for a relaxing dip, while the spa is a fully-fledged wellness center, complete with a sauna, a steam room, and a whirlpool. If the spa was more than respectable then the fitness center, on the other hand, is first-class. It spans three separate facilities, including a tennis court, a kinesis studio, and a women-only fitness room, as well as offering professional, certified trainers.
The dining options at Four Seasons Alexandria consist of several lounges and restaurants, among which the most notable are Stefano's Italian Restaurant and Byblos Restaurant, which has authentic Lebanese and Syrian delicacies on the menu. All of the rooms and suites are incredibly spacious and have all the must-haves for a hotel of this stature, namely: dining areas, safes, minibars, flat-screen TVs, coffee machines, and the like. You can choose between views of the sea or the city and special non-smoking/family rooms are also available.
Double room rates start at about $230 but may vary depending on the season.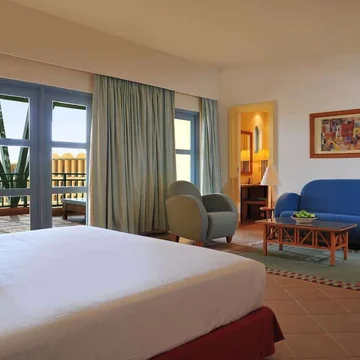 Strand Beach & Golf Resort Taba Heights
If you're up for exploring slightly less known destinations, such as the deep inlet of the Gulf of Aqaba, but would like to retain all of the upsides of luxury accommodation, then you definitely ought to check out Strand Beach & Golf Resort. This hotel on the upper-class Taba Heights allows you to basque in the picturesque, exotic, less frequented sights of this part of the Sinai peninsula year-round, making it perfect for a last-minute getaway.
Check Availability
As the name suggests, the hotel also has an exquisite 18-hole golf course amid the desert scenery, something that even the most popular resorts in, let's say, Sharm El Sheikh, might not be able to provide. Other than that, Strand has an extensive fitness center, two tennis courts, two outdoor swimming pools, as well as a plethora of kids' facilities.
Each of the commodious 503 guest rooms has private balconies, allowing for majestic views of the garden, the sea, or the surrounding mountains. Additionally, all of them have discreet work areas with writing desks, as well as all the necessary in-room amenities such as coffee machines, air conditioning, cable/satellite TV, and free wi-fi.
Bay View restaurant offers exceptional daily breakfast, lunch, and dinner menus, with highlights including Shish Taouk and Om Ali. But, if you're not feeling adventurous when it comes to trying authentic dishes, there are plenty of cosmopolitan options as well.
The best part about Strand Beach & Golf Resort is that prices can go as low as $60 for entry-level double rooms in low season!