Villa in Dubai with Private Pool | Luxury Stays in Dubai and Surrounds
Dubai is one of the most famed and beautiful cities in the United Arab Emirates. It's known around the world as a luxury shopping destination, as well as for its futuristic architecture and vibrant nightlife. A stay in Dubai is reserved for those living the good life, and what better way to spend your time in Dubai than to dip in your own private pool as a reprieve from the infamous Dubai heat?
If you're looking for a Dubai villa that will tick all the boxes, then this list of private pool villas in Dubai will help you to find just what you're looking for. With so many resorts in Dubai to choose from, finding the right Dubai villas can be tricky. These are some of the best private pool accommodations for family vacations or solo getaways.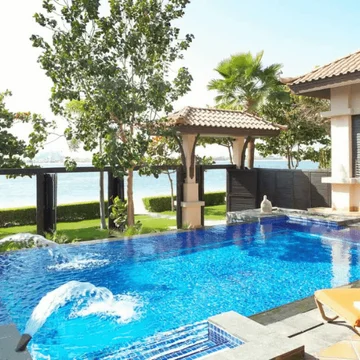 Jumeira Bay Island, Dubai

5
Anantara The Palm Dubai Resort
Is there anything more iconic and synonymous with Dubai than The Palm Jumeirah Island? Very little comes close to this wonderful location. This resort is located on the island and has its very own exclusive private beach.
Check Availability
The beachfront property offers access to some incredible swimming locations, and that's aside from its three public swimming pools and the private pool in your very own villa. Each villa has its own free WiFi, DSTV, and media hub. You can also choose between staying in a beach villa with a private pool or staying in one of the exclusive overwater villas.
Guests can indulge in Asian and international cuisines at the on-site restaurants or opt to be served a meal on the sandy beach with their own private table. There's very little that comes close to being as romantic as a candlelight dinner.
There is an on-site Thai spa that guests can make use of at their leisure. But if you're up for something a little more adventurous, snorkeling, diving, and other water sports can be arranged at your request. There is also a kids club available for young children so they can remain fully entertained during their stay at the Palm Jumeirah Dubai Island.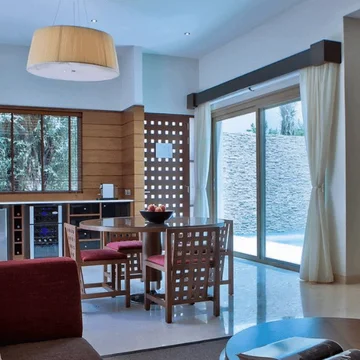 Meliá Desert Palm Member of Meliá Collection
The Meliá Desert Palm Member of Meliá Collection is conveniently located right in the heart of Dubai, just 15 minutes from Downtown Burj Dubai and the Dubai Mall. Each accommodation has a flat-screen TV, coffee machine, and minibar for your convenience.
Check Availability
Each villa also has a private pool, perfect for lounging in the sun and cooling off with a dip right on your doorstep. You can also order in-room spa services for a pampering right in your room, or a private chef can grace your kitchen for the evening for a delectable meal like you've never had before.
There are two restaurants and a poolside bar located on the premises where you can enjoy a delicious meal. There is also a destination dining service, where you will have your own private chef and waiter providing a delicious meal for you in one of the many private locations around the resort.
For sports fans, there are polo fields where you can partake in a competitive game. Or you can head to the on-site gym. If you want to work out in the great outdoors you can cycle on the cycling tracks, or play a game of tennis on the tennis courts.
If you want to indulge yourself with a special treatment, head to the on-site spa, where you can enjoy a massage or one of the many other relaxing treatments.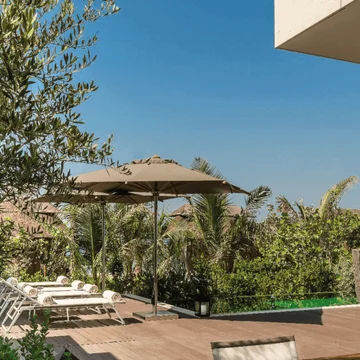 Jumeira Bay Island, Dubai

5
Bulgari Resort
The Bulgari Resort is located on the man-made Jumeira Island and offers its guests exclusive private pool villas just a minute from the beach. The resort has its very own private Dubai marina where you can charter a yacht and head out along the coastline. While it may not be one of the Jumeirah golf estates, it has plenty of other activities on offer.
Check Availability
There are 20 Bulgari deluxe villas with free WiFi and their own private pool. The private pool villas also have their own gardens and undisturbed ocean views. Whether you want to enjoy your own living space or the public areas, there is so much to explore at this resort. The resort has an on-site restaurant, cafe, bar, and beach club, so there is no shortage of dining options on the premises. Many of these dining facilities are located by the outdoor swimming pool, so you can enjoy views while you dine.
There is also a large spa on the premises that has a hammam, fitness center, indoor pool, beauty salon, and hairdresser. You simply couldn't want anything more than what can be found right here at the resort. The receptionists at the front desk speak a variety of languages and can help you arrange day trips from the hotel if you so wish. They can also give you some great recommendations for activities to take part in in the surrounding area.
The resort is located close to many of the best attractions in Dubai, including the Burj Khalifa and Dubai Airport. With direct access to absolutely everything you need, this private pool Dubai resort is one for the memory books.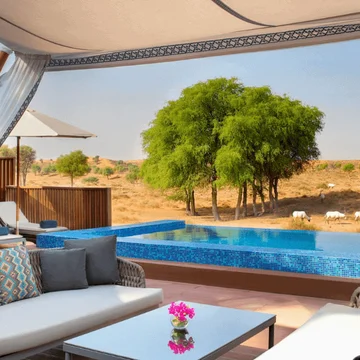 Ritz Carlton Ras Al Khaimah Al Wadi Desert
The Ritz-Carlton Ras Al Khaimah offers a unique getaway to travelers as it's located in a private nature reserve. Just 45-minutes outside of the city, you'll be treated to an experience you won't soon forget. This remote getaway offers guests the peace and quiet of their very own desert oasis, but if you are up for adventures, there's plenty of those to be had in the desert too.
Check Availability
The Ritz-Carlton Ras Al Khaimah has an incredible 100 villas to choose from, each featuring its own private pool, uninterrupted desert views, and loungers that make relaxation easy. The villas have their own minibar and seating area, making it a hard place to leave when you're ready to head out on a desert adventure.
The hotel offers its guests luxurious treatments at the ​​hydrotherapy spa that has won the hotel many awards. If you want to feel extra pampered during your holiday, this spa is the place to rejuvenate.
When you feel quite relaxed, head to one of the three on-site restaurants or the rooftop bar for a tasty meal. You can take your pick of local or international cuisine or opt for a completely private dining experience. This includes a table being set up for you on the desert sand under the stars. If you'd prefer your private dinner to take place in the watchtower, that is an option too.
Because the hotel is located in the desert, you can be sure that there are plenty of adventurous activities on offer. You can try your hand at archery, watch the everyday falconry show, or take a stroll in unspoiled nature. There are also wildlife encounters to be had with Arabian gazelles, camels, Oryx, and wild horses.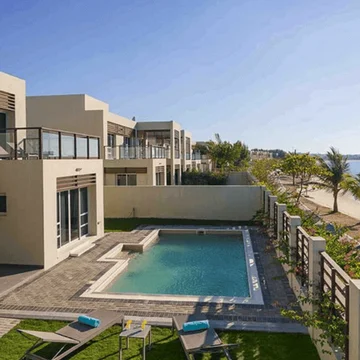 Jannah Hotel Apartments & Villas
Jannah Hotel Apartments & Villas offers two styles of accommodation options – apartments and villas. Both are located right on the beachfront, but if you are looking for a private pool and private beach option, the villa is the option you should choose.
Check Availability
Each villa has its own swimming pool, stunning views of the ocean and beach, as well as all the amenities you could hope for. The bathrooms are spacious and have large tubs, providing the perfect way to wind down after a long day of vacation activities. Each accommodation also comes with its very own kitchen and dishwasher, so if you feel like eating in, that is an option. However, an a la carte breakfast is provided for you each morning.
There is an on-site restaurant that serves up some of the most delicious dishes in the area. So be sure to make use of this dining option at least once during your stay. To make the most of the warm evenings in Dubai, head to the loungers on the beach to watch a magnificent sunset from the comfort of the private beachfront.
If you'd like to stay fit during your vacation, make use of the hotel's tennis courts or head to one of the many nearby activities. Two of the biggest and best shopping locations are located within a 20-minute drive of the hotel, so be sure to visit both Al Hamra Mall and Al Manar Mall while you're in such a convenient location.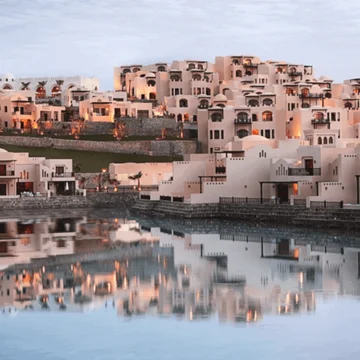 The Cove Rotana Resort
The Cove Rotana Resort offers an idyllic location to guests hoping for only the very best water views. It's located on an inlet along the Ras Al Khaimah, giving it its very own bay as well as a private beachfront. If you're looking for an exclusive place to rest your head for your vacation in Dubai, The Cove Rotana Resort is the right choice for you.
Check Availability
The rooms are authentically furnished in a traditional Arabic style while still offering all the comforts you have come to expect in a luxury resort. Each accommodation has a flat-screen TV, a comfortable seating area, and a balcony that looks out over the water. If you opt for the most luxurious option, you'll get a bedroom villa with its very own outdoor swimming pool. And a private swimming pool is exactly what you'll need on any warm day in Dubai.
The on-site restaurant is a real treat, serving Oriental, Mediterranean, and International cuisine. But if you're just feeling snackish, small meals and snacks are served at both the pool and beach bars. So you will be well catered for, with refreshments available at all the main public areas around the resort.
The resort has its very own Bodylines Fitness & Wellness Club, where you can work out alone or attend a fitness class. If sweating out your extra vacation toxins in an outdoor setting is more to your liking, you can hit the golf course or take a fishing trip (both can be arranged at the hotel's front desk).
With such an ideal location, you really won't want to leave the hotel. But if you are spending an extensive amount of time in Dubai, then it's recommended that you organize a few day trips and activities with the concierge service at the hotel.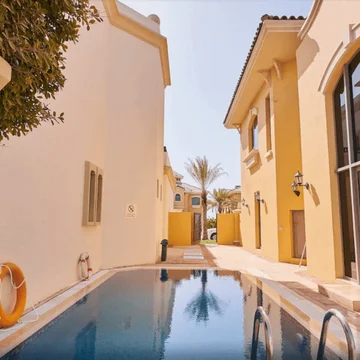 Rose Dream
If you're looking for a luxury stay that can accommodate a large group of people, then the Rose Dream Villa is a great option. This five-bedroom dream house is located right on the beach, providing guests with easy access to the ocean and the sandy shore.
Check Availability
The villa is equipped with its own private pool where you can take a dip for a little relief from the midday heat. There is also a garden and patio area where you and your travel group can socialize and make a BBQ.
The villa is fully kitted out with five spacious bedrooms, five bathrooms, a flat-screen TV for the slow days, a dining area, kitchen, and balcony that looks over the pool. So it's safe to say that you won't be running out of space anytime soon. If you are traveling with kids, you'll be happy to know that there is a kids club, so your little ones will remain thoroughly entertained throughout your vacation.
A continental breakfast will be provided each morning before you head out for a full day of exploring. Although the villa has its own private beach, if you want to join the locals on the nearby Marina Beach, it's a not-to-be-missed hotspot during your Dubai vacation.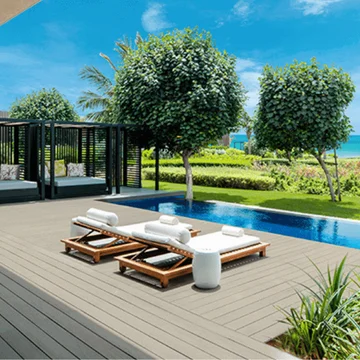 The Oberoi Beach Resort
The Oberoi Beach Resort is for those that want to spend their days by the pool, lapping up stunning views of the beautiful surroundings. The resort has a sun terrace and a private beach area, where guests can have an experience that is completely unique to this specific hotel.
Check Availability
Each villa is decked out to the nines, with its own terrace and a temperature-controlled pool. What more could a guest ask for? The rooms all have their own bathroom, and toiletries are provided, so you don't have to stress if you left your shampoo at home.
The resort restaurant serves international cuisine in an exquisite setting. In fact, you can tantalize your taste buds while taking in stunning panoramic views of the ocean. If that doesn't sound like an experience oozing in luxury, then certainly nothing will. The on-site spa, The Oberoi Spa, offers traditional Turkish massages for those that need a little something extra to help them relax.
While the resort has its own sporting facilities available, they also offer car and bike hire for those that want to adventure a little way away from the resort. There are also plenty of activities to keep the little ones busy, including a shallow pool and a kids club, so you don't need to worry about them when you're out for the day.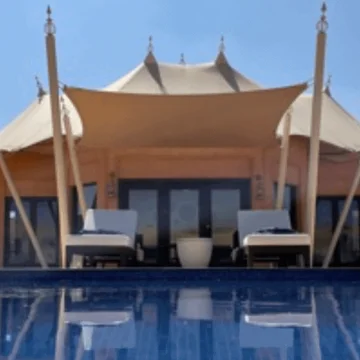 Mysk Al Badayer Retreat
The Mysk Al Badayer Retreat gives you an authentic experience in the Arabian desert, something not too many people can claim to have experienced in their lifetime. The retreat offers 5-star accommodation options that are simply exquisite.
Check Availability
Each villa has a simple yet modern design, with its own private bathroom and outdoor seating area in front of the private pool. But if you'd prefer to swim alongside the rest of the guests, there is also an outdoor swimming pool featuring small waterfalls where you can enjoy an oasis-style dip.
The on-site restaurant serves delicious Mediterranean cuisine, where you can indulge in a meal anytime from morning to night. There are also plenty of activities to take part in while you're staying at the hotel. You can take a dune buggy out into the surrounding desert and ride the dunes at your leisure.
You can also watch as trained falconers demonstrate their skill, or you can sit around a traditional outdoor fireplace and enjoy a night under the stars. Everything about this retreat is picture-worthy, so be sure to bring your camera along for the trip as there will be no shortage of photo opportunities.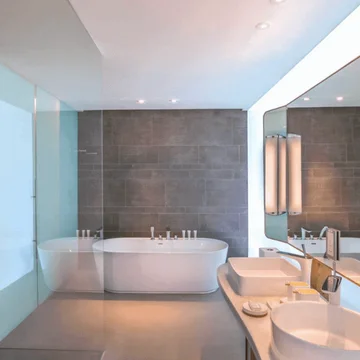 Nikki Beach Resort & Spa
Nikki Beach Resort & Spa has ocean views as well as its very own private beachfront. The outdoor pool is where many of the guests spend their lazy afternoons, but each villa has its very own pool if you are hoping for a little privacy.
Check Availability
The resort is located in the very heart of Jumeira and is just a short distance away from the new Dubai Canal. Each villa has its own seating area and a flat-screen TV, not that you'll get the chance to watch much TV with all the beautiful scenery that surrounds you at the Nikki Beach Resort & Spa. The villas have a private bathroom with free toiletries, as well as a coffee machine to help you wake up in the morning.
There are on-site spa facilities where you can enjoy a good pampering session and a fitness center where you can take part in a spinning class or simply work out alone. There is also a tennis court, so grab your racket and a tennis buddy for a game on the court. It's advised that you use the tennis court in the early morning or later in the evening to avoid the midday heat.
There are an impressive five on-site restaurants, so you can take your pick of numerous cuisines. Each restaurant has its own star chef, so you are in for a treat no matter which one you go to. It's recommended that you give them each a try during your stay, so you don't miss out on any tasty experiences.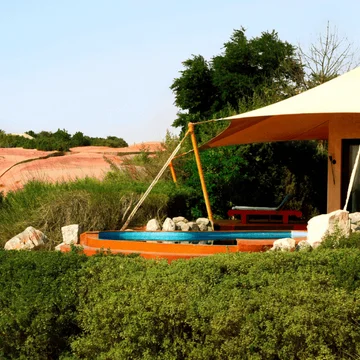 Al Maha, a Luxury Collection Desert Resort & Spa
This opulent resort is grand in every single way. When you arrive at the Al Maha main gate, you'll pass through and head down a sandy desert road. The road will take you 4.9 miles into the desert before you come to the resort itself. So as you can imagine, you will be staying in a remote location like no other
Check Availability
The resort reserve has wild animals roaming around the property, so you are guaranteed to see some of the local wildlife from your very own suite. There are 42 villas scattered around the property, allowing for the ultimate privacy. They also come with their own private pools, so you will have everything you need right at your doorstep.
Each Bedouin-style tent villa has its own private pool, a sundeck with comfortable seating, and a spacious bedroom where you can relax with your loved one. They also come with a large bathroom which has a soaking tub, rain shower, and other free amenities.
The Al Diwaan Restaurant offers a buffet breakfast, three-course lunch menu, and five-course dinner menu. You can eat inside, or you can head out to the deck, where you can enjoy views over the sprawling desert landscape (this is highly recommended, especially around sunset time).
For an added treat, you can enjoy a massage at the on-site Timeless Spa. Or spend an early morning in the gym before the sun comes up. If you want to experience something a little different, float around in the whirlpool for something very unique.
Wrapping Up Villa with Private Pool in Dubai
Dubai is one of those places that has too many options to choose from. Whether you're looking for a luxury all-inclusive stay or the ultimate 5-star experience, the city will not disappoint. Don't be hesitant to book a stay at the most expensive hotel in Dubai, as you're sure to get all the luxury amenities that money can buy.
Are you ready for your getaway in Dubai? These private pool villas will ensure you have an incredible time and stay cool during even the hottest of summers in Dubai.
Find Luxury Hotels in Dubai