Villa in Dubai with Private Pool | Luxury Stays in Dubai and Surrounds
Dubai is one of the most famed and beautiful cities in the United Arab Emirates. It's known around the world as a luxury shopping destination, as well as for its futuristic architecture and vibrant nightlife. A stay in Dubai is reserved for those living the good life, and what better way to spend your time in Dubai than to dip in your own private pool as a reprieve from the infamous Dubai heat?
If you're looking for a Dubai villa that will tick all the boxes, then this list of private pool villas in Dubai will help you to find just what you're looking for. With so many resorts in Dubai to choose from, finding the right Dubai villas can be tricky. These are some of the best private pool accommodations for family vacations or solo getaways.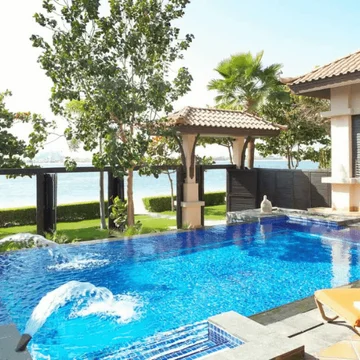 Jumeira Bay Island, Dubai

5
Anantara The Palm Dubai Resort
Is there anything more iconic and synonymous with Dubai than The Palm Jumeirah Island? Very little comes close to this wonderful location. This resort is located on the island and has its very own exclusive private beach.
Check Availability
The beachfront property offers access to some incredible swimming locations, and that's aside from its three public swimming pools and the private pool in your very own villa. Each villa has its own free WiFi, DSTV, and media hub. You can also choose between staying in a beach villa with a private pool or staying in one of the exclusive overwater villas.
Guests can indulge in Asian and international cuisines at the on-site restaurants or opt to be served a meal on the sandy beach with their own private table. There's very little that comes close to being as romantic as a candlelight dinner.
There is an on-site Thai spa that guests can make use of at their leisure. But if you're up for something a little more adventurous, snorkeling, diving, and other water sports can be arranged at your request. There is also a kids club available for young children so they can remain fully entertained during their stay at the Palm Jumeirah Dubai Island.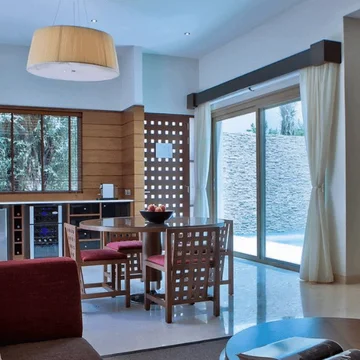 Meliá Desert Palm Member of Meliá Collection
The Meliá Desert Palm Member of Meliá Collection is conveniently located right in the heart of Dubai, just 15 minutes from Downtown Burj Dubai and the Dubai Mall. Each accommodation has a flat-screen TV, coffee machine, and minibar for your convenience.
Check Availability
Each villa also has a private pool, perfect for lounging in the sun and cooling off with a dip right on your doorstep. You can also order in-room spa services for a pampering right in your room, or a private chef can grace your kitchen for the evening for a delectable meal like you've never had before.
There are two restaurants and a poolside bar located on the premises where you can enjoy a delicious meal. There is also a destination dining service, where you will have your own private chef and waiter providing a delicious meal for you in one of the many private locations around the resort.
For sports fans, there are polo fields where you can partake in a competitive game. Or you can head to the on-site gym. If you want to work out in the great outdoors you can cycle on the cycling tracks, or play a game of tennis on the tennis courts.
If you want to indulge yourself with a special treatment, head to the on-site spa, where you can enjoy a massage or one of the many other relaxing treatments.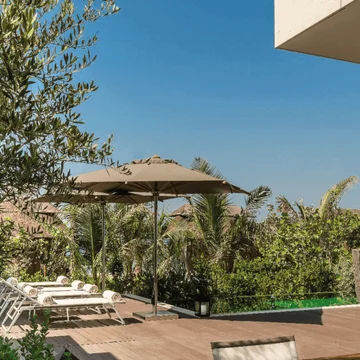 Jumeira Bay Island, Dubai

5
Bulgari Resort
The Bulgari Resort is located on the man-made Jumeira Island and offers its guests exclusive private pool villas just a minute from the beach. The resort has its very own private Dubai marina where you can charter a yacht and head out along the coastline. While it may not be one of the Jumeirah golf estates, it has plenty of other activities on offer.
Check Availability
There are 20 Bulgari deluxe villas with free WiFi and their own private pool. The private pool villas also have their own gardens and undisturbed ocean views. Whether you want to enjoy your own living space or the public areas, there is so much to explore at this resort. The resort has an on-site restaurant, cafe, bar, and beach club, so there is no shortage of dining options on the premises. Many of these dining facilities are located by the outdoor swimming pool, so you can enjoy views while you dine.
There is also a large spa on the premises that has a hammam, fitness center, indoor pool, beauty salon, and hairdresser. You simply couldn't want anything more than what can be found right here at the resort. The receptionists at the front desk speak a variety of languages and can help you arrange day trips from the hotel if you so wish. They can also give you some grea