From Ferrari and Lamborghini rentals to pillow menus, opulent 7-star hotels are an adult's playground dripped in glitz and glam!
Before diving into the fantastical world of 7-star hotels, it's worth getting an understanding of what 7-star hotels actually are. Because in actual fact, they don't really exist – the Burj Al Arab Dubai is the only one that has officially 7-stars.
The term speaks to hotels' outlandish qualities that aren't found in your ordinary 5-star hotels. Envision the largest champagne selection right outside your penthouse suite, 24-carat gold features, helicopter transfers, 24-hour butler service, and even a horse-drawn carriage. These are 7-star hotels that go beyond our wildest imaginations!
Staying at a 7-star hotel provides you with an even more magical experience than some of the world's top-rated hotels, but at a much higher price. Expect personalized itineraries and guest attention, exceptionally overwhelming suites that feature enchanting views, and luxurious amenities.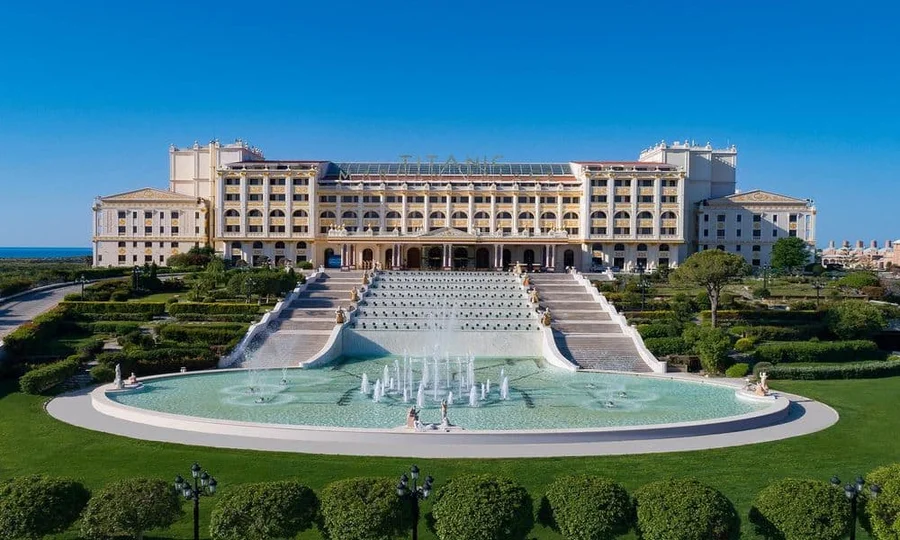 Best 7 Star Hotels in the World
At this point in our lives, we've all seen expensive hotels with massive beds and floor-to-ceiling windows. They're beautiful and lavish – but some hotels go way beyond that.
Our idea of a '7-star hotel' is typically reserved for extravagant resorts that cater specifically to celebrities or people with very high incomes. But there are several places that fit into this category without being way too otherworldly.
Let's dive into the alluring world of 7-star hotels that are found across the world.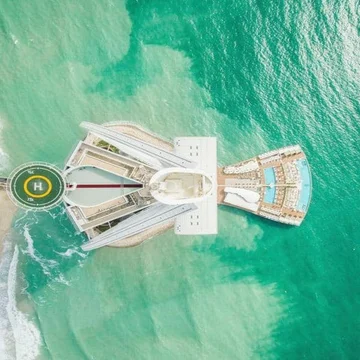 Dubai, United Arab Emirates
Burj Al Arab Dubai
Al Arab in Dubai opens you up to an entirely new world. It's dubbed the world's only official 7-star hotel, so naturally, it's the first place you want to book if you're looking to be blown away by over-the-top luxury.
Check Availability
The sail-inspired architectural design is the first thing that catches your eye. During the day, the dazzling white structure can't be missed, but at night it comes alive with multi-colored lights beaming along the facade. Arriving by helicopter is the best way to appreciate Burk Al Arab in all its glory.
Brightly colored duplexes await you, with spiraling staircases and enormous windows – showstopping views of the Arabian Gulf are one of the draws of staying here. Expect to find gold, silk, and marble features in your suite. And if the pillows aren't to your liking, choose from one of their 17 luxury cushion options.
When it comes to the on-site amenities at Burj Al Arab, there's honestly no reason for leaving the hotel – if you do choose to, the fleet of Rolls Royce is at your disposal. Hotel Burj Al Arab boasts 9 on-site restaurants, so each night will be a completely new experience. The warmth of Dubai is ever-present, but with three outdoor and two indoor pools, the climate is always appreciated.
The Assawan Spa & Health Club at Al Arab in Dubai provides the ultimate luxury experience. Pamper yourself with lavish spa treatments, moisturizing facials, and soothing massages, or plunge into a pool of effervescent waters! After which, you can enjoy High Tea at Skyview Bar for an indulgent afternoon snack before retreating to your luxurious suite for room service.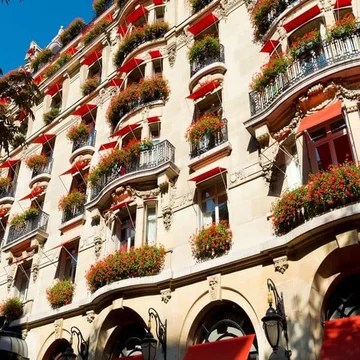 Hôtel Plaza Athénée
This is a legendary century-old property that is renowned in the fashion world. The hotel is situated ideally for those who adore high-end fashion. Flagship Dior, YSL, Louis Vuitton, and Chanel are tucked around the corner as well as opulent theatres and cabarets districts.
Check Availability
Having been built in 1913, the hotel is teeming with magical charms. But don't let its age shake you off from a comical adventure at the hotel. The concierge team is there to design an experience to your liking, which starts with selecting a Dior scent to diffuse in your dreamy suite.
Your suite either features an Art Deco or French Regency style, with some of the rooms showing off the well-sought-after views of the Eiffel Tower. Others spy upon the courtyards that are decorated in charming floral displays. Crystal chandeliers provide an atmosphere of luxe and romance, while balconies allow you to spend the evening under the stars with a bottle of wine from their century-old cellar.
The glamorous hotel takes care of all of your travel needs – from planning a food tour around the city, walking trails that lead you to iconic monuments, and sharing local knowledge to finding hidden gems in the city. And if going out isn't on the agenda, there's always the option of facial and body treatments at the on-site Dior spa or sipping on handcrafted cocktails at the hotel.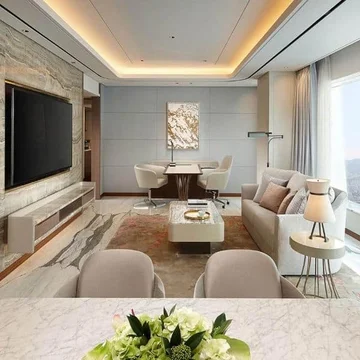 Signiel Seoul
Nestled in Seoul's most elite district, Signiel overlooks the twinkling city and magical Bukhansan National Park. The hotel is found within the Lotte World Tower, which stands out as being twice the height of its neighboring buildings. It boasts particularly dreamy views on the west wing of iconic Seoul sunsets and is frequently booked during the Lunar New Year.
Check Availability
And with such spectacular views, you can expect each of the regal suites to have incredible features. Because you're in it for the seven-star experience, booking the Presidential Suite promises a night of wonders. Panoramic views of Seoul's skyline are shown off in every suite, with the enormous marble bathroom presenting a tub for soaking up the scenery.
If you're in search of more authenticity in Seoul, the Korean Suite Room embraces traditional Korean beauty, with views of the Han River peeking out every room. Super-premium sheets and a selection of pillows are the cherries on top.
When you've gained the spirit of adventure to leave the comfort of your suite, the country's most extensive champagne collection awaits you on the 81st-floor bar. On top of high-quality dining and drinks, the hotel has two house blends of coffee to start your day off on the right track. After exploring the hotel amenities, the fleet of Rolls-Royce is at your service to take you on your adventures around South Korea.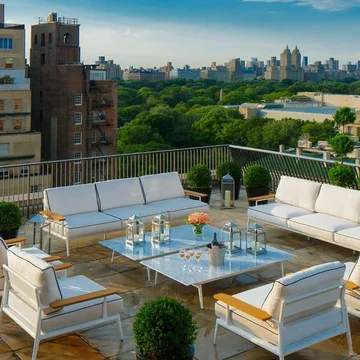 New York, United States of America
The Mark New York
Instead of the classic idea of luxury, The Mark holds a cool and elegant feel to it, with modern art and quirky features that appeal to unusual travelers. A hot-dog cart makes its way around the hotel and there's an in-room dining service by Jean-Georges. Whether it is a midnight snack or an afternoon pick-me-up, it is a treat for foodies.
Check Availability
The swanky hotel is situated in the heart of the Upper East Side, with Central Park being a mere stroll from the lobby. High-end shopping streets, contemporary museums, and an endless array of world-class restaurants are at your fingertips. Before leaving for an adventure in the city, the on-site Frédéric Fekkai Salon provides you with the perfect blow-out and mani-pedis.
When it comes to your luxury stay, each suite is fitted with Italian sheets for a dreamy night's sleep, and the rooms boast a tranquil and balanced atmosphere. All of the rooms have a single gadget that operates the lights, drapes, temperature, and television. The true beauty lies in the penthouse suite that reveals a private terrace, a kitchen, multiple bedrooms, and bathtubs.
Another charming quirk is that instead of the usual fleet of fancy cars, the hotel also offers a collection of custom-made bicycles for joyrides within Central Park. The hotel also puts together a perfectly curated, gourmet picnic basket and illustrated map for finding the best spots in the park.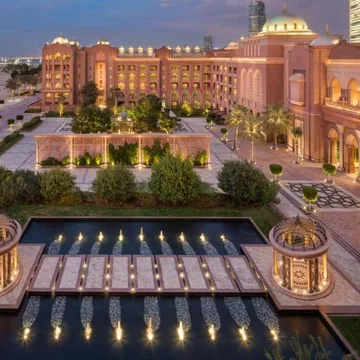 Abu Dhabi, United Arab Emirates
Emirates Palace United Arab Emirates
Abu Dhabi is a playground for those looking to break the bank. But if you've got the money to spend, it's a world-class destination that offers insane luxury, top-draw attractions, and endless sunny days.
Check Availability
The stunning Arabian interiors are renowned around the world, but this hotel takes it one step further and features authentic gold finishes and intricate mosaics. Private balconies grant you the space to enjoy dinner at dusk while overlooking the Arabian Gulf, the hotel's private beach, and marina. A rooftop terrace shows off even more magical views, where you can enjoy lychee martinis and Peking duck with caviar.
The hotel is larger than Buckingham Palace, and with that comes 394 rooms and suites. Expect to be blown away with rooms dripping in gold leaf, marble bathrooms, and elaborate palatial style furnishings. Whirlpool baths, sea views, private butler service, and iPad control systems are a few of the personalized features for your night under the Arabian skies.
One of the biggest draws is the private beach. Guests can escape from the business of the city and appreciate the Dubai sunshine in luxury Cubanas. Alternatively, the temperature-controlled swimming pools, featuring cascading waterfalls and a lazy river, are another wonderful way to spend the day.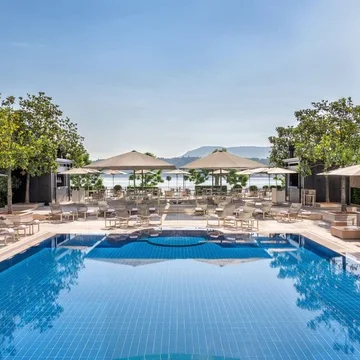 Hotel President Wilson
Hotel President Wilson is one of Europe's most extravagant hotels, which benefits from its easy access to Lake Geneva and close proximity to the city center. The much sought-after Old Town is just footsteps away from the lobby, providing you with the chance to experience the true charm of Geneva.
Check Availability
The best part about the hotel is that it's appealing no matter the season. During the warmer, summer months, the Al Fresco Pool Bar is open from dusk to dawn, serving snacks and drinks while overlooking the dazzling lake. When the snow starts to fall, spend the day at the La Mer Spa indulging in deluxe facial and body treatments.
The 11,000 square foot royal penthouse suite is said to be the largest in Europe. Featuring 12 rooms, a private library, an elevator, a jacuzzi, and individual terraces overlooking the lake, it's beyond perfect for a friend's or family's luxury vacation.
Aside from the penthouse suite, all of the rooms feature marble bathrooms, fluffy bathrobes, comfortable seating, exquisite views, and 32-inch LCD screens. Moreover, your exclusive suite is kept sparkling with housekeeping twice a day.
When it comes to fine-dining, Hotel President Wilson lives up to expectations. An elegant French restaurant pleases the palette with classic dishes, such as poached pears and sea scallops. You'll also be transported to Lebanon with the on-site Lebanese restaurant that feels authentically Middle Eastern.
Grabbing dinner at Glow one evening is a must. Nestled alongside the lake, the intimate cafe serves delightful cocktails with views of the mountain in the background. There's also a cozy whiskey bar to end the night.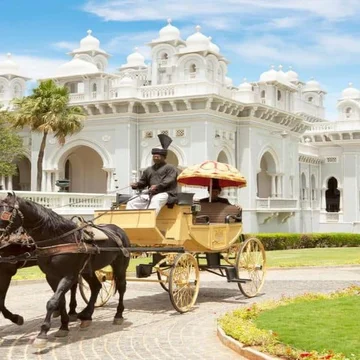 Taj Falaknuma Palace
The Falaknuma Palace enables its guests to live like royalty. Having been inspired by Buckingham Palace and the White House, this astounding hotel features four-post beds, glass-stained windows, oak-paneled libraries, and exquisite tea rooms.
Check Availability
Cars aren't permitted on the property. So, instead of arriving by car, guests are transported to the palace on golf carts or a horse-drawn carriage, which is sure to provide an unforgettable arrival.
Being a palace, each suite holds an element of regalness and luxury, fit with all of your modern-day creature comforts. Posturepedic mattresses fitted with Egyptian cotton linen, bath menus and salts, a well-stocked minibar, and 24-hour butler service make leaving your suite nearly impossible.
However, venture outside the room and let the life of luxury continue. The Jiva Spa should be the first stop on your adventure around the grounds, where you can indulge in therapeutic experiences, traditional Indian therapies, body scrubs, and yoga classes.
End off each day with fine dining at one of the many on-site restaurants. From Mediterranean meals to Hyderabadi slow-cooking and legendary Nizami feasts, each dish is unique in its own way. One night, spend the evening at Gol Bungalow, which overlooks the city of pearls, and marvel at the glorious sunsets.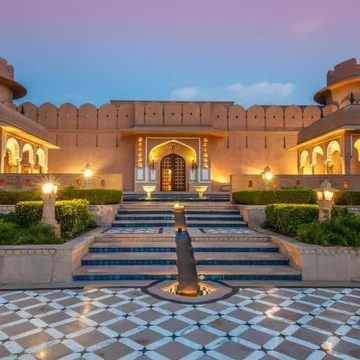 The Oberoi Rajvilas
While you can still expect to be treated with absolute luxury, the Oberoi Rajvilas provides you with a warm welcome to the idyllic "Pink City," also known as Jaipur. Being just outside the city, you still have easy access to temples, ancient forts, and bazaars, yet you feel completely private, with the only sounds being from the nearby temple bells.
Check Availability
Traditional architecture gives you the illusion that you're spending the night in a dreamy fort, without its aesthetic being too over the top. Inlaid marble floors, floral designs, and handmade Jaipur titles make the whole structure feel majestic.
The choice is yours when it comes to booking an elegant villa or an alluring room. The luxury villas feature private pools and large dining rooms that facilitate days spent getting room service and private massages.
However, even the most basic of rooms are more than spacious. Even though this is an extravagant hotel, don't expect to find gadgets scattered around your suite. In sticking with authenticity, traditional awnings and floor-to-ceiling windows take priority over modern amenities.
Continuing with authenticity, travelers can experience the wonder of the hotel by staying in the royal tent. The tent is made up of two canopy areas, with a king-sized master bedroom and spacious living and dining spaces. High-pressured showers and free-standing bathtubs take it from being a glamping experience to a stay like no other.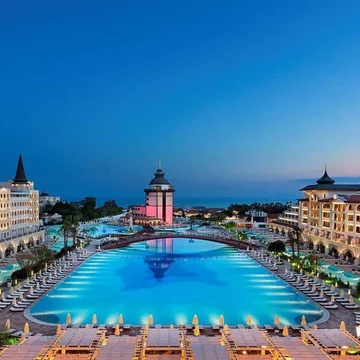 Titanic Mardan Palace
Situated on the shores of the Mediterranean Ocean, Titanic Mardan Palace boasts award-winning service and a location that comes straight out of a Hollywood movie. The hotel goes out of its way to create a playground for all kinds of travelers. Exclusive, non-stop entertainment is found at the amphitheater, with many live shows happening amidst the themed bars and restaurants.
Check Availability
While releasing your playful side is encouraged, you'll also have the chance to have a much more private vacation. The hotel features its own private beach, where you'll be spoiled with a host of water activities, umbrella and towel service, and exclusive beach bars.
There are a number of rooms and villas available, from humble suites offering panoramic views of the sparkling sea to presidential suites offering saunas, jacuzzis, and private sunbathing decks. Those opting for the unique rooms will have their own guest assistant who manages all of your needs and helps you build the ideal travel itinerary for Turkey.
Paying ode to its 7-star hotel reputation, the King Suite is nothing short of magnificent. Located on the eighth floor, the suite shows off jaw-dropping views of the sea and surrounding forested landscapes. The cinema room is the perfect place to spend a sleepy evening, with your private butler being on hand 24-hours a day. In addition, the private terrace and pool provide you with plenty of space for soaking up the Turkish sunshine.
Seven Star Hotels Exceeding Your Imagination
While the Burj Al Arab is the world's only 7-star hotel, each of these incredibly outstanding accommodation options boasts its own magical elements. Alluring and luxurious, these highly-rated spaces are created to ensure that you have a memorable experience.
If you're looking for the best hotel luxury all-inclusive experience, then you should stay in a 7-star hotel. You'll get everything you need and more. From personal guest assistants to fleets of oh la luxury cars and amazing spa experiences; these 7-star resorts and hotels aren't your average, run-of-the-mill places.
And given how they're exorbitantly outrageous, it's not like one of them is going to become your local weekend getaway spot. So you might as well make the most of a once-in-a-lifetime experience and find an excuse to visit one of the best 7-star hotels in the world.