The most luxurious hotels in France are just like the french art de Vivre – sophisticated and elegant to the very end. Around 80 million tourists visit France every year to get a taste of this rich culture that promises leisure, extravagance, and beauty. Whether you're on the quest for a spacious suite facing the Mediterranean Sea in Cannes, a glamorous hotel in Paris, or a villa in the mesmerizing Bordeaux, we have you covered.
In this article, you'll read about the 15 most luxurious and glamorous hotels in France that immediately disorient guests and speed their surrender to pleasure and leisure.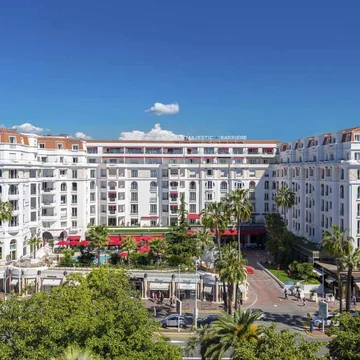 Hôtel Barrière Le Majestic
Located on the alluring Boulevard de la Croisette, Hotel Barriere Le Majestic boasts a prime location in France's most notorious town. The hotel is opposite Palais des Festivals which hosts the annual Cannes Film Festival and, during this period, the hotel is reserved only for Hollywood stars.
Check Availability
Monica Belluci, Robert de Niro, Paolo Sorrentino, Jane Fonda, and Matthew McConaughey are just some of the stars who have stayed in Le Majestic's suites. At the spacious lobby, you'll find a huge photography selection of Hollywood stars and celebrities that have visited the hotel.
Le Majestic oozes elegance and sophistication with every detail – Roman statues, velvet sofas, rare pieces of furniture, and Swiss bathrooms. All rooms feature amenities such as flat TVs, minibars, air-conditioning, Nespresso machines, bathrobes, irons, and Wi-fi.
One striking feature of Le Majestic is the suite designed by Christian Dior. It has a 180° terrace overlooking the Mediterranean, a Louis XVI dining room, home cinema system, and a marble bathroom, which makes this suite arguably one of the most luxurious accommodations in Cannes.
Guests' favorite spot at Le Majestic's is the infinity pool which is surrounded by elegant palm trees and bright red parasols. If you want to spend your afternoon on a sandy beach, you can hit the hotel's private beach – La Plage. Facing the Lerins Islands, La Plage is the ultimate spot to unwind, relax, and indulge in some mesmerizing views. Here, you can also engage in a number of fun sports activities including paddleboarding, fly-fishing, and parasailing.
The hotel's lavish spa is the perfect spot to bring equilibrium to your mind, body, and spirit. At Spa Diane Barrière, guests can enjoy a wide area of treatments including massages, marina facials, and multi-sensory stimulation in a relaxing and stylish setting.
A double room at Hotel Barriere Le Majestic starts at $235 in low season and can go up to $1400 in high season.
Hôtel Barrière Le Majestic Review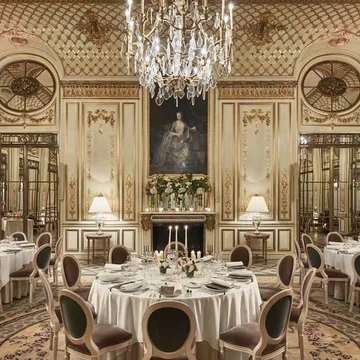 Le Meurice
Overlooking the Tuileries Garden, Le Meurice invites guests to experience French elegance and the art of living in an extravagant setting. Stepping into Le Meurice will make you feel as if you've gone back in time and attended an elegant dinner at the Versaille. Le Meurice promises first-class treatment and splendid service to its guests.
Check Availability
Le Meurice is situated in an affluent 18-century property that boasts luxurious decor and old-world glamour. The hotel's one-of-a-kind style has been widely renowned and this is the first hotel to be awarded an official "Palace" Status. Known as the "Hotel des Rois"(Hotel of Kings), Le Meurice is bound to make an impression with its gloss marble floors, Doric columns, numerous crystal chandeliers, and extravagant pieces of furniture. The rooms are spacious and bright, equipped with a number of over-the-top amenities including a king-size bed, flat TV screen, minibars, air-conditioning, and Italian marble bathrooms.
From unique artworks, damask wallpapers, floor-to-ceiling windows, and decadent furnishings, to rare pieces of furniture that'll impress you, the guest rooms at Le Meurice are exactly as you'd imagine an 18-century French property would look like.
Le Meurice's Michelin-starred Alain Ducasse is the best in the business. Guests get to enjoy delicate meals prepared by the restaurant's executive chef Amaury Bouhours. The restaurant boasts rich decor with antique mirrors, crystal chandeliers, and iconic Eero Saarinen Tulip chairs. Restaurant Le Dal is another dining option at the hotel, providing French upscale cuisine in a romantic setting.
The Superior Room at Le Meurice starts at $1200 while the Junior Suite costs $1,850 per night.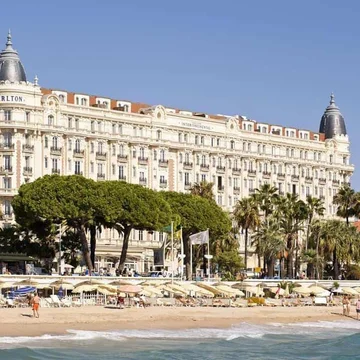 InterContinental Carlton Cannes
Situated on the historic Boulevard de la Croisette, InterContinental Carlton is well-known for providing guests with first-class treatment and outstanding service. The hotel is in close proximity to the city's most prominent landmarks including Palais des Festivals and La Malmaison and is ideal for those who want to explore the city on foot.
Check Availability
Elegant, authentic, and sophisticated, InterContinental has been dazzling guests with its extravagant decor since its opening in 1911. Expect spacious and cozy rooms equipped with amenities such as a king-size bed, marble bathrooms, flat TV screen, writing desk, and luxurious bedding.
For an elevated experience, book some of the opulent suites named after the Hollywood stars that have stayed at the hotel. With that being said, InterContinental is the perfect spot to spend a vacation side by side with a celebrity – celebrities like Bruce Willis, Antonio Banderas, Sharon Stone, Uma Thurman, and Quentin Tarantino are all part of InterContinental's renowned guests' list.
Dining-wise, InterContinental Carlton's offer is exceptional. Guests are in the capable hands of chef Lauren Bunel who is well-known for serving inventive and creative dishes. Try some upscale Mediterannean and French cuisine in a dream-like setting ideal for a romantic dinner.
With a vibrant beach club, an upscale fitness center, and world-class service, InterContinental is ideal for high-end travelers who want to experience the creme de la creme of the hotels on the French Riviera.
The prices for a double room at the hotel vary between $190 and $370 per night.
InterContinental Carlton Cannes Review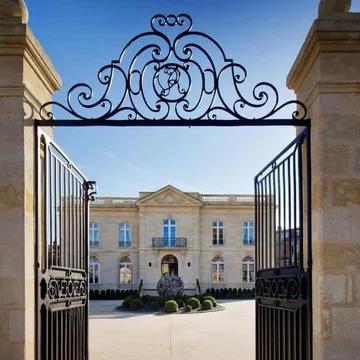 La Grande Maison de Bernard Magrez
Sumptuous cuisine, exquisite wine selection, and great art, La Grande Maison de Bernard Magrez has it all. This is the ideal vacation spot for guests who want to discover the French art de vivre and treat themselves to some exceptional dining.
Check Availability
The Maison was created by the French wine magnate Bernard Magrez, who owns over 40 vineyards and is one of the biggest names in the world of wine. Graceful and comfortable, Magrez's creation evokes old-world glamour.
La Grande Maison is set in a secluded mansion near Place Tourny; not ideal for guests who want to explore the area, however, the beautiful surroundings are perfect for those looking for contemplation and relaxation. Once here, you'll get nothing less than world-class treatment and outstanding service. Guests, once picked up from the airport in a limousine, can also explore the region with a luxury car, fly with a helicopter over the beautiful vineyards, or sail up the river in a Hacker-Craft.
The hotel's interior evokes the era of Napoleon III, with antique furnishings, rare pieces of furniture, lush pile carpets, and silk wallpapers. Each room features a unique style and is decorated with artworks from Magrez's personal collection. Bathrooms are particularly charming with deep soaking tubs and Hermes toiletries. For an elevated experience, book a room with a view over the garden and, for a moment, you'll feel like you're staying in the Versailles.
The hotel is a proud owner of one of the only two-Michelin star restaurants in Bordeaux, courtesy of the legendary chef Pierre Gagnaire. An extensive and world-class wine selection is another treat for the guests. The wine selection includes all Grands Crus Classé Bernard Magrez; Château Pape Clément, and Château La Tour Carnet.
At Le Grande Maison de Bernard Magrez double rooms start at $280 per night.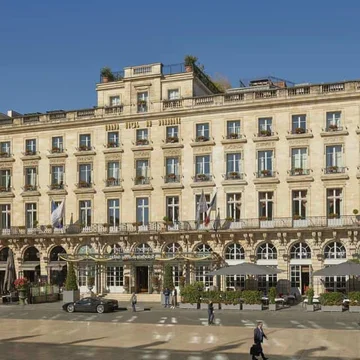 InterContinental Bordeaux Le Grand Hotel
Situated on the Place de la Comedie and facing the historic Grand Theatre, InterContinental Bordeaux has a prime location in the alluring Bordeaux. The hotel's position is ideal for those who want to explore the city's mysterious pathways, beautiful vineyards, and extraordinary architecture on foot.
Check Availability
The hotel's opulent property was designed by the famed Parisian architect Victor Louis. With crystal chandeliers, high ceilings, black lacquered furniture, and marble surfaces, InterContinental Bordeaux evokes the elegance of the baroque period.
InterContinental's palatial style extends from the public areas to the guest rooms and suites, making it one of the most luxurious hotels in Bordeaux. Rooms feature views over the Grand Theater and are equipped with high-end amenities such as a Nespresso machine, minibar, and air-conditioning. The marble bathrooms are spacious and no less luxurious.
Le Pressoir d'Argent Gordon Ramsay is the culinary jewel of Bordeaux. At this Michelin-starred restaurant, chef Gordon Ramsay serves his dishes in a romantic and warm atmosphere. Ramsay's upscale cuisine pays tribute to the richness of the French culinary heritage. Gironde black truffles or brittany lobster – no matter what you order, you can rest assured you won't be disappointed.
Your culinary experience won't be complete without a glass of wine. The passionate sommelier is always ready to discuss the choice of over 550 wine labels, which is something every wine enthusiast will surely appreciate.
For a double room at InterContinental Bordeaux Le Grand Hotel, you can expect to pay $350 per night for a double room.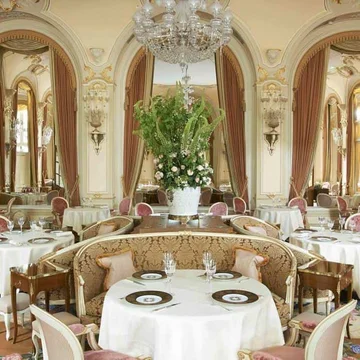 Hotel Ritz
The epitome of high-class, luxury, and extravagance, Hotel Ritz Paris is one of the best and most talked-about hotels in the world. The hotel is well-known for providing world-class treatment and outstanding service.
Check Availability
The list of celebrity guests that have stayed at the Hotel Ritz is endless. Here, Coco Chanel spent 30 years of her life, Hemingway famously drank 51 cocktails celebrating the end of World War II, and Marcel Proust wrote parts of the À la recherche du temps perdu.
Set in a neoclassical property that dates from 1705, Hotel Ritz is all about old-world glamour and luxury. The recent $450-million makeover has brought even more fame to the hotel. Neoclassical rooms painted in royal blue and gold, decadent amenities, and unique artworks – to stay at the Hotel Ritz is truly a one-of-a-kind experience.
Take a stroll in the beautiful 17,000 square-foot garden lined with magnolia trees, or spend your evening at The Ritz Club Casino and try your luck while sipping a cocktail. Visit the Salon Proust and indulge in some french-style teatime, or take a dip in the Roman-inspired azure blue pool – once you enter the Ritz gates you might never want to leave.
At the world's only Chanel Spa, guests can choose between an array of luxurious body treatments, massages, and facials. Upscale French cuisine is prepared by chef Nicolas Sale at the Les Jardins de l'Espadon. At Bar Hemingway, time-honored cocktails are prepared by twice-named "Best Head Barman in the World" – Colin Field.
The prices for a room at Hotel Ritz Paris are certainly fitting. Double rooms start at $1200, while the Prestige Suites cost $3200 per night.
Maison Souquet
Set in the glamorous Montmartre, Maison Souquet is in close proximity to some of the city's most prominent landmarks including Sacre-Coeur, Montmartre Cemetery, and Place du Tertre. Take a stroll down Montmartre and you'll discover vibrant cocktail bars and upscale restaurants.
Check Availability
Maison Souquet's interior is as seductive as the hotel's history itself. The property served as a pleasure house for dignitaries of Paris' high-society and Maison Souquet still keeps the same romantic atmosphere and vibe. Recently, the hotel has undergone a renovation, done under the watchful eye of the renowned designer Jacques Garcia, who has made an effort to recreate the property's elegance, extravagance, and sensuality.
Expect velvet-colored rooms, Arabian-style pieces of furniture, comfortable sofas, and king-size beds – Maison Souquet is all about pleasure in a luxurious setting. Each room pays tribute to some of the most beautiful and notorious courtesans of the 19th century, such as La Belle Otero and Liane de Pougy. With luxurious bedding, black-and-gold-moldings, high ceilings, and rich silk drapery, the suites at Madame Souquet epitomize sensuality. The bathrooms have a black marble floor, big soaking tubs, and Hermes toiletries.
At the hotel's bar, guests can enjoy exotic cocktails in a dream-like setting filled with unique-artworks, decadent furnishings, and rare pieces of furniture. This is one of the best spots in Montmartre for a rendezvous or an intimate encounter. A la carte breakfast is served at the beautifully decorated atrium every morning.
At Maison Souquet you can expect to pay $370 per night for a Deluxe Room while the Junior Suite starts at $620.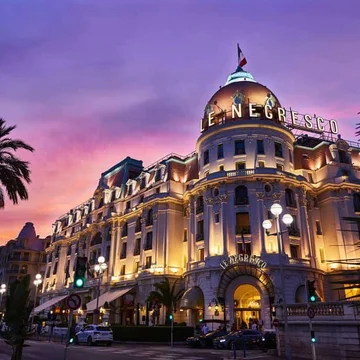 Hotel Negresco
Hotel Negresco is a landmark hotel in France's fifth city, located on the historic Promenade des Anglais. Beyond its extravagant exterior sits a remarkable venue bound to make an impression. The hotel's style is bold with a purple and rose color palette, marble surfaces, antiques, and unique artworks.
Check Availability
Hotel Negresco represents an important beacon of the richness of French culture. All 99 rooms and 25 suites are filled with Louis XIII furnishings, rich colored-fabrics, and exceptional antiques.
Marble bathrooms feature deep soaking tubs and glass showers. Book the spacious Rivoli Double Rooms and you can indulge in some sublime views over the Palais Massena gardens.
Dressed in navy-and-red frock coats and feather-topped hats, the staff at Hotel Negresco is well-organized, attentive, and always insisting on providing the best service to its guests.
Virginie Basselot, a well-known name in French culinary circles, is at the helm of the Michelin-starred restaurant Le Chantecler. Guests can enjoy some upscale French cuisine and ocean-inspired dishes in an opulent setting filled with extravagant furniture and impressive oil paintings. At dusk, guests head over to the Negresco Bar featuring walnut woodwork dating back to 1913 and extravagant 1683 tapestry.
The prices for a Deluxe room vary between $290 and $310 per night, while the Sea View Junior Suite starts at $770.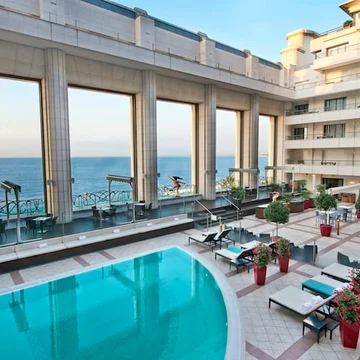 Hyatt Regency Nice Palais de la Méditerranée
Upscale dining and majestic sea views make Hyatt Regency a popular choice among European royalty and celebrities looking to experience the beauty of the French Riviera. What's more, no other hotel in Nice delivers such outstanding and world-class service to its guests.
Check Availability
Set on a top billing address, Promenade des Anglais has Nice's endless sandy beach on its doorstep. The hotel is situated in a property that used to be a grandiose casino and theater where Charlie Chaplin and Maurice Chevalier held a performance.
Today, the hotel perfectly blends old-world glamour with contemporary accommodation. The spacious Sea View Suite features a king-size bed, a spacious living area, a dressing, and a spa-inspired marble bathroom with two separate toiletries and a soaking tub. The balcony is particularly charming with a comfortable chair overlooking the sea. Among other things, there's also a flat TV screen, Nespresso machine, air conditioning, minibar, in-room safe, bathrobes, and slippers.
Unwind and relax at the indoor or outdoor pools lined with comfortable sun loungers, and take a dip while you admire the rich turquoise colors of the Mediterranean sea. Guests can also enjoy small bites and drinks in the private beach club facing the beach. If you're up for something a bit more energetic, head over to the spacious fitness center equipped with state-of-the-art machines for strength training, cardio, jogging corner, and stretching.
Located on the 6th floor, the hotel's sauna is a real treat. Revitalize and purify your body and mind in a warm Turkish bath or book a luxurious massage and enhance your senses – Hyatt's spa guarantees a one-of-a-kind experience.
Expect to pay $350 for a double room while the room rates for the suites start at $680 per night.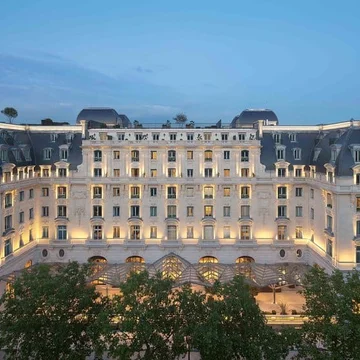 The Peninsula, Paris
Situated on the alluring 19 Avenue Kleber, The Peninsula is located in the heart of Paris and is within close proximity to all major landmarks and tourist attractions. Arc de Triomphe, the Eiffel Tower, and Galerie Musee-Baccarat are all within a walking distance.
Check Availability
The Peninsula has been welcoming guests for more than a century. This five-star hotel seduces guests with Michelin-starred dining, excellent accommodation, and world-class service. The hotel perfectly blends traditional style and contemporary elegance with unique artworks and antiques that pay tribute to the rich Parisian culture.
The interiors are unforgettable – crystal chandeliers, decadent furnishings, and rare pieces of furniture. Sophisticated and spacious, the rooms and suites feature comfortable king-size beds, wooden furniture, and elegant dressing areas. Guests can indulge in marble bathrooms equipped with a his-and-her sink, deep soaking tubs, and rain showers. Toiletries are the courtesy of Oscar de la Renta.
The Michelin-starred rooftop restaurant, L'Oiseau Blanc, is an upscale culinary experience. The masterful dishes served at the restaurant pay homage to the traditional French cuisine while the terrace provides some of the best 360° views of Paris. Another upscale dining offer is Lili. Here, Cantonese dishes are prepared by the acclaimed Hong Kong chef, Ma Wing Tak.
With double rooms starting at $1000, The Peninsula offers one the most expensive accommodations in Paris.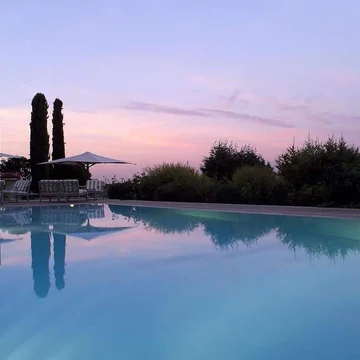 Villa Florentine
Nestled on the heights of hilltop Fourviere, Villa Florentine boasts mesmerizing views over the city of lights. Key landmarks are within walking distance including Basilica Fourvière, Musée Gallo-Roman, and the medieval town Vieux Lyon.
Check Availability
At this property inspired by Italian renaissance houses, guests can find serenity and tranquility. From the moment they enter the frescoed lobby, they are dazzled by the beautiful florentine theme. With high ceilings, unique artworks, rare pieces of furniture, and a caramel color palette, this five-star property is bound to make an impression.
Service is attentive, well-mannered, and precisely what you would expect from a boutique hotel facing the turquoise blue waters of the Mediterranean sea. Guests' favorite spot at the hotel is a heated outdoor pool that's open all year round. Lined with elegant sun loungers and surrounded with beautiful flowers, the hotel's infinite pool invites guests to contemplate their moments of splendor in the mesmerizing Lyon.
The hotel's lavish spa offers a myriad of healing treatments to choose from and is equipped with a spacious sauna, hot tub, and a relaxing hammam. After a relaxing massage, head over to the terraced gardens overlooking the Cote d'Azur.
Upscale dining is served in the hotel's Michelin-starred restaurant, Les Terrasse de Lyon. Serving a fusion of modern French dishes, the renowned Parisian chef David Delsars likes to satisfy the tastes of gourmets from all around the world with highlights infused with local ingredients.
The prices for a standard room at Villa Florentine start at $300 while the Junior Suite costs $500 per night.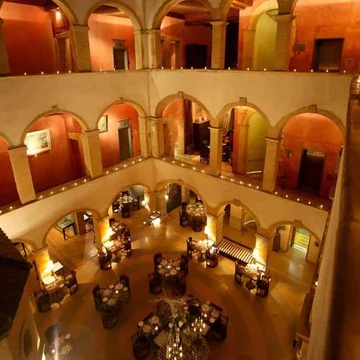 Cour des Loges
Set in the heart of the old town, guests will have a hard time choosing whether to spend their time at Cour des Loges's luxurious premises or to wander around the cobbled old town filled with Renaissance and medieval architecture.
Check Availability
This five-star hotel has hosted a number of weddings and is the favorite honeymoon spot of the French high-society. Set in four Renaissance townhouses, Cour des Loges oozes romance and sensuality. Expect high-ceilings, rich color schemes, unique artworks, and majestic staircases that lead to the guest rooms that are as opulent and extravagant as the hotel's grandiose facade. The Classic Florentine room is a real treat, with upholstered red-silk walls, crystal chandeliers, and head-painted ceilings. The spa-inspired bathrooms feature a sizable soaking tub and a separate WC.
The Ateliers offers romantic ambiance with a king-size bed, spacious living room, a painter's atelier, and a photographer's atelier overlooking the lavish courtyard of the hotel.
But the real treat might just be the Michelin-starred restaurant Les Loges, where inventive dishes are served under a spectacular sky-high glass roof. The upscale menu is a courtesy of the renowned young chef, Anthony Bonnet.
Expect to pay $430 for a night at the Classic Florentine room. A stay at The Ateliers starts at $520 per night.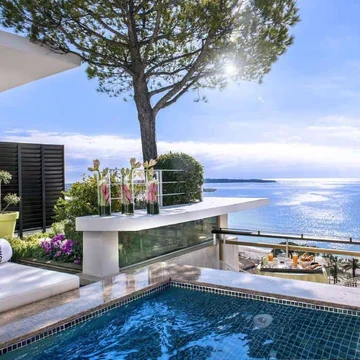 Cannes, Côte d'Azur, France
Le Grand Hotel Cannes
Situated on the historic Boulevard de la Croisette, Le Grand Hotel Cannes is just a short walk away from Cannes's alluring landmarks including Rue d'Antibes and Palais des Festivals. Shopaholics will be happy to learn that just steps away from the hotel they can buy some exceptional designer pieces from world-class designers such as Dior, Chanel, and Roberto Cavalli.
Check Availability
The style of this highly celebrated hotel is the perfect blend of old-world glamour and contemporary luxury. The moment you step in the hotel's lush gardens facing the entrance, you'll immediately know you're in for a spectacular experience. Aesthetes and high-end travelers will fall in love with the crystal chandelier, sophisticated furnishings, unique art selection, and delicate lightning.
Rooms and suites scream 60s style and elegance with a cream color scheme and dark wood furniture. Highlights include sleek bedding, floor-to-ceiling windows, a flat TV screen, and a minibar. For an elevated experience, book some of the suites located on the third floor which give way to dazzling views over the Mediterranean sea.
At Le Park 45's spacious terrace overlooking the Mediterranean Sea, guests can enjoy delicate dishes prepared by Chef Sébastien Broda. For some swanky cocktails in a relaxing setting, head over to Le Cercle.
Prices for a double room vary between $260 and $290 depending on the period.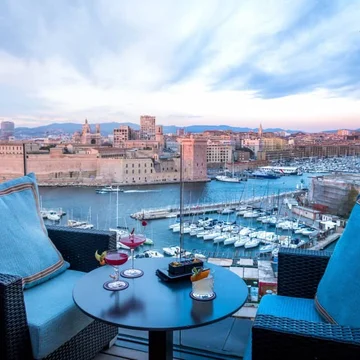 Sofitel Marseille Vieux Port
Set in the heart of Marseille's historic port, Sofilter Marseille captivates guests with a blend of the French art de vivre and contemporary luxury. This boutique hotel boasts some of the best views over the Mediterranean Sea and the Old Port filled with luxurious yachts.
Check Availability
Resolutely Mediterannean and opulent, Sofitel Marseille invites guests to relax in the hotel's immaculate rooms, gaze over the city, and savor 2600 years of history.
Elegant, stylish, and seriously upscale, the hotel's interior draws a number of celebrities and high-end travelers every year. At the entrance, a top-hatted doorman invites guests to relax at the spacious marine-colored lobby furnished with velvet sofas, polished wood tables, and modern art pieces. Similarly, the suites and rooms feature marine-themed motifs and are filled with contemporary and modern furnishings. The bathrooms are commodious and feature large square tubs for two, walk-in showers, fluffy robes, and Hermes toiletries. Suites located on the highest floors offer stunning views of the French Riviera.
The hotel's renowned restaurant, Les Trois Forts, will welcome you in a romantic and glamorous ambiance. Serving Mediterranean-inspired cuisine with local ingredients, Les Trois Forts is a culinary jewel for anyone who likes to relish in fine dining while on holiday.
Take a relaxing break from sightseeing in the lavish spa providing a range of treatments and facilities including a sauna, a steam bath, and a whirlpool hot tub.
At Sofitel Marseille, double rooms start at $270 per night.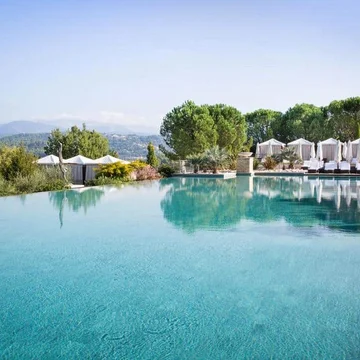 Terre Blanche, Tourettes
Blissfully remote, secluded, and set amidst an ocean of greenery, Terre Blanche is the ultimate resort for guests who want to escape the hustle and bustle of the city. At Terre Blanche's suites and guest rooms, guests will find serenity, tranquility, and relaxation. The hotel lives up to their motto – "Who comes once will always return." – as the hotel is well-known for providing world-class service.
Check Availability
Terre Blanche was once owned by Sean Connery and today belongs to a German tycoon who boasts an outstanding art collection. The hotel's public spaces and gardens are filled with world-class sculptures created by some of the most famous artists of the 20th century including Joan Miro, Anthony Gormley, and Niki de Saint-Phalle.
Guests can choose to spend the night in a spacious suite or a secluded villa equipped with a pool. Terre Blanche's accommodation is ultra-spacious featuring separate living rooms, marble bathrooms, and decadent amenities.
The infinity pool, lavish jacuzzi, and the children's pool allow guests to experience a moment of peace and relaxation. The hotel pools are surrounded by comfortable sun loungers, and if that's not enough, you can always order a delicious cocktail or two to complement your experience.
Ambitious golfers will be happy to learn that Terre Blanche is the proud owner of a grandiose 18-hole championship course. Le Château's golf course was ranked 14th by Golf World Magazine UK's Best Courses in Continental Europe.
With suites starting at $370, Terre Blanche is one of the premier spots to stay in Provence.
Find Luxury Hotels in France