It's not always easy to find the perfect resort where you can enjoy a luxurious vacation with your family, in which both the little ones and you are having fun. But as long as you know what features are most important for you, it will be easier to narrow down your options.
The top family resorts are often the ones that have so much to offer, you don't even need to leave the property. All the magical moments can be enjoyed at luxury family resorts that cater to the needs of everyone on the trip. With you and the little ones in mind, these options include recreational activities for kids and parents.
Because luxury isn't just found in one destination, you'll find adventures ranging from snorkeling in crystal clear waters with green sea turtles, to zip-lining experiences in Indonesian treetops.
Take your kids on a tropical, desert, island, or snowy getaway adventure at one of these destinations and they'll be begging you to take them back again!
12 Best Luxury Family Resorts
It's not always easy to find a time and place that works for the whole family. This guide has collected the dreamiest family resorts from around the world – perfect for finding a meeting place for relatives you may have across the globe.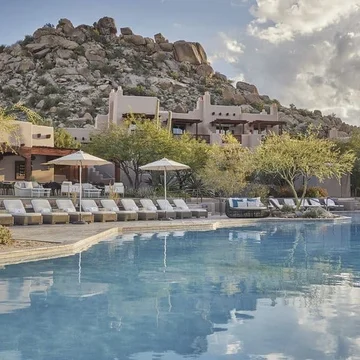 Scottsdale, United States

5
Four Seasons Resorts Scottsdale at Troon North
Timeless beauty meets outdoor adventure, which couldn't be more perfect for families. This resort is a playground for both children and adults who can get lost in excitement as they discover amenities tucked around every corner.
Check Availability
Explore the dramatic valleys and saguaro cacti landscapes as you venture on horseback, Jeep, or ATV. Suited to the needs of your little ones, the concierge can help you construct a desert itinerary that is appropriate.
On top of the High Sonoran Desert landscape, the resort offers day trips to the Grand Canyon which has long inspired all of its visitors. For early birds, spend the morning floating above the clouds in a hot air balloon.
When it comes to spending time at the resort, the suites are more than spacious enough for accommodating families as large as six. Featuring king and queen-sized beds, private terraces with fire pits, and indoor-outdoor living, staying home is as delightful as going out.
Wandering around the rest of the resort leads you to two outdoor pools, spa facilities, golf courses, and restaurants. Daily crafts and scavenger hunts are wonderful for younger kids, while teenagers can spend the day at the pool table, ping-pong table, and lego table.
As a perk, the Four Seasons charges no additional fee for children 18 years or younger who occupy the same guest rooms as their parents.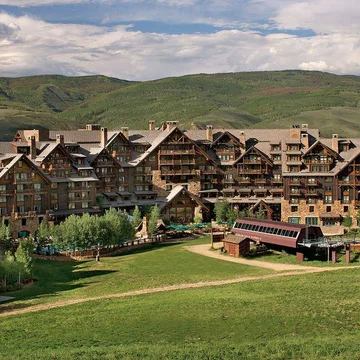 Colorado, United States

5
The Ritz-Carlton, Bachelor Gulch
Nestled among pinewood forests and majestic mountains, this ski-in, ski-out retreat attracts adventure-seekers and is one of the best family resorts in the US. While skiing is the main attraction, the luxury resort offers experiences off the slopes, year-round.
Check Availability
Indulge in luxury that sits at the edge of nature. Providing you with a quick escape into wildflower meadows in the Rocky Mountains for hiking, tennis courts, fly fishing, ice skating and snowmobiling, and whitewater rafting.
It's wonderful to see the place in the snowy months, but the resort is spectacular throughout the year. Summer markets take place on the warmer weekends, while unforgettable concerts happen at Vilar Center in Beaver Creek – a short drive away.
Kids are given special attention at the Ritz. After all, skiing can be a scary new adventure for younger children. The Riz Kids Ski Program offers ski classes with professional teachers and a magical in-room camping experience.
As for accommodation, the enormous rooms are more like mini condos. With indoor fireplaces to keep you toasty, separate living rooms for games nights, and private bedrooms for the parents and children.
Oh, and parents who are keen on spending the night at the cozy cocktails lounge or sharing some adult time with a fine dining experience, can book babysitting services.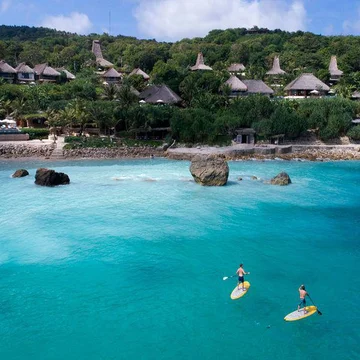 East Nusa Tenggara, Indonesia

5
Nihi Sumba Island
This extraordinarily beautiful resort is deemed one of the best in the world. Once a surfing retreat, Nihi boasts clear blue oceans and jungle wilderness at your fingertips. You have the freedom to enjoy quiet family time together or participate in a range of organized activities.
Check Availability
What makes this destination stand out as a luxury family resort is all the unique activities that can keep your kiddies on their toes. The kid's pony club gives them the daily routine of caring for the samba ponies; from grooming, cleaning, and feeding.
If getting dirty isn't on the agenda, the kid's spa experiences with cacao and brown sugar scrub and comfort massages are something they don't get to experience often. There are also chocolate-making classes and wildlife explorations.
There are 28, air-conditioned villas with thatched ceilings and private pools tucked alongside tropical forests. Villas vary from one to five bedrooms which feature canopy beds, outdoor showers, large living rooms, and impeccable butler service.
It goes to show that staying at a resort is more than just booking just a hotel room, instead, it's all about the experience.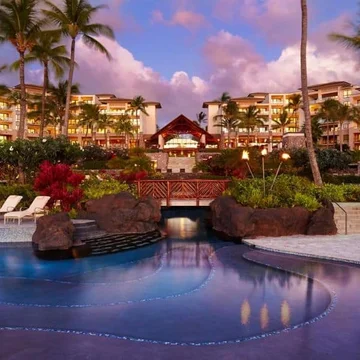 Montage Kapalua Bay
Set in picturesque Kapalua Bay, In Hawaii, Montage Kapalua Bay Resort provides you with a tropical paradise and an authentic cultural experience in Hawaii. Explore the Maui gems by embarking on sunset catamarans, helicopter tours, horseback riding, and zip-lining.
Check Availability
The suites are inspired by residential-style accommodation, so you'll have all the creature comforts of home. Except you'll be overlooking tropical gardens and the azure Pacific Ocean.
Grand Residences, the finest accommodation option at the resort, is equipped with full gourmet kitchens and expansive outdoor spaces creating a home away from home. Other dreamy suites have access to gardens for outdoor exploration and balconies for gazing at the ocean.
No matter how big or small your family is, Montage offers a suite for all families. You can plan a vacation that includes the whole family, as in aunts, cousins, and grandparents, when you book one of their breathtaking four-bedroom suites.
A large aspect of the resort is focused on family adventures that are catered towards both adults and kiddies. Whether that be tracking sea turtles on the glistening shores, spying upon humpback whales, cooking classes in the sunshine, or discovering all the critters that call the rockpools their home. Montage is a plethora of adventure!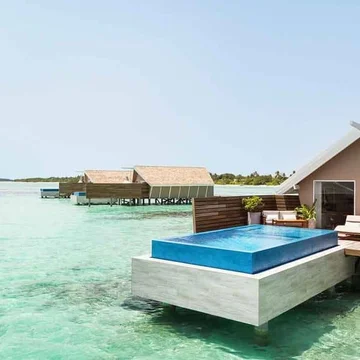 Dhidhoofinolhu, Maldives

5
LUX South Ari Atoll
The Maldives is one of those locations that continue to creep into travelers' daydreams. Imagine the ultimate tropical escape with white-sand beaches, turquoise waters, and diverse marine life just waiting to be discovered. And while you might think it's more for honeymooners than families, it's a fantastic place for luxury family vacations too!
Check Availability
LUX Maldives boasts idyllic bungalows that are perched over the shimmering waters. Inside the perfectly positioned villas, you'll be treated with crisp white sheets, beach-style furniture, and flat-screen TVs for a sneaky movie night.
With your own private deck, it'll be way too tempting to not spend the entire trip dipping in and out of the waters. LUX South Ari Atoll presides over a protected marine area. The entire family has endless opportunities for incredible snorkeling to discover over 50 dive sites that are bursting with colorful fish species.
The resort takes care of family business, too. As soon as the little ones arrive on the remote island they're welcomed with ice cream and treasure hunt clues. They can make their way around the resort collecting tokens and surprises around each corner.
And when the sun gets too much, there's always the option of playing at the kids club, where even more fun activities can be found.
Along with pleasing the kids, the resort offers adults and family-orientated experiences. Spa treatments, bicycle rides along the jetties, pop-up movies on the beach, and a floating breakfast in your private pool are some things you can look forward to.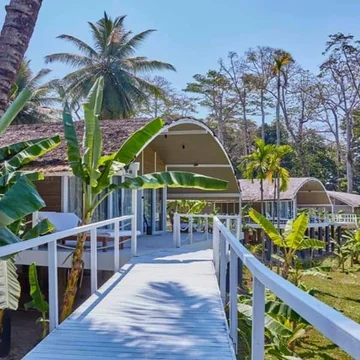 Andaman and Nicobar Islands, India

5
Taj Exotica Resort & Spa
Tucked away on 56 acres of tropical gardens, this exotic getaway provides you with the best of both worlds. Being footsteps away from the shores of Radhanagar Beach and completely submerged in jungly landscapes, it's the ultimate, laid-back beach resort.
Check Availability
With unspoiled beaches, mangrove forests, wildlife sanctuaries, and a magical medley of outdoor adventures, it's obvious that nature lovers will be in paradise.
Endless opportunities for discovery can be found around the resort. Curious minds can spend all day at the children's recreational center where they'll adventure around the island to pick mangoes and mud fruits, embark on jungle treks, and supervised scuba diving sessions.
A core value of Taj Exotic is its commitment to sustainability and conservation. By harvesting rainwater and solar energy, and by using biodegradable cutlery, they're making moves towards being kinder to the planet.
The Goan and Portuguese-style rooms truly embrace the natural beauty of their surroundings. Depending on your room, you'll overlook the glistening ocean or peek into the luscious rainforest. Larger rooms, for the bigger families, feature private pools that overlook the jungles.
The fitness center is built around the trees, while yoga lessons take place beneath the mangroves. There's also a full-service spa that the adults can sneak off to while the little ones are at the kids club.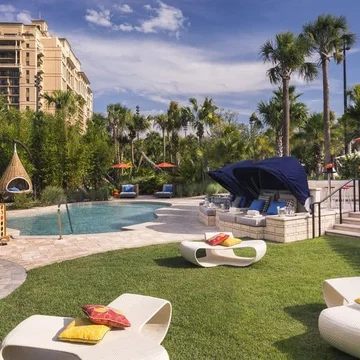 Nestled along the lakeside, the resort features heavenly gardens, crystal pools, and towering palms and cypress trees. Every day becomes an adventure as you explore the land of endless enchantment. Experience breakfast with Goofy and his pals over Belgium waffles and acai bowls, and splash at Explorer Island.
The Four Seasons boasts a complimentary kids camp that features indoor and outdoor activities for children aged 4-12. They can let their imaginations run wild by creating themed crafts, meeting iconic Disney characters, and spending time in the adventure-themed pools, all while being under supervision.
Suites boast views of lush gardens where you can enjoy morning coffee and evening hot chocolate, or you can view the forested lakeside snuggled up on the couch. The most popular room options feature luxurious king and queen-sized beds that can happily accommodate a family of four.
Orlando, Florida, is a destination that is teeming with adventure, so you're guaranteed to have an unforgettable stay at both the resort and the surrounding area. Golf courses, 5-acre water parks, Orlando Theme Park, and the Wizarding World of Harry Potter are all waiting to be discovered.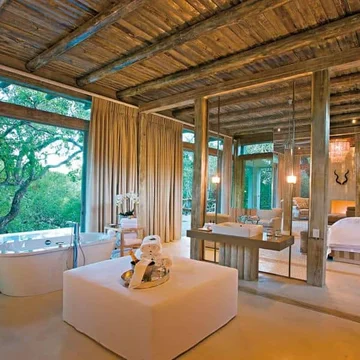 Hoedspruit, South Africa

5
Kapama Karula
The idea of booking into a resort where the kids can be fully immersed in the activities is great. But that's not to say that spending down-time together as a family is any less appealing. Everyone should have at least one chance to experience the African bush.
Check Availability
Karula boasts two superior family villas that feature expansive living rooms and spacious en-suite bedrooms ensuring that there is always enough privacy on offer. The second bedroom is also equipped with a TV that's kitted out with a range of movie options and game consoles.
During a safari experience, you'll wake up as the sun rises to head out on your first game drive where you can spot lions, elephants, giraffes and so much more.
After a morning sipping hot chocolate and spotting game, return to your villa and step onto your private deck that overlooks the game reserve. Spend the day soaking in the heated pool, have a lazy afternoon nap, or simply sit in the loungers and take in the views.
Afternoon game drives take you through the bush to spy upon even more big game. But it's not just the big game that's special. Birds, impala, and monkeys are some of the local residents at Karula.
Along with game drives, you can participate in bush walks with an experienced game ranger. You'll discover medicinal plants, birds, and insects along the way.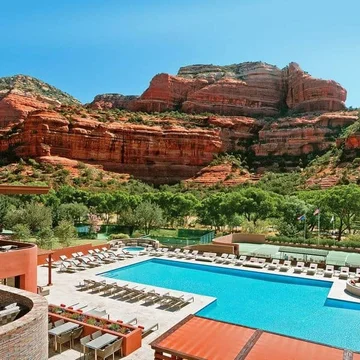 Enchantment Resort
The rocky landscape of Sedona's Boynton Canyon is as rugged and dramatic as it gets. The Enchantment Resort provides an opportunity for guests to be in nature, without sacrificing luxury.
Check Availability
The resort is situated along the base of the Boynton Canyon and it gained inspiration from the awe-inspiring landscape to create a space with a soft Southwestern aesthetic. It wouldn't be enchanting if the rooms didn't show off the incredible views of their canyon. Private decks and patios couldn't be more wonderful for marveling at the grandeur before you.
Enjoy pure luxury by booking a pool suite that can sleep up to four people. This allows you and your family to have a secluded vacation out in nature. BBQ under the stars on your own private deck and during the days, cool off at the pool area under the hot Arizonian sun.
As for family adventures, from sunrise to sunset, there are endless opportunities to experience the outdoors at this spot. Scenic Canyon trails are catered to different hiking levels, while mountain biking is a fantastic activity for the whole family.
Camp Coyote is designed to educate and inspire the youngest of travelers. Trained guides take 4-12 years on daily adventures that include scavenger hunts, crafts, cooking classes, and nature walks.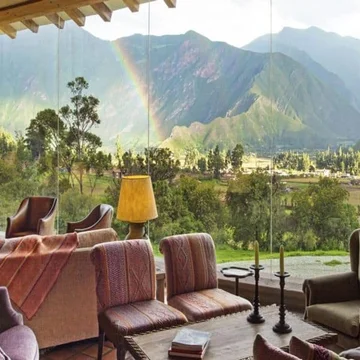 Sacred Valley of the Incas, Peru

5
Inkaterra Hacienda Urubamba
Inkaterra Hacienda Urubamba is located in the Sacred Valley of the Incas, a place that truly couldn't be more spectacular. Breathtaking views are spotted throughout this resort with stand-alone luxury casitas all boasting their own unique view – such as those overlooking an imposing mountain or green valley!
Check Availability
Plenty of open spaces allow you to put the hustle and bustle of modern-day life behind you as you wander the grounds and explore the glorious surroundings.
Back in your room, you couldn't feel more at home tucked up in your natural bathrobes and slippers. Roaring fires in the living rooms, Inca-inspired furniture, and alpaca blankets are some of the unique charms that set this resort out from the rest.
Depending on your preference you can keep things simple and reserve one of the Urubamba suites that are inspired by the Andean culture with warm woods and panoramic views of the mountains. Or you could amp up the luxury and book into the Urubamba owners quarters, the largest of the suites, which is a spacious duplex room offering complete privacy.
Staying here is more than just a family vacation. It's a chance to step back in time and discover the ancient civilizations that roamed these regions. Tour the ecological farms (which is recommended for children), trek along the hillside of Huasi Challa, or opt for the twilight mountain tour. The mountain tour leads you through winding paths of mountains at sunset and you'll have the chance to learn about astronomy in the Andean world.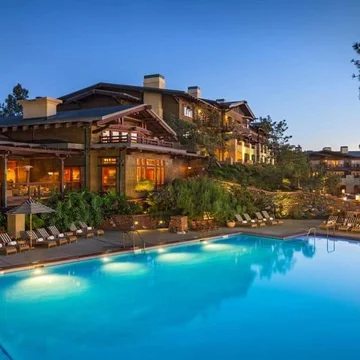 La Jolla, United States

5
The Lodge at Torrey Pines
Nestled in the valley and filled with elegant charm, Torrey Pines is situated in the perfect location for discovering incredible nature, while also being in close proximity to the Pacific Ocean. While it may be tempting to venture into the surrounding areas, the resort itself holds an abundance of magnificent activities for the family.
Check Availability
At sunrise or sunset, embark on a nature walk on rustic footpaths that wind through hilltops and alongside spectacular cliffs. The botanical gardens are also available to explore and guided nature walks offered by the resort.
It's a dream come true for kids when it comes to summer splashing in the pools. With underwater speakers in the heated outdoor pool, you can easily spend the day here. Alternatively, the hot tub is tucked away in a gazebo overlooking the pristine golf course.
While golf may be a little off for younger kids, croquet in the garden proves to be just as wonderful. Enjoy a relaxing game each morning before dashing off to breakfast. After all the tummies are full, electric bikes, putting greens, and scavenger hunts can make up your itinerary.
Once a day of excursions has filled up your memory box, unwind and relax in your luxury room. Egyptian cotton linen and quilted duvets, marble bathrooms, oversized bathtubs, and enormous living rooms await you!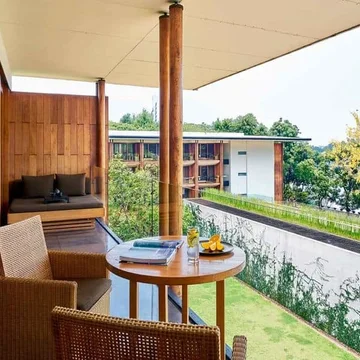 Anantara Chiang Mai Resort
Anantara Resort is perched along the banks of the Mae Ping River and is in the perfect location for discovering the gems found in Chiang Mai, Thailand. An authentic aesthetic is created with traditional Thai architecture and rattan furniture that features throughout the dreamy resort. Along with a beautiful interior, the outdoors are blessed with secret gardens and water fountains.
Check Availability
Staying in Anantara is all about adventuring around the city. Interact with the locals, enjoy meals bursting with fruits and vegetables, visit temples like Chai Mongkol, or stop at some family attractions. The Chiang Mai Tiger Kingdom, Huay Tung Tao Lake, and indoor playgrounds are within close distance.
Oh, and while this is in a vibey city center, there's no need to worry about noise keeping you or your children awake. The luxurious rooms are protected from urban noise by thick wooden doors. When the doors are kept open, there's a seamless flow between the indoors and the tropical gardens. At night, there's the special addition of delectable treats or trinkets delivered to you before bedtime.
Ready to Book a Luxury Family Resort?
While luxury is always at the top of the list for a destination vacation, from a full-service spa and wellness center to top-class golf courses, it's easy to tick the bucket list for adults. But as a parent, you want your children to enjoy the vacation as much as you do.
These unimaginable luxury resorts offer family-friendly activities for children of all ages. From mango picking and chocolate making to mini days at the spas, these resorts have family travel in mind.
And to keep your mind at peace, all adventures for the youngsters are supervised. So the freedom is yours to enjoy some me-time as parents together or to spend quality family time throughout your destination vacation.