Luxury snow hotels offer the ultimate winter wonderland escape. Spend the night in a room made of frosted furniture, or cozied up inside a glass igloo in a charming snow village. With equal parts novelty, adventure, and luxury, these snow hotels allow you to embrace the cold in the most comfortable way possible.
Each charming luxury accommodation comes with plenty of perks, like an ice bar, restaurants, and wintry activities. Even better, most offer prime viewing opportunities for witnessing the enchanting dance of the northern lights (aurora borealis).
Whether you're looking for a room carved out of ice or an igloo with a see-through ceiling, these luxury snow hotels allow you to experience the true wonder of winter. It's an experience you won't soon forget.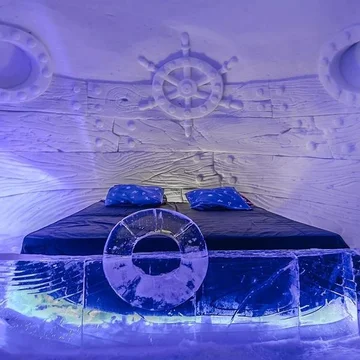 Snowhotel Kirkenes Norway
This northerly snow hotel is located at the very top of Norway, in the small town of Kirkenes. It's only 5 miles (8 km) from the border of Russia. Although the hotel is open year-round, the snow suites are only available in winter.
Check Availability
Each ice room is uniquely decorated with beautifully lighted snow sculptures. Many are inspired by Arctic culture. Enjoy a peaceful night's sleep on your large ice bed wrapped up in a thermal sleeping bag. Heated bathroom facilities are located in a nearby building.
If you'd prefer to stay in warm accommodation, winter cottages are also available. These intimate units are designed after traditional Sami hunting huts. They feature an ensuite bathroom and a seating area with large windows that look out over the frosted landscape. Make a cup of tea or coffee with the electric kettle and bask in the beauty of the secluded wilderness.
Breakfast and a three-course dinner are complimentary during all stays. You'll also have access to a sauna and activities like husky dog rides, snowshoe hikes, and northern lights tours.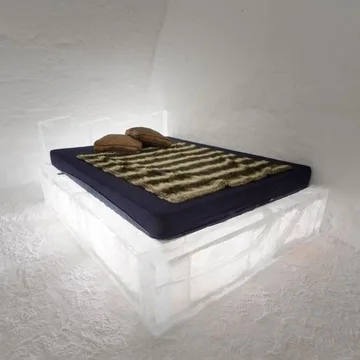 Saint-Gabriel-De-Valcartier, Canada
Hôtel de Glace
Hôtel de Glace in Canada is the only hotel made of ice in North America. Located in Saint-Gabriel-de-Valcartier, a municipality in Québec City, this snow hotel will make you feel welcome right away. As soon as you walk through the door, you'll be greeted with a refreshing cocktail served in an ice glass.
Check Availability
The hotel has a fun atmosphere. At night, get social with a few drinks from the ice bar before continuing onto the icy dance floor. For thrills, take a ride down the indoor ice slide. Don't forget to tour the ice chapel and admire the intricate details of the frozen building.
Each winter the snow hotel is rebuilt in a different theme. The rooms and suites showcase exquisite ice sculptures and frosted furniture. Some rooms include wood-burning fireplaces for a true fire and ice experience.
The hotel's outdoor Nordic area offers cozy thermal experiences. Spoil yourself with a Finnish sauna, a steam bath with essential oils, or a hot tub soak under the stars.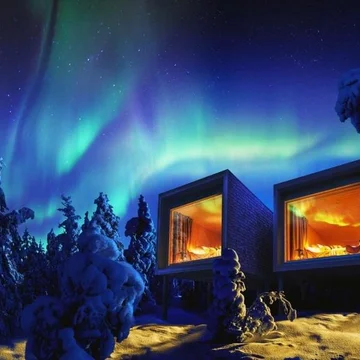 Arctic Treehouse Hotel
How does spending the night in a luxury treehouse sound? Located in Santa Park, in Finnish Lapland, this arctic hotel really rolls out the red carpet for its guests
Check Availability
The rooms are styled in modern Nordic design and include top-notch amenities, like a flat-screen TV, a tea/coffee maker, a mini-bar, and a lavish ensuite bathroom. They also feature large windows that offer panoramic views of the soft snowfall and frosted forest.
The front desk is open to assist guests 24/7. The friendly staff will help you book all your arctic activities, like a husky safari, a reindeer farm tour, or a relaxing Finnish sauna experience.
The hotel's on-site restaurant, Rakas Restaurant & Bar, was the 2019 winner of the world luxury restaurant award. When you dine here you'll be treated to a tasty Nordic-inspired meal next to a crackling fire.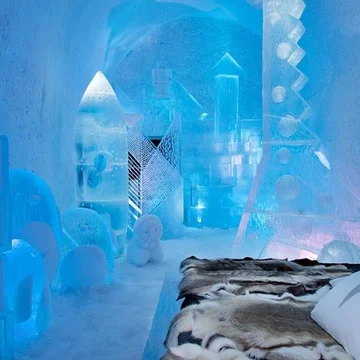 Ice Hotel, Jukkasjärvi, Sweden
Located in northern Sweden, the ice hotel in Jukkasjärvi holds the title of the world's first hotel made from snow and ice. The rooms are made entirely out of the frozen water collected from the nearby Torne River. Each winter, the hotel is reborn as international artists gather to create masterful ice carvings.
Check Availability
The individually decorated cold rooms feature imaginative ice sculptures adorned with colorful lights. They are kept between 18 and 23 degrees Fahrenheit (-5 to -8 degrees Celsius). But don't worry, you'll keep warm and toasty tucked into thermal sleeping bags, which are laid on an ice bed covered with thick reindeer furs.
Heated hotel rooms are also offered on the property next to the ice hotel. These comfortable units feature a private bathroom, a flat-screen TV, and a seating area. If you book into a warm room, you'll receive free entrance and a guided tour of the ice hotel.
This famous ice hotel also features a heated restaurant and warm lounge where guests can enjoy a comforting meal and a drink. There's also a below-freezing ice bar that serves specialty cocktails. For a luxury arctic experience, book an invigorating wood-burning hot tub and ice bath combo or a relaxing sauna session.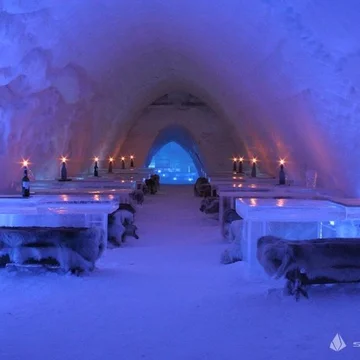 Lapland Hotels Snow Village
Lapland Hotels Snow Village is one of the coolest places to spend the night. Each year, an ice hotel is rebuilt from scratch in a fun new theme. The rooms are made of furniture carved from ice and elaborate frosted snow sculptures enhanced by bright lights.
Check Availability
The temperature ranges from 23 to 28 degrees Fahrenheit (-2 to -5 degrees Celsius), but you'll be nice and snug in a fleece-lined sleeping bag. For guest's comfort, the bathroom facilities are located in a nearby heated building.
The hotel also offers luxury heated cabins for longer stays. These spacious and comfortable units include top-notch amenities, like a sauna, a hot tub, and a kitchen.
The heated Log Restaurant and chilly Ice Restaurant will take care of all of your dining needs. Both eateries offer the same menu. For drinks, head to the Ice Bar and enjoy a romantic candlelit atmosphere and hot and cold beverages.
Organized activities can be booked through the hotel's reception. These include ice fishing, husky dog sledding, and snowmobile and reindeer safaris. Whether you're after adventure or relaxation, this Lapland ice hotel will treat you to a vacation you won't forget.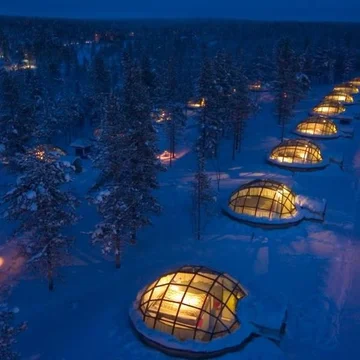 Delight in the silence of the hotel's whimsical igloo village. Each heated unit has a glass roof so you can admire the winter wonderland scenery from the comfort of your luxury bed. Some igloos also include private saunas.
The wooden chalets are spacious and include modern luxuries, like a kitchenette, a seating area, a fireplace, and a private sauna. The newly built Kelo-glass igloos offer the best of both worlds. These luxury units combine the comfort of a chalet with the jaw-dropping views of a glass igloo. They feature a private sauna, a fireplace, and a kitchenette.
There are two restaurants on the property where guests can indulge in Laplandic specialties, like reindeer and char-grilled salmon. If you're keen on an arctic adventure, schedule a snowmobiling excursion, or a husky or reindeer safari. For a traditional wintery expedition, Nordic walking sticks, snowshoes, and cross-country skis can be rented through reception.
There are six saunas on the property, including the world's largest smoke sauna. After a fun day of activities, wind down with some rest and relaxation – Finnish style. If you want to enjoy a sauna experience like the Finns do, finish with a dip in the nearby ice hole.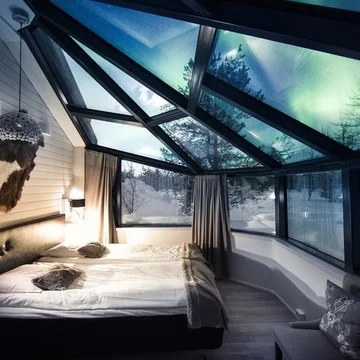 Thanks to the glass-roofed ceiling you can gaze out into the snowy sky while keeping warm and cozy. Several igloos also come with private saunas. Other luxurious amenities include bathrobes, slippers, a tea/coffee maker, and a rain shower.
The flat-screen TV and free WiFi will keep you connected to the outside world. A tablet is also standard in all rooms. Use this device to set up an alarm for the reception to notify you when the northern lights make an appearance.
Enjoy your meals at the Arctic Eye Restaurant, which specializes in local and international cuisine. Breakfast is complimentary. If you'd prefer to eat in your igloo, room service is also available.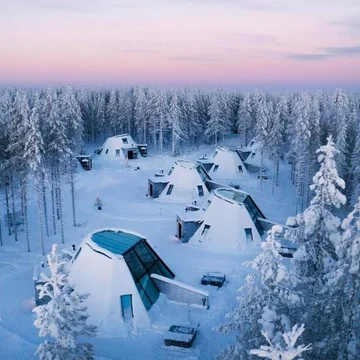 Glass Resort
Located right in Santa Claus Village, in Rovaniemi, Finland, the Glass Resort is an igloo hotel unlike any other. Spend the night inside a luxurious modern igloo packed full of pampering amenities.
Check Availability
The units feature floor-to-ceiling windows so you can stay warm while taking in the beauty of the enchanting snowy scenery. Thanks to the kitchenette and tea/coffee making facilities, you'll always have access to a hot drink or a snack. The sauna and private outdoor hot tub are the cherries on top!
Santa Claus' Office can be reached in just minutes on foot; swing by and meet the man himself. At the hotel's tour desk, you can schedule fun activities, like northern lights expeditions, husky safaris, and reindeer rides.
The on-site restaurant is the perfect place to satisfy your hunger. The menu is full of local delicacies. Complimentary breakfast is offered here each morning for guests of the igloo hotel. For more dining options, be sure to visit the restaurants and cafes in Santa Claus Village.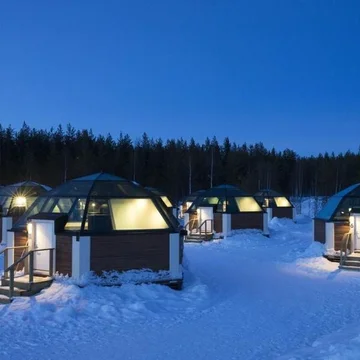 Arctic Snow Hotel & Glass Igloos
Arctic Snow Hotel & Glass Igloos is one of Finland's most stunning snowy accommodations. It's located on the Arctic Circle, just a 30-minute drive from Rovaniemi. As the name implies, guests can choose between two types of accommodation.
Check Availability
The igloo's decorated ice rooms are kept at a cool 23 to 32 degrees Fahrenheit (0 to -5 degrees Celsius). You won't feel the chill when tucked inside your thermal sleeping bag. And, thanks to the electric lights, the rooms have a warming glow.
The snow igloos have glass roofs that offer breathtaking 360-degree views of the sky. When the northern lights make an appearance, an alarm system notifies guests that this magical phenomenon is visible. With heated floors, an ensuite bathroom, and a motorized bed that changes position, you'll be kept comfy and cozy your whole trip.
The property features an ice bar and three restaurants that serve traditional Lappish meals. Feast on braised Arctic Ocean salmon, savory mushroom soup, and succulent roast elk. Breakfast is included in your room price and served in the heated Log Restaurant. A Finnish sauna experience is also included in your room rate.
As far as frost-friendly activities go, guests can borrow snowshoes, toboggans, and kick sleds free of charge. Or, book an exciting ice fishing or snow sculpting excursion with a guide.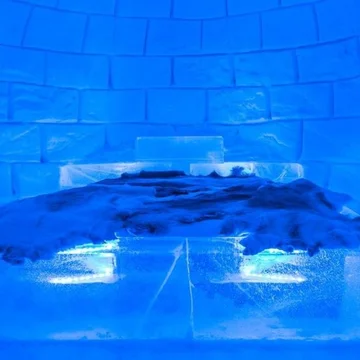 Sorrisniva Igloo Hotel
The Sorrisniva Igloo Hotel is the most northerly snow hotel in the world. It's located along the famous Alta River, on the country's northern coast. Each year this frosted accommodation is carved fresh from snow and ice.
Check Availability
The design is simple and sleek. Guests choose between double rooms, family rooms, or exclusive suites. The temperature hovers between 20 and 25 degrees Fahrenheit (-4 to -7 degrees Celsius). To combat the cold, the large ice beds are covered with thick reindeer furs and freeze-free sleeping bags.
A heated service building is located nearby with bathroom facilities and luggage storage. The igloo hotel also has a sauna and two outdoor hot tubs for warming up. In true snow hotel fashion, a glistening ice art exhibition is on display throughout the hotel with detailed sculptures chiseled from ice blocks.
Local specialties are served at the on-site restaurant; the flavors are inspired by Arctic Norway. Feast on moose and reindeer from the tundra and fresh seafood from the Norwegian Sea. The produce is also sourced locally. After you've warmed up with a meal, head to the ice bar for a nightcap.
Breakfast is served each morning at the restaurant and included in your room rate. Start your day with a filling meal, with choices like smoked salmon, cheeses, yogurts, berries, bread, and waffles. For a true arctic getaway, this ice hotel in Norway is the complete package.
Summary of the Best Snow and Ice Hotels
Treat yourself to a stay inside a hotel made of ice and snow. These unique accommodations are an ephemeral work of art. Their designs are simple, yet sophisticated. They reawake each winter and come to life with dazzling ice-carved architecture.
Cocoon yourself in a thermal sleeping bag and get ready to enjoy a luxury wintertime slumber. Or stay inside your very own igloo or wooden chalet and experience the snow from a cozy heated unit. As a bonus, most ice hotels also offer visitors the chance to see the spellbinding spectacle of the northern lights.
Whether you book into a luxury snow hotel in Europe or North America, you're in for a real treat. These bucket-list travel experiences are the ultimate way to experience the winter season.