A land of escape and splendor, Indonesia is one of those destinations that lures adventurous spirits. This is the home of the-most-sought-after travel destination Bali, sandy beaches, and stunning landscapes. This is also the land of 6000 inhabited islands, rare wildlife, striking temples, and active volcanoes. If this country with rich culture is on your bucket list and you're looking to spend some time in the lap of luxury, we've got you covered. In this article, we've reviewed the best luxury hotels in Indonesia that will add some extra bliss to your visit.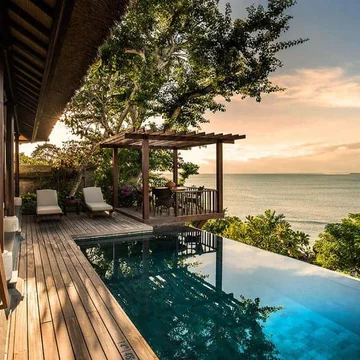 Four Seasons Resort Bali at Jimbaran Bay
The world's first luxury beach resort, Four Seasons at Jimbaran Bay, is ideal for honeymooners. This grandiose property is tucked in the charming village of Sayan, where the Ayung River and the wild nature all around create a dreamy atmosphere. A short drive will take you to Ubud – Bali's artistic epicenter.
Check Availability
Four Seasons is an all-villa resort that resembles a traditional Balinese village. The 147 spacious villas are surrounded by red palms, tropical flowers, and pink frangipani trees, and are just steps away from the beach. As you might expect, the views are simply sensational. The tropical interiors feature artworks from local artists, exotic Balinese artifacts, and fabrics in rich, sensuous colors. The spacious bedrooms feature marshmallow-soft beds that open up to a sundeck. Plus, every villa features a private plunge pool. The en suite bathrooms have marble floors, deep soaking tubs, and both indoor and outdoor showers.
The best way to spend your afternoon? Head over to the Sacred River Spa where you can enjoy a range of Asian and Balinese beauty treatments and massages. To make sure you look your best at the resort, book a hair treatment at the renowned Rossano Ferretti Hair Spa. For some tranquil time, the hotel's infinity pool surrounded by comfortable sun loungers guarantees relaxing afternoons.
At Four Seasons, guests can also indulge in excellent dining experiences. Traditional Indonesian dishes are served at Ayung Terrace, while the Riverside Cafe perched above the infinity pool spoils guests with Mediterranean plates.
The Garden Villa's rooms start at $540 per night.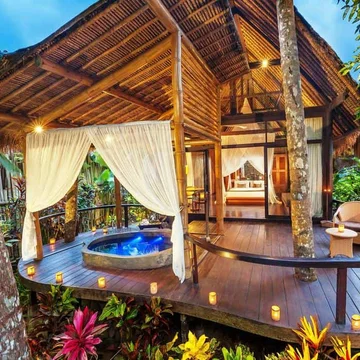 Five Elements Retreat Bali
Situated on the banks of the Ayung River, Five Elements is a peaceful sanctuary that offers guests the opportunity to embrace the vibrant Balinese culture. Here, you can learn about Balinese Healing, learn how to prepare plant-based cuisine, and practice sacred arts.
Check Availability
The resort takes pride in being an award-winning eco-conscious wellness retreat that pays homage to Bali's ancient traditions. Five Elements is located in the scenic village of Mumbai which has a few restaurants where friendly locals and international travelers can be spotted drinking their morning coffee. Plenty of landmarks are located within a 15-minute drive from the resort, including the Pasar Mumbai Balinese Market, Agung Rai Museum of Art, and Blanco Renaissance Museum.
The spacious bamboo villas feature expansive balconies overlooking the Ayung River. All units are designed in the shape of sacred spirals and feature tropical design. The refined look is accomplished with bamboo walls, large windows, grass-roofed ceilings, and recycled timber floors. King-size beds are fashioned with soft white linens and promise a good night's rest.
Villas amenities include air-conditioning, in-room safes, and free Wi-fi. There aren't any TV sets – the resort invites guests to embark on a spiritual adventure and experience harmony with nature. The most luxurious facility in the resort is the full-service spa which boasts private riverside rooms where guests can relax in river-stone healing bathtubs. Here, talented professionals offer a wide range of treatments including holistic massages, aromatic flower baths, acupressure, and aroma massages. Riverfront Villas start at $270 per night.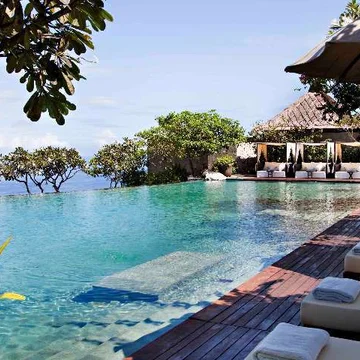 Bvlgari Resort Bali
In 2006, the Italian brand Bvlgari and Marriott International's Luxury Group decided to join forces and open a retreat in one of the most popular travel destinations in the world – Bali. The resort is located on a white sandy beach on the southern coast of Bali, in a quiet and peaceful area. A 15-minute drive will take you to the beautiful Uluwatu temple.
Check Availability
The resort boasts 59 villas that spread across an area filled with lush gardens and palm trees. Expect volcanic rock interiors and Javanese mahogany furnishings which create an exotic atmosphere. Bathrooms are spacious and commodious with marble floors, walk-in showers, double vanities, and deep soaking tubs. Plus, every bathroom has a glass door that leads to a private garden area. All units are equipped with lounge chairs, flat TV screens, Bang & Olufsen audio/video systems, in-room safes, and a table for alfresco dining. Plus, villas feature plunge pools which give way to some dazzling views over the Indian Ocean.
The resort has a full-service spa with a number of treatment rooms with floor-to-ceilin