An ancient land with a fascinating history – India is on the bucket list of all adventurous spirits. The home of thousand years old temples, rare wildlife, and the Taj Mahal, India offers extravagant travel experiences. If you want to explore India's beauty through its luxury hotels, expect nothing less than white-gloved hospitality, an abundance of luxury, and delicious cuisine.
Here are the 15 hotels that will enhance your stay at the "land of dreams and romance, of fabulous wealth and fabulous poetry".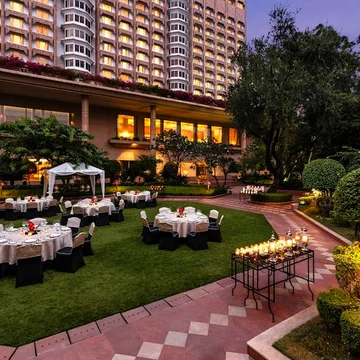 The Taj Mahal Hotel
Situated ideally in Lutyens' diplomatic quarter, the Taj Mahal Hotel is a premier spot to stay in New Delphi for high-end travelers who want to explore this vibrant town on foot. The hotel is within close proximity to major landmarks including the diplomatic areas and the central government areas. Just a 10-minute drive will take you to the Presidential Palace, the National Museum, and the India Gate.
Check Availability
With its pink facade, this 5-star hotel is a recognizable landmark stretching on six acres of beautifully landscaped gardens. Here traditional style meets sophistication – bold colors, old antique furniture, and unique artworks are woven together with the latest in contemporary accommodation. The moment you step into the lobby, you'll find yourself in a vast space filled with Indian-inspired decor – ornamental rugs, blooming floral displays, and plush velvet armchairs.
The rooms are spacious and elegant with classic decor and romantic ambiance. Standard amenities include a flat TV screen, air conditioning, Nespresso machine, pillow menus, fully-stocked minibars, and electric kettles. The Taj Mahal hotel has 26 suites which are regularly visited by business leaders, politicians, and visiting dignitaries. The Grand Presidential Suite pays homage to the designs of Delhi's most prominent architect, Sir Edwin Lutyens. Equipped with a master bedroom, library, working area, dining room, spacious marble bathroom, and a powder room, the Grand Presidential Suite provides guests with the most luxurious and comfortable accommodation in New Delhi.
Dining-wise, The Taj Mahal is exceptional. There's a 24/7 eatery and 6 restaurants all offering different types of dishes. The award-winning Varq serves classic Indian dishes, Ming specializes in Cantonese cuisine, while at the Wasabi by Morimoto you'll get the chance to try the best sushi in town. At Taj Mahal guest rooms start at $200 per night.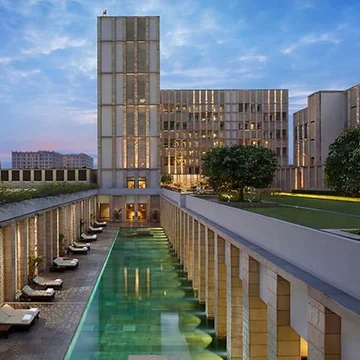 The Lodhi
The Lodhi is simply exceptional. Why? Because it offers a tranquil and luxurious retreat in one of the world's busiest capital cities – New Delhi. Plus, the hotel's convenient location in the heart of Lutyens near the mesmerizing Lodi Gardens makes it the ideal base for business and leisure travelers who want to explore all that this dynamic, cosmopolitan city has to offer.
Check Availability
Hotel rooms feature views across the Lodhi Gardens, Hazrat Nizamuddin Aulia Dargah, and over the first garden-tomb built in India – the Humayan's Tomb. A stone's throw away from the hotel are the Khan Market, Rashtrapati Bhavan, and The India Habitat.
Expect a drink upon arrival – the staff at Lodhi will go the extra mile to make your travel experience unforgettable. The Loghi features a minimalistic architecture with open spaces featuring stone patios, green lawns, grandiose fountains, and long grassy lawns. Another relaxation spot that's a guest favorite is the infinity pool surrounded with shady cabanas and lounge chairs.
Spacious and infused with natural light, the rooms at the Lodhi are all about comfort. The private plunge pools in every room are a nice touch. What's more, all rooms have views over the hotel's gardens which are well-manicured all-year-around. The rooms are decorated with beige rugs and dark wooden furniture, while the beds are fashioned with elegant linens. The bathrooms are quite commodious and equipped with bathtubs, walk-in showers, and double vanities.
The hotel has some stunning bars including the Safari lounge, decorated with photographs of wildlife, and the Electric room, which is more like a night club usually flocked with locals and high-end travelers. Indian Accent is one of the most renowned restaurants in New Delhi. Here Indian dishes are served in a luxurious setting with floor-to-ceiling windows overlooking the pool. At Lodhi, double rooms start at $360 and can go up to $400 in high season.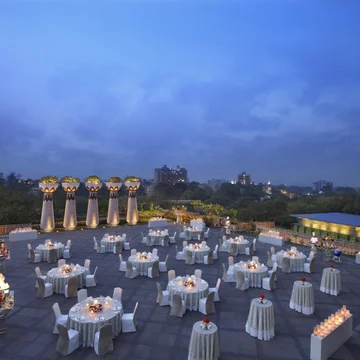 The Leela Palace New Delhi
With five-star opulence, decadent amenities, and world-class service, it doesn't come as a surprise that the Leela Palace was ranked among the 5 most luxurious hotels in New Delhi. The hotel regularly attracts high-end travelers, dignitaries, and politicians who want to experience comfort in the heart of New Delhi. The moment you step out of the hotel's gates, you'll find yourself near the prominent diplomatic enclave filled with stunning buildings. Additionally, this five-star pearl is in close proximity to Sarojini Nagar and the Hauz Khas Village.
Check Availability
At the hotel's rooms, guests have the opportunity to relive a royal era in a spacious setting colored in a red and gold palette with some elegant velvet accents. The rooms feature a romantic ambiance with floral-patterned rugs, black and gold furniture, and king-size beds fashioned with elegant linens. The bathrooms are equally spacious with cream-colored marble floors, deep soaking tubs, separate showers, and TV screens. Plus, you'll love the smell of Leela's signature rose-scented toiletries.
One striking feature of the Leela Palace is the heated infinity pool which boasts epic views over New Delhi. Here guests can relax on comfortable sun loungers and sip delicious cocktails all day long. At the hotel's renowned spa, rejuvenation and relaxation are guaranteed. Book a massage, facial, anti-cellulite treatment, or take part in a yoga class – you can't go wrong by choosing any of these options. The Grand Deluxe Rooms start at $200 per night.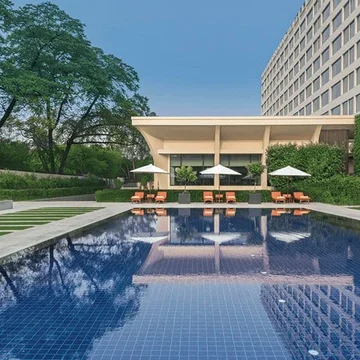 The Oberoi
Known as New Delhi's fanciest hotel for over half a century, The Oberoi was the first hotel to introduce 24/7 room service and butler service in India. Countless A-listers and luminaries have been welcomed at the hotel including Giorgio Armani, Queen Matilde of Belgium, Tony Abbot, Hamid Karzai, and Roshan Seth. Recently, the hotel has undergone a $100 million renovation which has kept it shut for over 20 months . Once the renovations were over, the Oberoi has reemerged as New Delhi's most opulent hotel offering world-class service and decadent amenities.
Check Availability
All rooms at the Oberoi boast epic views over the 16th-century garden tomb of Emperor Humayun, a Unesco World Heritage Site. No detail has been spared at the 220-generously-sized rooms featuring elegant decor and modern amenities. Stretch out on the comfortable king-size bed, have a productive day at the oak writing desks overlooking an abundance of greenery, and don't hesitate to call for in-room dining. Room amenities include flat TV screens, iPad docking stations, Nespresso machines, and air conditioning.
At the hotel's suites, luxury abounds. Expect a master bedroom, separate living room with a powder room, pantry, and a spacious dining room. The ensuite Italian marble bathroom is extremely comfortable with a deep soaking tub, separate shower, and a small TV screen set into the mirror. The Kohinoor Suite is known as one of the most luxurious suites in New Delhi regularly booked by dignitaries and politicians.
The Oberoi features three elegant restaurants. At Omya, the Michelin starred chef Alfred Prasad serves Indian dishes, and at Baochuan Chinese specialties are served in an opulent setting. If you're in the mood for just a drink, delicious cocktails and whiskey are served at the rooftop bar overlooking New Delhi's skyline. The deluxe rooms at Oberoi start at $180 per night while the Deluxe Suite costs $1,360 per night.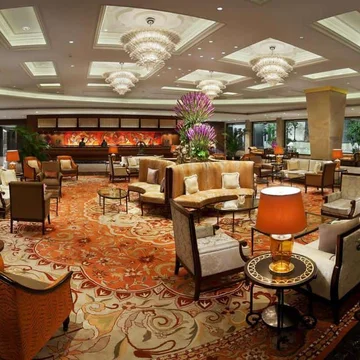 The Taj Mahal Palace
The Taj Mahal hotel brand is a world leader in hospitality and the brand's recognizable style is most evident at Mumbai, which is where their first hotel ever was built. Since 1903, the Taj Mahal Palace epitomizes sophistication, world-class service, and extravagant attention to detail.
Check Availability
The hotel's grandiose property is a recognizable Mumbai landmark, situated in close proximity to the city's historic precinct featuring Indo-Saracenic and Victorian architecture. A stone's throw away from the hotel is the vibrant Colaba Causeway and the seaside promenades of Apollo Bunder and Marine Drive.
The Taj Mahal Palace encompasses two large parts: the new wing and the old wing. The latter was built a century ago during the British Rule. The two parts of the hotel feature sophisticated interiors filled with ornamental rugs, fresh flows, original artworks from prominent Indian artists, and high ceilings.
When it comes to the rooms, the old wing and the new wing offer different experiences. At the old wing, expect old-world grandeur and historic atmosphere with heavy drapes, dark-wood furniture, and velvet sofas. On the other hand, the contemporary tower rooms feature a modern and minimalist design, while the floor-to-ceiling windows create an airy space infused with natural light.
What sets the Taj Mahal Palace apart from other luxury hotels in Mumbai is the lavish infinity pool which is frequently listed as one of the best pools in Mumbai. For a standard room at The Taj Mahal Palace, you can expect to pay $150 per night, while the suites start at $300.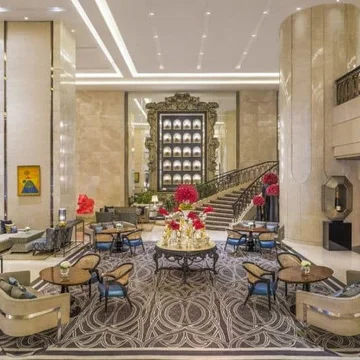 The St. Regis Mumbai
Situated in Mumbai's tallest building, The St. Regis Mumbai is an ideal choice for guests who want to experience high-end luxury in a vibrant atmosphere. The St. Regis is located in Lower Parel, Mumbai's most entertaining district filled with bars, nightclubs, and restaurants. A short walk away from the hotel are High Street Phoenix and the Palladium Mall, where you can find an array of international luxury brands including Gucci, Jimmy Choo, Coach, and Burberry.
Check Availability
WIth on-call butler service, in-room dining, and champagne sabering ceremonies, St. Regis is all about world-class service in an extravagant setting. Traditional English tea is served in the vast lobby decorated with crystal chandeliers, elegant sofas, and a piano.
Rooms feature an eclectic mix of contemporary accommodation with India-inspired decor. Here you can indulge in a romantic ambiance colored in gold and crimson palette with textured walls, floral-patterned carpeting, and dark wooden furniture. Room amenities include a flat TV screen, free Wi-Fi, Nespresso machine, kettle, minibar, and air-conditioning. Additionally, all guest rooms and suites at St. Regis feature views over Mumbai's skyline or the Arabian Sea.
The St. Regis offers an array of over-the-top facilities including a lavish spa, rooftop pool, hot tub, rooftop bar, and a modern gym. For a guest room with a city view, expect to pay $150 per night throughout the whole year.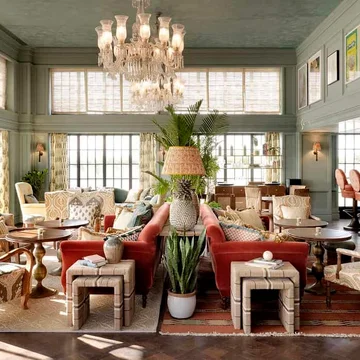 Soho House Mumbai
Soho House Mumbai boasts an ideal location on one of the most popular beaches in India – Juhu Beach. As you might expect, Soho House Mumbai provides guests with the most dazzling views over the Arabian Sea. The Soho hotel brand is well-known for its attention to detail, however at the Soho House Mumbai, this luxurious hotel chain has surpassed itself with the excellent art collection. Don't forget to take a look at Subodh Gupta's famous sculpture My Stars and Bharti Kher's glittering Algorithm for Life.
Check Availability
Soho House Mumbai features 38 bedrooms divided into four categories: small, medium, big, and medium sea view. The small room is ideal for a couple looking for a cozy and romantic space. It features a king-size bed, a small bathroom, a dressing table, and a balcony. The medium sea view features a vast balcony, which offers guests dazzling views over Juhu Beach. The rooms boast exceptional decor with Egyptian cotton sheets, colorful cushions, and Rajasthani block-print coverlet. Aesthetes will appreciate Soho's signature vintage touches such as thick rugs, retro Roberto radios, and rare pieces of furniture. Room amenities include air conditioning, an electric kettle, a Nespresso machine, a large TV screen, and a movie library.
Soho House Mumbai regularly hosts live music, movie nights, lectures, and yoga classes. The hotel's rooftop bar and restaurant are packed with fancy locals and international travelers ready to mingle while enjoying the mesmerizing sunsets over Juhu Beach. Double rooms at Soho House Mumbai start at $180 per night.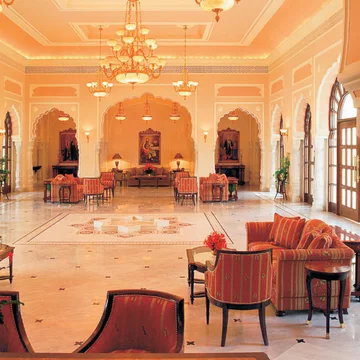 Rambagh Palace
Built in 1845, Rambagh Palace has a long and glamorous history as a residence of a number of royal families including the Maharaja Sawai Man Singh II and his queen, Maharani Gayatri Devi.
Check Availability
Stretching on 48 acres of land, the hotel is situated in an upscale area outside of the old city. Nearby attractions include the Rajasthan High Court, the Secretariat, and The Sawai Man Singh Cricket Stadium. Take a 15-minute drive and you'll reach some of Jaipur's most prominent landmarks including Jantar Manter, the Albert Hall Museum, and the absolutely stunning piece of architecture – Hawa Mahal.
Expect palace-style interior with grandiose cupolas, hand-carved marble latticework, and sandstone balustrades. Rambagh Palace also offers world-class service – guests are welcomed with a shower of rose petals while a photographer takes a photo of their arrival at the hotel under a big umbrella.
At the Rambagh Palace guest rooms and suites, you'll definitely feel like royalty. They all maintain the palace's historic charm and some of the suites were the personal chambers of the Maharaja of Jaipur. Expect king-size beds fashioned with Egyptian cotton bedding, Rajasthani artwork, dark wooden furniture, and marble bathrooms.
At Suvarna Mahal, Indian dishes are served in an extravagant setting featuring frescoed ceilings, crystal chandeliers, and a carpet that took seven years to make. Expect to pay $540 for a double room if you decide to stay here.
Situated on an island in the midst of Lake Pichola, this breathtaking palace offers epic views over the nearby City Palace, Machala Magra Hills, Jag Mandir, and Aravalli Hills. The hotel boasts 65 opulent guest rooms and 18 grand suites. Expect unforgettable experiences at these generously-sized rooms which are truly the epitome of royal grandeur. All rooms and suites are individually themed and offer epic views – we especially recommend the rooms with a view over the City Palace. Suites ooze elegance and sophistication with ornate glass work, high ceilings, unique artworks, traditional Indian silks, and dark teak furniture. Round the clock butler service is available for every room.
The hotel's restaurants are equally stunning as The Taj Lake Palace's interiors. Get a taste of the unique Udaipur cuisine at Neel Kamal or treat your taste buds with European specialties at the rooftop restaurant which offers epic views. A night at this extravagant hotel starts at $450 for a guest room.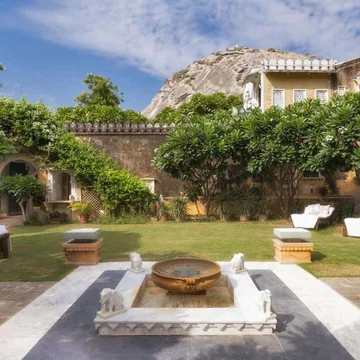 Rawla Narlai
An oasis located in the desert countryside, "Rawla Narlai" is a luxurious hotel surrounded by natural landscapes of utmost beauty. Rawla Narlai is situated among the world's oldest mountain ranges – Aravali, and it was once used as a hunting manor for the Jodhpur royals.
Check Availability
The property was beautifully restored and attracts an upscale clientele.
At the 38 rooms, you'll find your own personal sanctuary. Every room features a unique design and you can expect extravagant interiors filled with dark wooden furniture, hand-painted walls, unique artworks, velvet sofas, and original murals of the royal procession.
One striking feature of Rawla Narlai is the vast pool hidden behind the garden's walls. Here guests can relax on the comfortable sun loungers and enjoy drink pool service. The staff is well-mannered, attentive, and ready to go the extra mile to fulfill every guest's need. You can ask them to join you on a sightseeing tour where you can spot leopards or visit the royal hunting trails into the hills. Drink some English tea by the lake, ride horses, or book a spa treatment by the pool, and make your stay at Rawla Narlai even more unforgettable. The prices for a room at Rawla Narlai are decent, starting at $140 for a night in the Grand Heritage room.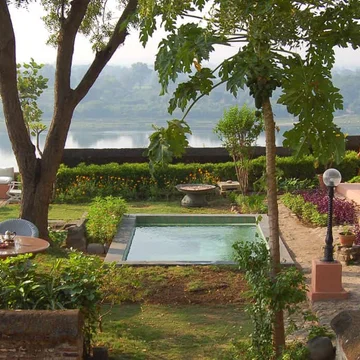 Khargone, Madhya Pradesh, India
Ahilya Fort
Situated high above the holy Narmada river, Ahilya Fort is a luxurious retreat located in the Indian town of Maheshwar. The property was built by Maharani Ahilyabai Holkar and was used as his residence in the 18th-century. Twenty years ago, Prince Richard Holkar decided to turn this marvelous building into a hotel that regularly hosts exclusive clientele.
Check Availability
Guests can stroll around three acres of beautifully landscaped gardens, mysterious pathways, and gorgeous fountains. The hotel boasts 19 uniquely designed rooms. Elegant and spacious, the rooms are equipped with comfortable king-size beds, antiques, unique artworks, and hand-painted walls. Room amenities include air conditioning, fridges, minibars, electric kettles, and coffee makers. Bathrooms are commodious with marble floors, walk-in showers, and homemade soaps.
Needless to say, the service is top-notch. The hotel has a masseur which specializes in traditional massages, an excellent library, and some bicycles which you can rent if you want to explore the region. Delicious cocktails are served at the terrace which gives way to some spectacular sunsets. Don't miss to get a taste of the hotel's signature dishes – Kashmiri Dogra court duck in pomegranate or aubergine in a tamarind yogurt served in a luxurious setting overlooking the Narmada River. At Ahilya Fort, double rooms start at $360 per night.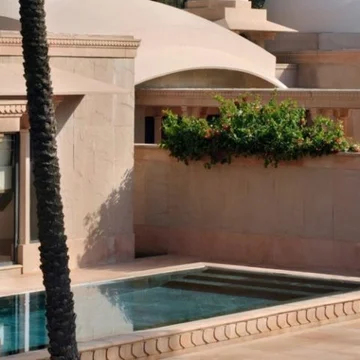 Amanbagh Aravalli Range
Amanbagh Aravalli Range represents a tranquil oasis in the city of Rajasthan, that's widely renowned for its wild beauty. The property was once used by the Maharaja of Alwar as a base for royal tiger hunts. Nowadays, this luxurious resort seduces guests with its rooms set amidst lush gardens filled with palm, fruit, and eucalyptus trees.
Check Availability
The pink sandstone retreat is as stunning on the inside as it is on the outside. Interiors were designed by the renowned architect Ed Tuttle who managed to blend traditional style with the latest in contemporary accommodation. The rooms are spacious and elegant with a comfortable king-size bed, high-ceilings, writing desks, and sofas. Room amenities include a well-stocked minibar, air conditioning, and a sound system. You'll get a monkey stick given that these beautiful animals are regular visitors in the garden. The bathrooms feature bathtubs carved from Udaipur's signature green marble and walk-in showers.
For an elevated experience, book the Terrace Haveli Suites which boasts some dazzling views over the pool and the gardens. Indian dishes are served in an elegant restaurant overlooking the pool. Expect to pay $750 per night for a double room if you choose to stay at Amanbagh Aravalli Range.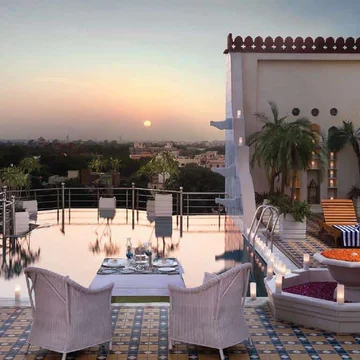 Narendra Bhawan Bikaner
An oasis in the middle of the Thar Desert, Narendra Bhawan Bikaner captivates guests with velvet-gloved treatment, decadent amenities, and luxurious accommodation. The property was the residence of Maharaja Narendra Singh and was transformed into a boutique hotel in 2017 under the rule of the Queen Mother.
Check Availability
The epitome of royal luxury and sophistication, the hotel continues to salute the style of its last Maharaja. All 82 rooms are generously-sized and feature epic views over the hotel's gardens. Decorated with local crafts, unique artworks, sculptures, and warm green-painted walls, Narendra Bhawan Bikaner offers guests unparalleled luxury and comfort. Regular amenities include a flat TV screen, tea and coffee machines, air conditioning, and a well-stocked minibar.
Guests' favorite spot is definitely the rooftop infinity pool which offers some stunning views over the city. Pour yourself a cocktail and indulge in the dazzling sunsets over Rajasthan. Get a taste of the best of the Rajasthani cuisine at the P&C restaurant featuring a menu that was enjoyed by the royal family. A stay at the Narendra Bhawan Bikaner will cost you $250 per night.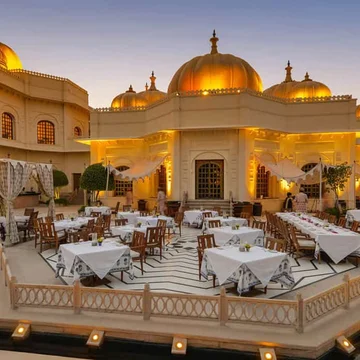 The Oberoi Udaivilas
The Oberoi Udaivilas offers luxurious accommodation in the heart of Udaipur. The best way to experience the "city of lakes" is certainly through the rooms of this five-star hotel set amidst lavish gardens and marvelous pools. The grandiose property stretches on 30 acres facing the banks of Lake Pichola.
Check Availability
What to expect? Over-the-top amenities and palace-style opulence. The property itself is just stunning with giant golden cupolas and an enormous dome. The interior is equally dazzling with countless mosaics, hand-painted walls, sculptures, and brass doors. The rooms, colored in a natural palette, offer uninterrupted garden views. Expect Perusian rugs, king-size beds with elegant linens, and ensuite bathrooms with views over the sun-drenched courtyard.
The hotel spoils guests with a number of activities that'll give them a chance to explore the beautiful surroundings of Udaipur. Talented guides can show you the city and you can also tour the area on a boat or a bicycle. A romantic dinner by the lake? The staff will immediately arrange this for you. And if this isn't enough, you can also book cooking lessons, henna painting, astrology reading, and turban tying, as well as camel rides. Here, standard rooms start at $1,300 per night.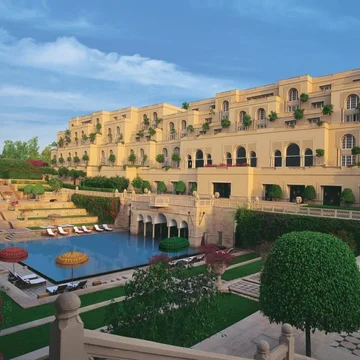 The Oberoi Amarvilas
The top-billing address for a hotel in India? It must be somewhere near the Taj Mahal. And that's exactly where the Oberoi Amarvilas is situated. What's more, all rooms at this extravagant hotel feature epic views over the Taj Mahal. At night, when the setting turns the landmark pink – this is where you wanna be with your loved one.
Check Availability
Expect exotic grandeur, India-inspired decor, and flame-lit pavilions which catch people's attention from far away. Aesthetes and high-end travelers will especially love the rooms which showcase Indian craftsmanship with the traditional bed frames, hand-knotted rugs, Mughal-inspired interiors, and silk bedding. However, your eyes will always wander to the large windows where you can indulge in uninterrupted views over the Taj. The white marble bathrooms feature warm green wall panels, deep soaking tubs, and a shower cubicle.
With an enormous swimming pool, two elegant restaurants, a lavish spa, and 24/7 butler service, The Oberoi Amarvilas is arguably the best spot to stay in Agra. Room rates start at $460 per night for a double room.
Find Luxury Hotels in India