Almost everyone dreams of traveling in style and staying in a five star hotel at least once in their lifetime. But, in this day and age, hoteliers have stepped up the game by including services that go above and beyond the standard five star features.
However, the following 6 star hotel list contains only the best of the best. Whether you're looking to travel to Turkey or vacation in the UAE, there's sure to be a luxury hotel waiting to exceed your expectations.
Five Star, Six Star & Seven Star – What's the Difference?
High-end travelers know that a luxury, five star hotel includes tasteful decor and offers a presidential suite as the top room. Additionally, amenities such as a spa and room service come as a standard.
However, what sets six star hotels, and even seven star rated hotels apart is their extraordinary services. With personal butlers, limousines, on site galleries and hair stylists, these hotels certainly are a step above the rest.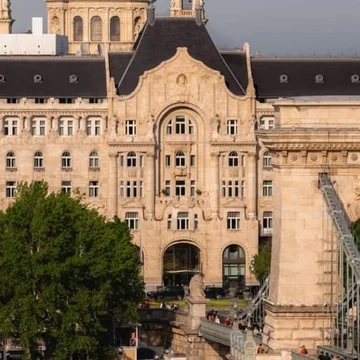 Gresham Palace
Located on the banks of the River Danube, this historic six star hotel oozes luxury. The spacious rooms have been tastefully decorated. The top choice rooms feature lounges as well as floor-to-ceiling windows that allow you to look out over the city and its attractions.
Check Availability
When you're not enjoying your sumptuous room, you'll find plenty to do within Gresham. The wellness center features an indoor infinity pool, personal train, and Hungarian-style treatments in the hotel's spa. Or, pop into the hotel's bar to try a unique craft cocktail experience.
Now, if you think you can't travel in style if you have your kids in tow, then you haven't been here. The Gresham Palace Hotel has several indulgences for your little ones. From complimentary games, books and video games to welcome gifts and child-sized bathrobes, they'll be spoiled during their time here.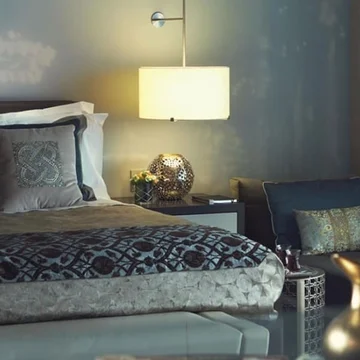 Raffles Hotel
At the six star Raffles Hotel, you're in for an absolute treat. Lining the corridors and placed in each room, you'll find numerous artworks by international artists. They were commissioned specifically for the Raffles hotel and portray the dual nature of Istanbul.
Check Availability
This 6 star hotel is in a prime position. Located within the Zorlu Center, it's surrounded by luxury properties, high-end shops, and several restaurants and cafes.
In your room, you'll find plush Turkish carpets, perfectly embroidered items, and more. Thanks to the floor-to-ceiling windows, you can take in the panoramic views of historic Istanbul.
Use your personal tablet to adjust the lighting in your bedroom, order room service, or call on your personal 24-hour butler. Oh, and did we mention that The Raffles is pet-friendly too?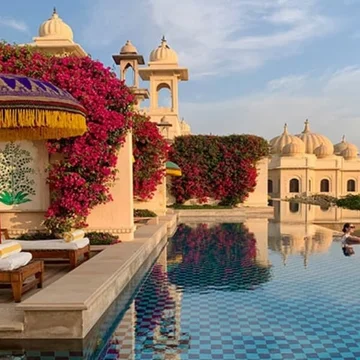 The Oberoi Udaivilas
If you choose to stay at the Oberoi Udaivilas, your arrival will certainly be something to remember. Once you've been picked up from the airport, you'll be taken to the private boat waiting on the waters edge of Lake Pichola. After being ferried across the water, you'll stroll through immaculate gardens to the stunning accommodation.
Check Availability
One of the highlights of staying at this hotel is the incredible hospitality displayed by its staff. They go above and beyond to ensure that you do not only feel welcomed but have a memorable stay where your every need is anticipated, before you've even realized it's there.
While at this luxury 6 star resort hotel, try the cooking classes, professional painting lessons, or reach your inner zen during a private yoga class.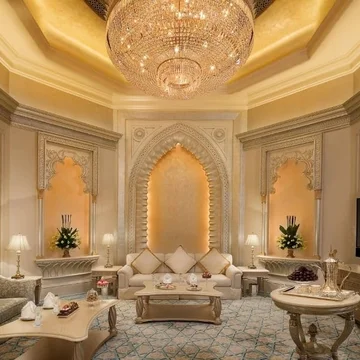 Abu Dhabi, United Arab Emirates

6
Emirates Palace
Have you ever considered getting a 24 karat gold facial, perhaps a diamond-infused essential oil? Well, these are just two of the luxurious experiences you can have while staying at this Dubai six star hotel.
Check Availability
Spend your days lounging on one of the many cabanas dotted along the 1.3km of private beach, stroll along the marina, or take in the beauty of the 100-hectare garden.
As a guest at this hotel, you can look forward to staying in an opulent room. Each one is fitted with a desk, coffee and tea station, iPad for controlling amenities, a pillow menu, and a butler service.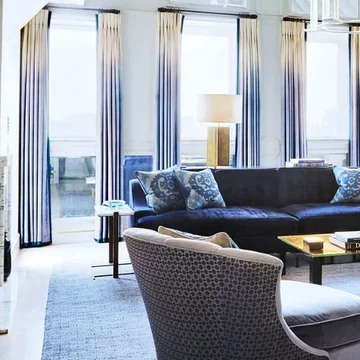 Mayfair, London, United Kingdom

6
The Connaught Hotel
This 19th-century hotel's red-brick exterior holds within it a swanky interior where old meets new. You'll be greeted by friendly staff, who pay meticulous attention to detail, before being swept up to your classically à la mode room.
Check Availability
With your butler at the ready, you'll be unpacked in no time. Now, you can sit back and relax or head down to the hotel's two Michelin 3-Star Hélène Darroze restaurants.
Other services offered by the hotel include shoe shining, clothes pressing, gym facilities, chauffeurs, and a dedicated business center.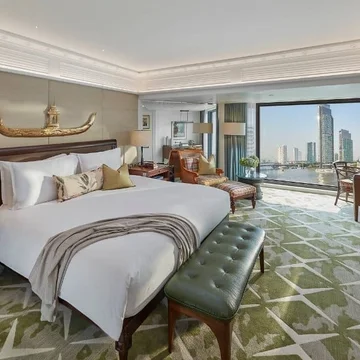 Mandarin Oriental
Having originally opened in 1876, the Mandarin Oriental is one of the oldest hotels in Bangkok. The interior certainly mirrors the grandeur of this luxurious hotel. As you enter the hotel lobby, you'll hear the sound of water bubbling in a fountain, and silk fabrics are draped throughout the entrance.
Check Availability
The Mandarin Oriental is located on the banks of the Chao Phraya river, meaning you'll get to take in spectacular watercourse views. When you're not taking in the view, spend some time admiring the wonderful art pieces that can be found in the hotel's art galleries.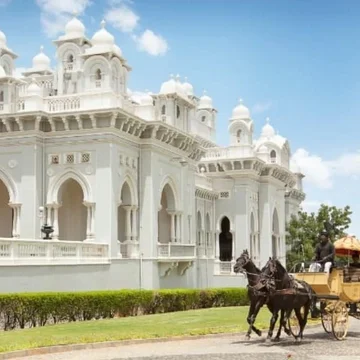 Taj Falaknuma Palace
The Taj Falaknuma is a hotel (with six stars) you won't soon forget. As you arrive, you'll travel by golden, horse-drawn carriage to the front steps (which are blanketed in pink rose petals, of course).
Check Availability
You'll be welcomed by a genial staff who are always willing to offer their assistance.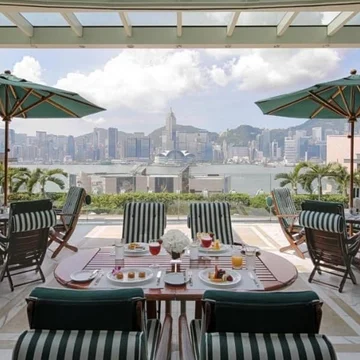 The Peninsula
The Peninsula maintains old-school luxury but adds a contemporary twist. This can be seen as soon as you reach the hotel's forecourt. Here you'll find several Rolls Royces and page boys waiting to open the door for you. Behind these doors, you'll come face to face with a giant traditional Fu dog sculpture in the lobby.
Check Availability
Any room you choose to stay in will be decorated in creamy tones, offset by wooden furnishings. Electronic panels allow you to control the lighting, music, temperature, and many other amenities in the room.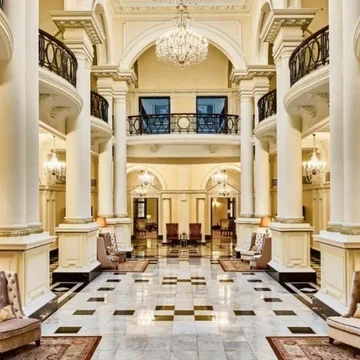 Waldorf Astoria Shanghai on the Bund
With marbled floors, sumptuous chandeliers, and expensive bouquet arrangements, walking into the Waldorf Astoria in Shanghai is quite the experience for guests. But this is only the start of the Waldorf experience.
Check Availability
In this six star hotel's Heritage Building wing, you'll find rooms decorated with canopy beds, carved wooden cupboards, and freestanding tubs. Oh, and you can snack on the complimentary handmade chocolates and candies placed on your bedside table.
The new wing's decor has taken a little more free reign. The rooms here contain Art-Deco style light fixtures, monochrome marble bathrooms, and dark wooden desks.
Other features within the Waldorf include digital controls in each bedroom and a barber/hairstylist on site.
Final Thoughts on Six Star Hotels in the World
When it comes to hotels with a six star rating, they certainly are in short supply. But then again, if you could find these unique places by the dozen, they wouldn't be quite so special anymore.
Whether you enjoy all-inclusive, top-notch services, palatial rooms, or sophisticated decor, the above 6 star hotels will undoubtedly alter the way you look at hotels.