Whether your goal is to visit a large metropolis like Beijing or a secluded island like Hainan Island, we have selected a wide range of luxury hotels in China to help you choose your next accommodation abroad.China's tourism flourished in 2019 – over 415 million tourists were detected exploring this ancient country, and the number is expected to rise in the following years. Regardless of when you're planning your next visit, we hope you find this article helpful and informative.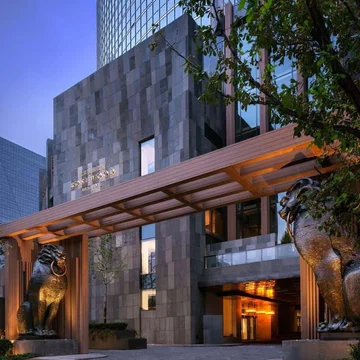 Rosewood Beijing
The Rosewood Hotel chain is known for its elegance and attention to detail regarding aesthetics. The central location of Rosewood Beijing will allow you to explore all main tourist attractions, like the Forbidden City and Tiananmen Square, which are a half an hour drive away from the property.
Check Availability
Rosewood Beijing incorporates pieces of local culture and contemporary artwork that enables guests to learn more about the city they're visiting. Chinese fiction books are present in each room and suite, while a generous minibar with every spirit you can imagine, and Lorenzo Villoresi amenities are also available. The accommodation's style is a blend of classic furnishings and modern touches, with a beige and white color scheme.
This hotel brand's notable facilities extend to Rosewood Beijing; from sizable and illuminated indoor swimming pools to a world-class on-site spa named Sense, the hotel's welcoming staff is dedicated to meeting all your demands.
Dining out at one of Rosewood Beijing's restaurants is a memorable and pleasant experience. Country Kitchen offers Northern Chinese specialities, including their famous hand-pulled Chinese noodles and dumplings. An abundant breakfast buffet is available for guests. For a thrilling night out with stunning city views and tasty cocktails, opt for Mei Bar.
The price for a standard room starts at $300 per night.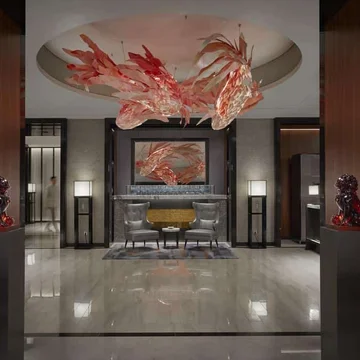 Mandarin Oriental Wangfujing
A five-star treasure situated near Wangfujing Avenue, Mandarin Oriental Wangfujing is one of the most visited luxury hotels in China. The location allows its guests to reach the main shopping district in China within a few minutes, which features luxury stores in the likes of Chanel, Louis Vuitton, Bulgari, and Buccellati. Similarly to Rosewood Beijing, the Forbidden City and Tiananmen Square are merely a short drive away, so you can easily tick off all items on your daily itinerary.
Check Availability
With a striking mix of modern opulence and Chinese flairs which Mandarin Oriental Hotels are recognized for, the common rooms at Mandarin Oriental Wangfujing ooze glamor and affluence. The palatial rooms and suites feature floor-to-ceiling windows that grant its guests a breathtaking view of the Beijing skyline, while the wooden and commodious king-sized beds guarantee a good night's rest. The bathrooms are as chic as it gets, with bowl bathtubs, marble designs, and complimentary Diptyque amenities.
A fitness center and a spa with an extensive list of treatments and massages are a few of the facilities available at Mandarin Oriental Wangfujing. If you want to go on a sensory adventure, The Mandarin Bar and Grill guarantee a culinary pleasure unlike any other, courtesy of their impeccable menu selection featuring amazing views of the Forbidden City. Café Zi offers a more casual dining option, perfect for a quick drink.
Prices start at $450 per night.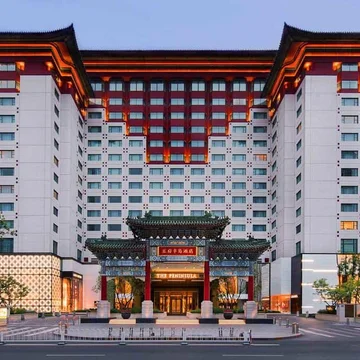 The Peninsula Beijing
Peninsula Hotels hardly needs an introduction. With a convenient location in central Beijing, The Peninsula Beijing, the first luxury hotel in China, is close to many local attractions, such as Wangfujing Street – the main shopping street in Beijing, St. Joseph's Cathedral, the Temple of Heaven, and the Forbidden City. Traffic can get hectic in Beijing, so the hotel offers complimentary bikes for their guests to freely explore the city.
Check Availability
Following a majestic entrance, the lobby at The Peninsula Beijing will charm you with its grand staircase and a spacious reception area. Aesthetes will undoubtedly appreciate the exhibition featuring spectacular paintings, photography, and sculpture displays. The hotel's elegant style is present in all the rooms and suites which come with separate living room areas and dressing rooms.
The celebrated Peninsula Spa will give you celebrity treatment and the ultimate rejuvenating package. Conveniently, there is a luxury shopping arcade on the property, including Dior, Prada, Gucci, and Gaultier stores.
Various dining options will be available during your stay. Visit Michelin-starred Jing Restaurant and Bar for contemporary French cuisine with an Asian flair, and the magnificent Huang Ting for scrumptious Cantonese cuisine and premium Chinese tea.
Price-wise, standard rooms start at $270.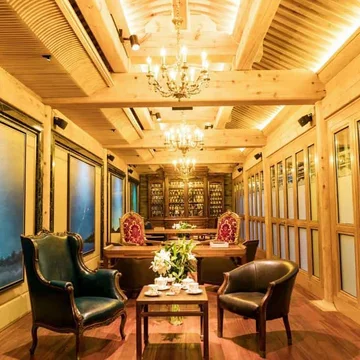 Cours et Pavillons
A palatial style is merged with traditional Chinese features, resulting in a truly unique stay for each and every guest at Cours et Pavillons. Special antiques and gorgeous paintings handpicked by dedicated experts grace the walls of both the common rooms and the suites alike, akin to a famous treasure-filled museum.
Check Availability
Each room is inspired by a different period in Chinese history, so if you want to understand all the intricacies that went into your accommodation of choice, brushing up on your history knowledge prior to visiting the hotel might be a good idea.
Beautiful gardens surround the hotel, making Cours et Pavillons feel like a tranquil oasis. Cours et Pavillons' location is slightly more secluded than the rest luxury hotels in China mentioned on this list; however, many Beijing attractions, like The Palace Museum, can be reached in a 20-minute walk.
The hotel staff is dedicated to treating their visitors like royalty, while the numerous amenities and services that are available will make your holiday comfortable and homely. Other services include a la carte breakfast, an elegant restaurant serving French cuisine and delicious afternoon tea, and a bar area.
Standard rooms average around $315 a night.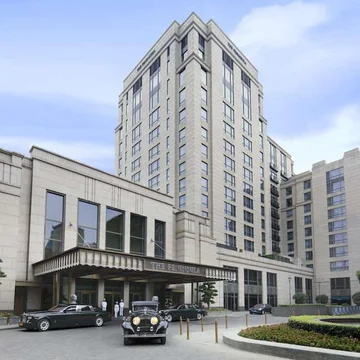 The Peninsula Shanghai
Another Peninsula hotel on our list, The Peninsula Shanghai is one of the most-visited luxury hotels in China. Sitting opposite The Bund, near Huangpu River, the location is ideal for anyone who appreciates stunning hotel views and top-tier locations for scenic walks around the city. The East Nanjing Road Pedestrian Street shopping district, where you can find a myriad of high-end stores, is a short walk away from the hotel. If you feel like exploring the city by water, you can book the hotel's yacht for a private cruise.
Check Availability
The rooms and suites at the Peninsula Shanghai are commodious, stylish, and filled with modern details and amenities. A Nespresso coffee machine, a large plasma TV, a scanner, and a printer are all available in every room. Traveling for a special occasion? The Deluxe River Room has, hands down, the best views of the city in the hotel, courtesy of the large glass windows.
A large indoor pool is available to use during your stay, as well as a well-equipped fitness center. The Peninsula Spa will give you access to replenishing massages and facials that are the perfect treat after a day of shopping and exploring. The Michelin-starred Yilong Court specializes in traditional Chinese dishes, while the Compass Bar serves splendid booze over live music.
Standard rooms will cost you approximately $300 a night.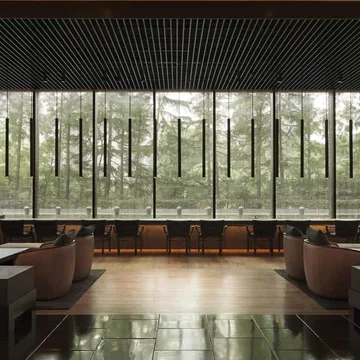 The PuLi Hotel and Spa
A magnet for fashion enthusiasts and models, The PuLi Hotel and Spa is known for its glamorous ambience and chic minimalistic style. Located in central Shanghai, this five-star hotel is within close proximity of the Jing'An Park, Yu Garden, and Réel Mall where you can shop high-end brands like Alexander McQueen and Emilio Pucci.
Check Availability
There's a seemingly endless list of amenities that guests can enjoy during their stay. A fitness center, a large swimming pool, a steam room, and a sauna are only a few of the options available at The PuLi Hotel and Spa. The on-site spa offers fun and replenishing treatments using unorthodox yet natural ingredients. The Michelin-starred Phenix restaurant serves irresistible French dishes with the help of fresh and local ingredients. The restaurant overlooks Jing'An Park, so be prepared to dine with a gorgeous view.
There are 229 rooms available for booking currently, all of which follow the same minimalistic yet chic design. The enormous windows will give you highly 'Instagrammable' views of Shanghai, both from the comfort of your king-size bed and the large bathtub in the bathroom.
The price per room averages around $250 per night.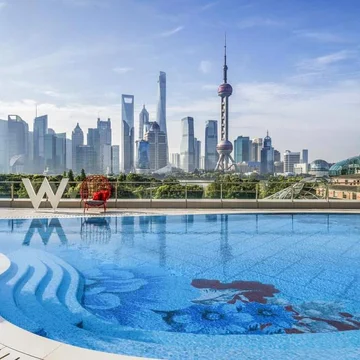 W Shanghai – The Bund
W Shanghai is a luxury five-star hotel located in the North Bund area. Despite the fact that this part of town is relatively new and not as lively as the rest, the area is home to plenty of restaurants and shops. Most tourist attractions like the Oriental Pearl Tower, Yu Garden, and Huangpu Park are only a fifteen minute walk away from W Shanghai, giving you the opportunity to explore the neighbourhood on foot and enjoy the scenery.
Check Availability
The gorgeous outside pool with incredible views of the Shanghai skyline is one of the most remarkable and recognized features of the hotel. Soak in the sun rays while enjoying the pretty vista and sampling some of the bar refreshments. The hotel's Away Spa offers enticing treatments that will give you the necessary stress relief. Alternatively, you can break a sweat in the well-equipped fitness center.
W Shanghai's amazing on-site restaurants and bars are just the cherry on top of a spectacular service. The Kitchen Table's menu is an international one, adequate for any culinary taste. Yen, another W Shanghai restaurant, focuses on authentic Cantonese cuisine. The Woo Bar and the Wet Bar are often the nighttime hotspots of Shanghai, with live music, impressive views, and an impeccable cocktail selection.
Rooms start at $260.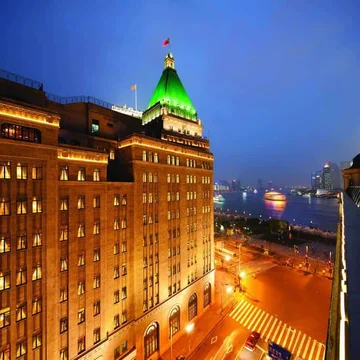 Fairmont Peace Hotel
Chic and lavish, Fairmont Peace Hotel pays homage to the country's history, which is certainly a unique characteristic in a luxury hotel in China. Often frequented by celebrities like Charlie Chaplin and Noel Coward, this hotel is among the most visited hotels in the country, and rightfully so.
Check Availability
Fairmont Peace Hotel has a central location in Bund, near Nanjing Road – the city's prime shopping destination full of brands like Alexander McQueen and Stella McCartney. This location makes for fantastic views of Huangpu River and the Bund from the suites above.
Art Deco in style, the suites are modern and elegant, brimming with bright colors and traditional details. Judging by the enviable list of amenities available, the guests' satisfaction is always the primary goal of the friendly staff. You will have access to a pool, a spa, and a sauna, among other services. With six restaurants and bars in total, including the famous Old Jazz Bar, every culinary preference will be met.
You can get a standard room starting from $250 a night.
CHECK AVAILABILITY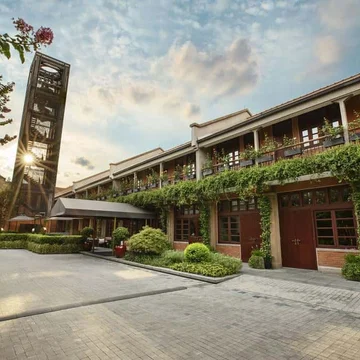 Capella Shanghai, Jian Ye Li
Situated in the popular Xuhui District, Capella Shanghai Jian Ye Li offers 55 palatial villas designed by Jaya Ibrahim that are bound to take your breath away. Each villa comes with its own private courtyard and a fully equipped entertainment room which will ensure that there is not a single dull moment during your stay. A generous minibar with a Lavazza coffee machine is present in every room. The bathrooms are quite large, with a beautiful marble design and complimentary Acqua di Parma products.
Check Availability
The service at Capella Shanghai Jian Ye Li is highly commendable, with personal assistants and a welcoming staff. The on-site Auriga Spa welcomes guests during the day, while the fitness center is available 24/7.
Three Michelin-starred chef Pierre Gagnaire's first restaurant in China is part of the hotel, offering traditional French cuisine and a majestic wine list in an intimate atmosphere, accompanied by scenic views of Shanghai. Breakfast includes delicious French pastries as well as local specialities.
The rates start at $435 per night.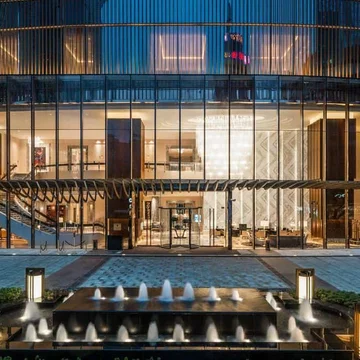 The St. Regis Chengdu
The ancient city of Chengdu is home to The St. Regis Chengdu, one of the most popular luxury hotels in China. Its supreme location makes it easy for guests to explore the most historic and beautiful parts of Chengdu, such as Tianfu Square, Chunxi Road, in addition to a plethora of designer stores at IFS Shopping Mall and many local restaurants.
Check Availability
The St. Regis Athletic Club will provide you with much-needed endorphins, while the premier Iridium Spa offers many relaxing therapies. In addition to other incredible services offered at The St. Regis Chengdu, there's a 24/7 butler service that's bound to make your stay that much more enjoyable.
Stunning city views are featured in all 279 suites. The spacious bathrooms feature complimentary Laboratorie Remède products and large bathtubs. St. Regis hotels promise incomparable dining experiences; you have six on-site dining options to choose from that include traditional Chinese cuisine as well as standard Western options.
You can get a single room starting at $120 a night.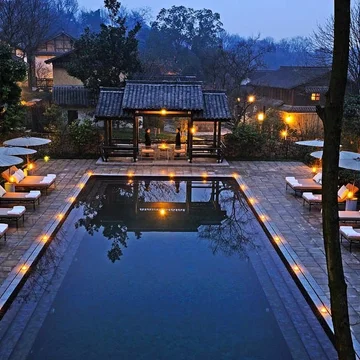 Amanfayun
Alongside woodlands, bamboo groves, and tea fields, Amanfayun is the ultimate luxury hotel for a relaxing and private escape in nature. This secluded gem is near the West Wake – a UNESCO World Heritage Site that will definitely make a lasting impression. If you are keen on visiting the nearby Buddhist temples, gardens, and shops, a 20-minute drive will take you from the hotel to Hangzhou's famous sites.
Check Availability
Choose from 47 insanely lavish and elegant suites. Designed in the spirit of a traditional Chinese village, the style of Amanfayun is fresh and modern, yet still contains touches of Chinese culture. The celebrated Aman Spa is available for booking every day. If you prefer more invigorating activities, Amanfayun offers many activities such as Tai Chi lessons, yoga sessions, and Pilates classes.
Various restaurants are located on the property, serving both local Hangzhou cuisine and Western food, so you won't be short of dining options. Apart from the wonderful food, the restaurant's strong suit is the serene ambience that prevails in the rooms at Amanfayun, perfect for unwinding after a long day.
The price for a standard room starts at $700 a night.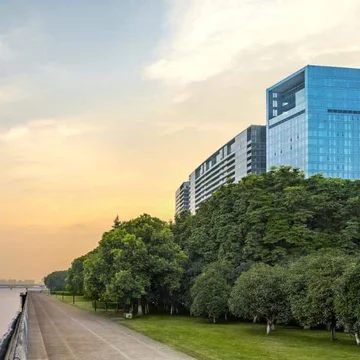 The Azure Qiantang
The Azure Qiantang is part of The Luxury Collection Hotels and Resorts, a renowned hotel chain known for opulence and world-class service. Sitting right on the banks of Qiantang River, this top-notch location not only allows for gorgeous views from the rooms and suites, but is also near some local attractions like Wulin Square.
Check Availability
There are many restaurants to explore nearby, but in case you don't feel like walking, The Azure Qiantang's own Panorama Signature Restaurant and Bar serve authentic Chinese cuisine. As you might deduce from its name, you will also enjoy astounding panoramic views.
Described as engrossed in a Zen-like ambience, all 205 rooms feature floor-to-ceiling views, marble-clad bathrooms, crystal chandeliers, a coffee machine, and a large LCD TV. The color scheme composed of whites and beiges incorporates lively pops of bright colors. If you're looking to treat yourself, consider booking one of their Signature Suites which take up around 1,000 square foot of space and feature some of the best views of Hangzhou.
Standard rooms cost around $150 a night.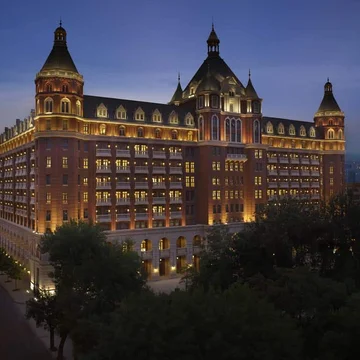 The Ritz Carlton Tianjin
Nestled on the banks of Haihe River, The Ritz Carlton Tianjin is a palatial wonder waiting to be experienced. Providing entertainment for all ages, the hotel gives you plenty of options as to how you will spend your leisure time – opt for a peaceful night in the hotel library, exploring some of its leather-bound volumes, book a relaxing spa treatment, or indulge in a bubble bath – the choice is all yours.
Check Availability
The suites at The Ritz Carlton Tianjin are quite commodious; large living areas, with plush sofas, glitzy chandeliers, and a cozy fireplace, are adjacent to the bedrooms. Sculptures and artwork are present in almost every single room, only adding to the sophisticated vibe of the hotel. No room is quite the same at The Ritz Carlton Tianjin, so you can easily choose a color palette that matches your taste. Some of the suites come with private balconies where guests can enjoy stunning views of Tianjin.
Dining-wise, plenty of options will be available during your stay. The Zest Restaurant serves international dishes with a flair, while Tian Tai Xuan's menu is reliant on Hong Kong cuisine. The bar and lounge are where the party begins – make sure you try some of their signature cocktails.
Prices start at $170 per night.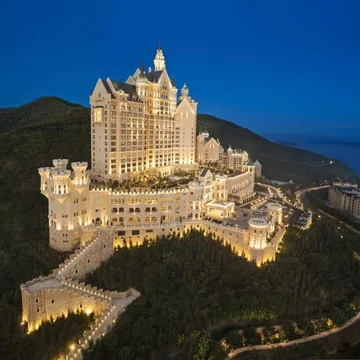 The Castle Hotel
Another Luxury Collection Hotel made it on our list of the best luxury hotels in China, this time located in picturesque Dalian. The Castle Hotel, resembling a Bavarian design straight from a fairytale, is situated on Lotus Mountain, overlooking the Yellow Sea and Xinghai Bay. The hotel is within close proximity to Xinghai Square, the biggest city square in Asia and one of the main must-see sights in Dalian. There are other places to explore in the city, including restaurants, museums, and shops.
Check Availability
Many luxury amenities are available to guests, including a fitness center, a spa, and an indoor swimming pool. A total of three restaurants are located on the property. Collections, their signature restaurant, serves an a la carte dining buffet and regular sumptuous meals that you can enjoy with stunning ocean views. If you're in the mood for traditional Cantonese specialities, visit the lavish Zhen Bao Restaurant.
One of the highlights of the well-appointed and soundproof rooms and suites are the scenic views – choose a city view, an ocean view, or a mountain view while booking. A flat-screen TV, a hot tub, complimentary toiletries, and a computer are a few of the room amenities that are included in the price.
When it comes to pricing, a standard accommodation starts at $120.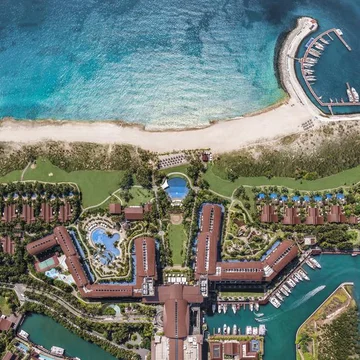 The St. Regis Sanya Yalong Bay Resort
The St. Regis Sanya Yalong Bay Resort is a blissful beachside hotel in close proximity to the Yalong Bay Tropical Paradise Forest Park. Enjoy the balmy weather from the comfort of one of the 396 elegant accommodation options; from suites to beach villas, there is a room suited to any preference.
Check Availability
The style of the rooms is quite minimalistic yet incredibly chic and modern, with ligneous furniture, a flat-screen TV, and floor-to-ceiling windows overlooking the crystal blue water.
The service at The St. Regis Sanya Yalong Bay Resort is outstanding, featuring many facilities like a private on-site cinema, a sizable infinity pool, and an Iridium Spa, as well as exclusive butler service.
Four quality restaurants are available for guests at any point during your stay. Driftwood Sea Restaurant welcomes anyone with an affinity for seafood. If you prefer tasting local delicacies, visit the renowned Ming Xuan Chinese Restaurant that overlooks the Yalong Bay Yacht Club. Sanya Mary, the hotel's signature cocktail, is a must-try!
Some of Sanya's attractions might take up to an hour to visit, but the journey is definitely worth it! Our recommendation is The End of the Earth – a scenic spot that's a magnet for tourists year-round.
The rates for the rooms at St. Regis Sanya Yalong Bay Resort start at $180 per night.
Find Luxury Hotels in China