The World's Best Cities for Five Star Luxury
One of the most important things when it comes to travelling is making sure you're well looked after, so what better way to relax and unwind than in a luxury hotel, making sure you're ready for the next day of your adventure?
So, if you're looking for the destination of your next lavish holiday, where is the best city to find luxury and where can you get it for the lowest prices?
The cities with the most five-star hotels
By looking at the most visited cities in the world, we gathered information to find out which
city has the most five-star hotels as a percentage of their total hotels.
The glamorous city of Doha takes the top spot on our list with more than 51% of its hotels being five-star destinations.
The cities where you can find luxury for the lowest prices
Sometimes you don't have to break the bank to live in the lap of luxury and with the global average being £201 per night for a five-star experience you shouldn't have to, particularly if you're staying in one of the ten cities below. Looking at the average cost of a night of five-star treatment, we can see that luxury in some cities is very affordable, with Kuala Lumpur costing an average of only £70 per night.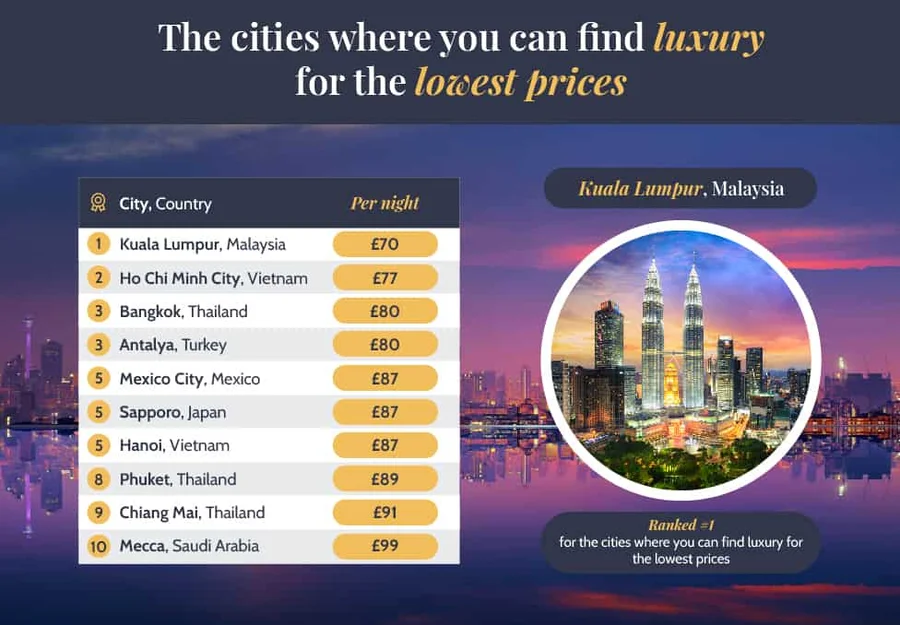 The cheapest European averages for the price of a five-star stay
If a trip to Europe is what you're looking for, the Turkish resort city of Antalya has the cheapest five-star prices, costing an average of £80 for a night of opulence.
The average price per night for a five-star hotel in Europe is £211 and with such low prices, these delightful destinations offer something for everyone, from sun and sand to winter city breaks, all whilst experiencing the luxury each city has to offer.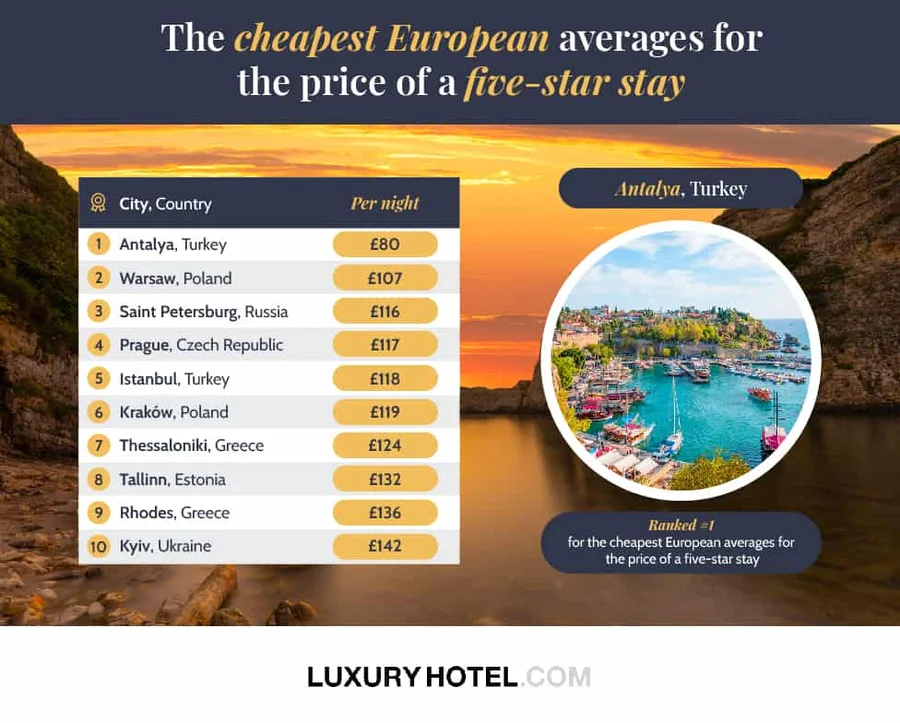 Methodology:We took our list of cities from Euromonitor's Top 100 City Destinations, omitting seven cities due to lack of data. We then used Booking.com to find out how many hotels there are in each city, and of those how many are five-star hotels. This site also gave us the average costs per room of a night in a five-star hotel in each city.