Escape everyday life with an unforgettable adventure at luxury hotels in Unesco locations. These opulent hotels offer a gateway to explore ancient wonders that have attracted travelers for hundreds of years.
In addition to having exclusive access to these remarkable landmarks, you'll enjoy several sumptuous comforts for a world-class stay. Whether you're a history buff or an affluent traveler looking to discover hidden gems, you'll have out-of-this-world experiences at these premier destinations.
Below we have compiled a list of the most luxurious hotels in and around Unesco World Heritage Sites. From incredible views to nearby historical treasures, these 5-star accommodations offer plenty for a spectacular vacation.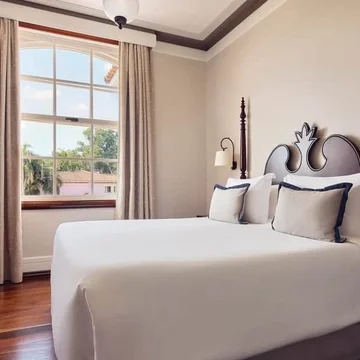 Iguassu National Park, Brazil

5
Hotel das Cataratas, A Belmond Hotel
If you're looking to stay in a picturesque setting surrounded by lush scenery, this luxury rainforest hotel is an excellent option. It's located within the Unesco-listed Iguassu National Park and overlooks the stunning Iguassu Falls.
Check Availability
Hotel das Cataratas boasts a hacienda-style architecture with a number of stylish rooms. The rooms exude elegance with artisanal fabrics, dark wood furniture, and striking artwork on the walls.
Room amenities include a personalized minibar, plush bedding, and a spacious bathroom with lavish toiletries. Some suites have separate living rooms and private terraces. Here you can admire the views of swaying palm trees, tropical flowers, and cascading falls.
You'll also come across an abundance of orchids at one of two outdoor pools. After a refreshing dip, head to one of the on-site eateries for an exquisite culinary experience. The restaurant is renowned for its delicious breakfast dishes.
There is also a stylish bar that offers an array of drinks and live music in the evenings. For more unwinding experiences, guests can wander around in the beautiful gardens or enjoy therapeutic spa treatments with rainforest ingredients.
The hotel also offers several outdoor adventures to explore the fascinating rainforest. These include discovering the majestic falls on a morning walking tour, visiting a bird sanctuary, and enjoying aerial views with a helicopter ride. Wine lovers can also taste the finest Parana wines on a grand tasting tour.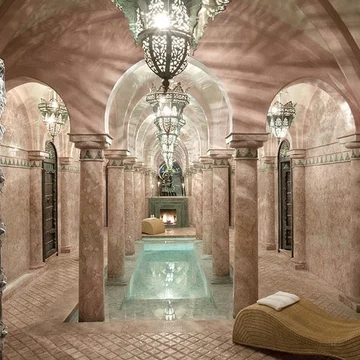 La Sultana
Nestled in Marrakech, La Sultana is one of the best luxury hotels in Morocco. The Medina of Marrakech is a Unesco World Heritage Site filled with incredible treasures like palaces, mosques, and breathtaking gardens.
Check Availability
Similar to its spectacular surroundings, the La Sultana luxury hotel features a beautiful design influenced by ten centuries of history. Here you'll encounter gorgeous wooden sculptures and noble materials that take guests back in time.
The rooms and suites are individually decorated with lavish furnishings and Moorish embellishments. Each room includes non-alcoholic minibars, iPod docking stations, and a luxurious marble bathroom.
If you're staying in a suite, you'll have stunning views from the private balcony or terrace. Some suites also feature a cozy living room with a fireplace and a whirlpool tub. Other lavish amenities include an outdoor heated pool, fitness center, and luxe spa boasting a relaxing indoor pool and open-air massage.
For a relaxing afternoon, lounge on the sundeck or snuggle up with a good book at the on-site library. When it comes to dining, you're in for a treat as the on-site restaurants prepare meals with local produce that complement the season.
Indulge in a flavorful Moroccan breakfast, experience fine dining with French inspirations, or tuck into authentic street food. And, of course, you'll have breathtaking views of historical monuments and striking structures, too.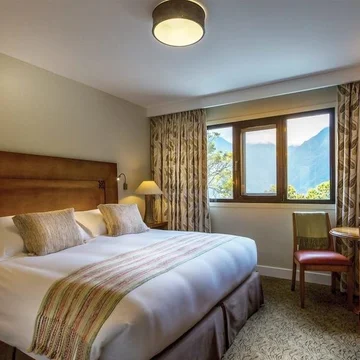 Belmond Sanctuary Lodge
The Sanctuary Lodge is one of the best Machu Picchu luxury hotels for a relaxing retreat. It offers a tranquil environment with awe-inspiring mountain views. The hotel boasts landscaped ponds and sprawling scenic gardens filled with orchids and butterflies that add to the peaceful ambiance.
Check Availability
You'll find the hotel located adjacent to the Machu Picchu citadel entrance. Machu Picchu is both a Peruvian Historic Sanctuary and Unesco site. It's a haven for nature lovers and history buffs looking to explore ancient ruins as well as captivating fauna and flora.
In addition to the scenic surroundings, the hotel offers several luxury amenities for a more comfortable stay. The elegant rooms and suites feature flat-screen TVs, minibars, iPod docking stations, and marble bathrooms.
If you choose to stay in an upgraded room, you'll have additional perks like a private terrace and sweeping views of Huayna Picchu Mountain. There is also a relaxation area and aromatherapy massages for a rejuvenating experience.
To further indulge your senses, head to the on-site restaurant and bar for scrumptious Peruvian cuisine. At the Tampu restaurant, you can also marvel at the lush jungle vistas from the floor-to-ceiling windows.
The Sanctuary Hotel is a superb spot to unwind, and there are many activities for an enchanting experience. You can participate in an ancient Pachamama tribute ceremony, coca leaf readings, and bespoke tours of Machu Picchu.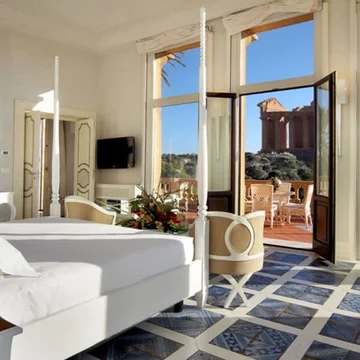 Hotel Villa Athena
This sophisticated establishment sits within a Unesco World Heritage Site, the Valley of the Temples Archeological Park. It is the only hotel that provides 5-star accommodation in this serene area.
Check Availability
The Hotel Villa Athena provides picturesque views of the Temple of Concordia just 200 meters away. The magnificent temple dates back to the 5th century B.C. and is certainly a must-see attraction in the city.
The hotel itself is also a true masterpiece with 18th-century designs and an elegant atmosphere that leaves guests in awe. The rooms and suites either overlook the temples or offer sweeping views of the garden and ancient olive trees.
Room amenities include marble bathrooms, stylish seating areas, four-poster beds with premium linen, and some have private spas. All rooms offer a spectacular stay, and the hotel allows small-sized pets to enjoy the journey as well.
There is a freshwater outdoor pool for a rejuvenating swim while taking in the invigorating scents of the garden, including citrus grove and prickly pear. You can also book a wellness spa treatment for a calming experience.
The on-site restaurants and bar offer both Sicilian and international cuisine. You can indulge in several innovative creations by Chef Valentino Palmisano from the extensive menu.
For more adventure, you can arrange exciting excursions through the 24-hour private concierge services. From guided tours to a surprise intimate dinner for two, the hotel staff will take care of your every need.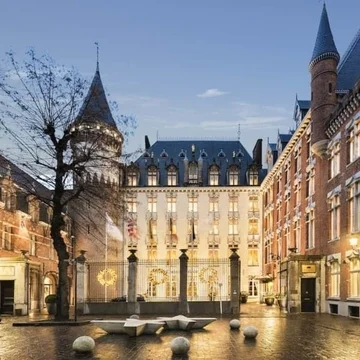 Hotel Dukes' Palace
If you're seeking a splendid stay at one of the best luxury hotels in Belgium, this 5-star hotel offers an idyllic environment that's ideal for a relaxing vacation. The 15th-century palace is situated in the heart of a Unesco World Heritage Site, the city of Bruges.
Check Availability
This former residence of the Burgundian aristocracy exudes luxury and provides guests with exceptional services and world-class amenities. The elegant rooms and suites boast a blend of contemporary comforts with a 15th-century feel.
The upscale rooms are decorated with lavish furnishings and include minibars, work desks, and marble bathrooms with high-end toiletries. After a peaceful night's sleep, enjoy a scrumptious buffet at the cozy breakfast restaurant.
For classic Belgium cuisine, head to the Dukes' Restaurant, where you can indulge in carefully prepared meals that highlight seasonal ingredients. The Dukes' Bar is perfect for a tasty tapa and cocktail if you want a more casual setting.
During the summertime, guests can head to the terrace for a high tea with stunning views of the expansive garden. In the winter, the terrace is a great spot to relax and enjoy an inviting cup of coffee.
Other exclusive hotel amenities include a fitness center, sumptuous spa, and meeting facilities. The hotel is a short walk to the Belfry of Bruges, and you'll also have access to a free city app to help you explore all the hidden gems in the area.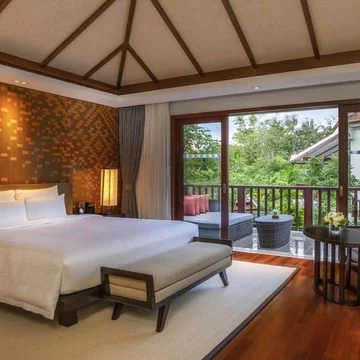 Pullman Luang Prabang
Whether you're heading on a romantic retreat or fun family getaway, this 5-star hotel promises a luxurious experience for all. You'll find the hotel situated in the ancient Luang Prabang. The city is a Unesco site with artistic heritage, rich culture, and beautiful architecture that combines traditional urban and colonial-era styles.
Check Availability
The 5-star hotel is nestled in an enchanting mountain setting with more than 16 hectares of landscaped gardens. And the glimmering Mekong and Nam Khan rivers add to the charming atmosphere.
The airy rooms feature lofty vaulted ceilings and furnished balconies. Here you can enjoy breathtaking views of rice paddy fields.
Other room comforts include a minibar, spacious wardrobe, and private bathroom with a rain shower and soaking tub. Additionally, guests have access to the fitness center, conference center, outdoor pools, and relaxing spa. This family-friendly resort also features a children's playground for fun adventures.
When it comes to dining, you'll have a wide range of options from the restaurant menu. These mouth-watering menu items include local and international dishes comprising fresh ingredients sourced from the hotel's organic farm.
The hotel also provides shuttle transfers each day. Some of the top city attractions to visit include Wat Xieng Thong, Royal Temple Museum, and Phousi Hill.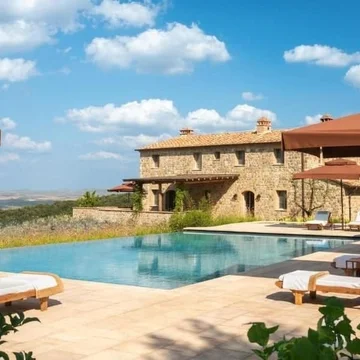 Rosewood Castiglion del Bosco
This luxurious 5-star hotel offers a serene escape with world-class service in the Tuscan countryside. It comprises an 800-year-old Italian estate with 5,000-acre grounds set in the heart of the Unesco World Heritage Site of Val d'Orcia.
Check Availability
It is also one of the most expensive hotels in Italy and oozes luxury in every little detail, from the antique furnishing to artisanal accessories. The lavish suites include comfortable 4-poster beds and a terrace with spectacular views of the Tuscan hills.
You can also opt to stay in one of the 17th-century villas, which includes additional bedrooms, laundry facilities, a fireplace, kitchen, and private pools. These deluxe villas are an excellent choice for family or group vacations.
If you're traveling with little ones, the hotel offers a children's program and kids club to keep them entertained. But boredom will certainly be at bay with all the superb facilities available.
Guests will have access to tennis courts, a fitness center, an exclusive golf club, a relaxing spa, and a heated infinity pool with panoramic views. You can also partake in a curated selection of excursions and activities.
The hotel is home to an organic kitchen garden and two restaurants with delicious meals that'll have your taste buds tingling. Additionally, there is an on-site cellar and winery where wine lovers can partake in an exquisite tasting tour.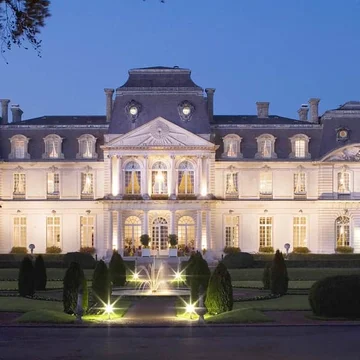 Château d'Artigny
If you're seeking a peaceful getaway or perhaps a romantic retreat, this 18th-century chateau hotel is an excellent pick. It's set within a 25-hectare park in the heart of the Loire Valley, an awe-inspiring Unesco site.
Check Availability
At this sophisticated castle hotel, you'll come across a well-landscaped garden as well as a number of spectacular marble statues and historic woodwork. The classic rooms feature French-country décor, eye-catching wall coverings, and antique furnishings that create an elegant and cozy atmosphere.
The rooms are located in the Chateau or opposite in the Cité des Parfums and the Pavillon d'Ariane. Each room features beautiful views of the park, Indre valley, or French gardens.
You can also marvel at the stunning valley views at the restaurant and bar. Experience flavorsome French cuisine with an extensive menu and dishes plated to perfection.
If you want to enhance your culinary skills, you can partake in a cooking class on the property. And for some down time, relax in a large hot tub or refresh in the sauna at the sumptuous spa.
Other amenities at this luxury hotel include an outdoor pool, tennis courts, and bike rentals to explore the gorgeous grounds. The hotel is also an idyllic destination for an intimate wedding or other special events.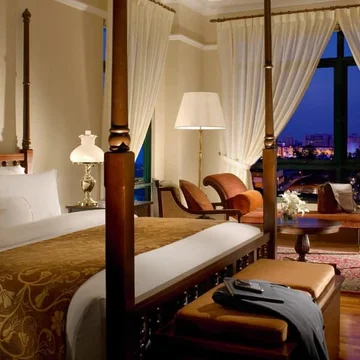 The Majestic Malacca
The Majestic Malacca is one of the world's best small luxury hotels. This 5-star boutique hotel boasts beautiful heritage architecture and parts of its structure date back to around 1920.
Check Availability
It sits along the banks of the Melaka River in the historic town of Melaka. As you wander around the premises, you'll come across spice-laden vessels and antiques that offer a glimpse of the past.
You can experience the colorful history by staying in one of the elegant and airy rooms. The rooms feature warm timber flooring and floor-to-ceiling windows so that you can admire the stunning views. There is also a luxurious bathroom where you can soak in the tub with lavish bath amenities.
Dining at this opulent hotel includes tasty dishes that reflect rich history. The restaurant provides an extensive menu with several cuisines, including Kristang, Portuguese Dutch, Chinese, Indian, and Malay influences. You'll have a one-of-a-kind experience with intricate combinations of spices and aromas.
Guests can also visit the on-site Spa Village for further upliftment. The spa offers a wide selection of treatments that focus on healing using age-old practices and natural local ingredients.
You can also relax on a traditional Peranakan Chinese day bed in your private treatment room or take a dip in the glistening pool. Other premier facilities at the hotel include a cozy library, a fitness center, and a 24-hour front desk providing world-class assistance and tour information.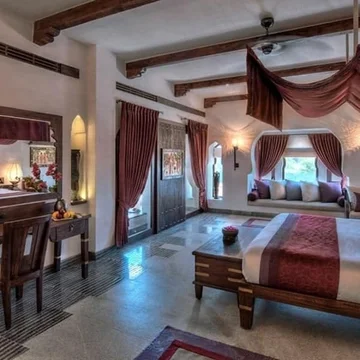 Evolve Back, Hampi
This is undoubtedly one of the best luxury hotels in India, nestled in an ancient village. Hampi is a Unesco-listed site and filled to the brim with ancient temples, monuments, and forts. Here you'll catch a glimpse into the past with ruins telling stories of the 14th-century Vijayanagar Empire.
Check Availability
The resort is ideally located for you to explore other hidden gems in the city, including the Hazara Rama Temple, Queen's Bath, and Virupaksha Temple. You'll also discover various treasures from the bygone era at the resort, from unique entrance ways to the royal chambers.
The suites and villas boast awe-inspiring Vijayanagara architecture and lavish furnishings. You'll have a private bathroom, spacious living rooms, and a balcony to admire the view of rugged forests, boulders, and glistening waters.
Some suites also include a whirlpool bath or private pool. You can also relax in the massive infinity pool for an uplifting experience or laze around with your loved ones at the family pool.
There is also a luxurious spa where you can enjoy ancient Indian treatments. Additionally, the hotel is home to two exquisite restaurants that serve a fine selection of continental and Indian cuisine.
The hotel has two lounges where you can relax with a book or a steaming cup of coffee in hand. Once you feel well-rested, there are a number of thrilling walking trails nearby, exploring remarkable ruins and landmarks.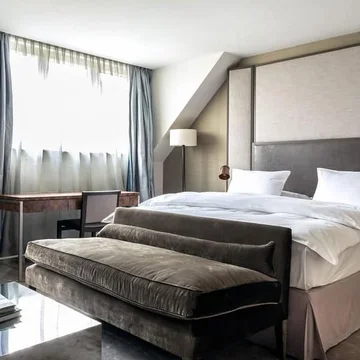 The Emblem Prague Hotel
This boutique hotel is a great option if you're looking for a splendid getaway with stunning city views of medieval architecture and lively cobblestone streets. It is located in Old Town, a fascinating Unesco World Heritage Site.
Check Availability
The hotel is just a 10-minute drive from the must-see Prague Castle in the historic center and a short stroll away from the 14th century Charles Bridge. After a day of exploring, return to your accommodation which offers several premium comforts for a relaxing stay.
The rooms feature luxurious bedding, marble bathrooms with rainfall showers, and some suites have stylish living areas. Guests also have access to The M Lounge, which is an excellent place to socialize or simply enjoy a drink.
If you're heading on a romantic getaway, the rooftop spa has a treatment room specifically for couples. You'll also find an ice fountain, sauna, hammam, and steam room in the wellness center. Other superb facilities include a 24-hour fitness center, jacuzzi, saloon, drawing room, and a smoking lounge.
If you're traveling with kids, the hotel provides baby services. There is also a games room where guests can engage in classic games. For those on a business trip, there is a living room workstation and meeting rooms too.
When it comes to dining, you'll have a delectable selection from the continental breakfast menu. Enjoy a delicious dinner at the American steak house before heading to the bar for a nightcap in the evenings.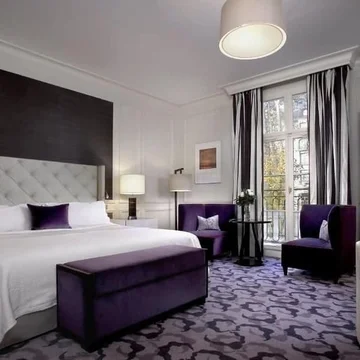 Waldorf Astoria Versailles – Trianon Palace
This luxurious hotel offers an idyllic experience in a dramatic structure built in 1907. The hotel is nestled between the Palace of Versailles and the Grand Trianon. Here you'll also be surrounded by more than eight acres of gardens and ancient trees.
Check Availability
You can choose to stay in an elegant room or suite in the historic Palace building or the contemporary designed Pavilion. Both offer a spectacular stay with lavish comforts. The room amenities include cozy fireplaces and private balconies with magnificent vistas. Some rooms also have separate living areas.
If you're traveling with your furry companion, the hotel offers pet-friendly rooms too. The hotel also provides a number of exclusive facilities, including on-site restaurants, a fitness center, meeting rooms, and tennis courts.
After some friendly competition on the court, head to the sumptuous spa to refresh. Here you can choose from a wide range of beauty and body treatments. You can also relax in the heated indoor pool, sauna, and hammam.
Although there is plenty to do on the premises, the hotel is ideally located for exploring top attractions in the city. These include the Palace of Versailles, Marie-Antoinette's Estate, and Hall of Mirrors.
Stay at the Best Luxury Hotel in Unesco World Heritage Sites
Are you ready for a one-of-a-kind adventure with 5-star accommodation surrounded by awe-inspiring ancient structures and natural wonders of the world? Then a stay at one of these luxury hotels in Unesco locations is sure to offer an unforgettable experience.
From immersing yourself in rich history to exclusive access to premier facilities, there are plenty of incredible adventures that await you. If you're looking for more luxury all-inclusive accommodation in a Unesco World Heritage Site, check out this guide on the best Great Barrier Reef luxury hotels.