A country with a rich history, world-class museums, splendid wine, and one that is famous for being the domicile of Leonard Messi and Pope Francis, Argentina is an outstanding choice for a travel destination. Today, we will look over the best luxury hotels in Argentina in the hopes of helping you decide what hotel you would like to stay in while visiting the eighth largest country in the world.
Without further ado, let's begin with our first pick.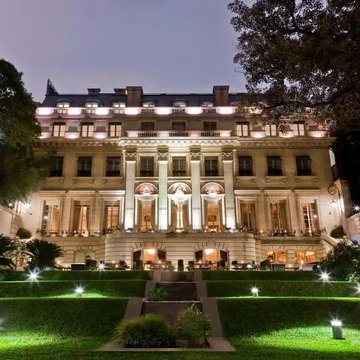 Palacio Duhau – Park Hyatt Buenos Aires
The ever so glamorous Palacio Duhau – Park Hyatt Buenos Aires is located in Buenos Aires – one of the most visited cities in Argentina. Right in the heart of the Recoleta district, the hotel boasts a wonderful location for anyone who loves to explore the major tourist attractions on foot.
Check Availability
Facilities-wise, Palacio Duhau – Park Hyatt Buenos Aires has everything a high-end hotel guest might ever need: an enormous luxury spa that's regarded as one of the best in the city, a well-equipped fitness center, and a lap-friendly pool. Taste the impressive local flavors at Duhau Restaurant and Vinoteca – a Buenos Aires hotspot for fine dining. Italian cuisine, a favorite for many, is served at Gioia Restaurante, while Los Salones del Piano Nobile is known for its a la carte breakfast and afternoon tea.
Choose from 165 rooms and 23 suites, all of which ooze the splendor that Hyatt hotels are known for. Their contemporary design is combined with an impressive list of modern amenities like a plasma TV, a Nespresso machine, and a butler service, ensuring that your stay is as comfortable yet indulgent as it can be.
Standard rooms at Palacio Duhau – Park Hyatt Buenos Aires start from $300 a night.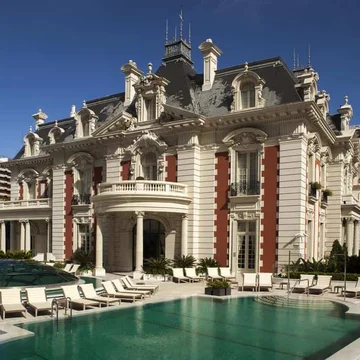 Four Seasons Hotel Buenos Aires
Argentina's capital is home to many luxury hotels, yet few do as magnificent a job as Four Seasons Hotel Buenos Aires. Located in the lively Recoleta neighborhood, the hotel's architecture, reminiscent of a French palace, is one of the first striking sights.
Check Availability
The palatial style extends to all the rooms and suites – the sizable living areas, with their high ceilings and crystal chandeliers, offer a relaxing place after a day of exploring. The marble bathrooms are elegant and commodious, with complimentary L'Occitane toiletries. Lastly, the bedrooms feature oriental rugs, sophisticated wallpaper, and plush beds with pristine and soft linen.
Hardly anyone can resist taking a dip in the heated outdoor swimming pool, the backdrop of which is Four Seasons Hotel Buenos Aires's stunning architecture. The 24-hour fitness center is great for breaking a sweat, while the spa is the perfect place to pamper.
The award-winning Elena Restaurant serves local cuisine and wine – a combination bound to make a lasting memory on your taste buds. Pony Line is another popular hotspot in the area, its menu brimming with both signature and creative cocktails, which are a must-try.
The rates at Four Seasons Hotel Buenos Aires start from $500 a night.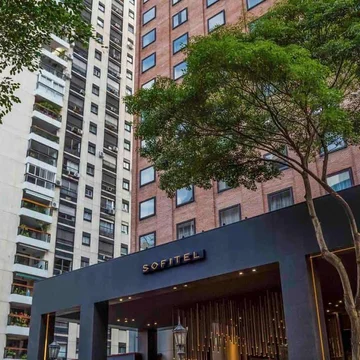 Sofitel Buenos Aires
Part of the established hotel chain brand Sofitel, Sofitel Buenos Aires is a perfect choice for your temporary home-away-from-home in the capital. Located in the heart of Recoleta, its central location enables guests to explore the nearby tourist attractions on foot, as well as enjoy a wide range of delicious restaurants that serve local cuisine. The Patio Bullrich Shopping Mall is located opposite the hotel, a place where you can shop in a myriad of luxury stores like Louis Vuitton.
Check Availability
Decorated in the French art de Vivre, the rooms and suites at Sofitel Buenos Aires differ in terms of color scheme and size, yet remain equally glamorous and sophisticated. The marble bathrooms have a separate tub and shower, as well as complimentary toiletries. Some of the amenities included in the rooms are Sofitel MyBed beds, flat-screen TVs, and minibars.
The Brick Kitchen is a contemporary Argentinean restaurant with an elegant setting, ideal for an on-site lunch or dinner. A generous breakfast buffet is offered each morning which includes a fine selection of international and local favorites.
You can book a standard room at Sofitel Buenos Aires starting from around $120 a night.