South America's melting pot of culture and history, Brazil is a tourist location like no other. Whether you're traveling for the Carnival in Rio de Janeiro, the stunning beaches, or just to explore this country's vibrant atmosphere, you can be sure that your stay in Brazil will be a one-of-a-kind experience. And why not explore this exciting country from the comfort of a luxury accommodation? Stay tuned, in this article we've listed the best luxury hotels in Brazil that guarantee comfort and relaxation.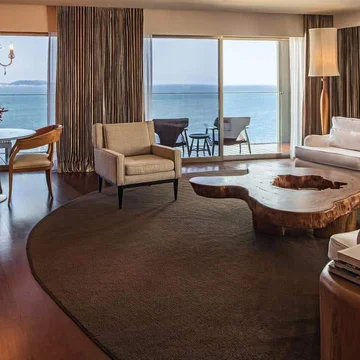 Hotel Fasano
Hotel Fasano Rio de Janeiro is situated in the vibrant area of Zona Sul. The resort is just minutes away from the most beautiful beaches in Brazil – Arpoador and Ipanema. Take a stroll down the area and you'll discover some of the best bars and restaurants in town as well as the most attractive properties on the continent. General Osorio Metro Station is just 5 minutes away.
Check Availability
The interiors pay homage to the golden age of bossa nova and were designed by the renowned designer Philippe Starck. Fasano was the designer's first complete project in Brazil and he has managed to create some of the most stunning hotel interiors in this beautiful country. The hotel's atmosphere is lively and vibrant with distinctive Brasilian materials like Ipe flooring and piquia tree stump which perfectly blend with Grecian marble, Chinese onyx, and 19th-century Argentinean brick.
The rooms are spacious and elegant with Sergio Rodrigues armchairs, soft furnishings, and Starckian ear-shaped mirrors. Balconies feature some impressive views across Ipanema beach up to the Dois Irmaos Mountains.
As you might suspect, the hotel's rooftop pool features some impressive views over Corcovado. The service is also top-notch and guests can enjoy some exotic cocktails and fresh-squeezed juices at any time. At Fasano Al Mare, the Mediterranean fare is served in an elegant setting with crystal chandeliers and vintage Scandinavian tables.
Double rooms start at $540.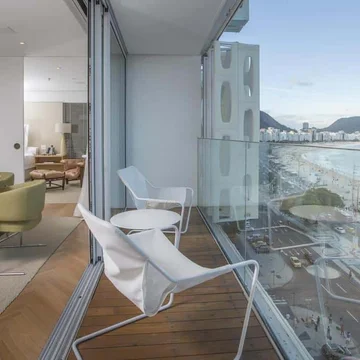 Hotel Emiliano
Hotel Emiliano is situated at the heart of Jardins (Gardens neighborhood) at the famous Rua Oscar Freire street. The area has a vibrant atmosphere with numerous shops, art galleries, upscale restaurants, cozy cafes, and famous nightclubs. Hotel Emiliano is just two kilometers away from Rio de Janeiro's two financial center's Paulista Avenue and Faria Lima Avenue.
Check Availability
Guests can choose between Deluxe King Rooms and Executive Suites. All rooms at the hotel feature sophisticated design with Charles Eames armchairs, Italian leather sofas, and soft furnishings. King-size beds feature Hungarian goose down pillows and are fashioned with Egyptian cotton sheets. The bathrooms are equally elegant with Carrara marble, a Japanese toilet, and a pressure massage shower. Standard amenities include a flat TV screen, DVD player, digital surround sound home theater, two-drawer minibar, coffee and tea making facilities, air conditioning, and high-speed Wi-fi. Located in the penthouse, the suites feature massive windows that create an airy atmosphere and give way to some sweeping views.
If you want to unwind after a long day of sightseeing, head over to the lavish spa which prides on being an urban refuge for its guests. Here, talented therapists provide travelers with a wide range of massages such as shiatsu, lymphatic drainage, reflexology, and aromatic massages.
Contemporary Italian cuisine is served at the Emiliano restaurant; a sophisticated setting set against the backdrop of a vertical garden and filled with natural light.
Deluxe king rooms start at $470.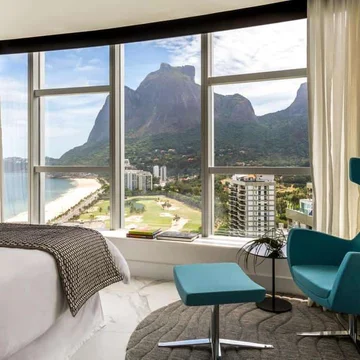 Gran Meliá Nacional
Gran Melia Nacional Rio de Janeiro is situated directly on Sao Conrado beach, which is considered to be one of the most attractive stretches of sand in the whole city. The views this hotel offers are stunning with Dois Irmaos in the background and the picking towing slopes of Tijuca National Park. The Ipanema and Copacabana beaches are a 15 minutes ride away, while Rio de Janeiro's city center is 30 minutes away.
Check Availability
The hotel's property was built by the Brasilian star architect Oscar Niemeyer and the hotel, known as Hotel Nacional at the time, was quite the hotspot in the 1970s with a renowned guest list featuring Liza Minelli, James Brown, and BB King. Decades ago the renowned Spanish chain Melia Hotels has breathed a new life in this old icon and the hotel has re-emerged as one of the most glorious hotels in Sao Conrado.
Niemayer's towering beauty today has 413 spacious rooms equipped with the latest in luxury accommodation. Interiors are tastefully decorated with wooden furniture, delicate lighting, and soft furnishings. King-size beds are comfortable with firm mattresses and Egyptian cotton sheets. Be sure to book a room on the northern side so you can have some spectacular views over Corcovado, the mountains, and the ocean right from your bed.
The hotel's renowned restaurant boasts an enviable reputation for serving the best food in Sao Conrado. Here, modern Brasilian dishes with a Mediterannean twist are served in an elegant setting packed with locals and international travelers year-round.
Double rooms start at $270.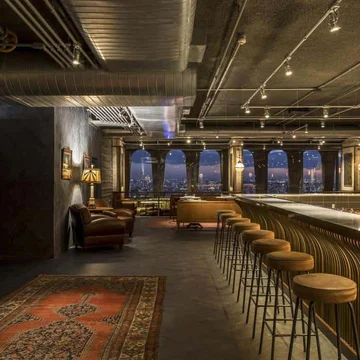 Tivoli Mofarrej
Situated in the exclusive Jardins neighborhood, Tivoli Mofarrej is an impressive hotel that's just minutes away from the acclaimed Sao Paulo Museum of Art Assis Chateaubriand. Trianon Maps metro and the business boulevard of Avenida Paulista are just a short walk away, while the dazzling boutique shops of Jards are two blocks south. Don't miss exploring the area on foot as this charming neighborhood is packed with some of the most notorious samba dance clubs, boho bars, as well as upscale restaurants including the two Michelin-starred D.O.M.
Check Availability
Designed by the renowned architect Patricia Anastassiadis, Tivoli Mofarrej screams elegance with sharp lines, massive windows, and delicate lightning. The lobby's marble floor is colored in a honey palette and is usually packed in the evening with well-heeled locals and travelers enjoying craft cocktails in the airy lobby bar. The hotel frequently hosts numerous exhibitions showcasing contemporary artists that attract celebrities, heads of states, and royalty alike.
Tivoli Mofarrej boasts a stunning range of facilities including the only Anantara spa in the Americas, a modern gym, a swimming pool, and a charming little garden.
Designed to charm, the hotel's 217 rooms are filled with natural light and feature exclusive design and high-end amenities. Guests will discover utter comfort in the king-size beds fashioned in Egyptian cotton and the black marble bathrooms equipped with separate shower cubicles. Amy Winehouse and Lady Gaga have stayed in the hotel's penthouse suite, which is considered to be one of the largest and most opulent suites in South America.
Rooms start at $270.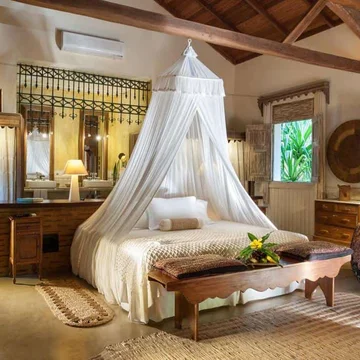 Pousada Toca da Coruja
Situated on the main street of Praia de Pipa, in Tibau do Sul, Pousada Toca da Coruja is the ideal location for guests who want to experience the encounter between luxury and nature. The hotel's property resembles a silent Eden, where guests can escape the hustle and bustle of Brazil's capitals while still being just minutes away from Pipa's charming bars and restaurants.
Check Availability
The hotel's bungalows are built on stilts and are scattered throughout a wild forest. Inspired by the old colonial farms in the region, these bungalows offer a one-of-a-kind ambiance where romance meets sophistication and elegance. These are spaces to linger in, with king-size beds with Egyptian cotton sheets and goose feather pillows, heavy wooden furniture, and nice touches such as original artworks from local artworks and rocking chairs. Exclusive details include wrap-around verandas with comfortable hammocks and rainforest showers with open-air hydromassage baths. Each room is equipped with a flat TV screen, air conditioning, ceiling fan, in-room safe, minibar, and high-speed free Wi-Fi.
For an elevated experience, book a Luxury Bungalow which in addition to the standard amenities has an expansive deck with an outdoor hot tub and private solarium.
With an extensive menu that blends authentic Brasilian dishes with contemporary gastronomy, prepared by the renowned chef Wagner Aguiar, and a cellar wine boasting some of the best bottles in Latin America, Oca Toca restaurants offer an excellent dining experience.
Bungalows start at $470.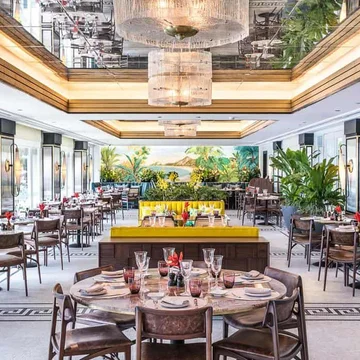 Belmond Copacabana Palace
Situated on the world's most iconic beach, Copacabana, Belmond Copacabana is a stunning hotel that has welcomed state of heads, royalties, and a number of celebrities. Since its doors swung open in 1923, Belmond Copacabana has stunned guests with its numerous facilities including a Michelin-starred restaurant, botanical spa, and huge swimming pool.
Check Availability
With an elegant cream palette with champagne accents, dark wood furniture, and soft furnishings, the hotel's rooms are a tranquil haven that guarantees nights of comfort after a long day of sightseeing on Rio's busy streets. Bathrooms are stunning with pink and white Brasilian marble, deep soaking tubs, and rain showers. For an extra pinch of luxury, book some of the seven penthouse suites featuring Brazilain freijo and mahogany wood furniture. All rooms are decorated with oriental carpets, hand-picked antiques, and delicate french fabrics.
Explore the colorful spirit of Rio from one of the city's most celebrated Carioca restaurants. Savor the views across Copacabana Beach and enjoy the extensive menu featuring Neapolitan pizzas, traditional Brazilian dishes, and a delectable sushi selection. The Pergula restaurant dishes can ignite any appetite.
Did we mention that the hotel's penthouse suites were graced by Marlen Dietrich and Orson Wells?
Rooms start at $420.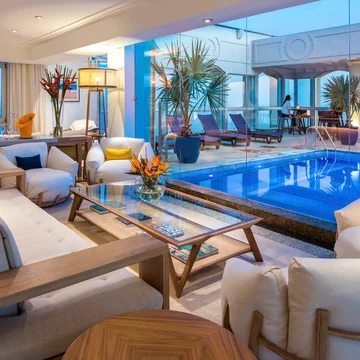 Sofitel Rio de Janeiro Ipanema
Situated right in front of the world's famous Ipanema Beach and overlooking Arpoador, the Sofitel Rio de Janeiro is known for mixing an ideal location with the latest in luxury accommodation. Step outside the hotel's doors and you'll find yourself amidst the best samba clubs, bars, and upscale restaurants, including a stretch of boutique shops. The mesmerizing Lagoa, for example, is a 10 minutes walk away.
Check Availability
In addition to the top-billing location, the Sofitel Rio de Janeiro Ipanema seduces guests with a huge outdoor swimming pool, a lavish spa with numerous treatment rooms, and a fitness center with ocean views.
The hotel's rooms are designed in a way that embodies the concept of a Rio home, with elegant French decor and furniture created by internationally acclaimed Brasilian designers. Each room features massive windows that have views across Arpoador and Ipanema Beach, the majestic Morro Dois Irmãos, and the city.
Soak-up the vibrant atmosphere of Rio from the hotel's renowned restaurant, Galani. Whether you're in the mood for a freshly baked pão de queijo or a classic caipirinha, you'll find the perfect dishes and drinks to satisfy your appetite.
Rooms start at $370.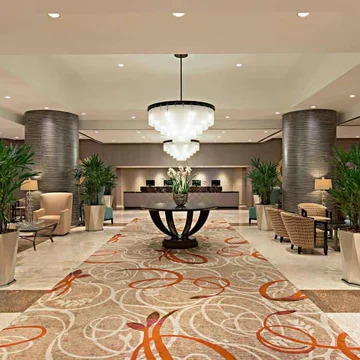 Sheraton Grand Rio Hotel & Resort
Tucked between trendy Barra da Tijuca and famed Ipanema Beach, Sheraton Grand Rio Hotel is an extravagant resort that offers opulent suites and extensive business facilities in a tropical setting. The resort is in close proximity to the best beaches in town, Leblon and Ipanema, while Corcovado and Sugarloaf are an hour away. Apart from the stunning beaches, guests can also explore the charming neighborhood Leblon which is home to the city's most renowned restaurants and bars.
Check Availability
Opt for a room with a sea view and be vowed by the views – the hotel's rooms are a mixture of perfectly stunning panoramas with comfortable accommodation. Each room is tastefully decorated with mirrors, hand-picked antiques, thick carpets, and dark wood furniture. Suites are designed with families in mind and feature a spacious living room, mini-kitchen, and a sofa bed. Panoramic views of the sea, Cagarra Islands, and Leblon and Ipanema beach are available from the Presidential Suite, the Petropolis Suite, and the Tropical Suite.
Dining-wise, Sheraton Grand Rio Hotel is exceptional. Experience the authentic Brasilian cuisine in the elegant Casarao Restaurant or be dazzled by the richness of the Italian flavors in Bene Bellissimo Brunch.
Superior rooms start at $270.
Santa Teresa Hotel RJ MGallery
Situated in the charming neighborhood of Santa Teresa, Santa Teresa Hotel RJ-MGallery is a boutique-style hotel that features authentic architecture, opulent accommodation, and excellent cuisine. The hotel is in close proximity to the city's center and numerous landmarks including Christ the Redeemer, Sugarloaf Mountain, and the famed Copacabana beach. The resort is ten minutes away from the Municipal Theater, National History Museum, Flamengo Park, and the Santos Dumont Airport.
Check Availability
All rooms are spacious and elegant with wooden furniture, rustic four-poster beds, and unique art pieces created by local artists. The garden-front balconies guarantee privacy and are equipped with chairs and tables.
Santa Teresa Hotel boasts an open-air swimming pool overlooking the Guanabara Bay. Here, guests can enjoy craft cocktails and small bites served by the charming poolside bar. At Le Spa, savvy travelers that have spent the day sightseeing can discover a haven of serenity in the heart of Rio de Janeiro. Relish in the numerous treatment rooms, sauna, and steam room, and book some of the healing treatments offered by the talented therapist team.
A contemporary cuisine that offers the best of the local gastronomy is served at Tereze. With its tropical chic design, excellent wine list, and attentive service, Tereze provides guests with a one-of-a-kind dining experience.
Rooms start at $420.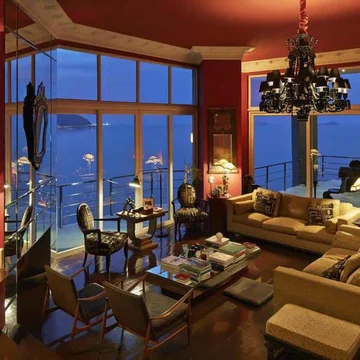 La Suite by Dussol
Tucked between Sao Conrado and Barra da Tijuca, La Suite by Dussol is a stunning boutique hotel that's situated in the exclusive residential area known among locals as Rio's Beverly Hills. Numerous Hollywood celebrities have stayed at this secluded haven that boasts impressive views across the ocean and is just minutes away from the bustling bars and restaurants of Barras's vibrant Jardim Oceanico district.
Check Availability
Surrounded by lavish exotic gardens, the hotel has a chic and stylish vibe signature of the Dussol's hotel brand. The property is housed in an impressive mansion built in 1968 which was completely refurbished by Francios-Xavier. Expect spacious common areas tastefully decorated with Baccarat chandeliers and original art pieces hand-picked by the hotel's owner from his travels around the world.
All rooms feature a unique design and have terraces with dazzling panoramic views across the Cidade Maravilhosa, Sao Conrado, Ipanema beach, the forest of Tijuca, and the Cagarras Island.
At La Suite, organic ingredients and locally caught seafood menu is served on the outdoor terrace. The chef constantly changes the menu, and no two meals are alike, but you can expect an ocean-inspired menu and an impressive wine list.
The rooms start at $320.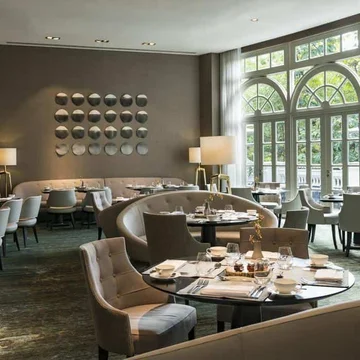 State of São Paulo, Brasil
Palácio Tangará São Paulo
Set inside a lush palatial retreat in the metropolitan part of Sao Paulo, Palacio Tangara is a tranquil haven in Brazil's economic and cultural capital. The city center is a 12-mile drive away, while the lively commercial hub of Nova Brooklin is a short drive away if the traffic is not too heavy. Morumbi, the city's district known for the numerous upscale restaurants and shopping options, including Cidade Jardim, is just around the corner.
Check Availability
This five-star oasis is set inside a park designed by Brazil's framed landscape architect, Roberto Burble Mark. The resort consists of over 26 acres of smartly landscaped gardens, lagoons, fountains, and pathways. The hotel's architecture is equally stunning. Think enormous neoclassical property with a pearly-white facade where every space is designed by the acclaimed Brazilain interior design firms Bick Simonato and Anastassiadis.
Guests can choose between 141 spacious guest rooms and 59 suites, all boasting views of the beautiful park. Guestrooms feature sophisticated decor with contemporary furniture and materials inspired by nature. Expect rooms bathed in natural daylight, equipped with king-size beds, dining table for two, and a large writing desk. For the ultimate comfort, book a deluxe room that opens to a Juliet terrace with views over Burle Marx Park.
Palacio Tangara has a myriad of facilities including a lavish spa, fitness center, and both an indoor and outdoor swimming pool. When it comes to food, the world-renowned chef Jean-Georges Vongerichten serves his masterful dishes at the Tangara Jean-Georges restaurant.
Deluxe rooms start at $420.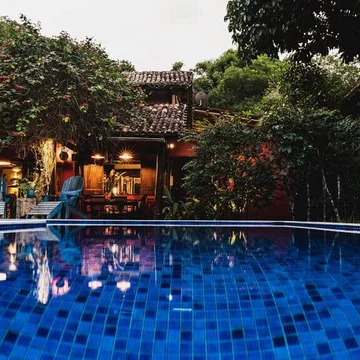 Mata N'ativa Pousada Trancoso
Nestled on the banks of the Trancoso River, Mata Nativa Pousadas is a luxurious retreat boasting a prime location on Costa do Descobrimento. The area is known as being one of Brazil's most beautiful stretches of coast boasting paradisiacal beaches and preserved fauna and flora. The hotel is just an 8-minute walk away from Trancoso's city center and just a stroll away from Praia dos Nativos.
Check Availability
This is an eco-friendly hotel built with natural material that blends perfectly with the artfully landscaped garden surrounding the hotel. It features 12 high-end bungalows wrapped in a forest and close to the calm waters of the Trancoso River. The bungalows are scattered between 4 different accommodation blocks which guarantee privacy and intimacy; the ideal retreat for anyone looking to escape the hustle and bustle of Brazil's metropolitan areas.
Colored in a warm palette, interiors feature a romantic ambiance with a number of hand-picked antiques and bedside lamps. Each room has wooden sofas with comfy cushions and four-poster bed fashioned in an Egyptian cotton thread linen. Paintings on the walls are courtesy of the acclaimed still life-painted Maruzka Cara. Bathrooms are quite spacious with Brazilian hardwoods, marble floors, bathtubs, and L'occitane toiletries.
The main draw here is the large pool situated in the middle of the garden. The pool is surrounded by comfortable sun loungers and shady cabanas. Small bites and exotic cocktails are served throughout the whole day by the poolside bar.
Bungalows start at $300.
Belmond Hotel das Cataratas
South America's first and only Forbes five-star hotel, Belmond Hotel das Cataratas is at the same time the only hotel that's situated by Iguazu Falls national park. The location is secluded and private; guests have the opportunity to experience the mesmerizing Iguazu Falls without the large crowds.
Check Availability
Peaceful and classy throughout, the hotel's hacienda-style property has kept its original 1950s charm. The interiors are warm and inviting with dark wood furniture, numerous antiques, and comfortable sofas. Locally-commissioned artworks adorn the walls featuring paintings of Amazonian parrots and orchids. Bathrooms are spacious and have comfortable bathtubs and separate showers. From the Cataratas suites, guests can revel in the ever-present sound of the Iguazu Falls and the dazzling views over this world-renowned natural wonder. There are rooms with garden views which are also captivating.
Step outside your hotel room and you'll find yourself amidst a kaleidoscopic array of tropical flowers. Or take a refreshing dip in the hotel's elegantly designed pool surrounded by palms, orchids, and comfortable sun loungers.
At the Itaipu restaurant, guests can relish in an exclusive menu featuring a selection of Brasilian-international dishes. Book a table on the shaded veranda, order the hotel's signature cocktail Devil's throat, and marvel at the glorious natural surroundings.
Rooms start at $420.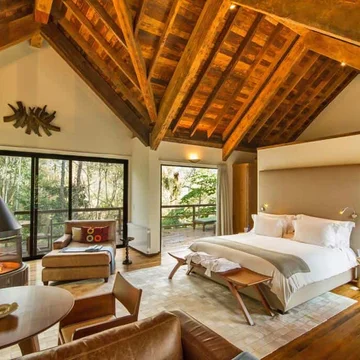 Campos do Jordão, State of São Paulo, Brazil
Botanique
Nestled amidst rich river valleys, striking hillsides, and ridges in the center of the Mantiqueira Mountains, Botanique Hotel & Spa is a beautiful resort surrounded by native, tropical Atlantic forests. It's just 12 kilometers away from Campos do Jordao.
Check Availability
Ideal for anyone who seeks peaceful moments, the hotel's property is nestled in landscaped botanical gardens with tropical forests in the backdrop. This is an Alpine-style property designed by the renowned interior design firm Candida Tabet. Expect warm wood furniture, marble floors, and enormous windows that make the most out of the sweeping views.
The hotel boasts 11 individual villas scattered around the mountains, each featuring a private garden. There are also 6 exclusive suites featuring floor-to-ceiling windows overlooking the valleys or mountains. Interiors offer a romantic ambiance with honey-colored wood, high ceilings, and enormous beds fashioned with soft linens. Bathrooms are particularly charming with huge bathtubs for two and twin showers. Guests will appreciate nice touches such as complimentary mead and cachaca rum.
One striking feature of the Botanique hotel is the 900-meter square foot spa boasting 8 specialized treatment rooms, relaxation suites, indoor isotonic pool, and a floating chamber with relaxing underwater sounds. The spa features an extensive menu offering healing massages and beauty treatments infused with authentic Brasilian elements such as coconut oil, palm oil, and Brasilian coffee.
The rooms start at $600.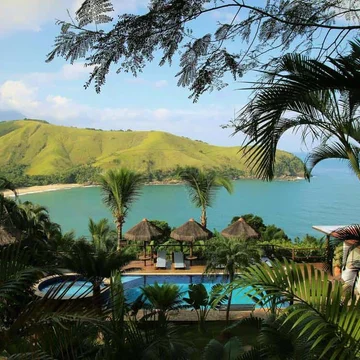 São Sebastião, State of São Paulo, Brazil
lha de Toque Toque Boutique Hotel
Ilha de Toque is a charming retreat situated on the Toque-Toque Grande beach overlooking the Atlantic Ocean. Guests traveling from Santos and Sau Paulo to Rio de Janeiro think that this is the ideal spot to break the journey while touring the coast. Calheta beach is a short walk away from the hotel. It's also worth mentioning that Ilha de Toque is a zero-waste hotel.
Check Availability
The resort's villas are surrounded by exuberant tropical vegetation and have dazzling news over the forests. Guests can choose from a number of villas and suites ranging in size and amenities. All units at the hotel have flat TV screens, air-conditioning, minibars, and ceiling fans. Rooms have a romantic ambiance with honey-colored wood furniture, soft fabrics, and vibrant artworks from local artists.
For an elevated experience, book the Executive Suite which is entirely built of ecological bricks, wooden floors, and ipe deck. The suite has a hot tub on the bath, so guests can relax while watching the sea.
The hotel's restaurant serves tempting dishes inspired by the Caicara cuisine in a rustic-chic style setting overlooking the Bay of Toque Toque.
Double rooms start at $300.
Find Luxury Hotels in Brazil