If you're a traveler that frequents the first-class halls, you know that luxury travel baggage is an airport staple. First-class lounges are dotted with designer luggage from some of the world's best luxury luggage brands. Arrive with any run-of-the-mill bag, and you're likely to feel like the black sheep of well-heeled travelers.
Apart from the prestige that designer luggage carries with it, there are practical features that warrant a splurge. These bags from designer luggage brands have it all, from expandable interior space and durable exteriors to TSA-approved security systems.
However, the abundance of choices available on the market makes adding one or two to your collection difficult. These travel gear carriers are sold in many sizes, shapes, designs, and the like—all hard to choose from.
Luckily, this guide to the best designer luggage is here to help ease some of your worries. It features a round-up of the best high-end luggage to accompany you as you board a luxurious first-class cabin and jet to your destination.
Best Luxury Luggage for Travel
Without further ado, let's dive into the list of the best luxury luggage for travel.
Louis Vuitton Horizon 55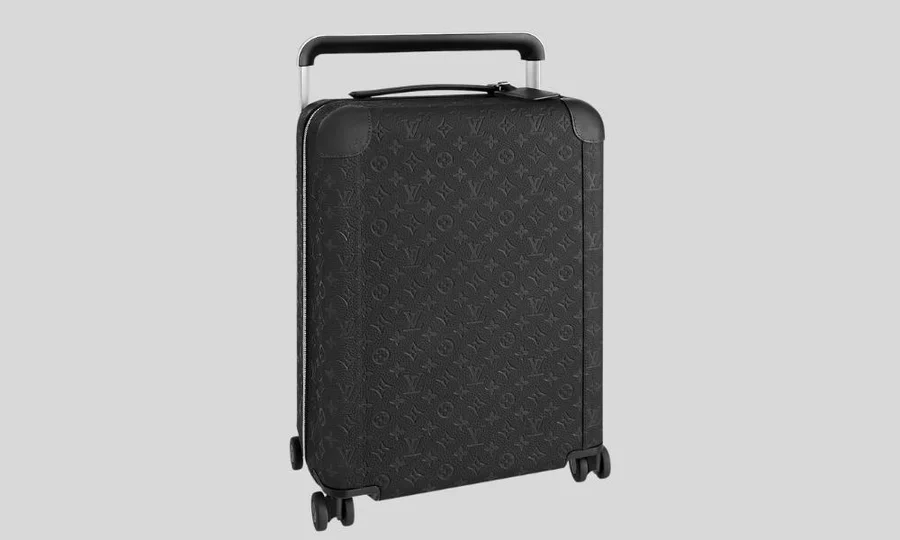 When it comes to universally acclaimed fancy luggage brands, there aren't many that come close to Louis Vuitton.
The designer luggage brand offers a plethora of carriers, including the Marc Jacobs-collaboration Horizon 55. The lightweight, cabin-friendly bag surprises with a large, flat-bottomed interior capable of holding a lot of travel gear. Your travel goodies are all protected by a TSA lock in addition to the zip closure.
The Louis Vuitton Horizon 55 features a retractable handle that makes pulling the four-wheeled carry-on easy. This bag is constructed with quality materials, including cowhide leather trim and metallic aluminum pieces, which will stand the test of time.
While decorated by the iconic Louis Vuitton logo, you can personalize the bag by adding stripe details, blending various colors, and engraving your initials on its exterior.
Gucci Ophidia GG Large Carry-On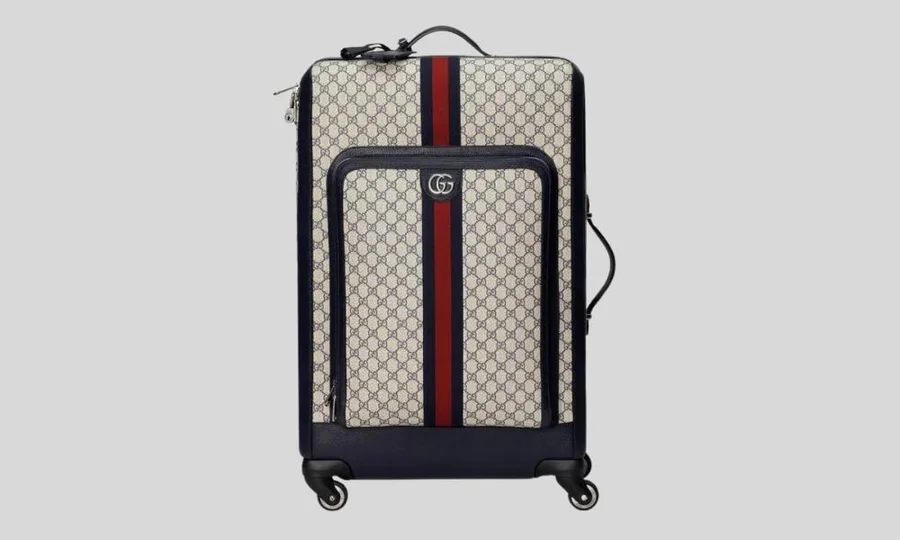 Like Louis Vuitton, Gucci is synonymous with luxury, and their Ophidia carry-on luggage lives up to the billing. The bag boasts the iconic GG canvas in beige and blue and a blue and red Web—making it an unmistakable status symbol.
The interior boasts a plush canvas lining that your clothes would be more than happy to call home. Stash some travel gear in the internal zip compartment and keep others secured by an elastic strap compartment. There's also an external pocket for storing items that you'll regularly need to use.
In addition to the zip closure, your belongings are protected by a lock. Using the retractable and telescopic top handles, wheel your carry-on luggage around on its 360° wheels. The bag also comes with a side handle that comes in handy when you have to pick it up.
Globe-Trotter Centenary Large Check-In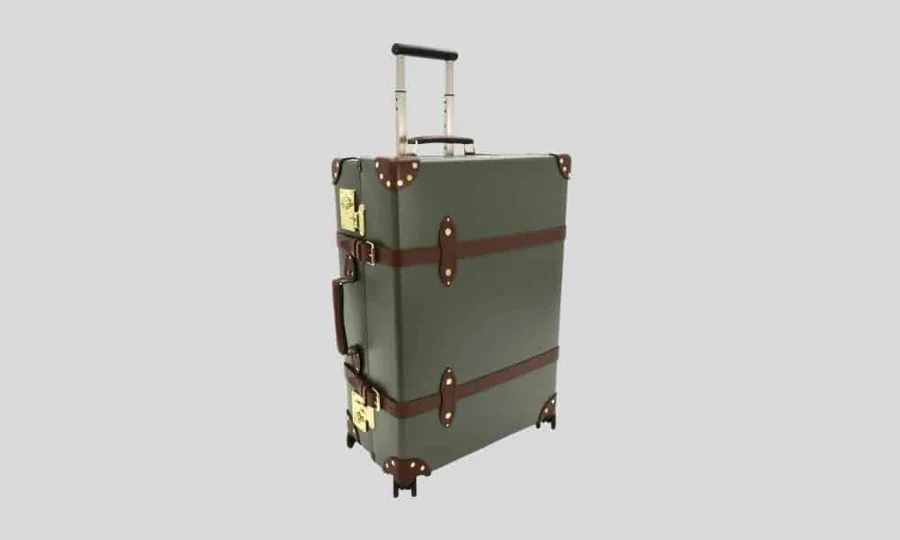 Globe-Trotter is the luggage brand for you if you want to travel like royalty—after all, this is Queen Elizabeth's brand of choice. In addition to Queen Elizabeth, you can count Winston Churchill and fictional James Bond among past owners of the brand's luggage.
This Globe-Trotter luggage, sporting a vintage look, is the ideal companion for lengthy trips. Leather corners and a body made up of vulcanized fibreboard will turn heads alongside the double straps. Mobility is assisted by the retractable top handle, a side handle, and four wheels.
Travel in style without worrying about security as the Globe-Trotter Centenary check-in luggage boasts TSA-accepted locks. The rolling designer suitcase Centenary range has luggage as small as 20" if you're looking for something more compact.
RIMOWA Classic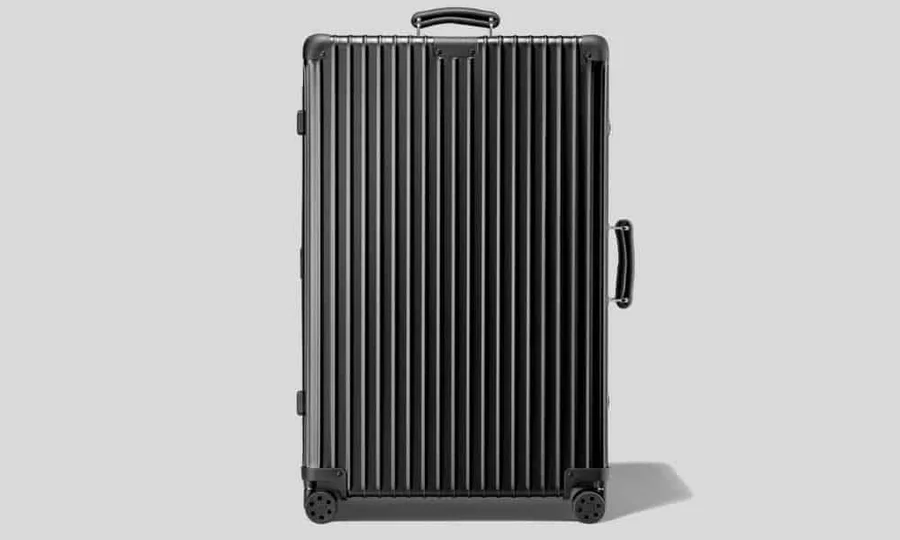 RIMOWA is a German luggage brand renowned for its sturdy aluminum cases that surprise with how lightweight they are. Their Classic range, arguably their most popular, features bags that vary from cabin to check-in size.
The RIMOWA Classic luggage interior sports polyester lining and a height-adjustable flex-divider, which can be adjusted for your belonging needs. Externally, the aluminum case boasts TSA-approved locks and aluminum corners.
Functional mobility is led by the luggage brand's four-wheel system and a telescopic pull handle with height adjustment and leather inserts for an ergonomic grip. When you aren't pulling the luggage, use the leather top, and side handles to move around.
Montblanc #MY4810 Large Luggage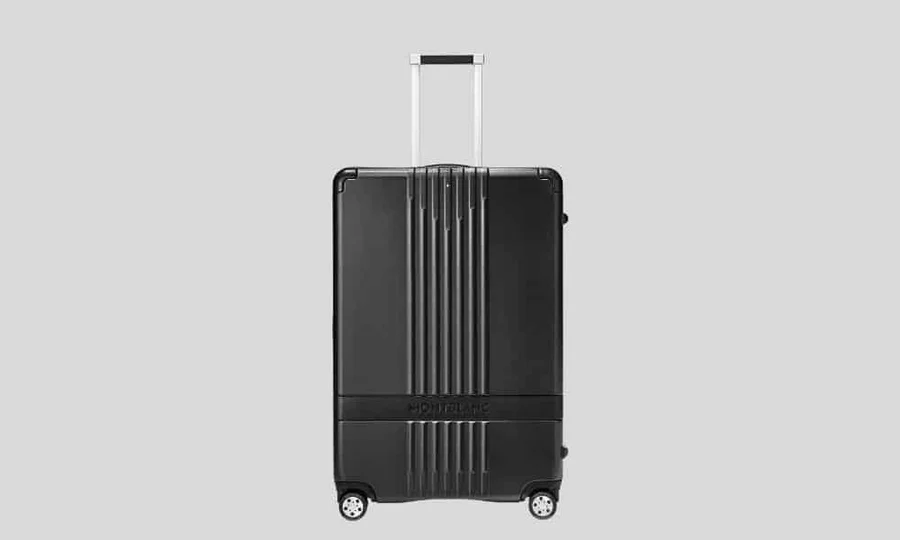 Timepieces, pens, fragrances, headphones—Montblanc has its hands all over, including luxury luggage. Their best travel bag is the #MY4810 Large Luggage, an essential travel partner if you go on long trips frequently.
The Swiss brand used high-quality polycarbonate and soft leather trim to construct this beauty. Use two zips and a TSA lock to protect all your travel items, which will be sitting comfortably in the jacquard lining.
Use the telescopic handle and cushioned four wheels as you rush to check in, with a top and side handle available for convenience. A nice added touch is the ability to personalize the luggage by embossing your initials on it.
Tumi 19 Degree Titanium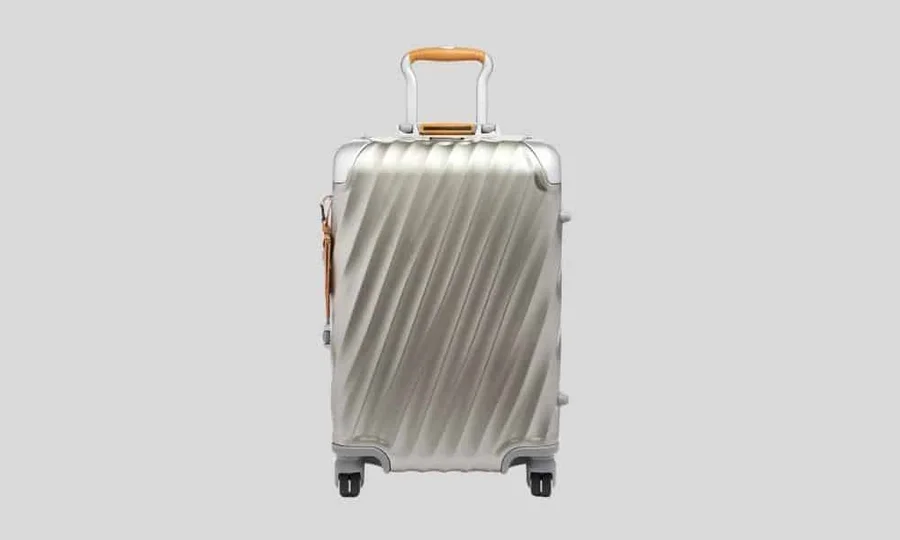 Tumi is an award-winning luggage brand known for its stylish, hard-case bags, and the 19 Degree Titanium doesn't disappoint. This offering is carefully made and features many incredible functional details. For example, the titanium case works with protective bumpers to best avoid nicks, dings, and the like.
The interior includes a zip divider with a card pocket, two mesh zip pockets, and a hanger bracket. Externally, you can expect the usual four wheels, a three-stage telescoping handle system, and a top and side handle for mobility.
Tumi also didn't compromise on the luxury carry-on luggage's security. The bag comes with two TSA integrated locks that open with a push-button. Additionally, you can use the Tumi Tracer to track your luggage if it gets stolen or lost.
Ghurka Cavalier III No. 98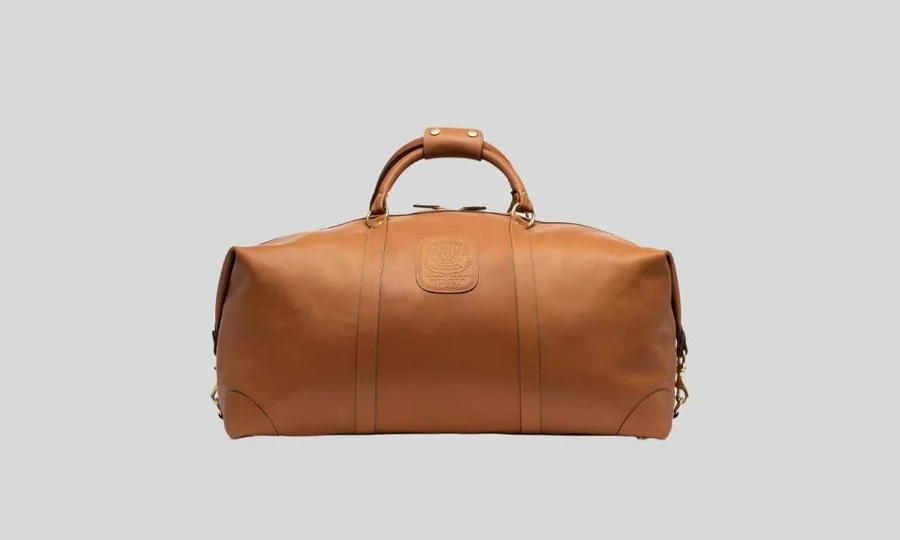 If you prefer duffel bags instead of the luxury suitcase or trolley luggage, then the Ghurka Cavalier III no. 98 is for you. It's the largest duffel in Ghurka's range and offers enough capacity for you to use it for a week-long trip.
The luggage comes in several colors and is constructed using elite craftsmanship led by a leather exterior and a cotton twill lining interior. You can carry the bag using the dual top handles or opt for its adjustable and detachable shoulder straps—with the latter sold separately.
Make the bag your by embossing your initials or adding a brass tag.
MCM 21.7" Ottomar Weekender Bag in Visetos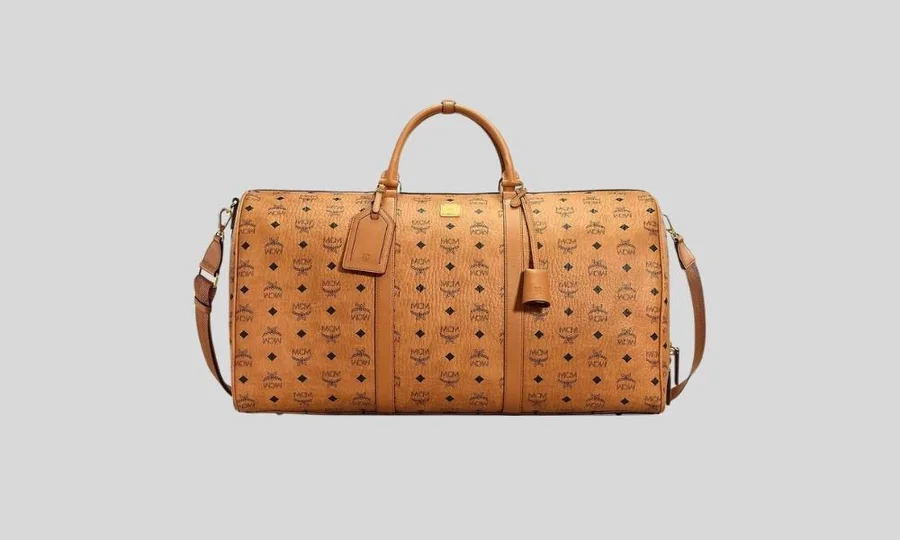 MCM is a luggage brand renowned for its craftsmanship, and the Ottomar Weekender draws on that legacy. It's an elegant duffel bag, suitable for both short and long journeys, constructed using Nappa leather and durable Visetos-coated canvas.
Functionally, the luggage features an extended zip closure for ease of access and can be carried using a removable shoulder strap or top handles. The cotton twill fabric will keep your clothing and other travel accessories in place during your journey. The foldable design allows easy storage when you aren't using the bag.
Steamline The Entrepreneur Carry-On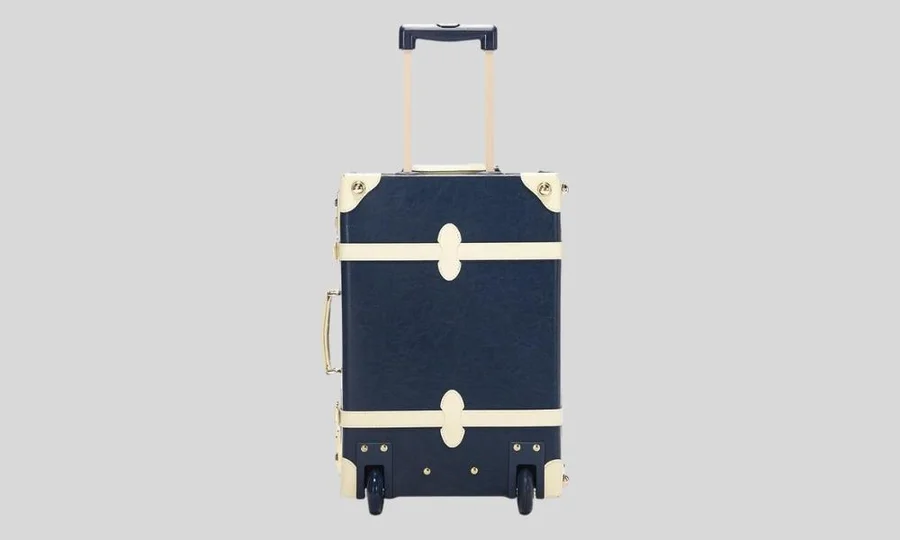 Steamline is a luggage brand that blends traditional and modern designs seamlessly. This is evident in The Entrepreneur Carry-On rolling suitcase, which comes with a vegan-leather body sporting gold latches and straps.
The inside opens to a chic stripe lining, two zippered pockets, and a detachable door-hanger. This Steamline luggage can be transported on a quiet, dual-wheel system supported by an extendable telescopic trolley handle or a top and side handle.
As you may expect, the Steamline luggage boasts TSA-approved locks and leather corners to protect against bumps.
Bottega Veneta Classic Intrecciato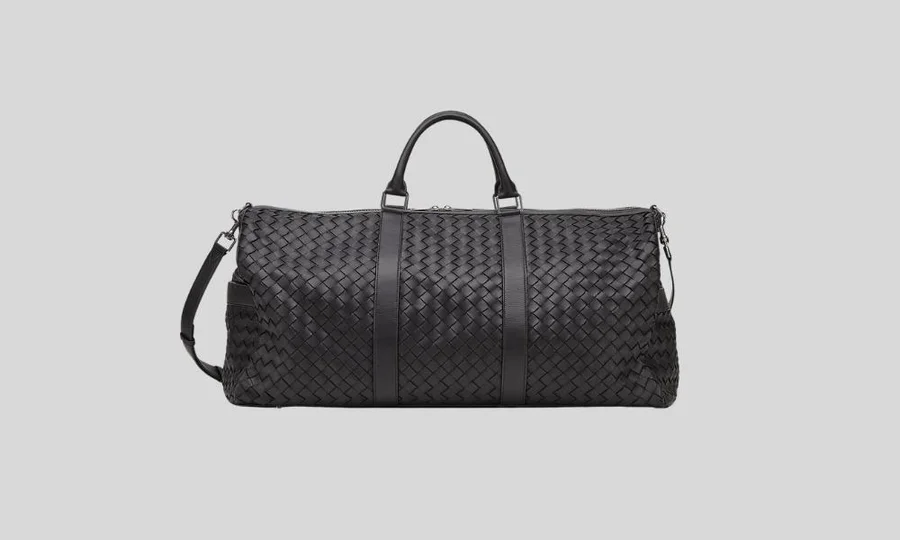 The Bottega Veneta Classic Intrecciato is a versatile duffel bag to accompany you around the airport or on a short trip to the gym. The stylish bag is made from calfskin leather and features bonded suede lining on the interior.
The chic duffel comes with regular carry handles and a removable shoulder strap. It sports an exterior zip closure and a small interior pocket perfect for storing small items. The durable Bottega Veneta bag comes in parakeet green, black, or acorn colors.
Prada Saffiano Leather Trolley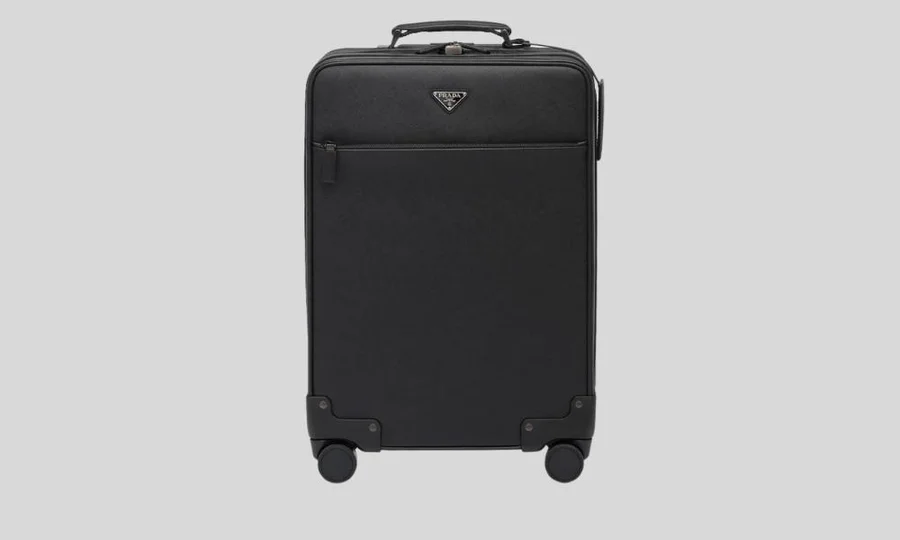 A list of anything luxury-related wouldn't be complete without the inclusion of Prada. The luxury brand has an impressive range of luggage, with the Saffiano Leather Trolley being one of its best.
The range sports a classic look perfect for an understated traveler who doesn't want to draw too many eyes to themself. The bag comes in neutral colors and features a four-wheel system, a telescopic handle, and a leather top handle. An external zipped pocket is an excellent addition for storing travel items you'll constantly use.
Internally, you can store your clothes on nylon lining and an internal zipped pocket. In addition to the zip closure and lock, Prada used the latest technology of a Bluetooth tracker to beef up security. This increases the chances of arriving at your 7-star hotel with all your belongings as you'll immediately notice any unusual activity.
Briggs and Riley Domestic 22" Expandable Spinner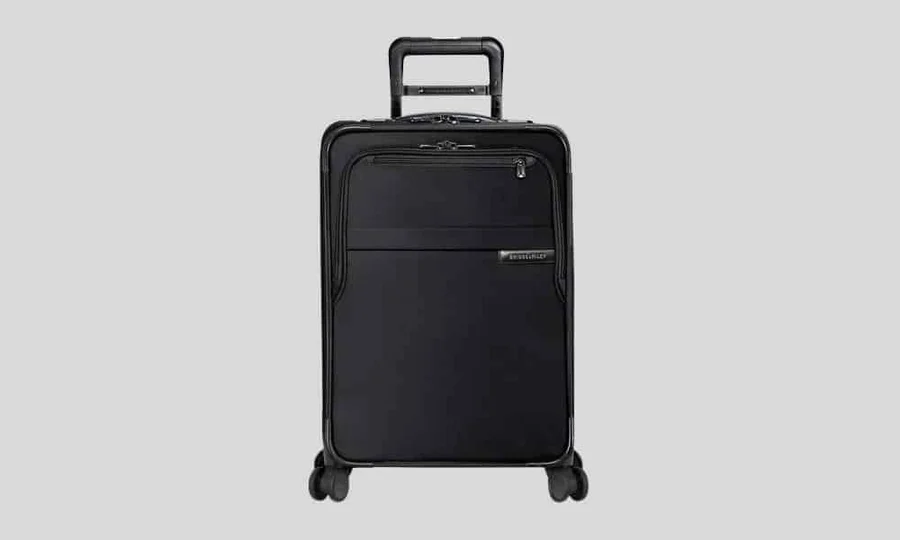 Briggs and Riley is one of the best luggage brands and has an extensive range of luggage. Among that list is the Domestic 22" Expandable Spinner, which can expand by 25% when you need more space.
This elegant carry-on is constructed using a durable ballistic nylon outer fabric that is water-repellent and abrasion-resistant. You'll also find a small zipper pocket on the outside and lockable double zipper pulls.
Plush twill lining can be found on the spacious interior featuring mesh garment panels that keep clothing in place. Use the mesh zip pocket to pack smaller accessories.
Maneuver easily around the airport using an extendable handle and a four-wheel system with 360° capabilities. Alternatively, you can walk around carrying the luggage using the top and side handles.
Mark Cross Grace Leather Trolley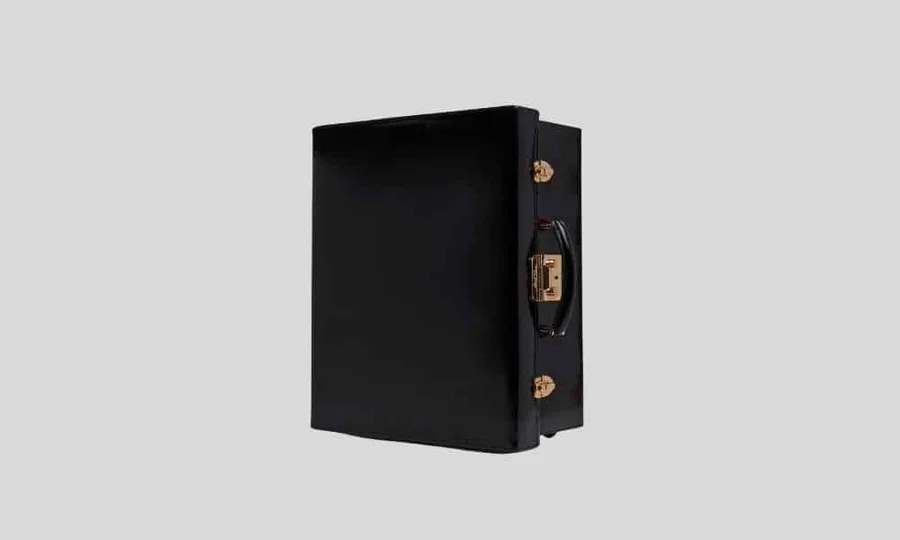 The Mark Cross Grace Leather Trolley is one of the most expensive luggage on the market. The rolling suitcase is designed with the highest quality materials to ensure durability. This includes calfskin leather, gold-plated hardware, and cotton twill lining on the interior.
The small suitcase-trolley hybrid luggage is suitable for a short trip. Move around using the side and top handles or pull it on the dual-wheel system and extendable handle.
The signature red cotton twill lining will hold your belongings, with an interior zip pocket in support. Also, there are six slip pockets for storing smaller accessories like ties and socks.
Victorinox Spectra 2.0 Expandable Medium Case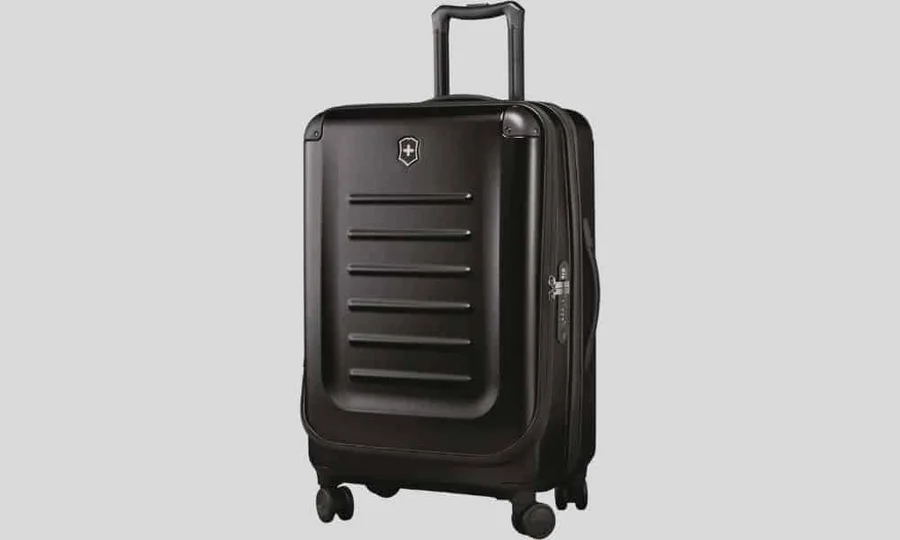 Perhaps more famous for its Swiss Army Knives, Victorinox has been in the travel industry for over 100 years. So, you wouldn't be wrong in going with them as they're clearly doing something right—much of which is evident in the Spectra 2.0.
This high-quality checked luggage features a polycarbonate, hard exterior with an understated style. The bag comes with all you expect—zip closure with a lock, quad wheels with a telescopic handle, top and side handles, and internal compartments.
The Spectra 2.0 medium case's selling point is its ability to expand by 47% from its original size, which can come in handy for lengthy trips.
Paravel Aviator Grand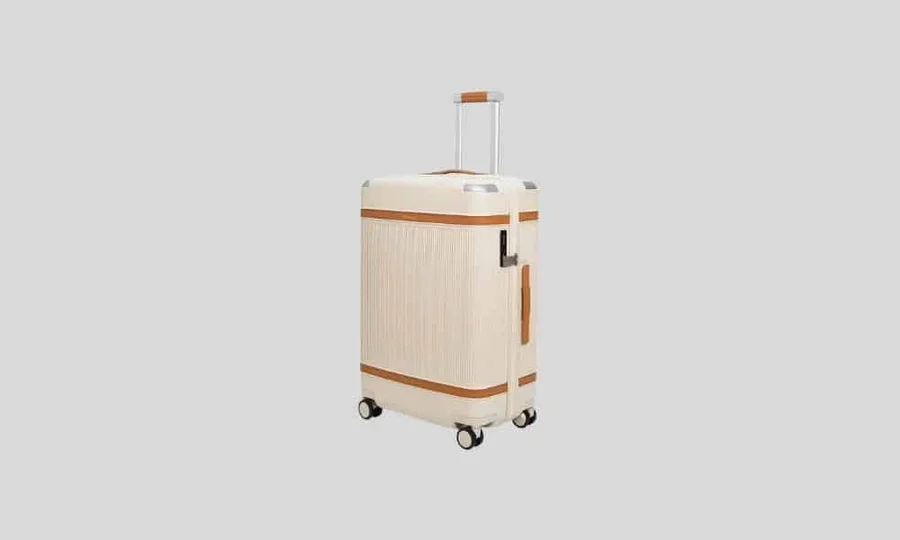 If you're a traveler on a budget, relatively speaking, of course, then the Paravel Aviator Grand is the perfect companion. The Paravel brand offers the range in carry-on and checked sizes, and it's a suitcase-trolley hybrid.
Despite its budget placement among the bags here, the brand didn't cut any corners in the construction—and it's environmentally friendly. The exterior comprises recycled polycarbonate and vegan leather trim, while the interior is made of upcycled water bottles.
The 360° wheels are frictionless and quiet, the pull handle is made from recycled aluminum, and the bag has a TSA-approved lock. Internally, travelers will enjoy the use of a spacious interior with pockets and a removable accessories pouch.
Which of the Above Luxury Travel Bags Pique Your Interest?
As is evident above, there are several luxury luggage you can choose to add to your collection of travel essentials. From duffel bags to carry-on trolleys and large hybrids, you're spoiled for choice from some of the world's best luggage brands.
Which one you choose is entirely dependent on your preferences and needs—but rest assured, you won't go wrong with whichever luxury travel luggage you pick.