These days, more and more airlines realize the value of catering to business travelers. These affluent travelers frequently fly to various destinations around the world. So having them on board as loyal customers can do wonders for an airline.
This trend has encouraged many airlines to make their business class product as luxurious as possible. So whether you're traveling for business or leisure, there is a range of business class seats to choose from for a world-class journey.
In this article, we'll take a look at ten of the best business class airlines for a seamless flight, from take-off to landing.
Tip: If you're hoping for a free seat upgrade, join an airline's frequent flyer program, which also offers benefits like free hotel stays.
1. Singapore Airlines A380 Business Class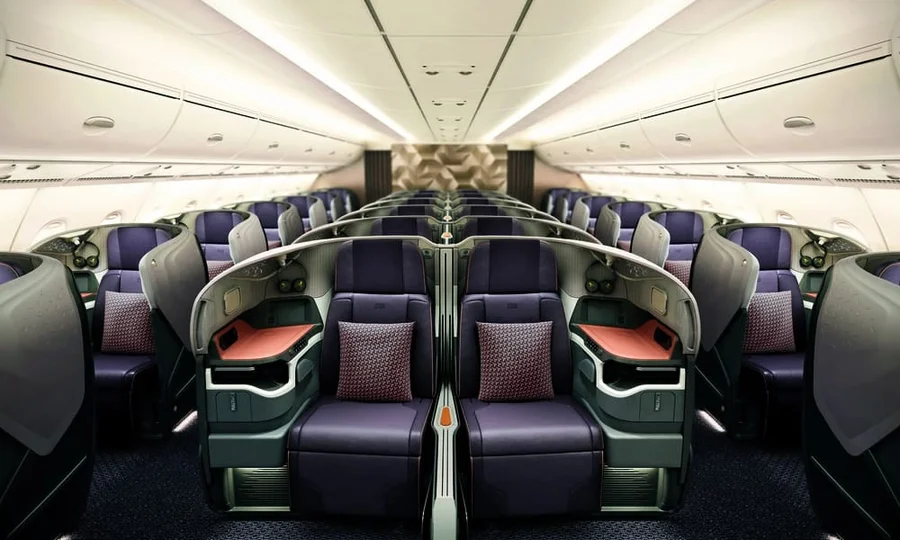 Singapore Airlines is the flag carrier of Singapore and one of the top-rated airlines in the world. The airline has a range of luxury offerings, including in-air Suites, First Class cabin, and recently introduced Business Class seats.
The revitalized A380 Business Class is among the most expensive business class seats. It features six cabin suites, each designed to provide a luxurious and intimate in-air experience.
In each suite, passengers are welcomed with a comfortable seat that seamlessly reclines into a soft bed. For couples traveling together, seats in the middle aisle are a good option as the chairs recline into a double bed.
With these new Singapore Airlines business class seats, you can also expect some technology upgrades. This includes blazing-fast WiFi and an 18-inch touchscreen monitor with a phenomenal inflight entertainment system.
To top it all off, the A380 airline offers world-class meals. Personalize your dinner by picking from the Book your Cook meal options, which comprise various tasty dishes. Pair this with a range of champagnes and wines sourced from some of the best vineyards around the world.
2. Qatar Airways QSuite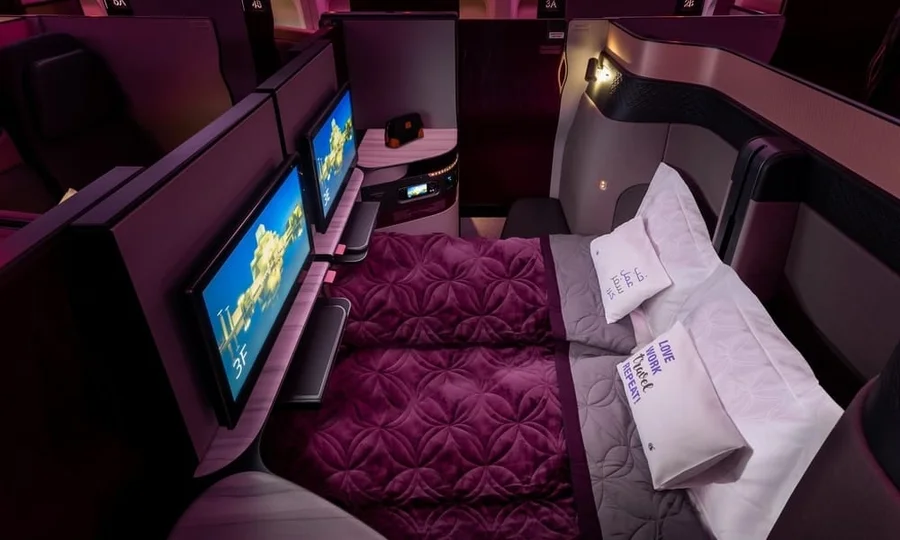 Experience a new level of luxury and innovation aboard the QSuite, Qatar Airways' exclusive business class cabin. Offering a luxury service that few of its competitors could match, it earned the title of World's Best Business Class at the 2021 Skytrax World Airline Awards.
Each of the cabins is beautifully designed, boasting Qatar Airways' signature burgundy and gray enhanced with touches of rose gold. The cabins also feature privacy doors, providing a greater sense of intimacy. You can easily transform your private space into a social area or workspace with the moveable panels.
Also introduced in the QSuite business class cabin is the airline's first fully-flat bed. In addition, you will receive complimentary sleepwear and slippers, guaranteeing a restful flight.
To ensure you arrive feeling fresh at your destination, business class passengers can also enjoy a thoughtfully put-together amenity kit. It comprises a range of skincare products and in-flight necessities from luxury Italian brands BRIC's and Castello Monte Vibiano.
3. Emirates Business Class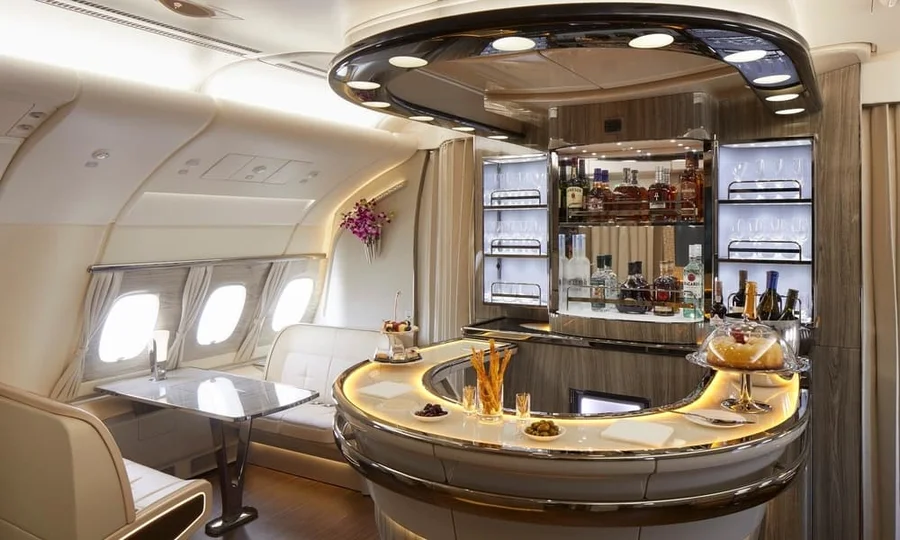 Emirates is the largest airline and one of two flag carriers in the United Arab Emirates (UAE). If you're visiting a luxury hotel in the UAE or need a connecting flight, then this airline is one of your best options.
Emirates has two business class offerings: the Emirates A380 and Boeing 777. The Boeing 777 offers a more simple yet elegant business class experience. Here you can enjoy various benefits, such as complimentary chauffeur drives and airport lounge access. You can also enjoy Emirates inflight entertainment and dining experience.
But for those looking for the most luxurious in-air experience, the A380 business class seats are the way to go. This option has everything that the Boeing 777 has to offer and more. In this cabin, enjoy a spacious seat that fully reclines into a comfortable bed – perfect for long-haul flights.
Other Emirates A380 Business Class highlights include a state-of-the-art entertainment system, a private mini-bar, and a Bvlgari amenity kit. There is also a staffed inflight bar and an onboard lounge. So you can network at 40,000 feet in the air while delving into wines, champagnes, and delicious canapés.
4. Cathay Pacific Business Class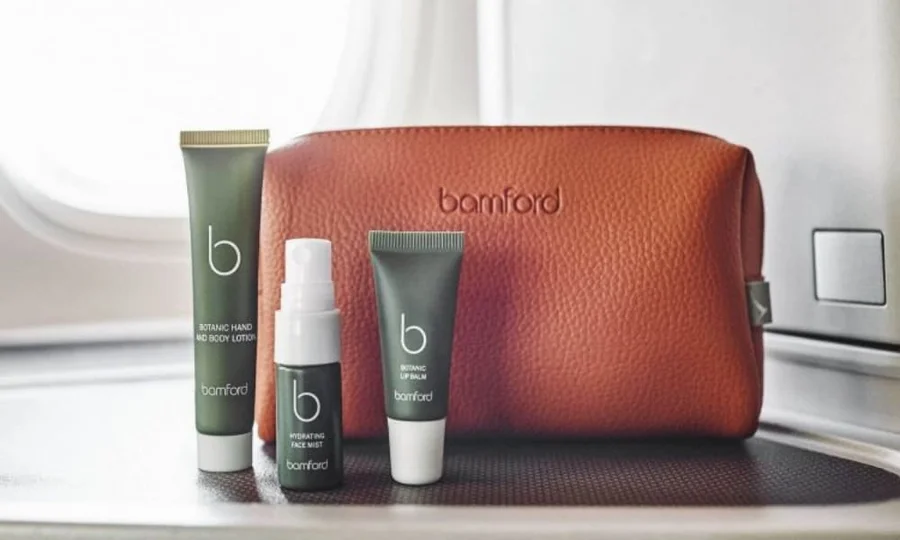 If you're visiting a luxury hotel in Hong Kong, Cathay Pacific is one of the best airlines for a deluxe travel experience. Renowned for its luxury service offerings, the airline has won Best Airline in the World four times at the World Airline Awards.
One of Cathay Pacific's top offerings is its prestigious Business seats. Here the airline invites you to come and relax in its fully-reclinable chairs and savor bold flavors with its restaurant-style dining. You will also be provided with a lovely selection of Bamford skincare products, ensuring you stay refreshed throughout your journey.
Each seat features privacy partitions and adjustable mood lighting, providing a more intimate space. You will also have access to a world-class entertainment system, which features everything from the latest Hollywood releases to Asian cinema classics.
All of this can be enjoyed from a natural leather seat that transforms into one of the largest full-flat beds in the sky. So no matter the length of the flight, you're sure to arrive at your destination well-rested.
5. Air France Business Class
Offering some of the best business class seats is France's flag carrier, Air France. On this flight, you can enjoy an exclusive, comfortable space as you travel to your business or vacation destination.
Air France's business class cabin offers plenty of room for each passenger to relax, sleep, eat, or work. The cabins feature a large seat that easily transforms into a fully-flat bed. Even the armrest lowers completely, providing you with ample space for a good night's rest.
These business class seats offer an ideal working space. Here you will find power outlets to charge your devices, an adjustable reading lamp, and noise-canceling headphones. There is also adequate space to store your documents, laptops, and other belongings.
And when you're not sleeping or working, sort through the inflight entertainment system and choose from a range of movie classics, blockbusters, and more. There is also a lovely menu offering a fine-dining culinary experience.
6. Etihad Business Class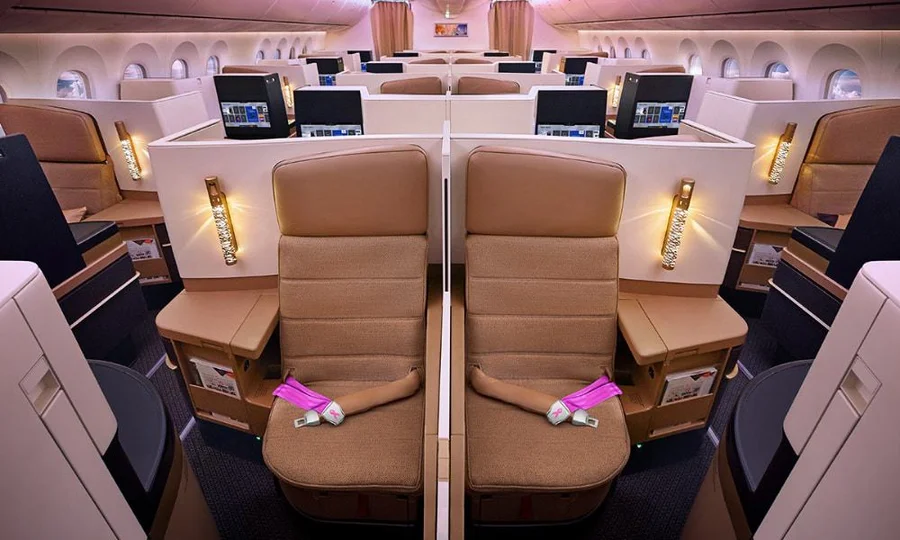 If you plan on visiting any of the luxury hotels in Dubai, be sure to fly with Etihad Airways. It is one of the best international airlines and the flag carriers of the United Arab Emirates.
Etihad Airlines has won numerous awards, particularly for its A380 fleet. And it is widely recognized as one of the best airlines in the world.
The A380 was home to some of the airline's most luxurious offerings, such as the First Class Apartments and Residence seats. However, Etihad has since retired this fleet. While the A380 no longer exists, the airline continues to provide an opulent flight experience through its 787 business class seats.
The Etihad 787 welcomes all business class passengers with a refreshing beverage.After this, you'll settle into your own state-of-the-art cabin, featuring an adjustable headrest, cushion firmness functions, and more. The seats offer plenty of legroom and can also recline, turning into a fully-flat bed.
Other benefits to flying business class with Emirates include the award-winning inflight entertainment system. It has won the World's Leading Inflight Entertainment award each year from 2018 to 2020.
The airline also boasts an expansive dining menu. The menu includes traditional Emirati dishes and destination-inspired meals, and some light bites. You can also choose from a wide selection of champagnes, wines, and other beverages.
7. Virgin Atlantic Upper Class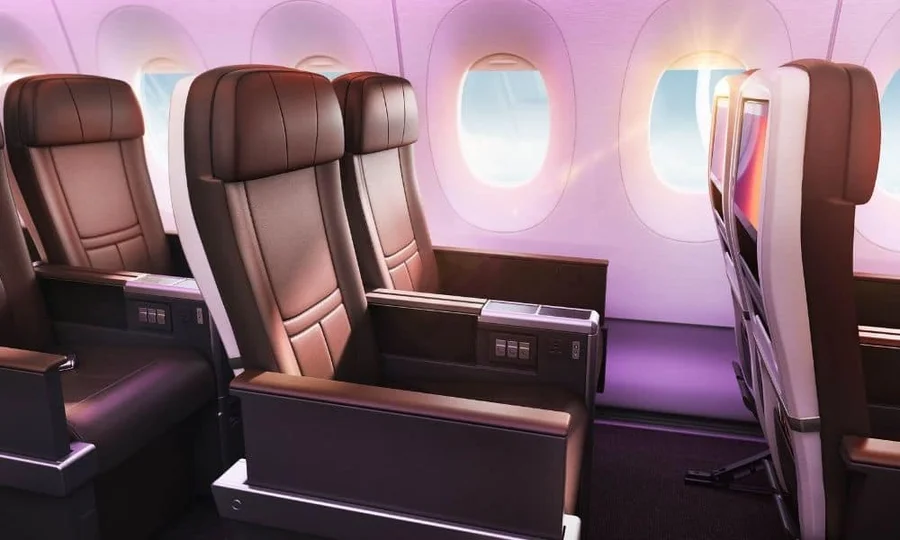 Virgin Atlantic is an internationally recognized airline serving various countries around the world. Although the airline does not offer a designated "business class" seat, its most luxurious offering is its Upper Class.
Whether you're flying for business or leisure, Virgin Atlantic's Upper Class will provide you with an unforgettable flight experience. Onboard the aircraft, relax in the extra-cozy Upper Class pods, which feature comfortable seats that offer plenty of legroom and can double up as a bed.
In your private space, enjoy hours of entertainment, including a wide range of movies, music, and more. You can also indulge in delicious three-course meals paired with a glass of champagne or wine.
Adding to the prestige of this business class international flight, Upper-Class passengers have exclusive access to 'The Loft'. At this spacious onboard lounge, you can walk around, network, and enjoy a drink at the inflight bar.
8. Delta One Suites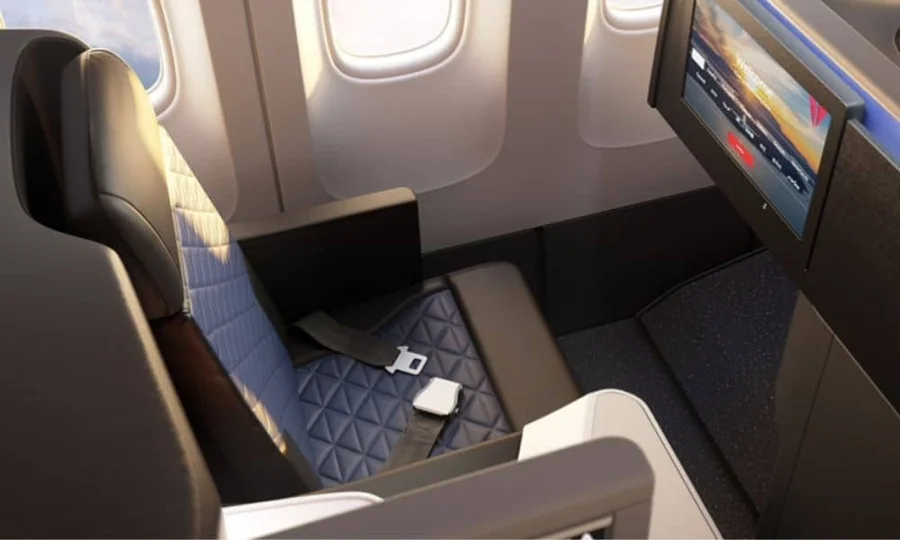 In 2017, Delta Airlines redefined what it means to fly business class by introducing its new Delta One suites. It is one of the best long-haul airlines providing passengers with a luxurious private space thanks to its full-height sliding doors.
Each of the suites can be accessed directly from the aisle, so there's no need to hop over anyone's legs. Once in your cabin, you are welcomed by comfortable Thompson Vantage XL seats, which can transform into a full-flat bed should you wish to rest.
The private space can also be adjusted so that you can work, dine, or watch your favorite movies. Additionally, you can enjoy chef-curated meals, as well as a lovely selection of beers, spirits, and fine wines.
Additionally, passengers will receive a Delta One Tumi amenity kit which adds to the incredible inflight hospitality. The kit is stocked with LE LABO face mist, lip balm, sleep mask, and various other travel essentials. This way, you'll arrive at your destination feeling refreshed.
9. British Airways Club World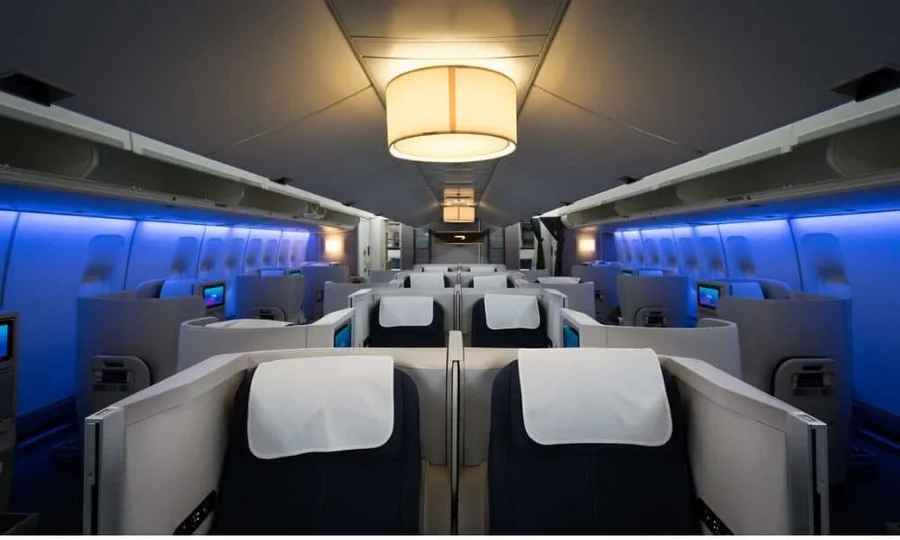 British Airways is the flag carrier of the United Kingdom and offers one of the best international business class flights. Over two decades ago, the airline introduced its business class cabin known as Club World.
Club World was one of the first business class cabins to offer a fully-flat suite and implement the Ying Yang seat plan. While these concepts are common today, British Airways continues to execute them in a way that guarantees passengers a comfortable flight.
In British Airways' Club World, you will have your own private space comprising a seat that can be adjusted for sleeping, eating, or working. To add to your luxury flight experience, you'll have stylish bedding and amenity kits designed by The White Company.
The airline also introduced its new Club Suites onboard its A350 planes. This is British Airways' most luxurious business class seat, offering direct aisle access and a privacy door. The suites also feature an upgraded entertainment system and similar amenities to the Club World cabin.
10. Japan Airlines Business Class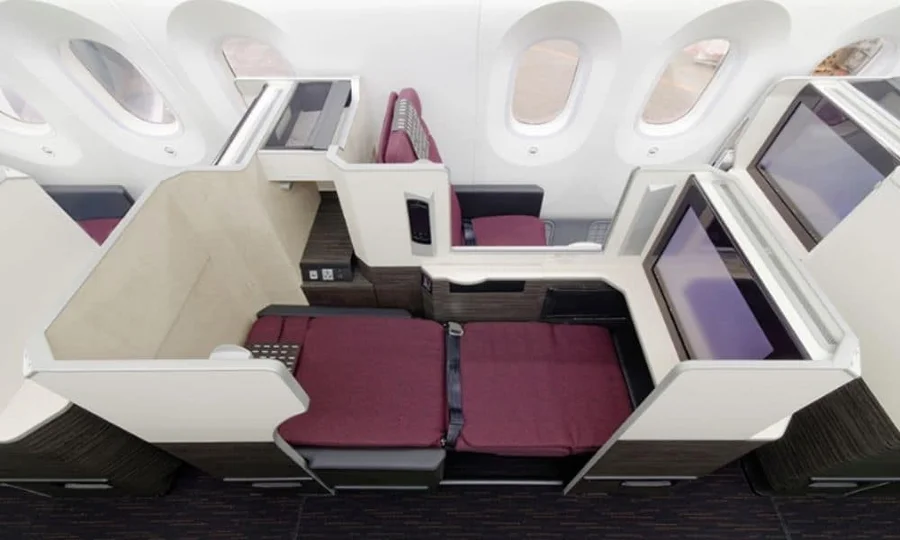 Japan Airlines' business class is often overlooked. However, it is one of the best seat offerings in this category, having won the Skytrax Best Business Class Seat Award in 2013.
Japan Airlines offers a range of business class seats. The most notable of these are the Sky Suites. Each of these options provides you with a comfortable space that feels like a private room. You'll have plenty of legroom inside and a seat that can convert into a fully-flat bed with an Airweave mattress and pillows.
Suites also have a moveable table. This provides an ideal space for working and indulging in Japan Airlines' tasteful selection of food and beverage. And if you're traveling with a partner, the private suites have a retractable privacy partition so that you can enjoy your meals together.
Each of the Japan Airlines Sky Suites features a unique, modern layout. This ensures that everyone has adequate space, as well as direct aisle access to their private suites.
Best Business Class Airline Summary
Whether you're a business or leisure traveler, a business class flight offers a unique opportunity for a luxury in-air travel experience.
In this article, we highlighted some of the most luxurious business class airlines. Many of these offer spacious suites, lie flat seats, delicious foods, and more. So if you're looking for a good seat for your next adventure, the options mentioned above are among the very best and will not disappoint.
Wondering where to travel? Check out these incredible luxury island resorts. Soak up the sun before heading back on your selected business class airline.