15 Luxury Hotels in Fiji | Idyllic 5-Star Island Resorts
Nestled in the South Pacific Ocean, Fiji is a tropical paradise renowned for its abundance of natural beauty. The archipelago comprises more than 300 islands, and around 100 of them are inhabited. Here you'll find pristine white sandy beaches, captivating coral reefs, and cascading waterfalls.
Staying at luxury hotels in Fiji offers a tranquil environment to unwind. Amongst the secluded shores and lush greenery, you'll come across several sumptuous accommodations, from luxury bungalows to ocean-view suites.
Whether you're seeking a romantic retreat or a thrilling solo escape, there are plenty of luxury island resorts for a blissful adventure. In this guide, we've highlighted the best hotels in Fiji for a 5-star island vacation.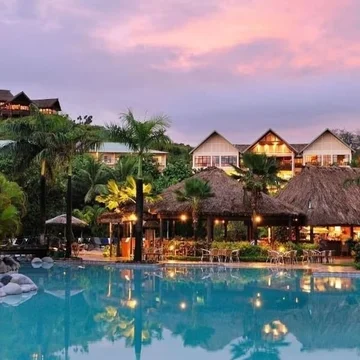 Outrigger Fiji Beach Resort
If you're looking for 5-star accommodation with glistening waters right on your doorstep, the Outrigger Fiji Beach Resort is perfect. It's set on 40-acres of breathtaking land along the Coral Coast in Viti Levu. Amongst the lush gardens, you'll come across traditional bure bungalows as well as deluxe suites with spectacular views.
Check Availability
The spacious rooms feature modern and traditional Fijian style with several accommodation types, from beachfront bungalows to plantation family bures. With the warm hospitality and kid-friendly activities, it is an ideal spot for those seeking a family resort vacation.
Outrigger offers exhilarating kids club experiences, a lagoon pool, and exceptional childcare services. The resort also features an adults-only swim-up pool bar and a private beach where you can relax with a cocktail in hand or enjoy water sports.
Guests have access to kayaking and snorkeling equipment free of charge. After diving in the dazzling sea, indulge in a delicious meal at one of the seven on-site restaurants.
When it comes to dining, you'll certainly be spoilt for choice. At the Kalo Kalo Bar, you can sip on champagne with stunning sea views, while the Vale Ni Kana offers mouth-watering family feasts.
The award-winning Bebe Spa has several treatment rooms and offers rejuvenating services such as body wraps, facials, and Ayurvedic therapies. For a culturally rich experience, you can attend a traditional kava ceremony, Meke performance, or a fire walking demonstration. There is truly something for everyone to enjoy at this luxurious destination.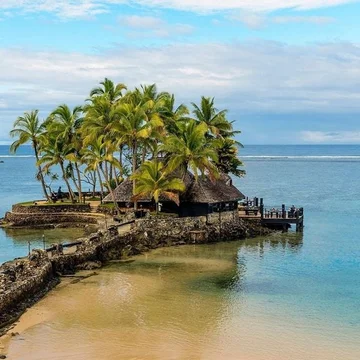 Warwick Fiji
The Warwick Fiji is another gem situated on the Viti Levu Island. This 5-star hotel in Fiji is positioned on a scenic beach and offers panoramic garden and mountain views. It features 248 luxurious rooms, each with a private balcony.
Check Availability
The elegant rooms are equipped with various amenities such as flat-screen satellite televisions, minibars, and air-conditioning. However, the Warwick Deluxe Rooms offer a little extra luxury with additional perks, including exclusive access to the Executive Warwick Lounge. At the luxurious lounge, you can enjoy complimentary afternoon tea and cocktails.
On the private beach, you can take part in several water activities such as snorkeling, kayaking, windsurfing, and fishing. And all non-motorized equipment is available for hire at no additional cost.
There is also a fitness center, squash courts, tennis courts, and two outdoor pools. For a tranquil experience, you'll find a relaxing hot tub as well as a spa that overlooks the peaceful lagoon.
For a tropical dining experience, there are five restaurants and six bars to have a tasty meal while appreciating the stunning views. If you're looking for a Japanese dish with a twist, check out the Sazanami restaurant to get your taste buds tingling. The Wicked Walu is an excellent option for couples to dine in a romantic atmosphere beside the ocean.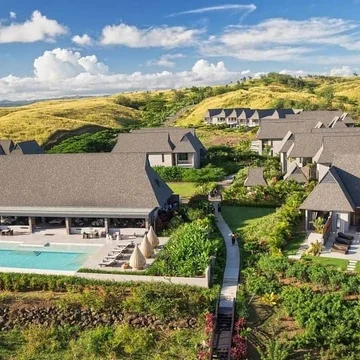 This 5-star hotel is on one of the best white-sand beaches in Fiji, Natadola Beach. Here you'll find 226 spacious rooms and modern suites. In addition to the magnificent landscape views, you'll be in awe of the stunning resort designs that are inspired by both contemporary and traditional Fijian village influences.
There is an array of dining options with three restaurants and two bars on site. And once you've satisfied your belly, there is plenty to do for a thrilling adventure. The resort features a tranquil spa, three swimming pools, a dive pool, and an 18-hole golf course.
If you're traveling with little ones, there is a kids club with various entertaining and educational activities at this family-friendly spot. With a stunning wedding chapel and stylish conference room, it is also an excellent pick for events.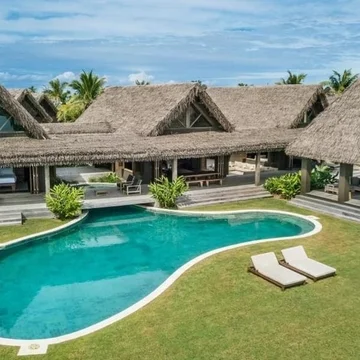 Six Senses Fiji Islands
Relax along the beachfront at this luxury resort in Malolo Island. The resort is surrounded by tropical gardens, white sandy beaches, and glistening waters. Here you'll find 24 opulent pool villas and multiple-room residences.
Check Availability
It's ideal for those traveling in groups as the residences feature two to five bedrooms as well as an outdoor pool and deck. On the secluded shores, you can take part in several activities such as sailing, surfing, night-time paddle boarding, and snorkeling.
If you're looking for a more relaxing experience, enjoy a movie night in nature at the resort's Cinema Under the Stars. You can also take a stroll on the scenic nature trails, view ancient rituals, attend Fijian cultural night events, or take a Fijian speaking class.
There are several on-site restaurants that offer delicious dishes using local ingredients. And if you want to advance your culinary skills, the Teitei Pizzeria offers fun cooking classes. Set in the lush gardens, you'll find a wellness center with several treatments for a pampering and healing experience.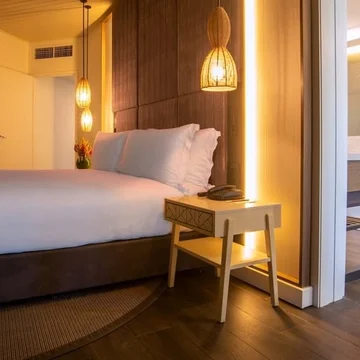 Sofitel Fiji Resort & Spa
If you're seeking a peaceful escape on a private island, this beachfront resort is perfect for a rejuvenating vacation. Nestled in Denarau Island, this 5-star island resort exudes luxury with elegant rooms and exceptional services.
Check Availability
Across the 26-acre grounds, there are 298 rooms, each with a modern interior and a balcony with astounding views. The luxurious accommodation options feature complimentary amenities such as unlimited movies, breakfast, and non-motorized water sports.
Experience the crisp fresh air and relaxing sounds of waves as you lounge at the lagoon-style pool. There is plenty of adventure on offer for children at the Kids Beach Club, from splashing in the water areas to jumping on trampolines. After an adventurous day, there are five restaurants and bars where you can indulge in inviting meals and drinks.
For a holistic wellness experience, the Sofitel Spa offers several treatments with exotic touches. And for some extra self-care, the Sofitel Salon provides a wide range of makeup and hair services. It's also one of the best resorts in Fiji for a destination wedding or romantic honeymoon.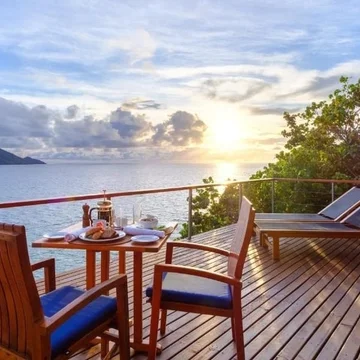 Royal Davui Island Resort, Fiji Islands
The Royal Davui Island Resort offers a spectacular stay in Beqa Island. It's located on a private island, surrounded by towering palm trees and turquoise waters. This exclusive adults-only resort includes luxury all-inclusive services and stunning room views.
Check Availability
You'll have magnificent views of neighboring islands and surrounding reefs as well as marine life, including dolphins and turtles moving through the sparkling waters. Each of the opulent villas features a climate-controlled plunge pool, sun deck, wet bar, and a spa bath.
Only a few guests are accommodated at a time, so you'll feel like you're on your own private island during your stay. The resort is world-famous for its friendly hospitality and tranquil environment. It provides a scenic setting for intimate vacation experiences with white sandy beaches just a few steps away.
Explore the South Pacific with unforgettable experiences such as stand-up paddleboarding, kayaking, guided fishing, and snorkeling. Indulge in all-inclusive dining with various options, from lunch under ancient banyan trees to romantic beach hut dining. With so much luxury on offer, it's easy to see why the Royal Davui Island Resort is the most expensive hotel in Fiji.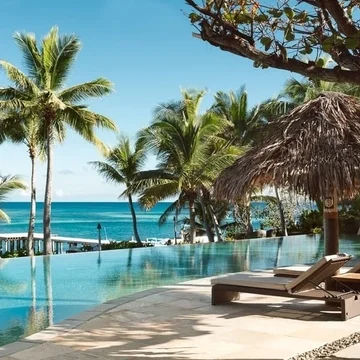 There are several modern accommodation options, from spacious retreat rooms to family suites. Each hotel room is equipped with a furnished private deck, and some feature a relaxing plunge pool. You can also enjoy premium perks with room updates such as luxury bedding and a walk-in rainforest shower.
This peaceful environment boasts white sandy beaches and crystal clear waters with panoramic views of the Mamanuca Islands. Guests can explore the scenic surroundings with a thrilling kayaking adventure or diving amongst the captivating coral reefs. There are a number of facilities to enjoy, such as mini-golf, a fitness center, spa, and a beachside infinity pool.
With the ocean just a few steps away, you can expect mouth-watering fresh seafood dishes at the on-site eateries. From Indian-infused menus and signature cocktails to outdoor dining with Fijian meke music and dance, this resort promises a world-class experience.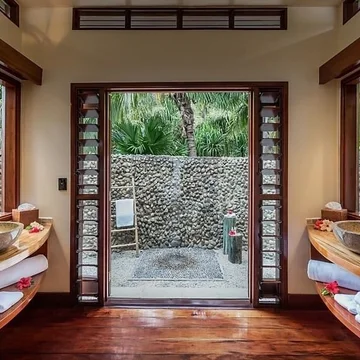 Likuliku Lagoon Resort
If you're seeking an exclusive adults-only luxury escape, this island resort offers a memorable experience that's perfect for couples or groups of friends. The Likuliku Lagoon Resort is located on the breathtaking Malolo Island. It features 35 beachfront bures and 10 over-water bures.
Check Availability
At the over-water bures, you'll sit above a magnificent coral reef. The beachfront bures boast a scenic courtyard with a secluded outdoor shower, and some feature a plunge pool. Here you'll also have direct access to the private shores and blue lagoon.
There is an abundance of thrilling activities such as kayaking, sailing, stand-up paddleboarding, and windsurfing. And if you're seeking a more calm experience, the rooms are equipped with comfy daybeds to laze, and you'll find a rejuvenating spa on the premises.
You'll also come across a gymnasium with spectacular sea views. And when it comes to dining, the Fijiana Restaurant provides premium experiences with a romantic atmosphere. With fresh seafood and tropical fruits, this South Pacific destination will not disappoint.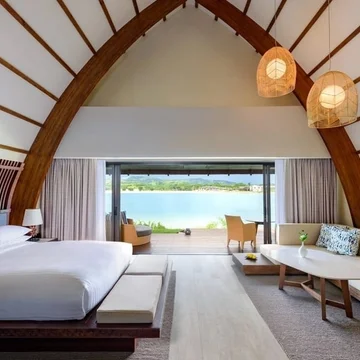 Fiji Marriott Resort Momi Bay
Located in Momi Bay, this international luxury hotel is surrounded by glistening waters and picturesque landscapes. The resort is just a 45-minute drive from Nadi International Airport. It is one of the most lavish 5-star resorts Fiji has to offer for a one-of-a-kind island experience.
Check Availability
There are 250 airy hotel rooms with both modern and unique Fijian styles. Here you'll have a 5-star stay in a magical environment that exudes opulence. The room options include land and overwater bungalows or villas where you'll wake up to breathtaking ocean or lagoon views.
You can also enjoy premium facilities such as the rejuvenating spa, fitness center, and swimming pools. The resort is home to several restaurants that offer an array of delicious local and international creations.
From all-day buffets at Goji Kitchen and Bar to enjoying tasty poolside bites at the Lagoon House and Bar, there are plenty of options to keep those taste buds tingling. There is also captivating entertainment, including a Fijian Meke and Polynesian Fire Performances.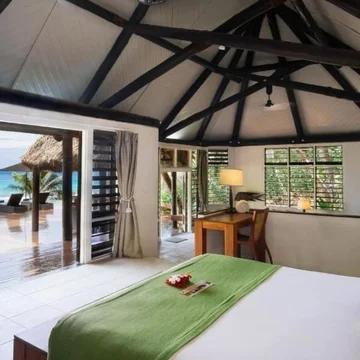 Yasawa Island Resort & Spa
If you're seeking something a bit more intimate, this is the one for you. Nestled on one of Fiji's most secluded islands, this 5-star hotel is surrounded by 10 pristine white sand beaches. Here you'll find 18 luxurious bungalows with traditional thatched roofs and awe-inspiring views of the ocean.
Check Availability
Each room features a deluxe daybed, air-conditioning, and a discreet open-air shower. The peaceful environment provides the perfect setting to relax on a hammock, swim in the dazzling sea, and explore the vibrant corals.
There are several enjoyable activities at the resort, such as scenic picnics, scuba diving, and cultural performances. A stay at Yasawa Island Resort and Spa promises superior service, spectacular adventures, and all-inclusive dining. Guests can enjoy complimentary gourmet meals as well as non-alcoholic beverages.
Indulge in extraordinary creations that showcase both local and international flavors. And if you're curious about Fijian cuisine, you can attend a cooking demonstration that features local ingredients and traditional South Pacific recipes.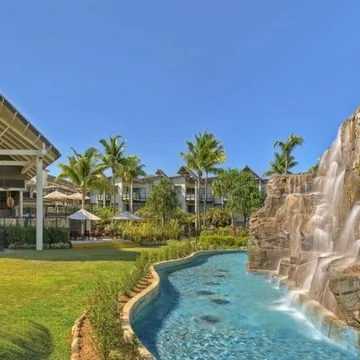 Radisson Blu Resort Fiji
Located on Denarau Island, this 5-star luxury hotel offers opulent accommodation and an abundance of activities. Here you can enjoy the Fiji Islands tropical climate while relaxing at the lagoon-style pool or taking a dip in the glistening ocean.
Check Availability
It is an excellent pick if you're traveling with kids as it features a Blu Bananas kids club, water tunnel slide, and family-friendly accommodation options.
You'll find 270 elegant rooms with contemporary designs and premium facilities. Each room has its own balcony or courtyard area where you can admire the astounding views of the tropical gardens. Other facilities at the resort include the invigorating Harmony Retreat Day Spa, a fitness center, and Evolution Fiji water sports.
When it comes to dining, six on-site restaurants provide scrumptious meals. From the Blu Bar and Grill breakfast buffet to the barista-made coffee at Chantra Thai Restaurant, there are plenty of delectable options to start your day in the tastiest way. And for dinner, you can enjoy live cultural entertainment at Lomani Wai or reserve a spot at Signature Tables for a fine-dining experience under the twinkling stars.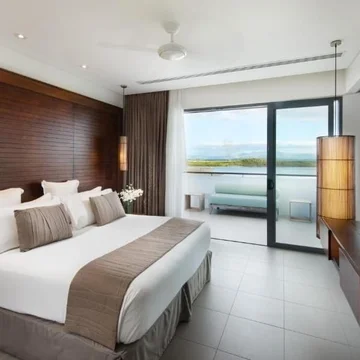 Hilton Fiji Beach Resort and Spa
The Hilton is one of the best luxury hotels in Fiji. It is surrounded by around 1.2 miles of secluded shores and features stylish rooms with magnificent views of the sea and surrounding gardens. Here you'll find both family-friendly activities as well as adults-only areas.
Check Availability
KORO is a superb zone for adults to enjoy all-day dining, drinks, and lounge at the extensive outdoor pools and deck. For the kids, there is an enjoyable club with numerous fun activities. At this luxury resort, you can splash in one of the seven pools during the day and enjoy live entertainment at night.
There is also a fitness center and sumptuous seven treatment rooms where you can enjoy detoxifying treatments, mineral stone therapy massages, and much more. Several on-site eateries offer exceptional services, from Maravu's nightly torchlight ceremony and divine meals to Nuku's oceanfront international cuisine.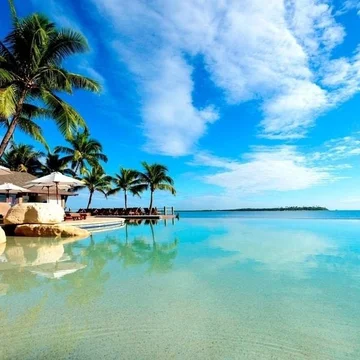 Sheraton Denarau Villas
Sheraton Denarau Villas is one of the best 5-star hotels for a luxury stay in Fiji. The resort offers a rejuvenating escape with plenty of activities such as swimming in the seaside infinity pool or strolling in the lush gardens. You'll find several accommodation options that are ideal for families, couples, and groups of friends.
Check Availability
Each luxury villa has its own patio or balcony where you can enjoy your morning coffee in a bright and breezy setting. The villa also features a flat-screen television, Wi-Fi, as well as complimentary slippers, and bottled water. Depending on your chosen villa, you can marvel at magnificent views of the resort lagoon, Nadi Bay, or the lush gardens with lily ponds.
There is certainly something for everyone at this deluxe resort, from entertaining children's club activities to poolside dining. Other services include a 24-hour fitness studio, several beauty treatments, and a swim-up bar.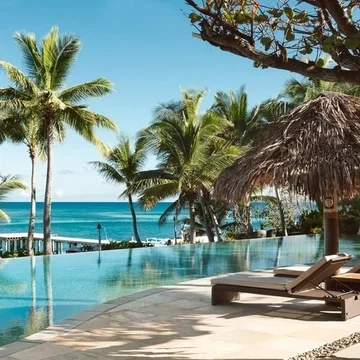 Tokoriki Island Resort
Tokoriki Island Resort offers an exclusive adults-only adventure on a secluded island off the west coast of Nadi. Nestled within the Mamanuca Islands in Tokoriki, it is one of the best hotels for couples.
Check Availability
A stay at Tokoriki Island Resort provides an intimate atmosphere that's perfect for a magnificent honeymoon, romantic anniversary, or just a well-deserved getaway. Here you can choose between a luxury bure or villa accommodation.
The room styles are inspired by contemporary and traditional Fijian designs. Here you can unwind from everyday life and reconnect with nature.The accommodation features several comforts such as air-conditioning, deluxe daybeds, hammocks, and soothing outdoor showers for a more luxurious escape.
At the resort, you can enjoy a rejuvenating massage, a thrilling game of tennis, and shop for souvenirs at the gift store. There is also an open-air bar and several dining options, from tasty South Pacific cuisine to creative Japanese dishes.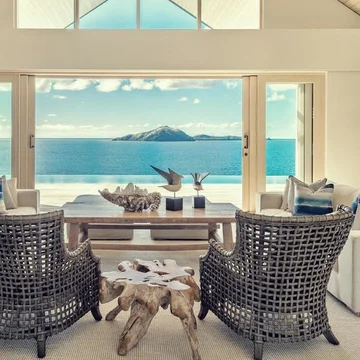 Kokomo Private Island Fiji
Kokomo Private Island is one of Fiji's most exclusive secluded hotels. It offers a stay in ultimate luxury with exceptional services to take care of all your vacation needs. Positioned on Yaukuve Island, the resort provides aesthetic accommodation with a breathtaking backdrop.
Check Availability
Here you'll find expansive villa or residence options that are ideal for families, groups of friends, couples, and solo travelers. The room designs feature sustainable practices with innovative, contemporary styles.
All the rooms are equipped with air-conditioning, a flat-screen television as well as complimentary slippers and bathrobes. The resort is a paradise for outdoor enthusiasts with plenty of adventures on offer, such as canoeing, paddleboarding, and snorkeling.
There is also a fun kids and teens club to keep the little ones entertained. For a relaxing experience, you can enjoy a yoga class, massage, or unwind at the pool with a cocktail. There are three spectacular dining venues where you can indulge in delicious creations made with island-grown and locally sourced ingredients.
The Beach Shack is ideally positioned and a splendid spot to nibble on tasty treats while admiring the spectacular sunset. And if you're looking for a refined meal inspired by Asian street food, the Walker D'Plank will not disappoint.
A Footnote on Fiji Hotels & 5-Star Stays
Now that we've looked at the top hotels in Fiji, which one will you be visiting on your next island vacation? Enjoy the sun, sand, and sea while staying in ultimate luxury at the resort most suited for your style.
All the opulent resorts offer something special for every kind of traveler, from adults-only adventures to family-friendly fun. And if you're already thinking about your next getaway, check out this guide on the best luxury rainforest hotels for more holiday inspiration.
Find Luxury Hotels in Fiji