There is something so dreamlike about a hotel in the trees. It may prompt you to think of Tarzan and how you wished you could swing on the branches by his side when you were small. Or it may just make you think of times past when the world was new and untouched.
Whatever path your imagination takes, it's sure to come to the same conclusion as all others. A hotel in the rainforest is perfection. The only thing that can make jungle accommodation better are the luxurious amenities you know we love, including fantastic dining experiences, plush beds, and deep bathtubs.
On this list, we've found the best hotels, resorts, and lodges for you to experience the jungle alongside complete relaxation. Spend your days gazing out at the trees, the rivers, and the wildlife, and spend your nights sipping on premium wine, lazing in a hot tub, and bouncing onto comfy beds.
10 Best Luxurious Rainforest Hotels
Since luxury is not confined to a single country, you'll find that these hotels are scattered across the globe. Whether you're looking to visit the Amazon or you're planning a trip to Vietnam, you'll find a fabulous jungle hotel waiting to welcome you.
Every bit as fascinating as luxury snow hotels, these highly-rated spaces are created to ensure that you have a memorable experience. So dive in, and explore the most incredible hotels surrounded by nature.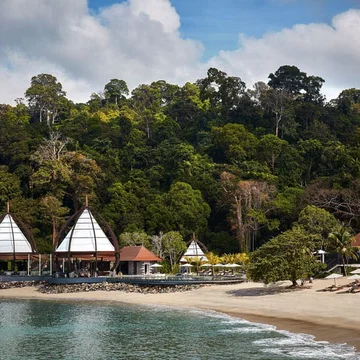 Jalan Pantai Kok, Malaysia

5
The Ritz-Carlton, Langkawi
The Ritz-Carlton is synonymous with luxury, and this hotel in the trees is no exception. This 5-star Malaysian hotel sits on the edge of the trees, with azure waters stretching out before it. Get the best of both worlds by walking through the forest before swimming in the sea.
Check Availability
If you prefer not to get salty, dive into one of the three resort pools. And if you're after perfection, book into a luxury villa and dip into your own private pool. Whichever room or villa you find yourself in, you'll be emersed in nature, whether it's rainforest or the oceanfront.
Langkawi has four separate restaurants on-site, each offering an exquisite dining experience. There is even an adults-only restaurant where you can go for romantic sunsets and cocktails in the pool.
The concierge is always ready to help you with anything you need, including planning your itinerary, if you want an active vacation. If you'd prefer to relax, head to the heavenly spa. But since this is the Ritz, why not do both?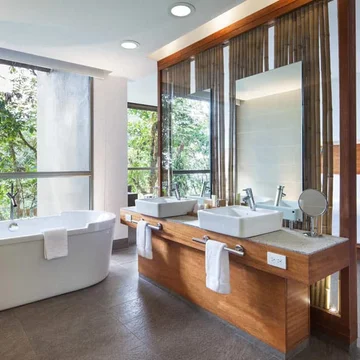 Amazon Rainforest, Ecuador

5
Mashpi Lodge
This luxurious retreat is the perfect place to take in lush tropical views as well as experience exciting activities and tours. When you're not in the hotel – AKA heaven on earth – you can explore hidden forest paths, waterfalls, the hummingbird garden, and so much more. You can even soar above it all in The Dragonfly, an open-air cable car.
Check Availability
This hotel has a large focus on sustainability and science, so you can feel an extra thrill of happiness, knowing that your stay is helping the surrounding environment. You can also get involved in one of their many fascinating projects, and be shown through the rain forest by friendly, knowledgeable guides.
Enjoy gourmet cuisine at the gorgeous restaurant, and treat your senses to one or two exotic cocktails, created by their expert mixologists. All are designed with the magical forest in mind and reflect the flavors you'll find in the region, with an interesting spin.
When you have had enough of an adventure for one day, lie back on the soft pillows and gaze out of the floor-to-ceiling windows. 400 species of birds are your neighbors, so sitting in bed can be a wildlife experience in itself. If you're not yet fully relaxed, the spa's wellness treatments will soon have you feeling completely stress-free.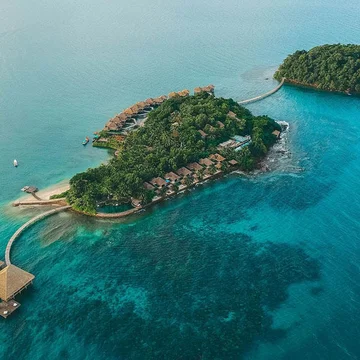 Private Island, Cambodia

5
Song Saa
Song Saa offers something a bit different. You can experience a tropical jungle located on a small, stunning island. This eco-paradise also has a focus on sustainability and total emersion in nature. So whether it's ocean water you want or the rainforest, you can experience it at Song Saa.
Check Availability
With options ranging from overwater bungalows to jungle villas, this is the best of both worlds. Best of all, you can take in the exceptional views from the infinity pools overlooking the water or jungle, depending on your choice of accommodation. You can also find luxury amenities like a mojito-making station, outdoor shower, and spacious sundeck.
This Cambodian hotel offers amazing activities, including sea kayaking, snorkeling, scuba diving, yoga, and meditation, amongst others. This is the perfect place to reconnect with nature and your loved ones.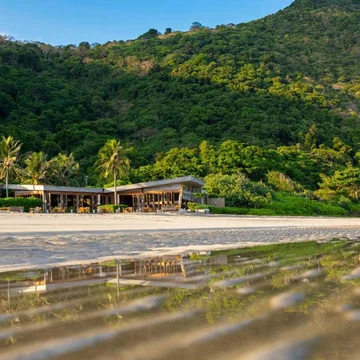 Six Senses Con Dao
Located in a protected National Park in Vietnam, you'll find this remote rainforest hotel. Styled after a traditional Vietnamese fishing village, this space exudes a sense of community, while also being completely private.
Check Availability
Each villa has a private infinity pool from which you can look out at the breathtaking ocean. They each also have a garden shower to wash off the ocean salt. In the villas, you'll find modern amenities like WiFi, Bose sound system, and an LCD TV, all set amongst natural wood decor.
At this jungle resort, you'll find three restaurants. One serves up local favorites, another offers contemporary international cuisine and the last is where you'll find light meals and delicious drinks. For sundowners, head to the Splash Bar for a refreshing cocktail while you laze in or out of the pool with the sunset before you. There is also a spa, which offers all sorts of treatments.
Kalagala Island, Uganda

5
Lemala Whitewaters Lodge
Accessed only by boat and nestled on a granite cliff, Lemala is a rainforest hotel unlike any other. With foamy rapids creating an atmospheric din, you'll be led to one of 10 stand-alone suites in the forest. Each villa is connected to the restaurant and bar by raised wooden walkways through the jungle.
Check Availability
The rooms are spacious and timber-floored, creating a feeling of calm and luxury. Handmade furniture, a rain shower, and a secluded wooden deck with loungers and an open-air bathtub make the space romantic and unique.
Other unique features include a swimming pool carved from the pink granite rock and the unusual activities that you can engage in in the area. These include white water rafting, bungee jumping, horse riding, and fishing. A stay at this rainforest hotel is sure to live on in your mind and heart for years to come.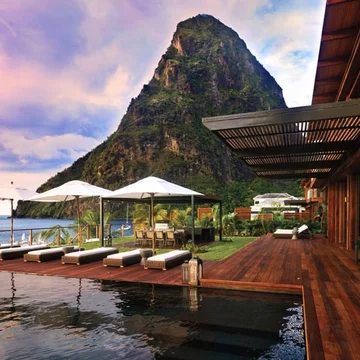 Val Des Pitons, St. Lucia

5
Sugar Beach, A Viceroy Resort
Much like The Ritz-Carlton, Viceroy goes hand in hand with luxury. You'll find this rainforest hotel located amongst 100 acres of pristine rainforest. Discover nature alongside modern, stylish accommodation.
Check Availability
There is so much to enjoy at this private resort that your days will be filled with fun. Hike the UNESCO World-Heritage listed Pitons, amble within the tropical gardens, and take full advantage of the spa and services offered at this hotel in the forest.
When you feel peckish, head to the on-site restaurant to try Caribbean delicacies. There is live entertainment to keep you entertained all night long. The rum cocktails will also help you feel the island spirit, which is particularly interesting because of the hotel's plantation heritage.
There are a number of different room, suite, and villa options available here. Whether you want a huge villa leading to the soft sand of the beach, or a more modest room, each space is perfectly constructed to make your dreams a reality. You can also make use of the butler service from each of the accommodation options, and a beautiful view of St. Lucia is guaranteed.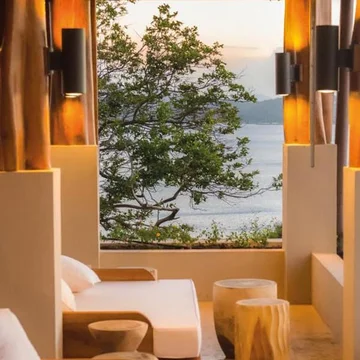 Las Catalinas, Costa Rica

5
Casa Chameleon
This Costa Rica resort is sure to take your breath away as soon as you catch a glimpse of it. Its location is exquisite, and so is everything else about this award-winning rainforest hotel.
Check Availability
Spend your time hiking Tenorio Volcano, taking canopy tours, horseback riding, biking, and exploring waterfalls. If you would prefer a more sedate vacation, spend your days at the wellness center, getting facials and massages. You can also take a yoga class, or head to the pool to swim and laze the day away.
Featured on CNN as one of the world's most romantic restaurants, you can be sure that you'll discover a unique dining experience at Casa Chameleon. You can also have your meals sent to your villa if you would prefer a private poolside dinner. At sunset, head to the bar for happy hour.
As you can imagine, the accommodation options available here are nothing short of perfection. Each villa has a private pool as well as beautiful views of the location, whether that's the serene sea or the jungle at its back.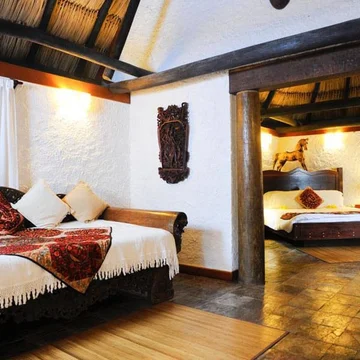 The Lodge at Chaa Creek
This intimate, authentic rainforest lodging is the ideal place to unwind and reconnect with nature. Nestled amongst the trees of the Belize rainforest, the river that flows alongside the hotel delivers a beautiful atmosphere for your stay. The thousands of birds also add their own music to the ambiance.
Check Availability
This eco-lodge uses 10% of the revenue it earns to support the rainforest that surrounds it, so you'll be doing good with your vacation. The nature reserve that this rainforest hotel is located in also supports canoeing, hiking, and birdwatching, which you can explore through the hotel.
There are numerous accommodation options, and you can choose between villas in the treetops, or river view suites, amongst others. Even better, there are options for couples and huge families alike, so you can have your loved ones by your side.
You can also choose between rooms with a jacuzzi or ones without. But whichever choice you make, the view is sure to be spectacular.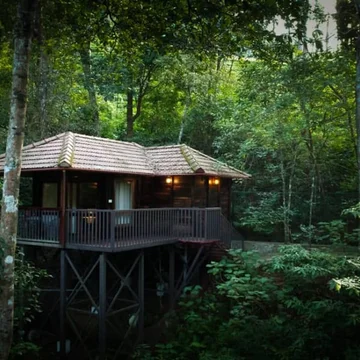 Wild Planet Resort
For Wild Planet Resort, its name accurately reflects its surroundings as well as its ethos. With a focus on eco-adventure travel blended with modern comfort, this is the ideal place to discover if you have an interest in India.
Check Availability
Located atop a hill in the Western Ghats, this hotel boasts incredible views of the jungle, which you will enjoy even more when breathing in the pristine air. There are four accommodation options, each offering a different experience. You can choose to be among the trees or above them.
This 4-star hotel offers a range of outdoor activities to breathe fun into your vacation, including kayaking, trekking, football, fishing, and indoor games. After a busy day, return to your spacious, stylishly appointed rooms for a blissful night's sleep.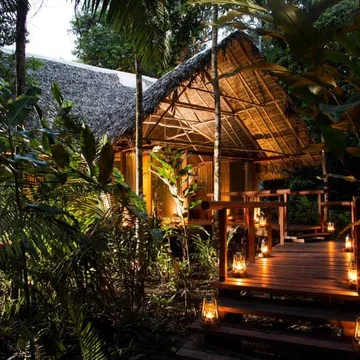 Inkaterra Reserva Amazonica
Last, but certainly not least, we have this award-winning hotel in Peru's Amazon. Here you can experience unique activities, like a guided tour through the rainforest at night, and a twilight boat tour. These experiences are intentionally designed to allow you to see the jungle in a whole new way, as certain animals are waking, while others are finishing their day.
Check Availability
If you want ultimate luxury, book into the Tambopata suite. This spacious cabana has a private pool as well as a deck to sunbathe on. When not lounging on the sundeck chairs, lie back in a hammock and listen to the birds, of which there are at least 540 species.
In the dining room, enjoy freshly made meals, sourced from local ingredients. The restaurant and bar are surrounded by views of the Amazon, making your meal one of the most scenic you will ever experience. After lunch, why not head to the spa for an Amazonian purification treatment or a deep tissue massage?
Ready to Book the Best Rainforest Hotel Accommodation?
Hotels amongst the trees are the epitome of perfection. Surrounded by birds, wildlife, and stunning nature, every night spent in one of these spaces is sure to be one for the books.
Found in the lush jungles throughout the world, these amazing hotels are ready to help you have the adventure of a lifetime. With flawless service, serene environments, incredible pools and so much more, every rainforest hotel on this list deserves a visit. So what are you waiting for?
Pack your bags and set out to the Amazon, Costa Rica, or any of the tropical countries that house these stunning spaces. And if you're looking for something a little different, check out our guide on the best rainforest resorts, they're every bit as dreamy as these.