Home of five UNESCO World Heritage Sites including Easter Island, Chile is one of the most exciting travel destinations in South America. This coastal country has a lot in store for adventurous spirits; think active volcanoes, temperate forests, and the world's driest desert – Atacama. Honoring the wild spirit of Chile, the luxury hotels in Chile are situated in impressive surroundings that promise extraordinary travel experiences.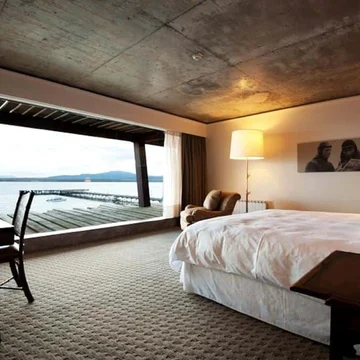 Puerto Bories, Chilean Patagonia, Chile
The Singular Patagonia
There's no better way to start our list than with a hotel that promises a "singular stay" in the charming area of Puerto Natales. There are many things that single out this hotel as exceptional – the personalized service, sophisticated decor, and warm hospitability. However, what truly strikes us as impressive is the hotel's building which is considered to be some of the best examples of an architectural adaptation. Namely, the hotel is nestled in a century-old cold storage Frigorifico Bories declared a National Heritage in 1996. If this wasn't enough to trigger your imagination, let it be known that the property is set on a remote fjord overlooking a beautiful mountain landscape and serves at the same time as a museum.
Check Availability
The hotel was created by a Swiss family which is immediately noticeable by the minimalistic decor. Rooms feature a non-intrusive beige color palette which puts the whole focus on the floor-to-ceiling windows overlooking Last Hope Sound and the Andes Mountains. Comfy chairs, writing desks, and custom-built furnishings add to the overall sophisticated atmosphere. The beds are relatively big and fashioned with soothing linens, while the separate bathrooms feature whirlpool tubs and showers.
The in-house restaurant is a real treat and we're pretty sure you'll keep the meals in a dear memory. Dishes pay homage to the mountain ridges of Seno Ultima Esperanza by creating a menu infused with Patagonia-sourced ingredients such as austral hake, king crab, and guanaco.
Guest rooms start at $625, while the suites cost $915 per night.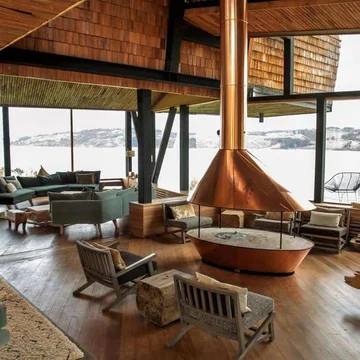 Castro, Chiloé Island, Chile
Tierra Chiloe Hotel & Spa
For the ultimate-one-with-nature experience, you shouldn't go without visiting the beautiful Chiloe Island should you have the opportunity. The is the home of colorful houses, amazing ocean views, and an abundance of wildlife from black-necked swans, mountain monkeys to the shy and adorable Pudu, the world's smallest dear. Tierra Chiloe Hotel & Spa gives you the opportunity to explore this exciting area from the comfort of luxurious rooms set in a traditional palafito house. The wooden property is built on stilts and it reflects the traditional architecture of the island. Overlooking Pulao Bay and Hudson Channel, the hotel provides a sense of remoteness in interiors that pay homage to the traditional heritage of Chiloe.
Check Availability
The hotel offers numerous adventurous tours and guests can hike, sail, or kayak their way through the stunning landscape of Chiloe. Careful and attentive, the staff will attend to your every need. Don't hesitate to ask them for a recommendation, this is a team that is eager to create a personalized experience for every guest.
The rooms at the hotel are spacious and airy, each boasting calming sea views through picture windows. With hand-crafted furniture and locally woven fabrics thoughtfully incorporated in each room, the interiors offer a homey atmosphere. There are no televisions here – Tierra Chiloe invites guests to tune in the present moment, enjoy the view or spend the evening reading a book from the eclectic library.
The farm to table restaurant is a real treat and something you don't expect to see in a luxury hotel setting. Tierra Chiloe collaborates with the local fishing community and treats its guests with a plethora of seafood dishes. Don't go without trying the traditional Chilean dish "curanto"
Double rooms start at $1,400 including meals, transfers, and half-day excursions.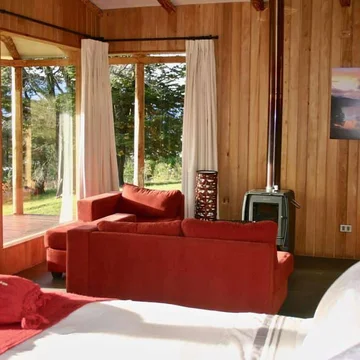 El Mirador de Guadal
Lago General Carrera, situated in the backdrop of the Northern Patagonia ice fields, is the largest lake in Chile. As such, it presents an awe-inspiring natural marvel that attracts hundreds of eco-tourists and cultural tourists every year.
Check Availability
The wooden, waterfront lodge of El Mirador de Guadal is the ideal retreat from which to explore everything this beautiful area boasts. The hotel rooms have a homey atmosphere and there's a high chance you would like to move there permanently. Every room is situated in an individual wooden cabin with a furnished terrace overlooking the lake and the mountains. The minimalist decor invites guests to focus on the ravishing views surrounding them. Tea and coffee making facilities are available, while the wood-burning stove creates a warm ambiance.
Like the rooms and family suites, restaurants are also set in wooden cabins built from local Cyprus and lenga wood. Every meal is prepared with fresh vegetables and herbs taken from the hotel's garden. Guests can enjoy Peruvian and Chilean dishes while contemplating the spectacular views of the lake and the surrounding glaciers.
Rooms start at $169.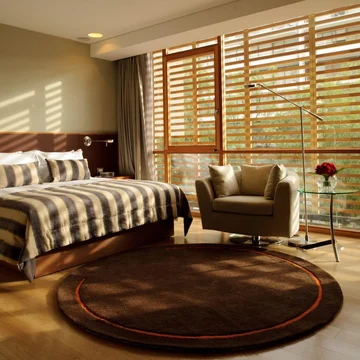 Noi Vitacura
Noi Vitacura is a luxurious hotel located near the exclusive Vitacura district, known for its numerous upscale dining and shopping options. Shopaholics will be happy to learn that Calle Alonso de Cordova, one of the biggest shopping malls in Santiago, is just minutes away from the hotel.
Check Availability
The hotel's property is an impressive piece of modern architecture that makes an immediate impression. Inside, there are 87 guest rooms and suites infused with natural light through large floor-to-ceiling windows. Each room at the hotel is appointed with luxury touches such as designer furnishing, deluxe Italian fabrics, and Portuguese bed linens. Premium sound systems, flat TV screen, complimentary Wi-Fi, automatic curtains, phones with video conferencing, tea and coffee making facilities – the list of in-room amenities is extensive.
The hotel's two restaurants offer innovative gastronomic proposals. The dynamic culinary team at Fronterizo produces top-notch cuisine featuring traditional Chilean and Peruvian dishes. At Piegari guests can savor Italian fare in an upscale setting. For some stunning 360° views of the Santiago skyline and Andes Mountains, head over to the Tramonto Bar & Terrace where spirits, fine wines, and craft cocktails are served throughout the night.
Guest rooms start at $139.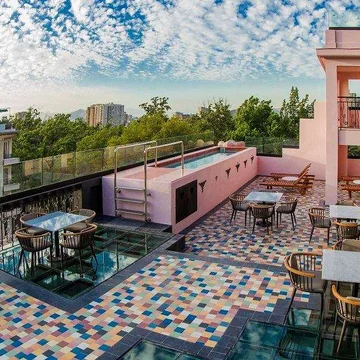 Luciano K
Designed by the renowned architect Luciano Kulczewski, Luciano K is a top-tier hotel set in a grandiose Art Deco property. The building was constructed in 1920 and at the time it was the tallest building in Chile. The hotel is close to the upscale neighborhood of Bellavista, popular for its colorful buildings and Pablo Neruda's museum. La Moneda and Plaza de Armas are a 10-minute walk away from the hotel.
Check Availability
The hotel's rooftop terrace and bar is a popular spot in town. Here, guests enjoy craft cocktails and mingle with international travelers and locals alike. There's also a tiny swimming pool overlooking the city. After a long day of sightseeing, guests can relax in the sauna situated on the ground floor. The staff team is friendly, attentive, and happy to show you around the property or tell you about its history.
Don't let the Art Deco style of the building fool you, the rooms inside boast ultra-modern accommodation. Each unit is lined with soundproof windows so you won't be disturbed by the traffic coming in from Santiago's busy streets. Inside, you'll discover original parquet flooring, sumptuous beds, luxury linens, and contemporary paintings. Toiletries made from grape seed extracts are a nice touch.
The ground-floor restaurant is a relaxing spot to enjoy your buffet breakfast consisting of pastries, cereals, coffee, fruits, eggs, and bacon. Tapas, dishes, sandwiches, and some traditional Chilean dishes are served at the rooftop terrace. Room service is also available.
Guest rooms start at $160.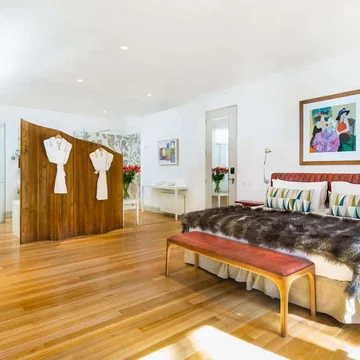 The Aubrey
Built as a family mansion in 1927, the Aubrey is Santiago's first boutique hotel. After a 3-years renovation, the hotel opened its doors in 2010 and since then has been a magnet for cultural tourists and high-end clientele. Aubrey is located in the vibrant neighborhood of Bellavista, once the red light district of Santiago. Today this is a lively area, packed with numerous clubs and lively bars. Pablo Neruda's museum is just steps away from the hotel.
Check Availability
The hotel offers numerous relaxing spots including a pool area surrounded by sun loungers and a well-manicured garden. Don't miss to check the variety of tours available such as Santiago city tours, horseback riding in the Andes, and cooking classes. Furthermore, day trips to Vina del Mar and Valparaiso can be arranged where guests can taste fine wines and learn about the organic process used at the vineyards.
Each of the 15 rooms boasts a unique decor and comes with a private terrace. The ambiance is warm with eucalyptus hardwood flooring, soft furnishings, antiques, and artworks created by local artists. There are high-quality Rosen beds fashioned with fine Brazilian cotton sheets. The list of in-room amenities is extensive and includes free Wi-Fi, flat TV screen, central heating, air-conditioning, in-room safe, minibars, MP3 docks, Hansgrohe rain showers, and feather down duvets and pillows.
The room rate includes complimentary breakfast served at the sleek piano lounge.
Guest rooms start at $210.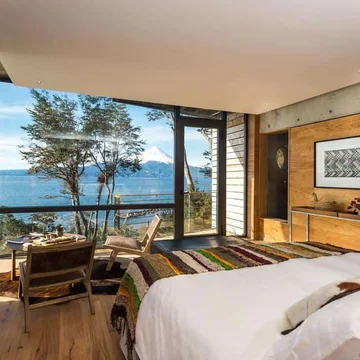 Región de los Lagos, Chile
Hotel AWA Puerto Varas
If you are keen on exploring rare gems, you shouldn't go without visiting the charming town of Puerto Varas. Hotel AWA gives you the opportunity to experience the best part of Patagonia while staying on a quiet spot on Lake Llanquihue.
Check Availability
Horseback riding, fly fishing, rafting, kayaking tours – the hotel's staff can arrange everything and they will be more than happy to create a personalized tour for you. If you are up for some adventure, we strongly recommend that you should book a helicopter flight to Cochamo, the Chilean Mecca for rock climbing. The ride starts at the hotel and heads towards Osorno Volcano and the hidden valleys inside the Andes.
All rooms at the hotel boast views over Lake Llanquihue and Osorno Volcano through floor-to-ceiling windows. The decor is minimalistic, while the fireplace creates a warm ambiance. If you need some extra space, book some of the suites which feature living areas, small kitchen enters, and sofa beds. Deluxe rooms feature terraces appointed with tables and chairs.
The in-house restaurant serves a buffet breakfast consisting of homemade pastries, bread, cereals, fruits, eggs, bacon, coffee, and tea. For lunch, there's an extensive menu offering local food paired with an impressive wine list.
Guest rooms start at $330.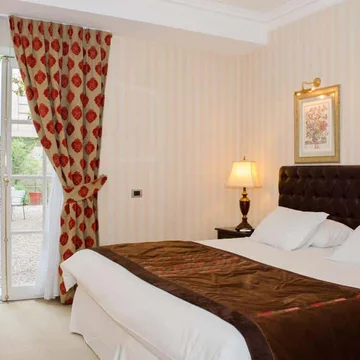 Le Rêve Boutique Hotel Providencia
If you want to experience what it's like to be part of the upscale Chilean society, then you should visit Providencia. This is an exclusive neighborhood packed with 19th-century houses and upscale restaurants. Here, wide-tree lined boulevards lead to the immense parks. La Reve offers high-end travelers the opportunity to experience this area from a stunning 19th-century mansion covered with ivy. It's worth noting that the metro station is just three blocks away, so if you start to miss the vibrant Santiago's atmosphere, you can always visit the bars in Bellavista or the restaurant packed Lastarria which are just 15 minutes away.
Check Availability
All of the 31 rooms and suites exude the same upscale atmosphere felt throughout the hotel due to the cream-colored palette, French doors, light-wood furniture, and lemon wallpapers. Comfortable seating areas, storage space for clothes, as well as decent sized working desks, are a recurring theme. The beds are relatively big and very comfortable, while the soundproof windows block out the street noise. Deluxe rooms feature balconies overlooking the garden.
The point where La Rave might come off as lacking is its facilities, as it has only a small lounge area where buffet breakfast is served. However, on sunny days breakfast can be arranged in the beautiful courtyard which has a romantic and relaxing ambiance.
Guest rooms start at $153.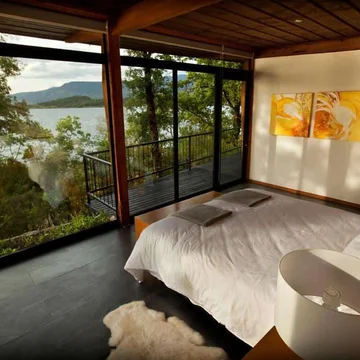 Hotel Antumalal Pucón
Situated on the shores of Lake Villarrica in a 5-hectare private park, Hotel Antumalal Pucon is an impressive boutique hotel that takes full advantage of its notorious location known for numerous volcano eruptions. However, the volcano eruptions have never affected business as the area is also known as the "corral of the sun" referring to the impressive sunsets. The list of royalties and A-listers that have visited Hotel Antumalal is extensive and includes Queen Elizabeth II, Emma Thompson, Neil Armstrong, and James Stewart.
Check Availability
Created in the '40s and influenced by the Bauhaus school and Frank Lloyd Webber styles, the design and lines of the Antumalal' property leave an immediate impression. Only natural materials were used and each corner of the hotel was designed to fit the natural surrounding. Guests can stay in rooms perched over a cliff, each with expansive views over the lake. There are also four chalets dotted within the garden. Wood paneling, fresh flowers, fireplaces, and colorful rugs – the ambiance is truly unforgettable.
Hotel Antumalal offers a variety of tours in Pucon and numerous outdoor activities including horse riding, hiking, bird watching, and fly fishing.
The hotel's restaurant has a good reputation in Pucón and the Araucanía region. Here, guests can savor traditional Chilean dishes infused with ingredients from the local garden.
Guest rooms start at $250.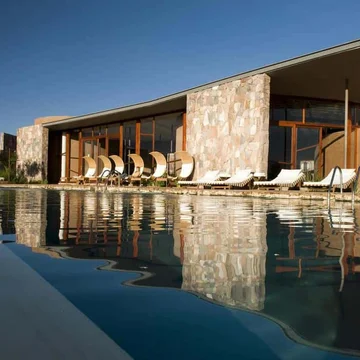 San Pedro de Atacama, Atacama, Chile
Tierra Atacama
Remote and absolutely exclusive, Tierra Atacama is situated in the driest desert on earth. Peace, intimacy, and the best stargazing in the world – this is the ideal retreat for anyone that wants to tune in the present moment and forget about their daily worries.
Check Availability
The hotel's property is lined with floor-to-ceiling windows overlooking the Andes. Inside, guests will discover serene spaces that are tastefully decorated with colorful rugs, llama figures carved from volcanic rock, and romantic four-poster beds. Each room has expansive views over the Andes mountain range, the nearby volcanoes, and the desert. Furthermore, guest rooms feature private terraces appointed with chairs and desks, while alfresco bathrooms invite guests to shower under a starry sky.
The in-house restaurants have a menu that stays true to the regional recipes and seasonal ingredients. Don't go without trying their mouthwatering Chilean ceviche and some of the tasty vegetarian mains. There's also a bar, should you want to enjoy some high-end spirits or Chilean wines, or freshly brewed coffee.
Guest rooms start at $600.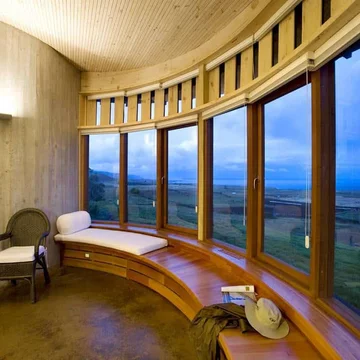 Explora Rapa Nui
You must have heard about Easter Island, the remote volcanic island famed for its 900 monumental statues called moai. If you happen to find yourself in Chile, then you shouldn't go without visiting this mysterious island. The exclusive hotel Explora Rapa Nui boasts a privileged location on the island, surrounded by trees, prairies, and impressive views of the Pacific Ocean. The hotel offers all-inclusive packages that include accommodation, transfers to and from the airport, meals and drinks as well as a selection of excursion tours.
Check Availability
With over 30 guided tours, the hotel offers travelers unique experiences that include visiting remote places unknown even to the locals. Guests are led by a bilingual guide who can help guests understand Rapa Nui's vibrant culture and history. Hiking, biking, boating, snorkeling, and scuba diving can also be arranged.
The morning spread includes fruits, avocados, eggs, toasts, and fresh papaya. For lunch, guests can enjoy classic Chilean dishes including roast beef, empanadas, salads, and ceviches.
Guest rooms start at $910.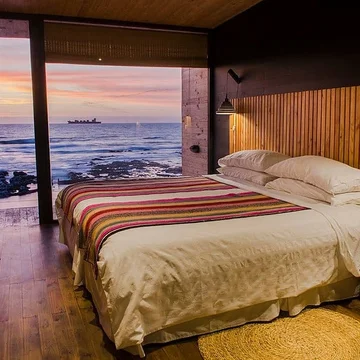 Hotel Apacheta
Discerning and high-end travelers will appreciate Hotel Apacheta's excellent location. The hotel is nestled between La Lisera and El Laucho- some of the most popular beaches in the beautiful area of Arica. This is one of the best spots in the country for surfing and the area is packed with international tourists and friendly locals. Arica's city center is a 15-minute walk away.
Check Availability
The hotel is situated in an impressive work of architecture created with a mix of local wood and industrial metal accents. Inside, guests can relax in spacious rooms lined with floor-to-ceiling views which give way to some ravishing sea views. Terraces are charming with wooden chairs and tables. There are no televisions, phones, or Wi-Fi connection in the rooms, hotel Apacheta invites guests to contemplate the beauty of the natural surroundings. Bathrooms feature rainfall showers and organic toiletries. Guests can book guided tours to the Andes, the Atacama, or the beautiful alpine lakes.
For breakfasts, guests can savor a buffet consisting of fruits, yogurt, eggs, local bread, pastries, and French coffee. The hotel's kitchen is small and guests need to reserve a dining space ahead of their reservation. However, it's worth the trouble as the culinary team at Apacheta specializes in Peruvian cuisine.
Guest rooms start at $130.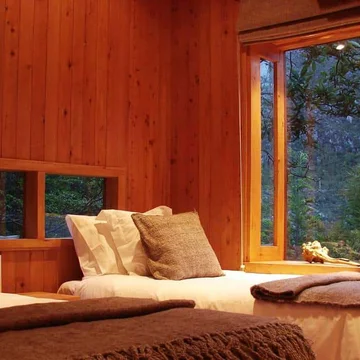 Entre Hielos Lodge Tortel
Entre Hielos Lodge Tortel gives guests the opportunity to experience the full glory of nature in Chile. This wooden lodge that is entirely constructed with local cypresses is tucked into the edge of a forest in the beautiful Caleta Tortel. The area is inaccessible by road, so you will need to take a short walk and leave your vehicle outside the village. However, this small adventure is worth the trouble as the hotel is set amidst the unspoiled wilderness.
Check Availability
There are only six rooms in the hotel, each set into the forest and appointed with picture windows. The views are sensational, all you can see is rays of light shining through century-old trees. If you're looking for top-notch amenities and exclusive facilities you'll be disappointed, the idea is to switch off and enjoy the natural surroundings. The hotel owners own a small boat that takes guests on excursions to Patagonia's waterfalls, Baker river or Islas de Muertos.
Meals are served at the communal dining table, and every dish is prepared by the owners. Homemade jams, bread, and pancakes – breakfast is a real treat. For lunch guests can enjoy homemade soups, buttery risotto and river caught hake and salmon. Local wines and craft beers are also available.
Guest rooms start at $230.
Find Luxury Hotels in Chile