A country with rich culture and history, Colombia seduces adventurous spirits with its rare flora and fauna, white-sand beaches, and vibrant cities. Whether you're visiting to explore Bogota's busy streets, relax by the Caribbean Sea, or wander around Cartagena – you can rest assured, you'll have an unforgettable time in any of the luxury hotels on our list.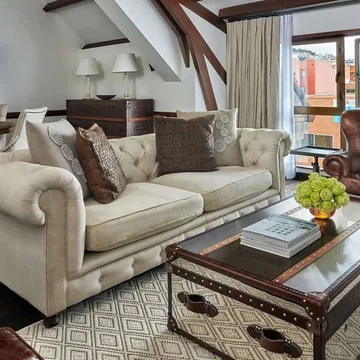 Four Seasons Hotel Casa Medina
The Four Seasons Hotel chain never disappoints when it comes to combining a luxurious design with killer locations. The hotel is set in a landmark 1946 building in an upscale neighborhood known as Zona G. Step outside the hotel gates and you'll find yourself on a busy street filled with some of the best restaurants in town. Monserrate and La Candelaria are a 20 minutes drive away.
Check Availability
Designed by the renowned architect Santiago Medina Mejia, the property is an ode to Bogota's cultural heritage. The corridors are spacious and filled with antiques, colorful rugs, and statues, while the stained-glass windows depicting birds and flowers create a vibrant atmosphere. The staff team is bilingual and will help you with whatever you may need, from restaurant recommendations to booking excursions.
Paying a visit to the hotel's spa should be your number one priority as there are some excellent body treatments on offer, including massages and full-body treatments with organic products. Additionally, the hotel has a small gym where you can get your daily workout.
With hand-made furniture, wooden floors, and canopy beds, the rooms exude colonial charm and elegance. All units are appointed with high-end amenities including a flat TV screen, air conditioning, electric kettle, Nespresso machine, and a docking station.
Guest rooms start at $200.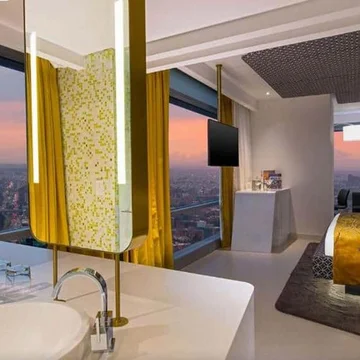 W Bogotá
Bold, exciting, and fun, W Bogota caters to the younger clientele who wants to explore Bogota's vibrant nightlife scene. Centrally located in the upscale neighborhood of Usaquen, the immediate area is filled with boutiques, restaurants, bars, and nightclubs. Don't miss to visit the nearby flea market filled with locals and travelers every weekend.
Check Availability
Inspired by the ancient legend of El Dorado, W Bogota style is drenched in glittering gold color. Throughout the lobby, there are some disco vibes and in the W Lounge, the ambiance usually gets lively throughout the weekend. Relaxation is guaranteed by the stylish black indoor pool lined with sun loungers. Order a cocktail and get a dip – there's a high chance that here you'll rub a shoulder with a celebrity. After a long day of sightseeing, you can always recharge at the enticing spa offering a number of beauty treatments, massages, and full-body wraps. Additionally, the hotel has a modern fitness center, an excellent staff team, and luxurious event spaces that can accommodate up to 500 people.
The flamboyant decor continues in the guest rooms and suites featuring a gold and purple color scheme with some pops of black and glitter. The beds are comfortable and the plush seating areas are ideal for a friends gathering, while the shiny bathrooms guarantee moments of relaxation with walk-in showers and deep soaking tubs.
Guest rooms start at $120.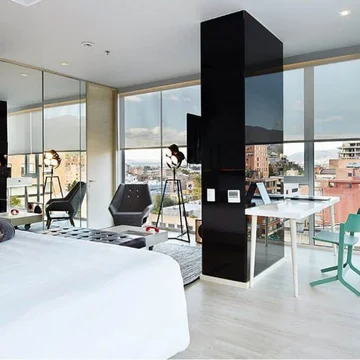 Click Clack Hotel
Flamboyant and stylish, the Click Clack offers sumptuous accommodation in the charming Parque de la 93 packed with shops, restaurants, and bars. A short walk away from the hotel is the historic La Candelaria, while Zona Rosa known for its notorious clubs is just around the corner.
Check Availability
Unlike most hotel chain brands whose style is usually bland, Click Clack puts emphasis on design with unexpected details in every corner. It's worth noting that the hotel has won the Luxury Modern Hotel Award and Luxury Design Award in 2017. The staff team is friendly and multilingual. On a rainy day, they will set up a picnic in your room and you won't even have to lift a finger. What's more, the hotel has its own luxury vehicles, so you won't need to be stuck in a traffic jam. Talk to the concierge and he will arrange personalized tours and excursions to all tourist attractions in the area. If you want to look more beautiful in minutes, just pick up your phone and text the team, they will send you a qualified professional for whatever you may need, from manicures and pedicures to massages and make-up services.
The rooms are stylish and chic with comfortable king-size beds, seating areas, and en-suite bathrooms. Floor-to-ceiling windows give way to some impressive views, while the working desks overlooking the city's skyline are ideal for savvy business travelers.
Guest rooms start at $90.