The Dominican Republic is a supreme vacation spot, known for its flavorsome local cuisine, rich history, and successful baseball clubs. There is no shortage of luxury hotels in Dominican Republic to choose from, so we have compiled a list of the best luxury hotels in the area in order to help you narrow down your options. Whether you're looking to vacation in the vibrant Punta Cana, or you prefer the oceanfront of Cap Cana, we have selected the crème de la crème of luxury hotels.
Sandy beaches, private golf courses, and world-class restaurants – all the luxury hotels in Dominican Republic featured on this list will make you feel as if you've stepped into a tropical paradise.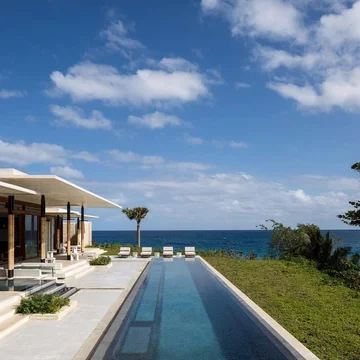 Amanera
Snuggled between a thick jungle and the insanely stunning Playa Grande Beach, Amanera stands high on top of our list of luxury hotels in Dominican Republic for various reasons. From an impressive selection of activities like yoga sessions, golfing on top of a cliff, and watersports, to immaculate two-bedroom houses overlooking the ocean, Amanera promises the vacation of a lifetime.
Check Availability
Known for their personalized service, the staff at this Aman hotel is detail-oriented and amazingly helpful. The hotel boasts a wellness-centered spa that uses Aman Skincare products, an infinity pool with ocean views, a tennis court, a golf course, and a fitness center.
You won't be surprised to hear that the 27 houses available for booking are perfectly elegant, surrounded by luxuriant gardens, and include ocean and beach views. Each house comes with a personal host, a personal bar, three flat-screen TVs, two bedrooms, two en-suite bathrooms, and a private pool with a lounge area. The interior is minimalistic and sophisticated, while the ligneous yet comfortable furniture compliments the surroundings perfectly.
Fine dining isn't an issue when staying in Amanera. Casa Grande Restaurant's floor-to-ceiling windows allow for panoramic views of the area and are bound to take your breath away. Pair that with their Caribbean, Mexican, and Mediterranean-flavored cuisine, and you have the ideal setting for an unforgettable date night. Placed above the restaurant, Lounge Bar is designed for sunset chasing while enjoying an afternoon tea or a rum tasting. Want an option that's closer to the ocean? Club de Playa, a beach-club restaurant, serves South American cuisine in a romantic setting.
The prices at Amanera start from $1,700 per night.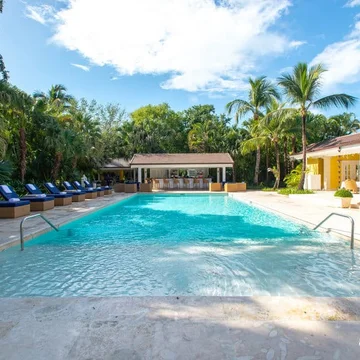 Tortuga Bay – Puntacana Resort and Club
With its own miles-long private beach, opulent suites with hot tubs and spectacular views, and a world-class sauna, this award-winning hotel was designed by Oscar de la Renta, so expect nothing less than an extraordinary stay.
Check Availability
There are 30 rooms in total, all of which include a plasma TV, a kitchen area, and a private balcony, while the en-suite bathrooms have a separate bath and shower areas. To say that the rooms are stylish would be an understatement – although they are quite minimalistic, the rooms are chic, bright, and incredibly inviting.
If you're a fan, you'll be glad to know that an Oscar de la Renta boutique is located on the property, allowing you to purchase the designer's timeless and fashionable pieces. The hotel also includes a golf course, a fitness center, and a steam room. On top of that, guests have access to a wide range of activities like water sports, sunset cruises, and eco-tours.
Led by world-class chefs, the on-site Bamboo Restaurant and La Yola Restaurant are among the top restaurants in the area. La Yola Restaurant, which has been awarded the AAA Three Diamond Award, offers Mediterranean cuisine in a relaxing setting on top of a boat.
Prices at Tortuga Bay begin at around $550 a night.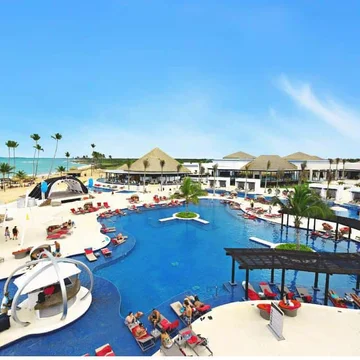 Punta Cana, Dominican Republic
Royalton CHIC Punta Cana Resort & Spa
Royalton CHIC Punta Cana Resort & Spa is an adult-only hotel that also happens to be the party epicenter in Punta Cana. If having fun is your main priority while holidaying, you will greatly enjoy your experience while staying at this hotel.
Check Availability
Apart from the nearby beach, you can cool down in one of the two sizable swimming pools located on the property. The Royal Spa features a long menu of treatments, circuits, and massages that replenish your energy stores and rejuvenate your body. The entertainment options are seemingly endless – grab a cocktail or a strong spirit and enjoy a thrilling night at one of the five on-site bars. Dining-wise, culinary pleasures await at Elements – a restaurant that serves delicious International dishes, Vespa – an Italian restaurant that offers our favorite comfort meals in an elegant setting, and Tagine – the hotel's on-site Middle Eastern restaurant.
Luxury accommodation is one of Royalton CHIC Punta Cana Resort & Spa's many strong suits. Decorated in a neutral color palette with pops of violent details, the suites are palatial and classy. A large king-size bed serves as the cent