A land of escape and mystery, Ireland is a country that attracts adventurous spirits. Here, you'll discover majestic coastlines, lighthouses, magical castles, beautiful beaches, and epic mountain peaks. If you want to explore Ireland's rich culture from the comfort of a luxury hotel, stay tuned. In this article, we've reviewed 15 of the best luxury hotels in Ireland that will add some extra bliss to your visit.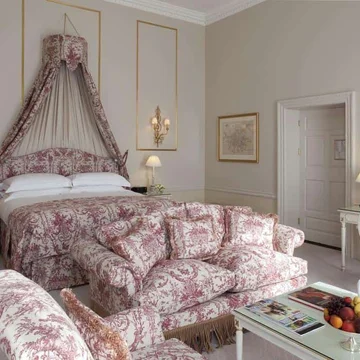 The Merrion Hotel
Dublin's most luxurious five-star hotel, The Merrion, captivates guests with its world-class service and opulent ascomata. This is the most popular hotel in Dublin that's part of the renowned organization – The Leading Hotels in the World.
Check Availability
The Merrion is the ideal base for savvy travelers as it's in close proximity to a number of landmarks, including the National Museum of Natural History, St.Stephen's Green, and the National Museum of Archeology. The immediate neighborhood is quite upscale, with the Edwardian Government Building being just right across the street as well as the I.F.S.C. Dublin Convention Centre, and a number of shopping and dining options.
The rooms are sophisticated and elegant with a decor that pays homage to the 18th century Georgian townhouses in the neighborhood. Tastefully decorated with white wood furniture, crown molding, and cushioned armchairs, The Merrion will make you feel like royalty. The exquisite style continues in the Italian marble bathrooms equipped with comfortable tubs, separate showers, and bidets. Guests get to pick between rooms with a view over the beautifully landscaped gardens of Dublin's charming streets.
The Merrion is the proud owner of the 2-Michelin starred restaurant – Patrick Guillard. Here, innovative dishes infused with local ingredients are served in a classy Irish setting. For late-night drinks, head over to The Cellar Bar, set in an 18th-century wine vault. The ambiance is relaxed and you can get a taste of the bar's exquisite selection of the finest spirits.
The Superior Twin room starts at $310.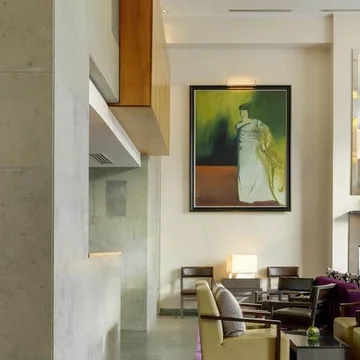 Fitzwilliam Hotel Dublin
Overlooking St Stephen's Green, Fitzwilliam is located on a top-billing address in Dublin. A number of historic landmarks are just around the corner and there are numerous shopping and dining options along Grafton Street and Baggot Street.
Check Availability
The 139 rooms at the hotel are quiet, sophisticated, and notably spacious. They feature a modern palette of lime greens, aubergine, and white that creates a cozy atmosphere. Nice-touches such as turn-down service with chocolates and fresh flowers are bound to make an impression. For an elevated experience, pick a room with a view over the hotel's well-manicured garden. Comfort in every room is guaranteed with comfortable sofas, delicate night lamps, marble-topped tables, and soft linens.
Amenities include a Nespresso machine, flatscreen television, air-conditioning, duck down duvets and pillows, and fast Wi-Fi. Bathrooms are stylishly decorated with a black and white color palette and feature Diptyque toiletries.
The service is top-notch. The staff at the hotel is friendly, well-mannered, and always ready to help you with everything you need. Guests staying at the Penthouse are entitled to a 24/7 butler service that's responsible for organizing your entire stay, including booking spa treatments and recommending you the best pubs in town.
If you're a lover of good cuisine, you're in for a treat. Creative dishes are served at the Glovers Alley which boasts a warm atmosphere with art installations, elegant chairs, and sunny verandas. Swanky cocktails and Irish artisan spirits are served at the charming Inn on the Green where locals and international travelers can be spotted mingling all night long.
Rooms with a garden view start at $197.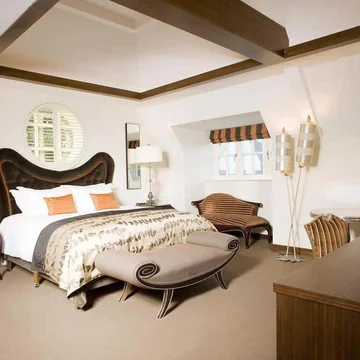 The Dylan
The Dylan is situated in a quiet neighborhood, just a short stroll away from the Grand Canal and the Baggot street with its numerous dining and shopping options. Aviva Stadium is 10 minutes away, while Georgian Dublin and St Stephen's Green are just a short walk away.
Check Availability
Irish design at its best, The Dylan features herringbone wooden floors, delicate lightning, walnut tables, and plush sofas. The ambiance is quiet and soothing, ideal for a good night's rest after a long day of sightseeing. The hotel features 72 individually designed rooms and suites all equipped with a number of high-end amenities. King-size beds are fashioned with percale high count cotton linen. Nice touches such as monogrammed luxury towels are there to remind you that you're indeed in a luxury hotel in the heart of Dublin.
Standard amenities include a Nespresso machine, tea making facilities, iPod docks, air-conditioning, telephone with a direct call, complimentary Wi-Fi, and a fully stocked minibar. Smart bathrooms feature Italian marble, glass showers, and Maison Margiela bathroom amenities.
If you're a book lover, you'll be glad to know that the hotel's library features an impressive collection of first editions. Here, you can relax on comfortable sofas and enjoy the works of famous Irish authors.
At the Eddison, guests can enjoy a range of creative dishes for breakfast, lunch, and dinner. The ambiance is warm and intimate and the restaurant is regularly visited by locals. The award-winning Dylan Bar features an inviting walnut fronted bar where exotic cocktails and Irish spirits are served all night long.
Double rooms start at $200.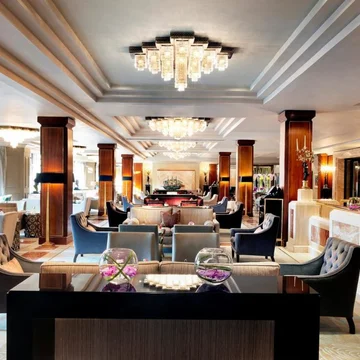 The Westbury
Situated in the heart of Dublin, the Westbury is just steps away from the bustling Grafton Street. The moment you'll step out of the hotel, you'll find yourself on a busy street filled with street performers and buskers. Historic landmarks are mere steps away including St. Stephen's Green, Trinity College, Christ Church, and Baggot Street. It's also worth mentioning that the hotel is part of the Doyle Collection.
Check Availability
Tastefully decorated, Westbury's common spaces are filled with fresh flowers, unique works of art, hanging chandeliers, and luxurious furnishings. The 205 rooms and suites are cozy and spacious, fashioned with a neutral color palette. Expect modern furniture, plush couches, and comfortable king-size beds. All rooms feature beautiful city views, however, there aren't rooms with balconies available. Amenities include a Nespresso machine, electric kettle, air-conditioning, well-stocked minibars, flat TV screen, and complimentary Wi-Fi.
All rooms and suites are peaceful, the perfect retreat from the hustle and bustle of Dublin's city.
Dining-wise, The Westbury is exceptional. At the Wilde restaurant, named after the famous author, guests can expect a sumptuous setting boasting 1930s elegance. Here, guests can try the finest Irish dishes and a selection of classic cuisine from around the world.
If you want to go back in time and experience the atmosphere of a 30s cocktail bar, head over to the Sidecar. Stylish and elegant, the Sidecar was awarded the Best Hotel Bar at The Irish Craft Cocktail Awards 2018.
The rates for a standard room start at $230.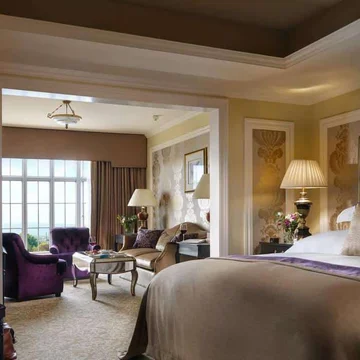 InterContinental Dublin
InterContinental Dublin is a five-star retreat that offers world-class service and sumptuous accommodation. The hotel is located in Dublin's upscale neighborhood, Ballsbridge, a short stroll away from the city's embassy belt. A number of dining options, like the Royal Dublin Showgrounds and the Aviva Stadium, are just minutes away, while Dublin's city center is a 10-minute drive away.
Check Availability
With grand public spaces, glittering chandeliers, exquisite pieces of furniture, and an excellent collection of sculptures and paintings, InterContinental Dublin represents the perfect mix of ultra-modern and Irish design.
The hotel offers over 200 rooms and guests can choose between Deluxe rooms, Family rooms, Executive Suites, and Luxury suites. Deluxe rooms are particularly charming with Juliette balconies and views over the hotel's beautiful gardens. In every room, you can expect a purple-and-gold color scheme that blends perfectly with the wooden furniture, soft furnishings, and plush sofas.
Amenities include a flat TV screen, air-conditioning, USB charging portals, well-stocked minibar, and high-speed free Wi-fi. The bathrooms are spacious and feature Italian marble floors, a separate power shower, and a deep soaking tub. Room service and turndown service are available throughout the day as well.
The hotel's beautifully landscaped gardens feature sitting areas and a fountain. The hotel's lavish spa offers guests access to a 14 meters pool, a hot tub, treatment rooms, a sauna, a steam room, and a fitness center.
Deluxe rooms start at $290.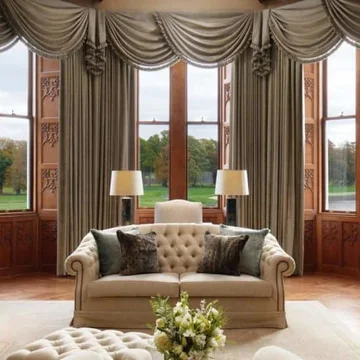 Adare Manor
If you're looking for an authentic Irish experience, but you wouldn't relinquish the comfort of luxury accommodation, then you should definitely visit Adore Manor. This grandiose neo-gothic property was voted #1 Resort in Europe and #5 Resort in the World by Conde Nast Traveler Readers Choice Awards 2019. The resort is located in the charming village of Adore filled with thatched cottages and a number of classic Irish pubs.
Check Availability
The hotel's property dates back from the 1860s but it wasn't until the 1980s that it became a hotel. After a recent 18-months refurbishment, Adore Manor has emerged as one of Ireland's most opulent hotels. The interior of the hotel represents a modern take on traditional Irish design. All common areas in the hotel are tastefully decorated with original heraldry, gold leaf details, fireplaces, and stained-glass windows.
Rooms at the hotel are furnished to perfection in the 19th-century style and offer views over River Mague, the peaceful woodland, or the hotel's golf course. Guests can sink into profoundly comfortable king-size beds fashioned with luxurious 300 thread cotton or relax in a marble en-suite bathroom with rainfalls showers and Acqua di Parma toiletries.
At the resort, guests can engage in a number of activities including falconry, archery, and fishing. A small movie cinema and a spa are also available.
Dining at Adare Manor is an experience of its own. At the Michelin starred restaurant Oak Room, guests can explore the essence of Ireland's best dishes prepared by the head chef Michael Tweedie. Here, fine-dining is served under candlelight paired with an exquisite wine collection curated by the hotel's sommeliers.
Classic King Rooms start at $550.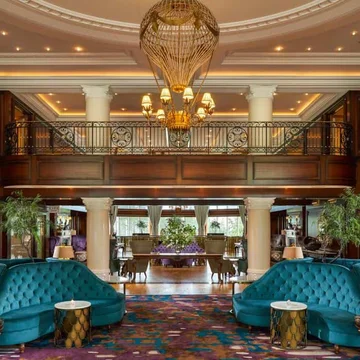 Powerscourt Hotel Resort & Spa
Powerscourt is a grandiose property situated in a valley overlooking the Sugar Loaf Mountain. Blissfully remote, this is a peaceful resort that guarantees tranquility and relaxation while still being a short drive away from downtown Dublin. The charming village of Enniskerry is 10 minutes away, while the Powerscourt House and Gardens is a short stroll away.
Check Availability
With crystal chandeliers, large windows, grand staircases, and delicate lightning, Powerscourt evokes old-world glamour. The hotel gardens are equally astonishing with vast well-manicured lawns and colorful flowers. The total Powerscourt estate comprises over 1,000 acres of farms, hillside, mountains, golf courses, and gardens.
The rooms are elegant and generously sized. Most rooms feature views over the Sugar Loaf Mountain and the surrounding natural beauty of the Wicklow landscape, while all rooms feature walk-in wardrobes and king-size feather beds fashioned with soft linens. Bathrooms are commodious with marble floors, double vanities, rainforest shower, fluffy bathrobes, and Espa bath essentials. Amenities include recessed TVs in bathrooms, air-conditioning, Nespresso machine, mini-refrigerator, USB charging portals, and a safety deposit box.
With an emphasis on local dishes, Powerscourt offers excellent dining experiences. The restaurant Sika offers contemporary Irish dishes infused with local ingredients against the mesmerizing backdrop of Wicklow's hills and mountains. Traditional afternoon tea and evening cocktails are served in the Sugar Loaf Lounge located in the elegant lobby.
Standard rooms start at $250.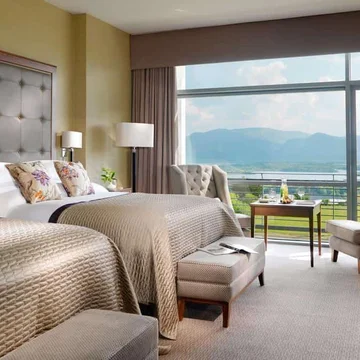 Aghadoe Heights Hotel & Spa Killarney
Aghadoe is a luxurious resort situated high on a hillside overlooking Lough Lane, Killarney National Park, and the jagged peaks off of the Macgillycuddy's Reeks. This is an isolated location ideal for anyone who wants to escape the hustle and bustle of Ireland's big cities. However, there are numerous buses that allow guests to explore the area.
Check Availability
There are a number of fun activities you can do at the resort – play golf, go fishing, unwind in the spa, or just explore the glorious area. The award-winning spa overlooking the magnificent splendor of Lough Leane Aghadoe represents a refuge from everyday life. There's a carefully selected treatment menu featuring healing massages, facials, wraps, and scrubs.
Rooms are cozy, spacious, and comfortable with 300 thread count Egyptian cotton bedding, soft furnishings, and unique pieces of furniture. The LakeSide rooms feature floor to ceiling windows overlooking the Lakes of Killarney National Park, while the Superior Double makes the most out of Aghadoe Heights' beautiful rural area. Turndown service and room service are available to guests all throughout the day.
Soak in a stunning sunset over Killarney National Park while you get a taste of the excellent cuisine served at the Lake Room. Recently awarded 2AA Rosettes, Lake Room is a renowned restaurant with a cosmopolitan atmosphere. Here, chef Jakub Jurusik and his dynamic culinary team take a modern approach to traditional Irish cuisine. The wine list is also top-notch.
Classic double rooms start at $220.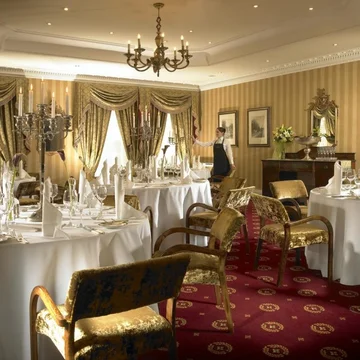 Hayfield Manor Cork
Period-style elegance, excellent cuisine, and top-notch service, Hayfield Manor Cork is the ultimate romantic getaway. This boutique hotel is perched on a hill above the University College Cork campus and is in close proximity to a number of historic sites including St Fin Barre's Cathedral and 17th century Elizabeth Fort. The famous English market is just a short stroll away, while Patrick's Street is just 10 minutes away.
Check Availability
Rich furnishings, gregorian-style windows, thick carpets, and numerous antiques throughout the hotel add to the romantic atmosphere. The attention to detail continues in the hotel's spa where all seven treatment rooms are decorated with chandeliers and antique furnishings.
This luxurious spa features a poolside lounge, indoor heated pool, outdoor jacuzzi, sauna, and a revitalizing steam room. The extensive menu has a number of healing treatments for both men and women performed by Elemis trained spa therapists. There's also a 24/7 fitness center available to guests where they can book private lessons with the former Olympian Gillian O'Sullivan.
The hotel's 88 rooms offer the ultimate five-star comfort and style. All rooms are generously-sized, comfortable, and feature a unique decor. The orthopedic king-size beds fashioned with soft linens guarantee a good night's rest, while marble bathrooms are commodious with double vanity units, glass showers, and Elemis Spa Products. Amenities include air-conditioning, controlled heating, Nespresso machine, flat TV screen, comfortable bathrobes, and slippers.
For an elevated experience book the luxurious Master Suite featuring a whirlpool bath, working fireplace, antique dining table, and a large lounge area. Guests staying at the Master Suite enjoy private dining at the Drawing Room and are entitled to a 24/7 butler service.
Standard rooms start at $220.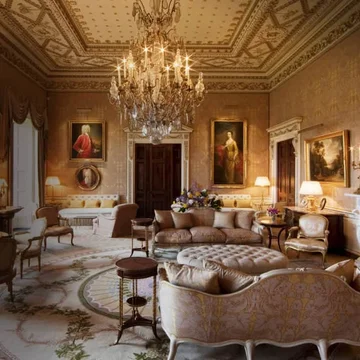 Ballyfin
One of Ireland's finest country houses has recently undergone a renovation after which it has reemerged as one of the most luxurious hotels in the country. The whole property comprises over 600 acres of woods, hills, and landscaped gardens with the grandiose neoclassical property lying at the center. This is a secluded property and the atmosphere is peaceful in the entire area. The closest railway station is five miles away in Portlaoise.
Check Availability
With its well-manicured lawns, landscaped gardens, and Cascade waterfall, the hotel's estate invites guests to take on a romantic stroll. The hotel's interior is equally enchanting with a grandiose saloon, spacious library, antiques, and chandeliers.
Expect world-class service, as the staff team is devoted to fulfilling every guest's wish. Picnics can be arranged in the Slieve Bloom Mountains and guests can enjoy archery, boating, fishing, croquet, shooting, tennis, and cycling.
With just 20 rooms, Ballyfin arguably offers the most luxurious accommodation in the area. All rooms feature unique decor that mirrors the unique style of the original house. Marble bathrooms are spotless with walk-in showers, soaking tubs, double basins, and luxurious toiletries.
Sir Christoper Coote is a sumptuous suite featuring the largest bedroom in the hotel, a smart sitting room, and curved windows overlooking the fountain and the Pleasure Grounds. The suite is fashioned with a series of eighteen-century Chinese wallpaper panels which were formerly in the collection of the Prince of Hanover at Schloss Marienburg.
Classic rooms start at $1040.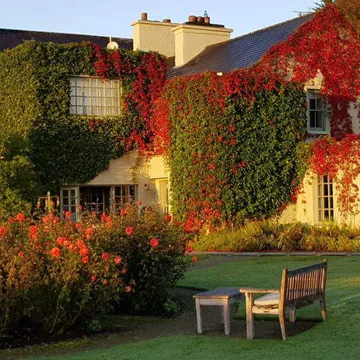 Gregans Castle Hotel Ballyvaughan
This beautiful property is nestled in one of the most beautiful areas on Ireland's west coast – the Burren. The 18th-century manor house is set in a well-manicured garden on the Wild Atlantic Way and offers some dazzling views across the Burren hills to Galway Bay. The renowned author J.R.R Tolkien spent some time at the hotel and said that the area around the Burren has influenced him when writing The Lord of the Rings.
Check Availability
The house cultivates an air of cozy intimacy with antique furniture, candlelight, open fireplaces, and striking decorations. Guests can pick from 21 bedrooms and suites, all featuring unique decor. Every room features antique pieces of furniture that the hotel owners have bought from their travels around the world. King-size beds are fashioned with soft linens and there are a number of unique artworks in each room. The Junior Suite has its own private garden area, while all rooms have beautiful views of either the garden, the bay, or the mountains.
All rooms feature a selection of reading materials, coffee and tea making facilities, Tivoli Bluetooth radios, direct dial telephone, and free Wi-Fi. Bathrooms are cozy with showerheads, bathtubs, bathrobes, and Bambord organic toiletries. There are no TVs though – the team at the hotel invites guests to relax and focus on the mesmerizing surroundings.
At the Drawing Room, guests can try some ocean-inspired dishes prepared by the renowned chef David Hurley. The atmosphere is cozy and low-key. Guests love to just sit back and relax while gazing at the always glowing open fires.
Classic rooms start at $275.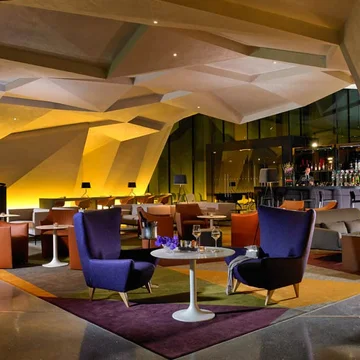 The Marker
The Marker is a stylish hotel situated in Dublin's south docklands. In the immediate area there a number of chic bars, cafes, and restaurants. The Libeskind-designed BGE Theatre is just right around the corner, while the Grand Canal Basin is mere steps away.
Check Availability
The property's chequerboard facade immediately draws attention and is considered to be a landmark. The ultra-modern contemporary style continues inside the hotel's common areas and rooms. The rooms are cozy, spacious, and feature floor to ceiling windows, allowing natural light to flood in. The decor is minimalistic with contemporary furnishings from Irish designers. The luxurious suites located on the 6th-floor's exterior wings have views over the Grand Canal Square. Amenities include air-conditioning, flat TV screen, Nespresso machine, electric kettle, fully stocked minibars, and an interactive in-room entertainment system.
The bathrooms are truly luxurious with white Italian Carrara and Black Nero Marquina Marble. They feature glass showers, Villeroy, and Bosh sinks. Toiletries are courtesy of Malin+Goetz.
Contemporary Irish cuisine is served in the stylish Brasserie restaurant. From the hotel's rooftop bar you can soak up the city's most beautiful views while pouring some time-honored cocktails.
Premier rooms start at $240.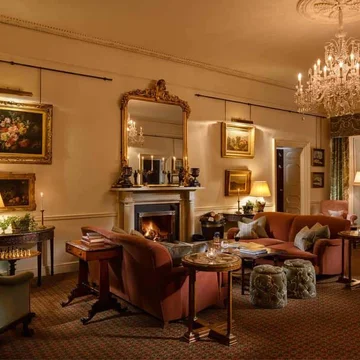 Ballynahinch Castle Hotel & Estate
Ballynahinch Castle Hotel is a luxury castle hotel situated on a private 700-acre estate of woodland, walks, and rivers in Connemara along the Wild Atlantic Way in Western Ireland. Overlooking the 12 Bens Mountain range, this castle hotel is the ideal base for exploring the routes from Donegal to Co. Cork, Killary Harbour, Sky Road, and Roundstone Village. It's worth mentioning that Ballynahinch was voted #4 Resort Hotel in Ireland by the readers of Condé Nast magazine.
Check Availability
The hotel's architecture and the surrounding area resemble a castle from a children's fantasy book. There are no TVs in the hotel, instead the ambiance is old-fashioned, peaceful, and cozy. The dining room features floor-to-ceiling windows overlooking the river and numerous oil-paintings detailing centuries of Ballynahinch history.
The staff is well-mannered and attentive. Don't miss getting involved in some of the outdoor activities including woodcock shooting, horse riding, boating in Ballynahinch Lake, and trout fishing.
The rooms are warmly decorated in the style of country sporting estates. The beds are comfortable and fashioned with crisp white linen, while the bathrooms feature deep soaking tubs and Voya seaweed products. The Riverside rooms are situated in the original house built in the 1700s and have some dazzling views over the river.
The Owenmore restaurant offers traditional Irish dishes infused with local ingredients. The chef Alan McArdle and his dynamic culinary team serve their inventive dishes in an elegant setting overlooking the Salmon River. The restaurant's art collection is as impressive as the dishes; here you can marvel at the works of Gerard Dillon, Louis le Brocquy, Jack Yeats, and Mary Swanzy.
Classic rooms start at $330.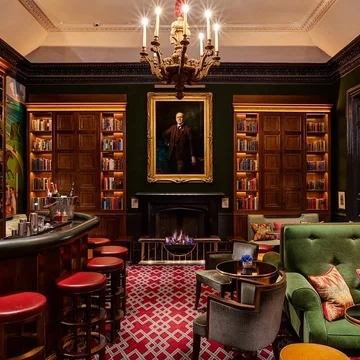 The Shelbourne Dublin
Dublin's landmark since 1824, The Shelbourne is as popular among well-healed travelers as is with Dublin's elites. The hotel is located in the heart of Dublin on the famous St Stephen's Green. Historic Gregorian landmarks are mere steps away, while the Grafton Street shopping zone is just right around the corner.
Check Availability
With its crystal chandeliers, antiques, open fires, and stained glass windows, The Shelbourne will immediately make you feel like royalty. Guests can expect a Victorian style at its best. The rooms are as luxurious as the hotel's common areas. Each room has its own character, however, the grand heritage of the hotel is reflected in every single unit. Think 300 thread count Egyptian cotton bedding, unique pieces of furniture, and soft furnishings. Marble bathrooms are sleek with glass showers and deep soaking tubs. Standard amenities include a flat TV screen, air-conditioning, Nespresso machine, iPhone/iPad docking stations, and high-speed Wi-Fi.
The hotel's salon offers guests premium hairdressing and beauty services including hairstyling, make-up, pedicures, manicures, and facials. The lavish spa features seven treatment rooms, a relaxation room, and an extensive menu for both men and women.
At the Saddle Room, guests can enjoy a menu full of classic favorites and old-school Irish service. With its low lights, rich wood paneling, and leather sofas, the 1824 Bar is the ideal spot for a rendezvous or an intimate encounter in the heart of Dublin. Here, you can savor a subtle collection of top-shelf whiskey, Champagne, wine, and exotic cocktails.
Standard rooms start at $330.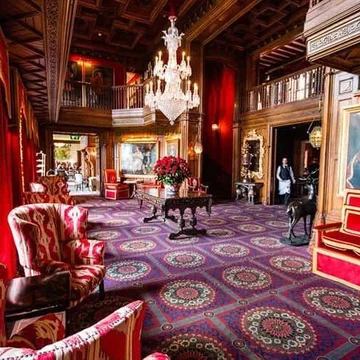 Ashford Castle Cong
Ashford Castle is a luxury hotel situated in an 800-years old castle on the shore of Lough Corrib. This is a secluded location that invites guests to enjoy some moments of peace and tranquility. Ashford Castle Cong was voted #1 in Top 10 Resort Hotels in the U.K and Ireland by the Travel+Leisure "World's Best' Awards 2020".
Check Availability
The hotel screams old-world glamour with crystal chandeliers, oil paintings, antiques, and gold leaf decorations. Interiors are bold and theatrical and this also goes for the numerous facilities, like their red velvet cinema. The meticulous attention to detail continues in the 83 rooms which combine the castle's original features with the latest in modern luxury accommodation. Think 400 thread Egyptian cotton bedding, low lights, custom-designed carpets, unique works of art, and carefully sourced pieces of antique furniture.
At the hotel, guests have the unique chance to get a taste of a subtle and extensive wine collection kept in the Castle's secret wine cellar. Delicate Irish cuisine infused with some seasonal ingredients can be enjoyed in the grandeur of George V Dining Room or at the elegant Cullen's at the Cottage. In-room dining is available to guests as well.
Double rooms start at $400.
Find Luxury Hotels in Ireland