From the Dead Sea, known for its high levels of salinity, to the Negev Desert, with its awe-inspiring landscape, Israel is home to numerous peculiar must-visit sights. Jerusalem, an ancient city, draws in millions of tourists every year to experience its spiritual sites holy to all three monotheistic faiths, while Tel Aviv is bound to make an impression with its amazing architecture, booming foodie scene, and relaxing beaches.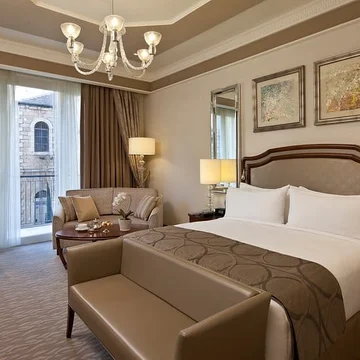 Waldorf Astoria
There's no better way to start our list than with a household name such as Waldorf Astoria. Situated in a palatial building, Waldorf Astoria Jerusalem is located outside the Old City's historic walls, promising quiet moments while still being close to numerous attractions. Jaffa Gate, Israel Museum, and the Western Wall as well as Jerusalem's old city are a 10-minute walk away.
Check Availability
The hotel's facade dates from the 1920s and it makes an immediate impression with its pearly white color, arched windows, and stone balconies. Inside, guests can choose between 226 sophisticated rooms, all appointed with top amenities including 46-inch flat TV screens, tablets, Nespresso machines, air-conditioning, dimmable lighting systems, and free Wi-Fi. Bathrooms provide a nice space for relaxation with heated Italian marble floors, deep soaking tubs, sit-down shower stall, and mirror embedded TV. Plush cotton robes and luxurious bath amenities are also available.
As expected from a hotel of this stature, the dining options are impressive. The King's Court restaurant provides guests with an extensive dinner menu in a sophisticated yet casual setting. Traditional dishes are perfectly paired with fine wines and there's also a long list of handcrafted cocktails. The Palace restaurant is even more exclusive with its award-winning menu. Don't miss out on the celebrated dishes such as rack of lamb, chargrilled rib-eye medallions, and slow-roasted veal spareribs. The ideal space to celebrate an important date would be the beautiful Garden Terrace situated in a rooftop garden. Here, Itzik Barak, the hotel's executive chef, creates a modern menu with a Mediterranean twist.
Double rooms start at $400.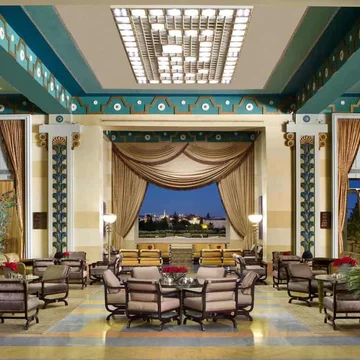 King David
King David, the city's most popular hotel has hosted an impressive list of international leaders and celebrities including Barack Obama and Kirk Douglas. The hotel is located on a top-billing address in Jerusalem, just a 10-minute walk away from Jaffa Gate and the city's historic part.
Check Availability
The hotel is situated in a grandiose property with a huge outdoor pool and tennis courts. The bright spacious lobby is bound to make an impression with its high ceilings, marble floors, and traditional decor. Rooms feature ornate decor paired with modern luxury amenities. Rooms offer views over the Old City's walls, minarets, and domes. Room service is also available.
The staff team is friendly, attentive and they'll be happy to help you with restaurant recommendations, tickets, or whatever you may need. Hotels in Israel don't usually have a long list of facilities, however, King David does feature an outdoor swimming pool, modern fitness center, kids club, and tennis courts.
In terms of dining, guests can expect an exciting offer. The Wine Bar is known for offering some of the words' finest wines, while the King Restaurant invites guests to savor Mediterannean specialties while contemplating the view over the old city. Refreshing drinks and small bites are served at the Poolside Snack Bar.
Guest rooms start at $400.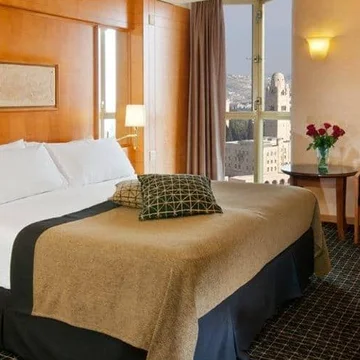 Leonardo Plaza Hotel Jerusalem
Conveniently situated on King George Street, Leonardo Plaza offers easy access to both the modern and old parts of Jerusalem. Notable attractions such as Alrov Mamilla Avenue, the Western Wall, Church of the Holy Sepulchre, and the Dome of the Rock are just a short walk away.
Check Availability
The hotel's inviting guest rooms and suites are fashioned with a rich palette of browns and golds which creates a royal-like ambiance. The brass accents and honey-colored furniture add sophistication to each unit. Guests can choose between rooms with a view over Independence Park, the old or the modern part of the city. All rooms are equipped with air-conditioning, mini-fridges, digital safes, flat-screen TVs, coffee machines, electric kettles, and free Wi-Fi. Rooms located on the highest floor offer some extra square footage, while the executive rooms feature balconies and dining areas.
The hotel is particularly popular among business travelers, families, and tour groups. There are meeting rooms and recreational facilities such as kids' play areas, a small spa, a sauna, a work-out room, and an outdoor pool. The pool area overlooks the greenery in Independence Park while the shady cabanas and sun loungers promise relaxing moments.
Traditional dishes and Italian specialties are served at the hotel's on-site restaurants. Guests can also expect a fine wine list, spirits, and handcrafted cocktails.
Guest rooms start at $300.