Kenya is one of the most visited Safari locations in East Africa, a country brimming with scenic landscapes, exotic wildlife, and beautiful national parks. To balance out the breathtaking but rough outdoors, we are reviewing fifteen of the best luxury hotels in Kenya that will make for an ideal addition to your next Safari adventure.
Whether you pick a fully remote location or a large and vibrant city like the capital Nairobi, an unforgettable stay is guaranteed. All the hotels featured on our list offer a wide array of outdoor and safari activities, perfect for those who like to stay active on holiday or want to experience the wonders of nature first-hand.
With that said, let's get started with our first pick.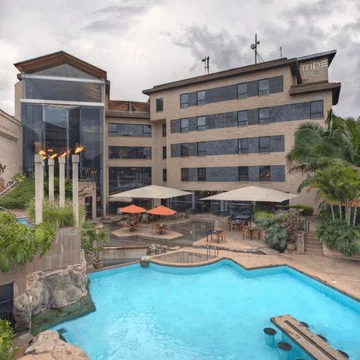 Tribe Hotel
Luxurious and artistic, Tribe Hotel infuses tribal elements in its design and architecture, giving its guests a unique opportunity to become acquainted with Kenyan culture first-hand. The hotel is situated in the Diplomatic District of Nairobi, approximating many local restaurants and shops.
Check Availability
The award-winning Kaya Spa, where you can book various luxurious African treatments, will provide you with some much-needed relaxation, especially if you're traveling for business. The well-equipped on-site gym is another amazing place to replenish your energy stores. Catch some sun rays at the tropical-style outdoor pool, while sipping on a refreshing cocktail. Jiko Restaurant is the main dining venue at Tribe Hotel, where guests can enjoy a seasonal menu brimming with delicious local and international flavors.
The rooms and suites have a warm color palette with deep red accents, making the accommodation homey and inviting. Furnished with a flat-screen TV, a working desk, and a rain shower, they provide all the prerequisites for a comfortable stay. The two-level Presidential Suite, overlooking the wetland, is the most opulent option at the hotel, with a spacious dining room, windows that allow panoramic views, and oversized couches.
The rates at Tribe Hotel start from $150 a night.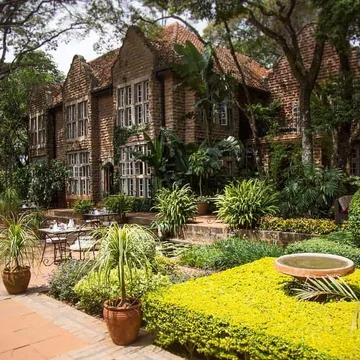 Giraffe Manor
Giraffe lovers unite! Giraffe Manor is one of the most diverting luxury hotels in Kenya, giving its guests the opportunity to make special friends during their holiday – Rothschild giraffes. It's adjacent to Nairobi's Giraffe Center, a short walk away from the David Sheldrick Elephant Orphanage, and is surrounded by an indigenous forest and stunning gardens.
Check Availability
While there are no on-site pools or fitness centers, the giraffe sighting at Giraffe Manor more than makes up for it. Expect to find them everywhere – from the windows at your guest room to the on-site restaurant. Nestled in the middle of the garden is a small spa, where you can book massages and treatments designed to melt away the stress.
Breakfast in the company of your long-necked companions and enjoy a wide range of international options. Dinner is served at a romantic drawing room, or, for those who prefer privacy, in a candle-lit orchid house. The cuisine is focused on Mediterranean dishes, with delicious pasta and wine.
The luxury safari lodges are designed in an eco-chic manner reminiscent of the 1930s, with local artwork, canopy beds, high wood-paneled ceilings, and carpeted with oriental rugs. The bathrooms are quite sizable, with signature Giraffe Manor toiletries and deep tubs.
The rates at Giraffe Manor start from around $400 a night.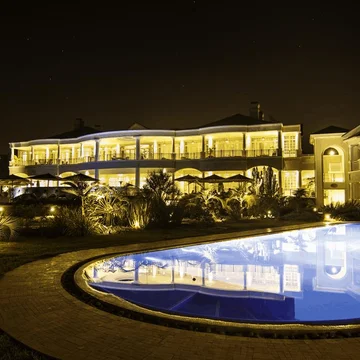 Hemingways Nairobi
As you might deduce from the name, this boutique hotel is named after the renowned writer Earnest Hemingway, who frequently visited the area during his Kenyan adventures. What's more, several of the suites overlook The Green Hills of Africa – one Hemingway's famous setting.
Check Availability
Hemingways Nairobi ticks off all the luxury facilities – a large outdoor pool with a lounging area, an on-site spa that combines French and traditional treatments to bring you relaxation and comfort, and a small gym. Breakfast at Hemingways Nairobi is a real treat – choose from a spectacular array of freshly baked pastries, fruit salads, Viennoiseries, and delicious coffee. At night, you can enjoy a drink or two at the bar; our recommendation is to try Hemingway's signature cocktails. An Orange Marmalade Margarita might not sound appealing to the ear, but rest assured its exotic ingredients and delightful presentation (the cocktail is served in a glass skull) are worth trying.
The 45 suites are named after popular people associated with Kenya and are equipped with a private balcony, canopy beds, a sitting area, and walk-in closets. Literature fanatics should definitely book the signature Hemingway Suite, for a wholesome and well-rounded experience.
The rates at Hemingways Nairobi start from $300 a night.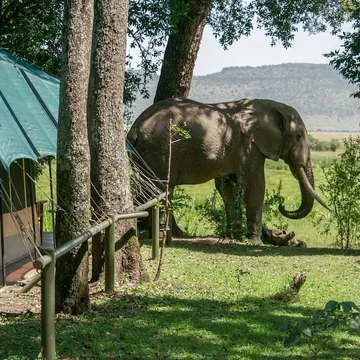 Masai Mara National Reserve, Kenya
Little Governors' Camp
Little Governors' Camp is the perfect choice for a luxury camp if you're on the lookout for an intimate, small-scale accommodation, surrounded by untouched nature brimming with birds and wildlife. It's situated in an area considered to be the best location of Masai for game viewing and wildlife photographing.
Check Availability
Little Governors' Camp does safari right, offering experienced experts to guide you through this bucket-list experience. There are many trails surrounding the camp, so feel free to roam around without any guidance, but be aware of the animals. Though there isn't a spa, you can book separate spa treatments and massages. Breakfast consists of international options and fresh produce, similarly to lunch and dinner. The candlelit ambiance makes for a romantic spot for a date night.
A total of 17 tents are available, all distanced from each other to provide privacy for guests. They have spacious verandas where you can take in the surroundings fully, and an en-suite bathroom. A small wooden vanity is placed right next to the comfortable bed, as well as a sitting area.
The rates at Little Governors' Camp start from $800 a night.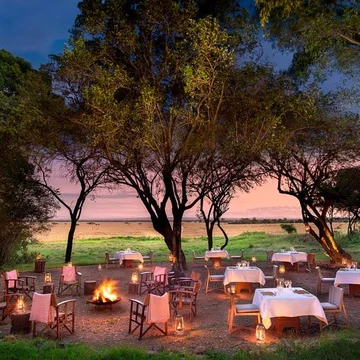 Masai Mara National Reserve, Kenya
&Beyond Bateleur Camp
&Beyond Bateleur Camp is a luxury camp situated in the Masai Mara National Reserve – one of the best areas in Kenya if you're in the mood for wildlife spotting. Prepare for some gorgeous sights and exotic animal encounters, whether you decide to explore the area on foot or in a game drive.
Check Availability
The staff is friendly and welcoming, ready to help you with any inquiry concerning the area or the fauna. Guests can enjoy a dip in the romantic rim-flow pool, get in a workout at the small fitness center, or book a spa treatment. If you want to bring back a souvenir from your trip to your loved ones, all you have to do is visit the signature shop at the hotel, full of handcrafted local goods that would make for the perfect present.
Dine under the African sky in an intimate, candlelit ambiance. Breakfast is alfresco, with a myriad of international options like fried eggs, fresh juices, and cereals. The dinner menus are highly customizable, so you can tailor the meals in accordance with your mood.
The elegant tents and tented suites at &Beyond Bateleur Camp come with wooden floors, private decks with an outdoor sitting area, fine antiques, and your own private butler. The earthy tones and ligneous furnishings match the surroundings impeccably, making you feel like you're one with nature. The en-suite bathrooms have separate bath and shower areas and &Beyond signature toiletries.
The rates at &Beyond Bateleur Camp start from $725 a night.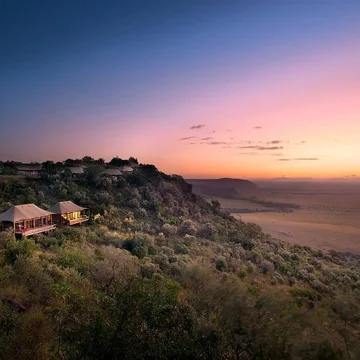 Maasai Mara National Reserve, Kenya
Angama Mara
Angama Mara's location couldn't be more spectacular – set on top of the Great Rift Valley overlooking Kenya's Maasai Mara. On top of an unbeatable location, expect to encounter hospitable staff, lavishly appointed tents, and flavorful cuisine.
Check Availability
One of Angama Mara's most noteworthy features is the remarkable infinity pool, overlooking the area. There's also a small gym that's suitable for both weight training and cardio sessions. For a truly memorable holiday, make sure you try out some of the tailor-made adventures offered by the hotel, like a private picnic in nature, a hot air balloon ride, a village tour, and a walking safari.
Angama Mara offers an indulgent culinary experience, with sumptuous dishes inspired by the local cuisine. The ingredients used are locally sourced and ultra-fresh, which only adds to the flavor of the meals. Vegan and vegetarian options are easily provided for. Each guest is appointed with a butler, so don't be surprised to find a tray full of juice, freshly brewed coffee, and baked goods waiting for you in the morning.
The luxury tents vary in terms of style and color scheme, though every tent is equipped with a minibar, local artwork, large beds, a private terrace, and a claw-footed tub. The tents are scattered around the property, allowing for maximum privacy for each guest.
The rates at Angama Mara start from approximately $2,600 a night.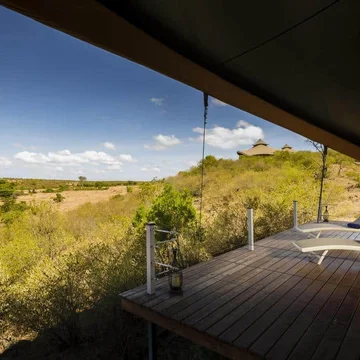 Olare Motorogi Conservancy, Kenya
Mahali Mzuri
Richard Branson's Mahali Mzuri is one of the most distinguished luxury hotels in Kenya, situated on a private conservatory. Its location allows for easy access to the Great Migration – one of the greatest spectacles you can encounter on a safari trip.
Check Availability
The main tent is home to a cozy library and a sitting area with a fireplace, ideal for reminiscing on your adventures with your loved ones or mingling with new acquaintances. Various spa treatments are available for booking, including facials and massages. Apart from game drives, guests can enjoy an adventure of hot air balloon rides, community tours, and bush walks.
The cuisine served at Mahali Mzuri is pan-African, incorporating highlights from a handful of cultures. The champagne picnics are a stunning addition to an otherwise varied dining selection, so make sure you book on during your stay. The breakfast options are pretty standard, with yogurts, fruit, eggs, and fresh drinks.
A total of 12 tents are available for guests. The eco-chic tents resemble a luxury treehouse, each one containing a private deck that's ideal for chasing sunsets (or sunrises, if you're a morning person). The glass doors and large windows allow for stunning views from the comfort of your own bed or armchair. The marble bathrooms feature a rain shower and a separate bath, as well as complimentary amenities.
The rates at Mahali Mzuri start from around $1,400 a night.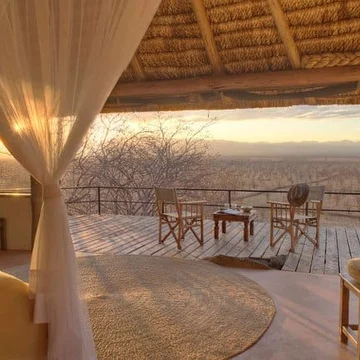 Elsa's Kopje Lodge
Elsa's Kopje Lodge is an award-winning, eco-friendly resort, stationed on top of Mughwango Hill, in the center of Meru National Park. In addition to breathtaking views, the location allows for a myriad of open-air activities that will add a sense of adventure and wonder to your stay.
Check Availability
The staff at Elsa's Kopje Lodge will charm you with their Kenyan hospitality and eagerness to help you with any problem that might arise. There is an on-site infinity pool that overlooks the surroundings. Although there's not a designated on-site spa, massages can be arranged upon request. When you're in need of a change in scenery, you can book a day excursion to the Tana River – one of the most cherished natural treasures in the area. The on-site restaurant serves a mix of international and Italian cuisine, served in a romantic setting under the stars.
Snuggled on the Mughwango hillside, the cottages at Elsa's Kopje Lodge are decorated in an environmentally-conscious yet lavish safari style, with spacious bedrooms, an en-suite bathroom, and a private deck overlooking the vast plains. Book the Elsa's Kopje Lodge's Private House if you're in the mood to treat yourself, and enjoy a private infinity swimming pool, lush garden, and an idyllic bedroom.
The rates at Elsa's Kopje Lodge start from $800 a night.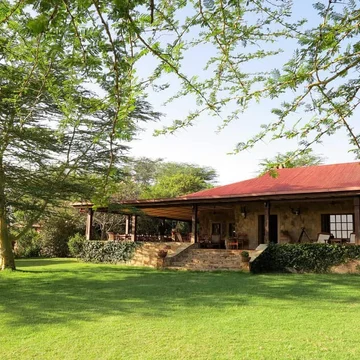 Sosian Lodge
Sosian Lodge is an exclusive and small luxury lodge situated in the heart of Laikipia, and offering an authentic safari experience with a sweeping 60,000 acres of wilderness left for guests to explore.
Check Availability
Courtesy of the dense wildlife population in the area, you will have a unique opportunity to see first-hand over 70 species of mammals, 30 species of reptiles, and 350 species of birds. Other activities include tracking, kayaking, river tours, and village trips. There's no on-site fitness center, but guests can enjoy a game of tennis at the tennis court or swim in the outdoor pool. The Sosian restaurant offers a bush outdoor breakfast, which is not to be missed, while coffee and tea can be accessed at any time at the veranda. Alfresco dinners can also be arranged, ideal for a romantic date night.
Choose from eight cottages, all of which are designed in a specific style and color scheme. If you're traveling with your family, book the multiple-bedroom Family Cottage. The Italian Cottage is ideal for newlyweds, with its own private garden, allowing for privacy. All cottages are en-suite, equipped with either a bath or a shower.
The rates at Sosian Lodge start from $550 a night.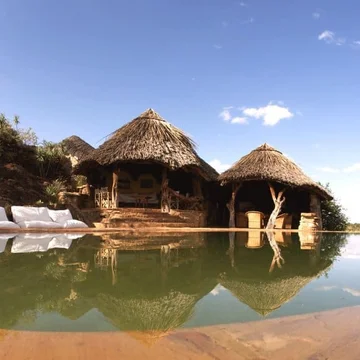 Ol Malo
Ol Malo is a safari lodge, one that's known for providing a personalized experience for all its guests. No two experiences can be the same at Ol Malo, but what remains is its breathtaking hilltop location, outstanding service, and exciting adventures.
Check Availability
Ol Malo's expedition experts will help you build your own adventure. From outdoor camping under the stars to cultural tours and helicopter rides, there's hardly an adventure they can't arrange. Once you're done with your thrilling activities, chill out by the outdoor infinity pool or gather around the open sitting nook with a fireplace along with your loved ones. There isn't a dedicated on-site restaurant, but meals all provided for all guests, including a lavish breakfast with lots of delicious and healthy options.
The exclusivity of the lodge reflects in the number of rooms provided – there are 16 stunningly appointed rooms to choose from, some of which are perfectly family-friendly. The design incorporates details from African culture, ligneous furnishings, and an earthy color scheme, resulting in a cozy and inviting atmosphere. Each room comes with gorgeous panoramic views of the area, which you can enjoy from your private deck or the comfort of your own bed. The bathrooms have a separate bath and shower area and complimentary toiletries.
The rates at Ol Malo start from around $800 a night.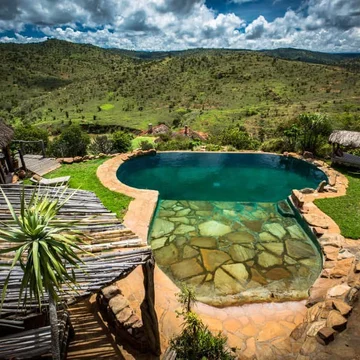 Borana Lodge
Borana Lodge occupies the heart of Borana Conservatory – the biggest rhino sanctuary in Kenya. The lodge is distinguished for its generous donations dedicated to preserving the rhino population in the area; in fact, all earnings from the lodge are donated for the purpose of conservation.
Check Availability
At this historic and sustainable lodge, there are various activities on offer, like mountain biking, rock climbing, paragliding, and rhino spotting. Alternatively, you can relax by the infinity pool and soak in some sun rays, or book an in-room spa treatment. The staff at Borana Lodge grows their own fruit and vegetables at the on-site garden, which are used to fuel breakfast and dinner meals.
There are multiple stand-alone cottages available at Borana Lodge, all of which feature breathtaking panoramic views of the surroundings, courtesy of their hillside location. The style and color scheme varies depending on the cottage. Some of the cottages are family-friendly, while others will mostly suit couples and solo travelers. The cottages come with an open fireplace, ideal for a cozy night in. In the morning, sip on your coffee from the comfort of your own private veranda. The en-suite bathrooms have a separate bath and shower area and come with complimentary organic amenities.
The rates at Borana Lodge start from approximately $750 a night.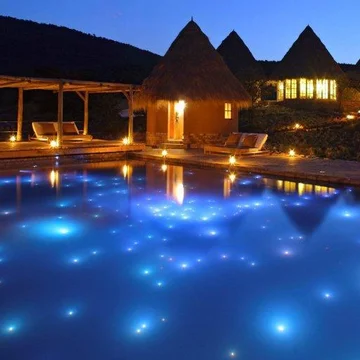 Isaaten Conservatory, Kenya
Mara Bushtops
Mara Bushtops is an exclusive luxury lodge, occupying over 15,000 acres of a private conservatory. Their mission is to make the lodge as environmentally-friendly as possible, without sacrificing on luxury, and it's safe to say that their mission is achieved.
Check Availability
The natural salt licks dotted around the property are a magnet for wildlife – from elephants to gazelles, the animals will be an omnipresent company, truly a sight for sore eyes. Each guest is assigned with a personal butler service who will ensure that all your needs are met throughout the day. The luxury on-site Amani Spa is regarded as the best safari spa in Africa, allowing for maximum pampering. The spa entails various treatment rooms, a steam room, a hot tub, a sauna, as well as a spacious fitness center. Guests can browse from a great selection of books at the small yet homey library.
When it comes to dining, Mara Bushtops' restaurant offers a la carte dishes with local specialties. Its setting is simply extraordinary – the restaurant overlooks the salt licks, which makes for a lovely sight. One of the resort's highlights is the enormous wine cellar, brimming with world-class wines from all over the world, the cherry on top of a marvelous meal.
The twelve family-friendly tents are beautifully appointed with a private hot tub, indoor and outdoor showers, and a minibar. The tents have panoramic views of the surrounding nature which you can enjoy at your private deck along with your in-room meals or your morning cup of coffee or tea.
The rates at Mara Bushtops start from $880 a night.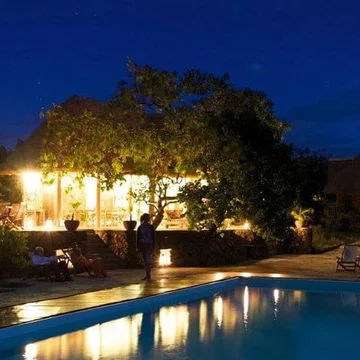 Campi Ya Kanzi
Spanning over 283,000 acres of untouched wilderness, Campi Ya Kanzi is unsurprisingly regarded as one of the best luxury accommodations in Kenya. This award-winning lodge is located right beneath Mount Kilimanjaro, on the foot of Chyulu Hills – Hemingway's famous setting.
Check Availability
Campi Ya Kanzi offers a diverse range of activities and safaris, including air safari and walking safari. The yoga and meditation safari is one of the most popular options, where a meditation guru is assigned to guests in order to learn the secrets of the craft. You can also explore the area individually, on your own terms, for there are plenty of natural sights to marvel at. When on the property, guests can access the outdoor swimming pool. The cuisine offered at Campi Ya Kanzi has an Italian flair, and the drinks menu is varied and plentiful. Breakfasts are quite generous, with international and local options.
Choose from dazzling tented suites (Hemingway and Simba) and luxury cottages. The suites and cottages come with a private veranda, artwork featuring the surrounding areas, large beds with Italian linen, and a spacious sitting area. The en-suite bathrooms have double sinks and complimentary soft bathrobes and organic amenities.
The rates at Campi Ya Kanzi start from $825 a night.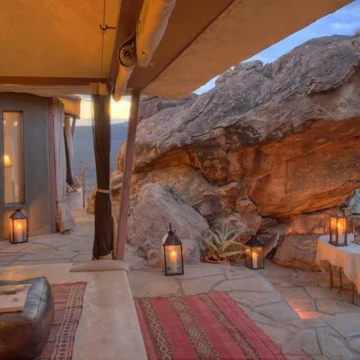 Samburu National Reserve, Kenya
Saruni Samburu Lodge
Saruni Samburu Lodge occupies the top of the Kalama Mountains, a location that grants breathtaking views from all around the lodge. The lodge covers over 200,000 acres of untouched wilderness, with wonderful nature that's waiting to be explored.
Check Availability
There are several activities to choose from while staying here, including a climb to the sacred mountain, bird watching, and helicopter tours. The lodge itself provides two infinity pools overlooking the area, which will give you a much-needed break from all the exploring. While there's no spa area, massages can be provided for guests, the first of which is on the house. Saruni Samburu Lodge serves sumptuous Italian cuisine in a romantic open-air dining room. Dinners under the stars and breakfast picnics near the river can be assembled, in addition to in-room dining.
There are six luxury villas, designed in a unique, eco-chic style. The bathrooms have an outdoor shower and a bathtub, featuring complimentary organic amenities. The open verandah centers on a fireplace – a cozy corner to discuss your holiday adventures. The furnishings include oriental rugs, canopy beds, and a sitting area.
The rates at Saruni Samburu Lodge start from $1,250 a night.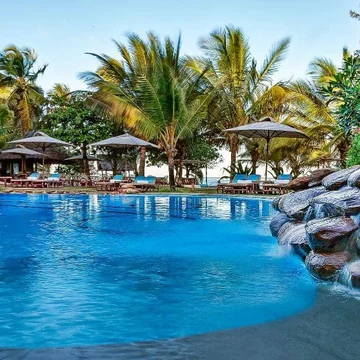 AfroChic Diani Beach
If you want to take a beach holiday in Kenya, look no further than AfroChic Diani Beach, situated on one of the most gorgeous beaches in the country. The hotel is exclusive and intimate, with only 10 rooms on offer.
Check Availability
The friendly staff will make you feel welcome from the minute you enter the hotel, and the attention to detail is bound to impress. The beachside location enables guests to partake in various water-based activities while staying here, like snorkeling, scuba diving, and reef exploring. An 18-hole championship golf course neighbors AfroChic Diani Beach, surrounded by lush greenery. Day trips to the nearby islands can also be arranged, allowing for a wonderful change in scenery. The hotel boasts an infinity pool and a lounging area, as well as a small spa where you can book various pampering treatments and massages.
While there are many restaurants in the area, you don't have to leave the hotel's premises for exceptional cuisine. The on-site restaurant offers an amazing all-day menu, featuring a whole host of international dishes to choose from. You can take your dinner to the pool, at the beach, or in the comfort of your own room – all is allowed.
Some of the ten rooms feature stunning sea views, while others overlook the hotel's gardens. The rooms are spacious and artistic, equipped with a private balcony, a flat-screen TV, and a minibar.
The rates at AfroChic Diani Beach start from $500 a night.
Find Luxury Hotels in Kenya