Macao, the gambling capital of the world, attracts over 30 million tourists per year. If you're thinking of visiting this vibrant city, we have compiled a list of luxury hotels in Macao. Whether it's for business or pleasure, these hotels will keep you pampered and comfortable, all the while providing lively entertainment.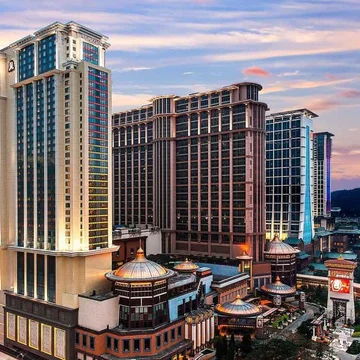 The St. Regis Macao, Cotai Central
Boasting a central location on the Cotai Strip, The St. Regis Macao, Cotai Central is one of the most frequently visited luxury hotels in Macao. From year-round heated outdoor pools to diverse dining venues, the hotel contains every five-star amenity.
Check Availability
The signature Iridium Spa is located on the top floor of the hotel, giving you a feeling like you're in a secluded sanctuary. Other than serving stunning panoramic views of the city, the spa's restorative treatments will add just the right amount of indulgence to your holiday. The St. Regis Athletic Club sits on the eighth floor and is equipped with Technogym machines and wall-mounted TVs to make your workouts more enjoyable.
Taste a delicious blend of Eastern and Western cuisine at one of The St. Regis Macao, Cotai Central's on-site restaurant. The Manor combines classic dishes with local flavors made with sustainable ingredients, which you can relish in an elegant setting. No stay at a St. Regis hotel is complete without a visit to their established St. Regis Bar, where you can try their signature Maria do Leste cocktail.
Traditional Chinese elements are merged with lavish details at the St. Regis rooms and suites. Some state-of-the-art-amenities you can expect to find include flat-screen TVs, tea and coffee making facilities, and a well-stocked minibar. The Presidential Suite, which includes a private gym, spa, and multiple bedrooms, is the ultimate treat.
The rates at The St. Regis Macao, Cotai Central start from approximately $120 a night.
Mandarin Oriental Macau
The chic and modern Mandarin Oriental Macau is situated in downtown Macao, near the waterfront. Such a fabulous location allows not only for seamless travel around the city but also gorgeous views from your rooms.
Check Availability
Dissolve any stress and tension at the award-winning Mandarin Oriental Spa, where you can experience a full-body scrub at the heated scrub table, a personalized treatment, or a relaxing massage. The hotel's fitness center also has a personalized approach, and experienced instructors are always at your disposal. The lap-friendly outdoor pool overlooks the South China Sea, ideal for workouts and unwinding.
Savoring the highlights of local cuisine is made easy at Mandarin Oriental Macau. Vida Rica Restaurant serves Chinese and Western cuisine, catering to any preference. The spectacular and vibrant Vida Rica Bar serves light meals and movie-inspired cocktails, making it the perfect destination for cinephiles. If you prefer a more relaxed setting, visit the Lobby Lounge, which makes splendid afternoon teas.
All 213 rooms and suites at Mandarin Oriental Macau are designed in a contemporary style, with warm tones and wooden interiors. The floor-to-ceiling windows allow for the best views of Macao, as well as plenty of natural lighting. Each room features a flat-screen TV, an en-suite bathroom with complimentary amenities, and a walk-in wardrobe.
The rates at Mandarin Oriental Macau start from $110 a night.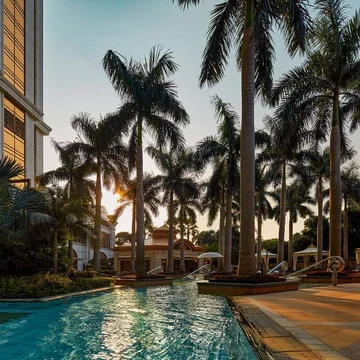 The Ritz-Carlton Macau
The Ritz-Carlton Macau is located in central Macao, within the Galaxy Macau complex. Once you step into the lobby placed on the 51st floor, you will be immersed in a world of luxury and sophistication.
Check Availability
While staying at The Ritz-Carlton Macau, you will be given direct access to luxury shopping, an amazing kid-friendly waterpark, and a private theatre. The on-site Ritz-Carlton spa offers replenishing treatments like the Pearl River Chi that uses a combination of marine elements to transform the skin, and the Jade Reviver treatment that melts the stress away. Gym enthusiasts will be delighted to know that there's a well-equipped fitness center too.
Prepare for a sensory feast at the Michelin-starred Lai Heen, where you can taste exceptional Cantonese cuisine in an elegant setting. Their seemingly endless menus are varied and appealing, designed to please even the pickiest eater. If you're in the mood to treat yourself to the max, opt for one of the dishes from the Michelin Degustation menu.
The all-suite resort offers palatial and lavishly appointed accommodation, complemented by a soothing color scheme. A spacious living area, a flat-screen TV, and wall-to-wall windows are included in every suite. The marble bathrooms are elegant and sizable, with a soaking tub, rainforest shower, and well-lit mirrors.
The rates at The Ritz-Carlton Macau start from $300 a night.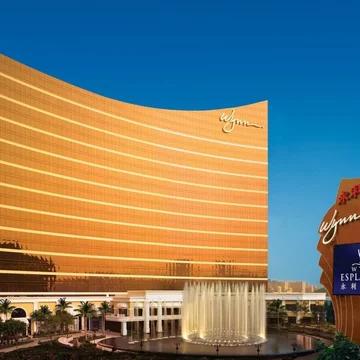 Wynn Macau
Wynn Macau dazzles with extravagant entertainment, palatial interiors, and exceptional service. Upon arrival, you will be met with the dramatic and glistening Performance Lake. Once you enter the high-ceiling lobby, prepare to be struck by the enormous Dragon of Fortune and the golden Tree of Prosperity, homages to Chinese culture.
Check Availability
The hotel is every shopaholic's dream. Inside, you can shop premium brands like Chanel, Loro Piana, and Gucci. Guests can access a luxury spa that offers an extensive list of treatments and massages such as the Macanese Massage and the Ginseng Hot Stone treatment. If you're ever in need of a fresh cut or manicure, the on-site salon will provide you with amazing beauty treatments. There is also an outdoor pool and a fitness center.
Choose from a wide range of fine dining and casual dining venues. The award-winning, Michelin-starred Golden Flower Restaurant serves Chinese cuisine, courtesy of Executive Chef Liu Cuo Zhu. For a more casual option, visit the exquisite Café Encore, where you can savor Hong Kong-style milk tea, enjoy all-day breakfast, or delicious Macanese specialties.
A whopping 1,004 elegantly appointed rooms and suites are available for guests to book, spread across two towers. Each room and suite comes with wall-to-wall windows that allow for stunning city views, a comfortable living area, and a flat-screen TV. The beds have premium Egyptian-cotton sheets that will help with beauty sleep.
The rates at Wynn Macau start from $200 a night.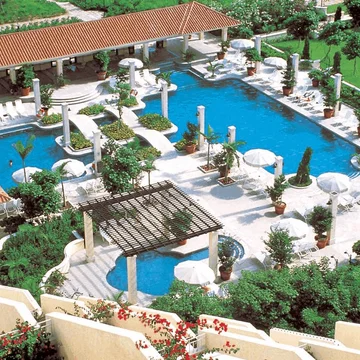 Grand Coloane Resort
Grand Coloane Resort is one of the greatest luxury hotels in Macao, ideal for families who enjoy having a myriad of amenities to keep them occupied while on holiday. The resort is situated on the shores of the Black Sand beach, half an hour away from the city center.
Check Availability
Staying active while on holiday has never been easier. The resort boasts an 18-hole championship golf course located on the top floor. Apart from that, there are multiple pools (some of which are lap-friendly), a world-class spa, a tennis court, and a gym.
Dining-wise, there are multiple venues to select from, giving you plenty of variety during your stay. Kwun Hoi Heen is one of the most popular restaurants in the area, offering sumptuous Cantonese specialties. Café Panorama provides an assortment of Asian and International breakfast options, allowing you to take your breakfast outside in the beautiful garden. Panorama Lounge is elegant yet informal, offering a tasty cocktail selection and splendid afternoon tea.
The rooms and suites at Grand Coloane Resort have a sophisticated and minimalistic design, with a neutral base. Each accommodation includes a spacious balcony overlooking the gardens or the sea, where you can enjoy the comforts of in-room dining or sipping your morning coffee.
The rates at Grand Coloane Resort start from around $70 a night.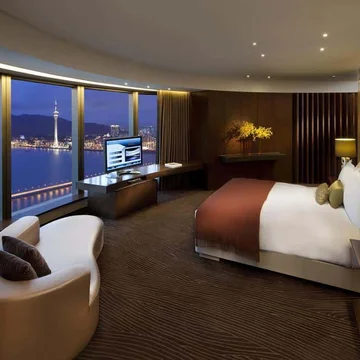 Altira Macau
Towering and striking, Altira Macau is known for having some of the best views in Macao. The resort is located in the heart of Taipa, close to the Taipa Museum.
Check Availability
The hotel comes alive at nighttime, when a lively atmosphere sweeps over the clubs and lounges, with spectacular live entertainment. If you're not in the party mood, you can always pay a visit to the five-star spa and enjoy a massage or treatment, accompanied by breathtaking panoramic views. Altira Macau's infinity pool is deemed as one of the 10 best pools in the world, so prepare for a spectacular treat. The hotel contains a fitness center that allows you to keep up with your fitness regime while on holiday.
Altira Macau's signature award-winning restaurants include various cuisines, catered to every taste and preference. Aurora is an accomplished Italian restaurant that takes you on a culinary journey through Italy, allowing you to sample flavorful pasta, wood-baked pizza, and premium cheeses. Tenmasa, a Michelin-starred Japanese restaurant, offers an impressive array of Japanese specialties, cooked to perfection.
The most exclusive accommodation option at Altira Macau is the elegant villas, though you can also book waterfront rooms and suites. They're equipped with a flat-screen TV, tea and coffee making facilities, and a modern en-suite bathroom. The villas contain a kitchenette, a large wardrobe, and a steam room.
The rates at Altira Macau start from $100 per night.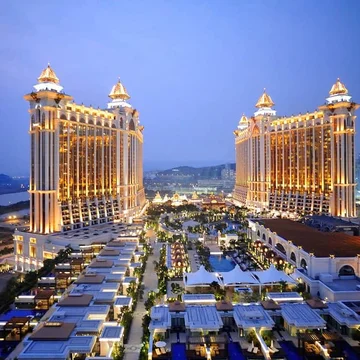 Banyan Tree Macau
Banyan Tree Macau is one of the first luxury resorts ever opened in Macao. Its architecture is nothing short of impressive, with traditional elements from Chinese culture and towering buildings.
Check Availability
Among the world-class amenities that can be found in the hotel, the award-winning Banyan Tree Spa simply stands out. The spa includes 19 treatment rooms, with an impressive menu that includes over 20 different treatments. The grand deck includes a skytop wave pool, which happens to be the largest wave pool in the world, and a skytop aquatic adventure river ride, which is the longest river ride in the world. Fitness junkies will be glad to know that the Health Club Befit is well-equipped and spacious, giving you the perfect workout environment.
Banyan Tree Macau's destination dining experience gives you a unique opportunity to enjoy the serene hotel surroundings and dine under your terms. If you prefer more traditional venues, head over to one of the on-site restaurants. Saffron serves Thailand dishes in a relaxed atmosphere, while Belon is a great option for seafood lovers. Book a delicious afternoon tea at Banyan Lounge, or sample the chocolate fountain with a fruit salad.
Each room and suite at Banyan Tree Macau comes with a private relaxation pool – a unique feature even among the best luxury hotels. The interior incorporates elements of Chinese culture, though the color scheme varies with each accommodation. Stunning views are included and made possible thanks to the enormous floor-to-ceiling windows.
The rates at Banyan Tree Macau start from $300 a night.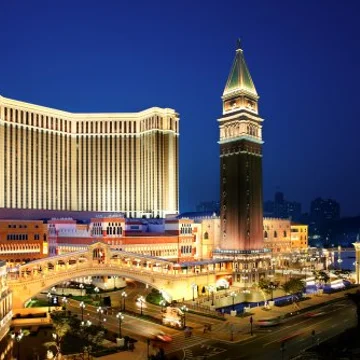 The Venetian Macau
The Venetian Macau is an all-suite resort, known for being home to the second-largest casino in the world. With Venice as an inspiration, the hotel's design is striking and sleek, both inside and out.
Check Availability
While the casino will keep you busy at night, the plethora of hotel amenities will ensure that your days are equally fun and fulfilled. The gondola rides are a well-loved attraction, allowing guests to get a taste of the romantic Venice through The Grand Canal Shoppes. The well-equipped V Gym will help you stay in shape while traveling. If you want a less strenuous workout, there are multiple indoor and outdoor swimming pools and a mini-golf. Inject an extra dose of self-love and book yourself a relaxing massage at the hotel's spa.
The multiple on-site signature restaurants combine eastern and western cuisine, resulting in a culinary feast. Hiro by Hiroshi Kagata is a vibrant Japanese restaurant, and its extension – Hiro Ramen, offers the finest ramen in Macao. In keeping with the hotel theme, Portofino restaurant serves sumptuous Italian cuisine and exceptional wood-baked pizzas. For Asian cuisine, visit the award-winning Golden Peacock restaurant.
The suites at The Venetian Macau are spacious and chic, with floor-to-ceiling windows that give unparalleled city views, a fully-stocked minibar, deluxe marble bathrooms with a separate bath and shower area, and comfortable king-size beds with premium linens.
The rates at The Venetian Macau start from $100 a night.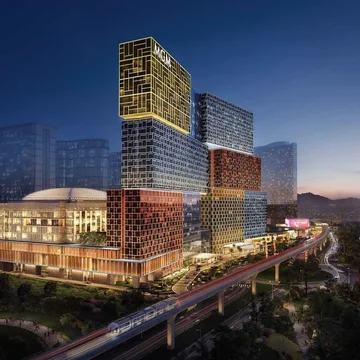 MGM Cotai
MGM Cotai, with its distinctive exterior and twinkling façade, towers over the Cotai Strip. Just as impressive on the inside, the hotel's accommodation and entertainment center is yet to leave someone impervious.
Check Availability
Over 50,000 square feet are dedicated to the hotel's retail section, located a few steps away from the main entrance, where you can shop exclusive brands in the likes of Love Moschino, Fabio Caviglia, and Corum. At the distinguished Tria Spa, guests can book personalized treatments to soothe the mind and the body. The on-site gym features Technogym equipment, ideal for productive cardio and weight training sessions. The hotel's beautiful garden is home to a spacious outdoor pool and many Jacuzzis – the perfect place to relax and unwind.
The on-site restaurants serve both International and Chinese cuisine. Five Foot Road pays tribute to Chengdu traditional tea houses, so expect to find a delightful tea lounge and an extensive tea menu that features teas from all over the world. Hao Guo's regional Chinese cuisine is top-notch, along with its vibrant ambiance. Sweet tooths will enjoy Anytime – a venue brimming with delicious options, cocktails, and snacks. Afternoon tea is available upon request.
The hotel offers over 1,400 hotel rooms, designed in a contemporary style, equipped with the latest technology to ensure that your stay is present and welcome. The bathrooms have a separate bath and shower area and makeup-friendly mirrors.
The rates at MGM Cotai start from $100 a night.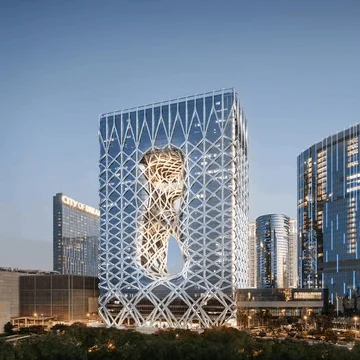 Morpheus
Morpheus is widely considered as one of the best luxury hotels in Macao. One of its most distinguishable features is its exterior, designed by the legendary Zaha Hadid.
Check Availability
Swim under the stars in the hotel's rooftop infinity pool, an oasis in its own right, or sip on a refreshing cocktail while you take in the city's skyline. The state-of-the-art fitness center, a Technogym partner, will suit both beginners and experienced lifters. Morpheus Spa is another on-site oasis, with trained experts ready to consult you and recommend personalized treatments for your utmost relaxation. Luxury shopping is made easy at Morpheus Boutique, with a myriad of premium brands like Balenciaga, Burberry, Armani, and Gucci.
Wine and dine at one of the numerous on-site restaurants at Morpheus, many of which are Michelin-starred. Jade Dragon proudly holds three Michelin-stars, offering personalized service and creative culinary wonders. Fans of international cuisine will enjoy Voyages by Alain Ducasse. Located on Sky Bridge's 21-st floor, Yi serves Chinese cuisine in a tasting menu format, along with an excellent tea selection.
Morpheus boasts over 700 rooms, suites, and villas. The Executive Suite is one of the most opulent accommodation options, containing luxury décor and bespoke furniture. You'll feel right at home thanks to the warm color palette, comfortable beds and sitting area, and high-tech amenities. The bathroom has its own flat-screen TV, a deep tub, and Aqua di Parma toiletries.
The rates at Morpheus start from $350 a night.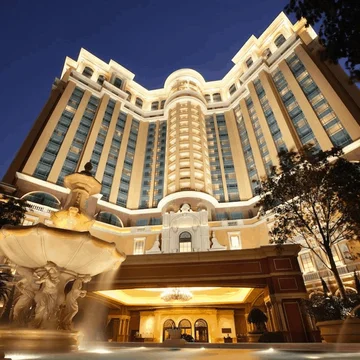 Four Seasons Hotel Macao
Located on the famous Cotai Strip, Four Seasons Hotel Macao is a popular hotel choice for business travelers. Its colorful exterior is a blend of western and Chinese elements, a theme that's spread on the inside as well.
Check Availability
When traveling for business and work, it's crucial that you have access to relaxing amenities, and The Four Seasons Hotel Macao provides just that. Lounge by one of five outdoor pools, book yourself a rejuvenating massage at the on-site spa, or shop at the adjacent mall, brimming with luxury brands.
In terms of dining, Zi Yat Heen, the hotel's Michelin-starred restaurant, is the most popular dining venue. Taste the best of Cantonese cuisine accompanied by their specialty teas in a serene and elegant atmosphere. A generous breakfast is served at Belcancao, containing both Chinese specialties and western favorites. Splash is an outstanding choice for a laid-back lunch or dinner, with a heavy focuses on seafood.
The accommodation options are diverse, ranging from Premium Rooms to a Royal Suite. Each room and suite comes with glamorous furnishings, high ceilings, marble bathrooms with deep tubs and a separate rain shower, and stunning artwork.
The rates at Four Seasons Hotel Macao start from $150 a night.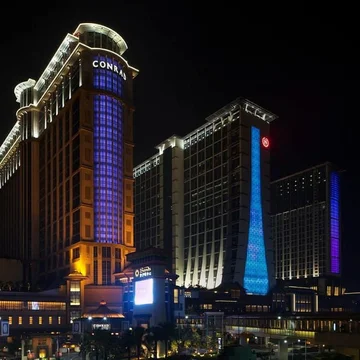 Conrad Macao
Nestled among the casinos and shops of Sands Cotai Central is the renowned Conrad Macao, allowing you easy access to the busiest parts of the city for sightseeing or shopping.
Check Availability
The hotel is a magnet for businessmen and business-centered events, owing to its incredible and extensive business facilities. Relax after a long day's work at one of the four pools, or pay a visit to the spa and enjoy a rejuvenating treatment. The service is excellent – the staff is attentive and welcoming, making your stay as seamless as possible.
Choose from two outstanding on-site dining venues. Dynasty 8, with its décor and color scheme, evokes the spirit of Chinese dynasties. The cuisine is immaculate and centered around Chinese delicacies and well-loved classic dishes. Grand Orbit serves sumptuous breakfast in a relaxed setting, with an extensive buffet containing international options. In-room dining is also available.
The guest rooms and suites at Conrad Macao differ in their color scheme but ooze elegance and decadence. The beds are comfortable and sizable, with wall-sized bed frames. The sitting area is placed in front of enormous wall-to-wall windows, allowing you to enjoy the splendid view in comfort. Choose from three bath amenities in the spacious marble bathrooms.
The rates at Conrad Macao start from $80 a night.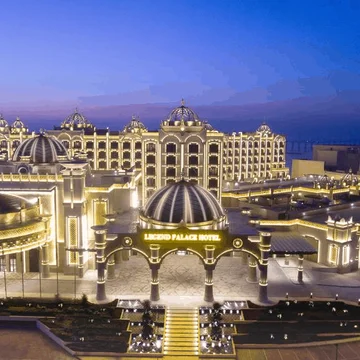 The facilities at Legend Palace Macau are akin to all luxury hotels out there. Soak up the sun at the outdoor swimming pool, or relax in style in the poolside cabanas. The hotel gym is spacious and well-equipped by any standard, suitable for any workout regime. After you finish your workout or spend some time in the sun, visit the Senses Health Club for a personalized body massage.
There are numerous places to eat and drink at Legend Palace Macau. The Grand Palace is the primary dining venue, where guests can indulge in innovative Chinese dining in a palatial atmosphere. Brassiere de Paris is a French-themed restaurant with a menu comprising of premium international dishes. Infinite, adjacent to the on-site casino, serves both Chinese and western delicacies.
Entering a room at Legend Palace Macau will make you feel as if you've traveled back in time to Imperial Russia or Napoleonic France. The Executive Rooms are vastly superior, designed to give you a sense of comfort and lavishness, in equal measure. From the long, patterned drapes, to the tall wardrobes and plush beds, every décor option is as palatial as they come
The rates at Legend Palace Macau start from around $120 a night.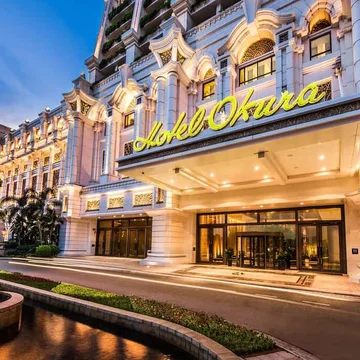 The inspiration from Japanese culture can be seen the minute you step foot in the hotel – from the staff uniforms to the décor choices, everything is on par with the theme. The hotel's state-of-the-art gym promises a great workout, much like the serene indoor swimming pool. For a more relaxing experience, opt for the indoor Jacuzzi overlooking the city. While there's no dedicated on-site spa, the beauty salon located on the property allows you to book various beauty treatments.
As you can imagine, the on-site restaurants focus heavily on Japanese cuisine. Terrace restaurant, located on the sixth floor, offers contemporary Asian cuisine, as well as a few Western dishes. Nagomi is known for its Wagashi High Tea Set and charcoal roasted coffee – a must-try during your stay. For a spectacular dim sum or sushi-based lunch in a glamorous setting, visit the Okura Banquet Room.
Although minimalistic, the rooms and suites at Hotel Okura Macau are homey and elegant, with many Japanese-inspired details that add character. The views vary, yet remain spectacular, as seen from the floor-to-ceiling windows. A minibar, coffee and tea facilities and a flat-screen TV are included in every accommodation.
The rates at Hotel Okura Macau start from $150 a night.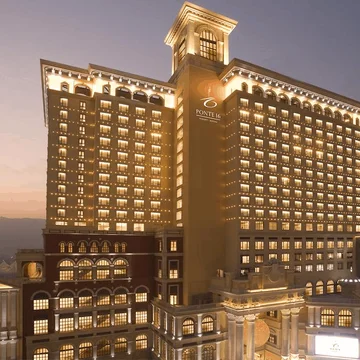 Sofitel Macau at Ponte 16
Sofitel Hotels are known for their French-inspired design and classy service, and Sofitel Macau at Ponte 16 is no exception. This riverside hotel is located in Macau's historic quarter, giving you easy access to the greatest landmarks and the best restaurants in the area.
Check Availability
Alternatively, you can stay indoors and enjoy the plethora of amenities that can be found in the hotel. When the weather allows it, lounge around the outdoor pool and sip on a refreshing iced drink from the poolside restaurant. The signature Sofitel Spa is designed to impress, with holistic treatments and beautifying facials. Sofitel Fitness not only gives you the opportunity to stay on track with your workouts but also allows you to enjoy panoramic views of the area while working out, which certainly makes planks go by faster.
Dine in style at the hotel's elegant restaurants. The all-day Mistral Restaurant serves international options and a la carte dining. For fans of Cantonese cuisine, visit the Le Chinois Cantonese Restaurant and enjoy the intimate setting along with the delicious dishes. Evoking a retro French café, Rendez Vous Lobby Bar is the place to go for a quick cup of coffee or a signature cocktail.
All rooms and suites at Sofitel Macau at Ponte 16 come with a flat-screen TV, en-suite bathrooms with complimentary L'Occitane products, and signature Sofitel MyBed beds. The large windows reveal the historic city landmarks, resulting in a stunning view, especially at nighttime.
The rates at Sofitel Macau at Ponte 16 start from $100 a night.
Find Luxury Hotels in Macao