Mauritius, or The Republic of Mauritius, features over 100 miles of beaches – one of the reasons why it's a popular choice for an exotic island getaway. Since no island getaway is complete without lavish accommodation, we've selected our best picks for luxury hotels in Mauritius to make your tropical escape as comfortable and indulgent as it can be.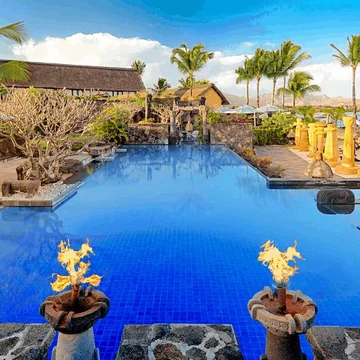 The Oberoi Mauritius
The Oberoi Mauritius is one of the most distinguished luxury hotels in Mauritius, situated on the white beaches of Turtle Bay, overlooking the mountains. Ideal for a honeymoon destination, the resort is cocooned by tropical gardens, making you feel like you're far away from the historic capital Port Louis when in reality, you're only a 20-minute drive away.
Check Availability
It won't come as a surprise that The Oberoi Mauritius is brimming with five-star facilities. The infinity pool is adult-only, allowing you to cool down from the sun or relax after a couples massage. Adjacent to the infinity pool is a kids pool, perfect for families. The Oberoi Spa, with its two pools and a fitness center, is a sanctuary of tranquility and serenity. Don't forget to try their most popular treatment – the Oberoi signature massage, as well as their holistic body treatments.
At The Oberoi Mauritius, there's never a shortage of scenic places to dine at. Whether you choose to dine under the stars or atop rocks, you will be met with an unforgettable dining experience. On the Rocks offers international cuisine and fresh seafood at, as you might have guessed by its name, the volcanic rocks that surround the resort. Sample delicious authentic Creole and Indian cuisine at The Restaurant, an all-day dining venue with a romantic and serene setting overlooking the ocean. Entering The Gunpowder Room, an on-site restaurant serving Japanese and Creole cuisine, feels like stepping back to the 18th century. If you appreciate a themed setting, you will love what The Gunpowder Room has to offer.
With thatched roofs, stunning ocean views, and beautiful private decks, the villas at The Oberoi Mauritius are every bit as luxurious as the hotel. They're designed in an eco-chic style, with a relaxing neutral color palette. Some villas come with a private heated pool, giving you privacy and comfort.
The rates at The Oberoi Mauritius start from $530 a night.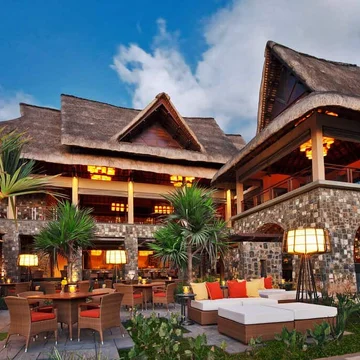 The award-winning Angsana Spa and Wellness Center is one of the hotel's highlights, with a menu comprising of traditional treatments and ancient techniques that will transform your mind and your body. On top of that, guests can book a yoga or tai chi class, and get acquainted with the local culture in a fun and unique way.
At the on-site restaurants, you will find a delightful mix of international delicacies and Asian dishes. Oryza serves international and local cuisine, including amazing breakfast options. Passion Chill is a go-to lunch spot for guests, offering an array of international dishes. For tasty Pan-Asian dishes in nocturnal hours, visit Jadis.
A variety of accommodation options are offered at Angsana Balaclava Mauritius, including pool villas that can host up to eight guests. The family-friendly villas include a private pool overlooking the beach, a private garden, a fully-equipped kitchen, multiple bedrooms, and a butler service.
The rates at Angsana Balaclava Mauritius start from $200 a night.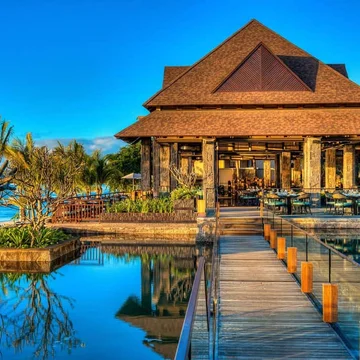 From a 24-hour fitness center to a tennis court and enormous infinity pools, there are plenty of things to do and see. Paying a visit to the on-site Heavenly Spa should be one of your top priorities during your stay. Staying true to its name, it offers holistic treatments and restorative massages.
Luckily, some of Balaclava's best restaurants are located on the property of The Westin Turtle Bay Resort & Spa, such as Kangan – a romantic beachfront restaurant that serves flavorful Indian cuisine and Seasonal Tastes – an international restaurant which allows you to enjoy your meals with a breathtaking view of the Indian Ocean.
A total of 190 elegant rooms and suites are available at The Westin Turtle Bay Resort & Spa, all of which are equipped with a flat-screen TV, tea and coffee making facilities, and a signature Heavenly Bed. The design is simple yet chic, with a neutral color scheme.
The rates at The Westin Turtle Bay Resort & Spa start from $200 per night.