Puerto Rico is one of the most visited tourist destinations in the Caribbean Sea, attracting millions of tourists every year. The country is known for its historic cities like San Juan, miles-long golden beaches, incredible local cuisine, as well as the El Yunque National Forest and the beautiful waterfalls. The luxury hotels in Puerto Rico on our list are diverse, opulent, and offer a plethora of amenities that will fuel your sightseeing, exploring, and outdoor adventures.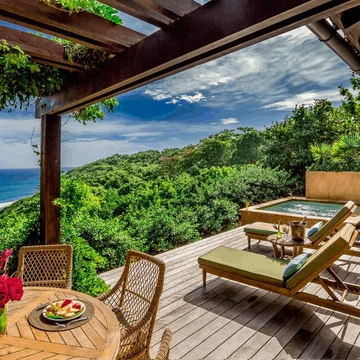 Royal Isabela
Royal Isabela is a secluded five-star hotel overlooking the Atlantic Ocean and the awe-inspiring cliffs of Puerto Rico's northwest coast. This beautiful setting makes Royal Isabela an ideal choice for anyone looking for a quiet getaway surrounded by untouched nature.
Check Availability
One of the main on-site attractions at Royal Isabela is the extensive golf course – an attraction in its own right, containing flora and fauna unique to the island. Its atmosphere and natural beauty are bound to impress any guest, whether they like golfing or not.
Equally spectacular in terms of dining, Royal Isabela employs a farm-to-table philosophy resulting in delicious and fresh cuisine. Jota Restaurant's menu highlights include the Cheese Platter, containing carefully selected local cheese, Seared Scallops, and Pumpkin Risotto. To complement your meal, select a drink from their extensive drinks menu – the single malt and gin are a must-try!
Much like the resort itself, the villas at Royal Isabela seamlessly blend luxury and nature, giving you a once in a lifetime experience. Each villa, charmingly called Casita, features a private pool, a terrace, a spacious living area with a flat-screen TV, comfortable canopy beds, and a bathroom with a separate bath and shower. Wooden furnishings are combined with neutral color tones, resulting in an earthy vibe, ideal for an island getaway.
The rates at Royal Isabela start from $400 a night.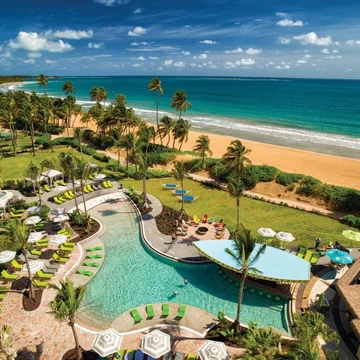 Apart from long, exotic beaches, this award-winning resort boasts two championship golf courses and a luxury spa. Fitness and sports are taken to the next level; while staying here, you can book yoga classes, take salsa lessons, play beach volleyball, partake in beach obstacle races, or take an aqua aerobics class. Who said fitness isn't fun? For those less keen on thrilling sports, you can birdwatch or go iguana feeding. The resort contains various on-site restaurants where you can enjoy a wide array of flavorful Caribbean dishes made of the freshest ingredients available. A splendid breakfast is served at Marbella, including American staples and Puerto Rican favorites.
Choose from 400 stunningly appointed rooms and suites at Wyndham Grand Rio Mar Puerto Rico Golf & Beach Resort. The décor is inspired by the resort's lush surroundings, so expect to find colorful motifs, gorgeous artwork, and wooden furnishings. The rooms and suites are appointed with a flat-screen TV, coffee and tea making facilities, and a private balcony.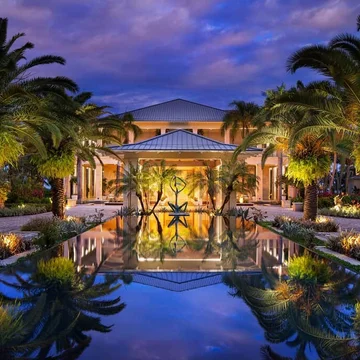 The St. Regis Bahia Beach Resort
A stunning location, five-star amenities, and splendid accommodation options – these are a few of the factors that make The St. Regis Bahia Beach Resort one of the best hotels in Puerto Rico. Located on a former coconut plantation, this unique resort captures the essence of Puerto Rico perfectly – think long private beaches, lush greenery, and incredible views of the Atlantic Ocean.
Check Availability
The amenities offered are simply unbeatable. You name it – The St. Regis Bahia Beach Resort probably has it. Iridium Spa is a sanctuary of tranquility and rejuvenation, giving you the option to select from a long list of treatments using transformative skincare. If you're on the lookout for a quick endorphin rush, you can visit the state-of-the-art fitness center, play a game at one of the tennis courts, book a yoga or Pilates class, or swim in the remarkable seaside pool. Golf enthusiasts will be delighted to know that the resort boasts an on-site golf course with a gorgeous backdrop. Outdoor activities like kayaking and biking are also available.
Tasting delicious local cuisine is the hallmark of a memorable holiday, and the on-site restaurants at The St. Regis Bahia Beach Resort have you covered in that regard. Paros Restaurant's Greek and Mediterranean cuisine is a culinary treat on its own, but pair that with the stunning beach views and you get the perfect setting for a night out. Seagrapes Restaurant is an al-fresco restaurant featuring bistro cuisine made by a dedicated culinary team that uses fresh and locally sourced ingredients. The signature St. Regis Bar is a great way to end your day in paradise. Make sure you don't miss out on their signature The Encanto May cocktail, a local take on Bloody Mary.
Designed by the renowned Nono Maldonado, the rooms and suites at The St. Regis Bahia Beach Resort are the epitomai of tropical luxury. The designer has masterfully paired a myriad of modern amenities with an organic motif and a neutral color palette with just the right pop of color. The bedrooms contain their signature 400-thread-count Frette bed linens and cashmere throws, while the bathrooms have complimentary luxury toiletries, Frette bathrobes, and a soaking tub.
The rates at The St. Regis Bahia Beach Resort start from around $500 a night.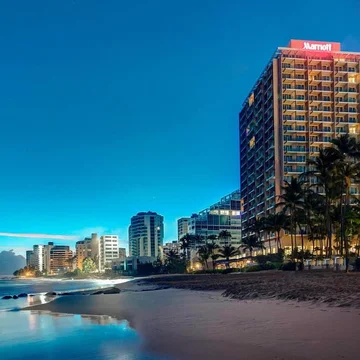 San Juan Marriott Resort & Stellaris Casino
San Juan Marriott Resort & Stellaris Casino is situated in the Condado neighborhood of San Juan, with a supreme beachside location that allows for incredible views of the Atlantic. Apart from being a well-known holiday spot, it's renowned for hosting conferences, weddings, and business events due to amazing on-site event facilities.
Check Availability
Some of the key amenities include two large outdoor pools with a tropical setting, a 24-hour on-site casino, two tennis courts, and a wellness center that offers spa treatments and relaxing massages.
From international cuisine to local culinary delights, the dining options at San Juan Marriott Resort & Stellaris Casino are varied and numerous. Guests can choose from a buffet, continental, and a full American breakfast. During the day, pay a visit to Fresh Bites and enjoy an array of international dishes. Gelato & Co is the perfect place to cool off from the sun, where you can savor authentic Italian gelato. The Red Coral Lounge appears to be a popular night-time option, which may have something to do with their tasty innovative cocktails.
There are a total of 513 rooms and 12 suites. The views differ depending on which accommodation you choose, but the amazing amenities remain – a flat-screen TV, floor-to-ceiling windows, a desk and sitting area, and private balconies where you can watch the sunset over the Atlantic.
The rates at San Juan Marriott Resort & Stellaris Casino start from $200 a night.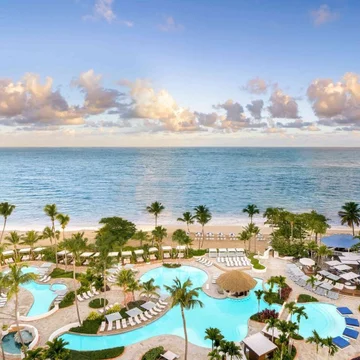 Fairmont El San Juan Hotel
Enjoy a taste of tradition and Puerto Rican hospitality at Fairmont El San Juan Hotel, a lively oceanfront hotel that boasts a central location, in the Isla Verde district, close to the busiest nightclubs in the area.
Check Availability
A plethora of water-based activities is available at the hotel's award-winning beach, such as kayaking, jet-skiing, and snorkeling, providing you with an alternative way to experience the Atlantic Ocean. For those who have extra energy, there's an option to book a fitness class on the beach. If you find yourself too tired from all the partying, you can simply relax and soak in the sunrays. There also are four on-site pools, as well as the Well & Being Spa.
Taste exceptional local cuisine paired with international favorites at the hotel's restaurants and cafes. Beachfront dining is available at Aquarelle On the Beach, combined with an irresistible mix of inventive cocktails. El Bistro is a casual all-day spot, perfect for when you need a quick meal or a takeout. For a delicious blend of local flavors, courtesy of renowned chef Juliana, visit Caña by Juliana Gonzalez.
The villa rooms at Fairmont El San Juan Hotel pay homage to local culture and traditions, giving you an authentic and unique experience. From the décor choices to the artwork, every detail reflects the local culture. Pair that with an array of modern amenities like an espresso maker, a mini fridge, and an LCD TV, and you have all the prerequisites for a memorable stay.
The rates at Fairmont El San Juan Hotel start from $250 a night.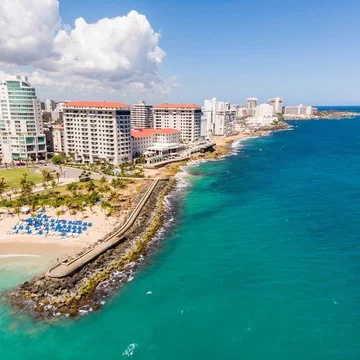 Condado Vanderbilt Hotel
The historic and glamorous Condado Vanderbilt Hotel is one of the most well-known luxury hotels in Puerto Rico. The hotel has been operating for more than a century, so expect outstanding service and a carefully selected array of amenities.
Check Availability
The Spa at Condado Vanderbilt Hotel is a favorite among locals and tourists alike. Offering restorative massages, beautifying facials, and rejuvenating body treatments, it's the ultimate place to visit if relaxing is one of your priorities while holidaying. The Condado Vanderbilt Gym contains Technogym equipment that's essential for strength training, and it also offers a diverse selection of classes and personal training sessions.
Condado Vanderbilt Hotel shines in terms of dining. Its signature 1919 restaurant (marking the year the hotel was founded) has Michelin-starred Chef Juan Jose Cuevas in charge, bringing you local dishes with an international flair. Another great place for Puerto Rican cuisine is Ola – an oceanfront restaurant with a relaxed setting.
Accommodation-wise, guests can choose from Heritage and Tower guest rooms and suites. The rooms, located in the Spanish Revival Building, are chic and airy, with a neutral color scheme. The large French windows allow you to see the vibrant San Juan from the comfort of your room. You won't even want to get up from your beds, which are large, comfortable, lined with Rivolta Carmignani linen, and decorated with plush bed frames.
The rates at the Condado Vanderbilt Hotel begin at $365 a night.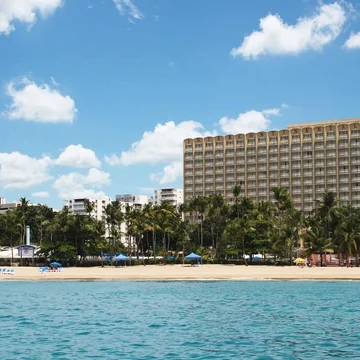 InterContinental San Juan
Adjacent to the famous Isla Verde beach and overlooking the Atlantic, InterContinental San Juan's central location enables visitors to sightsee all the major landmarks in San Juan, as well as visit all the party epicenters in the area. Those visiting for business will also be pleased with the location since it's only 15-minutes away from the business and financial district of San Juan.
Check Availability
Whether you're in need of a scrub or a facial, the on-site Akua Spa will come to your rescue. The spa contains a steam room and a sauna, for additional beautifying benefits. There's a 24-hour fitness center on the property, and you also have the option of booking a yoga class during your stay.
Several fine dining restaurants are available to InterContinental guests. Aleli Restaurant is the renowned breakfast spot, offering incredible local options and a buffet or a la carte spreads for an amazing start to the day. For a delicious dinner, visit SAK-I, an Asian restaurant with a scrumptious Latin flair.
The newly-renovated rooms and suites will suit anyone who enjoys staying in spacious rooms with a minimalistic and elegant design. The French-style balconies allow you to sip your morning coffee while listening to the sound of the waves. The suites have walk-in showers, modern artwork, and a sitting area.
The rates at InterContinental San Juan start from $200 a night.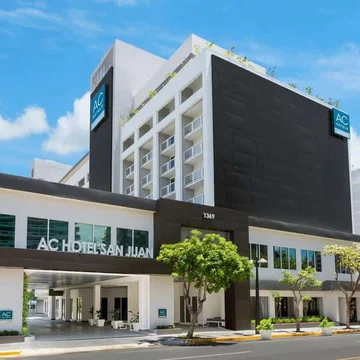 AC Hotel by Marriott San Juan Condado
Located in the heart of San Juan, AC Hotel by Marriott San Juan Condado boasts impeccable event facilities, a rooftop pool, and sleek accommodation options. Its central location allows you to reach San Juan's beaches and tourist attractions in a matter of minutes.
Check Availability
The year-round rooftop pool is one of the most attractive amenities in the hotel, where you can take a lap or two without leaving the hotel's premises. The well-equipped fitness center allows you to stay on track with your fitness while traveling. If you're traveling for business, the hotel's state of the art meeting facilities will be of great help.
Your day starts at AC Kitchen, where you can sample the best European flavors, including buttery croissants and various cheeses. Taste Spanish-inspired cuisine at La Bodeguita – from tacos to churros, the dishes will take you on a culinary journey. Bar.C.Lona is a chic rooftop bar that serves artistic cocktails and spirits in a lively atmosphere, making it the perfect spot for a night out.
Each room has a marble bathroom and is equipped with a writing desk, a mini-fridge, and floor-to-ceiling windows that reveal a breathtaking view of the Atlantic. The color palette is a pristine white, giving the rooms an elegant and sophisticated look.
The rates at AC Hotel by Marriott San Juan Condado start from $150 a night.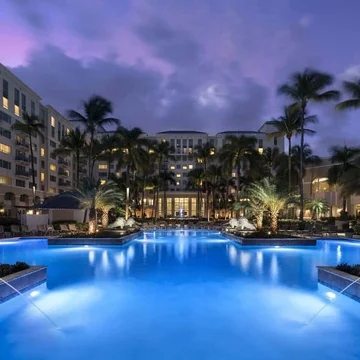 The Ritz-Carlton, San Juan
The Ritz-Carlton, San Juan is a luxury beach resort located on a two-mile long sandy beach, in Puerto Rico's vibrant capital. Whether you want to go exploring San Juan's rich history or spend your days relaxing at the beach, the resort's supreme location will allow you to do that in a matter of minutes.
Check Availability
The hotel boasts outstanding business facilities, which is one of the reasons why it's a common choice for people traveling for business. The on-site casino is one of the main attractions, offering lavish entertainment and a fun destination without leaving the hotel. During the day, you can lounge around the outdoor pool overlooking the beach, or book a relaxing massage at the on-site spa. A well-equipped fitness center is also available for its guests.
Il Mulino New York is the main dining venue at The Ritz-Carlton, San Juan, offering sumptuous Italian cuisine with an extensive wine menu. The setting is glamorous, with low-hanging chandeliers and dark wooden furniture.
The guest rooms are designed in neutral tones, with modern and elegant furnishings. Each room features a private balcony with a sitting area, a working desk, a large king-size bed with 400-thread-count Frette linens, and generous minibars.
The rates at The Ritz-Carlton, San Juan start from $170 a night.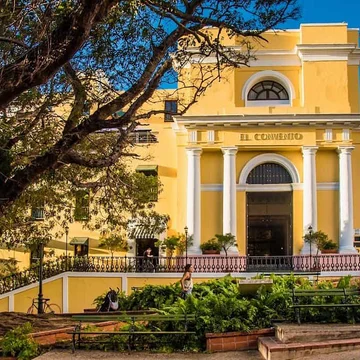 Hotel El Convento
Part of the Small Luxury Hotels of the World and Historic Hotels of America, the quaint and picturesque Hotel El Convento is one of the most award-winning luxury hotels in Puerto Rico on our list. It's conveniently located in Old San Juan, an area brimming with character and historic landmarks.
Check Availability
Soak in the sunshine at the hotel's outdoor plunge pool or Jacuzzi. If you prefer the authentic feel of the beach, visit the El Convento Beach Club provided by the hotel, spanning over two of the most beautiful beaches in San Juan. There is a 24-hour fitness center in the hotel, appointed with the latest fitness equipment.
When it comes to dining, tasting the authentic Puerto Rican cuisine at Old San Juan Restaurant should definitely be on your itinerary. The renowned Santisimo Restaurant is a heaven for all gastronomes out there who enjoy sampling local cuisine while traveling. Afternoon and nighttime cocktails are served at The Alegria Patio Bar. While you're there, make sure you try their signature El Convento cocktail.
The rooms and suites have a rather earthy vibe, with ligneous Spanish furnishings, patterned accents, a Juliet balcony, and artwork that matches the color scheme of the room. Whether you get a San Juan Bay view or a stunning city view will depend on what room you choose.
The rates at Hotel El Convento start from $160 a night.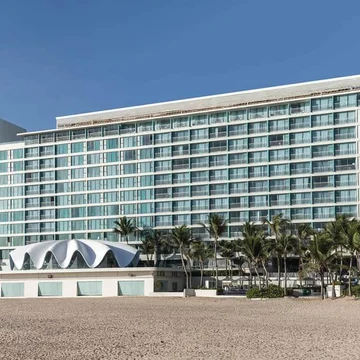 La Concha Renaissance San Juan Resort
Don't be misled by the name of the hotel – there is nothing medieval about the amenities and services offered at La Concha Renaissance San Juan Resort. Apart from being a top-notch destination if you're on the quest for the best beaches in San Juan, it's also a supreme choice if you want to experience the exhilarating nightlife of Puerto Rico's capital.
Check Availability
Soak in the sunbeams at one of the local San Juan beaches, or enjoy one of the water-based activities such as snorkeling and scuba diving. On top of having access to an idyllic beach, the hotel boasts a glamorous outside pool, with connecting waterfalls and incredible views. The excitement continues at Casino Del Mar – a 24-hour casino located in the open lobby of the resort. A well-equipped fitness center and a luxury gym are also included.
La Concha Renaissance San Juan Resort is home to one of San Juan's best dining spots. Solera is a poolside restaurant serving spectacular brunches, light snacks, and refreshing cocktails. Serafina Restaurant is an on-site Italian restaurant that merges our favorite traditional classics like pizzas and pasta with a unique local twist. The lively Lobby Bar is an ideal place to meet up with someone and get to know other hotel guests, all the while sampling strong spirits and inventive cocktails.
The accommodation options at La Concha Renaissance San Juan Resort are chic and minimalistic, with modern furnishings and a crisp design. The enormous floor-to-ceiling windows allow for an uninterrupted view of the city's skyline or the ocean and access to your own private balcony. The beds are comfy and roomy, with soft and elegant bedframes.
The rates at La Concha Renaissance San Juan Resort start from $300 a night.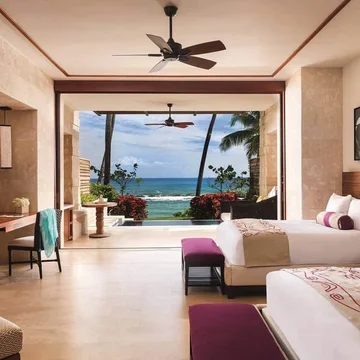 Dorado Beach, A Ritz-Carlton Reserve
Experience a personalized, serene, and indulging island getaway at Dorado Beach, A Ritz-Carlton Reserve. Located on Dorado's coastline, the hotel's nature-inspired approach will melt your stress away, calm your mind, and replenish your energy stores.
Check Availability
No island getaway is complete without an on-site spa, and Dorado Beach, A Ritz-Carlton Reserve's Spa Botanico is an oasis of relaxation. Experience one of their signature treatments and massages using restorative plant-infused cosmetics. The spa's infinity pool is the perfect post-treatment destination. Whether it's on land or in the sea, the activities offered by the hotel will enrich your holiday and add a dash of excitement to your days. From sailing to historic tours, the experiences will suit any preference.
Various on-site dining venues are offered, combining a sensory culinary experience with a gorgeous and intimate environment. La Cocina Gourmet is a must-see for sweet tooths and wine enthusiasts, as well as those who want to try premium Puerto Rican coffee. Coa, with its enormous wine cellar and supreme local cuisine, is a main dining attraction in the area.
Unsurprisingly for Ritz-Carlton hotels, the suites are lavishly decorated and beautifully appointed. Each suite comes with a spacious terrace with a plunge pool, an oversized bathroom with a deep tub and a separate shower, and an outdoor shower. Guests get a personal embajador who will take care of every need you might have.
The rates at Dorado Beach, A Ritz-Carlton Reserve start from $900 a night.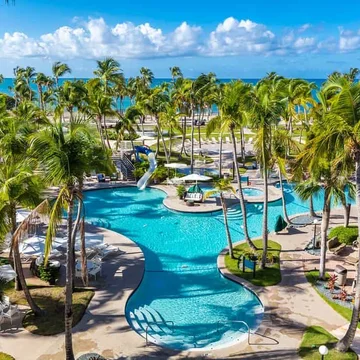 Hilton Ponce Golf & Casino Resort
Hilton Ponce Golf & Casino Resort is situated in Ponce – Puerto Rico's second-largest city, located on the southern coast. The gorgeous Old Town area, also known as the Historic Zone, is full of history and things to do, so make sure you don't miss out on any of the fun.
Check Availability
The list of amenities at Hilton Ponce Golf & Casino Resort is remarkable. Guests have access to a 27-hole golf course and a mini-golf area for those less experienced. There is a tennis court where you can practice your tennis skills, as well as two outdoor pools and two whirlpools. And if that wasn't enough, the on-site casino makes for a fun destination without even leaving the hotel.
For booze and bites, visit the El Bohio Sports and Pool Bar. Have a light snack or a midday cocktail in a relaxed outdoor setting, or watch a sports game with a glass of beer in front of one of the LCD TVs. La Cava Restaurant has a more sophisticated setting, with a menu consisting of international favorites and an impeccable fine wine selection.
The rooms are spacious and minimalistic, with a neutral color scheme and floor-to-ceiling windows that enable you to enjoy views of the stunning surroundings. Enjoy the fresh air from the comfort of your own balcony, where you can have your morning cup of coffee and indulge in delicious takeout.
The rates at Hilton Ponce Golf & Casino Resort start from $150 a night.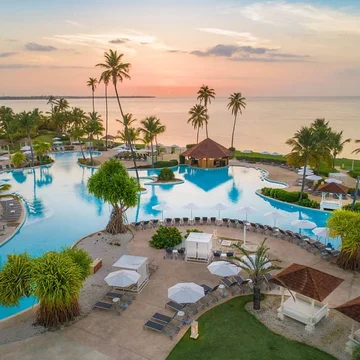 Hyatt Regency Grand Reserve Puerto Rico
Placed against the backdrop of the Eel Yunque rainforest, Hyatt Regency Grand Reserve Puerto Rico is a luxury resort where you can relax, recuperate, and escape the large crowds. Amazing adventures await a few steps away from the hotel – whether you choose zip-lining or exploring the rainforest waterfalls, a good time is guaranteed.
Check Availability
There's plenty to do on-site, as well. Enjoy a game of golf at the 18-hole championship golf course, kayak in the ocean, or play a couple of games at the tennis or pickleball courts. Two outdoor swimming pools are available, one lagoon-style pool for children and one kid's pool for the youngest guests.
An extensive breakfast buffet is served at Water's Edge – one that includes delicious local options to kick-start your day. Nori Asian, one of the on-site restaurants, serves the best Japanese Sushi in the area, while Prime 787 specializes in seafood.
Choose from a total of 579 modern and chic rooms, which face either the ocean or the gardens. Each room comes with a terrace, a flat-screen TV, a coffee making machine, and splendid mahogany furnishings.
The rates at Hyatt Regency Grand Reserve Puerto Rico start from $250 a night.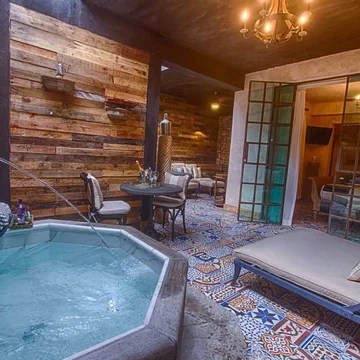 Olive Boutique Hotel
Olive Boutique Hotel, part of the prestigious Small Luxury Hotels of the World Group, is located in the Condado neighborhood, where every destination is within walking distance, from beachside restaurants to local shops.
Check Availability
The Mediterranean-inspired design is reflected in every area of the hotel, including the rooms and suites. There is a rooftop infinity pool with breathtaking views of Condado. The on-site restaurant Sage Steak Loft is a contemporary version of a traditional steakhouse, with a menu designed by one of Condado's greatest chefs – Mario Pagan.
To say that the rooms and suites at Olive Boutique Hotel are uniquely designed would be an understatement. An art de Vivre style is infused with Mediterranean elements, resulting in a truly remarkable layout and décor. The suites come with their own champagne bar, dining area, elegant bathroom with luxury amenities, and rain shower. If you'd like to escape the predictability of hotel chains, Olive Boutique Hotel is an ideal option.
The rates at Olive Boutique Hotel start from $300 a night.
Find Luxury Hotels in Puerto Rico