Home of impressive palaces, including Gyeongbokgung Palace and Changdeokgung Palace, South Korea is a destination that's not to be missed if you're traveling to East Asia. This country with a rich culture has much more than meets the eye; think futuristic architecture, spectacular natural landscape, and mouth-watering cuisine.
Here are the 15 most opulent hotels that will enhance your stay in South Korea with warm hospitality and attentive service in a luxurious setting.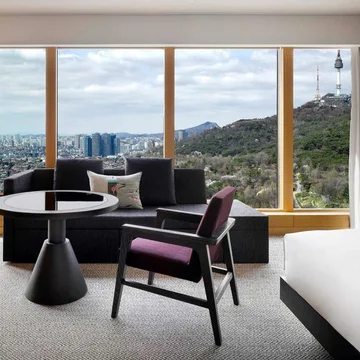 Grand Hyatt Seoul
Delivering impeccable service for decades, Grand Hyatt Seoul is a luxurious hotel set in a beautiful area overlooking Mount Namsan. Some of the most popular districts in town, including Itaewon and Gwanghwamun, are just a short ride away. There you'll discover Seoul's cafe culture and some small shops offering artworks and crafts. Additionally, the hotel is just minutes away from downtown Seoul and Myeongdong.
Check Availability
The hotel's decor celebrates Seoul's heritage by incorporating Feng Shui principles in each unit. The focus on art is evident in all corridors – animal sculptures, as well as traditional and contemporary Korean artworks, add sophistication to the overall laid back atmosphere. Guests can choose from 615 rooms and suites, all appointed with floor-to-ceiling windows which give way to some sweeping views over Han River and Mount Namsan. A comfortable king-size bed is provided along with soft linens, bathrobes, and slippers. Each room is equipped with a minibar, safe, television, air-conditioning, and mini dressers.
Grand Hyatt Seoul doesn't disappoint when it comes to the facilities as well. The lavish spa with 10 treatment rooms and an extensive menu is a real treat, while Club Olympus offers an indoor swimming pool, baby pool, aerobic studio, and two squash courts. Furthermore, Grand Hyatt boasts a massive outdoor swimming pool and three tennis courts.
Standard rooms start at $230.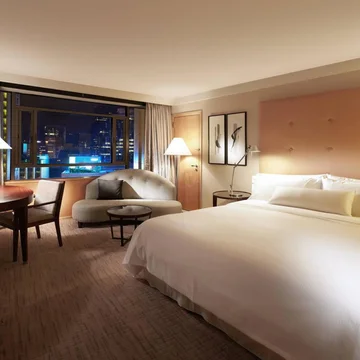 The Westin Chosun Seoul
Seoul's oldest hotel, the Westin Chosun, is known for its warm hospitality and luxurious accommodation. Westin is conveniently situated in the upscale district of Myeongdong and is just minutes away from downtown Seoul, renowned historic landmarks, and popular shopping districts.
Check Availability
This 23-story hotel is known for its impressive style featuring a blend of traditional and modern Korean designs. The renowned American interior designer Adam D. Tihany had reimagined every space in the hotel back in 2011 when he used natural materials including wood, water, and stone to maintain "harmony between the old and new". It's worth noting that South Korea's biggest political, cultural, and economic events are hosted in these sumptuous interiors.
The rooms are spacious and elegant, featuring wood furnishings, soft fabrics, and picture windows overlooking the city or Wongudan Altar. The bathrooms are relatively small, but they do feature shower combos, bidets, and a variety of toiletries. For an elevated experience, book the Renewal Suite fashioned with traditional Korean themes. The wall of windows offers some stunning views over the city, and you can relax in a soaking tub that's situated just next to your king-size bed.
The three on-site restaurants are definitely the best eateries in all of Seoul. Ninth Gate Grille serves a plethora of seafood in a contemporary setting, Hong Yuan is the dedicated Japanese spot set on the 20th floor, and Sushi Cho offers the best of the Cantonese cuisine.
Double rooms start at $150.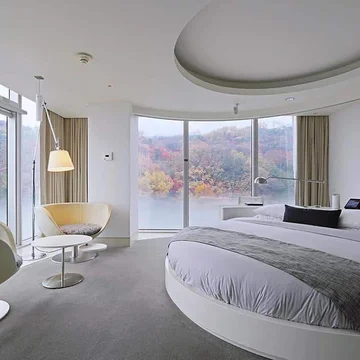 Vista Walkerhill Seoul
Situated on Mount Acha and overlooking Han River, Vista Walkerhill provides guests with beautiful scenery while still being close enough to popular districts. The Sheraton Grande Walkerhill is a short stroll away, while Sinsadong Garosugil, Gyeongbok Palace, and Apgujeong Rodeo Street are just 10 minutes away.
Check Availability
The 17-story property leaves an immediate impression. At night the exterior is illuminated with colorful lights, while the interiors are sleek with contemporary artworks. The hotel supports emerging artists and is the owner of an 800-year old olive tree reborn as a modernist piece. The hip and retro ambiance is geared toward the younger clientele which particularly enjoys the lounge area where DJs are throwing parties every weekend. The quirky ambiance continues in the rooms and suites with egg-shaped chairs, subtle patterned accents, and ultra-modern lamps. The floor-to-ceiling windows infuse the rooms with natural light and provide some scenic mountain and river views. Minibars, bathrobes, flat-screen TVs, safes, kettles, hairdryers – the rooms feature every amenity needed for a comfortable stay. Additionally, the bathrooms are sleek with whirlpool tubs, rainfall showers, and luxurious toiletries.
The bar at the hotel is the ideal place to mingle with international travelers while swaying on some groovy DJ sets. Italian fare and Japanese specialties can be enjoyed at the hotel's stylish in-house restaurants.
Deluxe rooms start at $200.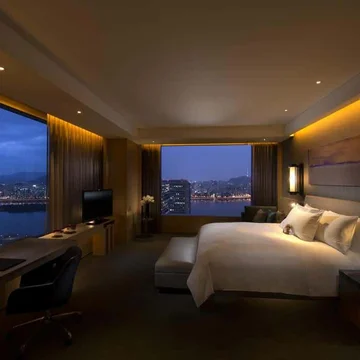 Conrad Seoul
Part of the renowned Hilton hotel chain, Conrad is a top-tier hotel situated in one of the four towers in the International Finance Centre. The hotel is conveniently connected to the IFC mall via an underground passage, while Han River Park and Yeouido Park are a short stroll away.
Check Availability
With 11 meeting rooms, two ballrooms, and a business center that's open 24/7, Conrad Seoul is ideal for business travelers. However, the hotel is also equipped with other top-notch amenities including a 24-hour gym overlooking the city appointed with cardio machines, free weights, and virtual golf driving ranges. For some relaxation, guests can head over to the 25-meter lap pool surrounded by lounge chairs and cabanas. There's also a small spa and an on-site hair salon you can use before exploring Seoul's vibrant streets.
Generously-sized, the guest rooms are tastefully decorated with contemporary artworks, light-green carpeting, and wood furniture. Tech-amenities provide a comfortable stay with Mac computers, 42-inch flat-screen TVs, and touchscreens that control everything from the lights to the room service calls. The ultra-modern ambiance continues in the bathrooms with glass sliding doors, TVs, and walk-in showers. Suites on the higher floors feature bathtubs overlooking the city through massive windows.
Deluxe rooms with queen beds start at $210.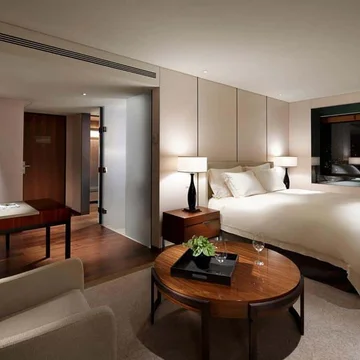 The Shilla Seoul
If you want to stay away from the hustle and bustle of the city while still being close to popular districts, Shilla is the perfect spot for you when in Seoul. The hotel is perched on a hill in Seoul's suburban Dongguk University district and the immediate area is quiet and peaceful. A free shuttle service is available to any guest who wants to visit the Myeongdong and Dongdaemun markets, the latter being Korea's biggest shopping district.
Check Availability
Shilla makes an immediate impression with its marble lobby featuring high-ceilings and suspended curtains with glass beads. Aside from the over-the-top classy style, Shilla does have a laid back atmosphere in its numerous relaxing spots. There's a curved outdoor pool where guests can laze their day away on sofas and shady cabanas, some with flat-screen TVs. Spirits, wines, and craft cocktails are available at the attractive pool-side bar overlooking the Namsan mountains. Getting lost in the hotel's garden is a pleasure – there you'll discover numerous sculptures and figurines dotted in bonsai-style foliage.
The hotel's guest rooms are as elegant as the public areas. A cream-color palette dominates the space with patterned gray rugs and honey wood furniture, while beds fashioned with white linens promise a good night's rest. In-room amenities include air-conditioning, flat-screen smart TVs, espresso machines, electric kettles, bathrobes, slippers, and best of all, fully stocked mini bars wine, spirits, and champagne.
As expected from a hotel with this stature, the dining options are vast and come with a price tag. Korean, Japanese, Chinese, and French cuisine, as well as an all-day buffet, are served in tastefully decorated settings.
The standard rooms start at $340.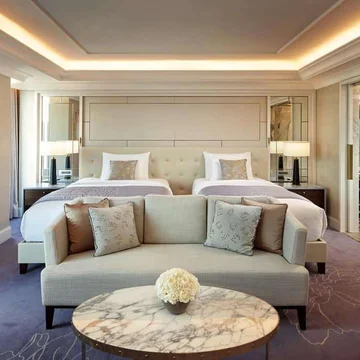 Lotte Hotel Seoul
For those of you who want to stay in the thick of it in Seoul, Lotte provides the best possible location in the middle of the Myeongdong area. This popular district is known for its numerous dining and shopping options as well as the notorious club scene. There are also historic landmarks in the immediate area including Namdaemun Gate, Gyeongbokgung Palace, and Changdeokgung Palace.
Check Availability
The hotel boasts 1,015 rooms featuring chic and stylish design throughout with dark wood furniture, soft furnishings, and contemporary artworks. KIng-size beds feature firm mattresses while the bathrooms are equipped with shower tub combos or rain-fall showers. In-room amenities feature free Wi-Fi access, flat-screen TVs, slippers, bathrobes, coffee, and tea making facilities. Room and turndown services are also available.
In terms of food options, the hotel offer is extensive. The renowned Pierre Gagnaire restaurant provides guests with French specialties in an inspiring interior. Situated on the 35th-floor, guests can enjoy their meals while contemplating the views over Seoul's skyline and Bukhansan Mountain. The hotel also boasts Korean, Japanese, and Chinese restaurants.
Standard rooms start at $140.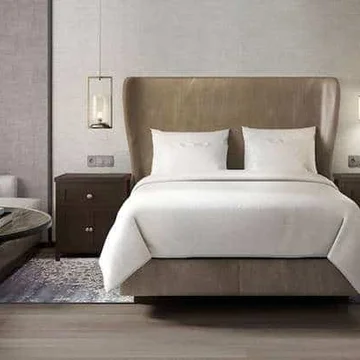 JW Marriott Hotel
Conveniently situated in the Gangnam district, JW Marriott provides 5-star luxury amid some of Seoul's most notable attractions. Step outside the hotel's gates and you'll discover the city's finest shopping, dining, and cultural opportunities.
Check Availability
Aside from boasting an excellent location, the hotel doesn't disappoint with its style either. Guests can choose between 379 guest rooms including 2 penthouses and 32 suites, all providing ravishing city views through floor-to-ceiling windows. Interiors are a blend of traditional Korean and contemporary design and are specifically designed to create a relaxing ambiance.
Situated on the highest floors, Presidential Penthouse and Ambassador Penthouse are particularly popular among high-end travelers who want to enjoy maximum comfort. As you might suspect, the views over the city from the penthouse suites are sensational, while the hand-crafted furniture and museum-quality artworks add an artsy vibe to the overall sophisticated ambiance. These sumptuous guest rooms are reachable solely through private elevators and guests are also entitled Executive Lounge benefits along with free Wi-Fi and complimentary access to the sauna, indoor swimming pool, and fitness center.
Tamayura, the hotel's in-house restaurant, serves Kaiseki, a traditional multi-course meal paired with premium Japanese teas. An all-day dining buffet with Western dishes is also available.
Guest rooms start at $230.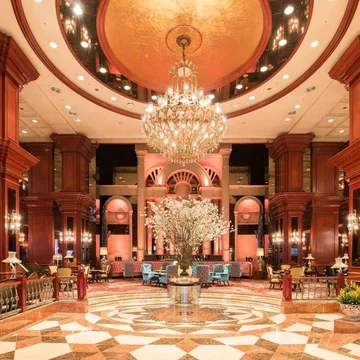 Imperial Palace
If you want to experience world-class service in one of the most luxurious hotels in Korea, you should definitely book a room at the Imperial Palace. The hotel has been recognized as one of the top branded hotels in South Korea and has won TIME Readers' Travel Choice Awards in 2006.
Check Availability
A sophisticated and elegant atmosphere with European style interiors appointed with artworks and antiques, Imperial Palace Seoul offers a space to relax after a long day of sightseeing. Each room has a flat TV screen with cable channels, tea and coffee making facilities, in-room safe, bathrobes, slippers, and ironing sand. Room service and turndown service are available as well.
Paying homage to the ancient Greek temples, the hotel outdoor pool is a relaxing spot where guests are pampered with cocktails and fresh drinks. There's also a modern fitness center with cardio equipment and a squash court. Guests can also book aerobics and yoga classes.
Exclusive and elegant, the hotel's Chinese restaurant Cheonsan leaves an immediate impression. Seasonal Cantonese dishes and spicy Sichuan dishes are paired with traditional Chinese liquors are served in 12 private rooms. The best part? The dynamic culinary team is always thrilled to create unique dishes for travelers with distinguished taste.
Deluxe rooms start at $130.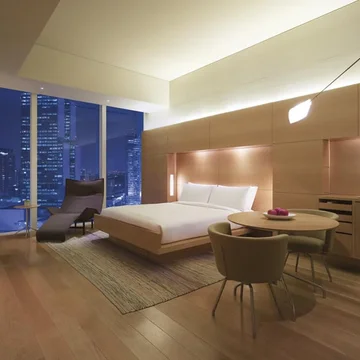 Park Hyatt Seoul
Ideal for business travelers, Park Hyatt Seoul is situated in Gangnam, which is known for its business and financial districts. The World Trade Center and the Hyundai Department Store are a 5-minute walk away, while Bongeun Temple is just around the corner. A 35-minute metro ride will take you to the upscale Myeongdong district.
Check Availability
Park Hyatt boasts 185 rooms including 38 suites. Picture windows offer stunning views over Seoul's skyline, while warm wooden accents create a romantic ambiance. Trendy rugs, Scandinavian furniture, and cream curtains can be spotted in each unit. The king-size beds feature soft linens and they are appointed with bedside reading lamps. In-room amenities are equally impressive with Bose surround systems, flat TV screens with cable TV and DVD players, and high-end espresso machines. You can also find plates with fresh fruits, which are a nice touch.
For some extra comfort, book some of the suites located on the highest floors appointed with separate living areas, love seats, sofas, and tables. The bathrooms in all units are spacious and feature rectangular tubs, vanity areas, high-end toiletries, and best of all, TVs.
Authentic Italian dishes, premium beverages, and fine wines can be enjoyed at Cornerstone, the hotel's in-house restaurant situated on the 2nd floor. For some panoramic views of Seoul and excellent Korean plates head over to the Lounge situated on the 24th floor.
Standard rooms start at $330.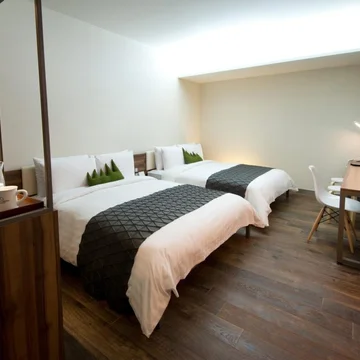 Metro Hotel
Conveniently situated in the middle of Seoul's popular shopping district – Myeongdong, Metro Hotel is surrounded by numerous skyscrapers, banks, and hotels. Plenty of attractive landmarks are in the immediate area, including N Seoul Tower, Gyeongbokgung Palace, and Changdeokgung Palace.
Check Availability
The fresh and trendy hotel interiors cater to a younger clientele. Rooms are decorated with light wood veneer furniture, trendy prints, and comfortable sofas. Some rooms feature hip details such as the love seats in the Comfort Queen Rooms. Every room is appointed with all in-room amenities needed including flat-screen TVs, air-conditioning, electric kettles, minibars, safes, slippers, and free Wi-FI. The Family Suite offers access to a pantry room with a sink, baby tub, microwave, and free laundry facilities. Additionally, there's a spacious playroom for children with a plethora of toys.
The point where Metro might come off as lacking is its facilities, as it has only a Lounge terrace where buffet breakfast is served. However, the excellent location and friendly staff make up for certain shortcomings by being incredibly attentive. That being said, numerous excellent restaurants are in the immediate area, including Haedo Sikdang and Yakiniku Myeongdong.
Standard rooms start at $120.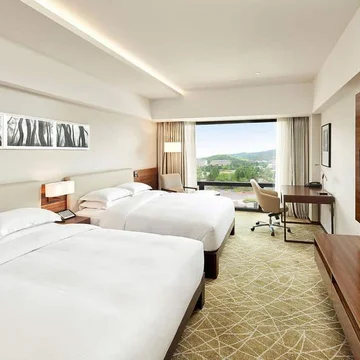 Hilton Gyeongju
Overlooking the beautiful Bomun Lame, Hilton Gyeongju offers sumptuous accommodation in the historic town of Gyeongju. The hotel is a 25-minute drive away from the UNESCO World Heritage Site of Seokguram Grotto, one of the most stunning parts of the Bulguksa temple complex.
Check Availability
The interiors can be described as a blend of traditional Korean aesthetics and contemporary style. Each room features a light color palette, while the elegant wooden furnishings create a warm ambiance. The large king-size beds are facing the picture windows that allow guests to contemplate the scenic lake and mountain views. In-room amenities include air-conditioning, flat TV screens, watch-on-demand movies, and in-room amenities. Fluffy bathrobes and magazines are a nice touch.
Hilton Gyeongju offers impressive dining options. Guests can savor authentic Italian and Mediterranean dishes in a sophisticated setting overlooking the hotel gardens. At Silkroad, a dynamic culinary team prepares delicious Cantonese and Szechuan specialties, while Genji offers sushi in a Japanese garden.
Deluxe rooms start at $330.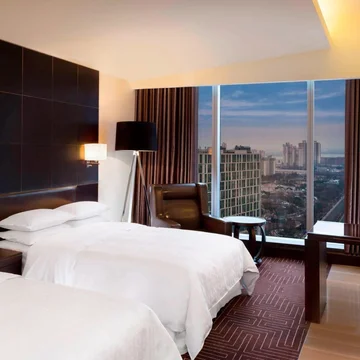 Sheraton Incheon Hotel
Surrounded by impressive natural beauty, Sheraton Grand Incheon hotel is a top-tier hotel located on South Korea's scenic west coast. The hotel's more than ideal location offers numerous opportunities to experience nearby attractions including Jack Nicklaus Golf Club, Central Park, Songdo Convensia Convention Center, and Incheon Urban History Museum.
Check Availability
Sheraton Incheon boasts an impressive list of facilities including an exclusive Club Lounge for business travelers and a lavish spa. The spa is spacious and equipped with numerous treatment rooms, a sauna, a steam room, and a hammam. Healing massages, ayurvedic treatments, hair, and body scrubs, the menu is extensive and available for both singles and couples.
As for the rooms, guests can expect a spacious and elegant interior featuring contemporary Korean design. All units feature a black and white color palette, while sleek writing desks and white sofas create an elegant atmosphere suitable for business travelers.
In terms of food opinions, Sheraton Incheon doesn't disappoint either. Yue serves Cantonese dishes in a sophisticated setting adorned with a black and white color palette. We strongly recommend that you try dim sum or roasted duck – the chef's specialties. A la carte menu and sumptuous buffets are served at Feast, the hotel's restaurant with live food-cooking stations.
Double rooms start at $330.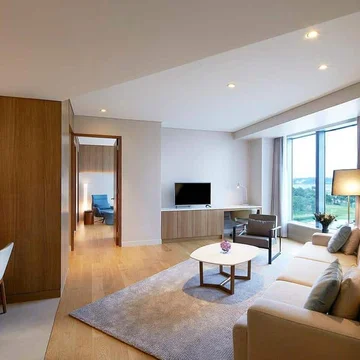 Grand Hyatt Incheon
Grand Hyatt Incheon is a luxurious hotel situated just minutes away from Incheon International Airport. The hotel's location gives guests easy access to downtown Seoul and Incheon Free Economic Zone (IFEZ).
Check Availability
Guests can expect spacious rooms and contemporary decor. There's a sleek working desk in every room, comfortable chairs, bedside lamps, and sofas. The suites resemble luxury apartments with separate living areas and a kitchenette. The Premium Suite situated in the East Tower is particularly popular among high-end travelers. Here, guests can enjoy interiors designed by Casa Armani, formal dining for ten, and a spa-inspired marble bathroom with a jetted spa.
Grand Hyatt offers guests five unique dining options. Authentic European and Asian specialties are served at Grand Cafe, an all-day dining place with chic decor. The Swell Lounge is the ideal place to relax over cocktails and small bites, while Pool House offers refreshing drinks and light meals by the pool. A small sauna and a modern fitness center are also available to guests.
Deluxe rooms start at $130.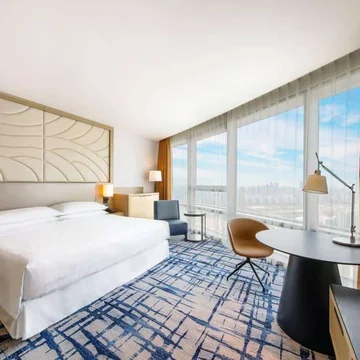 Sheraton Seoul D Cube City Hotel
Sheraton Seoul D Cube is a luxurious hotel situated in an entertainment complex comprising a cinema, theatre, and department store. The hotel's location allows guests to easily explore attractive downtown attractions including Hangang park, Seoul Tower, Gocheok Sky Dome Myeongdong, and Hongik University.
Check Availability
Guest rooms at the hotel feature minimalistic decor with a cream color palette and wooden accents. There's a formal atmosphere throughout every unit with metal desk lamps, ergonomic desk chairs, high-end espresso machines, and an electronic table for curtains, heating, and air conditioning. All rooms have stunning views over the city from floor-to-ceiling windows.
The guests' favorite spot at the hotel is the relaxing indoor pool lined with massive windows overlooking Seoul Skyline. There's also a club-sized fitness center with top-notch cardio machines and modern weight equipment. Relaxing massages, healing treatments, and body scrubs are available at the lavish spa which also has a small cafe serving smoothies, teas, and fresh salads.
Sheraton has 5 restaurants, so you won't run out of options no matter how long you're staying. Pan China offers Cantonese dishes in a tastefully decorated interior while Pho Thin serves traditional Vietnamese specialties. Situated on the highest floors, the Italian and Korean restaurants offer panoramic views over the city.
Guest rooms start at $210.
Find Luxury Hotels in South Korea