The most luxurious hotels in the Northeastern United States seduce guests with iconic architecture, mesmerizing interiors, and high-end amenities. Offering unrivalled luxury and exceptional service, these opulent hotels are bound to make an impression.
Here are the 15 most luxurious hotels in the Northeastern United States that feature rooms so comfortable and stylish that you won't want to leave.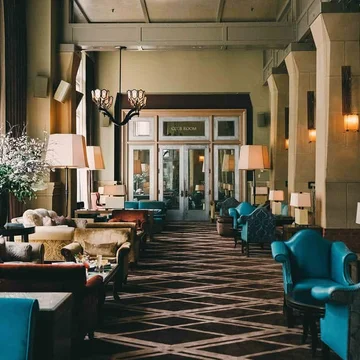 New York City, United States
The Soho Grand Hotel
Located in close proximity to Sixth Avenue and the Tribeca Neighborhood, The Soho Grand Hotel is ideal for those who want to explore the city on foot. High-end travelers particularly appreciate this hotel as it gives them the opportunity to stay at the heart of Manhattan and experience the city's vibrant nightlife.
Check Availability
Designed by the famed Bill Sofield, this hotel boasts one of a kind decor inspired by the Gilded Age. With hand-painted ceilings, glass-bottled staircase, and dramatic drawings of Joseph Stashkevetch, the Soho Grand Hotel dazzles guests from the moment they enter the lobby.
The rooms are decorated with original artworks from the Howard Greenberg Gallery and wallpapers designed by the acclaimed Saul Steinberg. The rooms feature charming balconies and offer sublime views over downtown Manhattan. Expect Egyptian cotton bedding, industrial-inspired furnishings, and amenities that will make you feel at home away from home.
At the Grand Bar and Lounge, guests have the opportunity to partake in luscious cocktails prepared by the famed mixologists Natasha Davis and Jeremy Oertel. The Soho Grand Hotel's Club Room offers a vibrant and decadent atmosphere in a luxurious setting. This place features art-deco style peacock wallpapers, unique artworks, magnificent sculptures, and an inviting bar.
Here is where celebrities such as Britney Spears, George Clooney, and Sarah Jessica Parker can be spotted swaying on some groovy rhythms.
Hotel rates at Soho Grand Hotel start at $247 per night for a double room.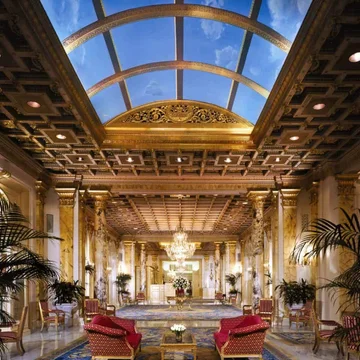 Boston, Massachusetts, United States
Fairmont Copley Plaza
Located in the heart of Back Bay, near the historic Boston Public Library, Fairmont Copley Plaza is among the best, oldest, and most visited boutique hotels in Boston. The hotel has caught the public's attention ever since Elizabeth Taylor and Richard Burton spent their second honeymoon in one of the suites.
Check Availability
The hotel oozes elegance and sophistication with every detail – Italian marble columns, high ceilings, and crystal chandeliers can be seen all around the hotel, while the gilded mirrors and intricate murals create an old-world vibe. Unsurprisingly, the hotel is well known for providing service of the highest caliber. Liveried doormen welcome guests and the staff team is always ready and willing to go the extra mile.
The suites and guestrooms are as gorgeous and comfortable as one might expect. The stylish interiors breathe warmth with mahogany dressers, floor-to-ceiling pale gray drapes, and wooden furniture. The spacious marble bathrooms come with elegant rain showers and thick terry robes and slippers.
Meetings, social events, and weddings are hosted in the hotel's 5,000 sq ft of Renaissance-inspired meeting space. The OAK Long Bar+Kitchen, known for being one of Boston's hottest dining options, is where you can delight in a seasonal menu served in a spacious and grandiose setting.
With double rooms starting at $249, Fairmont Copley Plaza is one of the premier spots to stay in Boston.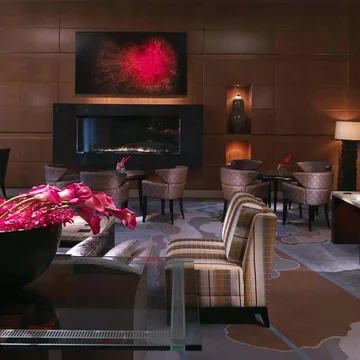 Mandarin Oriental Boston
Located on one of the most desirable addresses – Boylston Street, Mandarin Oriental blends elegance and sophistication at the heart of Boston. The commitment to excellence and outstanding service has brought Mandarin Oriental both the AAA Five Diamond and the Forbes Five Star awards.
Check Availability
Mandarin Oriental's style is minimalistic, classy, and tasteful – just like one would expect from a world-renowned hotel brand. Guest rooms and suites are designed with remarkable attention to detail and feature a number of decadent amenities including designer linens, state-of-art technology, and in-room service.
For an elevated experience, book some of the hotel's suites which will amaze you with their stylish interior details. The Presidential Suite has silk-lined walls, a fireplace, and a pantry that make for a congenial ambient. This is the biggest suite in the hotel that features a separate living and dining room, study room, powder room, marble bathroom, walk-in shower, and a convenient walk-in wardrobe.
The hotel's lavish spa is the perfect spot to bring equilibrium to your mind, body, and spirit. Offering a wide range of massages, beauty treatments, and facials, this lavish spa invites guests to unwind and relax.
For the ultimate in luxury, book the Mandarin Suite Experience where guests can indulge in a 700 square-foot space equipped with a sauna, vast soaking tub, two treatment tables, and a comfortable bed for relaxation. This one-of-a-kind experience includes a signat