The most luxurious hotels in the Southern United States seduce guests with impressive suites and impeccable service. Rich in history and personality, the hotels in the Southern United States invite guests to embark on a one of a kind adventure and create precious memories.
From the bustling streets of New Orleans to Miami's sandy beaches, these sophisticated hotels are all about leisure and comfort in fantasy-like settings. We've listed the 15 most luxurious hotels in the Southern United States where sophistication reigns and pleasure is the only policy.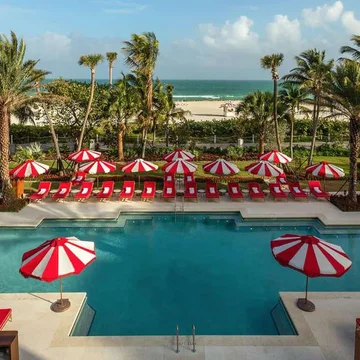 Miami Beach, Florida, United States
Faena Hotel
Located in the vibrant Faena district, the Faena hotel boasts a prime oceanfront location in Florida's most notorious town – Miami. Faena Hotel can hardly be compared to any other hotel in Miami as this resort is an extravagant visual experience of its own. Designed by the acclaimed movie director Baz Luhmann and his wife, the Academy-winning costume designer Catherine Martin, Faena Hotel is well-known for its bold and provocative decor.
Check Availability
Expect lipstick-red sofas, tiger prints, and unique artworks in the lobby, all public areas, and in the rooms as well. The hotel is also the proud owner of Damien Hirst's wooly mammoth skeleton sculpture dipped in 24-karat leaf gold.
All 169 rooms are generously sized and feature art-deco furniture, unique artworks, Carrara-marble bathrooms, and extra-deep soaking tubs.
With its decadent decor and theatrical opulence, Faena Hotel has seduced a number of A-listers and big-shot celebrities including Jay Z, Beyonce, Leonardo DiCaprio, The Rolling Stones, John Legend, and Karolina Kurkova. Celebrities usually spend their time at the hotel's three bars, all set for late-night excitement. The hotel offers a variety of dining options including Los Fuegos, brandished in nightclub-like decor.
At the Pao restaurants, guests have the unique opportunity to taste dishes prepared by the James Beard award-holder Paul Qui who is well known for his inventive approach to Filipino cuisine. If you're up for some cocktails, head over to the Saxony bar where you can enjoy some of the hotel's signature cocktails such as Arena & Sangre, Smoke & Sparks, or Saxony Martini.
Faena Hotel has one of the biggest spas on the East Coast where guests can indulge in massages and healing treatments in a luxurious setting.
With rooms starting at $500, Faena hotel is one of the most luxurious hotels in Miami.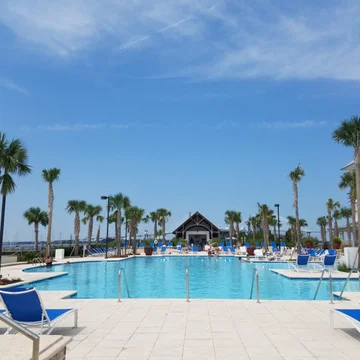 Charleston, United States
The Beach Club at Charleston Harbor Resort
The extravagant Beach Club at the Charleston Harbor Resort is the proud owner of numerous awards including Condé Nast Traveler Readers' Choice Awards, USA Today 10Best Readers' Choice Awards and is a member of the Leading Hotels of the World.
Check Availability
The hotel is located in the high-end community of Mount Pleasant at Patriots Point and its luxurious suites offer sublime views of the Charleston Harbor. Colored in a coastal palette that blends perfectly with the area's natural surroundings, the hotel's 92 guestrooms guarantee intimacy and serenity. The rooms feature exclusive furnishings with hand-painted details, custom made beds with luxurious bedding, and plush sitting areas by fireplaces. Additionally, you'll get spa-inspired bathrooms with deep soaking tubs, separate glass showers, and Gilchrist & Soames bath products.
The generously sized 92 guest rooms feature expansive views of the historic Charleston downtown skyline. Travelers can book the Garden Studio Suite that provides 580 square feet of living space, amenities, and a spacious private balcony with a seating area.
The Beach Club at Charleston Harbour Resort offers a variety of dining options, everything from casual to upscale including The Bridge Bar where seafood and cocktails are served in a tropical open-air setting. Enjoy a casual meal and meet some friendly locals at the Reel Bar or sip some time-honored cocktails at the Tiki Bar.
The hotel's lavish spa features a coastal-inspired ambiance where guests can relax and unwind in individual and couple treatment rooms. Rejuvenate your body and mind with the spa's natural and organic product line Naturopathica, and then head over to the tropical pool deck with private cabanas where the attentive staff will serve you with a bowl of fresh fruit.
The prices per night for the rooms vary between $199 and $350 depending on when you're planning your stay.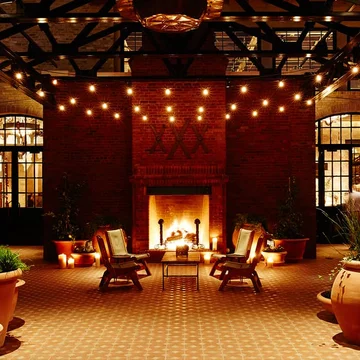 San Antonio, Texas, United States
Hotel Emma
On the northern edge of downtown San Antonio, Hotel Emma has a stellar riverfront location on the beautiful Pearl Plaza. At the Pearl District, guests can discover numerous upscale restaurants, microbrew-pubs, local boutiques, and even a culinary school which offers cooking classes to guests.
Check Availability
Designed by the acclaimed design studio, Roman and Williams, the hotel guest rooms feature an eclectic mix of industrial and South Texas Style. With a 3700-volume library, a wrought-iron staircase, and warm furnishings, the hotel provides a warm and intimate atmosphere, perfect for romantic weekends.
Guests can use the hotel's Electra cruiser bikes and explore the charming Pearl District with its numerous mysterious pathways. For something a bit more energetic, head over to the 24/7 fitness center equipped with the latest cardio machines.
At Hotel Emma, guests can explore the flavors of San Antonio's cuisine in nicely decorated restaurants. At Bon Appétit, guests are in the capable hands of chef John Brand who serves ocean-inspired dishes, while at Sternewirth guests can enjoy small plates and unique cocktails.
Romantic and intimate, the hotel's guest rooms feature high wood-ceilings and dark wood furniture. There, you'll discover your personal oasis equipped with a king-sized four-poster bed fashioned in Frette linens, thick blackout draperies, and elegant rugs. The generously-sized bathrooms feature vintage accessories, rain showers, and beautiful clawfoot tubs.
At hotel Emma double rooms start at $350 per night.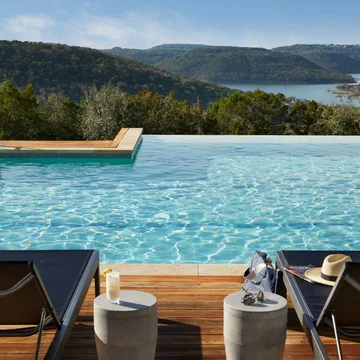 Miraval Austin
Blissfully remote, Miraval Austin is set on a golden hillside overlooking scenic canyons in the Balcones Canyonlands Preserve. This 220-acres property boasts sublime views of Lake Travis and is set amid ancient trees, rich wildlife, and mysterious forested hills.
Check Availability
The hotel maintains a strict over-16 policy in order to provide guests with a tranquil and serene atmosphere. The hotel has a number of extravagant leisure facilities such as the Cypress Creek Organic Farm and Ranch, Hill Country Challenge Course, Body Mindfulness Center, and Life in Balance Spa. At the resort, guests can engage in a number of activities including culinary classes, biking, yoga, hiking, meditation, line dancing, roping, and equestrianism.
Colored in earth tones, the hotel rooms represent mindful retreats where guests can indulge in Miraval's signature bedding equipped with luxurious duvet, a feather bed, and Italian sheets. All rooms have a mini-refrigerator, plush cotton bathrobes, in-room safe, flat TV screen, and a fancy coffee maker.
The hotel interiors feature a cozy and warm atmosphere with fireplaces, leather sofas, and dark wood furniture. The floor-to-ceiling windows fill the space with natural light and give way to sublime green views. Perfect for those who want to escape the hustle and bustle of downtown Austin, Miraval Austin lives up to its motto "life is better when in balance".
At the Preserve Kitchen + Bar, guests have the opportunity to get a taste of a local farm fare in a charmingly decorated patio.
The price for a double room at Miraval Austin costs $1000 per night.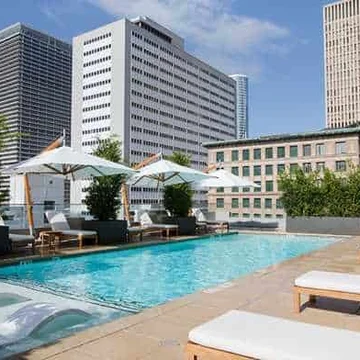 Hotel Alessandra
Located in downtown Houston, Hotel Alesandra blends a European cultural influence with the lively Texas spirit. With attentive service and affluent suites, Hotel Alessandra is one of the most luxurious retreats in Houston.
Check Availability
The hotel guest rooms uphold all the codes of modern comfort with Valencia Hotel Group bedding, premium linens, and some modern pieces of furniture. The large marble-clad bathrooms are especially charming, equipped with walk-in showers and free-standing soaking tubs.
Sophistication reigns at the hotel's suites where guests feel like they've never left home. Amenities include separate living space and bedrooms, a Custom Valencia Hotel Group bed with luxurious cotton linens, LED television, in-room safe, and a minibar.
Hotel Allessandra likes to spoil guests with monogrammed robes and room service. What's more, guests who stay at the hotel suites get a complimentary Maserati car service within the downtown area.
At the Lucienne Restaurant guests can enjoy Mediterranean dishes in a classy setting, whereas a unique menu of sips and small bites is available at the Bardot Bar & Lounge. Delight your senses at the lavish hotel spa or turn your workout into a pleasant experience at the state-of-art fitness center overlooking the pool.
At Hotel Alessandra, guests can also experience some thrilling adventures. Take a bike tour along the beautiful neighborhood pathways or kayak in Kinder Lake. Whatever you do, you can rest assured you'll have some unforgettable experiences.
For a double room in Hotel Alessandra guests will pay around $185 per night.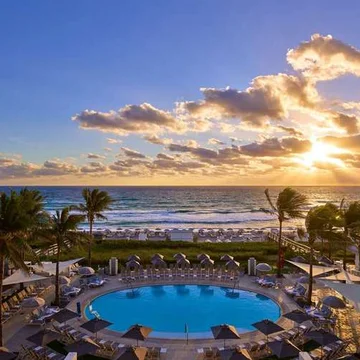 Boca Raton, United States
Boca Beach Club
At a prime oceanfront location, the Boca Beach Club is all about sophistication and elegance. This boutique hotel captivates guests with dazzling ocean views and opulent guest rooms.
Check Availability
The hotel features Spanish revival architecture with Moorish and Gothic influences which create a fantasy-like ambiance. All 1,047 guest rooms and suites feature king-size beds, marble bathrooms, flat TV screens, and a minibar.
The Boca Beach Club exceeds its competitors with a 36-hole golf championship court, tennis club with 18 clay courts, full-service fitness center, and Hydrow experience studio.
Boca Beach Club has a private beach where guests can laze the day away on comfortable sun loungers or drink some swanky cocktails at the oceanfront bar. Additionally, the hotel features three infinity pools surrounded by cabanas and palm trees.
The luxurious Waldorf Astoria Spa features a steam room, hammam, treatment rooms, inhalation rooms, and jacuzzis. Guests can rejuvenate with facials, hair treatments, massages, and ritual baths. For the ultimate in luxury, soak in the large jacuzzi and order some fresh-cut fruit and ice-cold refreshments.
With three large swimming pools, luxurious guest rooms, and impeccable service, Boca Beach Club is all about hedonism and leisure.
The prices per night for the rooms vary between $315 and $694 depending on when you're planning your stay.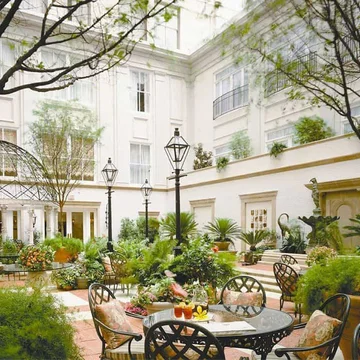 New Orleans, United States
The Ritz-Carlton
Set in the historic French Quarter, The Ritz-Carlton seduces guests with its sophisticated design and world-renowned service.
Check Availability
The rooms feature rich New Orleans decor, king-size beds fashioned with custom Fretter, flat TV screen, and air conditioning. The detailed jewel-laden scheme creates a warm and romantic ambiance, and if guests decide to not leave these cozy spaces, they can always order in-room dining.
For the ultimate in the luxury book, The Ritz-Carlton Suite features a 1880s-era Billiard table, separate dining room, and butler's pantry, along with a terrace with dazzling views of the French Quarter. Bath amenities include plush terry robes, lighted makeup mirror, Asprey bathroom amenities, and comfortable slippers.
The Ritz-Carlton likes to spoil its club members with a dedicated concierge service, delicious culinary offerings throughout the day, and private key access to The Ritz-Carlton Club Lounge.
Contemplate and relax at the hotel's lavish spa which spreads across 22,000 square feet and features 22 rooms. Experience full rejuvenation with a Voodoo ritual treatment or a couple's treatment utilizing coffee and praline.
Get a taste of some Louisiana-inspired dishes at the hotel's beautifully decorated M Bistro or sip some swanky cocktail at the classy Davenport Lounge. At the lounge, guests can enjoy some excellent music played by the hotel's in-house jazz trumpeter Jeremy Davenport.
With rooms starting at $399 per night, The Ritz-Carlton is one of the best hotels in New Orleans.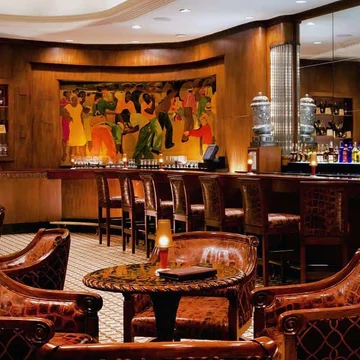 New Orleans, Louisiana, United States
The Roosevelt New Orleans
Located in the busy Central Business District, this boutique hotel boasts a prime location in one of the world's most sought-after travel destinations. Set in an iconic 1890s building, The Roosevelt New Orleans provides an authentic Louisiana experience.
Check Availability
The hotel is adorned with art deco design and old-world glamour with a lobby decorated with crystal chandeliers, soaring columns, and unique artworks. The hotel's timeless suites feature a dining area, living area, queen-sized sofa bed, a separate king bedroom, and a spacious bathroom. Room amenities include a 42-inch flat-screen TV, writing desk, and air conditioning. The generously-sized bathrooms feature elephant clawfoot tubs and Salvatore Ferragamo toiletries.
The Sazerac bar at the hotel has kept the conversation as well as the drinks flowing for decades. The bar is decorated with Paul Ninas murals and features African walnut bar which immediately takes guests back to the New Orleans golden times. At the Domenica restaurant, guests can enjoy fresh pastas, roasted vegetables, meats, and Napolitano style pizzas served in a charming and cozy setting. Relax with some tunes and don't forget to get a taste of the custom-brewed beers. At the classy Fountain Lounge, guests can enjoy a la carte menu while enjoying the magnificent views of the hotel's water fountain and waterfall.
Double rooms at The Roosevelt in New Orleans start at $149 per night.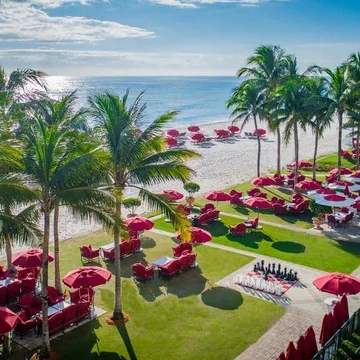 Designed by the acclaimed Isabel Tragash, the hotel oozes sophistication and opulence. All rooms feature contemporary design with king-size beds, high-definition TV, bronze metal coffee tables, custom curved sofa sleeper, desk chair, and a private terrace. The spacious balconies feature comfortable chairs and offer dazzling views over the Atlantic Ocean.
The hotel's three outdoor pools are surrounded with palm trees and private poolside cabanas. The staff is very attentive and always ready to supply guests with suntan lotions, driers, towels, sunscreen, and pool toys at the hotel's reception. Guests also have direct access to the hotel's private beaches where they can spend the evenings strolling on the beautiful white shores.
The resort is the proud owner of one of the best spas in town – The Acqualina Spa by ESPA equipped with relaxation lounges, state-of-art-treatment rooms, and a spacious terrace.
At the Costa Grill restaurant, guests can dine under elegant palm trees and red umbrellas which create a romantic atmosphere. You can also arrange a private dining just in front of the beach if you're celebrating a special occasion at the hotel. The AQ bars make some swanky cocktails in a sophisticated setting inspired by the Parisian jazz era.
The rates for a room in the Acqualina Resort varies between $550 and $895 per night.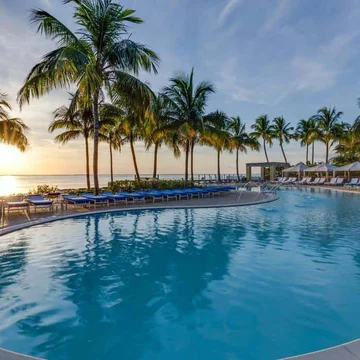 Captiva Island, United States
South Seas Island Resort
Located on the mesmerizing Captiva Island, South Seas Island resort offers the ultimate retreat away from the hectic city life. South Seas Island Resort is surrounded with a 330-acre wildlife reserve where you'll likely encounter dolphins and manatees.
Check Availability
Ideal for adventurous spirits, some fun activities you can take part in include sailing, boating, and kayaking. Rent a bike and explore the island on wheels or spend your day at the tennis and golf courts. At the resort, every day is celebrated and guests can enjoy romantic strolls on a two-and-a-half mile stretch of pristine private beach or experience epic fishing escapades.
Coloured in ocean-inspired tones, the resort's rooms, suites, villas, cottages, and condos guarantee serenity and tranquility. Equipped with furnished balconies with dazzling views, king-size beds, flat TV screens, iPod decks, coffee makers, minibars, and in-room safes, the hotel's accommodation is all about leisure and comfort.
South Seas Island Resort is ideal for children, with activities such as swim lessons, water pilates, scavenger hunts, and mermaid adventures. The three elegant outdoor pools feature waterslides and are surrounded with palm trees and comfortable sun loungers.
Find wellness and rejuvenation at the Kay Casperson Boutique and Spa equipped with seven treatment rooms, pedi thrones, vast sauna, shower area, modern mini bar, and a chic boutique. This luxurious spa features a full line-up of revitalizing services all prepared with Kay's naturally nourishing skincare collection.
Standard rooms at South Seas Island Resort cost $243 per night.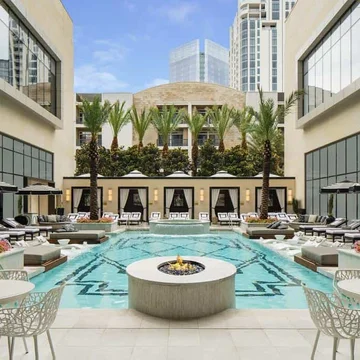 The Post Oak Hotel at Uptown Houston
Set in 38 towering stories in Uptown Houston, The Post Oak Hotel is arguably one of the most luxurious hotels in the city. This is the only AAA Five-Diamond hotel in the area with elite accommodation and outstanding service.
Check Availability
The 700,000-square-foot tower features elegant office space, extensive conference space, and sophisticated 250 guestrooms and 20 suites. The hotel's accommodation offers unmatched downtown views, king-size beds fashioned with luxurious bedding, and five-fixture deluxe bathrooms. With ultra-modern design and state-of-art technology, these suites are all about leisure and comfort. Flat TV screens, mini bars, refrigerators, in-room safes, and oversized walk-in closets are a rule, rather than an exception.
For dining head over to Maestro's Steakhouse where you can find elevated cuisine, outstanding service, and lush atmosphere. The Los Angeles Daily News has described the restaurants as "masterful" and Maestro Steakhouse was also listed on the "Top 10 steakhouses in the U.S" by the acclaimed Gayot.
The extravagant menu features 28 days wet-aged USDA Prime steaks cooked in a 1,500 degree broiler, elegant seafood selection, and a sophisticated wine collection.
The standard prices for the double rooms at the hotel are between $367 and $450 per night.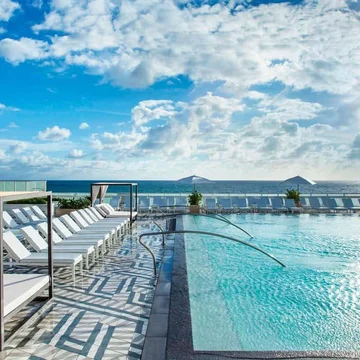 Fort Lauderale, United States
W Fort Lauderale
After the recent 55 million renovation, W Fort Lauderale has been listed on "US Hotel" in Condé Nast Traveler's Readers' Choice Awards.
Check Availability
The 517 stylish rooms are all equipped with deluxe amenities and state-of-art technology. Featuring ocean-inspired decor, all guest rooms and suites feature wave-patterned blue-and-white carpets and pearly white linens and walls. Highlights include marble bathrooms, minibars, Nespresso machines, and air-conditioning. 24/7 room service and grocery shopping service is available.
The hotel's elegant yet sleek lobby at night turns into a dashing bar, very well-known among locals and A-listers. Here guests can enjoy fabulous cocktails and small bites while listening to smooth grooves coming from the DJ booth. This is the perfect spot for a romantic rendezvous or a night out with friends.
The hotel offers amazing dining options including Steak 954 cooked by James Beard Award Winner, Stephen Starr, who is well-known for his inventive approach to cooking traditions from all around the world. A fabulous cocktail menu is also available. The 15-foot jellyfish aquarium at the restaurant is the ideal setting for an Instagram shot.
With two outdoor pools, a lavish spa, and a 24/7 fitness center, W Fort Lauderdale is the perfect spot to spend your precious vacation days.
Double rooms at W Fort Lauderdale start at $314 in low season and can go up to $647 in high season.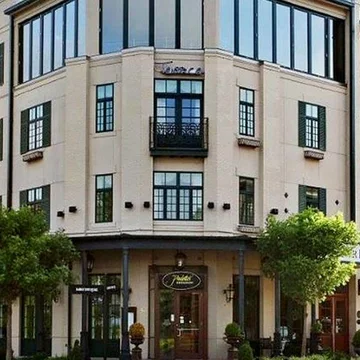 River Inn of Harbor Town
River Inn of Harbor Town is a boutique hotel located near the Mighty Mississippi River in Downtown's Harbor Town. This is a small yet fancy hotel that blends the elegant Old Southern style with the charm of classic Europe. With traditional decor, luxurious guest rooms, and outstanding service, River Inn of Harbor Town brings sophistication and comfort in the heart of Memphis.
Check Availability
The lobby is decorated with burgundy chevron-striped chairs, crystal chandeliers, and a wood-burning fireplace surrounded with small candles. At the luxuriously decorated rooms, you will find a home away from home and stunning views over the Mississippi River.
For an elevated experience book the Natchez Penthouse Suite equipped with a king-size bed, a spacious sitting room with a fireplace, a wet room, and a large bathroom with a garden tub.
At The Terrace at The River Inn guests can enjoy handcrafted cocktails and small plates while enjoying breathtaking views of the Mississippi River and the Downtown Memphis skyline.
A guest room in River Inn of Harbor Town costs $250 per night all year around.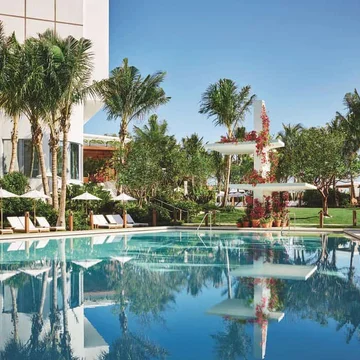 The Miami Beach EDITION
Located on the famed Mid-Beach, The Miami Beach Edition is in the glorious company of some of the most luxurious hotels in the area and is just a short drive away from the historic Art Deco district.
Check Availability
Colored in soft and neutral colors, your stay at the hotel will be all about sophistication and elegance. All guestrooms and suites feature king-size beds, flat TV screens, minibars, and wooden pieces of furniture. Large bathrooms are particularly charming with marble floors, makeup mirrors, and custom made Le Labo bathroom products. High-end travelers can book the Oceanfront Suite which has a private balcony overlooking the Atlantic Ocean.
The Miami Beach Edition is very well-known for its upscale dining offer. At the Market edition, guests can prepare dishes prepared by the Michelin-starred chef, Jean-Georges Vongerichten. The restaurant is elegantly decorated and features dazzling views over Collins Avenue. Basement, the hotel's club which pays homage to Ian Shrager's legendary Studio 54, is frequented by celebrities and A-listers such as Usher, Jay Z, Leonardo DiCaprio, and Rihanna.
Expect room rates between $349 and $749 per night.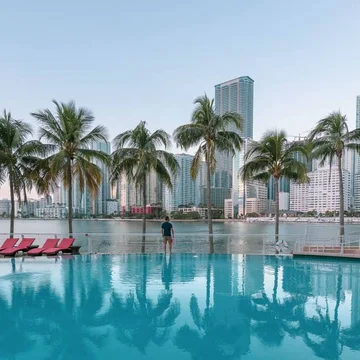 With floor-to-ceiling windows, velvet sofas, and high-gloss marble, Mandarin Oriental is the epitome of style. From the suites, guests can enjoy dazzling views over the sublime Biscayne Bay. All suites and rooms feature Illy coffee makers, elegant bedding, and Shanghai Tang toiletries. With vast balconies, bamboo hardwood floors, and separate living rooms, the most opulent suites are located on the 16-19th floor.
At the hotel's famed restaurant, La Mar guests have the unique opportunity to enjoy Peruvian cuisine prepared by one of Peru's most famous Chefs Gaston Acurio. Yaku by La Mar is usually crowded with A-listers who want to indulge in Peruvian-inspired punch cocktails while enjoying sublime views over the Biscayne Bay. John Mayer, Jenifer Aniston, Penelope Cruz, and Mick Jagger have all been spotted at the bar at some point.
The standard prices for the double rooms at the hotel are between $299 in low season and $499 in high season.
Find Luxury Hotels in United States-South