Outdoors
Garden
Terrace
BBQ facilities
Outdoor furniture
Picnic area
General
Non-smoking rooms
Family rooms
Heating
Non-smoking throughout
Air conditioning
Activities
Fishing
Games room
Hot tub/Jacuzzi
Canoeing
Hiking
Services
Laundry
Grocery deliveries
Miscellaneous
Smoke alarms
Fire extinguishers
Access to health care professionals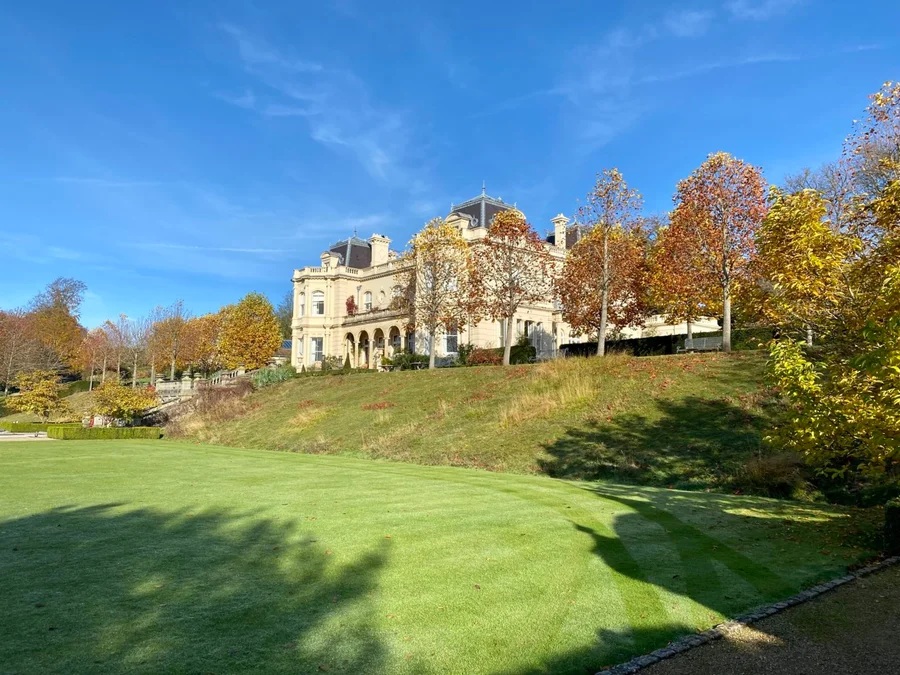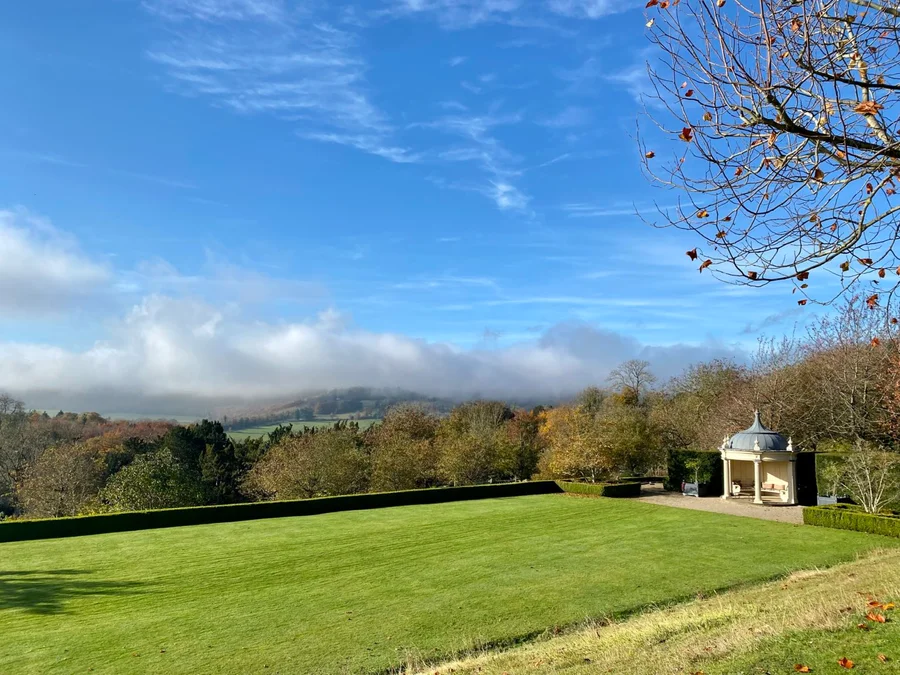 Location
Beaverbrook is located in the historic market town of Leatherhead, overlooking the picturesque rolling hills of Surrey. It sits right on the edge of London with access to the M25 – just a short 10 min drive away. For a young family who's always looking for a long weekend getaway (especially during the coronavirus pandemic where travel is still somewhat restricted) being able to get somewhere within the hour to a destination that feels a long way from home is rather ideal.
Style and Character
The late Victorian house was built back in 1866. Despite its century and a half history, Beaverbrook has been beautifully restored to its former opulent glory by one of London's most influential designers, Susie Aitkenson. The house pays homage to the 1920s – pops of rich colour complimented with flashes of gold against dark doors and solid, herringbone wood flooring. We were in awe of the beautiful, wide staircase that led up to the bedroom suites, greeted by regal arches that draw attention to the high ceilings and the supporting marble pillars.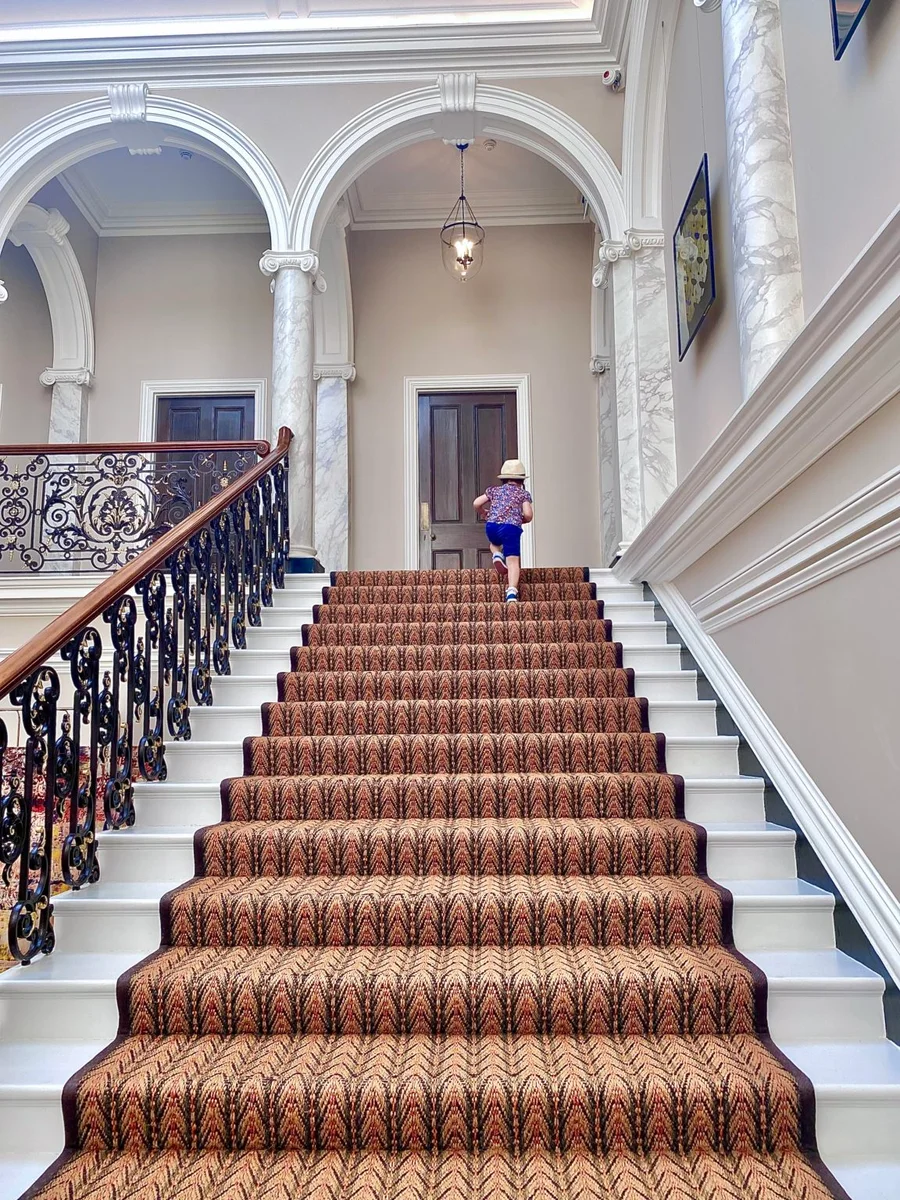 The art-deco opulance is carried through to Sir Frank's Bar, which was named after Lord Beaverbrooks's creative director, Sir Frank Lowe. The walls are adorned with hundreds of perfectly framed, botanical paintings by Victorian artist, Marianne North, and decadently furnished with pieces that exude glamour from the Roaring twenties.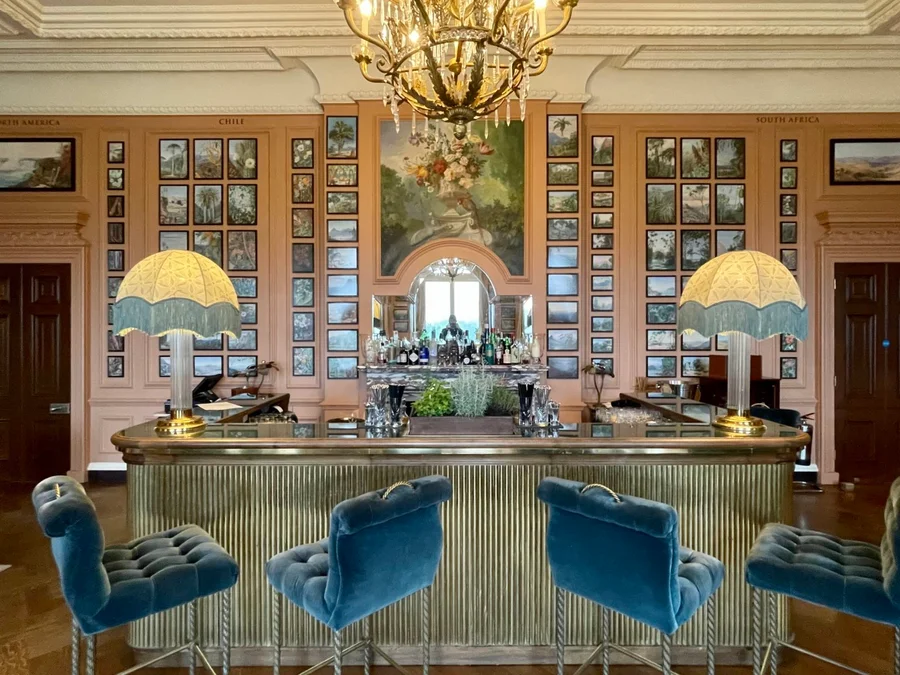 The Coach House Spa was designed by contemporary artist, Brian Clarke who took inspiration from the nature around us. The leaf print, stained glass ceilings are a breathtaking sight, creating a huge canopy of colour overhead whilst the bold, ceramic tiles wraps around the walls below. The same tiles are carried through to the large heated indoor pool. The rest of the spa has a more neutral palette complimented with pops of muted colour from paintings to furnishings.
Service and Facilities
The term service with a smile springs to mind at Beaverbrook and that was apparent everywhere we ventured around the estate, from the porters and the front desk staff to the waiters and spa therapists. Everyone seemed genuinely happy to be there and happy to help. I vaguely remembered mentioning that it was my partner's birthday at the time of booking and they certainly didn't forget. A bottle of champagne and a small chocolate cake was left for us in the room when we arrived. Our 3-year-old daughter also got her own soft toy teddy (which she later called Maxwell) from the lovely staff at the front desk.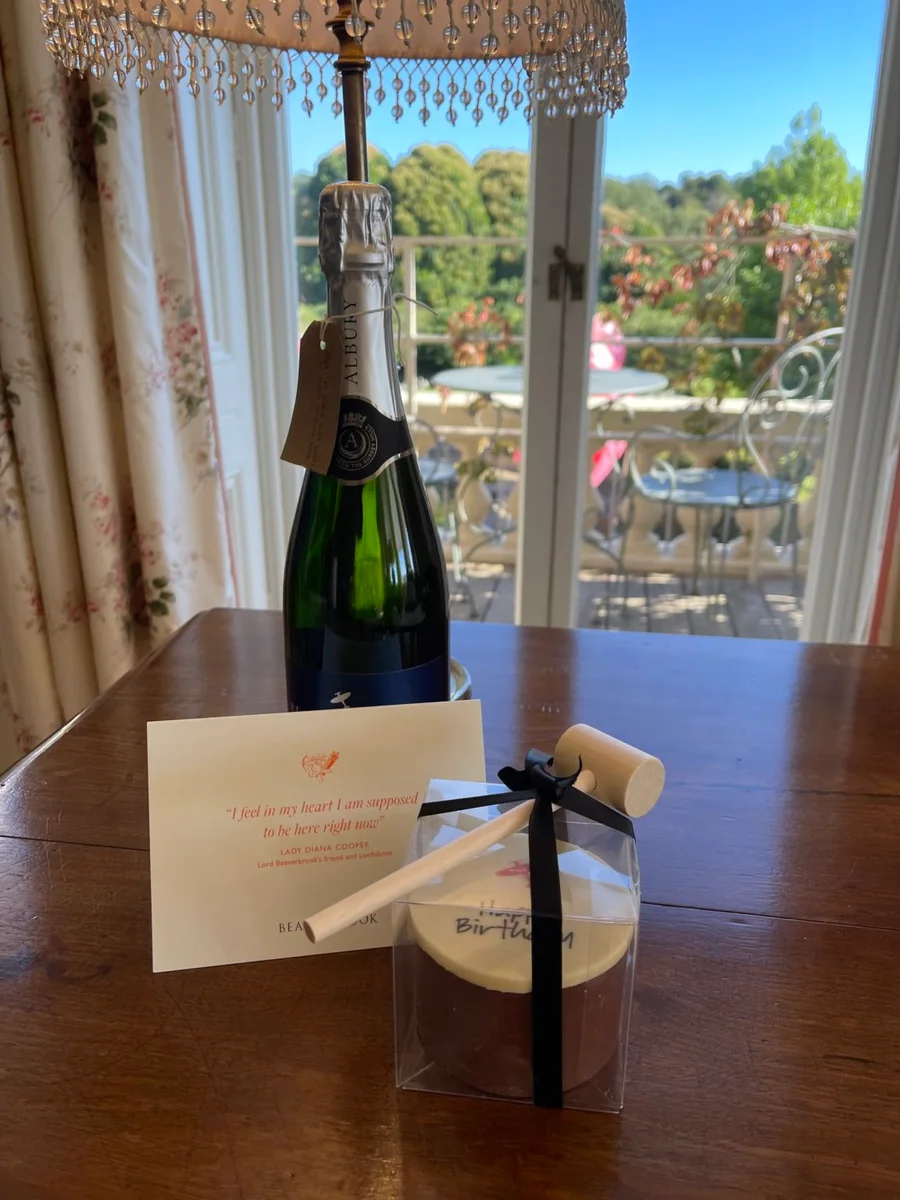 During our second visit to Beaverbrook, we were greeted by the Rooms Division Manager who made sure we were checked in and comfortable. We had arrived around lunchtime so a little too early to check in but as dad had to do a bit of work still, we asked if a private space was available. The Beaverbrook team couldn't have been more accommodating. They set us up in the library room until our room was ready.
Unfortunately, our daughter was unwell in the night which meant housekeeping had to bring us fresh sheets upon short notice. The following morning, the kitchen brought her some 'magic' apple juice to make her feel better which we thought was such a thoughtful touch. Also, conscious that our little (one who was a little stuffy) would disturb other guests at dinner, we asked if we could be seated away from other guests. The team took it upon themselves to have us set up in the private dining room instead.
The 470-acre estate is a playground for adults and children alike. The outdoor play area includes the most impressive treehouse complete with a slide, swing, secret doors, ladders and steps that take your little ones up from one part of the house to another, a fire pit and some cool hiding places (great for a game of hide and seek). There's also a separate adventure playground for younger children which is perfect for toddlers. Our daughter was a little young at the time but there is also a kid's club (around £25 per session), run by Sharky and George, at the weekends and during half term, where activities include fire-making, den building and nighttime safari. For adults, we enjoyed a leisurely stroll around the perfectly manicured gardens and a peek in the Victorian Grotto (nicknamed the Mermaid Grotto, which our daughter also loved). There are lots of other activities you can do at Beaverbrook like cycling, tennis, boules, croquet and fishing.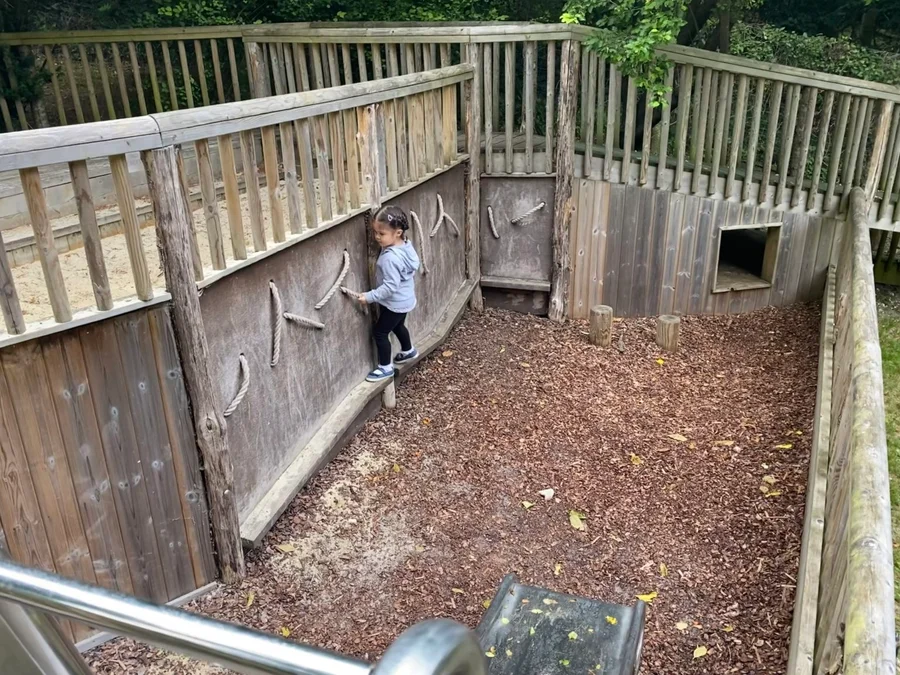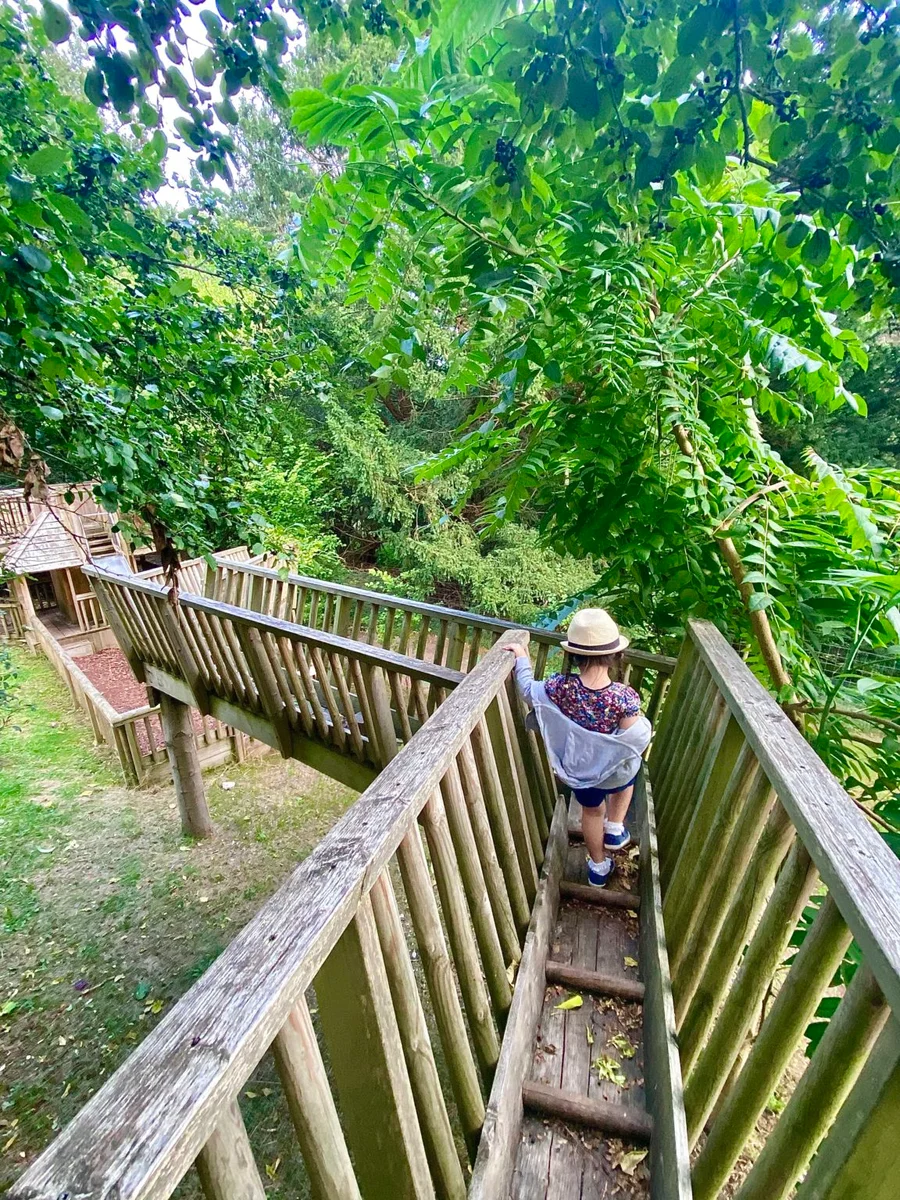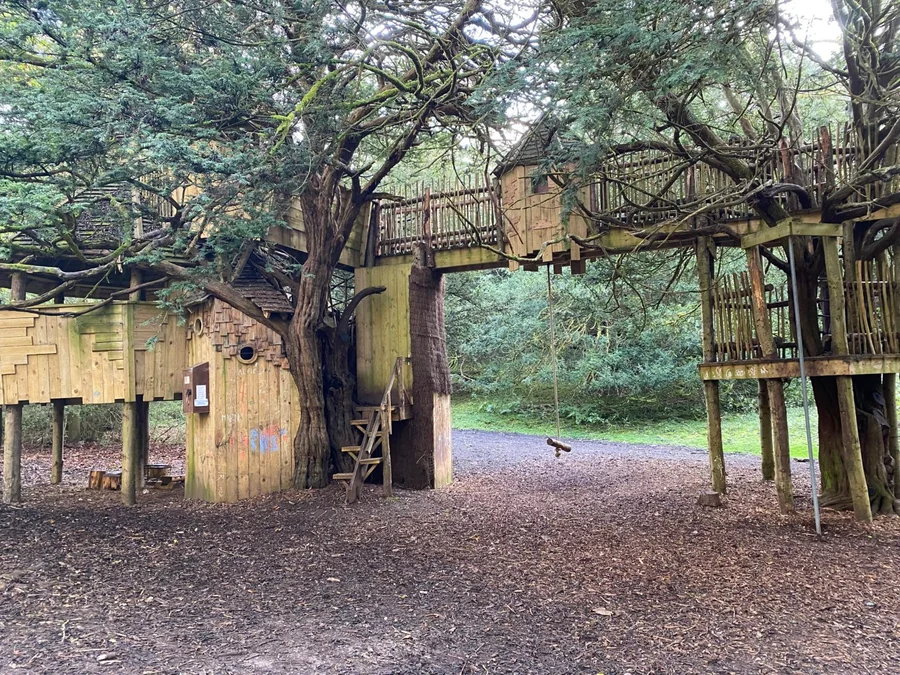 There's also a private cinema (with popcorn maker) at Beaverbrook which shows children's films in the late afternoon. Whilst they have a film schedule for each of the days, during one of our stays (due to it being quiet and no other guests had booked), our daughter had the option to choose what film she wanted to watch (she went with Frozen, of course). They also have post dinner films for adults if you fancy a movie date night.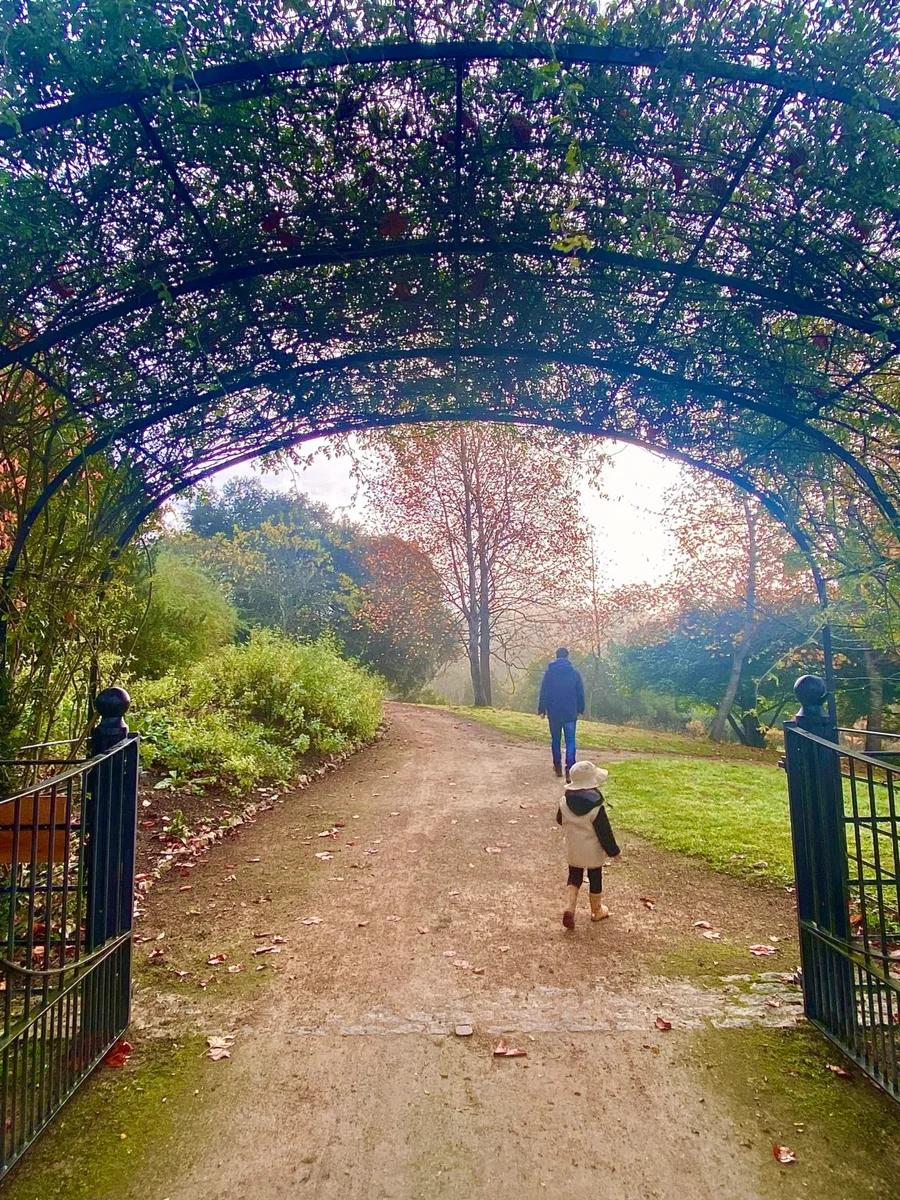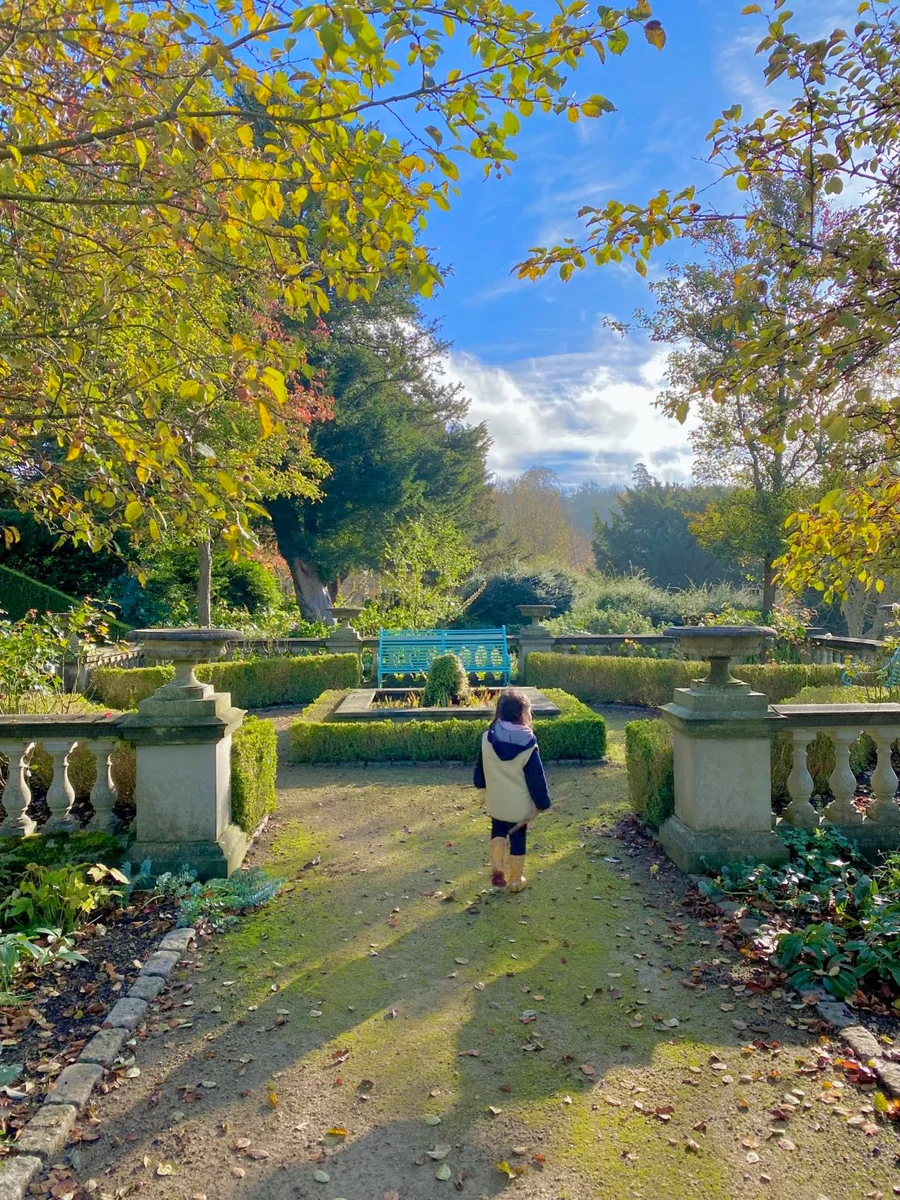 The Coach House Spa is also home to a gym, a heated indoor pool and two heated, outdoor pools (includes a small one which is great for little ones). For those interested, you can pay to become a member of the Coach House Spa ( membership includes access to the spa facilities, discounted spa treatments, personal training sessions, a full health check consultation and more).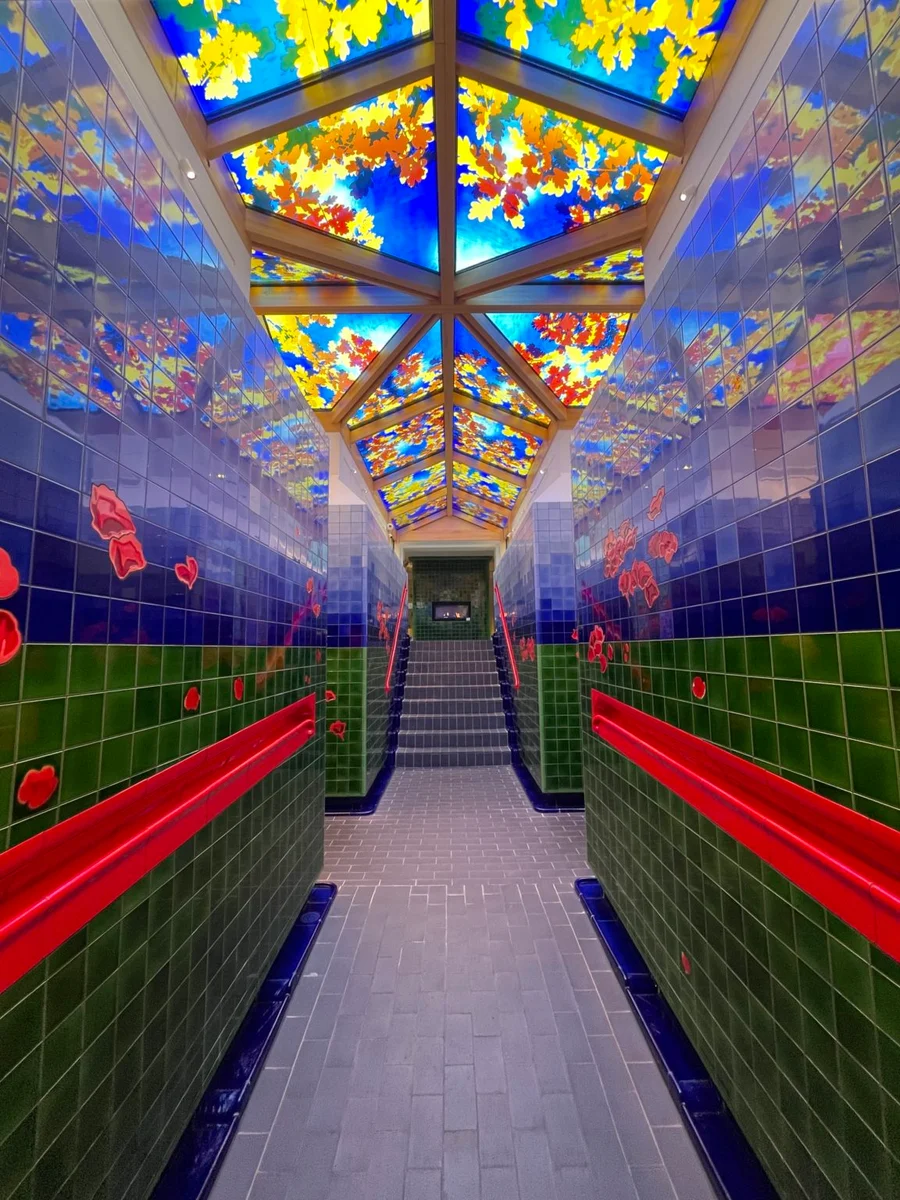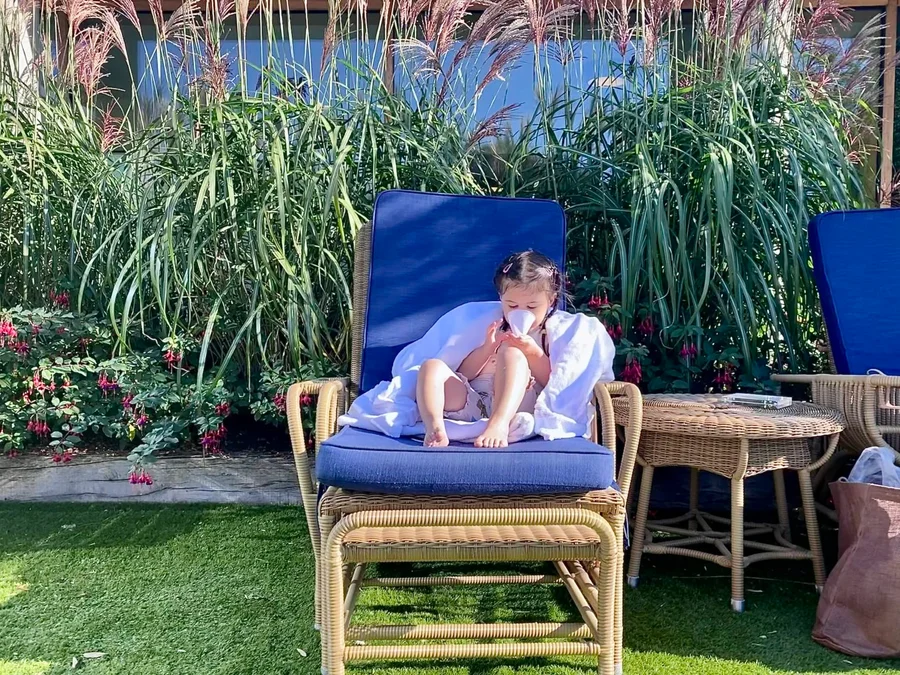 Rooms
The house is home to 18 rooms all named after former occupants of Beaverbrook. During our first stay, we were lucky enough to be able to secure the Dowager Suite for such a late booking. Lucky, perhaps, might not be the right word because it is the priciest at around £3,000 per night. The room belonged the former widow of Lord Beaverbrook, Marcia Anastasia Christoforides, with two private terraces that showcase the house's spectacular Italian gardens and an exquisite view of the Surrey Downs. A four-poster, super-king bed, with a real regal presence, was always going to be the only kind of bed fit for this kind of room. There was a sofa positioned approptiately to take in the beautiful vistas, and not one, but two TVs, with one just in front of the bed for guests partial to a bit of screen-flicking before lights out.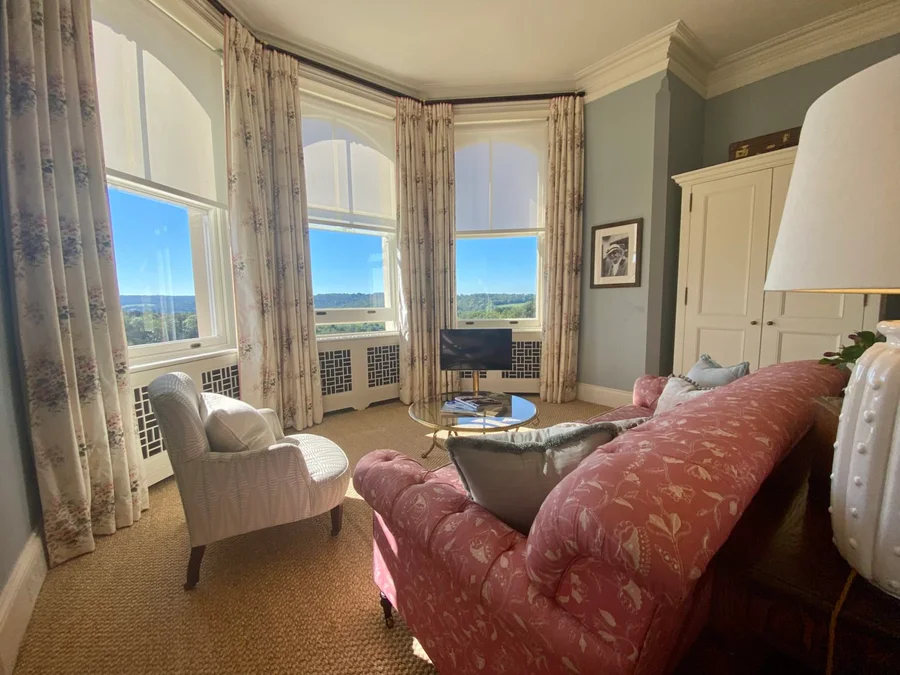 The bathroom certainly gives the bedroom a run for its money with a luxurious roll-top bath perched in front of one of the two terrace doorways, a double vanity sink and a huge walk-in shower. For a couple of nights, this room does the job. Although sharing the same space with a young child who constantly tosses in the night isn't our first choice, the room is large enough that if the foldaway bed is positioned at the opposite end of the room to the main bed, the noise is somewhat dampened once it reaches us.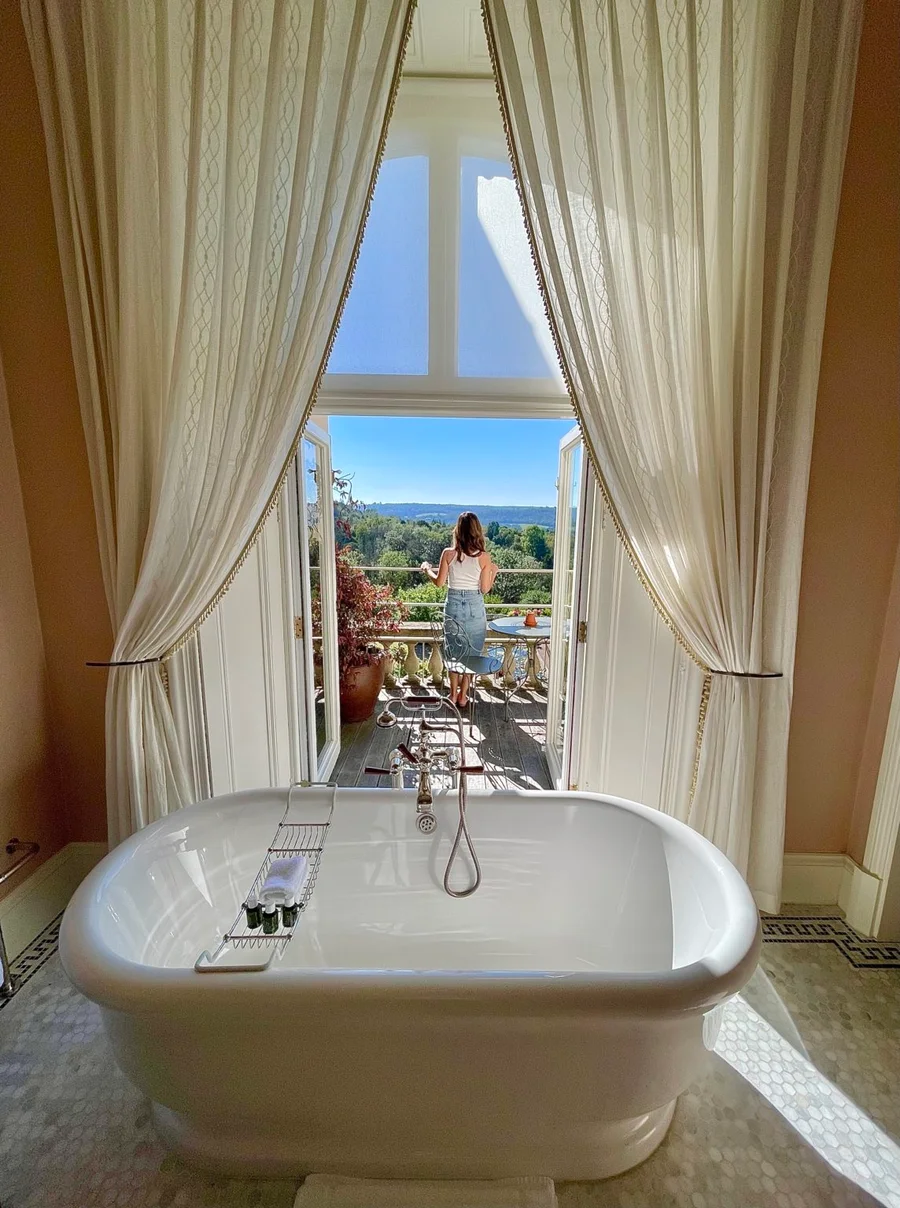 During our most recent stay, we decided to opt for one of the Coach House Suites which are situated behind the Main House and adjacent to the Coach House Spa. The Coach House Garden Suite offers guests a separate living space that can double as a second sleeping area. Whilst not quite as grand as the rooms in the Main House, the suites are simple yet modern and provide a bit more of practical space. We'd hoped that being away from the Main House, it would be a little more quiet (which it was as no other guests are really passing through). Both rooms are accessible via two entrances, whilst the bathroom, which houses a luxurious copper bath, spacious walk-in shower, separate toilet and a double vanity sink, is also accessible from both rooms via an open entrance (think Jack and Jill without the doors). This provided our daughter with a few mins of fun running around us in circles quite literally. Like with the Dowager Suite in the Main House, our room was stocked with minibar treats which were topped up daily – bars of dark chocolate, Joe & Seph's popcorn, and crisps of varying kinds and flavours. They even provided a fruit bowl upon arrival with a separate bowl of fruit salad with juice and smoothies for our daughter.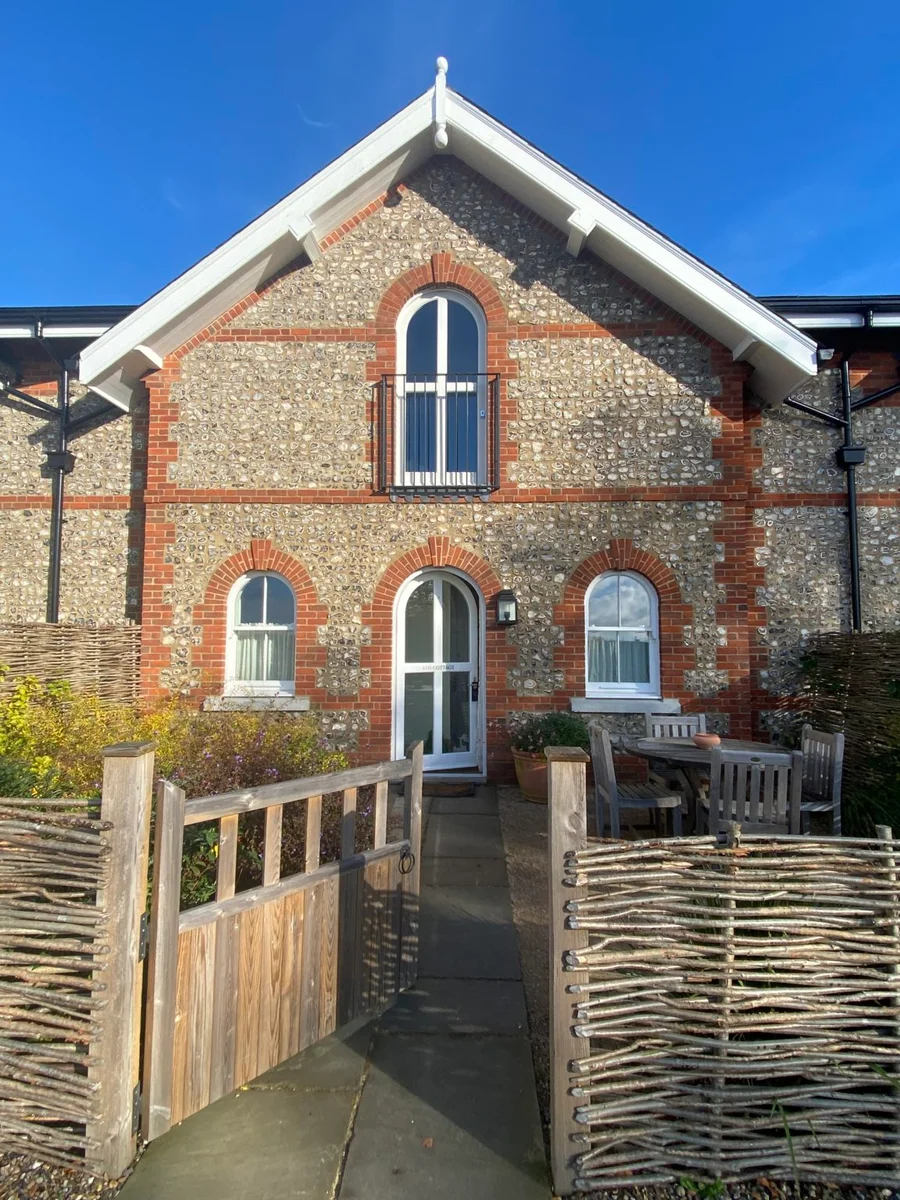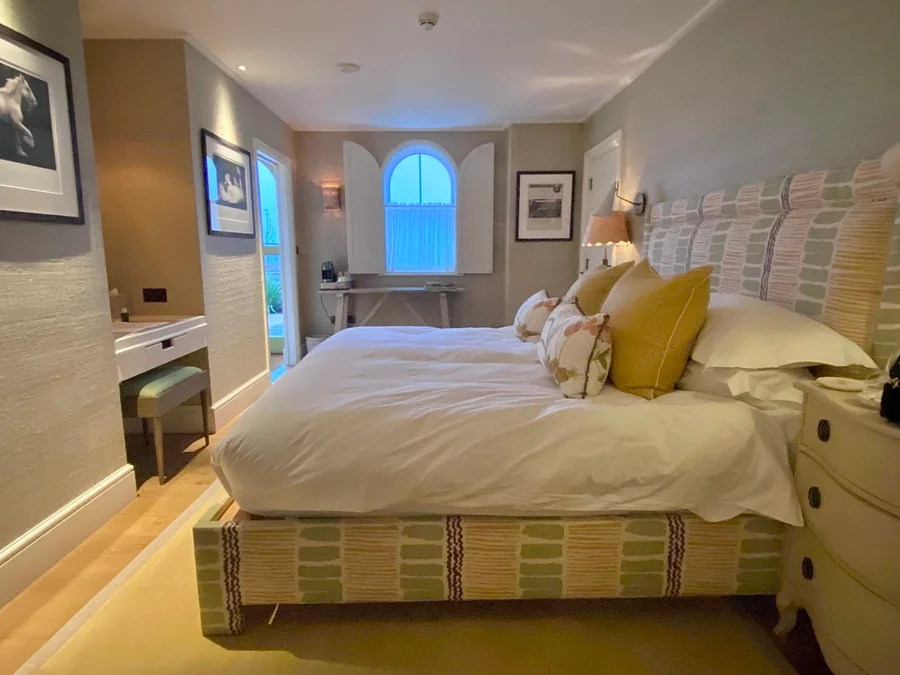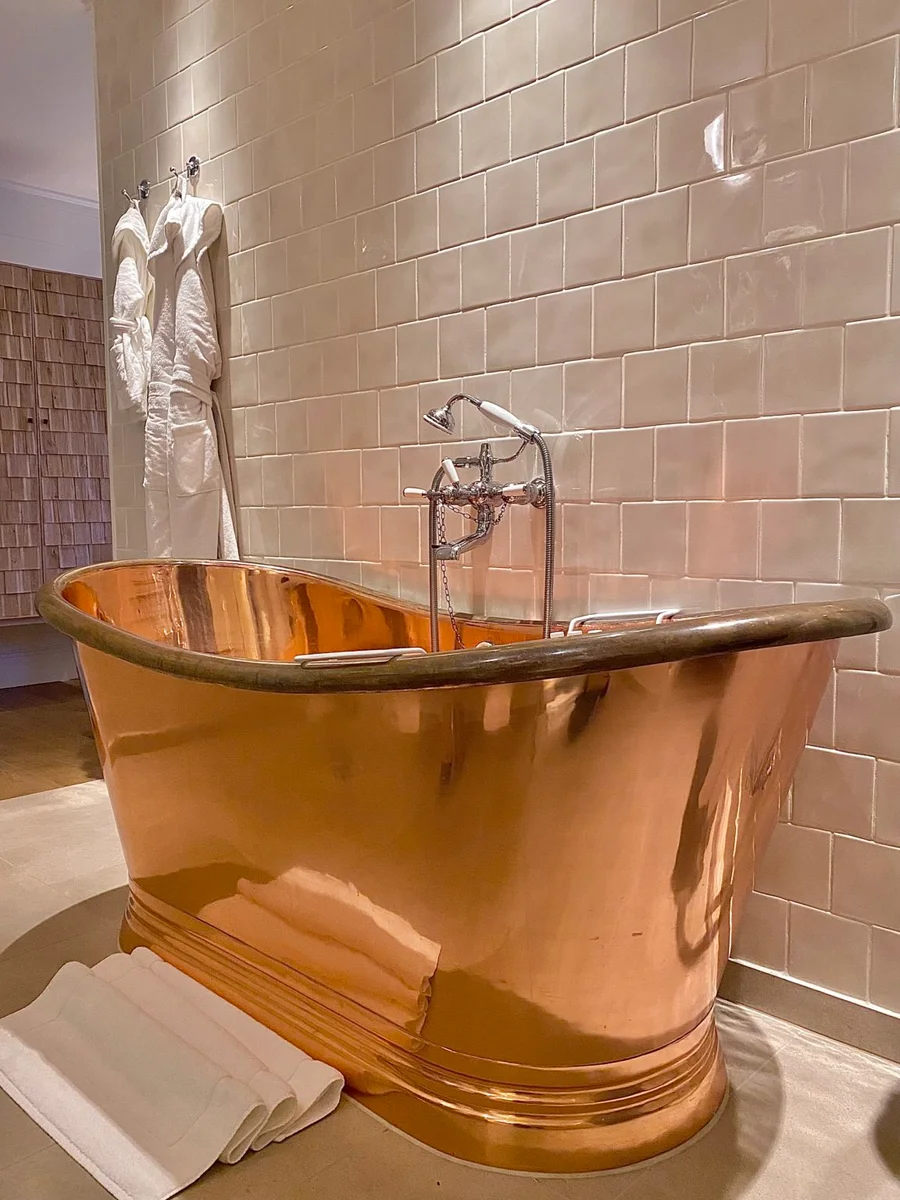 Food and Drink
There's only one word to describe the food and drink at Beaverbrook. Superb. We first got to sample what Beaverbrook had to offer at The Pizzeria at The Deli. We purposefully headed there for a light bite to eat to make space for the dinner we had booked for the evening. The Pizzeria serves up small, super thin pizza style flatbreads, a selection of fresh colourful salads and healthier versions (gluten free, vegan and refined sugar free) of sweet treats (the bounty bar was so rich and morerish). My only disappointment was that the smoothies and juices, as delicious as they were, aren't freshly made on site but all come bottled.
Then came dinner and wow, that took the food to the next level. The Japanese Grill served up some of the best Japanese food we had ever eaten. Ever. We ordered the obligatory salted edamame, some sushi rolls (my partner devoured the soft shell crab whilst my daughter enjoyed the roe-covered Salmon and avocado. I opted for the scallop rolls which came highly recommended), a side salad (both the seaweed salad and the spinach salad with miso and sesame dressing were good) the obvious-but-did-not-disappoint black cod and the succulent lamb chops. It was a meal we did not want to end but were so full from it we couldn't make any room for dessert, and that is rare! We were told upon booking that there was not a children's menu available but we were confident that our daughter would have a couple of options that she could eat as there were lots of lovely cooked dishes not just sushi (she loved the popcorn shrimp, the edamame, and some good old plain, steamed rice). We were also told that children were only allowed in the restaurant until 7pm but we ended up staying longer which they were fine about it.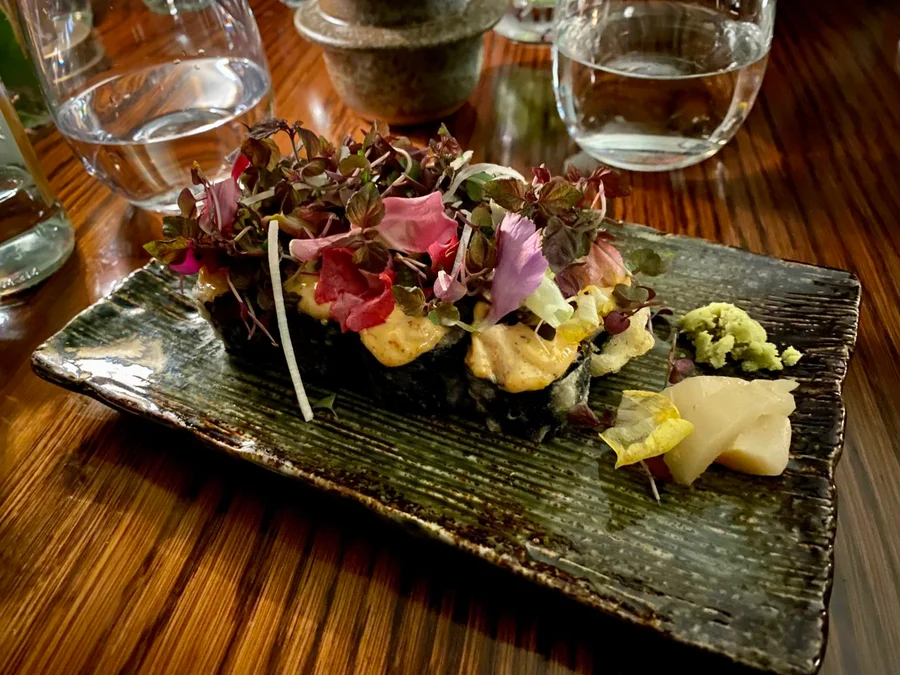 The following night's dinner at the Garden House, situated within a beautiful walled garden, was more casual and family friendly as they did have a menu catered for children with quite a few options to choose from. The food here was also good but if you're only coming here for one meal, we'd recommend the Japanese Grill hands-down. Breakfast is also available at the Japanese Grill and serves up all the favourites with a Beaverbrook twist (think eggs and soldiers but with salmon caviar and summer truffles – devine).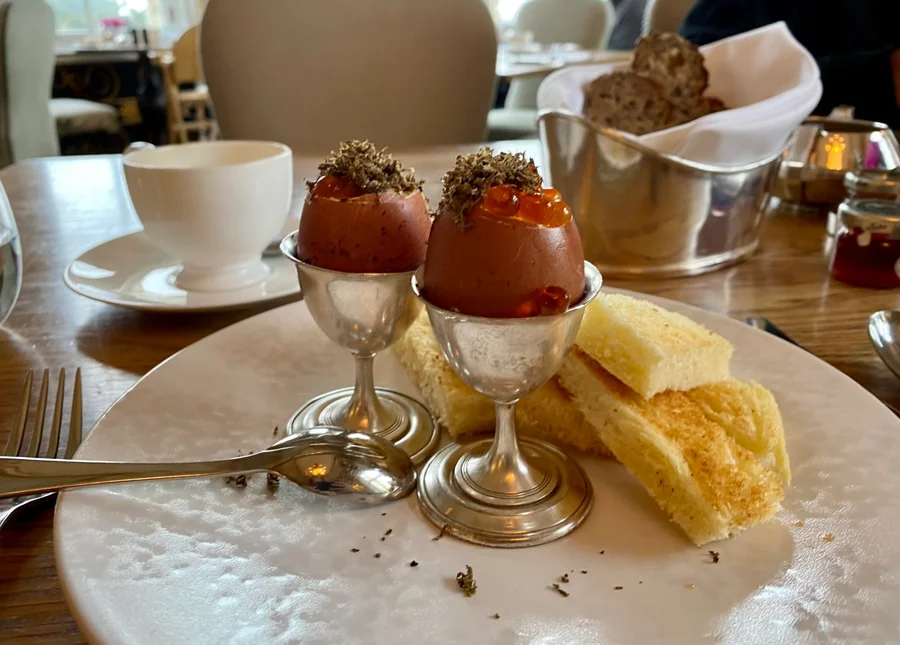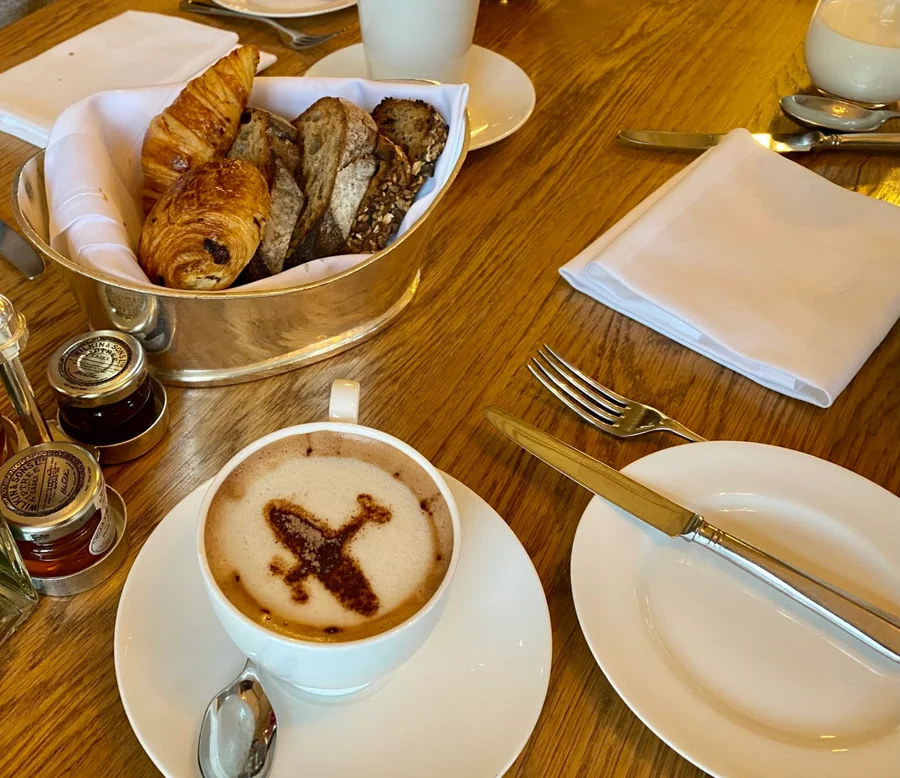 Guests
Guests are a mix of overnight guests and day trippers coming to use the spa facilities or to dine at the restaurants. Most were either couples, groups of girlfriends or young families. If you believe everything you read on the internet then then there's a chance you'll rub shoulders with celebrities like Sir Paul McCartney and Joe Wicks aka The Body Coach.
Value for money
There is no beating around the bush here, a stay at Beaverbrook isn't so kind on the wallet. Prices can start around £3,000 per night for the Main House Dowager Suite (can sleep up to three people with a small child in a cot/fold-out bed) which I believe is the most expensive. For £1200 per night, you can stay at the Coach House Garden Suite which also sleeps up to three (includes a generous sized sofa bed). The food, whilst exceptional, is pricey for the portion sizes served up, particularly at the Japanese Grill (although its akin to the prices you'd pay at a high-end restaurant in London). Whilst it allows you to sample a number of delectable dishes, it also makes you spend more money so be prepared. Sushi rolls start from around £5 for the veggie variety and go up to £18 for the scallops and £19 for the wagyu (around 8 pieces).
The spa pricing is probably what you'd expect from a luxury hotel around £120 for an hour and £180 for a 90-minute full-body massage. Use of the thermal spa area (steam, sauna and jacuzzi) is complimentary.
For those looking for a long, luxury weekend getaway then we would highly recommend a stay at Beaverbrook. It's an escape from the hustle and bustle of everyday life but without being in the middle of nowhere. There's no compromise when it comes to the facilities available and the service delivered, and there's plenty to do especially for young families.

A family of 4; mum, dad, 1 month old and 5-year-old daughter. We struggled to find luxury travel to accommodate our little family. So we decided to start documenting our hotel visits.
Updated Jul 18, 2022