The United Kingdom is known for quite a few things – the Royal Family, Sherlock Holmes, and the Beatles, among others. It's no secret that thousands of tourists visit the UK every year, and if you're here, you're probably exploring all the options regarding luxury hotels in the United Kingdom. Whether you're on the quest for a tranquil castle hotel in the Scottish Highlands, a glamorous luxury boutique hotel in central London, or a secluded resort in Northern Ireland, we've got you covered.
This article will explore the best luxury hotels across multiple countries, providing you with a definitive list of the most lavish and spectacular hotels found in this momentous kingdom.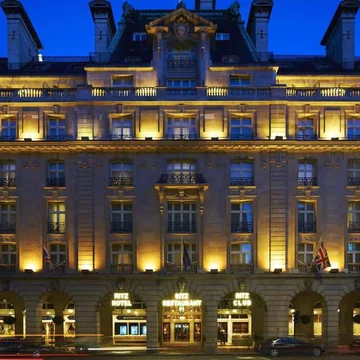 The Ritz London
Committed to delivering excellent service and luxurious dwelling in cities all over the world, Cesar Ritz opened The Ritz London back in 1906. The hotel has been operating and thriving for more than a century, so let's explore what it has to offer for its guests.
Check Availability
Situated in Piccadilly, overlooking Green Park, the hotel is ideal for anyone who wants to stay in the heart of London. The lively Soho area is only a short walk away, much like the affluent area of Mayfair, which can be reached within minutes. The Royal Academy of Arts, a must-see place for people who appreciate fine art, is just a three-minute walk away.
With over 100 accommodation options to choose from, you're bound to find a room or suite tailored to your liking. Each is decorated in a Louis XVI style that oozes opulence and grandeur, serving modern amenities like air-conditioning and Wi-Fi. Some of the carefully selected details include prestigious antiques, fresh flowers, large fireplaces, and fancy chandeliers.
One striking feature of The Ritz London is the captivating live piano music that can be heard from the common rooms, only emphasizing the sophisticated atmosphere of the hotel. The long list of services and amenities ensures that your stay will be as seamless as possible.
The award-winning hairstylist Hiro Miyoshi works at the Ritz Salon, where you can glam up before exploring The Swinging City. Treatments and facials are also available. Don't like exploring on foot? You have the option of hiring your own chauffeur who will take you anywhere you want in a glamorous Rolls Royce.
Chef John Williams at the Michelin-starred Ritz Restaurant guarantees a party for your taste buds. Traditional British cuisine is served with the freshest of ingredients, resulting in ambrosial meals. Book a five-course or seven-course meal, served with an impeccable wine selection. We all know that you can't visit England without tasting a proper English afternoon tea, so make sure you book one ahead of time at Ritz.
The price for a double room at Ritz London starts at $650 a night.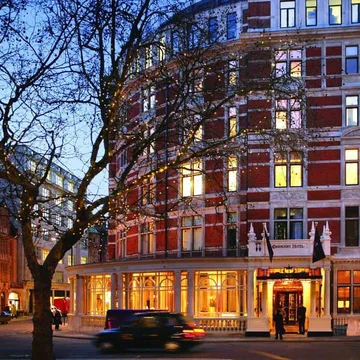 The Connaught
In a perfect display of British elegance and style, The Connaught is one of the most eminent luxury hotels in the United Kingdom. Located in Mayfair, the highly sought after area of London, it allows for a luxurious holiday that will keep you close to the main attractions in this metropolis.
Check Availability
Oxford Street, the main shopping district in London where you can find brands in the likes of John Lewis, Chanel, and Armani, is a mere five-minute ride away. Care for a little time off in nature? Hyde Park is a five-minute walk away, where you can see some popular London sights featured in many a movie while soaking in the lush scenery.
The Connaught presents the perfect mix of old school glamour (which London is known for) and contemporary sophistication. The common areas feature tasteful traditional touches: ligneous furnishings, polished floors, crimson carpets, and cozy fireplaces. The rooms, on the other hand, have a minimalistic yet chic design with a white or neutral color palette. Large living areas with crystal chandeliers, French windows that allow for the perfect amount of natural light to come in, grand pianos, and walls adorned with contemporary paintings are some of the charming stylistic choices you can expect to find at The Connaught. The bathrooms are commodious and consist of graceful white marble fixtures, a plasma TV, and a walk-in shower.
One of the many positive sides to staying at The Connaught is their outstanding service. Guests are granted a butler from the time of check-in, on top of having access to many concierge services. The Aman Spa, with its myriad of healing treatments to choose from, guarantees a relaxing break from sightseeing and shopping, while the indoor pool and fitness center will help you get a quick endorphin rush.
The real treat of staying at The Connaught is their restaurants and bars, including the two Michelin-starred Hélène Darroze. The Connaught Bar's martinis are a favorite for both guests and local Londoners, so make sure you sample one while staying there. Celebrities like Taylor Swift and Cameron Diaz have been seen at The Connaught, so don't be surprised if you bump into a similar crowd.
You can get a double room starting at $670 a night.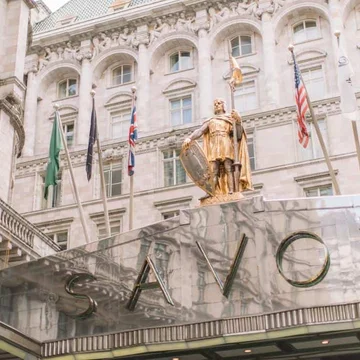 The Savoy
Stepping into The Savoy will make you feel as if you've gone back in time to a lavish party in a 19th-century mansion. Celebrities like Frank Sinatra, Marilyn Monroe, and Sir Winston Churchill are part of The Savoy's renowned guest list.