Nestled between the Caribbean Sea and the Atlantic Ocean, Antigua and Barbuda is a popular Caribbean travel destination, a country known for its captivating nature, beautiful beaches, and rich history. For today's article, we have selected the best luxury hotels in Antigua and Barbuda to help you choose your next destination for a Caribbean getaway.
Our hotel recommendations cover both large cities and secluded areas, giving you plenty of variety depending on your preferences. We hope you find our article informative, and with that said, let's start with our first luxury hotel.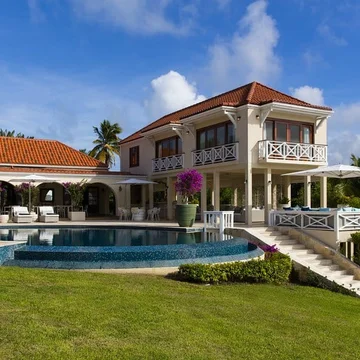 St. John's, Antigua and Barbuda
Jumby Bay
Jumby Bay, part of the established Oetker Collection, is considered as one of the best luxury hotels in Antigua and Barbuda. It offers an exclusive and intimate getaway on a private island – an experience you're bound to remember forever.
Check Availability
The hotel places a great emphasis on physical activity, so guests get a lot of opportunities to stay active while on holiday, such as booking private yoga and tennis classes, working out at the fitness center, playing golf, or partaking in water sports like kayaking and water skiing. Treat yourself after your workout and book a massage or treatment at the on-site spa. Highlights include the Siren's Song Wrap treatment, which uses an emulsion of golden nectar leaves, and the Island Whispers, which utilizes the healing ingredients found in nature.
The Jumby Bay Veranda welcomes guests throughout the day, serving a delicious a la carte breakfast and exquisite Italian cuisine for lunch and dinner. The Estate House embodies the Caribbean spirit in its ambiance and cuisine – taste sumptuous Modern Island Favors combined with world-class wine. Inside The Estate House, you can find 1830 Bar, a historic bar that promises to transport you to a different era. Its cocktail menu is unparalleled; our recommendations include the Antigua Black Daiquiri and Half a Gill – a modern interpretation of the Admiral Lord Vernon's rum ration.
Three accommodation options are available at Jumby Bay: a standard room, a suite, and a villa. If you're traveling with family, the villas will suit you perfectly. Each villa includes a private pool, a fully equipped kitchen, multiple bedrooms, and a terrace. The style of the villas is beachy yet elegant, with a white base and colorful accents to brighten up your stay.
The rates at Jumby Bay start from $1,900 a night.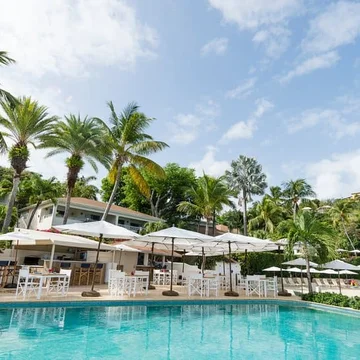 St. John's, Antigua and Barbuda
Blue Waters Resort and Spa
Blue Waters Resort and Spa is a lavish and modern resort located in the northwestern corner of Antigua. The resort is a magnet for celebrities – some of its most famous guests include Paul Young, George Graham, and Robbie Fowler.
Check Availability
Guests can enjoy a wide selection of world-class facilities while staying at Blue Waters Resort and Spa and participate in a variety of sports and activities like yoga, tennis, and watersports. For those who prefer a more traditional approach, there is a well-equipped fitness center on its grounds. Soothe your tired muscles post-workout and visit The Spa at Blue Waters – a sanctuary of tranquility and serenity, offering rejuvenating treatments and massages. If you're ever in need of a trim or hair styling while on holiday, the salon is here to help.
The multiple on-site restaurants give you lots of variety in terms of dining. The Cove Restaurant combines Caribbean and French cuisine, resulting in flavorful dishes. Carolyn's is ideal for a light snack or a delicious cocktail under the sun, whereas The Palm Restaurant offers exclusively Caribbean alfresco dining in a romantic atmosphere. Whichever restaurant you decide to go for, an exciting culinary adventure is guaranteed.
The diverse nature of Blue Waters Resort and Spa extends to the accommodation options. You can book a cottage, a suite, a penthouse, and a villa. Needless to say, the penthouse is the most luxurious option, which features panoramic views, a private terrace and pool, tea and coffee making facilities, and elegant, spacious bathrooms with complimentary Elemis amenities.
The rates at Blue Waters Resort and Spa start from $300 a night.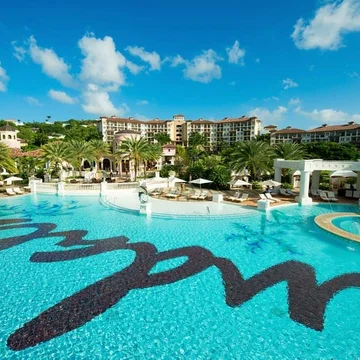 St. John's, Antigua and Barbuda
Sandals Grande Antigua Resort and Spa
Sandals Grande Antigua Resort and Spa has won many awards for being the world's most romantic resort, so it's a popular choice among newlyweds and couples seeking an intimate getaway. Located in Dickenson Bay, the resort is in close proximity to the best beaches in the area and outstanding local restaurants.
Check Availability
Facilities-wise, the resort boasts a championship golf course that suits every skill level, so you can easily practice your golfing skills even while on holiday. The on-site spa utilizes Caribbean techniques, allowing you to get acquainted with the local culture in a slightly different manner. Their couples massages are also quite popular. Guests can book various tours during their stay, from canopy tours to mountain biking.
To say that the dining venues at Sandals Grande Antigua Resort and Spa are varied would be an understatement – the eleven