Also known as Oz, Australia is among the top travel destinations in the world. Full of sandy beaches, vibrant metropolises, and precious natural beauty, it comes as no surprise that there are a plethora of remarkable luxury hotels in Australia.
Our list contains a varied selection of the best luxury hotels Australia has to offer, so whether your destination is a lively city or a remote beach, we have you covered.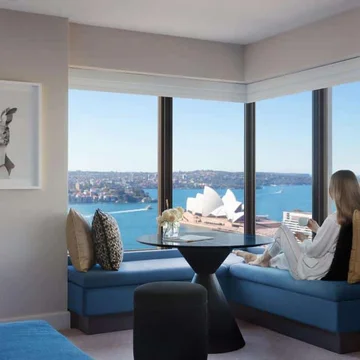 Four Seasons Sydney
Situated in the vibrant area of New South Wales, highly popular with tourists, Four Seasons Sydney is one of Sydney's five-star marvels. The central location of the hotel allows guests to access the main city attractions like the Museum of Contemporary Art and the Royal Botanic Garden in a short walk, which is very convenient if sightseeing is your priority while traveling.
Check Availability
Gorgeous views of the Sydney Opera House and the Sydney Harbour Bridge can be spotted from the opulent and elegant suites of Four Seasons Sydney. Featuring a white color palette with vibrant pops of bright blue, the character of the rooms and suites is in perfect harmony with the surroundings.
Each room and suite contain a flat-screen TV, a Nespresso machine, and remote-controlled curtains. The adjacent bathroom is spacious, with complimentary slippers and Christian Lacroix toiletries.
Four Seasons Sydney's luxury on-site spa is the place to go for a relaxing massage or treatment after a long day of exploring. The hotel also features a commodious and well-equipped fitness center.
Dining and drink-wise, there are three options available: The Cabana, Mode Kitchen & Bar, and Grain. The Cabana is the most casual option of the three, perfect for when you're in need of a light meal right by the pool. Mode Kitchen & Bar serves delicious contemporary Australian cuisine in a stunning setting, while Grain is a guest's go-to for a refreshing spirit or a classic cocktail, particularly before a fun night out.
Prices for low-season dates start at $150 a night.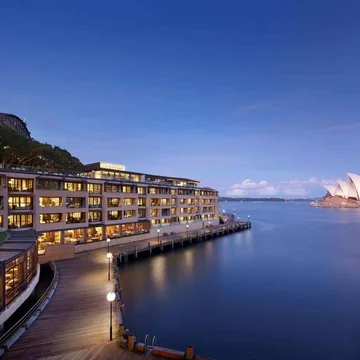 Park Hyatt Sydney
Park Hyatt Sydney offers a sophisticated and memorable experience for anyone who enjoys staying at the heart of the city they're traveling to. The Sydney Opera House, one of the most remarkable buildings in the whole city, is a short walk away from the hotel. Similarly, the Harbour Bridge, the Stanley Street Gallery, and the Museum of Contemporary Art are within close proximity, so regardless of your sightseeing preferences, chances are you will reach your destination in less than ten minutes.
Check Availability
One of our favorite features of Park Hyatt Sydney are the panoramic views that can be seen from every accommodation option. Whether you would like to enjoy them from the comfort of your extra-large and comfortable bed or your own private balcony, the choice is all yours. Apart from breathtaking views of the historic buildings, the suites feature beautiful carpets, a spacious living area with plush sofas, and flat-screen TVs. The bathrooms have a deep tub, well-lit mirrors, and complimentary Le Labo toiletries.
The friendly yet professional staff at Park Hyatt Sydney is always ready to help you with any concerns you might have. A 24-hour butler service is available upon request. The hotel has a rooftop pool with breathtaking vistas, as well as a 24-hour gym. The spa offers a myriad of treatments and massages, all using Australia's own skincare products. Keeping up with the theme of using local products, unique artworks and paintings made by Australian artists are placed in each room of the hotel.
The Living Room is one of Park Hyatt Sydney's on-site restaurants where guests can enjoy a casual meal or a fantastic cup of coffee. Head on over to The Dining Room for the ultimate fine dining experience – this waterfront restaurant serves delicious and authentic Australian cuisine and afternoon tea. The Bar is where you can savor a glass of both Australian and international wine or a refreshing cocktail.
The rates at Park Hyatt Sydney start at around $425 a night.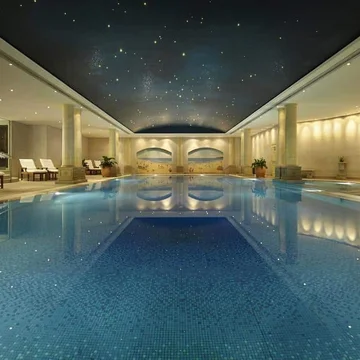 The Langham Sydney
The Langham Sydney is known for having the most spacious rooms in the whole city, so if you're someone who appreciates having extra space when traveling, then you're bound to enjoy your stay at this hotel.
Check Availability
The size of the hotel rooms isn't the only extraordinary thing about this hotel, though; The Langham Sydney's location is ideal – sitting at the center of Sydney's CBD (Central Business District), it gives guests access to spectacular tourist sites like the Sydney Opera House and Darling Harbour. The atmospheric Museum of Sydney can be reached in a ten-minute walk.
The sizable rooms and suites come with equally sizable and ultra-fluffy beds, Nespresso machines, TVs, mahogany furnishings, and a soothing color scheme. Some rooms have their own private balconies from where you can enjoy views of the Harbour. All en-suite bathrooms are elegant, featuring his and her sinks, aureate details, and complimentary bathrobes.
The Langham Sydney boasts a hospitable and extremely helpful service. The staff is always eager to point to the best spots in Sydney, and the hotel even rents its own transport