Also known as Oz, Australia is among the top travel destinations in the world. Full of sandy beaches, vibrant metropolises, and precious natural beauty, it comes as no surprise that there are a plethora of remarkable luxury hotels in Australia.
Our list contains a varied selection of the best luxury hotels Australia has to offer, so whether your destination is a lively city or a remote beach, we have you covered.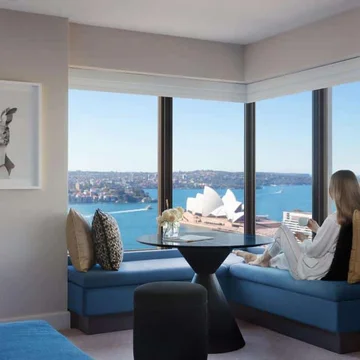 Four Seasons Sydney
Situated in the vibrant area of New South Wales, highly popular with tourists, Four Seasons Sydney is one of Sydney's five-star marvels. The central location of the hotel allows guests to access the main city attractions like the Museum of Contemporary Art and the Royal Botanic Garden in a short walk, which is very convenient if sightseeing is your priority while traveling.
Check Availability
Gorgeous views of the Sydney Opera House and the Sydney Harbour Bridge can be spotted from the opulent and elegant suites of Four Seasons Sydney. Featuring a white color palette with vibrant pops of bright blue, the character of the rooms and suites is in perfect harmony with the surroundings.
Each room and suite contain a flat-screen TV, a Nespresso machine, and remote-controlled curtains. The adjacent bathroom is spacious, with complimentary slippers and Christian Lacroix toiletries.
Four Seasons Sydney's luxury on-site spa is the place to go for a relaxing massage or treatment after a long day of exploring. The hotel also features a commodious and well-equipped fitness center.
Dining and drink-wise, there are three options available: The Cabana, Mode Kitchen & Bar, and Grain. The Cabana is the most casual option of the three, perfect for when you're in need of a light meal right by the pool. Mode Kitchen & Bar serves delicious contemporary Australian cuisine in a stunning setting, while Grain is a guest's go-to for a refreshing spirit or a classic cocktail, particularly before a fun night out.
Prices for low-season dates start at $150 a night.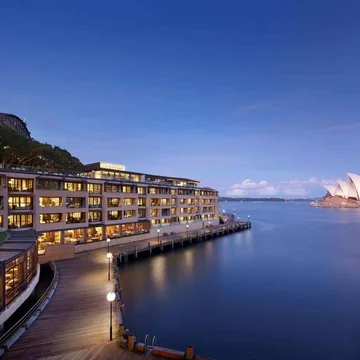 Park Hyatt Sydney
Park Hyatt Sydney offers a sophisticated and memorable experience for anyone who enjoys staying at the heart of the city they're traveling to. The Sydney Opera House, one of the most remarkable buildings in the whole city, is a short walk away from the hotel. Similarly, the Harbour Bridge, the Stanley Street Gallery, and the Museum of Contemporary Art are within close proximity, so regardless of your sightseeing preferences, chances are you will reach your destination in less than ten minutes.
Check Availability
One of our favorite features of Park Hyatt Sydney are the panoramic views that can be seen from every accommodation option. Whether you would like to enjoy them from the comfort of your extra-large and comfortable bed or your own private balcony, the choice is all yours. Apart from breathtaking views of the historic buildings, the suites feature beautiful carpets, a spacious living area with plush sofas, and flat-screen TVs. The bathrooms have a deep tub, well-lit mirrors, and complimentary Le Labo toiletries.
The friendly yet professional staff at Park Hyatt Sydney is always ready to help you with any concerns you might have. A 24-hour butler service is available upon request. The hotel has a rooftop pool with breathtaking vistas, as well as a 24-hour gym. The spa offers a myriad of treatments and massages, all using Australia's own skincare products. Keeping up with the theme of using local products, unique artworks and paintings made by Australian artists are placed in each room of the hotel.
The Living Room is one of Park Hyatt Sydney's on-site restaurants where guests can enjoy a casual meal or a fantastic cup of coffee. Head on over to The Dining Room for the ultimate fine dining experience – this waterfront restaurant serves delicious and authentic Australian cuisine and afternoon tea. The Bar is where you can savor a glass of both Australian and international wine or a refreshing cocktail.
The rates at Park Hyatt Sydney start at around $425 a night.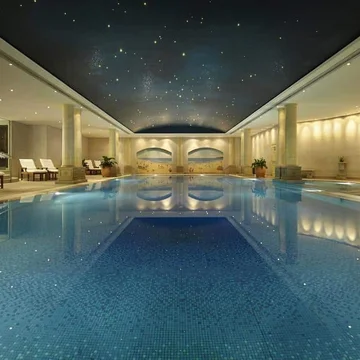 The Langham Sydney
The Langham Sydney is known for having the most spacious rooms in the whole city, so if you're someone who appreciates having extra space when traveling, then you're bound to enjoy your stay at this hotel.
Check Availability
The size of the hotel rooms isn't the only extraordinary thing about this hotel, though; The Langham Sydney's location is ideal – sitting at the center of Sydney's CBD (Central Business District), it gives guests access to spectacular tourist sites like the Sydney Opera House and Darling Harbour. The atmospheric Museum of Sydney can be reached in a ten-minute walk.
The sizable rooms and suites come with equally sizable and ultra-fluffy beds, Nespresso machines, TVs, mahogany furnishings, and a soothing color scheme. Some rooms have their own private balconies from where you can enjoy views of the Harbour. All en-suite bathrooms are elegant, featuring his and her sinks, aureate details, and complimentary bathrobes.
The Langham Sydney boasts a hospitable and extremely helpful service. The staff is always eager to point to the best spots in Sydney, and the hotel even rents its own transport for tours around the city. Working out at The Langham Sydney is never an issue.
There is a large tennis court, a fitness center, and an indoor swimming pool inspired by the Roman baths that is perfect for laps. Kitchens on Kent, the hotel's on-site restaurant, offers a luxurious breakfast buffet and afternoon tea. The Observatory Bar is ideal for sampling artistic and innovative cocktails and trying sumptuous local wine.
The price per night at The Langham Sydney starts at $230.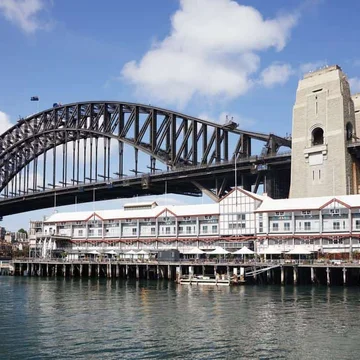 Pier One Sydney Harbour
Located right under the famous Harbour Bridge, Pier One Sydney Harbour promises a luxurious and unforgettable stay right in the heart of Sydney. Other than the historic Harbour Bridge, guests can explore other popular attractions like the Sydney Opera House and the Royal Botanic Gardens, which are only a 20-minute walk away from the hotel.
Check Availability
As you walk into your room, you will notice the spectacular views of the Harbour thanks to the large floor-to-ceiling windows. All rooms have a flat-screen TV, a minibar, and sizable beds. The bathrooms are elegant and spacious; they come with a separate bath and shower area and complimentary Appelles Apothecary toiletries.
Fitness junkies will be happy to know that there is a large fitness center at Pier One Sydney Harbour, as well as an option to book a personal trainer or a rejuvenating yoga class. The hotel's stylish Bar One is the perfect place for pre-party or pre-dining drinks. The Gantry Restaurant, on the other hand, gives you the opportunity to enjoy a multiple-course dining experience with an extensive list of Australian wines on the stunning Sydney waterfront.
The prices at Pier One Sydney Harbour vary depending on whether you book your stay during high or low season. Typically, the price starts at approximately $200 per night.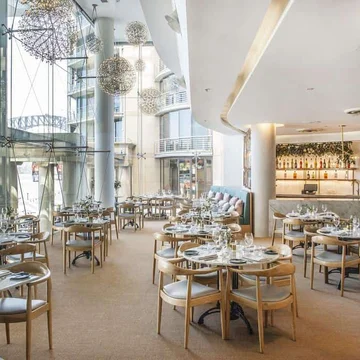 Pullman Quay Grand Sydney Harbour
Pullman Quay Grand Sydney Harbour faces the Circular Quay, a popular tourist area brimming with restaurants and shops. The Sydney Opera House and the Royal Botanic Gardens are merely a short walk away from the hotel, and if you don't feel like walking, you can easily grab a cab or a train.
Check Availability
The hotel boasts a glamorous and glitzy style. Designed with a sophisticated black-and-white color palette, the bright and airy rooms feature amazing views of Sydney Harbour or a Garden view, depending on which accommodation you choose, thanks to the floor-to-ceiling windows.
The list of modern amenities available is a long one. Each room and suite comes with a fully equipped kitchen with laundry facilities, a spacious living room area, and a large flat-screen TV. Additionally, gorgeous and colorful paintings are placed in each room and suite, adding to the atmosphere. There is also a private balcony where you can enjoy your morning cup of coffee. The elegant marble bathrooms come with a spa bath and complimentary C.O. Bigelow toiletries.
There are plenty of opportunities to get your daily exercise in at the Pullman Quay Grand Sydney Harbour – guests have access to an indoor pool and a 24-hour fitness center. The Q Dining restaurant, described as "where land meets the sea", welcomes you in an elegant and romantic setting, perfect for a date night. Their chefs collaborate with Aboriginal communities in order to bring you rare and delicious meals. For scrumptious South American cuisine, head to the Hyde Hacienda Sydney Bar and Lounge.
The price for a single night starts at around $230.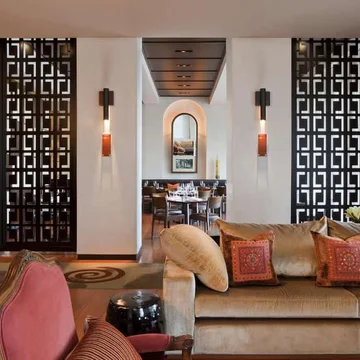 Hotel Lindrum
An outstanding location, luxury accommodation, and perfectly friendly staff, Hotel Lindrum is ideal for anyone who loves the sound of staying in a boutique accommodation right in the heart of the city. Hotel Lindrum's location is such that it allows you access to the most famous dining spots in the area, as well as premium luxury stores, within a walking distance. The AAMI Park, the Rod Laver Arena, and the National Gallery of Victoria are all a short fifteen-minute walk away from the hotel.
Check Availability
While there isn't an on-site gym at Hotel Lindrum, guests have access to a spacious gym in a neighboring building. There is, however, a remarkable on-site restaurant. Felt restaurant, popular among tourists and locals alike, serves modern British fare using local Victorian produce in an intimate atmosphere. Back Bar has a cozy setting with a large fireplace in the middle, so it's perfect for sipping a delicious drink while reading a book or socializing. Daily newspaper delivery is available upon request.
There are 59 rooms to choose from when staying at Hotel Lindrum. The rooms and suites have a warm color palette, making them quite inviting and comforting. They come with a flat-screen TV, large beds with luxury bedding, and sizable windows. Some suites overlook the Royal Botanic Gardens, resulting in a stunning view. The bathrooms are quite big and they feature a rain shower and complimentary Appelles Apothecary toiletries, slippers, and bathrobes.
The rates for a standard room begin at $200 a night.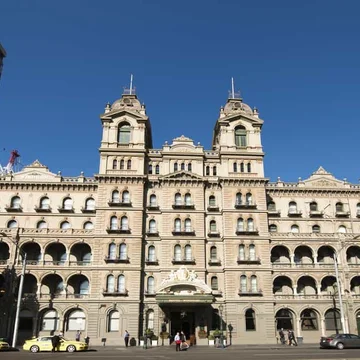 The Hotel Windsor
A frequent host of celebrities like Daniel Radcliffe, Sir Anthony Hopkins, Olivia Newton-John, and Vivien Leigh, The Hotel Windsor is a historic hotel located on Spring Street, right next to the Princess Theatre. Its location is top tier for any shopaholics out there – both Collins Street and Bourke Street are brimming with luxury stores like Boss and Saint Laurent. The location is great if your priority is sightseeing too – landmarks such as the Parliament House of Victoria and the Old Treasury Building are nearby.
Check Availability
The Hotel Windsor's style is traditional but not outdated, and it's quite reminiscent of Victorian opulence; the rooms contain ligneous furnishings, a cable TV, a minibar, vanity tables, and artwork, while the suites come with spacious living room areas with a fireplace and a chandelier. The marble bathrooms come with complimentary luxury bathrobes and large tubs. As far as the color scheme is concerned, it's mostly reliant on beige tones with warm and golden details.
The hotel offers concierge services and 24-hour room service. Dining-wise, there are multiple restaurants and bars to choose from when staying at The Hotel Windsor. A la carte breakfast is served at One Eleven, featuring both Victorian and Australian produce. The breakfast menu balances international cuisine and local dishes. The Cricketers Bar opens for lunch and dinner, serving a mix of Australian and English cuisine, while its menu contains many English pub must-try dishes. Finally, Lekker! combines Dutch and Australian cuisine impeccably well. Their wine list is extensive and their meals delicious.
At The Hotel Windsor, you can book a standard room starting from around $170 a night.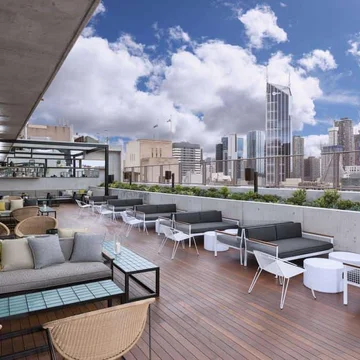 QT Melbourne
QT Melbourne is one of the most exceptional luxury hotels in Australia. Located in Melbourne's Central Business District, the hotel is a short walk away from all the must-see places in the vibrant city, including the hottest clubs, best luxury stores, and most popular restaurants.
Check Availability
The Regent Theatre is a short walk away from the hotel, much like Federation Square and St. Paul's Cathedral. Collins Street, the pinnacle of luxury shopping in Melbourne, is a five-minute walk away from the hotel. QT Melbourne's location is ideal regardless of whether you prefer spending your holidays shopping or sightseeing.
The rooms at QT Melbourne have a chic and stylish industrial design, with exposed ceilings, large windows, and wooden floors. The bright pops of color in an otherwise neutral color scheme are bound to brighten your day. Each room comes with a Nespresso machine, a large flat-screen TV, and a generous and fun minibar. The bathrooms feature complimentary bathrobes and Malin + Goetz toiletries.
Unfortunately, there isn't a spa or a pool on the property. However, there is both an on-site restaurant and a bar. The Cake Shop, much like its name suggests, serves delicious cakes and pastries. The glamorous Pascale Bar and Grill is ideal for delicious cocktails and modern dishes using the freshest local ingredients. If you appreciate a spectacular view, the rooftop bar at QT Melbourne is a must! Whether you opt for a strong whiskey or a creative cocktail, a great time is guaranteed.
Prices at QT Melbourne start at around $160 per night.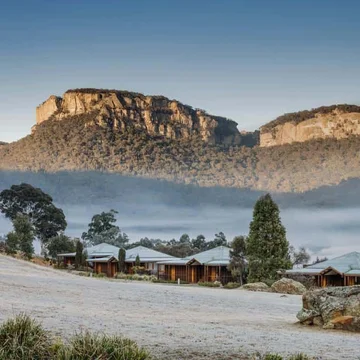 New South Wales, Australia
Emirates One&Only Wolgan Valley
Emirates One&Only Wolgan Valley is a five-star resort situated in one of Australia's most well-known national parks – the Gardens of Stone National Park, surrounded by the stunning Blue Mountains. This gorgeous resort advocates for sustainable luxury and promises to give you a once-in-a-lifetime experience.
Check Availability
Its remote and romantic location is ideal for anyone who likes to escape the hustle and bustle of the busy Australian cities and find peace among the breathtaking natural surroundings. There are plenty of sights to explore in the area, including the possibility to visit the popular cliffs and the valley.
Earthy and lavish, the style of Emirates One&Only Wolgan Valley blends in with the surroundings exceptionally well, giving off a welcoming vibe throughout. There are various villas to choose from, all of which come with a cozy fireplace, a private pool, a complimentary minibar, and a deck offering beautiful views of the surrounding nature.
The hotel's own spa offers a wide selection of healing treatments and massages using high-quality Sodashi products, ensuring that you remain as stress-free as possible. You will get many opportunities to work out during your stay, whether it's on the tennis court or in the hotel gym.
The Wolgan Dining Room offers personalized menus and authentic Australian cuisine, courtesy of Executive Chef James Viles. The Country Kitchen's world-class dishes contain ingredients from the hotel's own garden, making it the perfect spot for a casual lunch outdoors.
One of the best features of Emirates One&Only Wolgan Valley is its appealing selection of adventures and activities. Guests get to choose between exploring the nearby Blue Mountains, wandering the bushlands, horse-riding adventures, or partaking in wildlife safari spotting. Whatever option you go for, a fun time is certainly guaranteed.
The rates at Emirates One&Only Wolgan Valley start at $1,150 per night.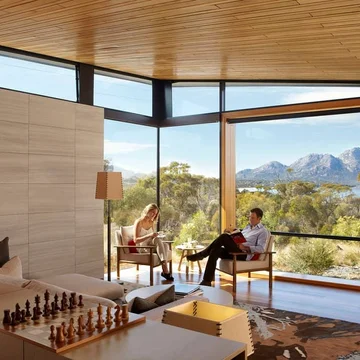 Saffire Freycinet
Overlooking one of Australia's most gorgeous mountain ranges – The Hazards, Saffire Freycinet sits in the Freycinet National Park in eastern Tasmania. The location is private and secluded, making Saffire Freycinet a faultless option for a romantic getaway or a holiday where you want to be disconnected from the outside world.
Check Availability
Saffire Freycinet is so exclusive that there are only 20 pavilions available for booking in total. The pavilions are decorated in warm colors and they're bright, open, and spacious. The floor-to-ceiling windows allow for plenty of natural light and gorgeous views of the mountains.
Featuring complimentary minibars, lots of entertainment options including a chessboard and a large flat-screen TV, a Nespresso coffee machine, and marble bathrooms with complimentary La Gala products, the pavilions come with every amenity you will ever need during your stay.
The staff is always looking out for their guests and is prepared to help you with any inquiries you might have. In case you want to get a workout in, there's a small fitness center you can use. Luckily, there's also an on-site spa offering calming treatments and facials.
The recognized Palate Restaurant serves savoury meals made with local and fresh ingredients, as well as an impressive wine list filled with local products. They cater to any dietary need and preference but make sure you let them know ahead of time. Palate Restaurant also serves an a la carte breakfast with plenty of international breakfast options.
A night in one of Saffire Freycinet's pavilions will cost you around $1,300.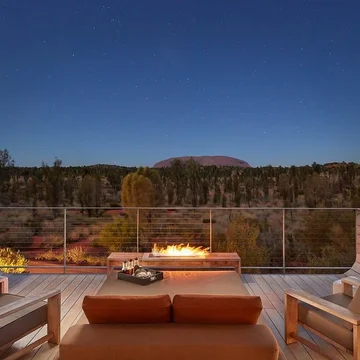 Longitude 131
Longitude 131 puts the glam in 'glamping'. It's a premium five-star resort that overlooks Uluru – one of Australia's main attractions. The town is a short drive away from the hotel, similarly to the town of Yulara, so if you ever need a change of scenery from the desolate landscape, you have the option of visiting one of the cities.
Check Availability
The resort pays homage to indigenous artists by featuring their artwork in every luxury tent. Apart from beautiful paintings, expect to find a private balcony with a fire pit, a spacious bathroom with ligneous details and a rain shower, and an espresso machine.
Don't be surprised if you spot a wild animal near your tent from one of your floor-to-ceiling windows. The beds are large and the linen is organic, resulting in the best sleep of your life. Longitude 131 will prepare you for long hours of exploring by providing you with complimentary backpacks and bug spray.
Longitude 131's signature experiences are the cherries on top of a remarkable stay. Opt for an intimate outdoor dining experience during sunset, a sunrise expedition in the domes of KataTjuta, an exploration of the Kantju Gorge retreat, a morning walk in the Mutitjulu waterhole, or wander around the Field of Light installation, courtesy of artist Bruce Munro.
During breakfast, you can choose between many delicious options from their a la carte menu, including fresh pastries and fluffy pancakes. During dinner, guests get to sample authentic Australian cuisine made from local and fresh produce. For the ultimate romantic experience, book a dinner under the stars.
The luxury tents start at around $2,500 a night.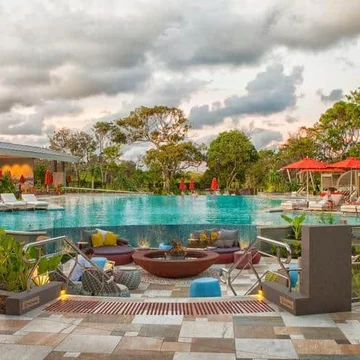 Elements of Byron Resort and Spa
Elements of Byron Resort and Spa is an eco-chic resort located right on Belongil Beach, one of the most incredible beaches in the area. The resort is a tranquil oasis surrounded by rainforests and natural beauty, secluded from the outside world. If you feel like mingling with people, the beachside town of Byron Bay is a short drive away from the hotel, where you can visit the local restaurants and shops and have a little change of scenery.
Check Availability
Choose from 202 environmentally-friendly and secluded cabins to choose from. The color scheme varies from cabin to cabin, but an earthy vibe is present throughout the rooms. Sizable artworks with furniture-matching colors are placed behind each bed, serving as a bed frame.
The floor-to-ceiling windows allow for natural light and views of the surrounding nature. The deep tubs in each en-suite bathroom are also placed against large windows so you can soak in the view even while bathing. Complimentary toiletries by Appelles are also included in the price.
The award-winning Azure Bar & Grill has a casual yet lavish setting, serving an irresistible combination of Australian and French cuisine with head Chef Simon Jones in charge. The Summer Salt bar offers signature cocktails in your own private poolside cabana with lots of Mexican finger food to go along with your meal. Elements of Byron Resort and Spa has both a fitness center and, as the name suggests, an on-site spa. Osprey Spa's tranquil ambiance is designed for distressing the body and rejuvenating the spirit.
The price per room at Elements of Byron Resort and Spa starts at $200 a night.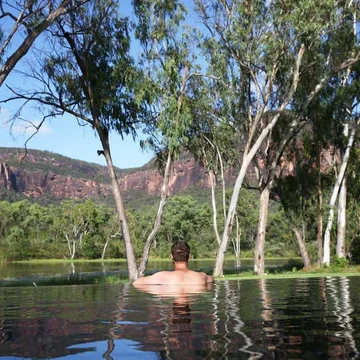 Mount Mulligan, Australia
Mount Mulligan Lodge
Mount Mulligan Lodge may not be easily accessible, but it's sure worth the while. This exclusive resort is located on the base of Mount Mulligan Mountain in Queensland, a historic area that dates back 37,000 years. As you can imagine, there is a plethora of historic sites to explore in the area, so even though the location is remote, it still promises a lot of variety for your itinerary. Mount Mulligan Lodge organizes many fun adventures and tours, like tours of the goldfields, wildlife spotting, sunset dinners, stargazing, and helicopter rides, so there is not a dull moment around.
Check Availability
The resort contains only eight rooms that are available for booking. Each one of those is brimming with ligneous furnishings, from the floors to the sinks. All rooms have a private balcony where you can enjoy the birdsongs early in the morning, large fireplaces, air conditioning for when the weather gets too hot, and Nespresso machines. A TV is not included in the rooms, but chances are you won't miss it. The bathrooms are open and commodious, with oval mirrors, deep tubs, and separate showers.
Due to the small number of rooms, you can expect a highly personalized experience and an attentive staff that is ready to fulfill any need that might arise. The outdoor swimming pool is an ideal escape when the weather gets too hot. The on-site bar is open throughout the day, offering Australian wines and a large selection of house spirits. The restaurant menu changes each day and depending on the season, while the breakfast remains a la carte.
The price per night at Mount Mulligan Lodge starts at around $750.
Crystalbrook Lodge
It doesn't get any more premium and exclusive than Crystalbrook Lodge. The resort is located on the shores of Crystalbrook Lake and it only hosts ten people at a time. The town of Almaden is an hour's drive away from the hotel, and if you don't mind a short drive, it allows for the perfect change of scenery. Otherwise, the resort is surrounded by many tracks and natural spots that you can explore during the day, and it offers plenty of entertainment at night, so expect your days to be fully booked.
Check Availability
Plenty of private tours and activities are available for bookings, such as hiking and kayaking. There is a gorgeous infinity outdoor pool available for guests to use. Even though there's no gym, guests can partake in many activities that will get your heart rate up, like hiking, swimming, or running.
The on-site restaurant has a limited yet alluring menu, with delicious dishes made with the finest locally sourced ingredients. Make sure you inform the host beforehand if you have any dietary preferences or intolerance.
At Crystalbrook Lodge, expect to find eco-friendly amenities and sustainable luxury. The rooms are bright and minimalistic, with colorful details and nature-inspired artwork placed throughout. Each room features a private terrace where you can sunbathe, relax, and simply enjoy the spectacular view.
The prices per night at Crystalbrook Lodge vary depending on whether you're booking your stay during low or high season. Typically, the rates for the rooms start at around $1,000 a night.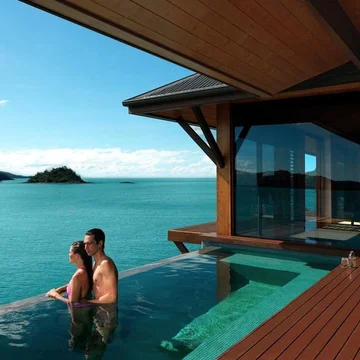 Hamilton Island, Australia
Qualia
If staying at one of the best luxury resorts in the world sounds like your cup of tea, then you will definitely love Qualia. Overlooking the picturesque Whitsunday Islands National Park, this five-star wonder balances serene nature and lively party spots. A short walk will take you to the multitude of bars located on Hamilton Island, ideal for both day and night parties.
Check Availability
Alternatively, you can explore the island which is home to a World-Heritage site – the Great Barrier Reef. The neighboring Whitsunday Island is home to many stunning beaches, so if you can easily arrange a transport, don't hesitate to pop over and explore it.
Qualia offers 60 luxury pavilions with mesmerizing vistas. Serene, intimate, and lavish, the pavilions differ in terms of style and color palette, allowing you great variety when booking. The pavilions are open, bright, and in perfect harmony with the surrounding scenery, resulting in a tranquil and memorable stay. Some pavilions even come with their own private pools which give you additional privacy. The bathrooms have a separate bath and shower area and feature complimentary Aesop toiletries.
Pebble Beach, Qualia's own beachside restaurant, serves appetizing Australian cuisine with an extensive list of Australian wines that will add a special touch to any meal. Head Chef Mark Jensen ensures that each guest is satisfied and satiated. The ambiance is romantic and elegant, while the views are breathtaking. Make sure you try their Tasting Menu which includes six courses at some point during your stay. The other on-site restaurant is named Long Pavilion and it serves modern Australian dishes made with organic local produce. The ambiance of the latter is more casual, but equally romantic and inviting.
The rates for a pavilion at Qualia start at approximately $950.
Find Luxury Hotels in Australia