Who could argue that they don't love spending time at the beach? There's nothing quite like feeling the sun and sea on your skin.
Well, to be honest, there are beaches and then there are the greatest beaches in the world. We're talking about beaches with soft, white, and glistening turquoise water. Now that sounds like the real beach vacation.
If you're ready to explore some of the world's best beaches, look no further. From sunny South Africa's Camps Bay to Australia's Whitehaven beach, you'll find the ideal beach destination here.
Top Beaches To Visit Across the Globe
Turquoise water? Check. White, soft sandy beaches? Double-check. These beaches are all breathtaking. So, here is the moment you've been waiting for, a list of the best beach destinations the world has to offer you.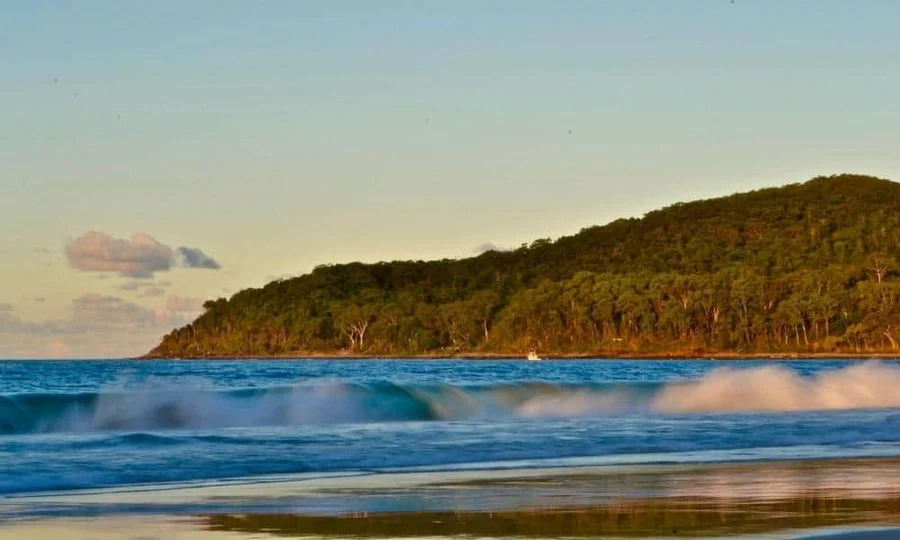 Queensland, Australia
Nestled in the national park on Whitsunday Island, awaits the pristine beach paradise that is Whitehaven Beach. The island is found along the Great Barrier Reef, so there are ample scuba diving opportunities.
As the name suggests, it is a breathtaking haven; the white-sand beaches – which consist of silky silica – are contrasted by turquoise water. Whitehaven Beach stretches over 7 km, making it a great place for long strolls at sunset.
Another top-notch choice along Queensland's coast is that of Noosa Main Beach. Just a two hours drive north of Brisbane, it's located in a national park as well. In contrast to Whitehaven Beach, you'll find golden sand beaches and azure blue waters here. Be sure to visit the gourmet restaurants, shops, and galleries on Hastings Street.
Other notable soft sand beaches to be found dotted along the Australian coastline including the famous Bondi Beach, Cossies Beach, Cable Beach, Seventy-five Mile Beach, and Hyams Beach.
Be sure to take a look at the luxury hotels near the Great Barrier Reef and other 5 star hotels in Queensland.
Best Time to Visit Queensland, Australia
If you're thinking of spending some time in the Aussie sunshine, be sure to visit between April and October. While this is wintertime in Australia, the temperatures are moderate and you will avoid the summer humidity.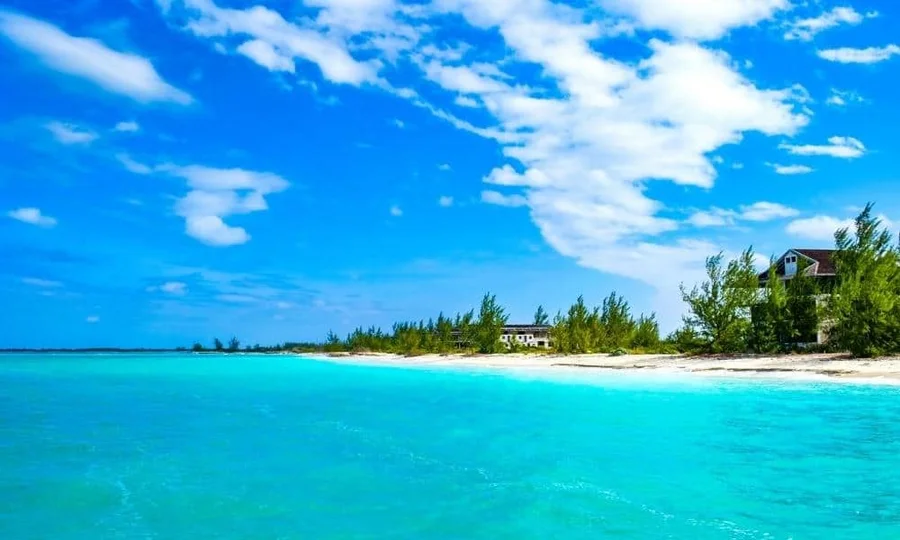 Providenciales, Turks and Caicos
Located in the Atlantic and surrounded by the world's third-largest coral reef, this archipelago is a tropical nirvana. And while its Caribbean neighbors certainly set the bar high in terms of gorgeous beaches, the Turks and Caicos islands are in a league of their own.
Starting with Grace Bay Beach in Providenciales, it's consistently rated as one of the top beach destinations in the world. The white sandy beaches gradually descend into the warm, turquoise sea, how could it not be so highly rated?
Just off of the shore, you'll discover the snorkeling paradise that is Princess Alexandra Marine Park. Here, you'll spot rays, turtles, multicolored fish, and much more. One thing's for sure, Turks and Caicos' Grace Bay Beach should be on the top of your list of best beach destinations.
If you take a short boat ride from Grace Bay Beach, you'll come across the breathtaking Parrot Bay Beach. Located on a private island, it's practically an untouched paradise. This is another ideal beach to go snorkeling at, humpback whales and reef sharks are just a few of the marine animals to be spotted here.
If you head north of Grace Bay Beach, you'll come across Leeward Beach. While far less busy than Grace, it still offers dazzling beauty. The ocean is particularly beautiful, limestone particles in the water create shifting colors ranging from aquamarine to turquoise. It's also a wonderful spot to try out water sports such as kayaking or stand-up paddling. However, the top reason to visit this beach is to catch a glimpse of the unreal sunset.
Best Time to Visit Turks and Caicos
The best time to visit this beach destination is during the dry season – December till March. This is when you'll be guaranteed endless sunshine. The shoulder seasons in April and May are also great times. You can still expect gorgeous weather but lower prices and fewer crowds.
May till July is usually pretty good in terms of weather, however, the temperatures will be warmer and you can expect many spontaneous rain showers. This is also the start of the hurricane season, which continues through until November.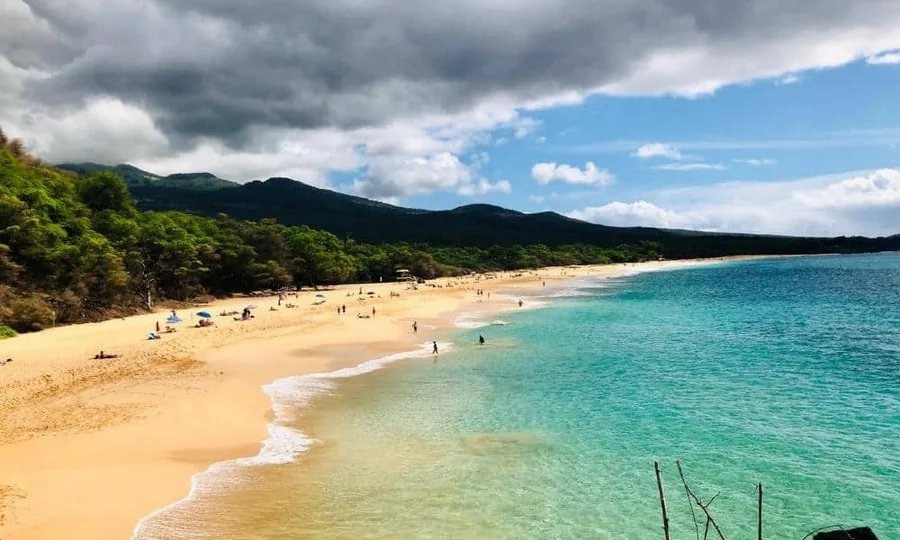 Islands of Hawaii
Turquoise water, coral reefs, sea turtles, palm trees, and beautiful beaches. Need more be said? The islands of Hawaii offer a variety of awe-inspiring beaches. It's also an ideal place for scuba diving, deep-sea fishing, watersports, and many outdoor adventures.
Hawaii is a place of incredible beauty, but two of its islands, Maui and Oahu, have some of the most beautiful beaches in this archipelago.
Maui is the second-largest of the Hawaiian islands and it possesses a variety of beach settings.
Kaihalulu Beach is known for its striking, rusty-colored sand. It's more secluded and difficult to reach, but the scenery is certainly worth it.
Wailea Beach is the place to be if you love the glitz and glamour – many of Hawaii's luxury hotels can be found here. Wailea's stretch of beach is the perfect place to chill out and do some whale watching.
Kapalua Beach is a snorkeler's paradise. The calm, crystal clear turquoise water is ideal for spotting marine life.
Big Beach is known for its beautiful setting, the beach's soft white sand is backed by towering cliffs.
Oahu is well known for its capital of Honolulu, Pearl Harbour, and the renowned Waikiki Beach. However, there are many other gorgeous beach spots to enjoy here.
Waimanalo Beach is a relatively uncrowded beach, tucked away on Oahu east coast. The long, 4 mile stretch of beach is a great place for leisurely walks.
Lanikai Beach is another of Oahu's more secluded beaches. It's also a great place to try out a variety of watersports such as kayaking and sailing.
Best Time to Visit Hawaii
Hawaii experiences warm weather throughout the year, with temperatures ranging from 23°C and 30°C. However, March till September is the best time if you're wanting to avoid any wet weather. However, do keep in mind that the islands' east coast tends to be far wetter than their western counterparts.
October and November tend to be the quietest time with regards to tourism, making this a superb time for a relaxed trip. Lastly, the strong winds tend to blow during January, February, and March, bringing in larger swells and attracting top surfing athletes.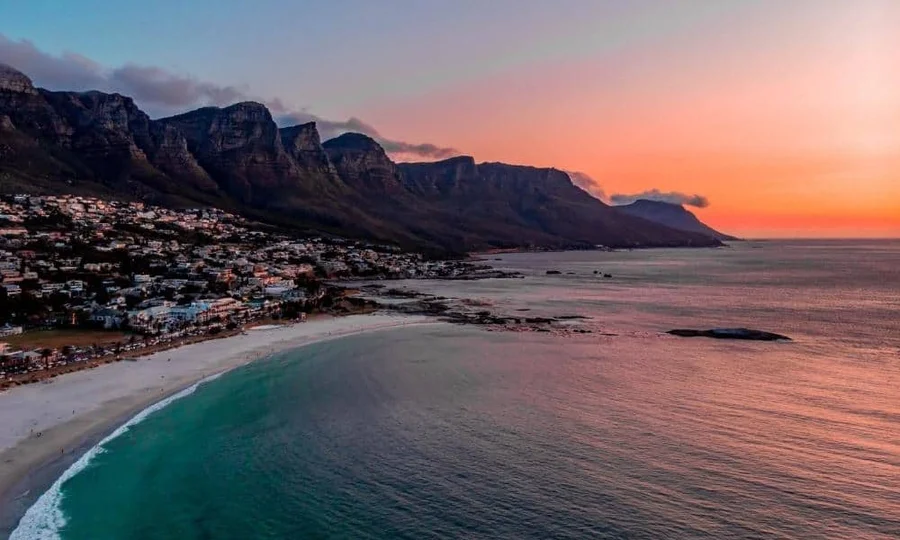 Cape Town, South Africa
Dotted around the Mother City, one can find numerous coves and beaches where you can sit back, relaxing, and simply watch the waves as they roll in. It's a great destination for water sports enthusiasts – from snorkeling and diving to surfing, kiting, and deep-sea fishing, you can try it all when you visit this beautiful beach destination.
Along the city's Atlantic coastline, you'll find the sandy expanses of Clifton and Camps Bay Beach. Its geographic position means that the Antarctic currents flow up along this part of the coast, promising beachgoers a rather refreshing swim. After lying on the white sand beaches under the warm, African sun, the cool, turquoise waters will be perfect for cooling off.
Clifton, and especially Camps Bay Beach, are also known for their trendy atmosphere. Bars and restaurants line the beachfront, which serve as the perfect spots for a delicious meal or thirst-quenching sundowner.
Another beautiful beach near Camps Bay beach is Llandudno, which is a great spot to catch a wave. On the other side of Table Mountain, you'll find many more beautiful beaches in False Bay. If you're wanting to learn how to surf, be sure to head to Muizenberg beach.
Best Time to Visit Cape Town, South Africa
December till February is South Africa's summer season, and this is when the country experiences its hottest temperatures. This is often considered the best time to visit Cape Town's beaches, but it's also the busiest time. The shoulder months – October, November, and March are also drier months. The weather is often great then too.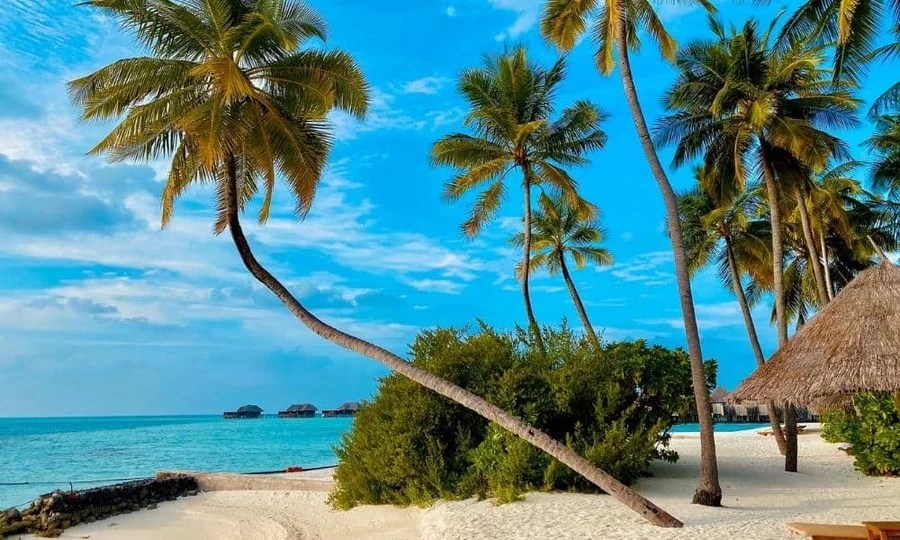 The Maldives
Ah, the Maldives. How could this cluster of islands in the Indian Ocean not make the list of best beaches in the world? With its powdery soft white sand, emerald green waters, lush tropical vegetation, the Maldives are a serene setting ideal for a luxury beach vacation.
The Maldivian islands are clustered into several atolls, each unique and beautiful. Makunufushi island, also known as Cocoa Island, is a tiny dot in the South Malé Atolls. When you're not lounging on the pristine beaches, you can explore the coral reefs and crystal clear waters. There are several luxury hotels in the South Malé Atolls that will make your beach vacation that much more special.
Another awe-inspiring island encompassed by a dazzling beach is that of Hadahaa. Located in the center of the Huvadhoo Atoll, it's a little further from the North and South Malé Atolls.
Enjoy the stunning beach views from the shadows of the island palm trees, or explore the surrounding coral reef and the colorful marine life.
Best Time to Visit The Maldives
To enjoy the very best of the Maldives, you should visit this tropical oasis any time between January and April. While this is the peak season for visitors, it's also the dry season, promising exceptional weather. From May through till October, the Maldives are hit with the monsoon season. There's certainly no point in booking a beach vacation and not getting to set foot on the beach due to rainy weather.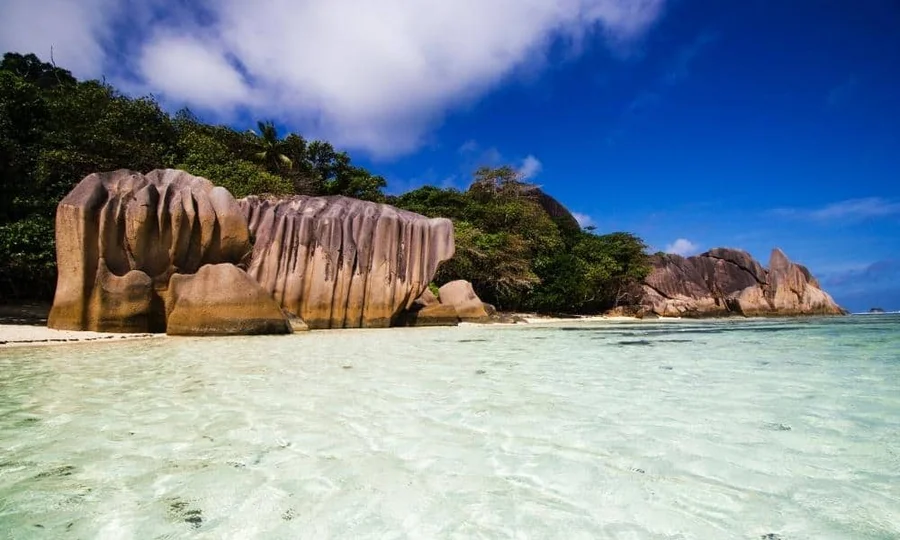 Seychelles
When you visit the gorgeous beaches of Seychelles, you'll realize that heaven truly is a place on earth. Imagine: sparkling clear water rippling under the warm sun, soft white sand warms the soles of your feet, and sea turtles and dolphins breach the water in the distance. That's over and above the island's iconic boulders that dot the beaches and the lush, dense forests that fringe the beaches.
For many, this is the creme-de-la-creme of beach destinations. There are many Luxury hotels in the Seychelles that will make your time here that much more memorable. Some of Seychelles' most beautiful beaches can be found on Mahe and Praslin Island.
Mahe is the largest of the Seychelles' islands and is where most residents live. Some of the islands most sandy beaches are:
Beau Vallon is the longest and one of the most popular beaches in Seychelles. Bars and restaurants selling fresh seafood line the beach. Beau Vallon is for those looking to relax or take up an adventurous water activity.
Anse Louis is a secluded bay, flanked by dense jungle and cliffs. If you're here from June to September, you may experience the occasional seaweed deposit on the beach.
Petit Anse is absolutely stunning. The beach and ocean floor gently slopes down, making it an ideal swimming spot. To access this beach, you'll have to register at the gates of the Four Season hotel.
Anse Intendance is located on the south side of the island and is fringed with palms and jungle. There's no coral reef here to break the swell which means a bigger surf.
Located northwest of Mahe, Praslin island is both a jungle and beach paradise. While much smaller than Mahe, it has many of its own breathtaking beaches:
Anse Georgette is a fully public beach. Here, you'll find the typical beautiful scenery that characterizes the Seychelles. It's also a fantastic spot to go snorkeling.
Anse Lazio is the island's most renowned beach, and it's easy to see why. Granite rocks can be found scattered on either side of the long, white sand beach while crystal clear turquoise water laps against the shore.
Best Time to Visit Seychelles
This archipelago rests in the warm waters of the Indian Ocean, just off Africa's east coast, and is one of the few beach destinations that can be enjoyed year-round. However, there are some months that see better weather than others.
October and April are the shoulder season, and these months see the very best weather here. From November till March you're more likely to experience rain. The dry season lasts from May to September, but this is usually when the wind picks up, leading to larger swell and seaweed deposits on the south-easterly beaches.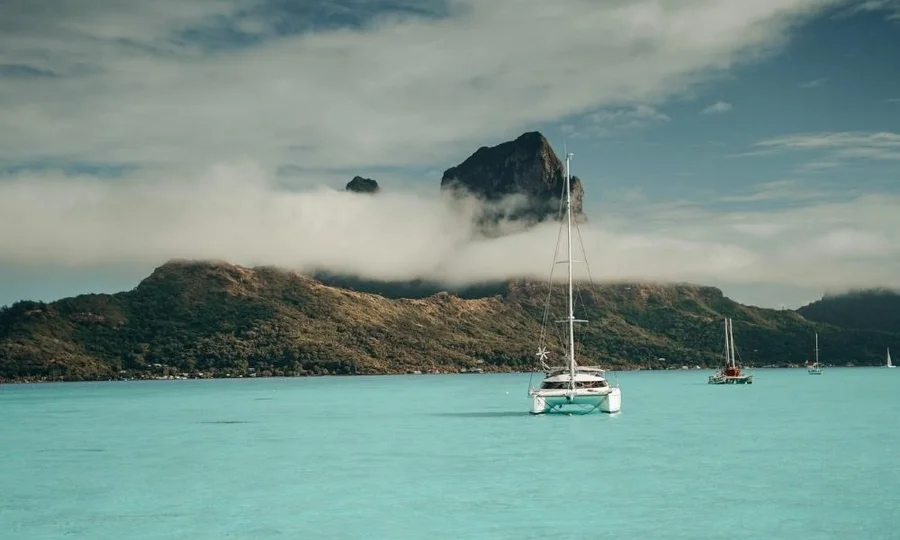 Bora Bora, French Polynesia
Located in the South Pacific, this popular island is often frequented by honeymooners. With its gorgeous overwater bungalows, rich marine life, jade-colored waters, and beautiful beaches – who wouldn't want to spend their time here?
Matira Beach is exactly what you'd expect from the most amazing beaches in the world – white sandy expanses and near translucent waters. Located at Bora Bora's southern tip, the beach curves along the peninsula making it an ideal spot for a tropical sunset. Matira Beach is the only true public access beach, so you'll find both tourists and locals here.
While there's only one real public beach, you can still enjoy the stunning beaches of Bora Bora if you choose to stay at any one of the luxury resorts and hotels. Many of these French Polynesia luxury hotels face the main island, but a select few face the calm waters of the lagoon.
When you're not lapping up the vitamin D, be sure to explore the jungle interior – Mt. Otemanu and Mt. Pahia make for particularly beautiful hikes.
Best Time to Visit Bora Bora, French Polynesia
To get the most out of your trip to Bora Bora, be sure to visit during the dry season, which lasts from May through to October. This is the best time in terms of sunny weather, watersports as well as interacting with marine life. Outside of these months, Bora Bora experiences its rainy season.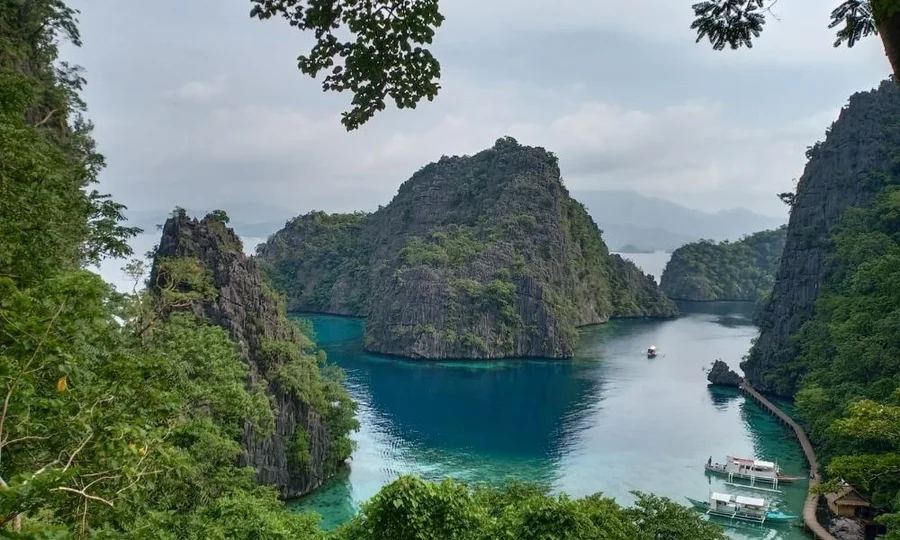 The Philippines
The Philippines is an incredibly exotic beach destination, quite unlike any of the ones above. As you travel between the islands by speed boat, you'll see monoliths reaching up out of the aquamarine water and mangrove forests cover paths to hidden beaches and coves. What's more, the Philippines is known for having stunning sea caves and underwater rivers – it certainly is an adventure seekers' paradise.
Kayangan Lake, located on Coron island, is an amazing beach offer. But it has more to offer than its white sand beach. It's also an amazing place for swimming, scuba diving, and cliff diving too. The tourist crowds can get a bit much during the high season, but it's still well worth the visit.
Paradise Beach is exactly that, paradise. When you're not frolicking in the clear turquoise water, you can lay down on the soft sand under the shade of a palm tree.
Buena Suerte is picture-perfect and certainly deserves to be included in this list of the most beautiful beaches in the world. The soft sands of the curved bay turn an exquisite shade of peach at sunset, whilst towering limestone cliffs add to the striking scenery. This is another great place to try snorkeling, as well as explore the nearby secret lagoons and deserted beaches.
Many of the luxury hotels in the Philippines are located on the water's edge, making them the ideal spots to stay for a beach vacation.
Best Time to Visit The Philippines
November till April is the dry season in the Philippines, and also when the archipelagos islands are fully accessible. May and November, the shoulder months, experience great weather too. It's also less likely to be crowded during this time. Between May and October, the Philippines still experiences warm temperatures, but rain showers occur frequently. Typhoons tend to hit these beautiful islands during the period between August and January.
Final Thoughts on the Best Beaches in the World When it comes to the most beautiful beaches in the world, you sure can have your pick of the lot. Imagine yourself walking along white-sand beaches, swimming in crystal clear turquoise water, and tanning under a warm, yellow sun.
Well, why not make this dream come true? Get your beach bag ready, because it's time for you to experience the unparalleled beauty of the prettiest beaches in the world.
Final Thoughts on the Best Beaches in the World
When it comes to the most beautiful beaches in the world, you sure can have your pick of the lot. Imagine yourself walking along white-sand beaches, swimming in crystal clear turquoise water, and tanning under a warm, yellow sun.
Well, why not make this dream come true? Get your beach bag ready, because it's time for you to experience the unparalleled beauty of the prettiest beaches in the world.