If white-sand beaches, water adventures, and year-round balmy weather sound appealing to you, then it's time to nominate the Philippines as a candidate for your next travel destination. We have selected the best luxury hotels in the Philippines with the hopes of giving you inspiration for which lavish home away from home to select on your next tropical getaway. Will it be Boracay Island, one of the leading destinations for relaxation, the buzzing city of Manila, or something entirely different? The choice is yours.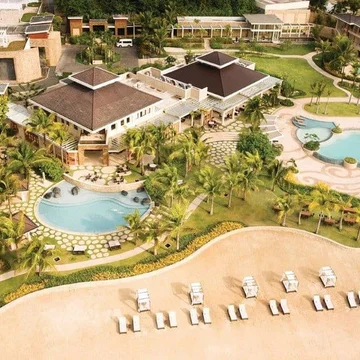 Cagraray Island, Philippines
Misibis Bay Resort
Secluded, sophisticated, and surrounded by wild, beautiful nature, Misibis Bay Resort is one of our top picks for luxury hotels in the Philippines. The resort is located on Cagraray Island, which can be reached via a speedboat.
Check Availability
What makes Misibis Bay Resort so captivating is the list of thrilling activities guests have access to. Take, for instance, the once-in-a-lifetime opportunity to swim with white sharks in Donsol, or examine up close Mayon Volcano. You can partake in a wide range of water sports, too, such as paddle surfing, kayaking, and windsurfing. If you like to stay active while on holiday, this place would make an ideal option for you.
Apart from adrenaline-filled activities, guests can enjoy two sizable swimming pools, an activity center, and a fully-equipped gym. The Essences Spa makes for a particularly relaxing break amidst your packed itinerary.
Try the best flavors of Bicolano cuisine at Spice Market, an all-day on-site restaurant. For those who don't like leaving their culinary comfort zone, various international options are available. The Sula bar offers a wide range of spirits and cocktails, which can be served by the infinity pool for a particularly romantic setting.
The rooms at Misibis Bay Resort are quite varied, ranging from standard garden-view villas to Asian-inspired villas. The rooms have a tropical design and neutral furnishings, featuring amenities like an LCD TV, a complimentary coffee counter, and a commodious bathroom. Some of the villas have their own private plunge pools and beach beds.
The rates at Misibis Bay Resort start from $150 a night.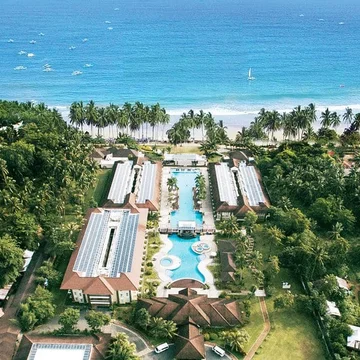 Sabang Beach, Philippines
Sheridan Beach Resort and Spa
Located a short boat ride away from the Subterranean Underground River, Sheridan Beach Resort and Spa enjoys a tranquil location, nestled between tall mountain ranges and crystal clear waters of the West Philippines Sea. Known for its ethos advocating sustainability, it's the perfect match for those eager to stay green while traveling.
Check Availability
Adrenaline junkies will have a whale of a time trying out all the adventures offered. The most sought after option is the Underground River Tour which takes you on an odyssey on the world-famous Underground River in Puerto Princesa, part of the new 7 Wonders of Nature.
The pampering Sheridan Nature Spa focuses on holistic treatments that will revitalize both your body and soul, while the 340 feet long swimming pool, which happens to be the largest swimming pool in Palawan, is available to guests at all times. You can also catch some sun while chasing after endorphins at the outdoor fitness center featuring state of the art equipment.
The beachfront restaurant completes the overall wholesomeness of the resort. Enjoy a romantic candlelight dinner and sample the finest gourmet cuisine with an international touch. The on-site Blue Bar, which shares the same location, serves artistic cocktails and spirits in a beautiful setting.
Although minimalistic, the rooms and suites at Sheridan Beach Resort and Spa are chic and romantic, equipped with a minibar, coffee and tea making machines, and a private balcony where you can watch the sunset. The bathrooms are quite large and come with complimentary bathrobes, slippers, and luxury amenities.
The rates at Sheridan Beach Resort and Spa start from $150 a night.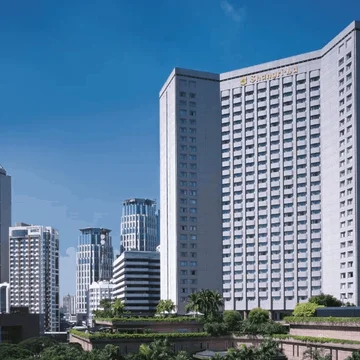 Makati Shangri-La Manila
Makati Shangri-La Manila's impressive exterior dazzles from a mile away. Located in the heart of Manila, near the business and shopping districts, the hotel boasts a central location that will make sightseeing and exploring the city a breeze.
Check Availability
Shangri-La hotels are known for their serene and soothing spas, and Makati Shangri-La Manila is no exception. The popular Aroma Wellness Massage uses a combination of Swedish massage techniques and essential oils to melt the stress away and increase circulation. Apart from a spa, the hotel's health club offers a sauna, outdoor swimming pool, and gym.
The hotel contains five on-site restaurants, among them, Circles Event Café appears to be the most popular option. With its open-theatre kitchens, an appealing blend of Asian and international cuisine, and a chic setting, we can easily see why that's the case. Inagiku is equally outstanding, serving authentic Japanese cuisine in a zen setting.
Containing a whopping 692 rooms and suites, Makati Shangri-La Manila is easily one of the biggest hotels in Manila. Elegant, spacious, and pristine, the rooms are designed to be both comfortable and pleasing to the eye. Extraordinary views of the city are included in each room, in addition to a sizable bathroom with complimentary Shangri-La amenities and separate shower and bath, an exclusive writing desk, and a minibar. The suites feature a walk-in closet, panoramic views of the city, and large living areas.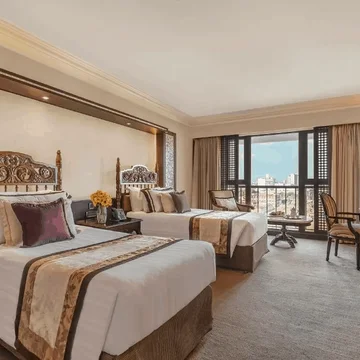 The Manila Hotel
Known for hosting celebrities like The Beatles, Ernest Hemingway, Bill Clinton, and Henry Luce, among others, The Manila Hotel has been open for more than a century, and luckily, it has kept the old-world charm it's famous for.
Check Availability
Though quite traditional in many manners, the amenities are modern and superb. There is a fitness center and a swimming pool which allow you to keep up with your fitness schedule while on holiday. After a tiring workout, you can head over to the Manila Hotel Spa and replenish your energy in a serene environment, with the help of their signature treatments that utilize ancient methods to relax the mind and body.
Café Ilang Ilang serves an international buffet breakfast with a few local options sprinkled in. Red Jane restaurant, one of the most popular dining options in the area, has a spectacular setting paying homage to Chinese culture, all the while serving traditional Cantonese cuisine that's equally fresh and flavorful.
The Manila Hotel's creatively-named suites are a landmark on their own, with the Presidential Suite being the most opulent option. Temporary home to many royalty and celebrities, this suite features an enormous living area that overlooks Manila, Italian marble bathrooms with Bulgari toiletries, and exclusive artwork by Filipino artists. For those not too fussy about their accommodation, standard rooms are also available.
The rates at The Manila Hotel start from $100 for the standard rooms.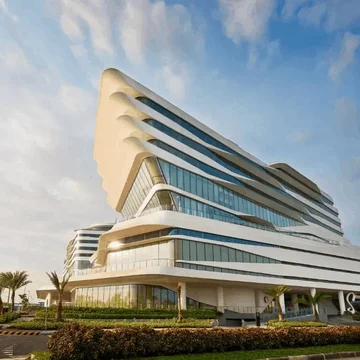 Conrad Manila
Conrad Manila sits on the edge of Manila Bay, in close proximity to SMX Center – the largest private venue in the Philippines. The National Museum, one of the greatest tourist attractions in the area, is a ten-minute drive away from the hotel.
Check Availability
An impressive selection of amenities and services is available at Conrad Manila. Guests can stay fit while traveling at their well-equipped fitness center. If you're traveling for business, you'll find their executive lounge particularly useful, promoting productivity and relaxation simultaneously.
Brasserie on 3 is the hotel's primary dining spot. A large selection of culinary favorites from around the world is served at this award-winning restaurant, in an elegant setting that includes panoramic views of Manila. The C Lounge shares the same breathtaking panoramic views, making it the perfect place to unwind after a long day of meetings or exploring. Try their afternoon tea or treat yourself to a rum cocktail made with their Premium Rums.
The rooms and suites at Conrad Manila have a minimalistic design, with a neutral color scheme. Light and spacious, they're equipped with an espresso making machine, a mini-refrigerator, and a sitting area. En-suite marble bathrooms are included, with a multi-jet shower, deep tub, and well-lit mirrors. The bathrooms in the ultra-luxurious suites contain an in-mirror TV, the perfect entertainment for those who prefer longer baths.
The rates at Conrad Manila start from $150 per night.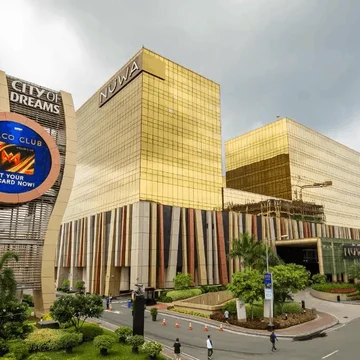 City of Dreams – Nüwa Manila
Regarded as one of the best luxury hotels in the Philippines, City of Dreams – Nüwa Manila is an excellent option for families and solo travelers who want to experience the vibrant city in style.
Check Availability
World-class facilities are combined with elegant rooms to bring you the perfect balance of comfort and lavishness. The Nobu Spa is the ultimate tool for de-stressing and relaxation, much like the large lap-friendly swimming pool. Children have various entertainment options, including a Garage VR zone where gaming and dining collide, and DreamPlay, where a whole host of activities are offered. Adults can play indoor golf featuring the latest digital simulation technology.
City of Dreams – Nüwa Manila also excels in dining. The award-winning Nobu restaurant serves Japanese cuisine with Peruvian influences. For a more casual option, visit Jing Ting – an open-kitchen restaurant serving rich and flavorful Chinese cuisine in a traditional setting.
Whether you choose a room, a studio, or a suite, your accommodation will be equipped with a flat-screen TV, a minibar, and an en-suite bathroom with complimentary toiletries. The design is sleek and stylish, with warm tones and playful textures.
The rates at City of Dreams – Nüwa Manila start from $300 per night.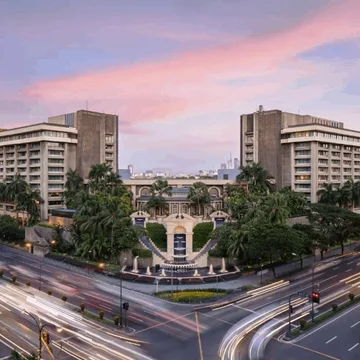 The Peninsula Manila
The ever-lasting elegance of Peninsula hotels is present at The Peninsula Manila, one of the most established luxury hotels in the Philippines. The hotel is situated in Makati's central business district, also home to one of the Philippines' most popular malls – Century City Mall, where you can find a myriad of luxury stores like Herman Miller, Ted Baker, Tiffany & Co., and John Varvatos. It's safe to say that such a location will appeal to all shopaholics out there.
Check Availability
The signature Peninsula Spa will provide you with the nourishment your spirit and body crave while traveling. Workout-wise, the hotel boasts a sizable fitness center equipped with Life Fitness workout essentials. Personal trainers are available upon request. Additionally, guests have access to the outdoor lap-friendly pool or admire it from afar with a refreshing cocktail in hand.
Old Manila is The Peninsula Manila's main dining hotspot, offering contemporary market cuisine in a vibrant setting. Escolta's international buffet consists of mouth-watering options like Chinese noodles, hand-rolled sushi, and home-baked breads. Their Sunday Champagne Brunch is not to be missed. For delicious Asian cuisine, visit Spices, whose menu is wonderful and varied, suited to every taste.
Peninsula's signature design that combines elegance and minimalism is present at every suite and room, with various Filipino accents to add character to the rooms. Some modern amenities you can expect to find include bedside multi-chargers, smart-screen TVs, and high-speed internet. The palatial and jaw-dropping Peninsula Suite comes with floor-to-ceiling windows, contemporary artwork, a grand piano, and city views.
The rates at The Peninsula Manila start from $160 a night.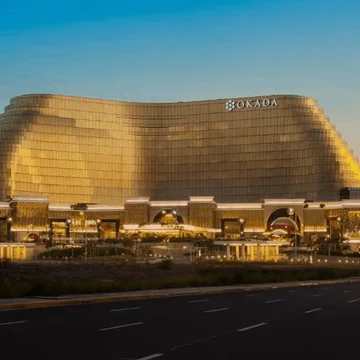 Okada Manila
Set on the stunning oceanfront of Manila, Okada Manila is a multifaceted resort that brings together an opulent setting, splendid service and amenities, and a terrific location.
Check Availability
For a luxurious shopping trip of a lifetime, you won't even have to leave the hotel's premises. Okada Manila's shopping mall comprises world-class luxury brands like Jo Malone, Pandora, and Moressi. The on-site dynamic casino, which has the biggest jackpot in the country, makes for a fun night out. During the day, guests have the option of visiting the incredibly serene Retreat Spa, whose menu contains various cleansing, exfoliating, detoxifying, and distressing treatments. Alternatively, head over to the turquoise pool and sip on a cocktail in between your swims, or book a sweat session with a personal trainer at the fitness center. If you ever need a glamorous hairstyle after an action-packed day, the on-site beauty salon is here to the rescue.
Satisfy your taste buds at one of Okada Manila's 21 dining venues, designed to delight even the pickiest of eaters. Some of the dining highlights include Yu Lei, which offers Shanghainese and Chinese cuisine, and La Piazza, an extraordinary Italian restaurant serving signature Italian dishes.
Though varied in color and design, the rooms and suites at Okada Manila are spacious, unique, oozing luxury and glamor throughout. The Manila Bay Suite particularly stands out – with this option, you have your own private entertainment and massage room, which maximizes privacy. Featured are expansive dining and living areas with panoramic city views. The bathrooms have jet tubs and rain showers, with complimentary Roberto Cavalli amenities.
The rates at Okada Manila start from $220 a night.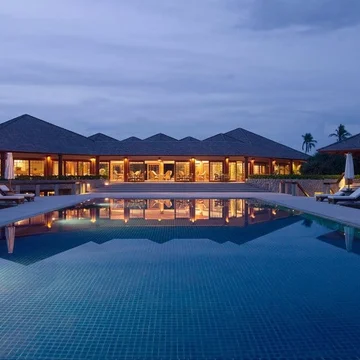 Pamalican Island, Philippines
Amanpulo Hotel
Popular with celebrities and dignitaries, Amanpulo Hotel is one of the most renowned luxury hotels in the Philippines, placed on a small private island in the Sulu Sea. It doesn't get any more exclusive and lavish than the Amanpulo Hotel.
Check Availability
Health and fitness are taken very seriously at this five-star luxury resort, which is why the hotel boasts a fitness center equipped with every machine and accessory you might need, a tennis court where you can practice your tennis skills, and a large outdoor pool. The award-winning luxury Aman Spa utilizes traditional healing techniques from the Philippines to bring you the ultimate pampering experience. Private yoga and meditation sessions are also available, to calm your mind and nurture your spirit.
As expected with an Aman hotel, the dining venues use organic and locally-sourced ingredients to bring you delicious Mediterranean, Japanese, and Filipino dishes. Their stone-baked pizzas are especially popular among guests, so make sure to try one for yourself in case you decide to visit.
Nestled in the middle of the island's lush nature are Amanpulo's casitas and villas, a secluded paradise for yourself and your loved ones. Splendid views of the sea and the surrounding greenery are included with every villa and casita, as well as private outdoor decks, enormous bathrooms with rain showers, and a private pool.
The rates at Amanpulo Hotel start from $1,050 a day.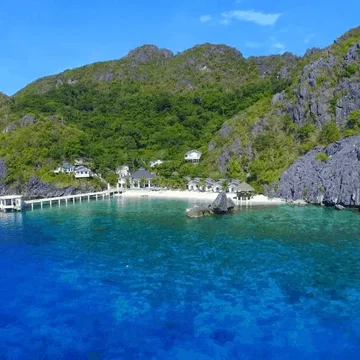 Matinloc Island, Philippines
Matinloc Resort
Matinloc Resort is one of the most family-friendly resorts on our list. Set on Matinloc Island, surrounded by picturesque spots, it gives guests a chance to explore, unwind, and enjoy the sandy beaches in style.
Check Availability
The Spa at Matinloc has a tropical setting, which only adds to the sense of serenity that follows you with each visit. Indulge in the ultimate holiday self-care and book one of their relaxing massages or rejuvenating treatments. The outdoor infinity pools are quite an attraction, the backdrop of which is a panoramic view of Palio. While we're on the topic of swimming, guests can also enjoy a gorgeous array of beaches, including Calmung Beach and Cagbantag Beach.
You might be on a remote island, but dining will never be an issue. The on-site restaurant offers a generous breakfast, as well as a mix of Eastern and Western dishes. When the weather allows it, you can book a private dining experience on the beach, or on the poolside, and stargaze while you sample your personalized scrumptious dishes.
Matinloc Resort's luxury villas and specialty suites are the epitome of a secluded tropical paradise. The villas offer panoramic views of the sea and mountains, with a carefully selected array of amenities such as private balconies where you can enjoy in-room dining, full bathrooms with a separate bath, canopy beds with luxury linen, and sitting areas that overlook the sea. The suites have Roman-style décor, brimming with ligneous furnishings and bright pops of color.
The rates at Matinloc Resort start from $340 a night.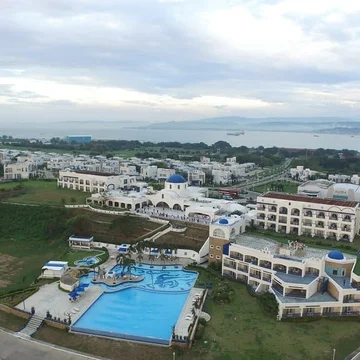 The attention to detail is immaculate – from the resort dome to the cuisine, everything is reminiscent of the renowned Greek island. The list of amenities is seemingly endless: the hotel boasts its own chapel, various courts including volleyball, basketball, and a tennis court, a golf and beach club, and even its own private beach. Whatever you need – the staff at Thunderbird Resorts and Casinos Poro Point are here to provide it for you.
Unsurprisingly so, there is a Greek restaurant that welcomes guests in a lively setting. For those accustomed to the comforts of American cuisine, there is an All American Diner that serves western favorites. For a refreshing drink (or two) visit Helios Pool Bar, conveniently located near the pool, or the Patio Santorini Bar and Lounge, the setting of which will make you feel like you're on the island itself.
Thunderbird Resorts and Casinos Poro Point's accommodation options are varied and distinctive: guests can choose a room, a suite, or a Santorini-inspired, multiple- bedroom villa, each of which is as well-equipped as it can get: coffee making machines, flat-screen TVs, and a mini-fridge, to name a few amenities. For the ultimate luxurious treat, book yourself the Presidential Suite and enjoy a private pool, a carport, and a spacious balcony.
The rates at Santorini-inspired start from $150 a night.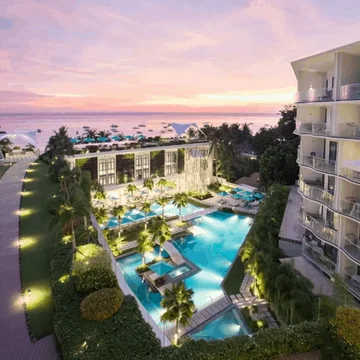 Boracay Island, Philippines
The Lind Boracay
The Lind Boracay is a beachfront resort located on Boracay Island, in the Station 1 area. A short walk from the resort will take you to D'Mall Boracay, where you can shop local boutiques and sample delicious cuisine.
Check Availability
Combine your sightseeing adventures with relaxing sunbathing. Whether you opt for one of Boracay's white-sand beaches or The Lind Boracay's infinity swimming pools, the choice is yours. A special kid's pool is available for the youngest visitors, while adults can also make use of the Jacuzzi. We have good news for those who like to keep up with their fitness regime while traveling – guests can enjoy a well-equipped fitness center.
Tartine is the main culinary highlight, in the hotel and beyond. This beach-level restaurant is renowned for its continental classics and Asian delights, an irresistible gastronomical combination. Beach dine in style at Crust, which serves Italian classics (pizza, pasta), and delicious cold beverages to cool you off after a day in the sun.
Choose from 119 gorgeously appointed rooms and suites. Early risers can watch the sunrise on the private balconies, with a morning cup of coffee. The décor choices are outstanding – the soft rugs, backlit headboards, and patterned pillows give a sophisticated feel. Each comes with an en-suite bathroom with complimentary bathrobes and Malin + Goetz toiletries.
The rates at The Lind Boracay start from around $200 per night.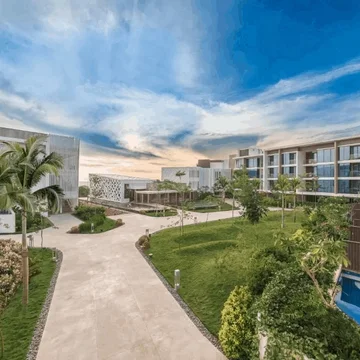 Boracay Island, Philippines
Crimson Resort and Spa
Crimson Resort and Spa is one of the newest additions to Boracay Island, a secluded tropical paradise brimming with white sand beaches and a relaxing environment.
Check Availability
The amenities offered at this five-star hotel are designed with the guests' utmost comfort in mind. Finding ways to move your body will be no issue – visit the on-site fitness center for a standard workout, enjoy a fun game of beach volleyball, paddleboard in the crystal water, or take a yoga class by the beach – the choices are endless. Aum Spa is here to soothe your sore muscles, with a wide range of energizing and restoring treatments. Another way to relax is by one of the infinity pools and soak up the sun rays.
High ceilings, original artwork, and floor-to-ceiling windows – these are a few of the things you can expect to find at Saffron Café, offering flavors from around the world. Their Cake Counter & Bread Display is particularly impressive, a magnet for sweet tooths who enjoy freshly baked bread, cakes, and tarts.
Rooms, suites, and villas are available for your Crimson Resort and Spa holiday. While each is uniquely decorated, they share the same crisp and sophisticated design and neutral color palette. Each air-conditioned accommodation comes with a private bathroom, a sizable balcony, local artwork, and large, comfy king-sized beds.
The rates at Crimson Resort and Spa start from around $150 per night.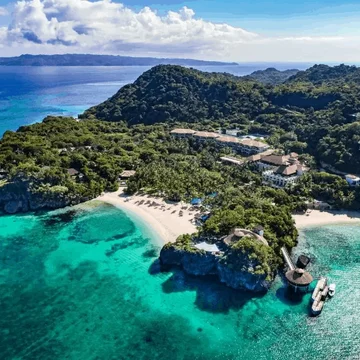 Boracay Island, Philippines
Shangri-La's Boracay Resort & Spa
Shangri-La's Boracay Resort & Spa, a member of Shangri-La's established hotel chain, is situated on the northern coastline of Boracay, overlooking the stunning turquoise ocean.
Check Availability
The lush scenery and beachfront location allow for many outdoor adventures. Have a go at water sports like kayaking, jet skiing, parasailing, helmet diving, and wakeboarding, or, for those less daring, you can explore the natural beauty of the island. Many on-site activities are available too – Chi, The Spa takes self-care on another level, with a whole host of replenishing treatments. The two outdoor pools make for a great change of scenery from the gorgeous private beach.
Shangri-La's Boracay Resort & Spa's dining options are varied and appealing. Visit Sirena Seafood Restaurant and Clifftop Bar for seafood delicacies and premium spirits served in a breathtaking setting. For the ultimate romantic setting, head over to Rima, a popular dining option serving seasonal and Mediterranean dishes. In case you get hungry from the swimming, Cielo Poolside Restaurant and Bar will come to your rescue, with an irresistible array of exotic cocktails and light snacks.
The hotel offers three accommodation options: rooms, seaview suites, and beautiful villas. Guests particularly love the Tree House Villa, which combines our childhood fantasy of staying in a treehouse with luxury furnishings and spectacular views. The accommodation options are appointed with a flat-screen TV, a spacious balcony, and complimentary toiletries. The villas and suites come with butler service and a private pool or hot tub.
The rates at Shangri-La's Boracay Resort & Spa start from $300 per night.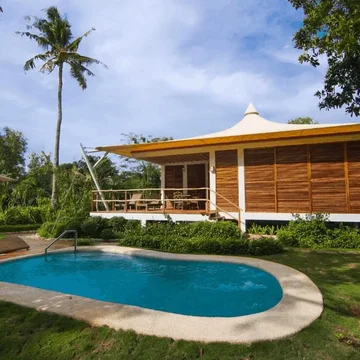 Donatela Resort and Sanctuary
If you prefer your resorts to be far from the maddening crowd of tourists and eager locals, then Donatela Resort and Sanctuary is the choice for you. Exclusive, sustainable, and lavishly appointed, it has all the prerequisites for a memorable holiday.
Check Availability
Despite its remote location, there's never a dull moment at Donatela Resort and Sanctuary. Take a boat ride from island to island, visit the marine sanctuary, scuba dive in Balicasag, or partake in a tour of the countryside – the options are endless. When you come back from your adventures, make sure you pay a visit to The Spa Village, and book yourself their signature Donatela massage that uses a combination of techniques for the ultimate therapeutic experience.
You can dine whenever you please at the two dining venues: Paprika and Tropika. Paprika, Donatela Resort and Sanctuary's signature cliffside restaurant, serves scrumptious international cuisine you can enjoy along with panoramic views of the Bohol Sea. Tropika specializes in creative alcoholic beverages and light snacks, a perfect poolside companion.
Only twelve luxury villas are available, all of which have an earthy and beachy vibe. Some of the décor choices are on the quirky side, but the overall setting is eco-chic. The Honeymoon villa is a perfect choice for a romantic getaway, which comes with its own private pool, garden, and deck area.
The rates at Donatela Resort and Sanctuary start from $330 a night.
Find Luxury Hotels in Philippines