10 Luxury Hotels in Queensland Australia | 5 Star Hotels
Queensland is a special slice of paradise for any traveler vacationing in the Land Down Under. Teeming with vibrancy, culture, and the most gorgeous fauna and flora, you are in for a treat. If you're an avid traveler you may have stayed in a different state before, like one of the luxury hotels in Melbourne. You'll also know then, that Australia has some jaw-dropping lodgings and there is certainly accommodation in QLD to rival world-class hotels.
Whether you fancy exploring the vibrant underwater world of the Great Barrier Reef, adventuring through the Daintree – the oldest surviving rainforest and a World Heritage Site – or soaking up some sun on vast stretches of golden beaches, you'll have a ball in Queensland.
You won't need to compromise on luxuries and comforts during your visit to the Sunshine State either. Boasting some truly lavish living opportunities, have your pick from opulent Queensland hotels to magnificent resorts and swanky villas. Let's dive right into some of the top luxury all-inclusive, 5-star hotels in Australia to satisfy your senses.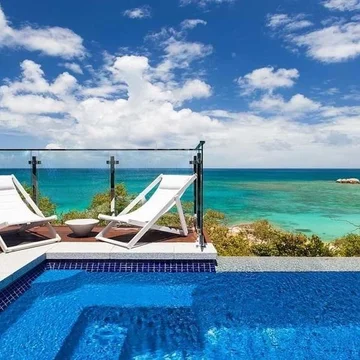 Lizard Island Resort
This luxury island escape is everything you could want in a dreamy getaway and more. As you set foot on this heavenly setting, you'll feel instantly transported someplace exotic like a luxury hotel in the Maldives. Lizard Island Resort is the most expensive hotel in Queensland and truly embodies the height of opulence so get ready to feel like you're living in the pages of a travel magazine.
Check Availability
This all-inclusive resort is set on the Great Barrier Reef making it the perfect spot to do your aquatic adventuring from. Enjoy direct access to the plethora of powder-white beaches and stretches of magical ocean views. After a day of activities, share a romantic sunset dinner on the beach or opt for wine and dine at the idyllic Salt Water restaurant with 180-degree sea views. After your taste buds have been tantalized, head to the classy Driftwood bar for some post-dinner drinks.
You will have endless activities at your fingertips here. Take a stroll in the lush tropical gardens, do some laps in the large pool, and enjoy the serenity of nature blending harmoniously with this picture-perfect resort. Sweeping views and world-class facilities make this a clear choice for any traveler seeking a truly luxe escape at the best of the best.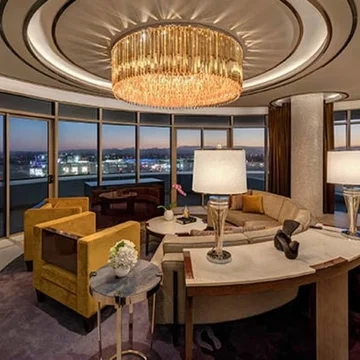 The Darling at the Star
Exuding grandeur and sophistication, this Forbes Five-Star rated establishment is undoubtedly one of the best hotels on the Gold Coast. This boutique accommodation offers all the trimmings, details, and amenities expected of a luxury hotel.
Check Availability
If you've stayed at 5-star hotels in Sydney, like The Star Sydney, you'll know the suites are lavishly furnished with a contemporary design for a completely elevated experience. All around superbly located, this dreamy escape of luxury indulgence provides the perfect home base after a day spent exploring the bustling, cosmopolitan city of the Gold Coast. This gem is also just 800m from the famous surfer's paradise, Broadbeach, where you can catch some gnarly waves.
For the perfect staycation, enjoy top-of-the-range facials and treatments in the spa, work out in the fitness center, unwind in the sauna, or enjoy some R&R by the rooftop pool while disappearing in the pages of your favorite holiday read. To end off the day, head to one of the award-winning restaurants which boasts varying cuisines, or to the casino for an evening of world-class entertainment including an extensive range of exciting table games.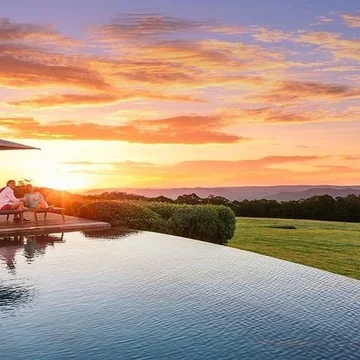 Spicers Peak Lodge
If it's the feeling of exclusivity you're after then this luxury lodge is the epitome of splendor and comfort. Spicers Peak Lodge has everything from regal rooms to excellent facilities, and stunning views. Relaxing, decompressing, and unwinding will come almost effortlessly at this gorgeous getaway.
Check Availability
Enjoy the countless amenities and take full advantage of the multitude of activities, experiences, and excursions on offer here. Perfect for every type of traveler, you will be spoilt for choice. Whether you fancy a cocktail Masterclass, Koala tour, or guided yoga you can have your pick.
Spend afternoons unwinding at the mountaintop spa, enjoying everything from a hot stone massage to a performance facial. And in the evenings sip a drink under a blanket of stars in this serene bushland escape.