Whether you visit Austria to explore its beautiful mountains, taste the delicate cuisine, or simply marvel at the stunning architectural works, this beautiful country promises unforgettable moments. Europe's hidden gem is the birthplace of musical prodigies, outstanding artists, and major philosophers who have influenced in numerous ways our current culture. The most appropriate way to delve into this fascinating country is definitely through its luxury hotels that manage to embody Austria's rich and varied history.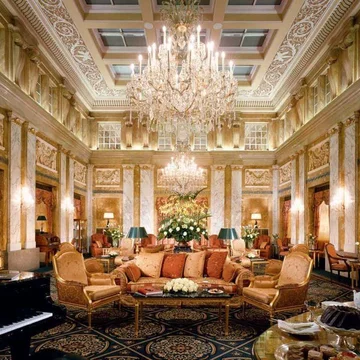 Hotel Imperial
Hotel Imperial is one of the best, oldest, and most opulent hotels in Vienna. The property used to be the private residence of Prince Phillip of Wurttemberg until 1873 when it was reimagined as a luxury hotel in the heart of Vienna. The Imperial is situated on the Kartner Ring where it's surrounded by numerous historic buildings. State Opera and Musikverein concert halls are just a short stroll away while the Albertina and Kunsthistorisches Museums are just around the corner.
Check Availability
Inside the hotel's neoclassical property, guests will discover rich and enormous spaces where one feels like stepping back in time at a party, or better say a ball, in the 19th century. All interiors showcase the beauty of the 19th century Vienna with pristine marble, hand-carved statues, and dazzling crystal chandeliers. A royal staircase leads up to all rooms and suites while every corridor is illuminated with chandeliers that sparkle from high stucco ceilings.
Guests can choose between 137 rooms and suites, all featuring unique palatial style. Expect silk wall coverings, antique furnishings, crystal chandeliers, and heavy drapes. For an elevated experience, book the Royal Suite where you can feel like royalty in three bedrooms with seven meter-high ceilings, a spacious marble bathroom, and a bar with champagne. Guests staying in some of the suites are entitled to a personal butler and a limousine.
At Cafe, Imperial guests can get a taste of the city's best Wiener Schnitzel, while the Michelin-starred OPUS serves Western specialties paired with the best Austrian wines in a setting boasting 1930s style.
Double rooms start at $600.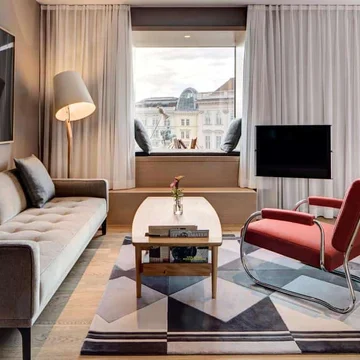 The Guesthouse
Boasting a top-billing address on Albertinaplatz, The Guesthouse is a favorite among the hotel offerings in Vienna's city center. The hotel is surrounded by numerous landmarks including Albertina Museum, Augustiner Church, Opera House, and Hofburg. Step outside the hotel gates and you'll find yourself in a vibrant district filled with numerous upscale shopping and dining options. Burggarten, one of the most beautiful parks in Europe, is just around the corner.
Check Availability
The Guesthouse prides itself on having rooms that feel more like private apartments and less like generic hotel rooms. Designed by the acclaimed British design studios Sir Terence Conran and Conran & Partners, the rooms' interior offers comfort and sumptuous luxury, including huge sound-proof windows that give way to views over the beautiful courtyard or the opera. Standard amenities include espresso machines, minibars with 4 bottles of Austrian wine and non-alcoholic beverages, air-conditioning, flat TV screens, and high-speed Wi-fi.
You can also find tailor-made Wittman sofas and Italian coffee tables which only add to the sophisticated ambiance. The bathrooms are equally stunning with faux-marble floors, heated mirrors, bathtubs, and rainforest showers. Toiletries are the courtesy of Molton Brown.
The hotel's restaurant Brasserie & Bakery is locals' favorite where al-fresco dining and delicious breakfast are served in an elegant setting. Two-course business lunch is served every weekday throughout the year.
Deluxe rooms start at $420.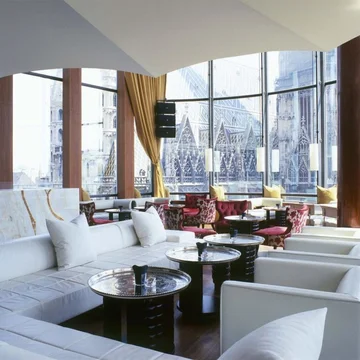 Do & Co Vienna
There's hardly a better location in Vienna than Stephansplatz. From here, guests can explore Vienna's famous shopping precinct, the art-packed Museums Quartier, numerous elegant restaurants, and many bars. The glorious Gothic cathedral is just opposite the hotel while the Hofburg Imperial Palace, the Albertina, and the monumental Ringstrasse boulevard are nearby.
Check Availability
The hotel's 43 luxurious rooms are spread across four floors, all featuring views over Stephenplatz and the boutique-lined street Gaben. The vast soundproof windows infuse the rooms with natural light and keep the street noise to a minimum. All rooms feature Bang & Olufsen flat TV screen, Nespresso machine, rain shower, in-room safe, wine minibar, and free high-speed Wi-fi. Sleek bathrooms feature marble floors, separate rain showers, bathtubs, and ETRO toiletries.
The staff is friendly and well-mannered, just as you would expect from a luxury hotel. Don't hesitate to ask them for some theater recommendations or help around the city. And when it comes to food, the hotel is well-known for serving some of the best food in Vienna; the top-floor restaurant is always packed with locals and international travelers alike, so it's recommended that you book a table early. From the spacious terrace, guests can enjoy some of the best views over Vienna. Excellent coffee, fruits, pastries, bread, and cold cuts are served for breakfasts, while the extensive menu for dinner features sushi, sashimi, grilled fish, and curry dishes paired with some excellent wines.
Double rooms start at $42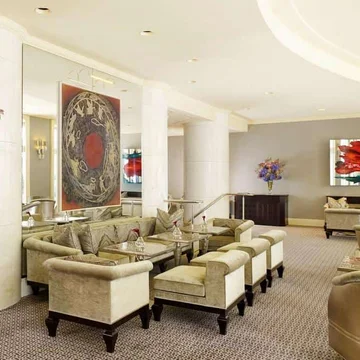 Park Hyatt Vienna
Embrace Vienna's rich heritage from the luxurious hotel situated in Vienna's city center, just steps away from the upscale designer boutiques on the Goldenes Quartier. The hotel is minutes away from the Imperial Palace, the beautiful St Stephen's Cathedral, and a short walk away from the Ringstrasse boulevard filled with galleries, concert halls, and theaters.
Check Availability
With high ceilings, dark wood furniture, and hand-picked antiques, Park Hyatt's rooms offer unrivaled luxury and coziness in the heart of Vienna. The rooms feature large windows with views across the baroque facades on Am Hof square and amenities such as Illy coffee machines, flat TV screen, air conditioning, and well-stocked minibars. The bathrooms are as sleek as the rooms and feature deep soaking bathtubs, wet-room showers, and toiletries from the French perfumer Blaise Martin. The Presidential Suite is particularly popular among well-heeled travelers with its 170 square-meters foot space equipped with a separate living room, bedroom, dining area, office, and a bathtub. Guests will appreciate the Art Deco-inspired style with J.L Lobmeyr chandelier, Bosendorfer piano, bronze brooches, and flock wall coverings.
Situated in the centerpiece of the hotel, with its own entrance from Bognergasse, The Bank Brasserie offers guests exceptional dining experience in an elegant setting. The menu features brasserie classics prepared with locally sourced products. Buffet breakfast, Plat du Jour menu, and A la carte lunch is served daily.
Rooms start at $550.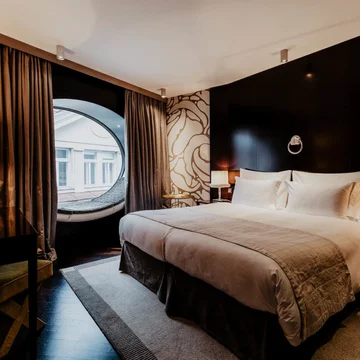 Hotel Topazz Lamee
Situated in the heart of Vienna's first district, this award-winning boutique hotel offers guests glamorous interiors inspired by Wiener Werkstatte and Art Nouveau designs. The hotel is steps away from Stephansplatz and its glamorous Gothic Cathedral, and 10 minutes away from the Danube Canal and Hofburg Palace.
Check Availability
With its oval windows and dark mosaic-tiled face, the hotel's property is a landmark of its own in a city where every building makes an impression. The rooms' interiors are equally astonishing with drapes and wall coverings inspired by the Wiener Werkstätte art movement. There are also some unforgettable touches such as Porta Romana dark-footed lamps, antique chaise lounge and Morrocan hammered brass tables. Bathrooms are spacious and commodious with marble and chrome floors, deep soaking tubs, and rain showers. Toiletries are the courtesy of Molton Brown.
Expect world-class service and don't hesitate to ask the concierge for some hard-to-get opera tickets. Butler service is available to all guests.
At Hotel Topazz Lamee, breakfast is served in the elegant lounge overlooking Vienna's busy streets. The breakfast menu is quite something with everything from Alpine cheese, organic muesli, cold cuts, fresh fruits, freshly baked bread, and organic muesli.
Deluxe rooms start at $520.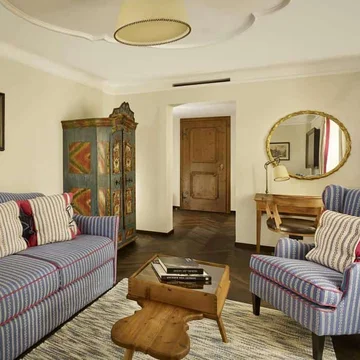 Hotel Goldener Hirsch
Embrace Salzburg's rich musical history from the Hotel rooms in Goldner Hirsh where musical legends have stayed since the opening of the glamorous Salzburg Festival in 1920. Conveniently situated in the heart of Salzburg's old town, Goldener Hirsh is mere steps away from the main landmarks, including Mozart's birthplace and the Hohensalzburg Castle.
Check Availability
Welcoming guests since 1407, Hotel Goldener Hirsh is a place where guests can find world-class service in interiors brimming with authentic Austrian charm. The hotel's property represents a symbiosis between an original country house and luxury boutique hotel with ancient stone arches, wood furniture, hunting trophies, and hand-painted walls.
Paying homage to Salzburg's artisanal story, the room interiors are unforgettable with furniture, traditional fabrics, and antique pieces all produced by local craftspeople. Think traditional "fleckerlteppich" rugs, oil-paintings, and hand-printed fabrics in blue and red shades from the Salzburg firm Jordis. The rustic-chic style continues in the bathrooms where guests will discover colorful marble floors, vintage-style fixtures, and walk-in showers.
The hotel's restaurant Goldener Hirsh is internationally celebrated for offering the best from the traditional, fine Austrian cuisine. The gourmet menu is focused on local produce and served by the notable chef Martin Bednarik.
Double rooms start at $520.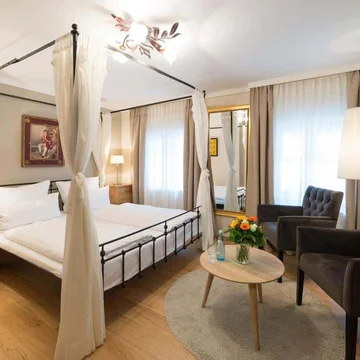 Hotel Amadeus
A jewel in Salzburg's old town, Hotel Amadeus is a boutique hotel that offers guests sumptuous luxury accommodation and velvet-gloved hospitality. The hotel is in close proximity to the boutique-lined Linzer Gasse and steps away from St Sebastian's Church. Main attractions including Mozart's birthplace, the cemetery where Mozart's father, Leopold, lies buried, and Schloss Mirabell are all within a walking distance.
Check Availability
Hotel Amadeus is a 500-year old hotel that embodies authentic Austrian charm. This old property was refurbished in 2017 to emerge as an airy, modern, and bright boutique hotel that upholds all the codes of modern comfort. The hotel's historic building gives each room a unique design and you can expect interiors designed to the latest details. The fusion of traditional and modern elements creates a cozy and romantic ambiance that guests love. Rooms feature canopy beds, natural wood ceilings, leather armchairs, brass-framed mirrors, and oil-paintings. The cozy atmosphere continues in the tiled bathrooms with rain showers, square washbasins, and Maria Pieper toiletries.
A subtle selection of wines and spirits can be enjoyed in the Honesty Bar situated in the Amadeus Lounge. Authentic and sophisticated, the bar is bound to make an impression with Venetian mirrors, crystal chandeliers, and hand-picked antiques that are in perfect harmony with the orange velvet sofas.
Rooms start at $380.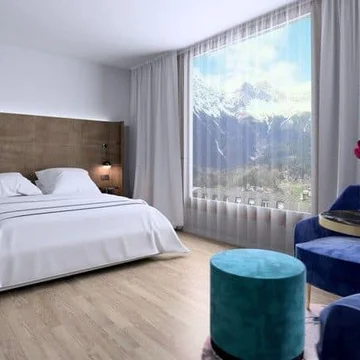 Stage 12
Conveniently situated in the heart of Innsbruck's Altstadt, Stage 12 is an ultra-modern hotel that offers world-class service and comfortable accommodation. Step outside the hotel's doors and you'll find yourself on Maria-Theresien-Strasse, where you can explore the numerous upscale restaurants, charming small shops, and pavement cafes. Main attractions including the Goldenes Dachl, the River Inn, and the Hapsburg Imperial Place are within a 10-minute walk.
Check Availability
None of the hotel's 120 rooms looks like another, however, they all boast a chic vibe and an airy ambiance. Rooms have solid oak parquet floors and comfortable king-size beds that guarantee a good night's rest. Nice touches such as royal-blue sofas and lampshades decorated with hummingbirds add to the elegant atmosphere. The vast windows offer pop-up views over the Alps. Standard amenities include air conditioning, flat TV screen, tea and coffee making facilities, and in-room safes.
The hotel features a well-equipped fitness room and a stylish spa with a hammam, sauna, and a steam room. Parking is available at the hotel's garage. Boasting a vibrant atmosphere, The Stage Bar is a place where locals and international travelers can be spotted mingling throughout the weekend. Here, inventive cocktails are served in a retro setting with sapphire-blue sofas and terrace seating.
Double rooms start at $300.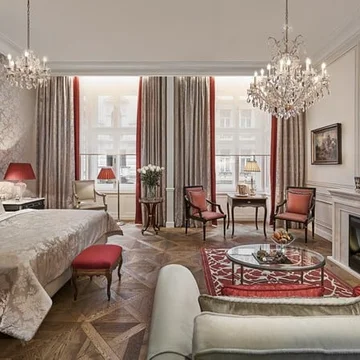 Hotel Sacher Wien
The crown jewel of Vienna's cultural history since 1876, Hotel Sacher Wien has welcomed numerous heads of states and A-listers, including U.S President John F. Kennedy, Queen Elizabeth II of England, Sharon Stone, Anna Netrebko, and Naomi Campbell. The hotel is situated in Vienna's historical center overlooking the Opera House and Albertina Museum. Vienna's main shopping street, Kartner Strasse, is at the hotel's doorstep, while St.Stephen's Cathedral is a short walk away.
Check Availability
The hotel's 150 rooms and suites blend perfectly contemporary accommodation with heritage and tradition. Fashioned in a green, golden, and taupe color palette, these rooms evoke old-world grandeur with the high-ceilings and crystal chandeliers. Suites on the highest floors feature expansive views over the Opera House and Albertina Museum, while the floor-to-ceiling marble bathrooms guarantee a relaxing and cozy atmosphere. Each bathroom is equipped with deep soaking tubs, glass showers, and Sacher chocolate-scented toiletries.
Dining-wise, Hotel Sacher Wien is exceptional. The Sacher Eck where guests can try the original Sacher torte is always packed with travelers, while the Blaue Bar is a local's favorite spot for an aperitif before going to the opera. At the Green restaurant, guests can indulge in traditional Austrian dishes in an exquisite setting.
Rooms start at $620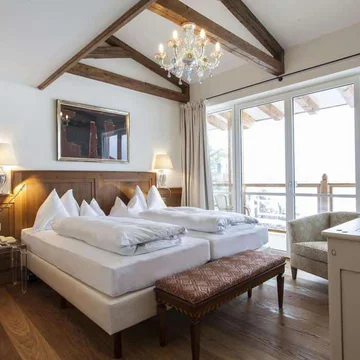 Zell am Ziller, Tyrol, Austria
Theresa Wellness Hotel
Theresa Wellness is a luxurious hotel situated in the heart of the village of Zell am Ziller in Tyrol's beautiful Ziller Valley. The area is famous for outdoor sports such as hiking, mountain biking skiing, and boarding and is always filled with tourists. The train station is just a short walk away and has regular connections to Innsbruck.
Check Availability
The hotel blends Alpine chalet-style with modern luxury accommodation. Picture warm wood paneling, dark wood furniture, and expansive windows playing up to dazzling mountain views. Rooms are fashioned in soft neutral colors while the floral fabrics add to the romantic ambiance. All units feature balconies with some mesmerizing views over the Alps. The atmosphere is peaceful and quiet and you can expect to get a good night's rest in the cozy beds with down duvets.
The hotel's spa is the main draw here. Guests can laze their day away in a warm jetted saltwater bath or swim in the big pool all while admiring mesmerizing mountain views. There's another indoor pool, sauna, steam room, and a herbal steam bath. The spa's extensive menu features beauty treatments all prepared with 100 percent natural Alpienne products from the Tyrolean Alps.
Rooms start at $480.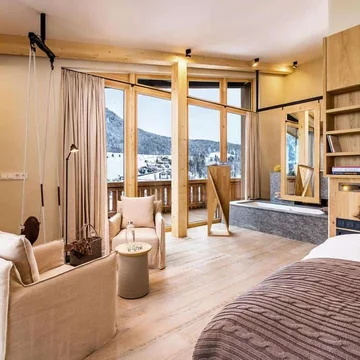 Posthotel Achenkirch
Posthotel Achenkirch is a 5-star wellness hotel situated in the charming village of Achenkirch. The hotel is at the heart of the wild Karwendel nature reserve and in close proximity to the beautiful Achensee. Numerous hiking options and ski slopes are available from the hotel's doorsteps.
Check Availability
Guests can choose between 150 rooms and suites all equipped with the latest amenities. All units feature a modern and bright ambiance with floor-to-ceiling windows that infuse the space with natural light, while the hand-woven rugs and oak furnishings only add to the sophisticated setting. The area is quiet and peaceful and each room is equipped with king-size beds that are sumptuously soft and comfortable. After a long day of hiking, guests can spend their afternoon on the balconies and marvel at the glorious mountain views. Standard amenities include air conditioning, flat TV screen, electric kettles, espresso machines, in-room safes. Sleek bathrooms feature separate showers and luxurious toiletries.
Posthotel Achenkirch is the proud owner of one of the largest spas in Tyrol, the Atrium Spa. Here, guests can relax in four indoor pools, three heated outdoor pools, Finnish Sauna, Turkish steam baths, and hot whirlpool tubs.
Rooms start at $250.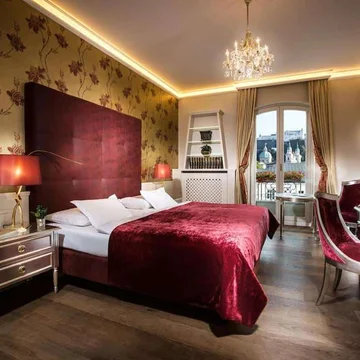 Hotel Bristol
Hotel Bristol boasts a top-billing address in Salzburg facing Mozart's birthplace where the composer lived with his family from 1773 to 1787. The hotel is a short walk away from the Dreifaltigkeitskirche and minutes away from the Mirabell Palace.
Check Availability
The rooms at the hotel are fashioned with a warm color palette, antique furnishings, and oil paintings. All 60 rooms have been individually decorated and depict motifs of various historical periods. Picture heavy drapes, velvet sofas, floral wall coverings, and dark wood furniture. King-size beds feature firm mattresses and are fashioned with soft linens, perfect for a good night's rest. The tiled bathrooms are cozy with rain showers and Penhaligon's toiletries. Suites located on the highest floors offer some extra space and have themes ranging from botany to carnival. For an elevated experience, book the Makart Room which comes with a spacious, powder-puff pink bathroom.
Breakfast is served at the Crystal Room where guests can enjoy an eyebrow-raising setting with mirrored ceilings and crystal chandeliers. The breakfast menu is rich and features everything from pastries, baked bread, cold cuts, cereals to smoked salmon, and regional cheese. Austrian dishes are served at the spacious Polo Lounge.
Rooms start at $420.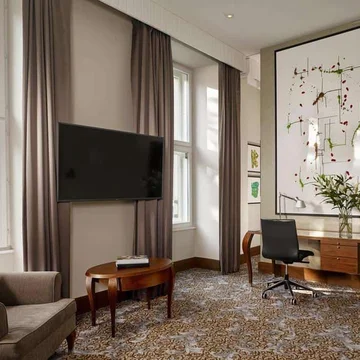 The Ritz-Carlton Vienna
The Ritz Carlton is a luxurious hotel situated in the charming Schubertring district. Vienna's main shopping precincts, Albertina, the Hofburg Palace, and Kunsthistorisches Museum are just a 20-minute walk from the hotel.
Check Availability
Situated in four 19th century houses, the Ritz-Carlton Vienna embodies a palatial style luxury with grand staircases, crystal chandeliers, ornate fireplaces, and parquet flooring. The grand reception area has a marble floor, while the hotel's public areas are filled with comfortable sofas and hard-wood furniture. The hotel boasts some of the largest rooms in Vienna; all featuring at least 409 square-foot-meters. The rooms are elegant with high ceilings, soft furnishings, and honey-colored wood furniture, while the large marble bathrooms have heated floors, separate showers, deep soaking tubs, and Asprey toiletries. Each room is equipped with Nespresso coffee machines, iPod docking stations, electric kettles, and high-speed Wi-fi.
The hotel's renowned restaurant DSTRIKT serves a range of Austrian dishes including original Wiener Schnitzel with buttery potatoes and Carinthian cream cheese prepared by the acclaimed chef Wini Brigger. Barrel-aged cocktails, cigars, and spirits are served in D-Bar where guests can expect a stylish black and red interior design.
Rooms start at $520.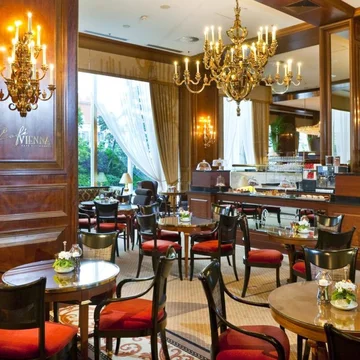 InterContinental Vienna
InterContinental is situated in Vienna's historic center near the vibrant Stadtpark. The hotel is near Vienna's classy concert hall and minutes away from some upscale dining and shopping options.
Check Availability
The hotel offers spacious and elegant rooms equipped with the latest modern amenities. Rooms are tastefully decorated with dark wood dressers, cream wallpapers, floral designs on the carpets, and leather sofas. King-size beds are cozy with firm mattresses and soft linens. Standard amenities include a flat TV screen, air conditioning, in-room safe, minibar, espresso machine, iPod docking stations, and high-speed Wi-fi. For some extra comfort book some of the suites which feature a separate dining area, living room, and two bedrooms.
The Parlor restaurant offers exquisite dining in a modern black and white setting with murals and leather sofas. Here, you can start your day with a lavish buffet breakfast while in the evening savor some traditional Austrian dishes alongside specially chosen local wines.
Rooms start at $430.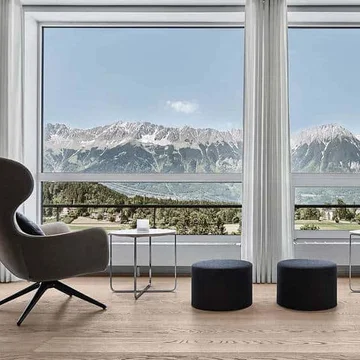 Lanserhof Lans
Lanserhof Lans is a charming village situated above the Tyrolean city of Innsbruck overlooking the Nordkette Alps. The area attracts numerous tourists year-around who come to experience the fabulous hiking and Nording walking trails. Innsbruck, with its beautiful medieval Old Town and grand Hapsburg Palace, is just five miles from the hotel.
Check Availability
The hotel is set in an ultra modern oval-shaped property with a low and discrete ambiance. Floor-to-ceiling windows infuse the property with light and offer some stunning views over the mountains. The rooms are also bathed in light, featuring a remedying color palette of creams and greys that blends perfectly with the soothing atmosphere surrounding the hotel. The pale oak floors and luxurious fabrics add to overall elegant ambience. The wooden beds are fashioned in soft linens guaranteeing a good night's rest. For an elevated experience, book a suite with a balcony and soar the mesmerizing views. The bathrooms are equally comfortable with deep soaking tubs, rain showers, robes, slippers and Lans Derma toiletries. The Panorama Suite features a private sauna and the best views over the Alps.
The hotel is the proud owner of one the world's best medical spas particularly popular among millionaires and A-listers. The spa features some stunning amenities including indoor pool, outdoor saltwater pool with hydr-massage jets, sanarium, steam room, and a sauna overlooking the mountains.
Double rooms start at $550.
Find Luxury Hotels in Austria