As the year draws to a close, Christmas approaches with all its festive cheer. While it's an exciting time of year, it can be tricky to find a luxury Christmas getaway spot that caters to your little ones too. Luckily, there are so many top hotels on offer this festive season, and we've gathered the best of the best to suit every family member.
From sunny-shored luxury hotel brands to winter-wonderland ski destinations, these are some of the finest accommodations to find the Christmas spirit during this holiday season. Cheerful decor and holiday activities, all set against breathtaking scenery, make these excellent December choices.
Enjoy a hassle-free Christmas with no dishes to wash or Christmas lights to hang. Whether you hope to see Santa in the snow or on the beach, this list has got you covered.
Best Christmas Hotels for the Whole Family
When planning a family get-together, it can be tricky finding a place that suits everyone's preferences. This list offers the best 5-star luxury hotels for the ultimate Christmas holiday.
Whether you fancy a vacation on the slopes, sunbathing on the beach, or sightseeing impressive historical architecture, you can have your pick.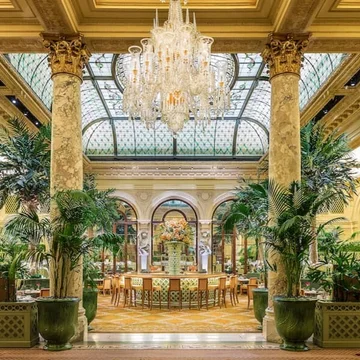 New York, New York City

5
The Plaza
Located in the heart of New York City, this iconic, century-old Manhattan hotel has served as a home away from home for Broadway legends, Hollywood Stars, and world leaders. With Central Park for a back garden and 5th Avenue's luxury boutiques a stone's throw away for holiday shopping, this location is hard to beat.
Check Availability
The Plaza comes alive during the holiday season and welcomes guests from around the world to share in its magic. Between the extravagant ice-cream sundaes and a Home Alone 2 experience, your kids will be in their element. Here they can recreate some of their favorite scenes from the popular 90s film for their very own NYC adventure.
If you're looking for one of the best Christmas hotels in the USA, then you can't go wrong with the Plaza. The gigantic lit-up Christmas tree in the lobby will simply be the icing on the gingerbread cookie during this magical vacation.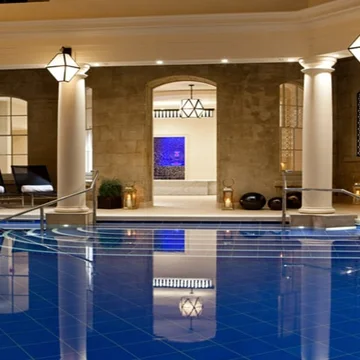 Gainsborough Bath Spa
Old-world meets boutique-chic at this elegantly refurbished hotel that captures the best of Bath. With grand facades and structures dating back to the 1800s, you can't get more traditional for the festive season.
Check Availability
Here Christmas will be extra enchanting. The historic Georgian buildings of the town set the perfect scene for the annual Christmas market, which fills the streets with cheer.
Enjoy an escort to Midnight Mass at the gorgeous Bath Abbey followed by a warming hot chocolate, hot whisky toddy, and mince pie for the perfect traditional Christmas Eve. And on Christmas Day, your little ones can look forward to gifts delivered by Father Christmas himself and a festive buffet with all the trimmings.
Feel your worries float away in the restorative, thermal and mineral waters of the hotel's historic spa that boasts spouting waterfalls. This spot takes a modern interpretation of a time-honored design and creates a truly magical getaway for the whole family.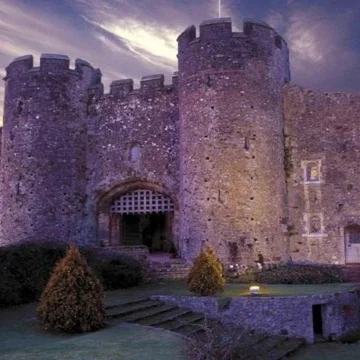 Amberley Castle
Seeped in over 900 years of history, this luxury hotel provides a one-of-a-kind experience that will leave the whole family thoroughly mesmerized. Nestled in the rolling countryside of West Sussex, Christmas here will prove utterly captivating.
Check Availability
From a wreath-making masterclass, roaring log fires, and listening to live music while sipping on warm mulled wine, you may never want to leave this dreamy retreat.
The youngsters are well-catered for at this real-life storybook castle. Whether they fancy themselves Rapunzel in her tower or a gallant knight preparing for battle, there will be plenty of imagination-invoking fun to be had. Opt to explore the tennis courts, the 18-hole putting green, or spend the day exploring castle battlements and playing garden games.
Rooms are donned with a glorious ensemble of antiques, fine fabrics, and modern features creating a luxurious trip back in time. Between medieval stonework and rose-covered arches, you are in for a treat at this fairytale escape from reality.
Luxury Hotel Holidays for a Summery Christmas
For some, the Christmas season comes with dread for wintery temperatures. So if you're looking to escape the cold, there are some truly magical destinations awaiting you and your family.
There's no need to miss out on the Christmas cheer either. Whether with fake snow or simply a plethora of Christmassy celebrations and decor, you'll get to have it all at these luxury hotels. So pack your sunscreen and swimsuits because Santa Claus awaits along with sea, sun, and sand, this festive season!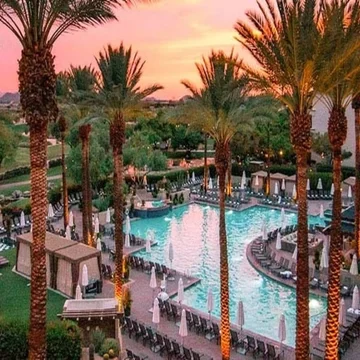 Fairmont Scottsdale Princess
If you and your loved ones are looking to escape the winter blues this festive season without losing the magic, this hotel is the dream combination. Soak up the sunshine of Scottsdale at this luxurious family resort while enjoying the best of both worlds – beach by day and skating in the desert by night. The hotel's simulated ice skating rink is decked out with magical neon lights and festive decor.
Check Availability
Enjoy al fresco dining, roasting marshmallows under starry skies, or hit the Alpine trails to sled down 120 feet of blizzardy bliss on Snow Mountain. And for the perfect social media sharing moment, book a VIP climate-controlled igloo while sipping on a warm winter cocktail for a truly unique experience.
Offering a plethora of kid-friendly activities that make for magical memories, your bambinos may never want to leave. Make s'mores, explore the petting zoo, ride the Christmas carousel, and marvel at the Nativity Show every night.
Moreover, they can ride the Princess Express Train through swans and a Candy Cane Forest. Or get their picture taken with Santa Claus and other cute holiday characters while being amused by a Selfie Elfie determined to photobomb any pics. All in all, here you will rediscover the magic of Christmas as this desert resort transforms into an enchantingly lit-up, winter wonderland utopia.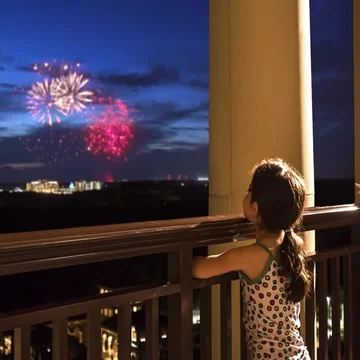 Four Seasons Orlando
This Walt Disney World Resort Hotel is the epitome of luxury meets kid-friendly accommodation and makes the most wonderful time of the year even more wonderful for all. Boasting a free kids-camp program with a multitude of holiday-themed activities to enthrall them, parents are rewarded with some guilt-free me-time. The fun continues for youngsters with holiday-flavored gelato and a multi-pool and waterslide area.
Check Availability
The fun isn't limited to the younger guests. Tee off at the prestigious Four Seasons Golf and Sports Club or indulge in a treatment at the resort spa. Adults can also look forward to mixology lessons, wine mixes, and cooking classes.
5-course gourmet dinners with a light show flow into breakfasts with Goofy and his pals, creating a seamlessly curated dining experience for parents and youngsters alike. This is one of the most expensive hotels in the USA and understandably so, no luxury is spared when visiting this 5-star resort.
This is the perfect luxe-getaway where relatives from around the world can gather. The top floor, consisting of 9-bedroom family complex suites, can be home for the whole gang during the festive season. Moreover, your private butler will do everything from wrapping presents and bringing hot cocoa by the mug-fulls, to draping your opulent Christmas suites with holiday decorations.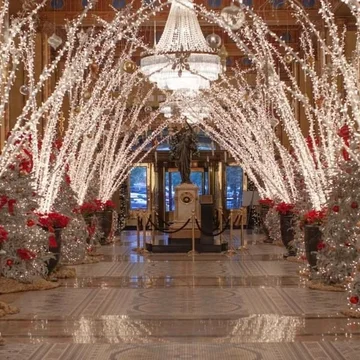 Decked with over 40 lit-up birch trees and a life-sized gingerbread village, no expense is spared. The merriment continues with a giant Christmas tree covered in holiday décor and twinkling lights, making this a truly magical Christmas hotel during the festive season.
Kids can look forward to the annual Teddy Bear Tea. This enchanting holiday tea party is one of the traditions and special holiday events at this Waldorf Astoria establishment. On offer will be specialty teas and tasty pastries, as well as sparkling wine and mimosas for adults. Activities include visits from Santa and his elves as well as from Mrs. Claus. After all, who wouldn't want breakfast with Santa!
'Tis the season at the hotel's historic Sazerac bar with Candy Cane and Mrs. Claus' Cookie specialty cocktails. These, and all the holiday decor, make this an excellent family-friendly place to celebrate the holidays.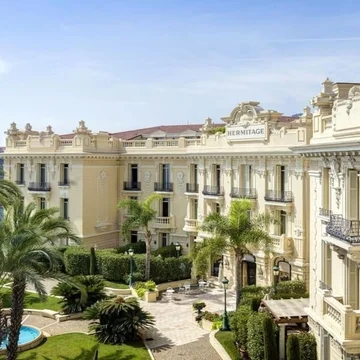 Hôtel Hermitage Monte Carlo
There are few things that sound more idyllic than Christmas spent on the French Riviera. The famous Casino Square of Monaco turns into a wintery dreamland on the coast. Streets are filled with realistic snow-encrusted trees while Christmassy jingles fill the air.
Check Availability
This jaw-dropping hotel is one of the best in Monaco and oozes opulence. Bask in the magic as it transforms into a wonderland of twinkling lights and extravagant festive decorations, including a train set for the kids to play with. They'll be enamored by features like the mini Narnia-style forest, the impressive evening light shows as well as a picture-perfect carousel spinning in the center of a snowy Christmas scene.
A family package will be everything you need and more. Included will be a Christmas tree in your hotel room for memorable family photos, as well as presents for your youngsters, and one-on-one time with Santa.
For the adults, a Christmas Eve gala dinner awaits you, providing all the splendor without you lifting a finger. Take a starry moonlit stroll by the Riviera and soak up the merriment that flows around every corner during this festive time of the year.
Not to mention, Christmas is delicious here! Feast on Michelin-Star level Mediterranean meals in one of their prestigious restaurants. And for culture-lovers, catch a world-famous ballet while you're there or spend family time relaxing on the golden beaches nearby.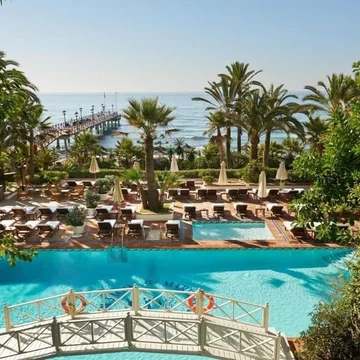 Marbella Club Hotel
This gem on the Marbella coastline is the epitome of beachfront luxury. A must for anyone looking to skip the colder temperatures during the holidays, this slice of tropical paradise in the South of Spain is perfect.
Check Availability
Marked by manicured gardens and Spanish-style whitewashed buildings, you will feel like you've stepped into your dreams. And this heavenly getaway doesn't shy away from the Christmas cheer either.
The Christmas Eve gala dinner boasts a delightful culinary experience, a surprise visit from Santa Claus, and carols by the local church choir. You will get to relax while knowing your little ones are in their element.
The plethora of specially-designed activities on offer by the hotel's Kid's Club means you won't need to worry about keeping them entertained. This children's paradise overflows with holiday fun. They'll decorate a huge Christmas tree, organize the Christmas market, get creative in craft workshops, and learn how to make delicious holiday desserts in cooking class.
Surrounded by the Sierra Blanca Mountains and the Mediterranean, you will quickly feel the joy of slow-living while visiting this striking corner of the world.
Spend the holiday season in one of the rooms that are beautifully spaced out, creating a uniquely private feel. You can reach the beach via a short golf cart drive, laze by the pool with your favorite holiday read, or amble to the wellness center for a revitalizing treatment by the expert staff.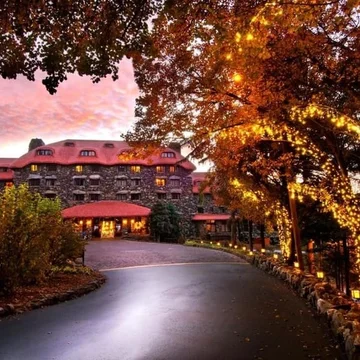 Asheville, North Carolina

4
Omni Grove Park Inn
One of the most all-out Christmas Inns, Omni Grove Park has stood the test of time since the early 1900s. Its guests have returned time and time again, even making this luxury hotel the destination for annual holiday traditions. Families gather to celebrate the Christmas season while enjoying all the amenities that this luxury inn has to offer.
Check Availability
Whether you fancy a round of golf, a trip to the spa or simply kicking your feet up in your swanky hotel room with your flat-screen tv, there's something for everyone. At this dreamy destination, pampering, pleasure, and adventure converge. And foodies will be delighted with the variety of tailored, culinary experiences on offer.
This hotel boasts all the bells and whistles during the festive season. From extravagant decorations, dozens of elegantly-decorated trees, elaborate ornaments, and lavish buffets, you are in for a treat. End off your activity-packed days with a hot chocolate or signature cocktail by the fireplace.
Possibly the biggest drawing card of this luxury retreat is its annual National Gingerbread House Competition which beckons competitors from far and wide. Contestants go all out with dazzling creations all made from edible ingredients.
Family holiday photos can be snapped on the outside patio where a sleigh and reindeer display makes for the perfect Christmassy backdrop.
Best Snow and Ski Hotels for Christmas
If you're after a white Christmas then these Ski Resort Hotels really roll out the red carpet for their guests. Enjoy fun in the snow and cozy evenings in front of your crackling fireplace. With 5-star service and accommodation, you'll wish it was Christmas all year round.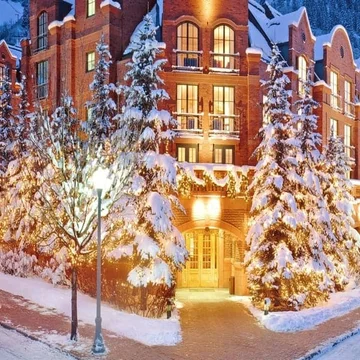 The St. Regis Aspen Resort
This dreamy ski-village resort celebrates the holiday season with a 12-day program that caters perfectly to you and the youngsters. Look forward to the festive tree-lighting that promises to get guests excited for the season. Santa Claus will also make an appearance for photos with the kids, as well as deliver a special Christmas Eve reading of the classic Twas The Night Before Christmas.
Check Availability
Other festive activities to get your kid's squealing with delight include decorating cookies, stockings, and ornaments as well as a carriage ride through the snowy streets with Santa. They can also look forward to learning about the gingerbread house replica of St Regis, made by the hotel's pastry chef each year.
For the older crowd looking for an adventure kick, fill your days with various snow activities ranging from snowboarding and ice skating, to cross country skiing on the powder-white slopes of this gorgeous resort. End the activities with hot chocolate by the fireplace in your alpine-chic suite.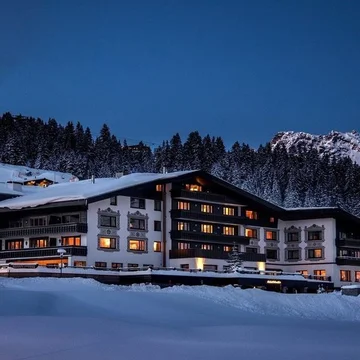 Hotel Almhof Schneider
With all of its historic allure, there are few destinations more captivating than Austria during December time. Christmas markets, classical concerts, and charming cobbled streets covered in ivory-colored blankets of snow, it doesn't get more festive than this.
Check Availability
Hotel Almhof Schneider is the perfect home base to live out your dream Christmas from during the most joyful time of the year and is a must if you find yourself in Austria over Christmas. This 5-Star luxury hotel goes all out for the holiday season and caters to guests of all ages. Even the tiniest of faces will be smiling.
This Ski In Ski Out luxury resort has all the makings of the perfect snowy vacation in the mountains. Family-run and beaming with exquisite aesthetics, exclusivity, and high-end living, you won't find lavishness like this around every corner. Atop the Alps and just steps from Austria's largest ski area, the whole family is in for a treat.
Whether it's a cigar in the Billiard Lounge, enjoying a film in the hotel's cinema room, or gourmet dining that gets you in the Christmas spirit, this hotel has you covered. Kids of all ages will be overjoyed with all that's on offer. From dress-up nooks, craft areas, and games, to a Playstation setup for the teenage guests, they'll be entertained for hours.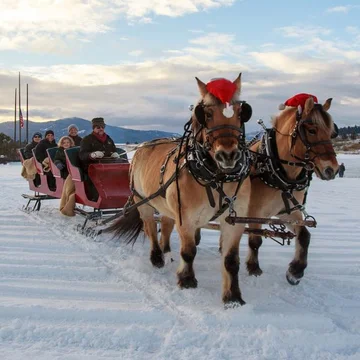 The Resort at Paws Up
While a ranch getaway doesn't usually scream swanky-living, this Montanna Ranch offers a 5-star vacation and aims to provide an authentic winter wonderland experience. It is one of the best hotels with Christmas packages and for a 5-night stay, no luxury is spared.
Check Availability
The ground will be covered in a blanket of snow, so you can get around on a snowmobile, a dogsled, or even opt for real-life, horse-drawn sleigh rides.
Nestled in the woods, you and your family can snuggle up in your cozy cabin. Enjoy stacking gifts under your very own decorated Christmas tree and end evenings off exploring the selection of festive movies. Look forward to a Christmas Eve visit and present delivery from Santa Claus which will have your kids giddy with excitement.
Days can be spent having fun at gingerbread house competitions, downhill tubing, sipping eggnog by the fire, or soaking in the outdoor hot tub of your private luxury home.
Tantalize your taste buds daily with the chef-prepared holiday spreads that add to this "story-book Christmas". Resort at Paws Up overflows with a unique festive flair and is undoubtedly a dreamy place to spend the holiday season.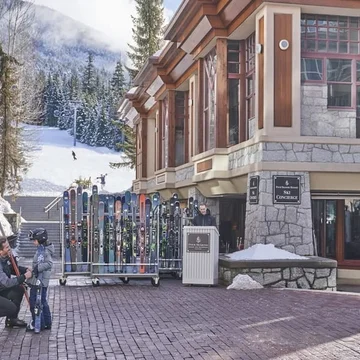 Four Seasons Resort Whistler
Retreat to snow-covered mountains for the ultimate luxury vacation with the whole family. Offering so much to all ages and tastes, this is a resort to beat. Fill your days with exhilarating adventures on the Whistler and Blackcomb mountains or swim in warm outdoor pools while snowflakes fall on your head. End the day's fun by retreating to your lavish suite for a glass of wine by the crackling fireplace.
Check Availability
This magical village comes straight out of a storybook, adorned with twinkling lights, Christmas trees, and festivities. And for a touch of fun, guests who visit around Christmas can ski for free if they dress like Santa and Mrs. Claus.
Experienced babysitters give parents peace of mind while they grab some alone time. Whistler provides its mini guests with an immersive 'North Pole' experience. Here your kids get to escape into a world made just for them. Carefully curated Santa's Lane is complete with everything from giant nutcrackers to families of snowmen, and a life-size gingerbread house.
Kids can snuggle up to a Christmas movie in the gingerbread house with different age-appropriate films while creative youngsters can enjoy the crafts station. Top this off with a kiddies buffet and you've got a happy bunch of little ones.
Between kid's events, wine tastings, nightly s'mores, and a delectable Christmas Eve dinner, the festive spirit will be running high at Whistler.
Final Thoughts on the Best Hotels for Christmas
Why not spend the most wonderful time for the year in one of these amazing spots around the world? From warm beachy destinations to winter wonderland escapes adorned with snowy slopes, it promises to be a very merry Christmas indeed.
Head to one of these hotels for Christmas, and end the year right by treating yourself to a lavish vacation that will have the whole family over the moon.